This easy DIY Valentines sign is an awesome farmhouse craft to display on a console table or your fireplace mantel. Learn how to make this cute Valentines table decor… no fancy tools needed!
If you like to decorate for each holiday with cute accents and DIY home decor, then you will LOVE this vintage looking Valentines wood sign craft! The old song sheet is the perfect background to a painted and aged wood heart, and the candlestick adds height to your decor.
Make this Valentines decor to style a set of bookshelves, or display the pretty sign on your farmhouse tiered tray.
And by the way, if you have a wedding coming up, this candlestick and wood sign base idea would also make perfect table number markers… or you can Mod Podge a black and white photo on the background and stain the candlestick with wood stain for super cute farmhouse decor that you can leave up year round. The possibilities are endless!
Here's a super cute DIY Valentines table decor craft that you can whip up in about half an hour: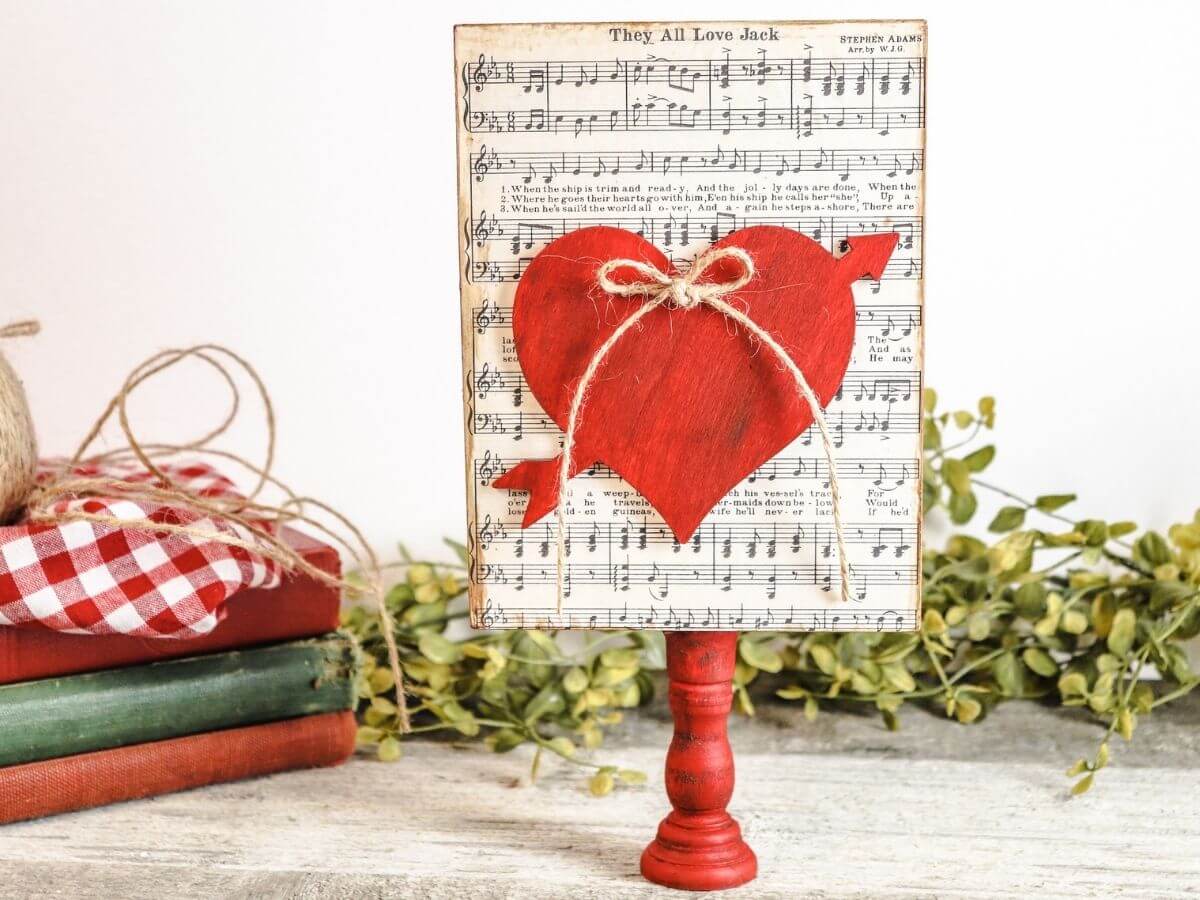 *This post contains affiliate links, which means if you click a link and make a purchase, I earn a commission at no additional cost to you. Read my full disclosure for more info.
Valentines Farmhouse Sign Supplies
Here's what you need to make this cute Valentines table sign craft: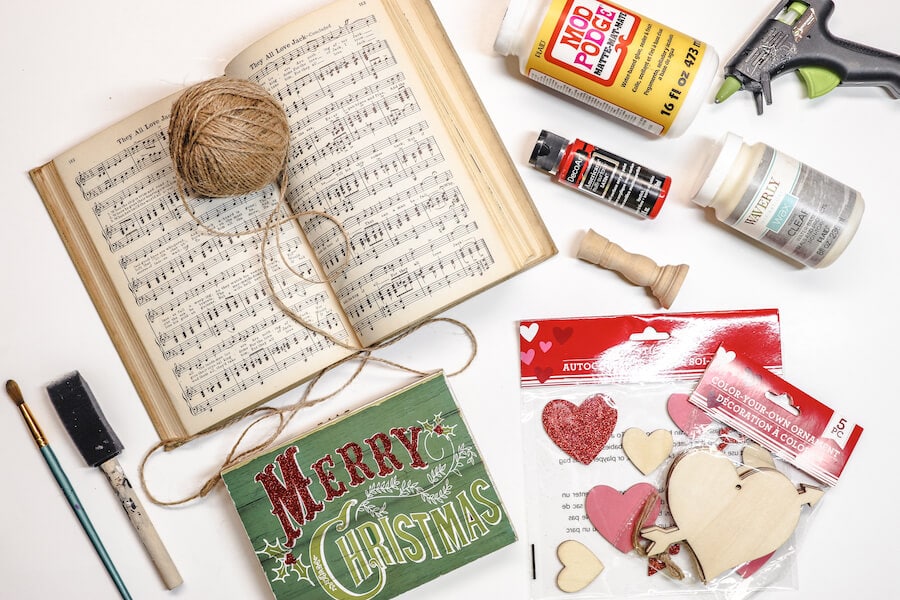 Song lyric sheet – Look for old song books or hymnals at thrift stores or antique shops.
Twine
Small wood sign – The one I used is a re-purposed Christmas sign from Dollar Tree – You can use any type of wood sign, as long as it fits your song sheet and is wide enough to sit on top of your wooden candlestick.
Wooden hearts – Mine came from Dollar Tree, but you can also find them at Hobby Lobby or Michael's in the wood crafts aisle.
Wood candlestick – You can find wood candlesticks here, or at most craft stores.
Red acrylic paint
White acrylic paint
Sandpaper
Mod Podge – I used the Matte version, but you can also use the Gloss one.
Antiquing wax – I used brown wax, but you can also use clear, depending on if you want your finished Valentines sign to be more or less distressed looking.
Hot glue gun
Paint brush and foam brush
How to Make a Farmhouse Valentines Tabletop Sign
Step 1: Prep the wood sign base.
First you need to prep and paint the wood sign that you will be using. If you're repurposing an old sign that has glitter or other rough areas like I did, then you will need to first use sandpaper to sand off those areas.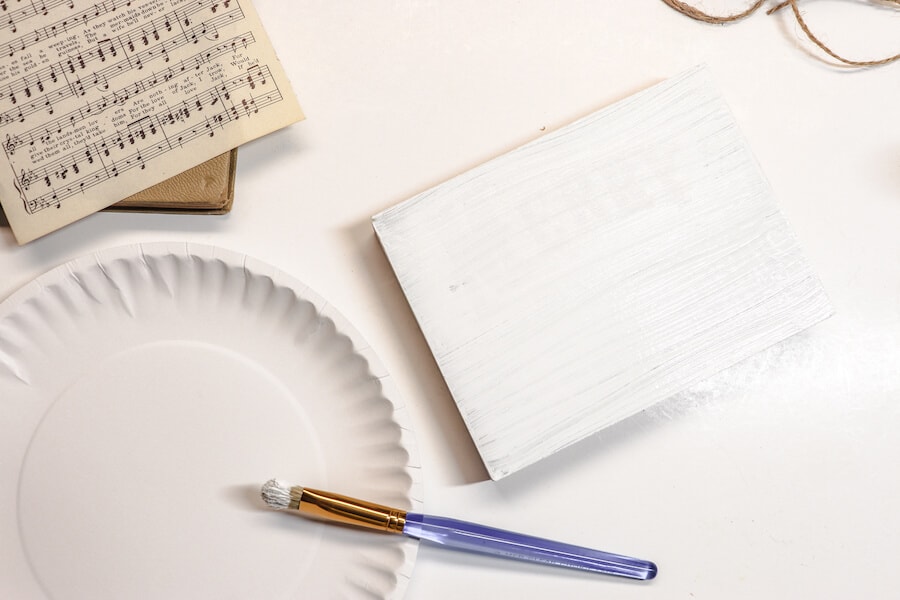 Then, paint the front of the wood sign white and the side edges red. While the paint is drying, you can move on to the next step.
Step 2: Paint and destress the wood candlestick and heart.
Next, paint the wood candlestick and wood heart decoration with the red acrylic paint. After the paint has dried, you can use brown antique wax to create an aged look. Just apply the wax over top of the red paint, according to the package directions.
I applied the antiquing wax to all of the red areas of my DIY Valentines sign, including the sides of the wood base, the candlestick, and the wood heart.
Step 3: Glue the candlestick to the bottom of the wood sign.
Once the red paint and antiquing wax have dried fully, apply a line of hot glue around the top rim of the wood candlestick. Then, glue the candlestick to the bottom of the painted wood sign base, right in the middle like this: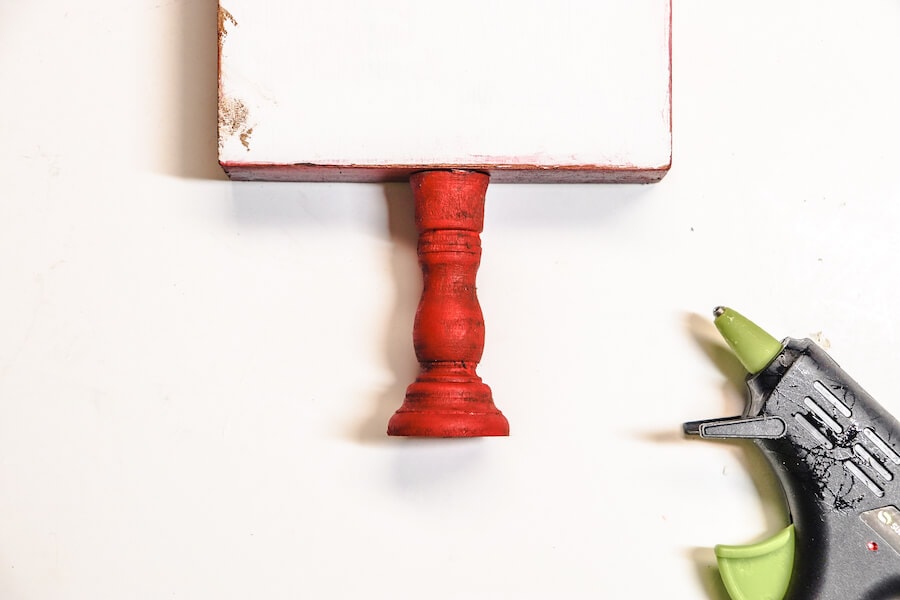 Step 4: Glue the song sheet to the Valentines sign base.
First, cut the song sheet page that you want to use from an old song book, or you can also find some free printable hymnal sheets here.
Once you've selected a song sheet, use a foam brush to brush Mod Podge over the white painted wood sign base, and immediately lay the song sheet on top of the Mod Podge. If the song sheet hangs over the edges, you can use sandpaper to carefully sand it off in a downward motion… the excess paper should shred off pretty easily.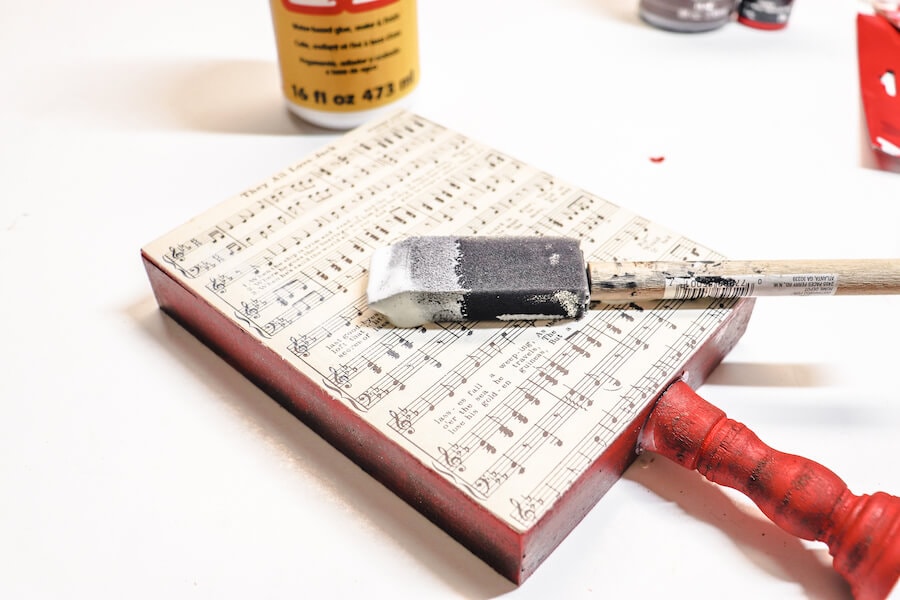 Once the song sheet is in place, brush another layer of Mod Podge on top of the sheet and allow to dry fully. The Mod Podge will probably go on cloudy, but don't worry, it will dry clear and act as a protective barrier for your DIY Valentines sign.
If you want to give your Valentines sign more of an aged look, you can also brush some brown antique wax along the edges of the song sheet like I did.
Step 5: Add the painted wood heart and twine decorations to you Valentines sign craft.
Your cute DIY Valentines sign decor is almost done! Next, paint the wood heart with the red acrylic paint, and add some of the antiquing wax for a rustic look.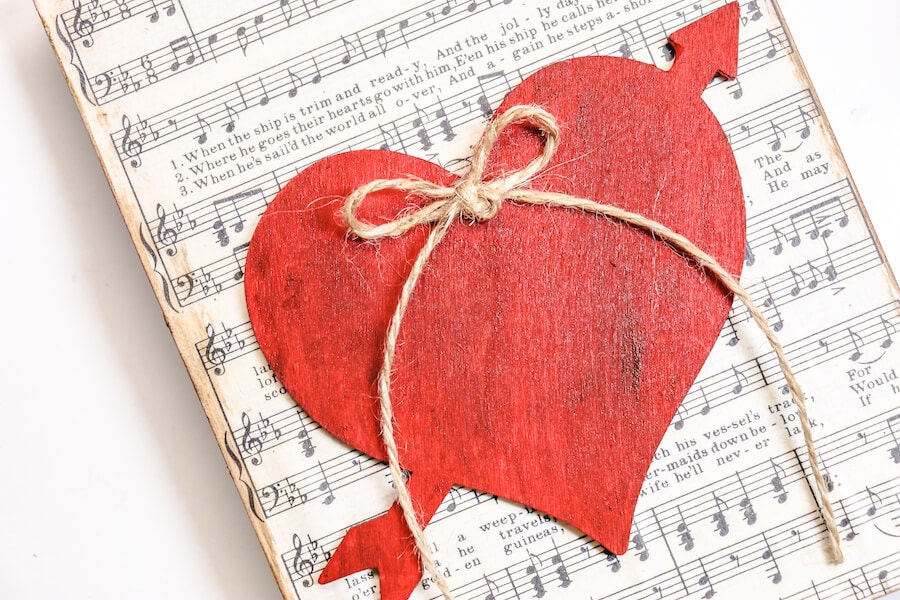 Allow the red paint and wax to dry fully, and then hot glue a twine bow to the heart.
Use hot glue to attach the red heart to your Valentines table sign, and then you're ready to display your cute new DIY Valentines farmhouse decor!
And after you've made this cute Valentines farmhouse sign, check out some of my other DIY Farmhouse Home Decor Crafts:
And don't forget to PIN this post for later: