Looking for fall Cricut projects? Make this cute mini cutting board with a FREE fall SVG file to display in your kitchen or on a farmhouse tiered tray! This Fall Cricut craft is super easy, so it's also a great fall craft to make and sell!
Does anyone else immediately think of extravagant cupcake displays when you see those cute and trendy farmhouse tiered trays, or is that just me?
You know those 3-tier trays that are popping up at Hobby Lobby in galvanized metal and white enamel and just beg to be filled with fluffy frosted cupcakes, but instead are decorated with inedible seasonal decor?
Tiered farmhouse trays like this: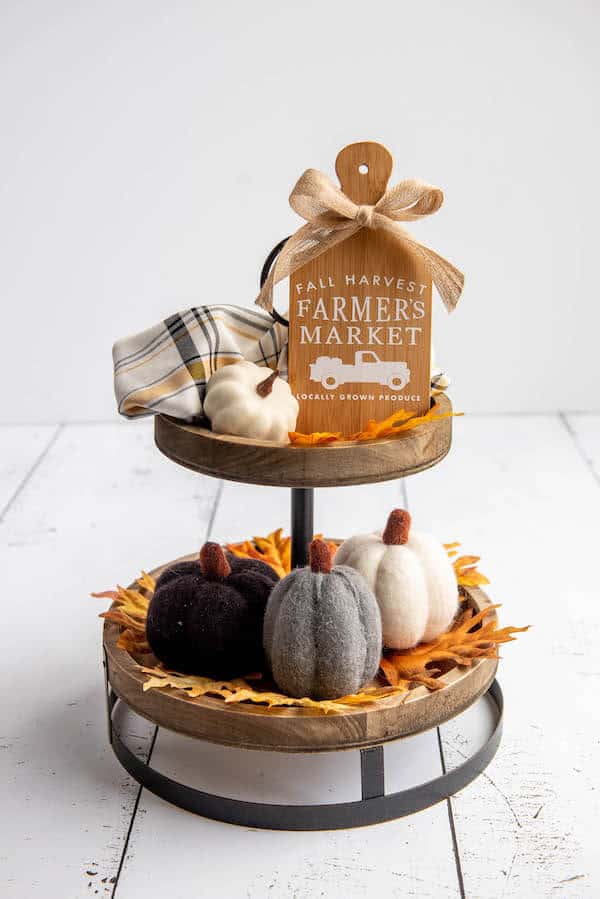 These trays are super cute (and calorie-free!), but they're also REALLY easy to decorate for different holidays and incorporate some cute seasonal items into your farmhouse decor.
If you've got a cupcake stand, er, tiered farmhouse tray laying around, then grab your Cricut and the free Fall cutting file below, and make this cute mini cutting board tiered tray decor for fall!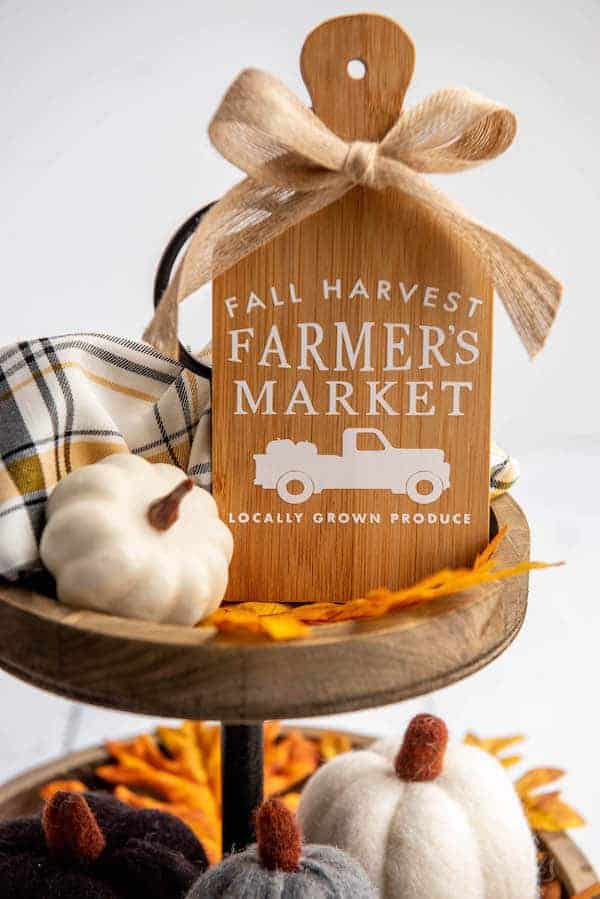 Supplies for these Cute Fall Cricut Projects
Here's what you need to make these cute Fall Cricut projects: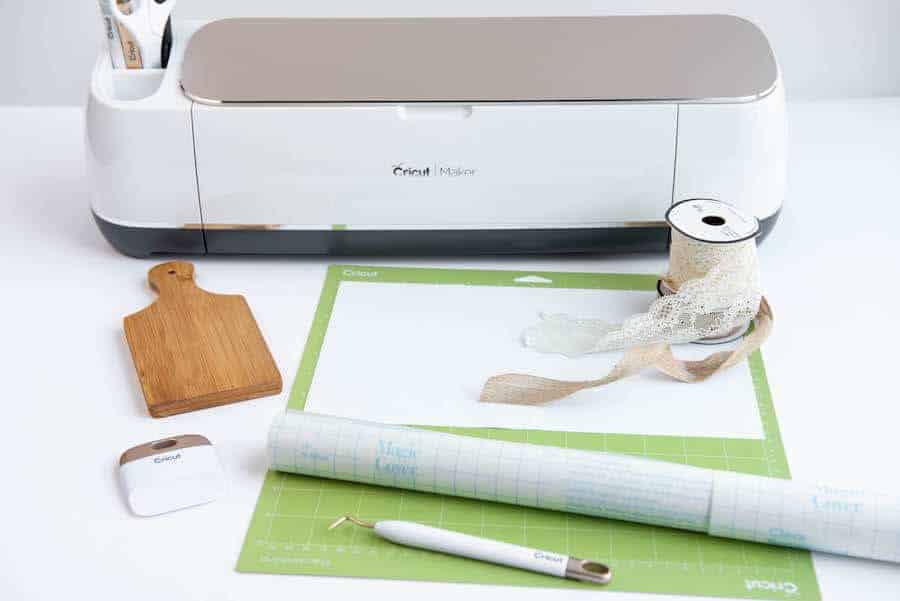 Cricut or other cutting machine
Cricut blue light or green standard grip mat
Oracle 651 vinyl or permanent vinyl of your choice
Transfer tape
Cricut Weeding tool
Cricut scrapper tool or old credit card
Mini cutting board
Ribbon of your choice – This one uses burlap ribbon, but buffalo plaid ribbon or even lace would look cute with this Cricut craft also!
The FREE Fall SVG – Download it at the link down below!
How to Make a Mini Decorative Cutting Board for your Fall Farmhouse Tray Decor
Step 1: Import the FREE Fall Cutting File to Design Space.
Click HERE for the FREE Fall SVG!
Adjust the size of the SVG to fit the size of the cutting board that you are using. You should size the SVG to be about a quarter of an inch shorter the the edge of your cutting board.
Step 2: Load vinyl and cut the FREE Fall SVG file with your Cricut.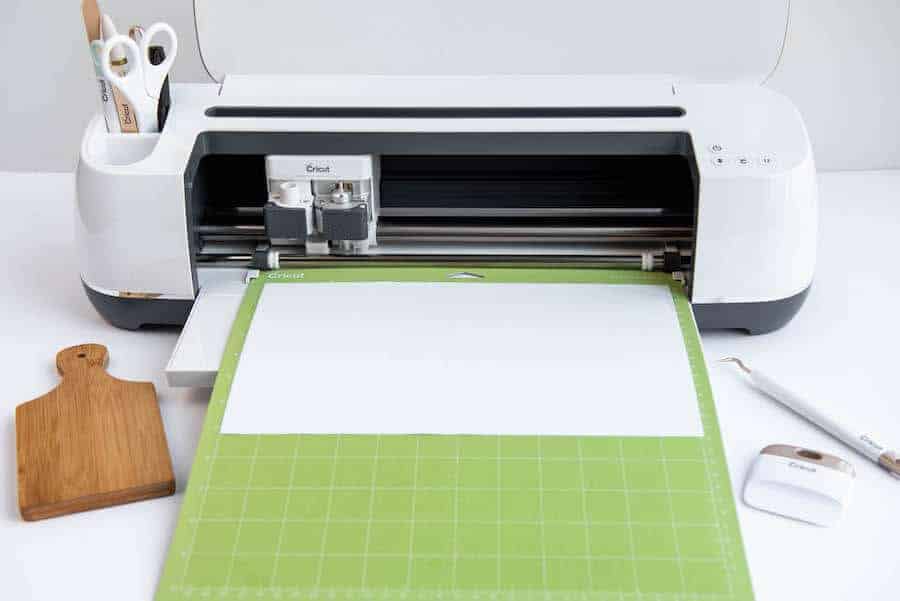 Once you've got the SVG sized to match your cutting board, select make in Design Space. Adjust the settings to vinyl, and load the Oracle 651 (permanent vinyl) to your machine on the blue light grip mat. Then, just hit "Go" and let your Cricut cut the cute Fall SVG!
Step 3: Now it's time to "weed".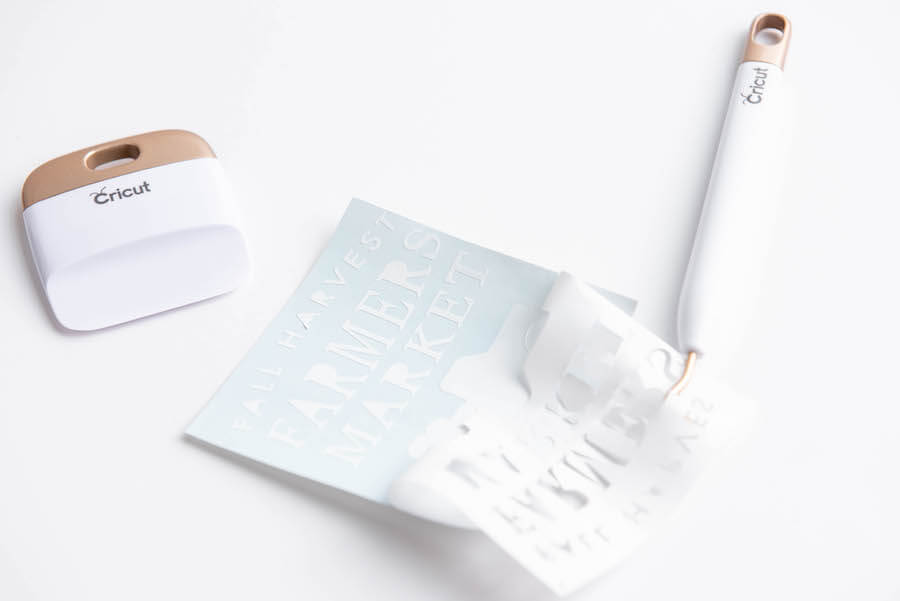 After your design is cut, it's time to weed the vinyl off and away from the Fall Farmer's Market design. Use your weeding tool (the one that looks like a dentist pick), and carefully peel the excess vinyl away. Don't forget about the small parts inside all of the enclosed letters, like "a" and "o".
Step 4: Transfer the Fall vinyl design to transfer tape.
After you're done weeding all of the design, cut a piece of transfer tape large enough to cover the entire design. Transfer tape is your best friend if you're a Cricut owner, because it allows you to get the design off of the vinyl and on to your super cute project.
Apply the transfer tape to your fall vinyl design using pressure with the scraper tool, or you can also use an old credit card. To do this, turn the entire design face down (vinyl part) on top of the transfer tape, and gently scrape across the top.
After the vinyl fall design has been transferred to your transfer tape, turn the entire design facing downwards and begin gently pulling the vinyl's plastic backing off and away from the transfer paper.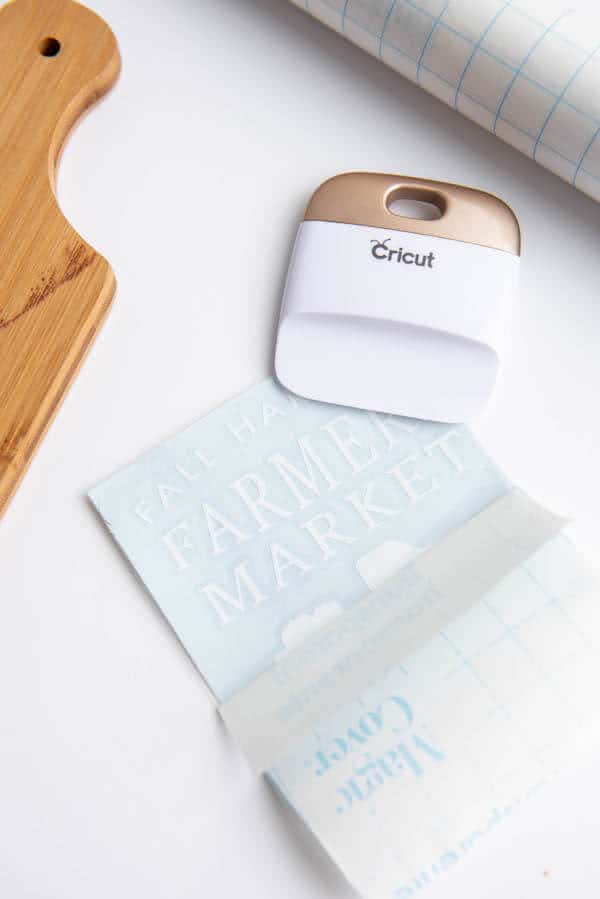 Step 5: Transfer the Fall design to your mini cutting board decor.
Position the vinyl on the transfer tape in the middle of your mini cutting board. Make sure to get it straight, because there's no going back! Once you're completely happy with the location of the design, apply pressure and smooth over the design using the scraper tool.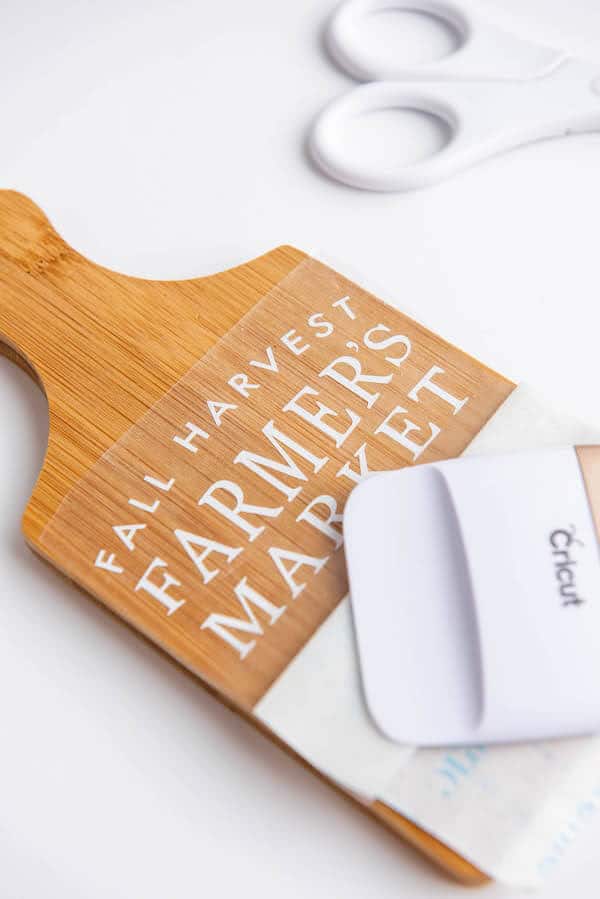 Then, slowly remove the transfer tape by very carefully rolling it away and off the cutting board. The vinyl will remain on your Fall Cricut project, and you'll have a cute mini cutting board for your Fall farmhouse tray decor!
Just add ribbon of your choice to the cutting board handle, and you're done!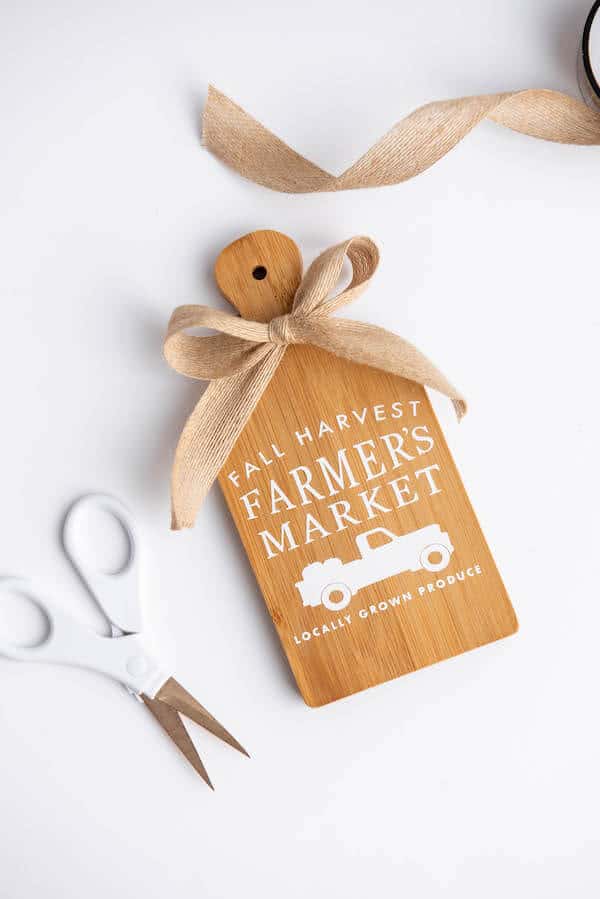 These cute Fall Cricut projects would be GREAT to make and sell at craft fairs! Or, you could even give it as a gift with a farmhouse tiered tray and some other fall decor… kind of like a "build your own fall farmhouse tray" gift!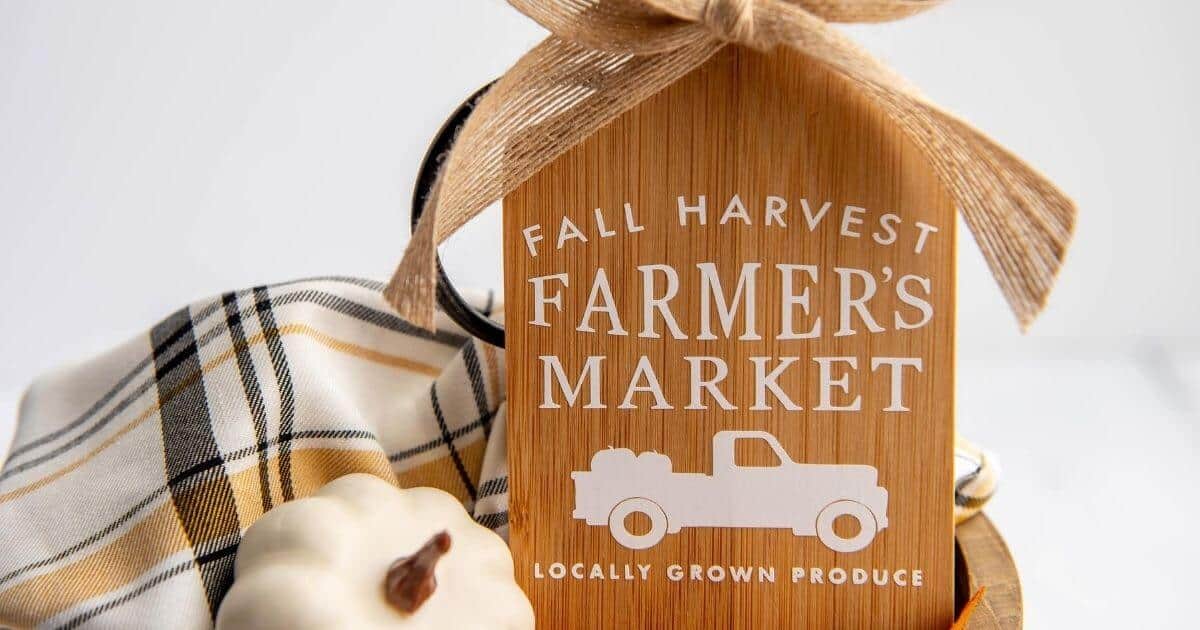 And be sure to check out my other Fall Cricut craft… this super cute "Farm Fresh Pies" sign made using a Dollar Tree frame and some paint sticks: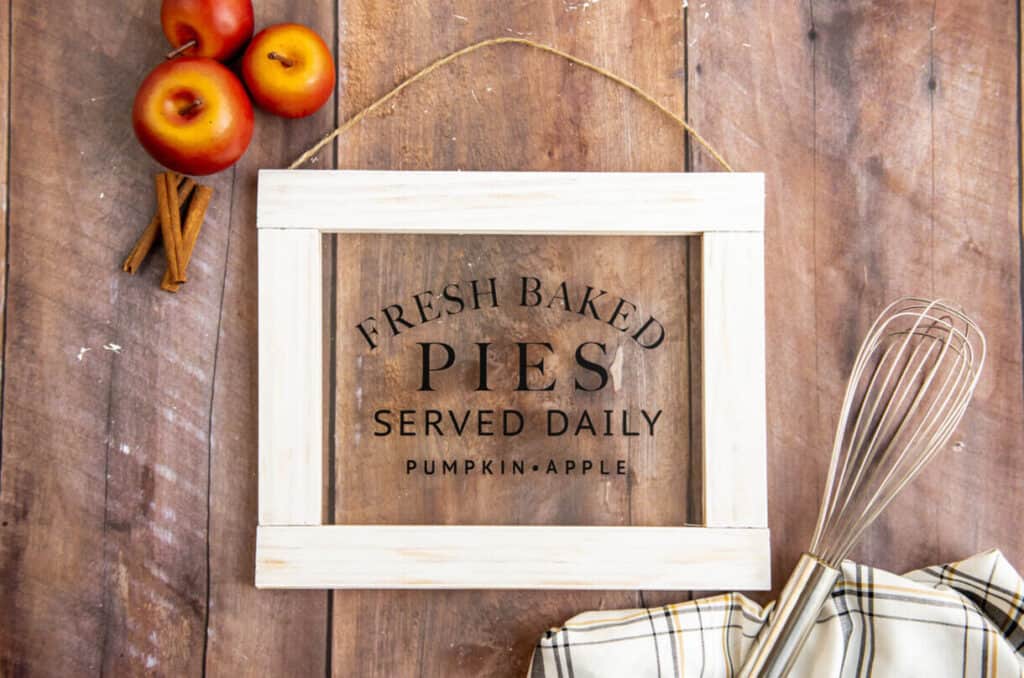 Do you have a farmhouse tiered tray that you decorate for different seasons? If so, what are some of your favorite ways to decorate it? I've seen some decorated with farmhouse style wood bead garlands, and those are super cute, too!
Leave me a comment down below! I'd LOVE to hear from you!
And happy nesting!