Movie Charades is an awesome game to play with kids or adults because it's so easy to prep and it's fun for all ages! Learn how to play movie charades and get a list of movies for your next charades game!
Charades is my go-to game when my kids are bored or when I'm hosting a house full of people that need to be entertained. Not only is this fun game super easy to play, but it also requires pretty much zero work to set up, and there's no clean-up afterwards.
And since you guys loved my Christmas Charades game, I decided to make a fun Movies Charades game also, so you can play year round when you need a simple party game or a fun summer activity to keep your kids busy.
Here's how to play movie charades and a big list of 160+ movie titles to use for your game: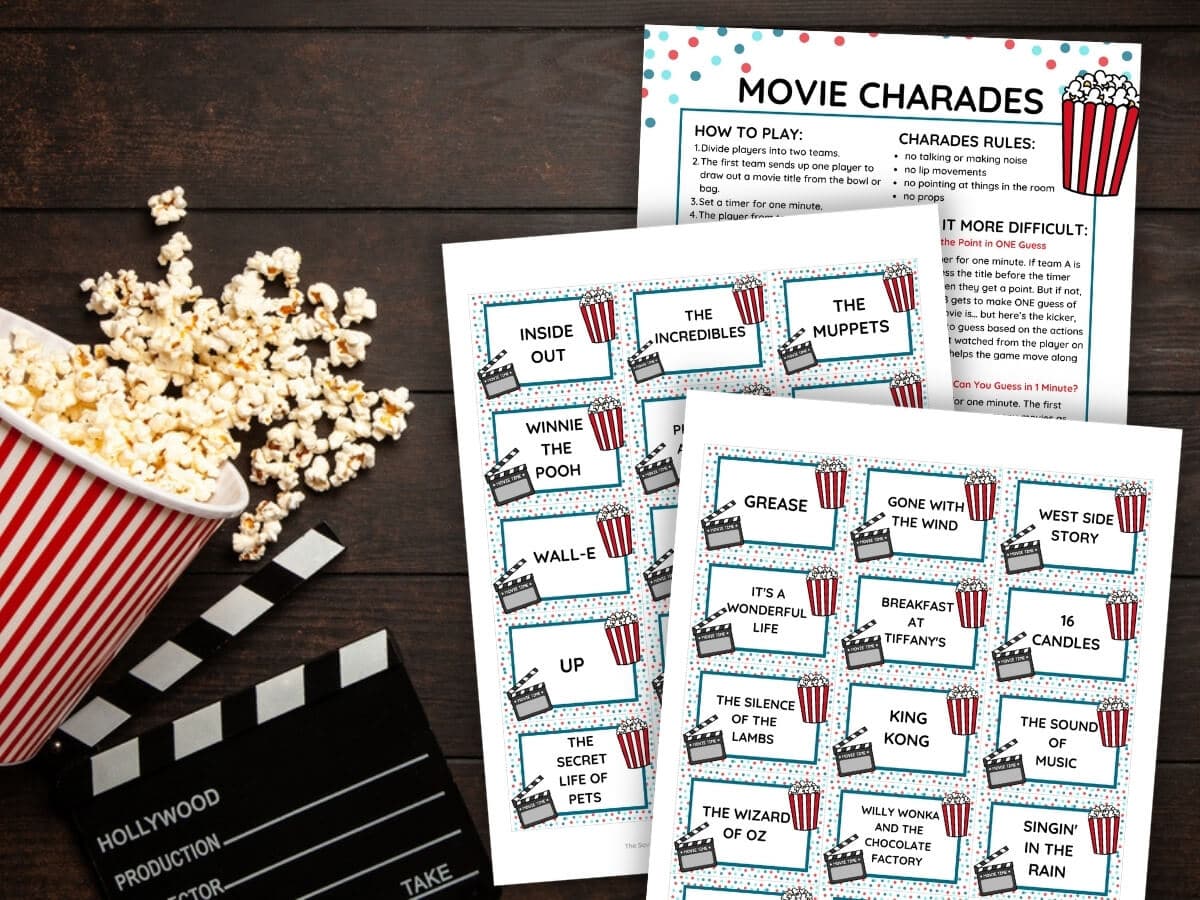 What is Movie Charades?
Movie charades is a game where players act out movie titles for others to guess. Think regular Charades except with a fun movie titles list.
This game requires pretty much zero prep work, and it's a great addition to your weekly family game night or to play around the bonfire on a summer evening with friends.
Whether you want to play movie charades for kids in your classroom with Disney movie titles or you need a fun party game for adults, this easy charades game is sure to be a hit!
Charades Rules
Just like the regular Charades game, the rules of Movie Charades are simple. When it's your turn to act out the movie on the card, there should be:
no talking or making noise of any kind
no lip movements
no pointing at things in the room
no props
How to Play Movie Charades
There are many different ways to play charades, but here are the basics:
Divide players into two teams.
The first team sends up one player to draw out a movie title from the bowl or bag.
Set a timer for one minute.
The player from team A acts out the chosen word or phrase for the other players on their team to guess.
If team A can't guess the word within 60 seconds, then the word gets passed to a player on the opposite team. The player from team B then gets a set amount of time to act out the same word for their teammates to try and "steal" the point.
Then, a player from team B draws a card and takes a turn.
One point is awarded for each correct guess.
The game goes on until one team reaches a specific number of points or the game time runs out. For instance, the game ends once a team gets 10 points or after 30 minutes of play.
*You can also skip the "steal" option… so if team A is not able to guess the movie title, then it gets thrown out, instead of giving team B a chance with the same title.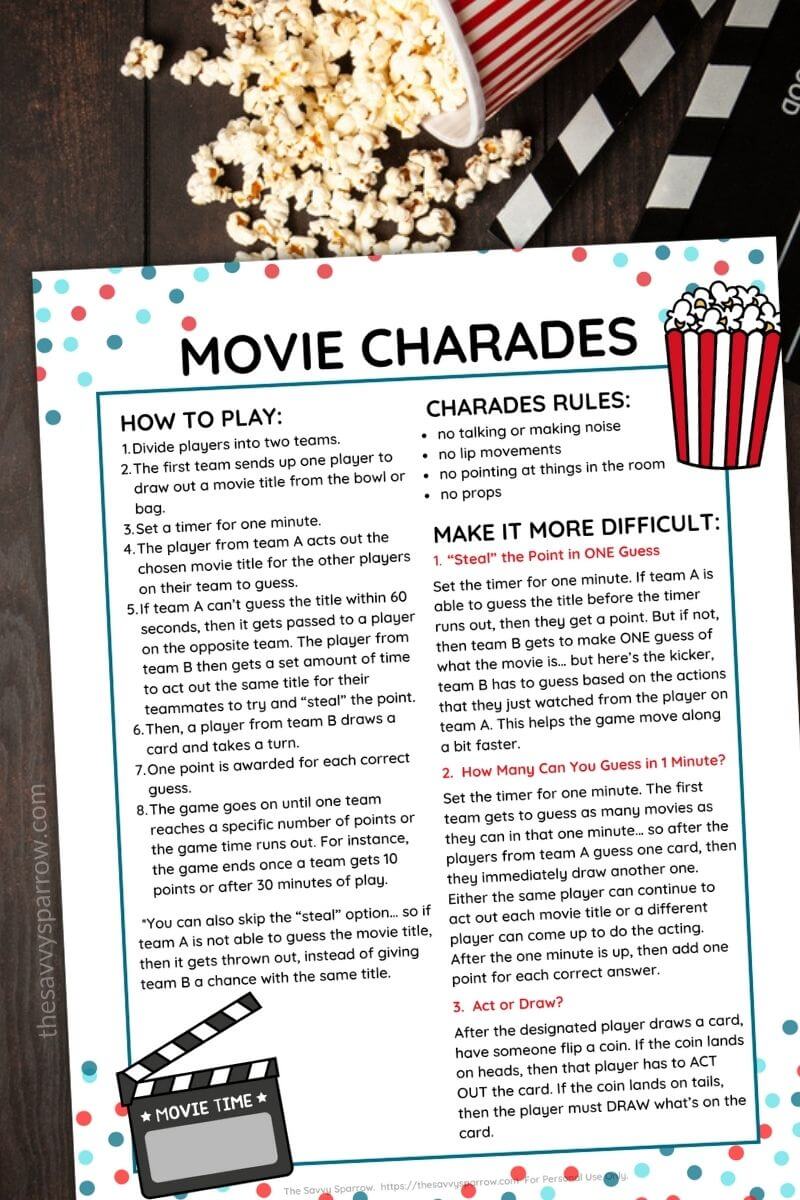 Movie Charades for Adults – Make Your Game More Challenging
To make this fun printable party game more challenging for older players, you can also use these fun variations:
Option 1: "Steal" the Point in ONE Guess
Set the timer for one minute. If team A is able to guess the word before the timer runs out, then they get a point. But if not, then team B gets to make ONE guess of what the Charades movie title is… but here's the kicker, team B has to guess based on the actions that they just watched from the player on team A. This helps the game move along a bit faster.
Option 2: How Many Can You Guess in One Minute?
Set the timer for one minute. The first team gets to guess as many words as they can in that one minute… so after the players from team A guess one card, then they immediately draw another one. Either the same player can continue to act out each word or a different player can come up to do the acting. After the one minute is up, then add one point for each correct answer.
Then, team B gets one minute to see how many they can guess.
Option 3: Act or Draw?
Combine Movie Charades and Pictionary in to one epic party game!
After the designated player draws a movie title, have someone flip a coin. If the coin lands on heads, then that player has to ACT OUT the card. If the coin lands on tails, then the player must DRAW what's on the card. Just add a large white board and some dry erase markers for this fun version of the classic party game!
*My printable movie Charades game cards are perfect for this!
What Do I Need to Play Movie Charades?
One of the best things about playing movie charades is that it requires very few supplies and you can set up the game in less than 5 minutes. Here's what you need:
List of movies for Charades – You can use my movie charades printable cards at the end of this post or write movie titles on individual slips of paper.
Timer – This can be a portable oven timer, a cheap 2 minute sand hourglass timer from Dollar Tree, or even the timer on your iPhone.
Decorative basket or gift bag to store the movie charades cards – So players can't see what movie title they are choosing!
Inexpensive prizes or treats for the winning team – You could even use movie-themed goodies as prizes, like boxes of microwave popcorn, movie theater candy boxes, gift cards for Netflix or Prime Video, or flavored popcorn salts.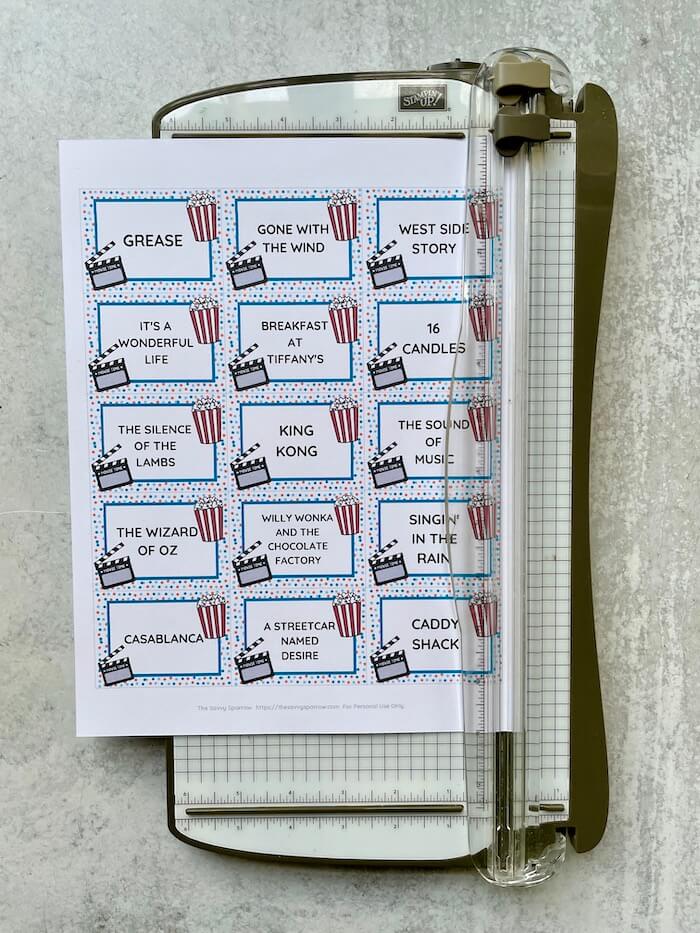 *Note – If you're going to use printable movie Charades cards, you'll need access to a printer plus white card stock, and scissors or a paper trimmer. I prefer printing my Charades cards on card stock because the game cards are much sturdier and I can use them year after year.
List of Movies for Charades
Want to make your own list of movies for charades? Here are some awesome movie titles to get you going:
Classic Movies for Charades
If you're playing this fun game with adults, then you'll probably want to include some classic movie titles like these:
Rocky
Die Hard
The Godfather
Star Wars
Back to the Future
ET
Ghost Busters
Pretty Woman
When Harry Met Sally
Goodfellas
Taxi Driver
The Shining
Jaws
Halloween
Schindler's List
Grease
Gone with the Wind
West Side Story
It's a Wonderful Life
Breakfast at Tiffany's
16 Candles
The Silence of the Lambs
King Kong
The Sound of Music
The Wizard of Oz
Willy Wonka and the Chocolate Factory
Singin' in the Rain
Casablanca
A Streetcar Named Desire
Caddy Shack
Who Framed Roger Rabbit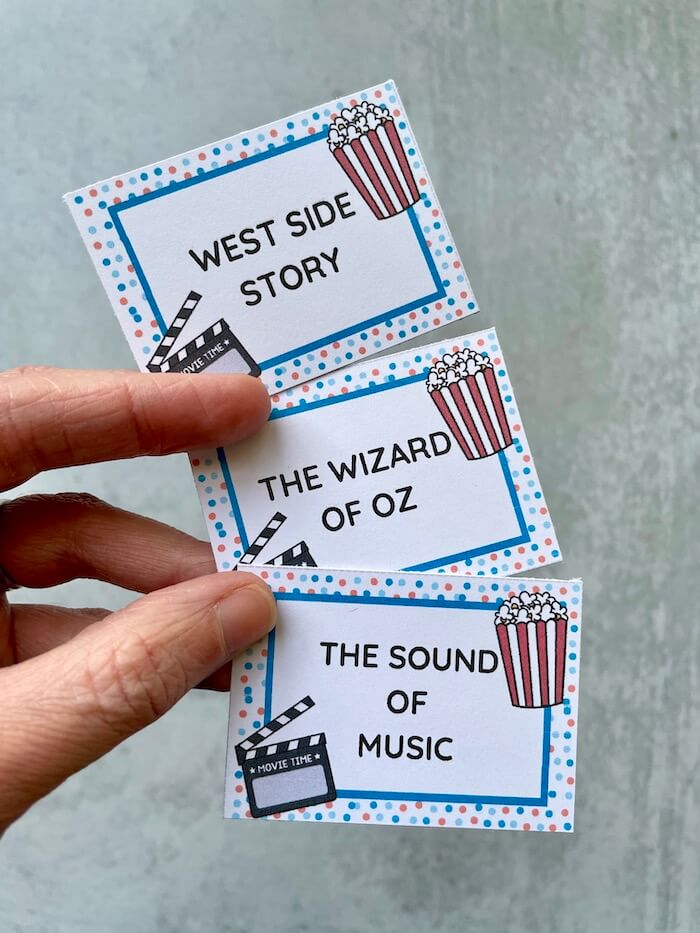 Comedy Movies for Charades
Here are some commonly known comedy movie titles that are perfect for your charades game:
Knocked Up
Bridesmaids
Happy Gilmore
The Hangover
American Pie
Napoleon Dynamite
Ace Ventura: Pet Detective
Mean Girls
Clueless
Dumb and Dumber
The Parent Trap
Honey, I Shrunk the Kids
Freaky Friday
Bill and Ted's Excellent Adventure
Big
Mrs. Doubtfire
Barbershop
Dazed and Confused
Zoolander
Super Troopers
The 40 Year Old Virgin
Legally Blonde
The School of Rock
Sister Act
National Lampoon's Vacation
Meet the Parents
Four Weddings and a Funeral
Superbad
Ferris Bueller's Day Off
Austin Powers: International Man of Mystery
Coming to America
Groundhog Day
Action and Drama Movies for Charades
Black Hawk Down
Anaconda
The Bourne Identity
Matrix
Castaway
Saw
Saving Private Ryan
The Big Lebowski
Titanic
Speed
Scream
The Hunger Games
Jurassic Park
The Sixth Sense
Edward Scissorhands
Free Willy
Cool Runnings
The Karate Kid
Interview with the Vampire
Forrest Gump
Pirates of the Caribbean
Harry Potter and The Sorcerer's Stone
The Lord of the Rings
The Shawshank Redemption
The Green Mile
Dances with Wolves
Rain Man
Braveheart
Indiana Jones and The Temple of Doom
Pulp Fiction
The Texas Chain Saw Massacre
Good Will Hunting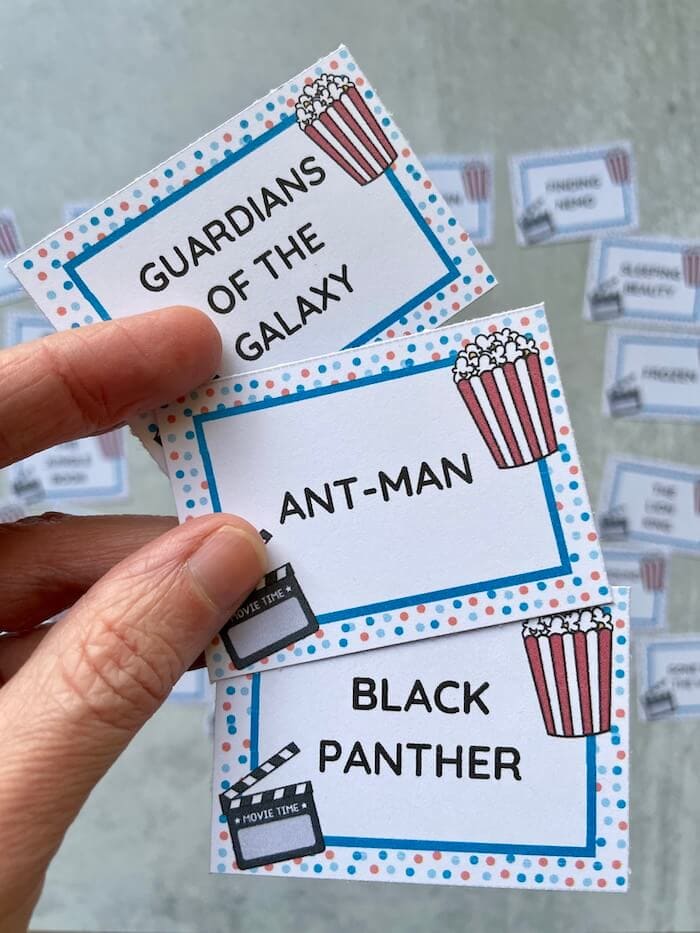 Superhero Movies for Charades
These comic and superhero movie titles are great if you're playing movie charades in a group of both kids and adults:
Spider-Man
Batman and Robin
Batman
Wonder Woman
The Dark Knight
Teenage Mutant Ninja Turtles
The Incredible Hulk
Superman
Iron Man
Thor
Captain America: The First Avenger
Black Widow
X-Men
Ant-Man
Marvel's The Avengers
Guardians of the Galaxy
Black Panther
Disney Movie Charades for Kids
If you want to play movie charades for kids in your classroom or as a fun indoor activity, here are some Disney movie titles to get you started: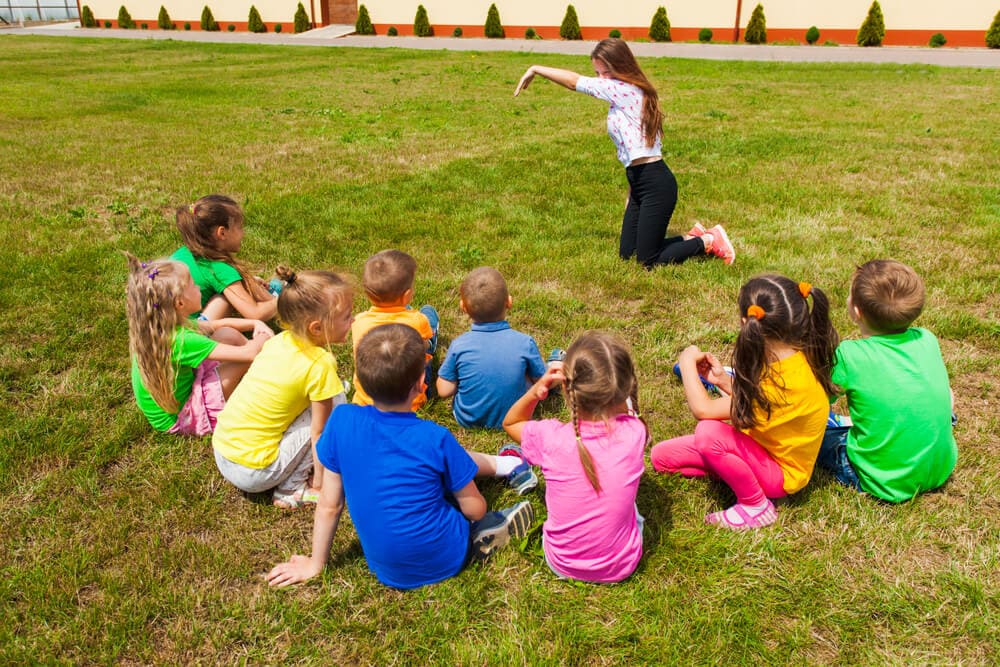 The Jungle Book
Frozen
Moana
Beauty and the Beast
The Lion King
Finding Nemo
Toy Story
Monsters Inc.
Aladdin
Sleeping Beauty
Cinderella
Dumbo
The Little Mermaid
Snow White
A Bug's Life
101 Dalmations
Bambi
Mulan
Pocahantas
Lady and the Tramp
Wreck-It Ralph
Ratatouille
The Princess Diaries
Cars
Mary Poppins
Descendants
Inside Out
The Incredibles
The Muppets
Winnie the Pooh
The Princess and the Frog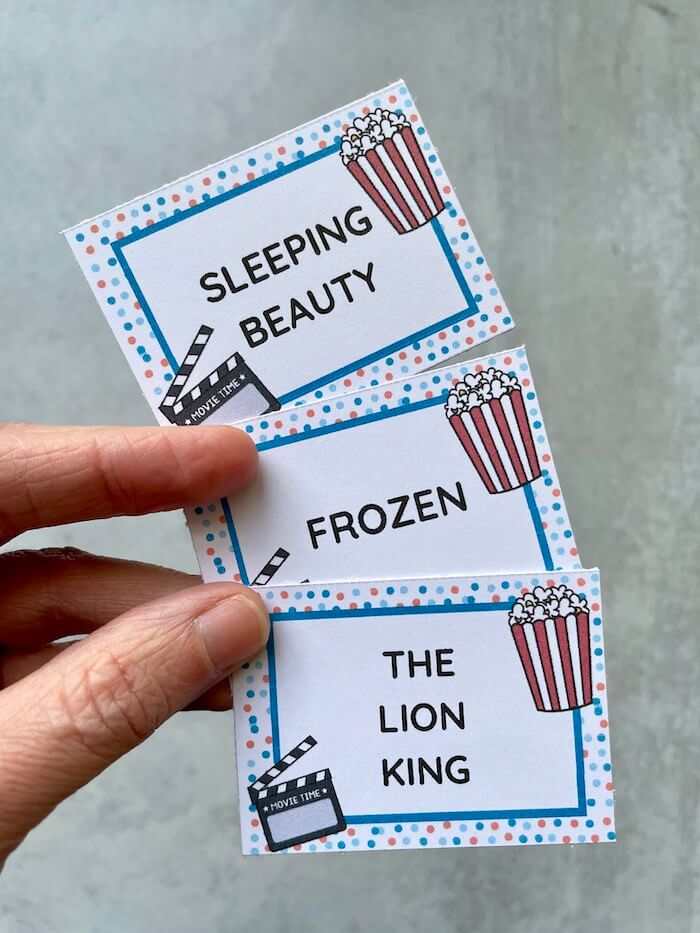 Other Kids Charades Movie Titles
The Grinch
Wall-E
Shrek
Despicable Me
Up
Trolls
Diary of a Wimpy Kid
The Secret Life of Pets
The Emoji Movie
The Lego Movie
Kung Fu Panda
How to Train Your Dragon
Sing
Captain Underpants: The First Epic Movie
Ice Age
Madagascar
The Croods
Happy Feet
Cloudy with a Chance of Meatballs
Minions
The Lorax
Paddington
Hotel Transylvania
Printable Movie Charades Cards
Want to make setting up your movie charades game even easier? Instead of writing the list of movies on individual slips of paper, you can use my cute printable movie charades cards!
Click HERE for the Printable Movie Charades Game Cards!