This huge list of Christmas Eve Box fillers will help you create the best ever Night Before Christmas box for kids or adults! Start the super fun Christmas Eve Box tradition with your family this year!
Wrapping up matching holiday pajamas and sticking them under the tree for your family to open on Christmas Eve is nice…
But what if your kids got an entire box filled with holiday goodies, sweet treats, and fun activities on Christmas Eve instead?! That's where the popular Christmas Eve box comes in! Start your gift giving a day early and plan some fun activities by starting this fun Christmas tradition with your family!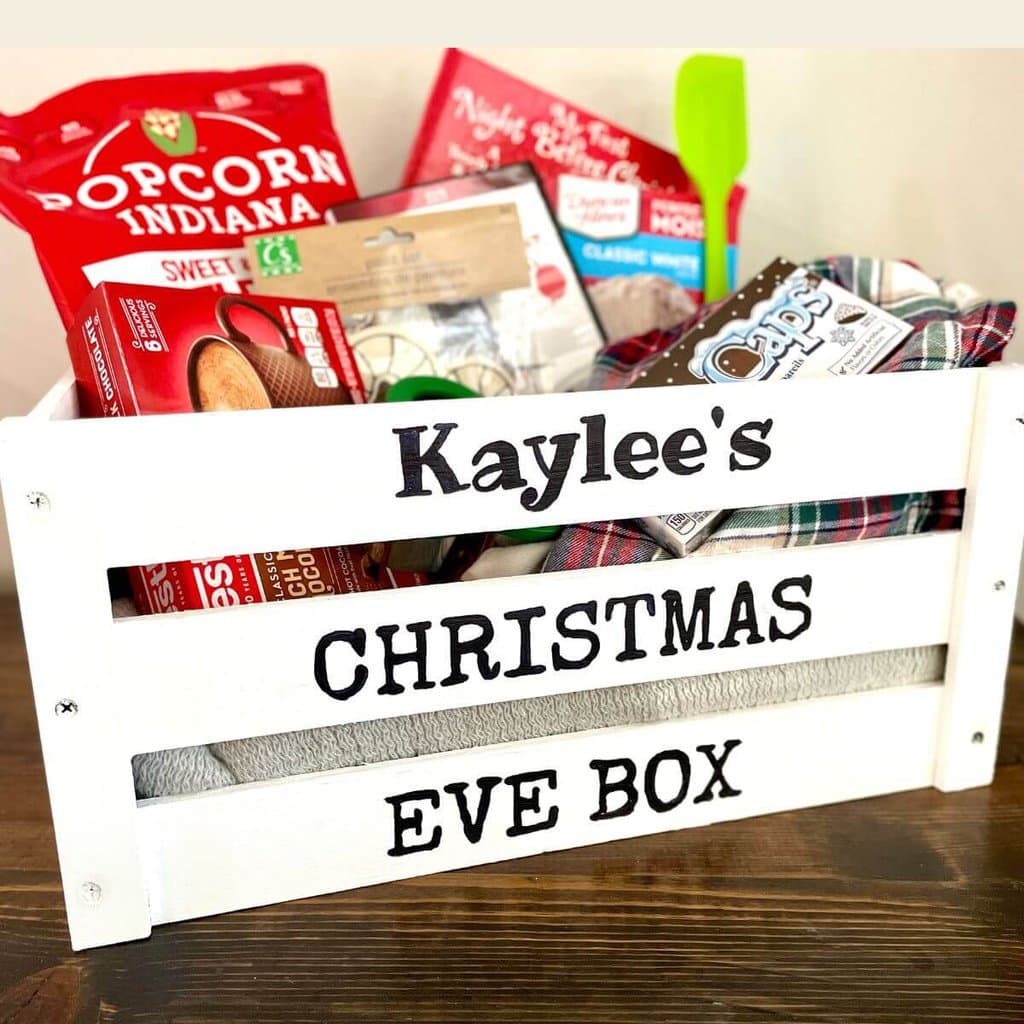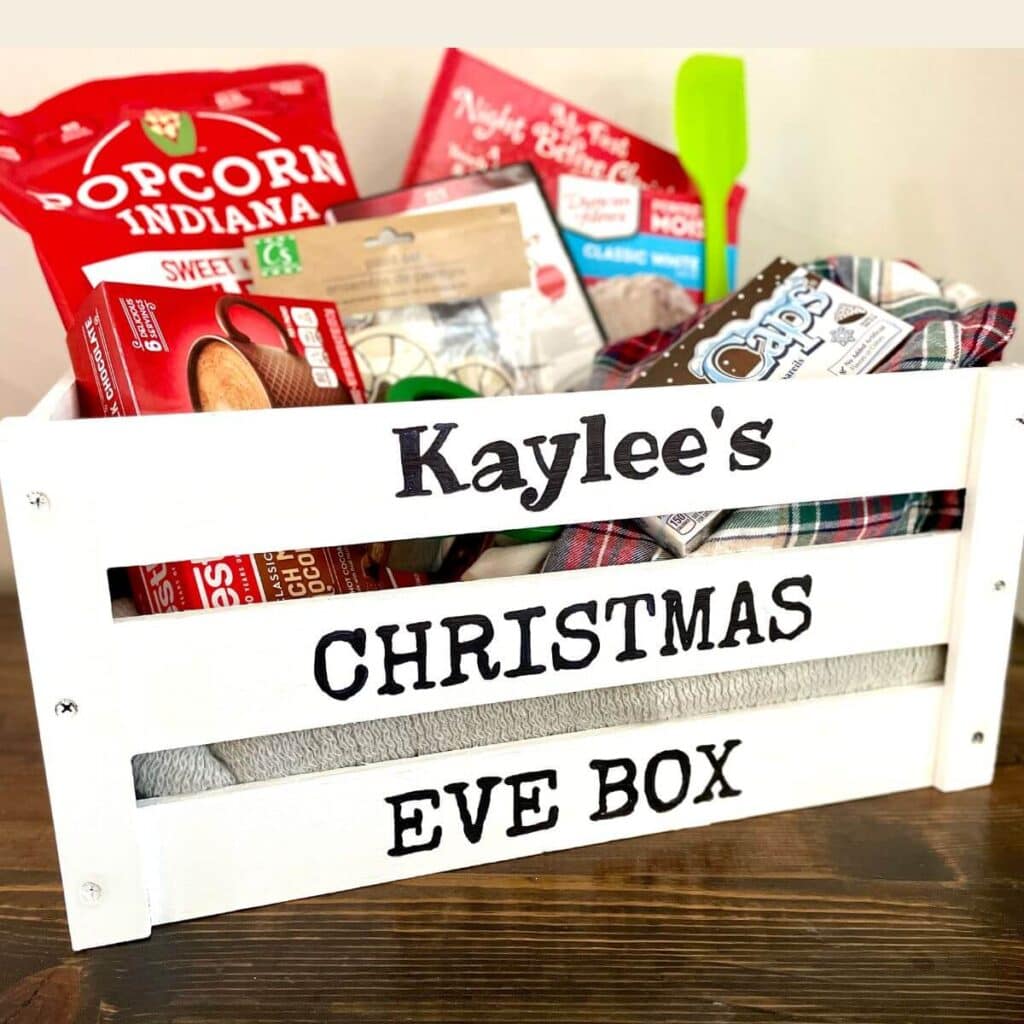 *This post contains affiliate links, which means if you click a link and make a purchase, I earn a commission at no additional cost to you. Read my full disclosure for more info.
What is a Christmas Eve Box?
Before we jump into the ideas for Christmas Eve Box fillers, you may be wondering what exactly a Christmas Eve box is in the first place?
A Christmas Eve Box, sometimes called a Night Before Christmas Box, is a box full of items that can be used on Christmas Eve to help celebrate the season. In the past, Christmas Eve Boxes were given to children as a family tradition and to help corral all of the fun activities, sweet treats, and movies and books that they enjoy on Christmas Eve. But more recently, Christmas Eve Boxes for adults have become popular… because who says that kids get to have all the fun on Christmas Eve?!
The box itself is typically used year after year, and it's presented to kids or adults on Christmas Eve morning. If you have an Elf on the Shelf, you can even have your elf deliver your kids' Christmas Eve Box to them!
There are a few different ways to set up your Night Before Christmas Box:
Make one box for each individual family member – This is great if your kids are different ages, because your toddlers will obviously enjoy different goodies than your teenagers.
Put Christmas Eve box fillers for multiple kids in one box – This is what I'll be doing this year… Both of my daughters will have their own pairs of holiday pajamas in the box, plus each of their favorite movie theater candy. Then, they can share certain items like the popcorn and cookie baking kit.
Make a family Christmas Eve Box for everyone to enjoy together – This is definitely the less expensive option, and you can fill it with items that the whole family can enjoy together on Christmas Eve like a movie, a big bag of popcorn, and a board game.
What should I use for my Christmas Eve Box?
This fun family Christmas tradition is called a Christmas Eve Box, but what type of "box" should you actually use to hold all of your goodies each year? You have a few different options, but most importantly, look for a box or crate that's nice and sturdy if you'll be using it for many Christmases to come.
Also, I would recommend that the box ONLY be used for your Christmas Eve Box (rather than just grabbing an everyday storage bin from your mudroom or closet), that way your kids will equate it to Christmas time and it will be more special.
Use a store bought Christmas-themed box
You can usually find holiday themed decorative storage baskets at Target, Walmart, or home decor stores like Home Goods or Kirklands. This is probably the quickest and easiest way to start this fun holiday tradition, because you just need to buy a bin and you're ready to start filling it!
Another option for your Christmas Eve box is to use a decorative basket from a store like Hobby Lobby. You can buy a pretty basket like one of these, and then add some pretty Christmas wired-ribbon and a Farmhouse-style customized wooden tag to the handle to make it look more festive!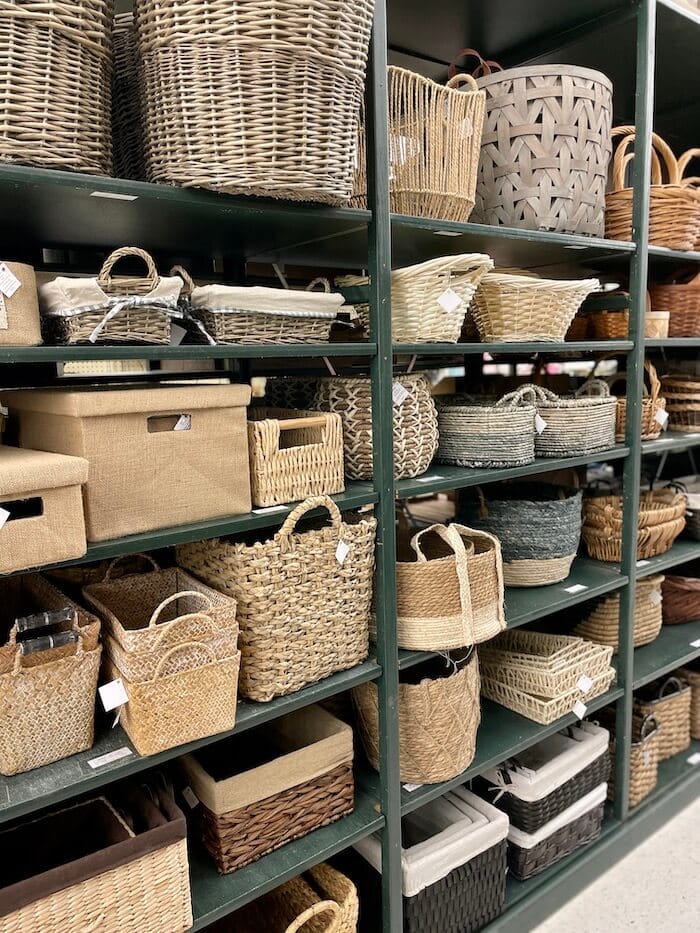 Buy a personalized box
If you want a personalized Christmas Eve box for kids, then you can find some cute options on Etsy and Amazon here. Scroll through and find your favorite, and then have your child's name printed on the front or, for a family box, personalize with your last name.
Make your own wooden Christmas crate
Want a fun holiday craft? You can buy unfinished wood crates at most craft stores, then paint and decorate your own DIY Christmas Eve box. The great thing about this option is that then you can customize the box yourself, paint it colors to match your Christmas home decor, and add your own embellishments.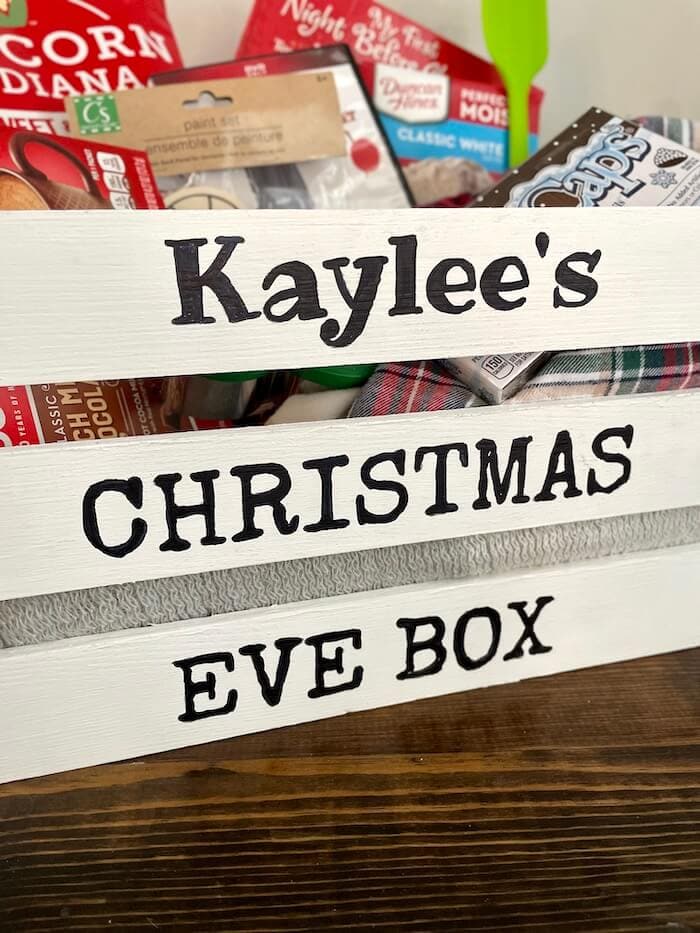 And if you want to stencil on your child's name, you can check out this post for how to make your own personalized wooden Christmas crate – This is an awesome tutorial for how to do hand lettering that looks professional, without having a Cricut machine or buying special stencils! And these are the exact steps that I followed to make the Christmas Eve box above!
*PRO TIP – If you make your own box like the one I did above, be sure to color in the letters with the Dollar Tree permanent markers… They come in a 4 pack for $1.25, and they work much better on the painted wood than the name-brand Sharpies.
Delivery Ideas for Your Christmas Eve Crate
After you've decided what you're going to fill your box with, you might want to think about fun ways to "deliver" the box to make it extra special for your family! Rather than just saying, "Here's your Christmas Eve box" and handing your kids or husband a box of goodies, try one of these fun ideas:
Have The North Pole deliver your Christmas Eve Box
If your younger kids believe in Santa, then why not have the jolly old guy ship your Christmas Eve Boxes straight from The North Pole?! Rather than you giving the box to your kids on Christmas Eve morning, sneak outside bright and early and plant the box on the front porch like it was shipped from Santa himself!
If you go with this idea, then you'll probably want to package up all of your box fillers in an actual cardboard shipping box. You can even decorate the outside of the box with Christmas stickers or simple red painted polka dots to make it festive, and add in some green or red paper shreds to the inside of the box.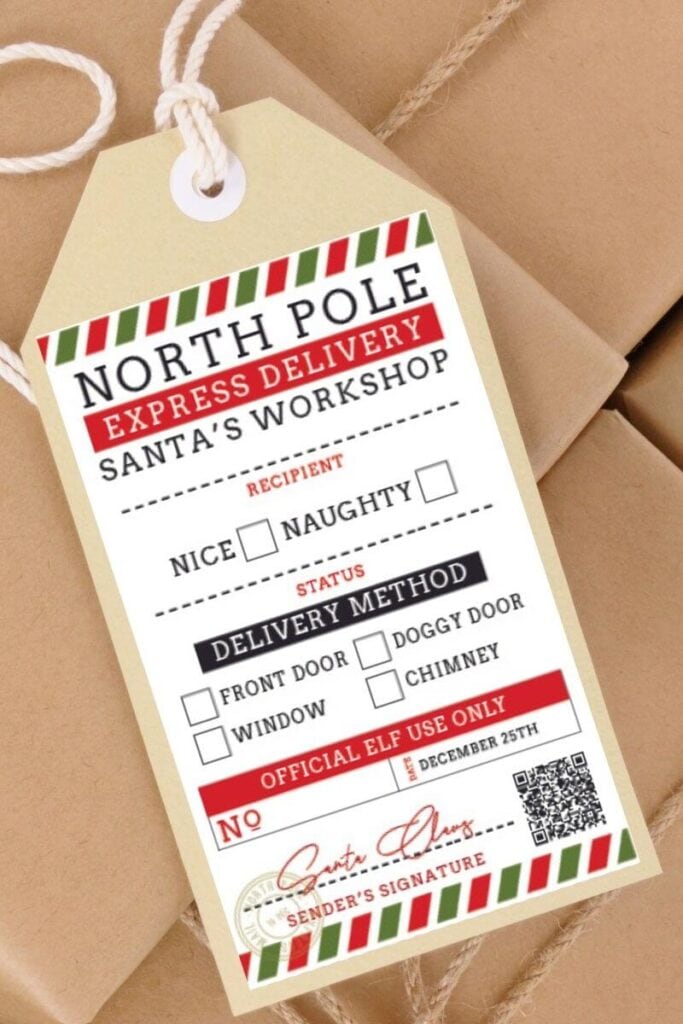 And this printable North Pole Shipping Label is perfect for having Santa ship your kids' Christmas Eve box! It looks totally official, and you can even type your child's name into the label!
Have your Elf deliver your Box
If you've got an Elf on the Shelf, chances are you're racking your brain trying to come up with 24 fun ways to pose your little guy each night… so why not take one night off and just set your Elf on top of the Christmas Eve Box, like he delivered it himself!
Just set the box on your kitchen counter or under the Christmas tree and hang your Elf on the Shelf out the top of it! You could even make a quick Elf note to announce the arrival of the special box!
Do a Christmas treasure hunt with clues to find the Box
Start your Christmas Eve morning with a fun treasure hunt to find the Christmas Eve crate! You can print out Christmas treasure hunt clues, and then hide the clue cards around the house. Have the final clue lead to the Christmas Eve box! Your kids are sure to love this fun activity, and this can easily be added into your family's traditions to do every year!
Christmas Eve Box Fillers for Kids
After you have your actual box, you'll need to fill it with goodies to give your kids on Christmas Eve. Think about what types of holiday traditions your family already has for Christmas Eve, and start there for ideas of what to put in a Christmas Eve box.
For instance, if you typically give your kids a new pair of winter pajamas to wear on Christmas Eve, you can add those to the box. Or if your family snuggles up in bed and reads a Christmas book together, add a new Christmas book to the box.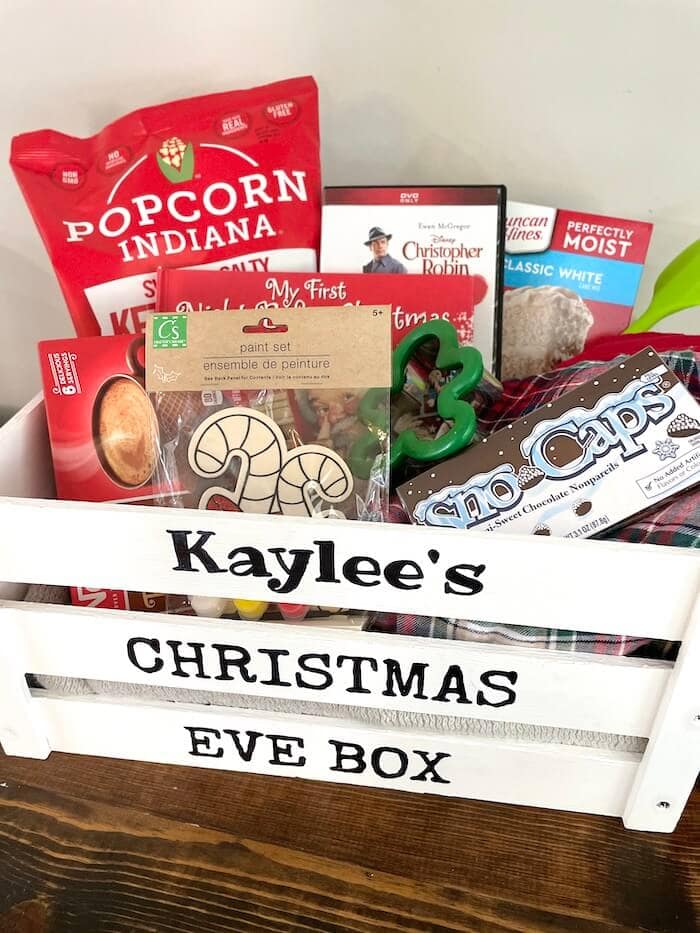 Here are some other ideas for Christmas Eve Box fillers for kids… I like to pick a few items from each category for a nice variety of activities, snacks, and cozy things:
Christmas Eve Gifts to Wear
Items that your kids can wear during winter break while they're snuggled up at home are a great thing to include in your box. Try some of these ideas:
Fuzzy socks
New slippers – I find that my kids' slippers tend to only last about one year, so what better time to replace them than Christmas time when you can find some great sales!
Christmas themed pajamas
Christmas earrings or other jewelry
Santa hats or reindeer antler headbands – These are fun for kids to wear around the house leading up to Christmas day.
Christmas socks
Battery-powered Christmas lights necklaces – You can usually find these at Dollar Tree.
A Christmas sweater (or an Ugly Christmas sweater!)
A new outfit for Christmas Eve church service
Activities and Games for Your Christmas Eve Box
The holidays are best spent making memories with your family, so why not include some fun games and activities in the Night Before Christmas Box?! Here are some box filler ideas:
Christmas movie – If you don't want to actually purchase or rent a DVD movie, you can also print out a picture of the movie and add it to the box so your kids know what movie you'll be streaming together on Christmas Eve.
Christmas or winter themed coloring books and new crayons or colored pencils
Printable Christmas Charades game – This fun game can be played with the whole family while you're sitting on the couch and sipping hot cocoa!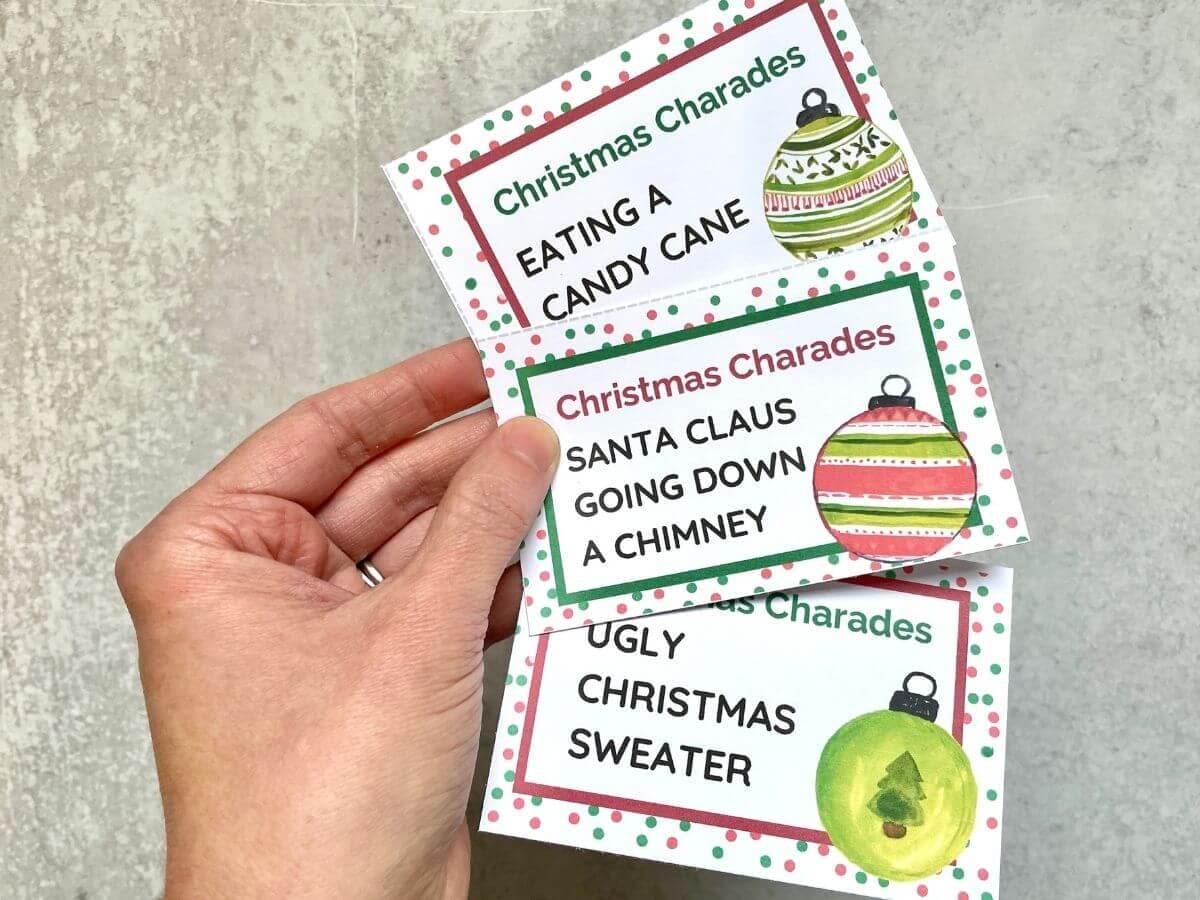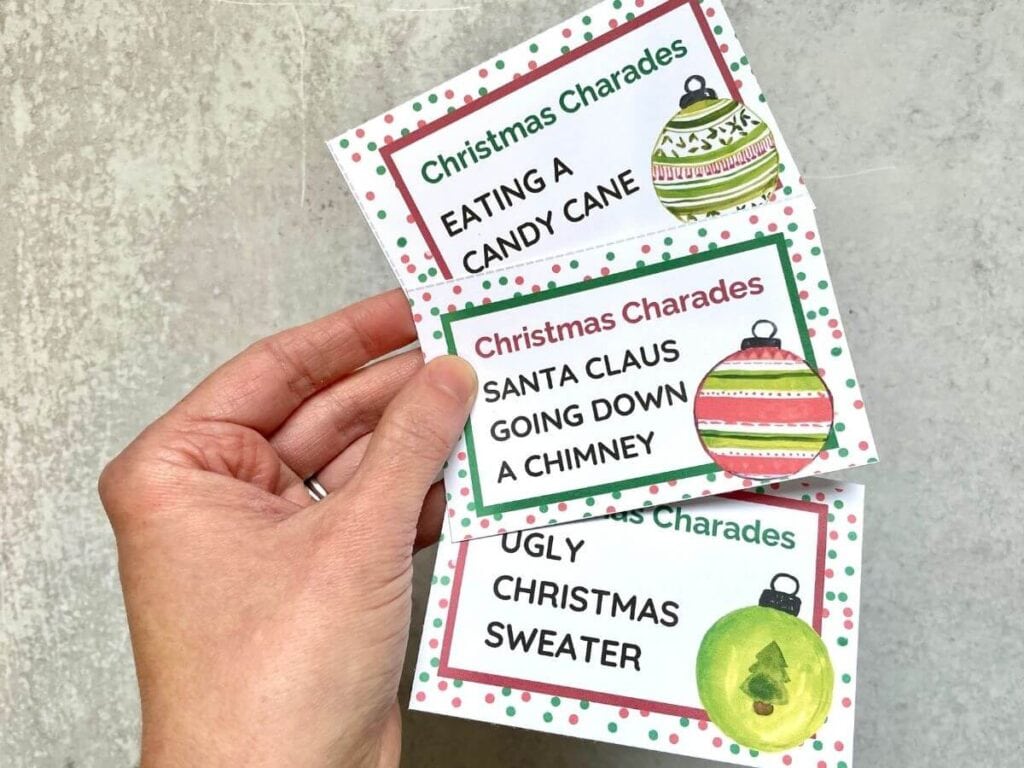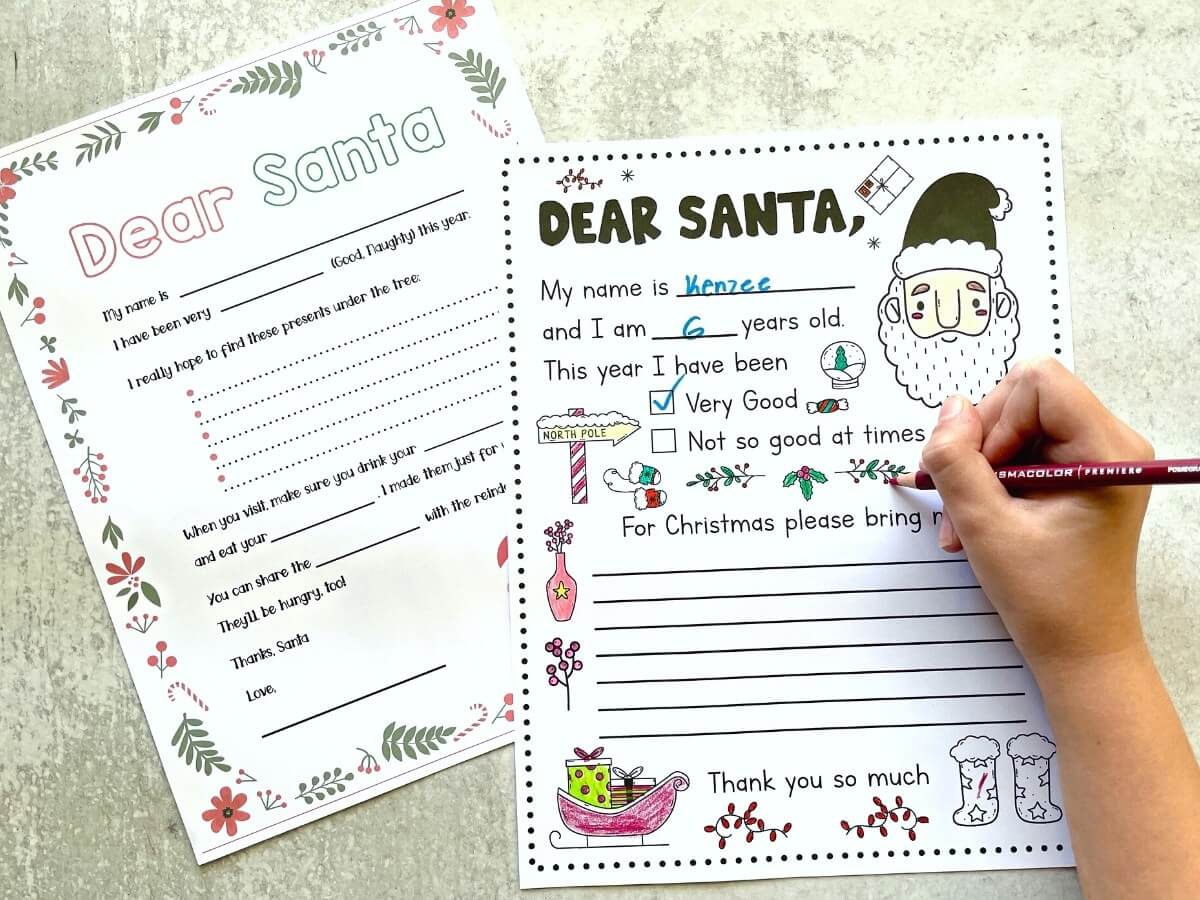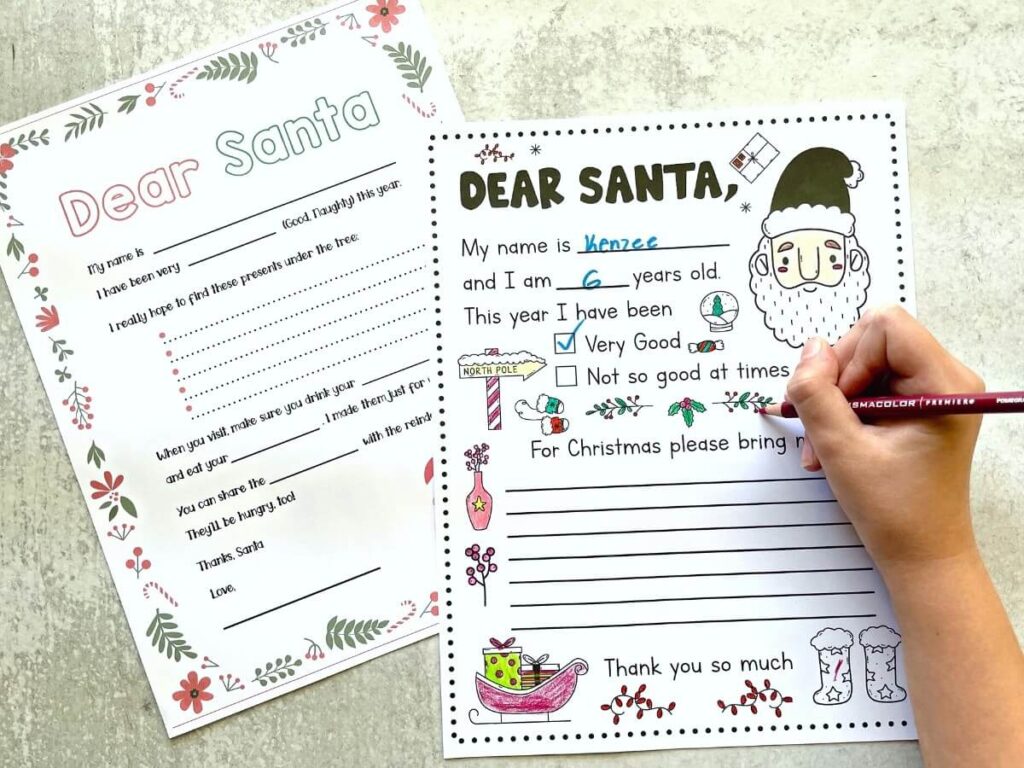 Small Christmas crafts – You can usually find cute Christmas craft packs at Dollar Tree or in the Target Dollar Spot.
3D glasses for looking at Christmas lights – If you haven't tried these fun glasses, you should! Put on the 3D glasses and whenever you look at lights, they'll look like tons of Christmas shapes like gingerbread men or candy canes!
Christmas stickers
A gift card for the movie theater – If your family typically goes to see a movie together on Christmas Eve.
Free printable Christmas paper crafts – You can grab my free printable 3D Paper Christmas ornaments or 3D paper gingerbread house crafts to add to your box for easy FREE crafts!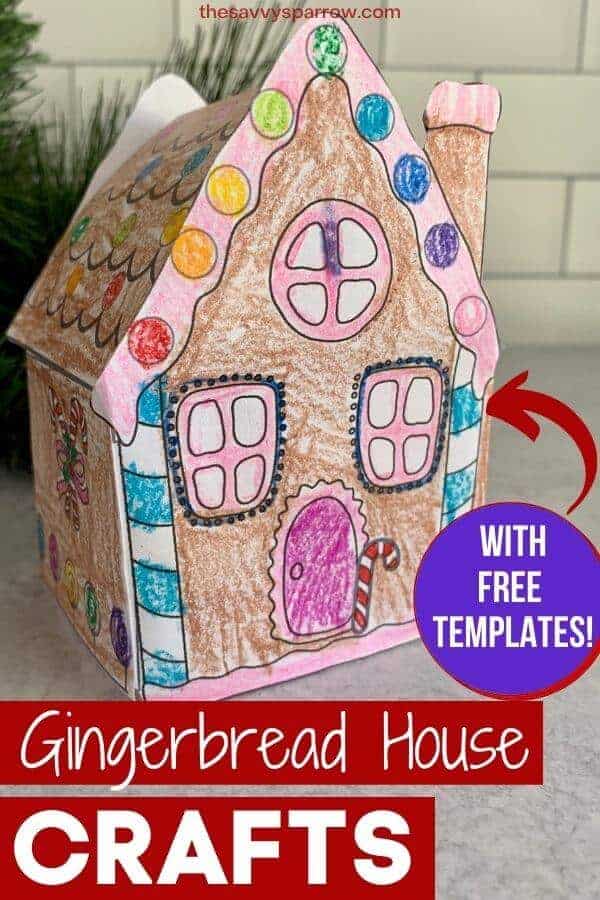 Sweets and Snacks for Christmas Eve Box Fillers
'Tis the season for sweets, so your Christmas Eve Box wouldn't be complete without a few edible goodies!
Most families probably have some sort of Christmas Eve traditions that involve food, so why not add that to the box as well. For instance, our family makes hot cocoa and then we all pile in the car to go look at Christmas lights, so I'll be adding some hot cocoa mix to our box.
Here are some other ideas:
Candy canes
Hot cocoa mix
Movie theater boxes of candy to enjoy while you watch a Christmas movie
Ingredients to make S'mores
Popcorn for your Christmas movie
Hot cocoa bombs or a silicone mold and supplies to make your own – You can see how to make hot cocoa bombs here!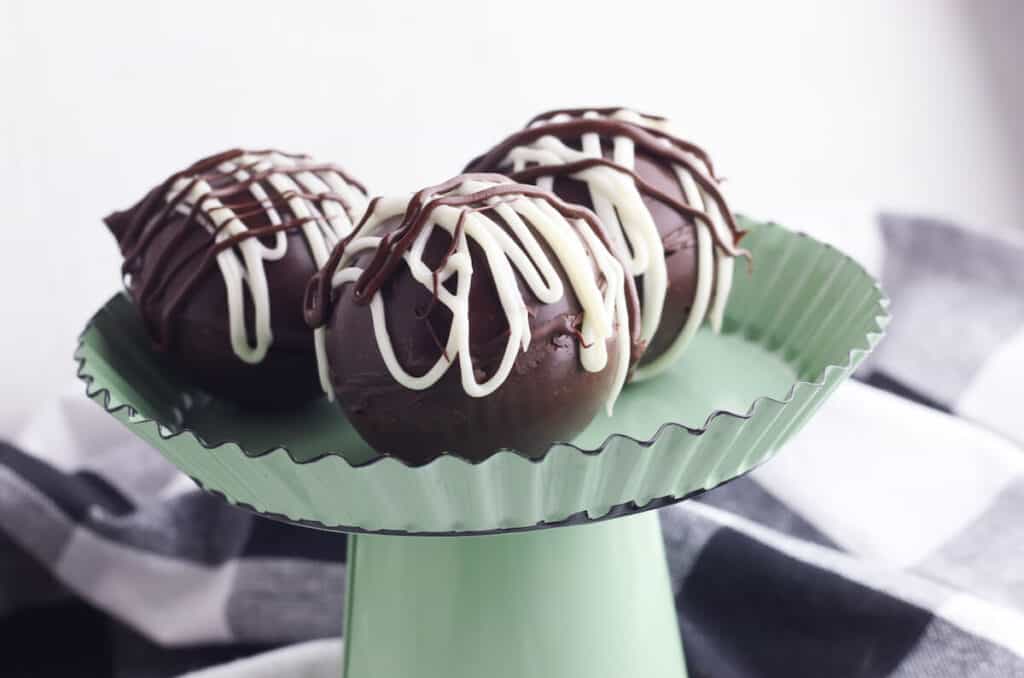 Cookie decorating kit – Perfect for making your cookies for Santa!
Packaged cookie mix and canned icing
Gingerbread house decorating kit
Stuff to make Christmas Eve breakfast – You can include shelf-stable items that don't need to be refrigerated, like pancake mix, syrup, or donuts.
Carrots for Santa's reindeer
Marshmallow mug toppers – The giant snowflake or snowman shaped marshmallows that float on top of hot cocoa.
Pizza making supplies – If you typically have pizza on Christmas Eve.
Boxed cake mix, canned icing, and sprinkles – Our family bakes a birthday cake for Jesus every Christmas Eve, so this Christmas Eve box filler is perfect for us!
Other Christmas Eve Box Ideas for Kids
Here are even more Christmas Eve box fillers that your kids will LOVE:
A special plate to use for Santa's Cookies – If you have a nice Christmas plate that you use year after year to leave out on the counter with Santa's sweet treats, then go ahead and include this in the box… as a bonus, it takes up space so your box will look fuller without you spending a bunch of extra money.
A letter from Santa – What would create more excitement and anticipation for Christmas day than a letter from Santa himself?! Your Christmas Eve Box is a great way to deliver it!
A Christmas coupon book – My kids LOVE these printable Christmas coupons that can be customized with fun family activities, dates with Mom or Dad, or small treats.
Bath bombs or Christmas-scented bubble bath – Great for your kids' baths on the night before Christmas!
A new ornament for each child
Santa's magical key – If you don't have a chimney, you can hang the magical key on your front door so Santa can get in your house another way!
Christmas or winter-themed mugs – Great for drinking your hot cocoa on Christmas Eve morning!
Christmas Eve Box Fillers for Adults
Now that you've gotten loads of ideas for what to put in a Christmas Eve box for kids, let's talk about the adults box! Here are some awesome filler ideas for adults – whether it's your husband, your parents, or your adult kids that are coming to visit for the holidays. These Christmas Eve box fillers for adults are sure to be loved by all:
Bag of holiday flavored coffee or K-cups and flavored syrups – Christmas flavored goodies like gingerbread latte K-cups or peppermint syrup are great for Christmas morning!
Bottled Starbucks or coffee beverages – Like the 4 pack of Frappuccino bottles you can find in the grocery store.
Some fancy chocolates or truffles
Holiday-themed paper plates, napkins, and cups – Give the adults the day off from "adulting" and doing the dishes!
A holiday scented body wash or lotion
Hot chocolate spoons – Or supplies to make your own hot cocoa spoons!
A holiday scented candle
A bottle of wine to enjoy on Christmas Eve night – Maybe after you put the kids to bed and you're wrapping last-minute gifts?
An Amazon Prime gift card to rent a Christmas movie
A gift card to a local pizza delivery restaurant – We love having a low-key Christmas Eve night with an easy pizza dinner!
Stove top potpourri set – To make the whole house smell like Christmas time!
A small bottle of sweet liquor – Great for a little Christmas cocktail or spiked cider!
Fuzzy socks or slippers
A warm throw blanket
A new robe or pajamas
What do you use as Christmas Eve box fillers?
I hope these Christmas Eve box filler ideas have been helpful in creating your own fun boxes this year! And if you want my #1 tip for filling the best Night Before Christmas Box for kids, then start with your own family traditions… Think about what fun activities, delicious treats, and funny holiday accessories or clothing that your family wears each year and work those items into your Christmas Eve box.
Or add in some fun box fillers to create new family Christmas traditions!
What are some of your favorite ideas for things to put in a Christmas Eve box? Have you tried this fun Christmas tradition? If so, leave me a comment down below… I'd LOVE to hear from you!
And don't forget to PIN this post for later: