Looking for Christmas books for toddlers and preschoolers to read this holiday season? These are some of the best Christmas stories for your younger kids, from board books to picture books and everything in between!
There's something magical about celebrating the Christmas season with toddlers and preschoolers. I think it has something to do with how they view everything with such amazement – and often barely contained screams of excitement.
Our family has always been big into creating holiday traditions since our children were very young. One of my favorite things to do was collect Christmas books to add to our family library because I could pull them out, year after year, and it would be like we'd never read them!
If you have young kids and are searching for more titles to work into your holiday book rotation, here's my list of the best toddler and preschool Christmas books every child will love. So slip into your reindeer jammies, snuggle up by the fire with your kiddo, and enjoy!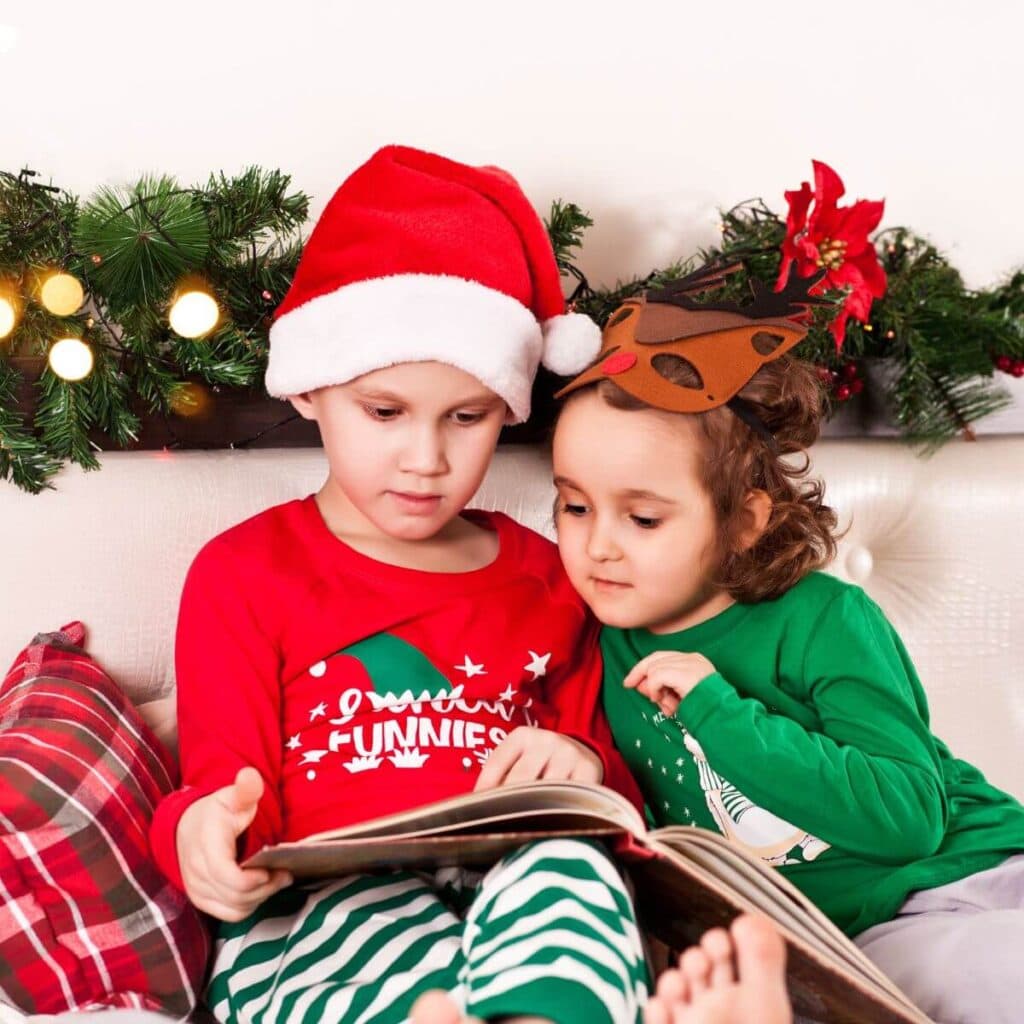 *This post contains affiliate links, which means if you click a link and make a purchase I earn a commission at no additional cost to you. Read my full disclosure for more info.
Best Christmas Books for Toddlers and Preschoolers
1. Moo, Baa, Fa La La La La! by Sandra Boynton
If your toddler loves the bestselling Moo, Baa, La La La!, they'll love the holiday version of this book. The pages are bursting with dancing animals singing Christmas carols, and it's sure to get your whole family in the Christmas spirit. Sandra Boynton is one of my favorite children's book authors, and she doesn't disappoint with this Christmas book for toddlers.
2. The 12 Days of Christmas: A Lift-the-Tab Book by Roger Priddy
Okay, I'll admit that I can only take so many rounds of this beloved Christmas carol, but this brightly illustrated book makes it more bearable! This lift-the-tab book has beautiful illustrations with touches of gold foil on every page. The tabbed pages make it easy for little hands to turn them, and it's also an excellent story for practicing counting.
3. Olivia Helps with Christmas by Ian Falconer
If there's one Christmas book for toddlers that genuinely channels the excitement they feel for December 25th, it's this one. Olivia the Pig is Santa's biggest fan, and she can hardly wait for the big day to arrive. With so many fun activities and traditions to prepare for, it's hard to be patient. If you're a fan of the Olivia series, this will make a wonderful stocking stuffer.
4. All the Colors of Christmas by Matthew Paul Turner (Illustrated by Gillian Gamble)
This gets my vote as one of the best Christmas books for toddlers, if only for the vibrantly colored pages that describe the spirit of the season. Readers get to experience some of the best-loved scenes of the Christmas season, including a festive market, nativity scene, and sledding. In addition to traditional Christmas colors, the author also uses white, gold, blue, and brown to enchant readers of all ages.
5. Llama Llama Jingle Bells by Anna Dewdney
Anna Dewdney's hallmark rhyming scheme brings Llama Llama Jingle Bells to life for both toddlers and preschoolers. I also love that it's a board book because we all know how rough small children can be on those pages! So join Llama Llama as he and his buddies sing carols, decorate Christmas cookies, and experience the joy of giving this holiday season.
6. The Very Hungry Caterpillar's Peekaboo Christmas by Eric Carle
If you're looking for one of the best Christmas picture books, you can't go wrong with Eric Carle's festive new book featuring everyone's favorite hungry caterpillar. The tree-shaped board book is filled with search-and-find fun, colorful pictures, and holiday traditions. It's an excellent addition to your family library and is perfect for young children.
7. Christmas in the Manger by Nola Buck (Illustrated by Felicia Bond)
The true story of Christmas comes to life in this simple board book by Nola Buck and Felicia Bond. Simple, easy-to-understand text is perfect for young children to learn and understand about the miracle of the Nativity, and each page features beautiful illustrations to captivate your child's attention and imagination.
8. The Littlest Reindeer by Brandi Dougherty (Illustrated by Michelle Todd)
No list of Christmas preschool books would be complete without at least one story about Santa's reindeer! This heartwarming tale is all about Dot, the littlest reindeer at the North Pole. Despite her size, Dot dreams of helping Santa to pull his sleigh, but she seems to be struggling in the flying department. Young children will instantly fall in love with Dot, and they'll be eager to find out what happens at the end!
9. Itsy Bitsy Christmas: You're Never Too Little for His Love by Max Lucado (Illustrated by Thomas Nelson)
This touching story by acclaimed author Max Lucado reminds every child that they're never too small to receive God's love. The story of the first Christmas is told from the perspectives of two tiny mice, Itsy and Bitsy. When they hear that a king is coming to Bethlehem, they rush to find him. Other animals try to tell them they shouldn't bother because a mighty king doesn't care about little ones like them. And that's when something incredible happens.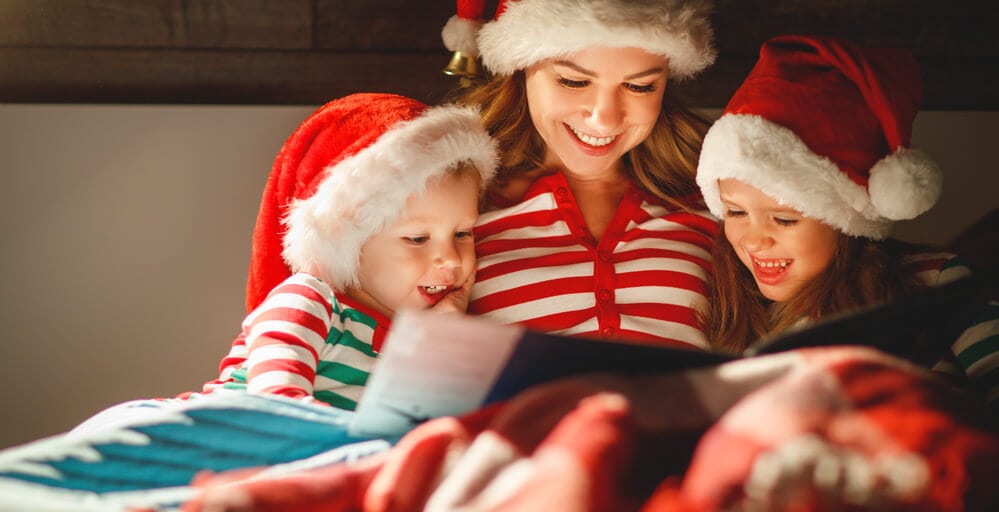 10. The Night Before Christmas by Clement Moore (Illustrated by Charles Santore)
Hands down, The Night Before Christmas is one of the best Christmas picture books for toddlers, preschoolers, and basically anyone breathing. Can you tell that I love it just a little bit? This timeless holiday book should be in everyone's library at home to pull out on Christmas Eve. I like this version because the illustrations are gorgeous, and several pages fold out to reveal extended scenes.
11. Little Blue Truck's Christmas by Alice Schertle (Illustrated by Jill McElmurry)
Your list of preschool Christmas books wouldn't be complete without Little Blue Truck's Christmas. Children of all ages will love this light-up book about everyone's favorite pickup on a mission to spread holiday cheer. Follow Little Blue Truck as it travels around the countryside, delivering Christmas trees to all of his animal friends. Aside from its heartwarming themes of friendship and giving, it's also a fun way to practice counting and sizes with your child.
12. The Polar Express by Chris Van Allsburg
My children and I have a holiday tradition of reading The Polar Express several times in the days leading up to Christmas. Honestly, what's not to love? A magical train ride to the North Pole in your bathrobe, drinking hot chocolate, and with the enchanting gift of a reindeer's silver bell? I'm excited to read it every time (and you will be too). Plus, the illustrations are stunning!
13. How the Grinch Stole Christmas by Dr. Seuss
If you have a particularly Grinch-ey toddler or preschooler, you may need to read this Christmas classic more than once! It's the perfect way to talk with your kids about how it's better to give than to receive, and it may just grow everyone's heart three sizes! I love this full-color edition because it's so vibrant, but you really can't go wrong with any version.
14. Snowmen at Night by Caralyn Buehner (Illustrated by Mark Buehner)
This is such a silly book, but my kiddos love it! It's the perfect way to end a wintry day full of making snowmen out in the backyard. And you'll have fun talking with your preschooler about what they think their snowman will be up to once the sun goes down!
15. Bear Stays Up for Christmas by Karma Wilson
We all know that bears like to hibernate during the winter, but this particular bear's friends want him to stay awake for Christmas! Bear helps his companions find a Christmas tree, do some holiday baking, and even sing a few carols. In the end, he learns a valuable lesson about generosity that he would never have experienced if he'd been napping!
16. The Mitten by Jan Brett
Jan Brett's The Mitten is part humorous children's story, part cautionary tale about what happens when you leave items of clothing in the woods. Nicki's grandmother knits him a pair of beautiful white woolen mittens, but he drops one in the snow. Soon after, a host of woodland animals find it and snuggle up inside. When a large brown bear and a tiny mouse wiggle their way inside, the tale comes to a hilarious conclusion.
17. Pete the Cat Saves Christmas by Eric Litwin and Kimberly Dean (Illustrated by James Dean)
Pete the Cat has taken the children's book world by storm, and it only makes sense that everyone's favorite blue feline would be saving Christmas! Join Pete as he embarks on a groovy adventure to bring everyone the holiday spirit (and gifts). This is a cute spin on The Night Before Christmas, and preschoolers will love the colorful illustrations and positive kitty cat vibes!
18. The Berenstain Bears and the Joy of Giving by Jan and Mike Berenstain
The best toddler Christmas books help them understand the true "reason for the season." The Berenstain Bears and the Joy of Giving is a touching story about how Brother and Sister Bear learn the importance of giving and receiving as they discover what happened on the first Christmas.
19. Pick a Pine Tree by Patricia Toht (Illustrated by Jarvis)
My favorite Christmas picture books for kids are the ones that highlight the traditions that families create and carry on from year to year. That's one of the reasons I love Pick a Pine Tree so much. It's all about the excitement of finding that perfect tree and taking it home to decorate with ornaments, tinsel, and tree trimmings. The beautifully illustrated pages make this Christmas tradition come alive for every reader.
20. Rudolph the Red-Nosed Reindeer by Rick Bunsen (Illustrated by Golden Books)
Toddlers and preschools will fall in love with this timeless children's classic about a little red-nosed reindeer whose difference from others ended up saving Christmas. This retelling of the 1964 film is the perfect addition to your holiday book collection and pairs well with a cup of hot cocoa, snuggled up by the fire with your child.
It's never too early to begin a tradition of reading Christmas books with your toddler or preschooler, and I hope this list gave you lots of great ideas!
Do you have a favorite Christmas book for kids that I didn't list here? Let me know in the comments!
And check out some of these other fun Christmas ideas for toddlers and preschoolers:
And don't forget to PIN this post for later so you can refer back to this list of Christmas books for toddlers and preschoolers when the holiday rolls around: