Looking for a free printable Happy Birthday banner for your next party? Make this glam DIY black and gold birthday banner with a free printable template!
We hosted a birthday dinner for my Mom recently, and as I was perusing the aisles of the party goods store, I realized that the birthday banner options were very limited. Everything was either too rainbow colored and juvenile or too dark and dreadful… My Mom is a young 59 years old, and I didn't want to get an all black banner, but pretty much all of the decorations for adults that said "Happy Birthday" were solid black.
Like, I know that we're getting old and life isn't all rainbows and unicorns like it was when we were 5, but does it have to be all tombstones and walking canes?
So I finally decided to just make my own DIY Happy Birthday banner with my printer, some card stock, and a bunch of gold glitter.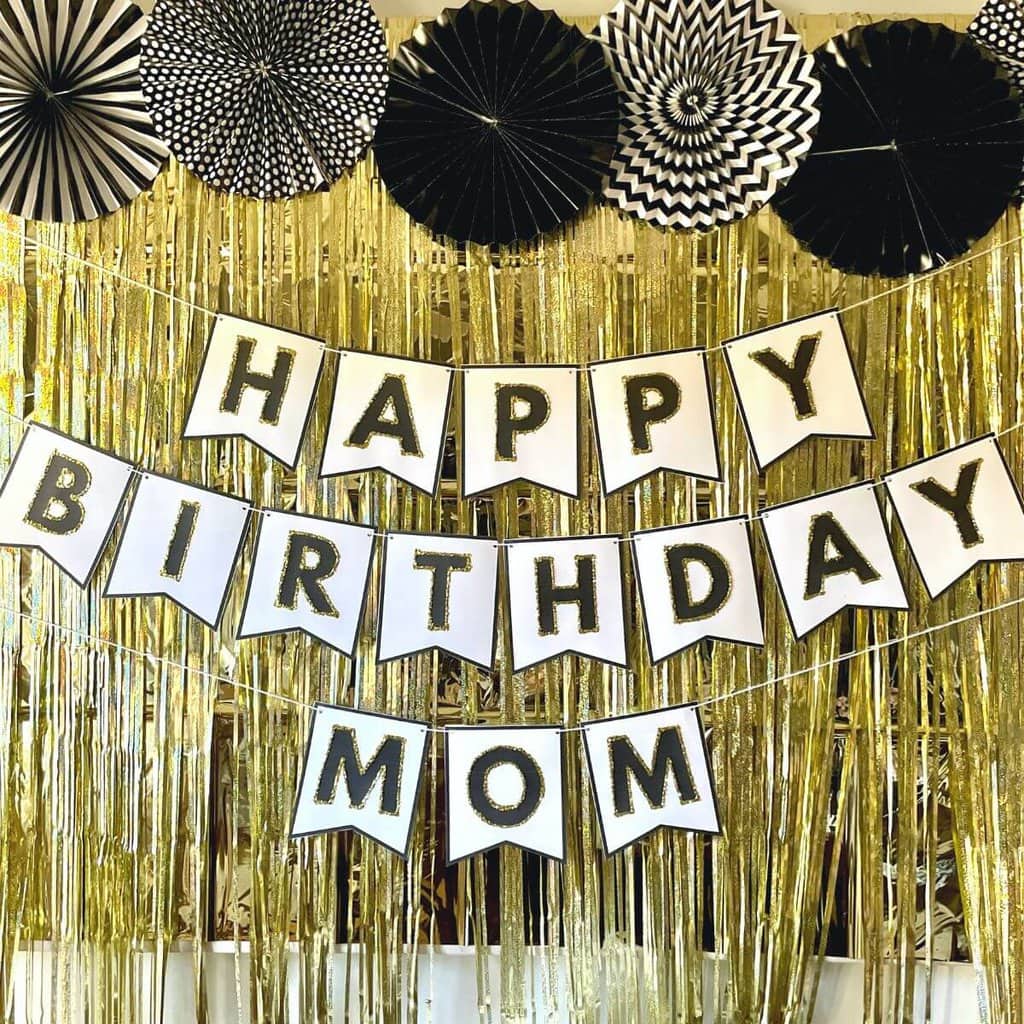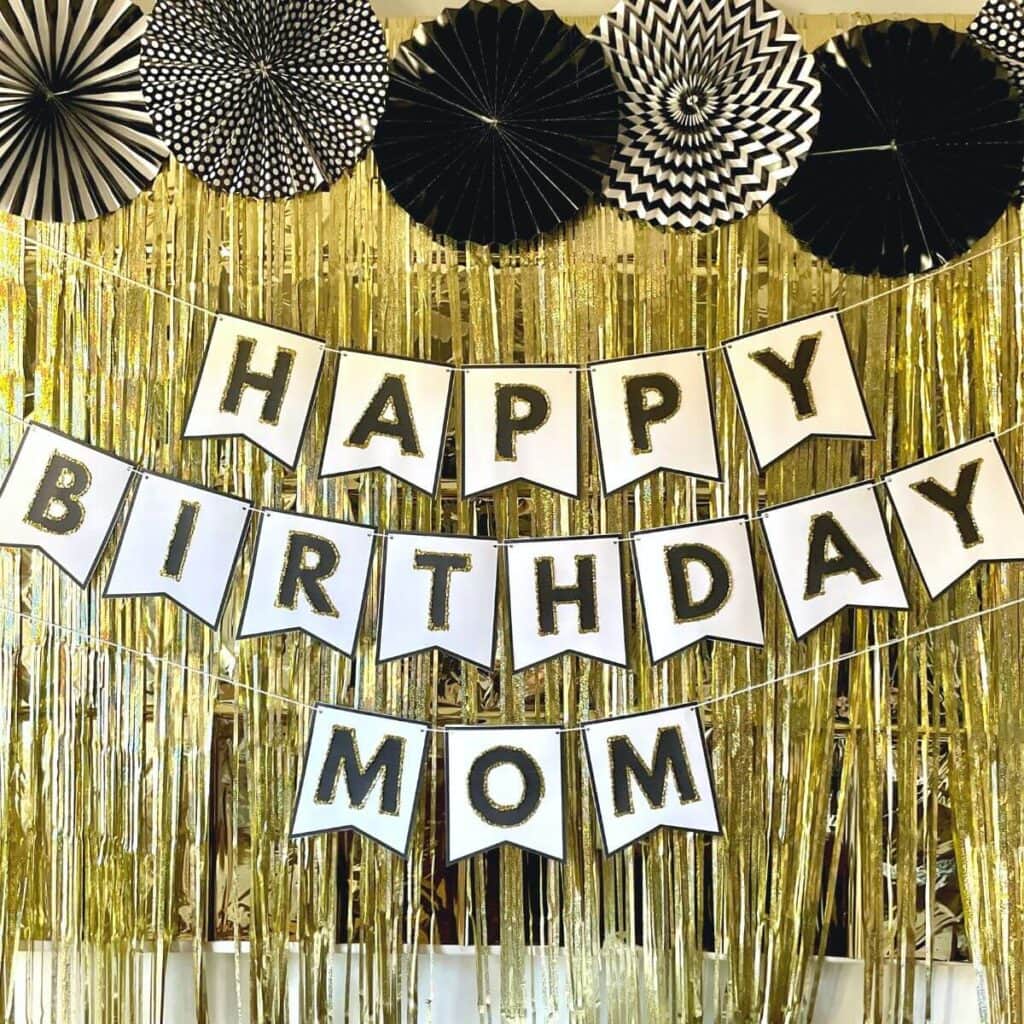 *This post contains affiliate links, which means if you click a link and make a purchase, I earn a commission at no additional cost to you. Read my full disclosure for more info.
The result was absolutely fantastic… the perfect mix of grown-up glam! So I'm sharing it with you! Read on for how to make your own black and gold DIY birthday banner, and grab the free printable Happy Birthday banner template at the end of this post!
Supplies Needed for the DIY Birthday Banner
You only need a few simple supplies for this glam DIY black and gold happy birthday banner… and it's really easy to do!
printer
white card stock
scissors or paper trimmer
hole punch
yarn or ribbon
white liquid school glue
glitter – You can easily customize this glam birthday banner with different colors of glitter… hot pink would be cute for a sweet 16 or try silver glitter on the black letters for a space-themed boy's party.
printable Happy Birthday banner – Grab my free templates at the end of this post!
How to Make a Black and Gold Birthday Banner
You can print out the Happy Birthday banner template and assemble the pennants as is, but I was really set on a glam black and gold theme for my Momma's party, so of course I had to be a little "extra"… and last minute! I actually started making this banner from scratch about 1 hour before my party guests arrived, which I don't recommend, but it does show just how easy it is to make your own custom banner!
Here's how to do it:
Step 1: Print the free birthday banner template.
Print out the birthday banner pennants on white card stock. I've made a TON of custom banners when I haven't been able to find exactly what I needed at the store, and I use white card stock every time. The card stock is thicker, so your banner will look nicer and the pennants will hang flatter. Plus, if you're going to be embellishing your banner with glitter or sequins, you'll want a sturdier paper.
My free printable Happy Birthday banner template at the end of this post prints out like this, one pennant per page. I find that this is the perfect size to create you own DIY party banner: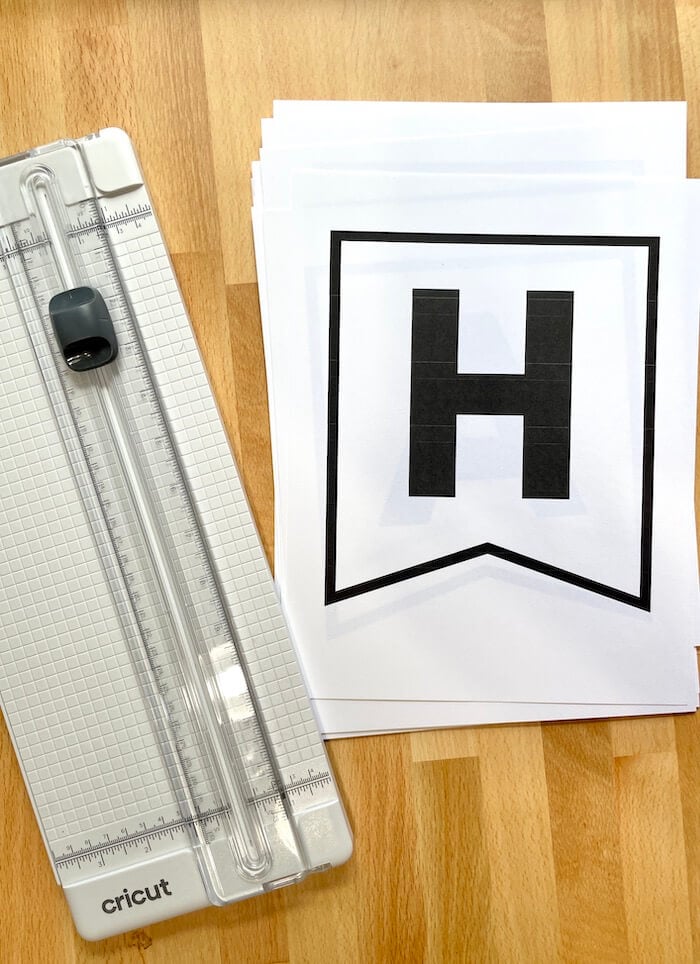 Step 2: Cut out the banner pennants.
"Happy Birthday" is a lot of letters, and I found the most efficient way to cut out the banner was to first cut the 3 straight sides of the pennant shape using a paper trimmer. Then, I cut the two bottom diagonal lines of the template last using a pair of scissors.
For me, it was quickest to cut all of the straight sides for each of the 15+ pennant pieces first, and then come back and do all of the diagonal cuts.
Step 3: Add gold glitter to the birthday banner.
It's time to head back to your school days and break out your glittering skills! This step is done just like you probably did in elementary school…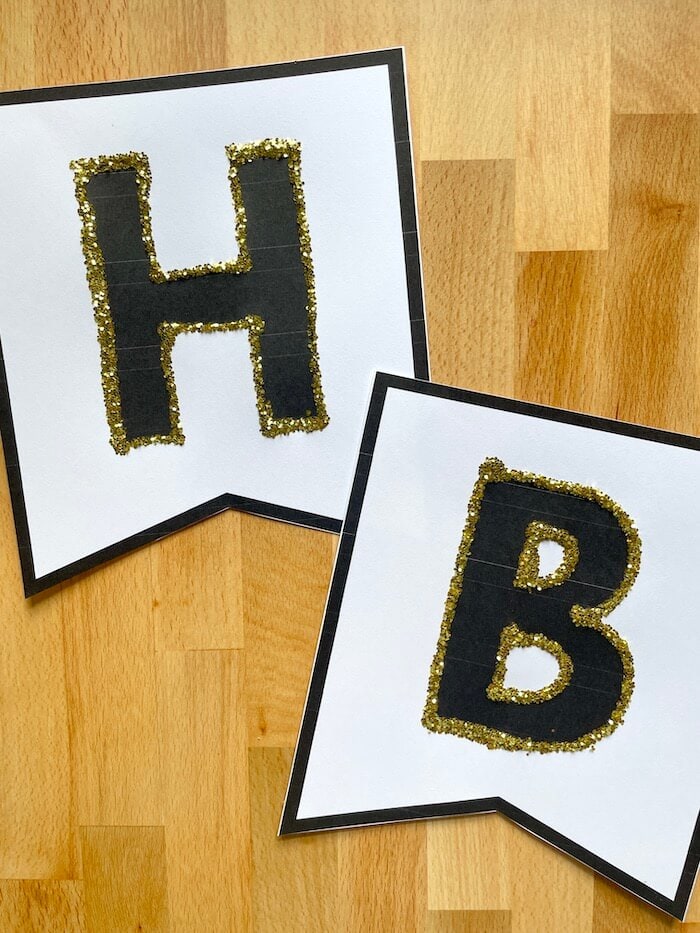 Working with one pennant at a time, set the cut out banner template on top of a scrap piece of paper.
Then, use Elmer's white school glue to quickly but steadily trace each letter with a thin and even line of glue.
Immediately dump some gold glitter on top to completely cover the glue line.
Allow the glittered glue to set for about 3 minutes, and then you can dump the excess glitter off on the piece of scrap paper.
Fold the scrap paper to form a funnel-like shape and pour the extra glitter back in the bottle.
Repeat the steps for each Happy Birthday banner pennant.
Craft Notes:
If your printer doesn't print a perfectly solid black letter (notice the white lines in my pennants above), then you can fill them in with a black marker or black paint. Also, try cleaning the nozzle heads of your printer if that's an option in the printer's settings.
Step 4: String the printable black and gold birthday banner pennants on yarn or ribbon to hang.
Once all of the black and gold birthday banner pennants are glittered and the glue is dry, it's time to string them together.
Simply use a hole punch to punch a hole in the upper corners of each pennant. Then, string the banner on to a piece of yarn or ribbon, making sure that you put the letters in the proper order.
Here's a close-up picture of how I put my Happy Birthday banner together with white yarn: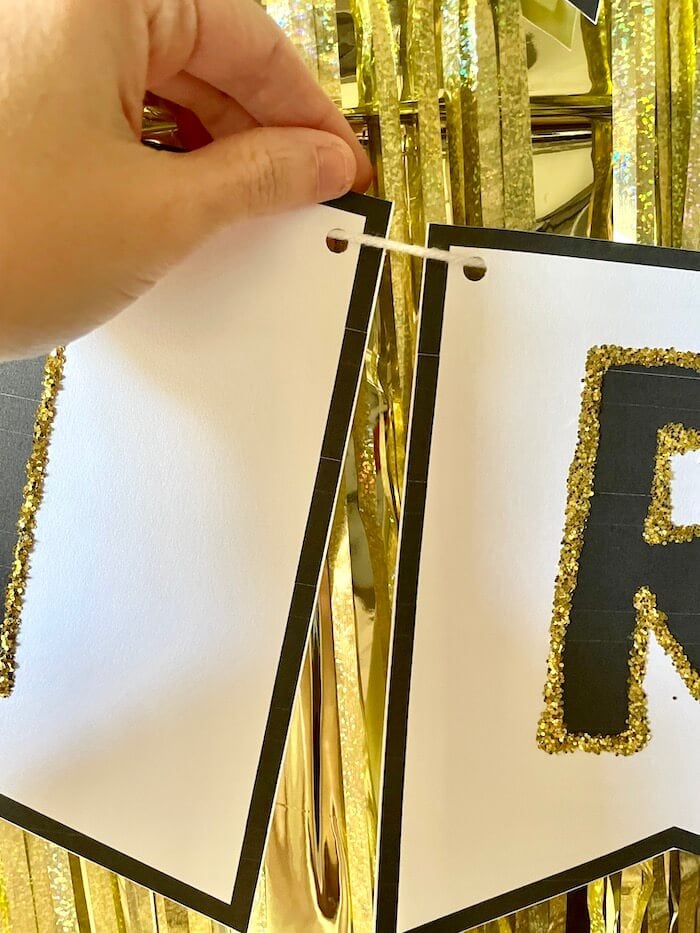 Once all of the letters are strung, you can hang your DIY birthday banner! Here's what my finished black and gold Happy Birthday banner looks like in my dining room, hanging on top of a gold backdrop that I made:
Free Printable Happy Birthday Banner Template
Since I'm absolutely in LOVE with how my glam black and gold birthday banner turned out, I decided to share the printables with you guys so that you can make your own birthday banner!
The great thing about this black and white free printable Happy Birthday banner is just that… it's black and white! So if your printer is out of color ink or you don't want to pay to have color copies printed at your local print shop, you're in luck!
Also, you can easily customize this free printable birthday banner in ANY color by just printing the templates on colored card stock instead of white, or using colored glitter to match your party theme! In fact, I'm going to reuse this DIY banner for my daughter's upcoming party… I'll just switch out the "MOM" pennants and print the letters for her name on pink card stock. Easy peasy!
Click HERE for the FREE Printable Happy Birthday Banner
The link above is for the printable banner that spells out "Happy Birthday"… If you would like to customize your banner by adding a name like I did, then you can use the link below to print out the individual letters that you need. This will open the free printable banner pennants with ALL of the letters of the alphabet in one file.
In the print options window on your computer, just select the pages that you need. For instance, if I need to spell out "Amy", then I would only print pages 1, 13, and 25 to correspond with the pages of the letters that I need.
Click HERE for the Full Alphabet Banner in Black and White
Other Black and Gold Birthday Decorations
Want to create your own party background wall with black and gold decorations like mine? It's super easy to do with a few gold fringe door curtains and some black and white paper fan decorations.
I got mine at Hobby Lobby, but if you don't have one nearby or you want your party decorations shipped straight to your door, then this 3 pack of gold fringe curtains and these black and white decorations on Amazon are very similar to what I used.
I also added a gold metallic disposable table cover on the wall behind my gold fringe curtains, because I found the fringe to be pretty thin and my wall was showing through quite a bit. The gold table cover also came from Hobby Lobby, and for just $3, it made my entire wall look more gold, which I loved!
Hope you LOVE this easy DIY birthday banner for your black and gold party decorations! And don't forget to PIN this post for later… this would also make an awesome New Year's Banner!