This alphabet scavenger hunt is such a fun activity for kids to do at home, and it's super easy with the free printable A-Z letter scavenger hunt list!
Have your kids look for their dress shoes for church and they'll probably give up in 3.5 seconds, but give them a scavenger hunt checklist and have them search for 26 different items and they'll have loads of fun! And probably want to do it again!
Funny how that works, right?!
All it takes is a little parenting creativity (and a printer) and you've got an easy activity to keep your kids busy at home, on a road trip, at the grocery store, or pretty much anywhere else that you can find an item for each letter of the alphabet!
Here's how to do this super fun and easy letter scavenger hunt with your kids: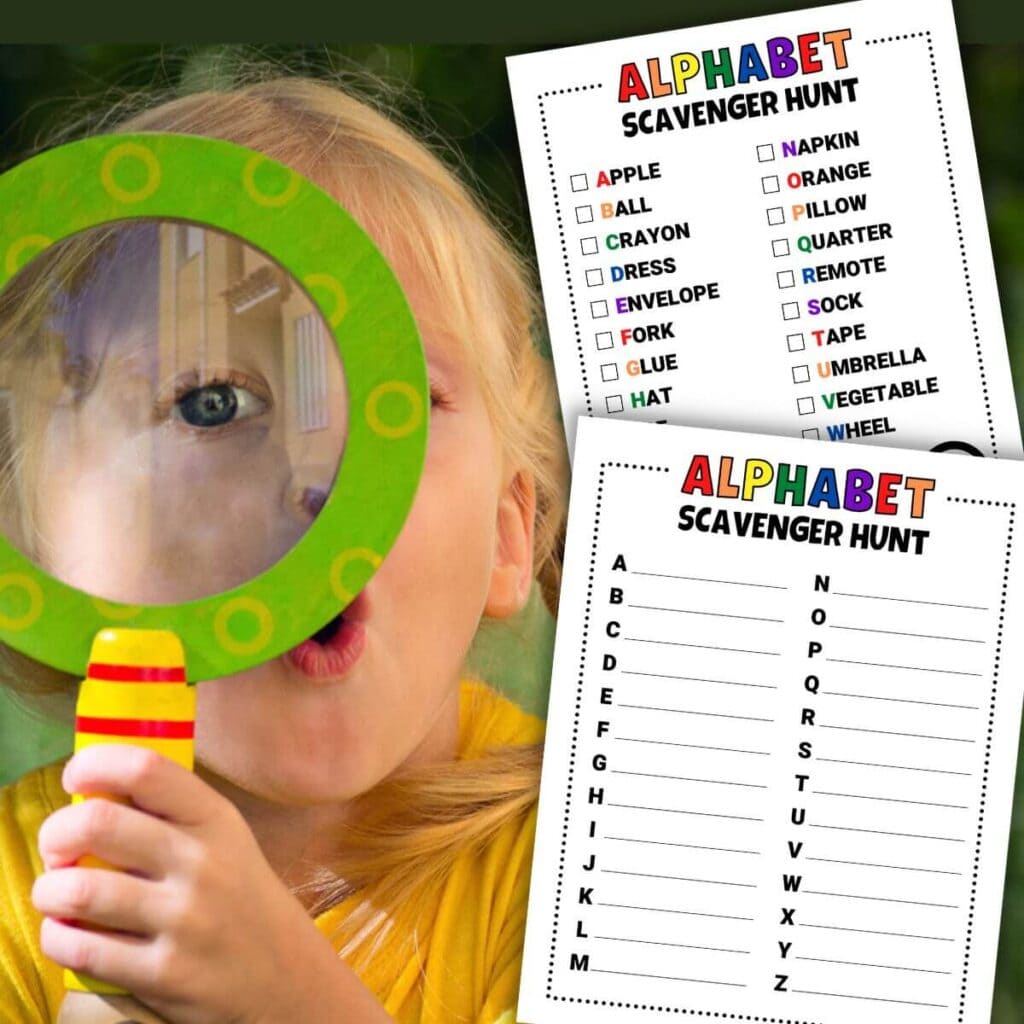 How to Do an Alphabet Scavenger Hunt at Home
An alphabet letter scavenger hunt is such an easy activity to do at home, so it's perfect for rainy days or when your kids are just bored and need something fun (and maybe a little educational!) to keep them busy. Here's how to do it:
Print the scavenger hunt checklists. You can download the free printables at the end of this post. If your kids really enjoy this activity, you can even laminate the lists to use again and again with dry erase markers.
Pass out clipboards and pens. When I'm turning my kids loose on a treasure hunt, I like to give them clipboards to make it more official and up the fun factor! Plus, the clipboards make it easier for them to write down the items on their lists.
Have your kids look around the house to find the items. Let the search begin! Starting at letter A, have your kids search the house to find something that starts with each letter. Write that item down in the blank space next to "A", and then move on to letter B.
The first child to complete their scavenger hunt checklist wins! Or you can have your kids work together as a team to find and record the items, and if they get all of the spelling correct you can reward them with a fun prize!
Other Ideas for an A-Z Letter Scavenger Hunt
You don't just have to keep this fun activity to do at home… An A-Z Scavenger Hunt can be done pretty much anywhere or anytime when you need to keep your kids occupied! Try these ideas:
Do an alphabet scavenger hunt on a road trip.
Similar to playing the alphabet game in the car, this version involves looking out the window (or even inside the car) for something that starts with each letter of the alphabet. You can even take turns, so one child would find something for letter "A", then the next child would find an item that starts with "B", etc.
Use the free printable scavenger hunt in the grocery store.
If going to the grocery store with your kids sounds worse than getting a root canal, then why not print out this free printable alphabet scavenger hunt and take it with you!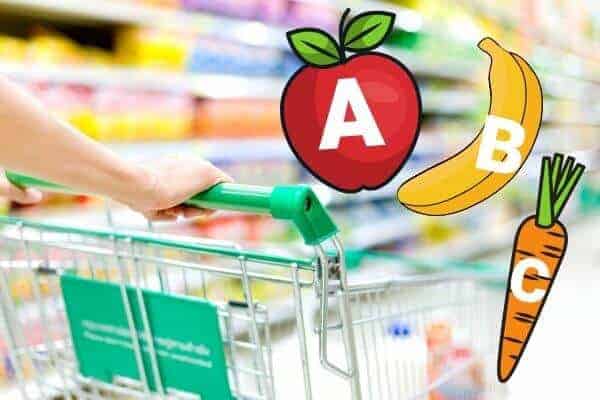 As you're shopping for your groceries, you can have your kids look for items in the store that start with each letter and then write them on their checklist. This is a great way to sneak in a little learning also! And your kids will be so busy scanning the shelves and the product names on boxes that they may even forget to "sneak" in an extra pack of Oreos… Oreos for letter "O"!
Use the letter scavenger hunt while reading books.
Letter practice AND reading time in one activity?! I'd call that a parenting win!
While you're reading your kids a book, have them look for words or pictures for each letter of the alphabet. You can have them go in order from A-Z, or simply let them fill in their checklist as they see a picture or word for the letters randomly. For instance, if you're reading a picture book about Fall, then maybe your kids will see a picture of a pumpkin or the word "pumpkin" written in the book… Then they can use "pumpkin" for letter P on their scavenger hunt checklist.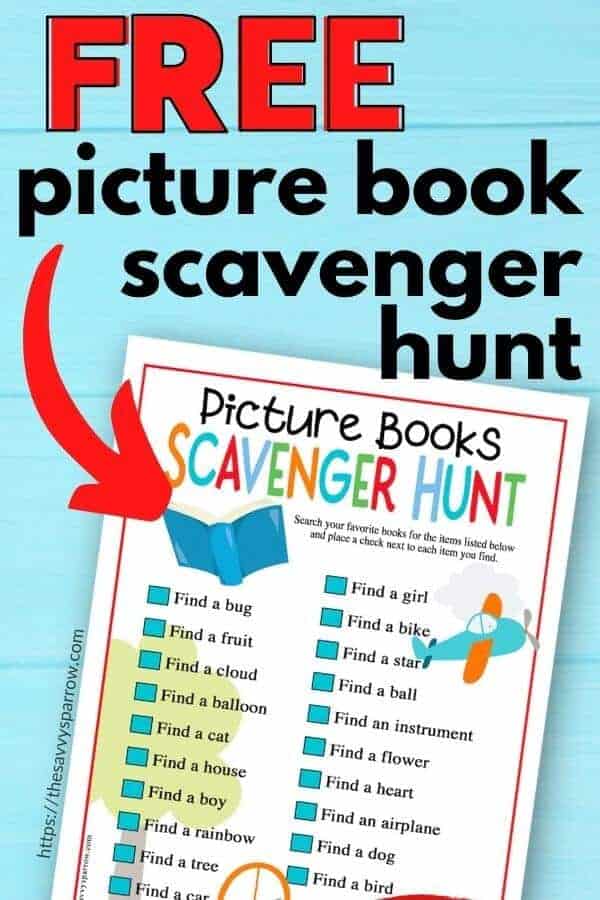 And I even have a free printable picture book scavenger hunt for you to use with your younger kids also!
Try it for other quiet time activities.
The possibilities for a letter scavenger hunt are pretty endless. You can do this fun activity any time that you need a quiet time idea to keep your kiddos busy, like:
In the waiting room of a doctor's office
During a grown-up church service
While you're waiting for your food at a restaurant
When your kids are bored at home
Free Printable Alphabet Scavenger Hunt for Kids
Want to try this fun and easy scavenger hunt idea with your kids? You can grab the free printable alphabet scavenger hunts down below! I've got two different versions, so you can see which you like best, or just print them both (they're FREE after all!).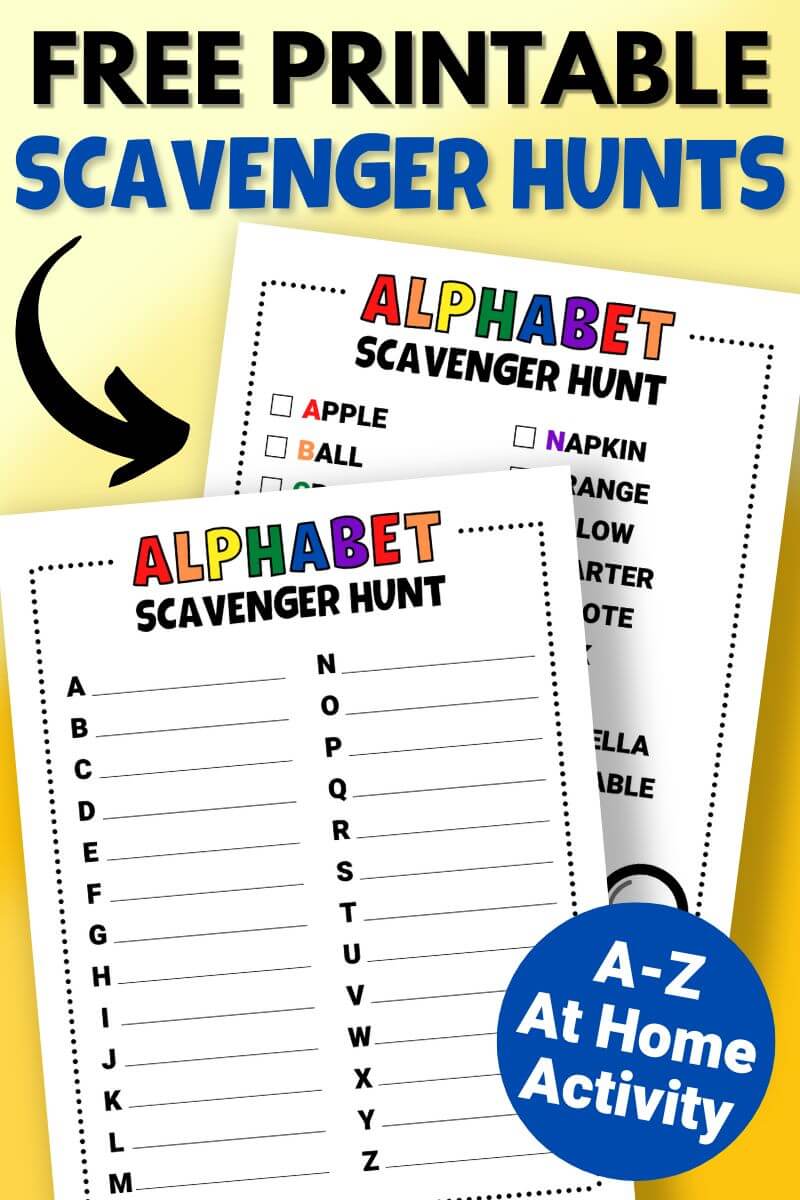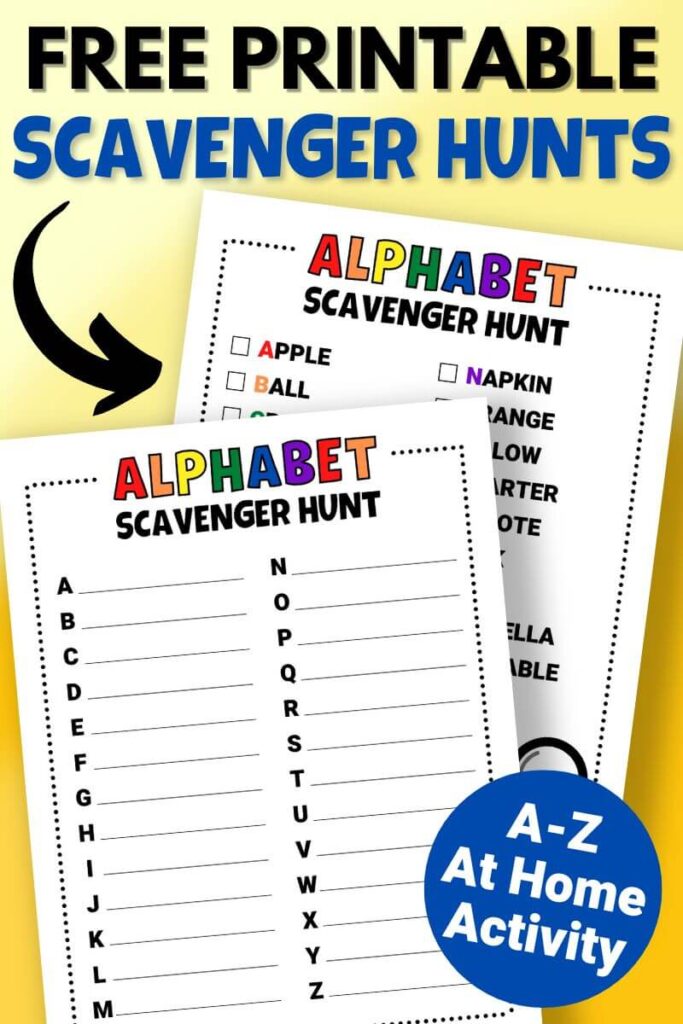 Click HERE for the Blank Alphabet Scavenger Hunt
The blank A-Z scavenger hunt checklist is perfect for your older kids (around 3rd-5th grade) because it requires a bit more critical thinking to fill in the blanks by themselves – and to remember if xylophone starts with an X or a Z!
Click HERE for the Pre-filled Alphabet Scavenger Hunt Checklist
And the pre-filled alphabet treasure hunt is great for younger kids to do around the house… You just may need to read the words for them and then send them hunting, or have an older sibling help them read the items on the list!
Other Scavenger Hunt Ideas for Kids
Want even more scavenger hunt ideas for kids? Check out some of these posts for more treasure hunts that your kiddos are sure to love:
Neighborhood Scavenger Hunt – Free printable checklists to use for walks around the neighborhood – A perfect family activity to get outside and enjoy the fresh air!
Pumpkin Neighborhood Hunt – A great activity to do during the month of October! Pretty much the same as a neighborhood scavenger hunt, except you'll be looking for specific jack-o-lantern pumpkins!
Christmas Lights Scavenger Hunt – Our family does this every year right before Christmas time! Such a fun activity to include in your annual Christmas lights drive!
And don't forget to PIN this post for later or when you need an easy activity for your kids to do: