Need a teacher favorite things form to give to your child's teachers this year. This super cute printable teacher favorite things list is a great way to get to know teachers to give them the best gifts!
I don't think I can shout this from the rooftops enough: Teachers are the superheroes of this generation! Educators have to deal with constantly shifting classroom environments, juggle about 50 different plates on any given day, and deal with so many crazy things.
With everything they have to go through and still show up with their "A" games, teachers deserve our admiration, respect, and appreciation. After all, almost everyone you ask can probably tell you about their favorite teacher in elementary or high school, and that's because thousands of educators make it their job to love and nurture our kiddos every day.
So, how can you show your thanks for everything teachers do for our kids? Well, the first step is finding out more about your child's teacher and what they like. That's why I've created this FREE printable teacher favorites questionnaire! Just have the teacher fill it out, and you'll have loads of ideas for small gifts you can send to them throughout the school year.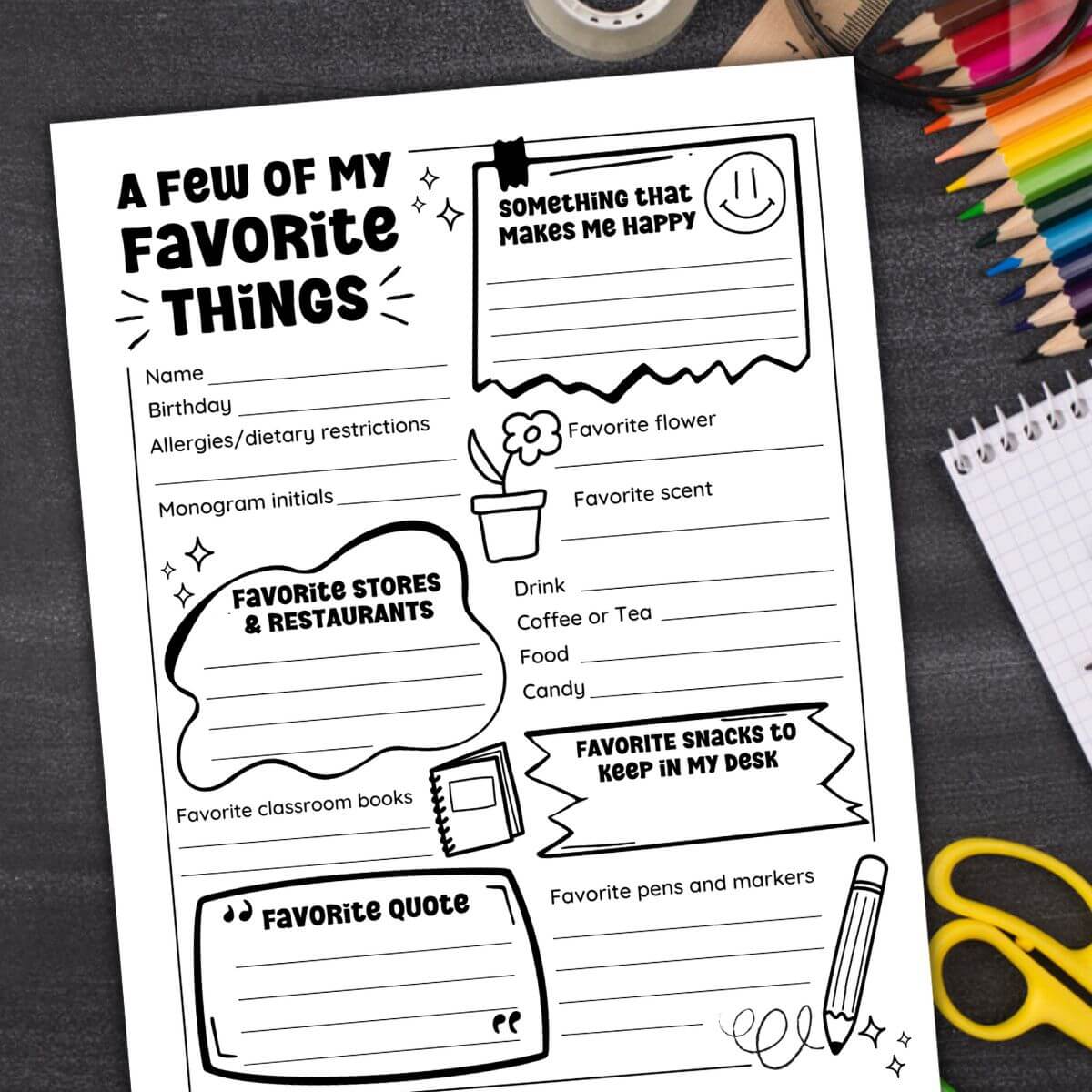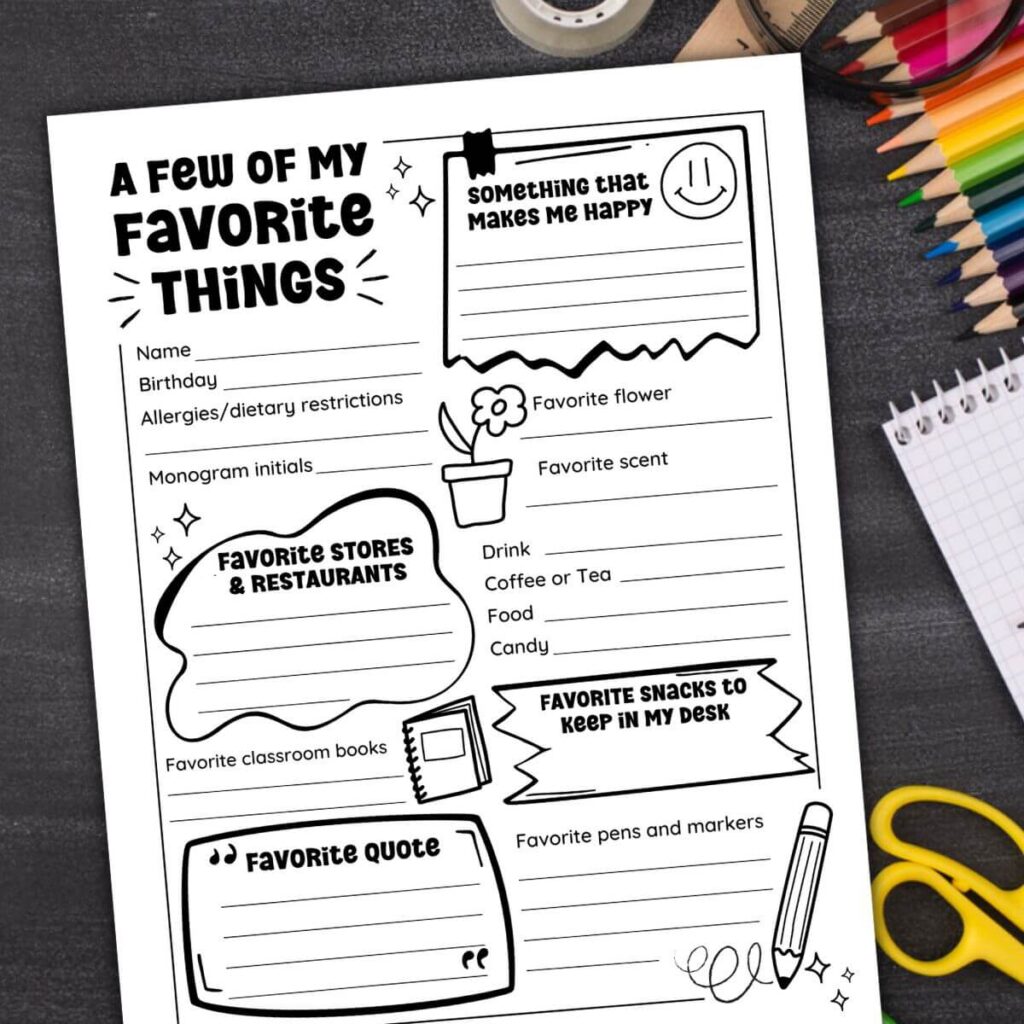 What is a Teacher Favorite Things Questionnaire?
If you've never used one before, a teacher favorite things form can be a very useful way to get to know your child's teacher (or teachers!). It also lets teachers know that you're actually interested in who they are as a person, which helps you build a relationship with them from the beginning of the school year.
This teacher favorite things list isn't designed to break the bank, either. I genuinely believe it's the little things that can make the biggest difference, so the teacher gift ideas you get from this questionnaire should be small (think $5-10). That way, you can realistically afford to send small tokens of your appreciation throughout the school year!
Who Can You Give the Teacher Favorite Things Form To?
Use this free printable teacher favorites questionnaire for any of the following:
Teachers
Teachers Assistants
Paraprofessionals
Daycare Workers
Ideas for Using the Printable Teacher Favorites List
Curious about how to get started with your teacher favorite things list? Here are some ideas for how to use it:
Give it to your child's teacher at the beginning of the school year.
Have the teacher complete the form a week or two before Teacher Appreciation Week.
Have the teacher fill out the form and then ask the class Mom to distribute it to other parents.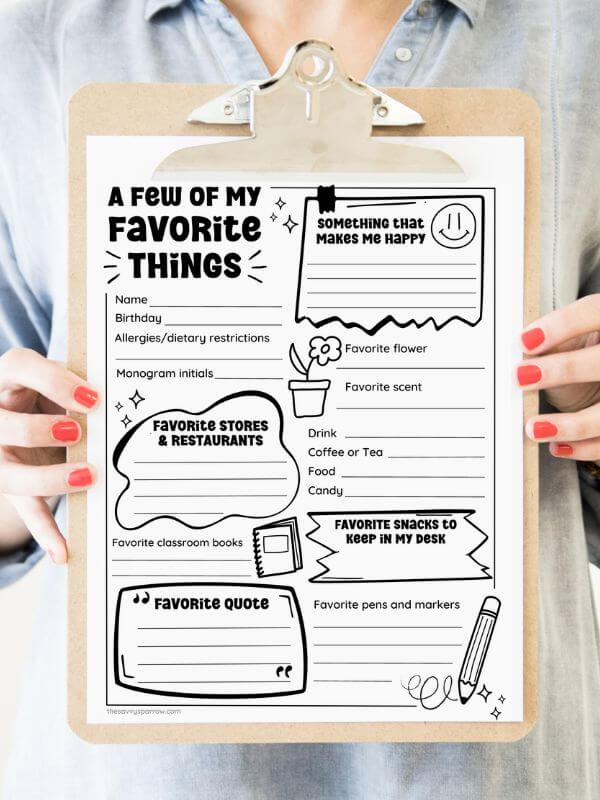 How to Use the Teacher Favorite Things Form
Getting your copy of my FREE printable teacher favorites questionnaire is super simple! Here's how:
Download the Teacher Favorite Things Form by clicking on the link down below.
Print a copy at home or email your child's teacher the favorites list directly.
If using a paper copy, send it in with your child to give to their teacher.
Collect the completed form. You may need to follow up with the teacher because their lives get crazier as the school year progresses!
Store the teacher favorite things form somewhere safe (You can add the completed form to your Documents folder or Google Drive. If using a paper copy, snap a photo of it with your phone!).
Brainstorm a list of gift ideas you can make/purchase throughout the school year.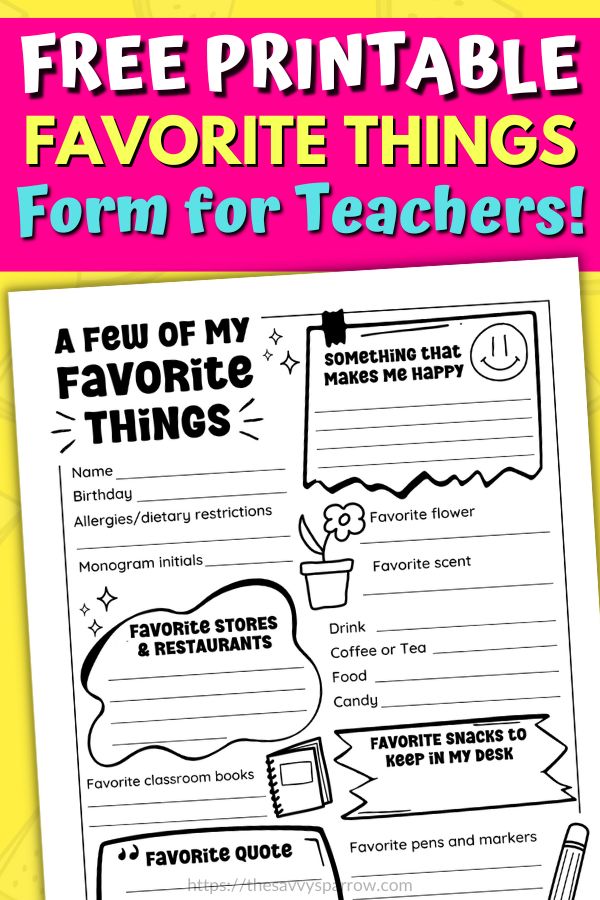 Click HERE for the Free Teacher Favorite Things List to Print!
What Teacher Favorites are Included on the Printable Form?
This printable teacher favorites questionnaire includes loads of space to really get to know your child's teacher and his or her likes and dislikes. Here are the blank spaces that are included on the form for the teacher to fill out:
Name
Birthday
Allergies or dietary restrictions – You wouldn't want to give your child's teacher a Reese's peanut butter cup if he or she is allergic to peanuts!
Monogram initials – Just in case you want to have a gift monogrammed, like a personalized coffee tumbler or a wreath for the classroom door.
Favorite stores and restaurants – So you can get the perfect gift cards when Teacher Appreciation Week rolls around!
Favorite classroom books
Something that makes me happy
Favorite flower or plant
Favorite scent – Great to know if you're going to be giving a gift with these "Have a scent-sational summer" gift tags!
Drink
Coffee or tea
Food
Candy
Favorite snacks to keep in my desk
Favorite pens or markers
Special Occasions to Send Teacher Appreciation Gifts
Here's a list of occasions when you can give a token of your appreciation, but don't limit yourself to these! Sometimes sending a small teacher gift on a random Friday can be more impactful than choosing a major holiday (Many of the favorite things on the list will be small and inexpensive, like a favorite drink, salty snack, Starbucks, Dunkin', etc.).
Teacher's Birthday
October 5: International Teacher's Day
October 31: Halloween
November 13: World Kindness Day
November 23: Thanksgiving
December 25: Christmas
February 14: Valentine's Day
February 17: Random Acts of Kindness Day
May 8-12: Teacher Appreciation Week
Your child's last week/day of school
At the end of each quarter/semester
Other Teacher Gift Ideas
Looking for other teacher appreciation gift ideas? Check out my other posts!
Make a Teacher Survival Kit (Awesome Ideas and Free Printable Gift Tag)
This DIY Teacher Survival Kit is the perfect way to help your child's teacher make it through the school year! This post has loads of ideas for what to include so that you can customize, create, and send the perfect personalized gift!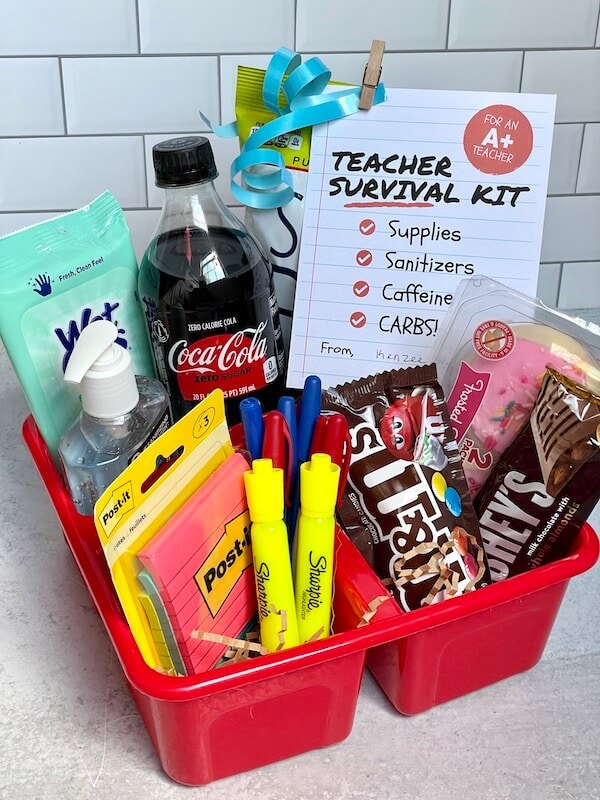 "Sips & Suds" Teacher Appreciation Gifts
Since most teachers require both caffeine and disinfectant to survive the school year, why not give them the best of both worlds? Use these cute printable teacher gift tags, some yummy-smelling hand soap, and a coffee gift card to make your teacher's day.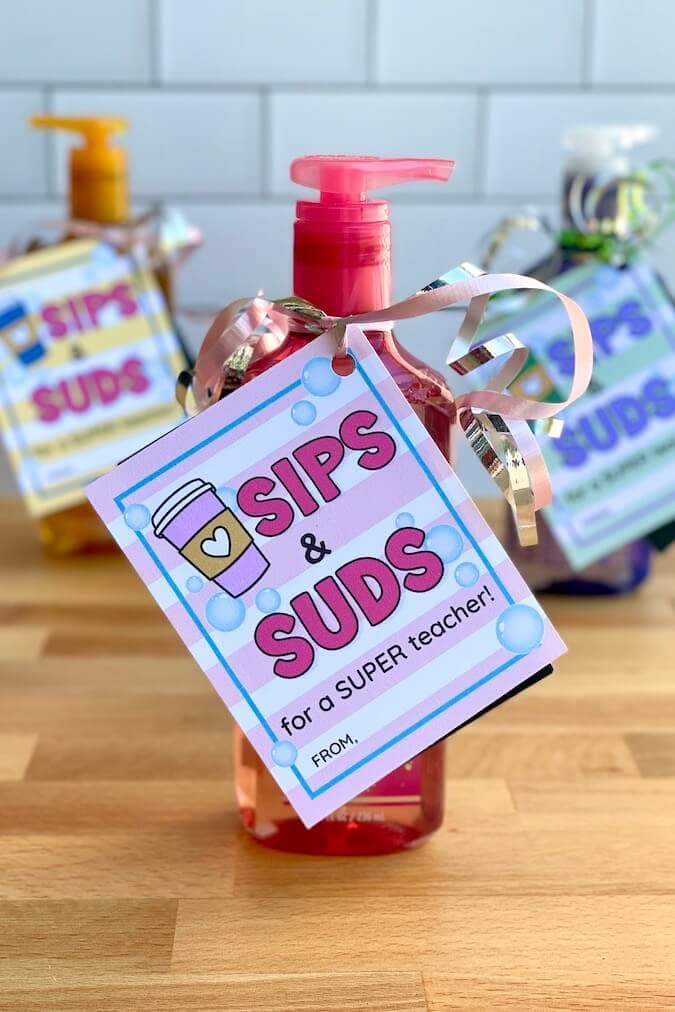 Teacher Appreciation Letter – Free Printable Fill in the Blanks Templates
Sometimes the best gift your child can give their teacher is gratitude, and this free teacher appreciation template helps them do just that! This post is filled with helpful tips and ideas kids can use to craft their own thoughtful teacher appreciation letter that their teacher will cherish.