Need non-candy Valentines for your kids to pass out at school? These Ruler Valentines with free printable Valentines cards are so easy to make AND they're super cheap! Win win!
On the first day of school this year, my daughter brought home a list of "approved" food and treats for her classroom. Gone are the days of bringing in cupcakes or brownies to celebrate kids' birthdays. Now, pretty much anything that remotely resembles a dessert is off limits. Instead, we're supposed to send in granola bars and carrot sticks for classroom snacks.
Like, what child wants to celebrate their birthday at school with rolled oats?
And holidays aren't exempt from the new "approved foods" rule either. So Valentine's Day is going to be a little tricky this year. In the past, I would just pick up a box of Skittles or Fun Dip valentines and call it a day, but now non-candy valentines cards are the only option.
If you need non-candy Valentines ideas for kids, too, then these Ruler Valentines are a GREAT and EASY option!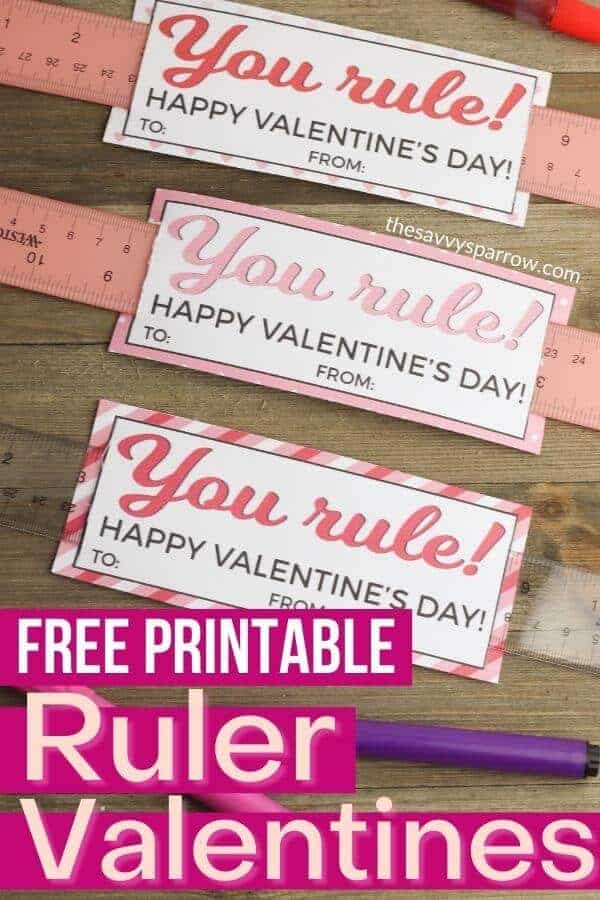 *This post contains affiliate links, which means if you click a link and make a purchase, I earn a commission at no additional cost to you. Read my full disclosure here.
Supplies Needed
You only need a few supplies to make your own ruler valentines:
Rulers – These rainbow colored plastic rulers are a GREAT value!
Scissors or paper trimmer
X-acto knife – You don't necessarily need this, but it does make it easier to cut the slit for your rulers.
White card stock
Free printable Ruler Valentines Day cards
How to Make these Ruler Valentines
1. Print the free ruler valentines.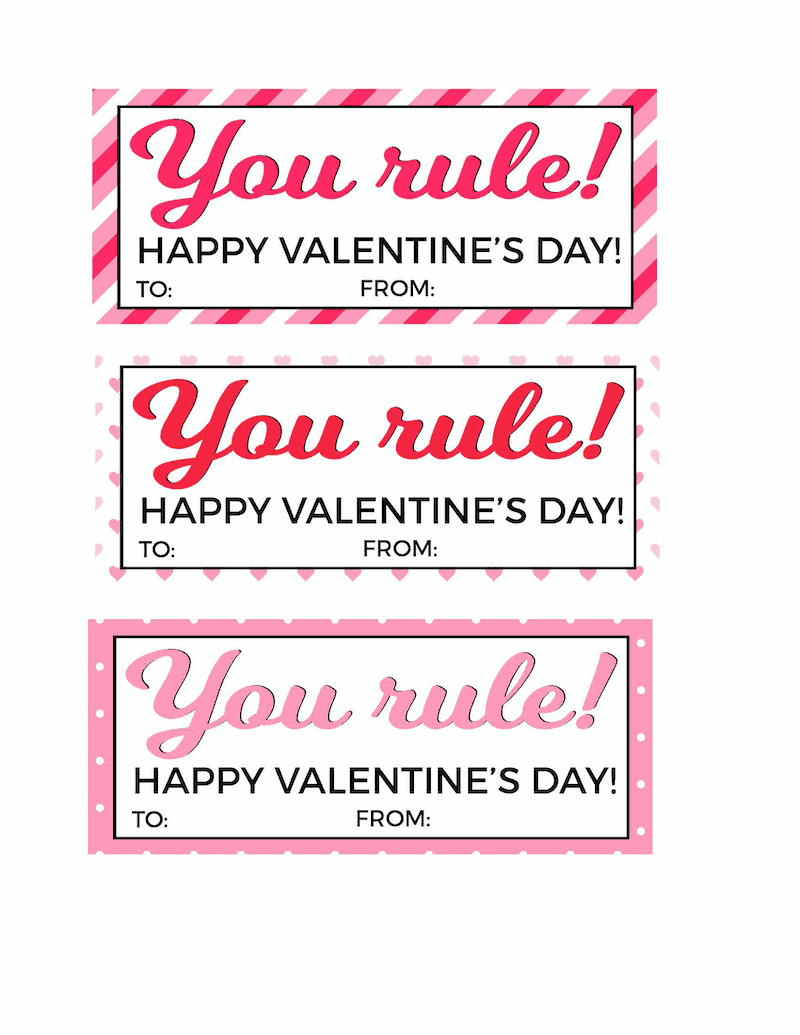 Download the free ruler valentines HERE.
After you've downloaded the file to your computer, print the valentines cards on white card stock.
If you don't have access to a color printer, or yours isn't the best quality, then you can also upload the file to FedEx Kinko's or Staples and place an online print order.
2. Cut out the ruler valentines cards.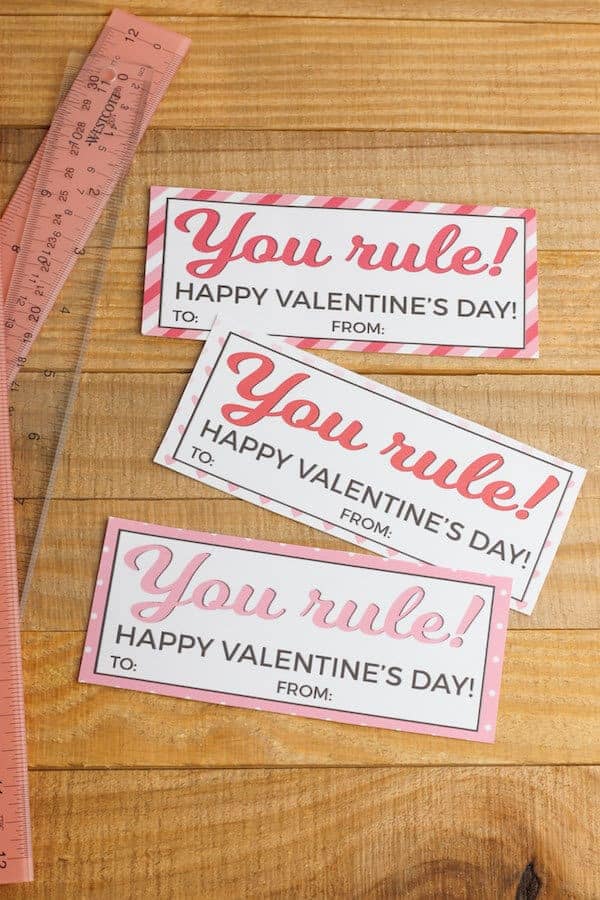 After you've got your Valentines cards printed, cut each card out along the colored border. Then, use an X-acto knife to cut a slit on each end of the valentine card, on the inner edge of the colored border.
If you don't have an X-acto knife, you can also carefully cut the slit with scissors. Just be careful to not cut all the way through to the edge.
3. Fill in the "To" and "From" spaces on the ruler valentines cards.
You definitely want to have your kids fill in the cards before sliding them on to the rulers, because they will have a much easier time writing the names on a flat surface.
4. Slide your rulers into the valentines cards.
Slide a ruler through the slits of one card, so that the card is in front of the ruler, and center the valentine in the center. And that's it!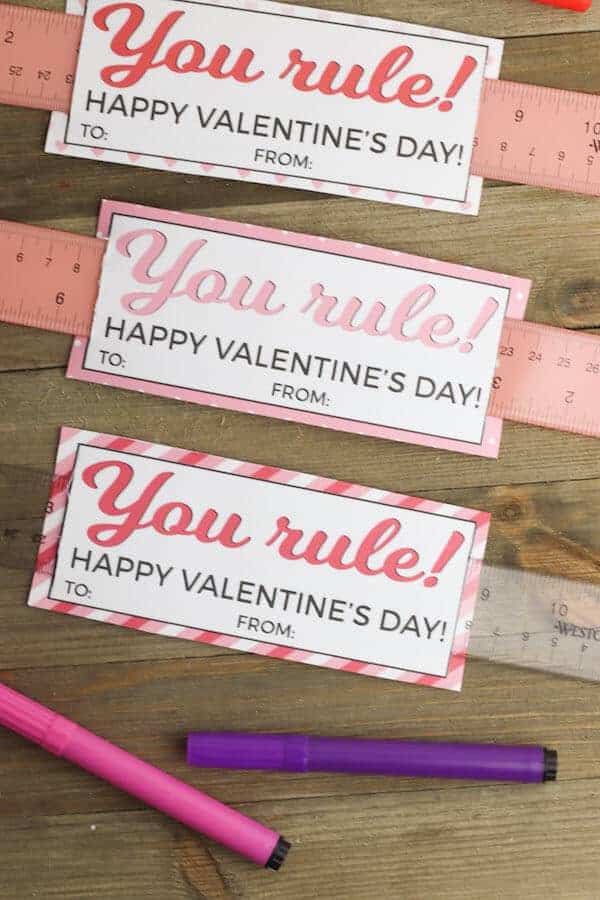 Other Non Candy Valentines with Free Printables!
Want some other ideas for Non-Candy Valentines with FREE Printable valentine cards? Check out these posts:
Valentine's Day Slime with Free Printable for Classroom Valentines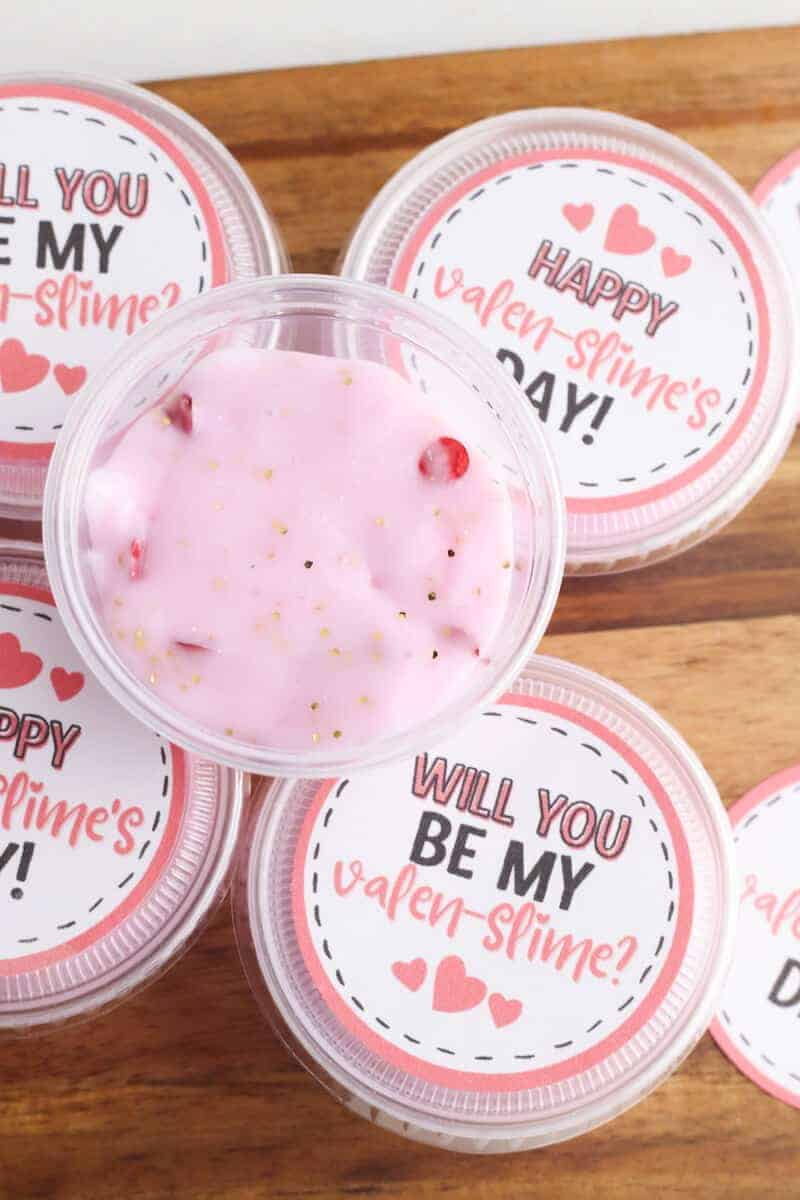 Printable Girls Valentine Cards with Hair Ties!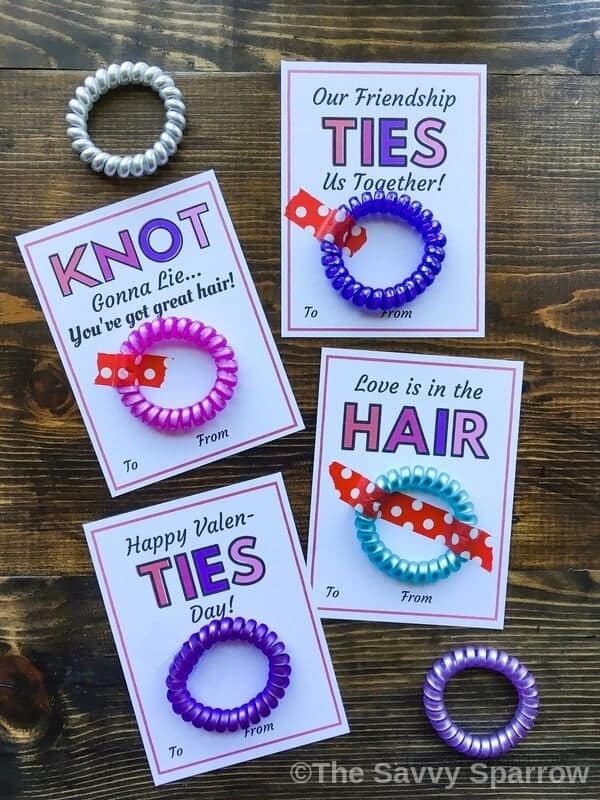 20+ Non-Candy Valentines with FREE Printable Cards!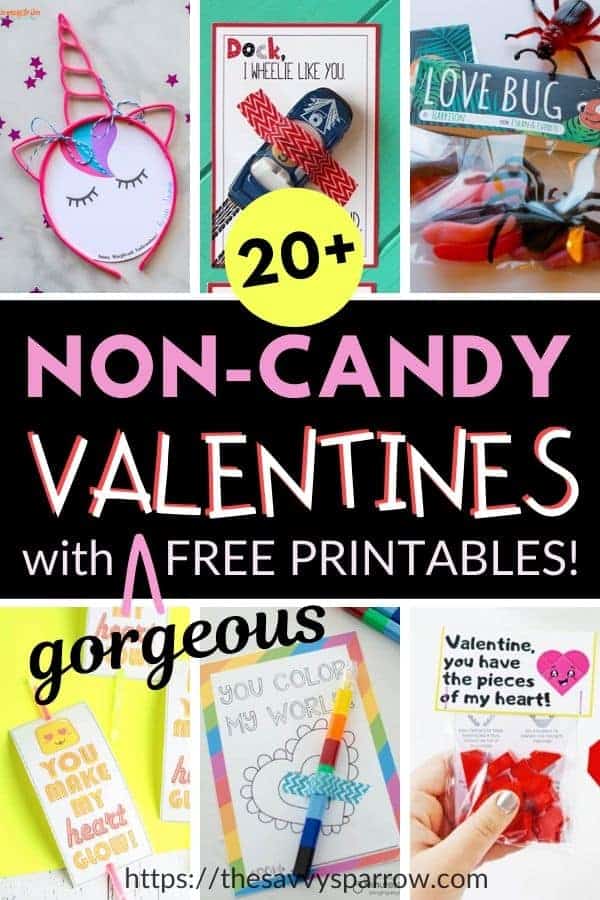 Or check out The Inspiration Board for even more non-candy Valentine ideas!
What are some of your favorite non-candy Valentine ideas? Have you made your own DIY Valentines in the past that were a HUGE hit? Leave me a comment down below! I'd love to hear from you!
And happy nesting!