This easy DIY Easter Egg Garland can be made in 5 minutes, literally! And the best part about this DIY Easter Decor is that it uses Dollar Tree supplies, so it's super cheap too. Awesome for your last minute Easter decorations on a budget!
I was in Dollar Tree at the beginning of March getting glue-on nails for my youngest daughter (by the way… if you haven't tried them, they are AWESOME!), and I found some adorable mini styrofoam egg decorations.
I don't know about your Dollar Tree, but mine has majorly stepped up their craft supply game. I'm talking mini canvases, stencils, acrylic paints, wreath supplies, and more… for just $1!
And, they've got a GREAT selection of craft supplies for the holidays, like cute glittery styrofoam eggs for just $1 per pack of 12!
You guys LOVE my other DIY Easter banners, so I immediately thought to use these cute Easter egg decorations to make a SUPER EASY DIY Easter Egg Garland!
And when I say SUPER EASY, I mean you can literally make this DIY Easter garland in less than 5 minutes.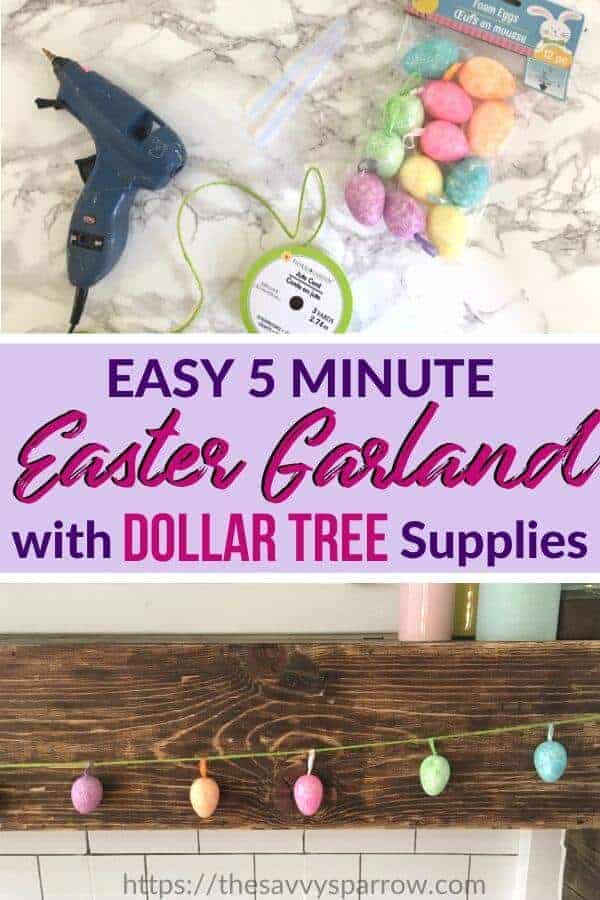 Here's how to make your Easter Egg Garland (for less than $3!):
How to Make an Easter Egg Garland with Dollar Tree Supplies
Step 1: Gather your supplies
Here are the supplies that I used to make my 5 Minute Easter Egg Garland: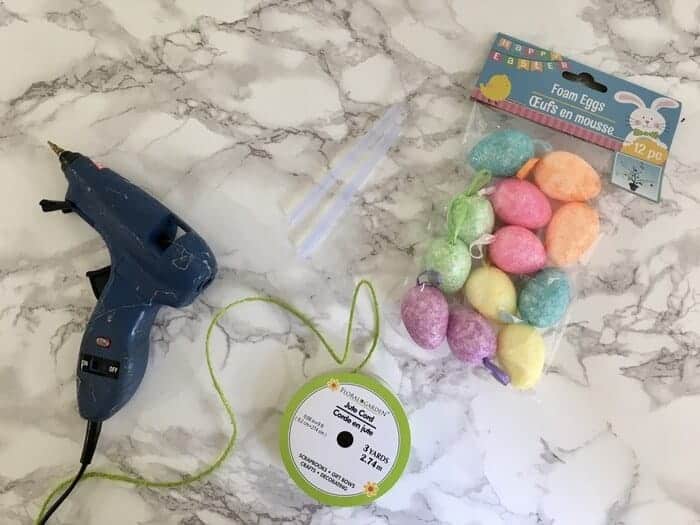 Styrofoam glitter egg decorations (come in a 12 pack for $1) – Depending on the length of your finished banner, you may need two packs.
Green jute cord
Hot glue gun and glue sticks
Step 2: Cut the jute cord to the length that you need
Step 3: Thread the styrofoam eggs onto the jute cord
The Dollar Tree styrofoam egg decorations come with a ribbon loop at the top, which makes them PERFECT for this easy Easter Egg Garland. Just thread the jute cord through the loop.
Then, space the eggs out on the cord to the distance that you want. My eggs are spaced approximately 4 1/2″ apart, but I just eyeballed it.
Step 4: Hot glue eggs into place
Once your eggs are where you want them, then just hot glue them into place. I just put a drop of hot glue on the inside of the top of the loop and pressed it into place on the jute cord.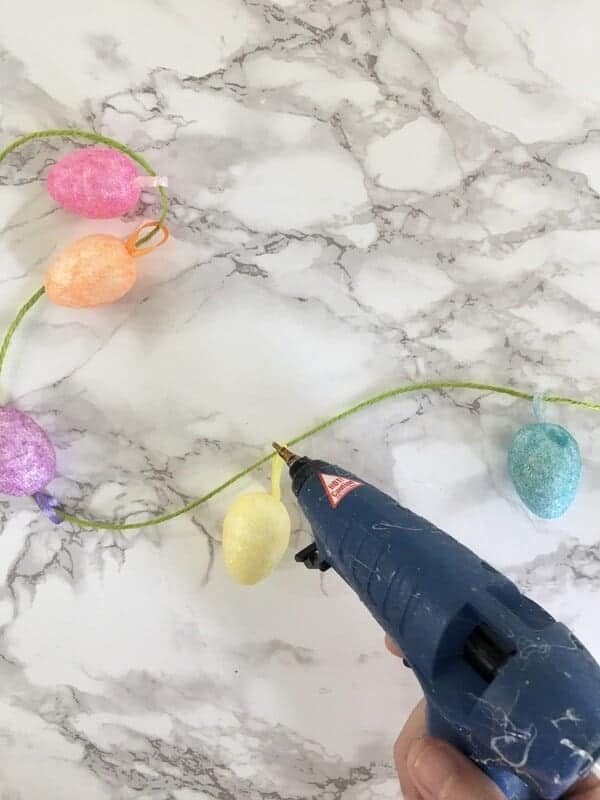 Easy peasy!
Then all you have to do is hang it up… I LOVE how the pastel eggs pop agains the dark wood tones of my mantel!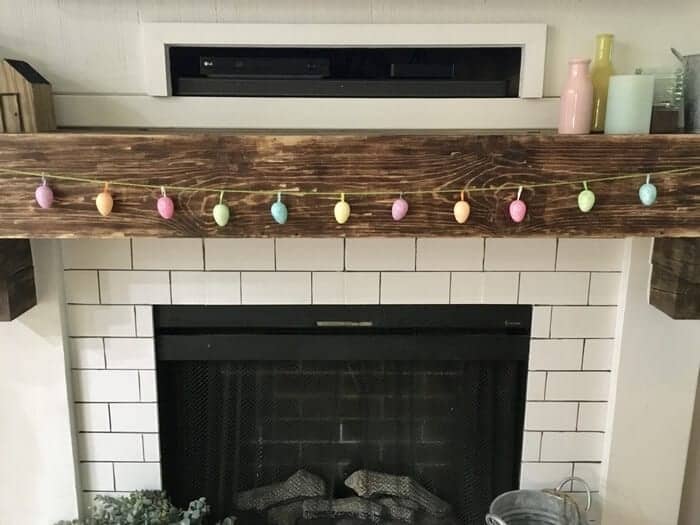 You can't beat this super cute DIY Easter Egg Garland for JUST $2, right?!
And did you notice my "subway tile" fireplace? Would you believe me if I told you that the "tile" is actually just paint? Go HERE to see how I painted Faux Subway Tile over my existing fireplace tile (without using a stencil or a TON of painter's tape!).
And be sure to check out my other DIY Easter garlands HERE!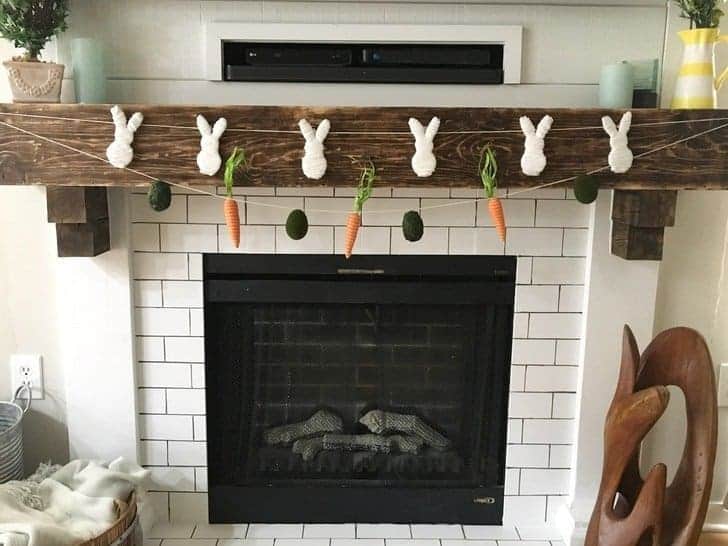 Want even more inexpensive DIY Easter ideas? Go HERE for 100 DIY Dollar Tree Easter Decorations!
And Happy Nesting!