These healthy peanut butter chocolate energy balls are a GREAT snack if you have a sweet tooth! They taste like cookie dough, without all of the carbs and sugar. Almond flour adds protein for energy, and dark chocolate gives a hint of sweetness to these yummy no-bake energy bites!
I'm ALWAYS on the lookout for healthy and easy-to-make snacks. Just like my kids are ALWAYS hunting down snacks to eat when they just finished a full meal 5 minutes earlier.
So, when I discover something that I love, my kids love, and my waistline loves, then it's a winner in my book!
And these no-bake peanut butter chocolate balls are a BIG win!
A friend introduced us to these peanut butter chocolate balls years ago, and now we pretty much ALWAYS have a batch in our fridge. She actually calls them no-bake cookies, and she presses them down into flattened circles, more like an actual cookie.
I started making them into balls because that's how my 8 year old daughter (and sous chef) wanted to do them one day, and it just kind of stuck.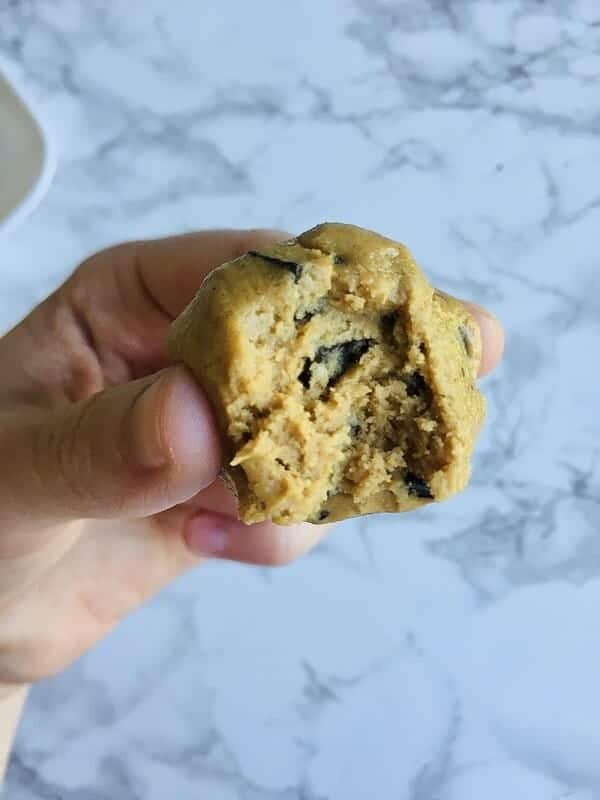 And now these little energy balls are my go-to sweet treat for after dinner or a mid-afternoon snack. And since they're packed with peanut butter, dark chocolate chunks, almond flour, and honey, you can feel good about eating them…
Or at least you can feel better about these than you can a big ol' chocolate chip cookie. 🙂
Here's how to make these yummy cookie dough balls of goodness:
How to Make Peanut Butter Chocolate Energy Balls
First, let me start off by explaining the name…
These "energy balls" are really more like "cookie dough bites". So if you're a daredevil and love to eat raw cookie dough (not recommended!), then you'll LOVE these peanut butter chocolate snacks! All the flavor of raw cookie dough, but without the risk of salmonella. 🙂
And besides the yummy taste, the best thing about these peanut butter chocolate balls is that they are SUPER easy to make!
Gather Your Ingredients
These healthy energy balls only take 4 ingredients: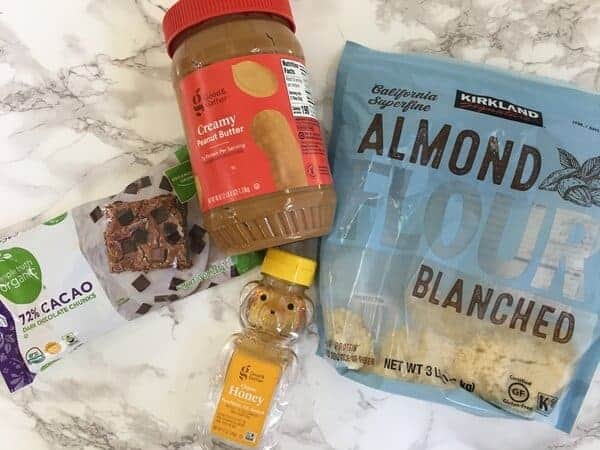 Peanut butter – I prefer the texture of creamy peanut butter for this recipe.
Almond flour – Use finely ground almond flour… I got mine at Costco.
Dark chocolate chunks – The organic 72% Dark Cocoa Chunks from Kroger are my favorite chocolate to use for these energy balls. This chocolate has one of the lowest carb counts that I have seen.
Honey
Mix peanut butter, almond flour, and honey together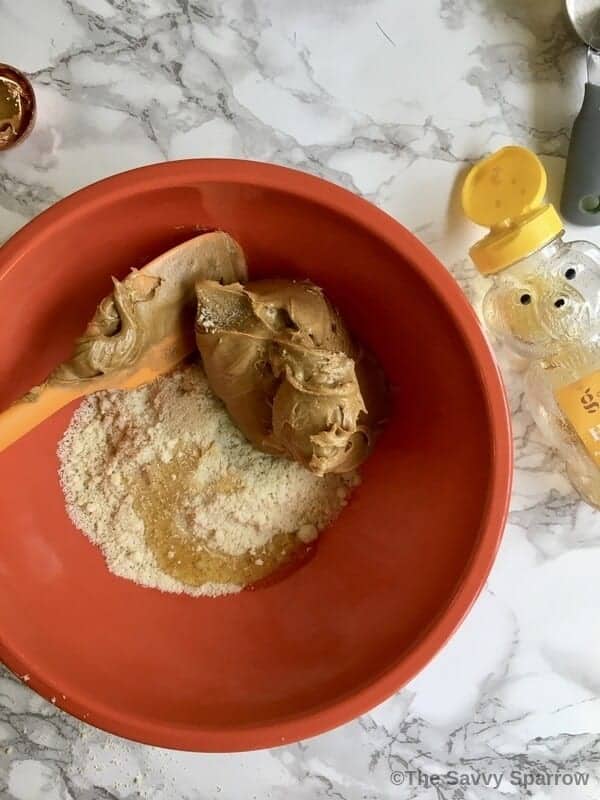 Just dump them together in a medium bowl and mix. I find it easiest to use a spatula to mix these three ingredients together. It will take a little bit of arm strength, and the dough will be sticky at first… Be warned.
Fold in the dark chocolate chunks
Next, add the chocolate to the peanut butter mixture. If you can't find dark chocolate chunks, you can also use milk or semi-sweet chocolate chips. Now is the time to add in any extras you may want also… You could add chopped walnuts, pecans, or coconut flakes for a fun variation!
Form your "dough" into one inch balls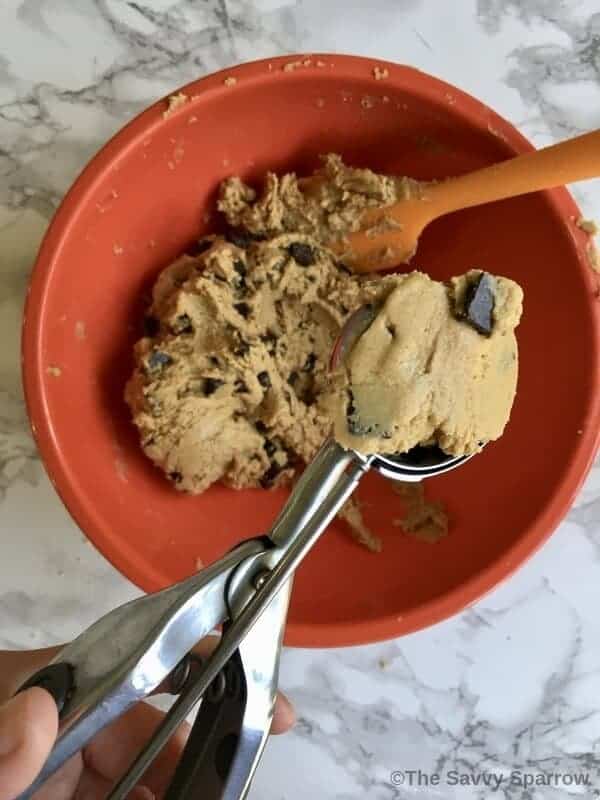 After your "dough" is mixed, form it into small balls by rolling a little bit at a time in your hands. I like to use a 2 TBSP cookie scoop to portion out dough balls before rolling them.
Store covered in the refrigerator
After you've formed your chocolate peanut butter "dough" into balls, then stack them in a plastic storage container, with wax paper between layers. Then, refrigerate them for a few hours before eating.
You can store them in the fridge for a week or two, but I guarantee that they won't last that long! Especially if your kids love them as much as mine do.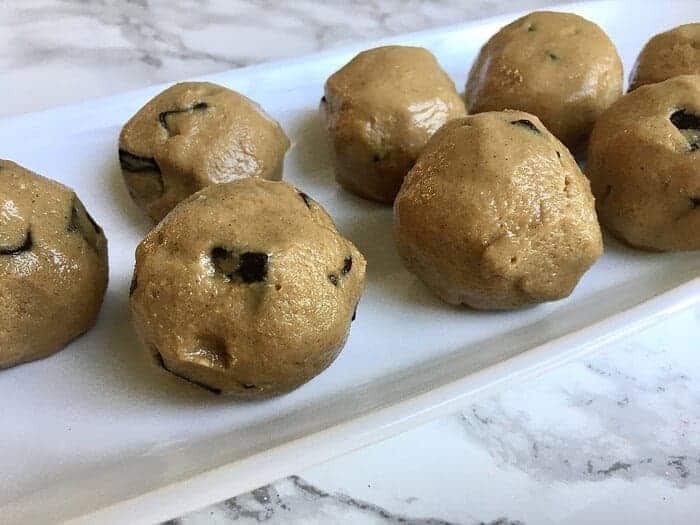 Here's the recipe to add to your list of healthy snacks:
Yield: 18 balls
Peanut Butter Chocolate Energy Balls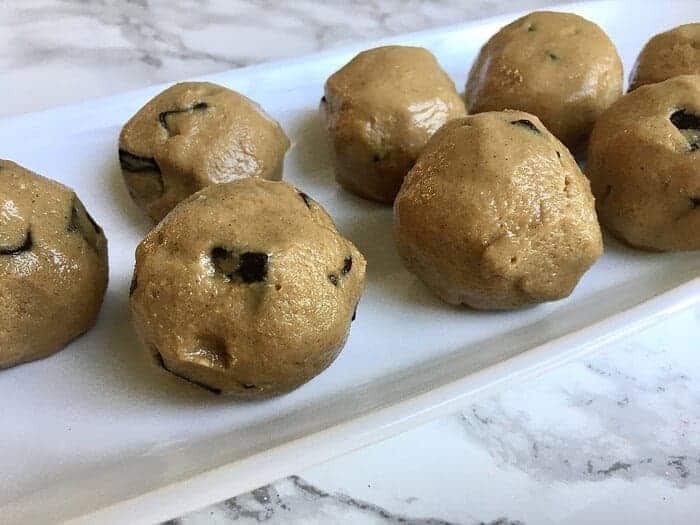 These yummy Peanut Butter Chocolate Energy Balls will be your new favorite afternoon snack! So easy to make, and the perfect amount of sweetness to beat your sugar cravings. If you love cookie dough, then you'll LOVE these!
Prep Time 10 minutes
Total Time 10 minutes
Ingredients
1 1/4 cup finely ground almond flour
1 cup creamy peanut butter
1 tbsp + 1 tsp honey
3/4 cup dark chocolate chunks (or substitute chocolate chips of your choice)
Instructions
Fold almond flour, peanut butter, and honey together in a medium bowl until well combined. The "dough" will be thick and slightly sticky.
Fold in dark chocolate chunks.
Roll dough into 1" balls.
Refrigerate approximately 2 hours before serving.
Store energy balls in the refrigerator in an air tight container. Place wax paper in between layers to keep them from sticking together.
Nutrition Information:
Yield:
18
Serving Size:
1
Amount Per Serving:
Calories: 133
Total Fat: 11g
Saturated Fat: 2g
Trans Fat: 0g
Unsaturated Fat: 9g
Cholesterol: 1mg
Sodium: 71mg
Carbohydrates: 6g
Fiber: 1g
Sugar: 3g
Protein: 5g
Nutritional information is provided as a courtesy and is an estimate only. Different online calculators may calculate nutritional information differently. Also, the addition of optional ingredients and varying brands and products may change the information. For the most accurate data, you should calculate the nutritional information with the actual ingredients that you use.
In the mood for something sweeter? Try my Momma's Blue Ribbon Chocolate Sheet Cake or this Chocolate Cherry Dump Cake with Brownie Mix!
Or, if you want more no bake energy ball ideas, then try these No Bake Oatmeal Energy Bites from Gimme Some Oven!