These gift ideas for Moms are perfect for Christmas or Mother's Day! Whether your Mom loves crafts, pictures of the grandkids, relaxing baths, comfy clothes, or personalized jewelry, you are bound to find some great ideas in this big list of 30+ gifts for Mom!
It's that time of the year… time to stress about the perfect gifts to buy everyone on your list.
And if your Christmas gift list is anything like mine… then it is LOOOONG!
So I'm starting off my gift guide posts this year with the people in our lives that put themselves last…
MOMS!
I don't know about your Mom, but my Momma is the most selfless person that I know. And most Moms are always so worried about making sure that everyone else is taken care of, that they never really have time to worry about themselves.
So Moms are extra deserving of a great gift!
Here are some of the best gift ideas for Moms, including some of my absolute favorite things because, hey, I'm a Mom too. 🙂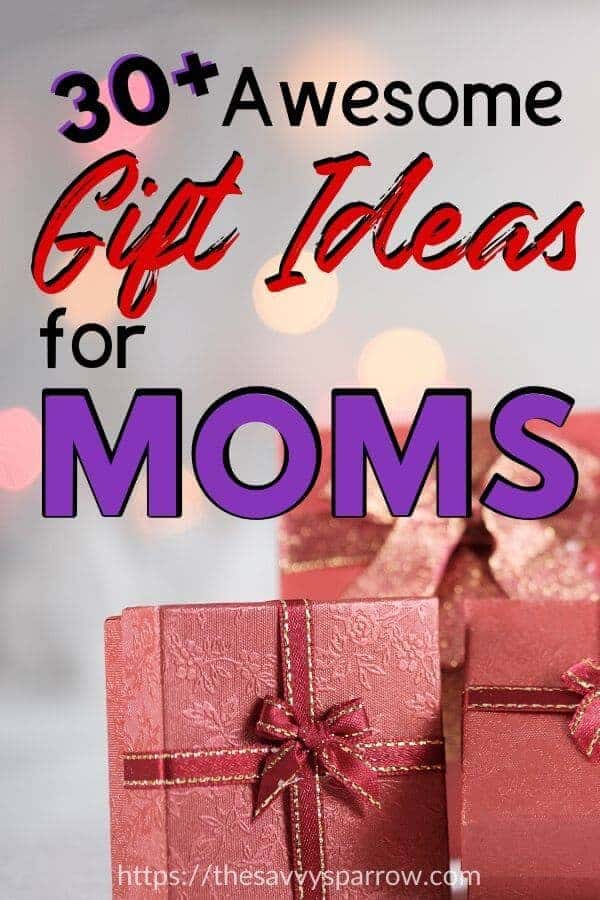 *This post contains affiliate links, which means I earn a commission from these links at no additional cost to you. Read my full disclosure here.
The Best Gift Ideas for Moms
Subscriptions for Moms
FabFitFun Subscription Box
I LOVE, LOVE, LOVE my FabFitFun subscription box (and I'm a Mom), so I'm putting it first on my list of the best gift ideas for Moms.
FabFitFun is a seasonal subscription box that comes with 7-9 full size beauty, fashion, and lifestyle products. If the yearly subscription is too expensive for your budget, then even one box is a great gift. And it's a GREAT value ($39.99 with coupon code WINTERFUN, and valued at over $200!).
You can head here to read my full review of FabFitFun. Or, go straight to order your box… remember to use the code WINTERFUN for $10 off!
Allure Beauty Box
If you want a monthly subscription box instead of a quarterly one, then Allure Beauty Box is also a great choice. I was a long time subscriber of this box before switching to FabFitFun.
Chatbooks Monthly Minis Subscription
Okay, so this one isn't exactly a subscription box, but it is a subscription photo book!
Chatbooks is an app that automatically ships you a photo book each month of some of the photos from your phone. You get to select 30 photos each month in the app, and Chatbooks will make a cute book of the photos and mail it to you with FREE shipping!
I especially LOVE the "Monthly Minis" subscription book because it is super affordable! Just $5 a month (including FREE shipping) for a mini photo book!
This is a great idea for both Moms and Grandmas who have a ton of photos on their iPhones, but no time to get prints made.
Online Craft Class Subscription
If your Mom loves quilting, knitting, cake decorating, drawing, paper crafting, etc., then she will LOVE a monthly or annual subscription to Bluprint!
Bluprint offers on-demand access to a TON of different baking, cooking, arts and crafts, and fitness classes taught by experts. You can sign Mom up for a monthly or annual subscription and she'll get unlimited access to ALL of the online classes that Bluprint offers.
I especially LOVE this gift idea if your Mom is retired and she has extra time to enjoy her hobbies, or to find new ones!
Personalized Gifts for Moms
Etsy has some of the best personalized gift ideas for Moms… here are a few of my favorites:
Personalized Initial Necklace from Belky Mood – You could personalize this necklace for Mom with her own initials, her kids' initials, or her grandkids' initials.
Fingerprint Charms from Caitlyn Minimalist – This would be a great gift idea if your Mom has a Pandora bracelet!
Monogrammed Crossbody Bag from Moda Embroidery – I LOVE this personalized crossbody bag! This handbag is very similar to the one that I wear everyday.
I LOVE a crossbody bag because it stays out of the way and doesn't slide down my shoulder when I'm out running errands (or juggling my kids!), and it still has plenty of room for the essentials.
Personalized Makeup Bag from Custom Diva Tees – I LOVE this adorable makeup bag… and it is SUPER affordable!
Personalized candle from Yankee Candle – Did you know that you can add a photo to the label of a Yankee Candle? I gave my sister this personalized candle a few years ago, and it turned out so great.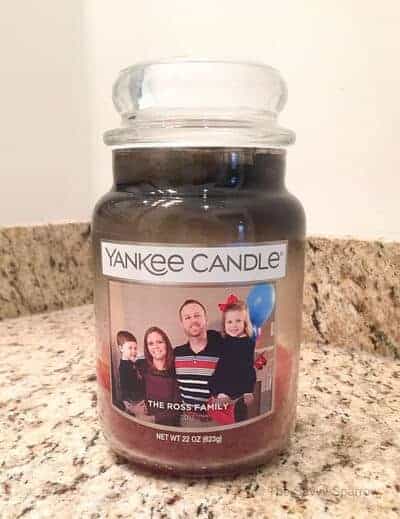 They just printed the label in the store while I waited, so it was really easy, too.
Funny Gifts for Moms
Funny t-shirts
As a Momma, you've got to have a sense of humor… and these awesome t-shirts are perfect for moms that are fabulous AND funny!
"Everything is Fine" shirt from StrongGirlClothing– This adorable shirt pretty much sums up motherhood, right?! Plus, I have personalized CANVAS brand shirts and they fit so well!
Tired T-shirt from SimplySageMarket – Another funny shirt that sums up motherhood!
Village and Vineyard Shirt from J Law Creations – Love this shirt for Mommas that enjoy the occasional glass of wine!
Other funny gifts for Moms
Funny wine tumblers – Speaking of Moms that love wine, these funny wine tumblers from Cru Cups Store are perfect for those Moms who indulge in wine AND reality tv.
"Other Moms" Coffee Mug from Ultimate Gifts Shop – This coffee mug is hilarious! Especially if your Mom doesn't mind being compared to a pole-dancing unicorn! 🙂
Comfy Gifts for Moms
"Homebody" sweatshirt from FaithandGraceCoStore – I love this trendy and comfy sweatshirt, especially for introverted moms like me!
Barefoot Dreams bathrobe (affiliate) – My hubby bought me this bathrobe 8 years ago, and I still wear it daily. It was one of Oprah's Favorite Things, and if it's good enough for Oprah, then it's good enough for Momma. 🙂
Pottery Barn blanket – I recently scored this AWESOME blanket at a Pottery Barn-sponsored garage sale for $2! Yes, it is pricey if you buy it in stores, but it is seriously my favorite blanket that I have ever owned!
If your Mom loves cuddling up on the couch with a good book, then this is a great gift for her!
Dearfoams Slippers (affiliate) – Since I work from home and pretty much spend every day in my pajamas, I consider myself to be a slipper connoisseur! I have tried SO MANY different slippers, and these are my absolute FAVORITE, and they're really affordable.
I LOVE that they have a hard bottom so you can wear them outside (or down the street to the bus stop).
Beauty Gifts for Moms
Luxurious bath products
These bath products from Babe and Body were created by a pregnant Mom who struggled with super dry and flaking skin… show of hands?! All of the products are paraben and sulfate-free and made in the USA.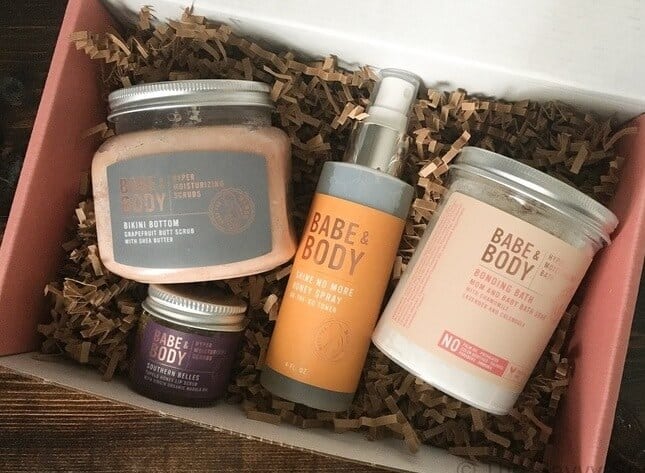 I personally LOVE the Southern Belles honey lip scrub and the Bikini Bottom grapefruit butt scrub. They both smell amazing, and it's nice to be able to take a few extra minutes in the shower for a little extra pampering… because what busy Mom has time to actually soak in a tub, right?!
Perfume sampler
I've gifted my Momma a few of these over the years… I love the ones at Ulta because they come with mini perfume samples, plus a certificate that she can turn in for a FREE rollerball perfume.
At just $15-$30, this is a great budget gift idea for Mom, or this would be perfect for sisters or BFFs, too.
Tech Gifts for Moms
These are some of my favorite electronic gift ideas for Moms… and they're all really easy to use and setup, even if your Mom is technologically-challenged!
Amazon Echo
I LOVE my Amazon Echo (affiliate) and Echo Dots so much that we have not one, not two, but FOUR of them.
This is the main Echo that I have in our living room.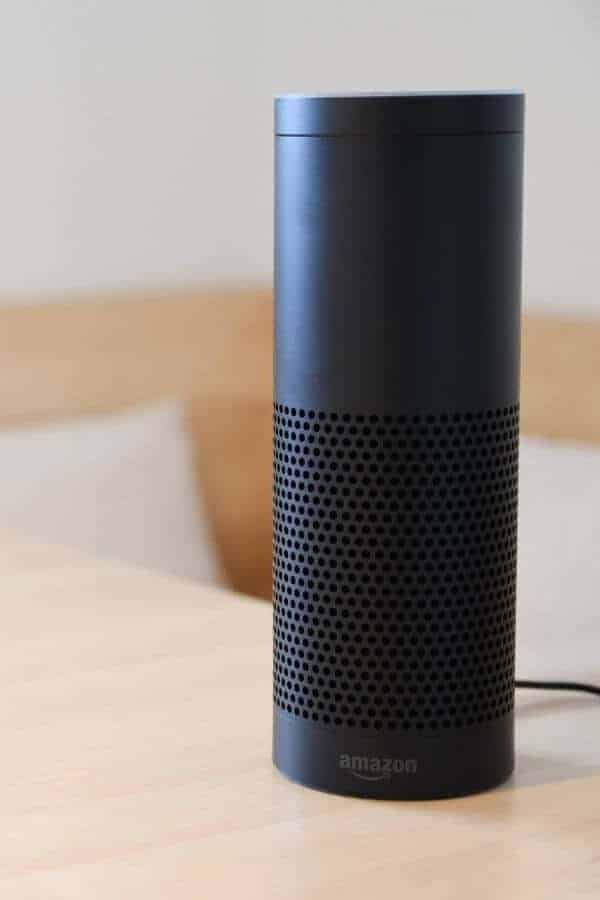 It has the upgraded speaker so it's perfect for blasting some Taylor Swift while I clean the house. My kids love it too, and they've been known to say "Alexa, play JoJo Siwa" for some impromptu dance performances.
We have the smaller Echo Dots (affiliate) in each of our bedrooms.
My youngest daughter uses hers to listen to K-Love radio while she's going to sleep, and I use my Echo Dot to check the weather in the morning just by saying, "Alexa, what's the weather today?".
Digital Picture Frame
I bought my Mom this digital WiFi-enabled picture frame (affiliate) last year for Christmas, after researching a TON of different digital frame options.
I purchased this one because it has a handy app that I can use to easily send her new photos.
I just upload the pictures from my iPhone to the Photo Spring app, and then I send them directly to the picture frame. As long as the picture frame is connected to your Mommas home wi-fi (or hotspot), then the photos will automatically appear on the frame.
Experience Gift Ideas for Moms
One of the best gift ideas for Moms is the gift of TIME. As Moms, we're so busy taking care of everyone and everything, that we often neglect time for self care.
Here are some great experience gift ideas for Moms:
Spa Day – Gift certificate for a massage or facial at a local spa.
Manicure and Pedicure gift certificate
Fun cooking class – Google cooking classes in your area… my town offers gourmet chocolate and sushi-making classes.
Cake decorating classes
Knitting classes
Other hobby lessons – Maybe Mom has always wanted to learn to play tennis or how to crochet. Give her a certificate so that she can go and enjoy her time doing something she actually wants to do.
Sky diving gift certificate – If your Mom is an adventure-seeker like mine… Yup, my Momma jumped out of an airplane on her 40th birthday!
Handmade Gift Ideas for Moms
If you're crafty, then here are some of the best gift ideas for Moms that you can make yourself:
A DIY Wood Sign
You can easily personalize this cheap and easy DIY wood sign with your Mom's favorite bible verse or quote.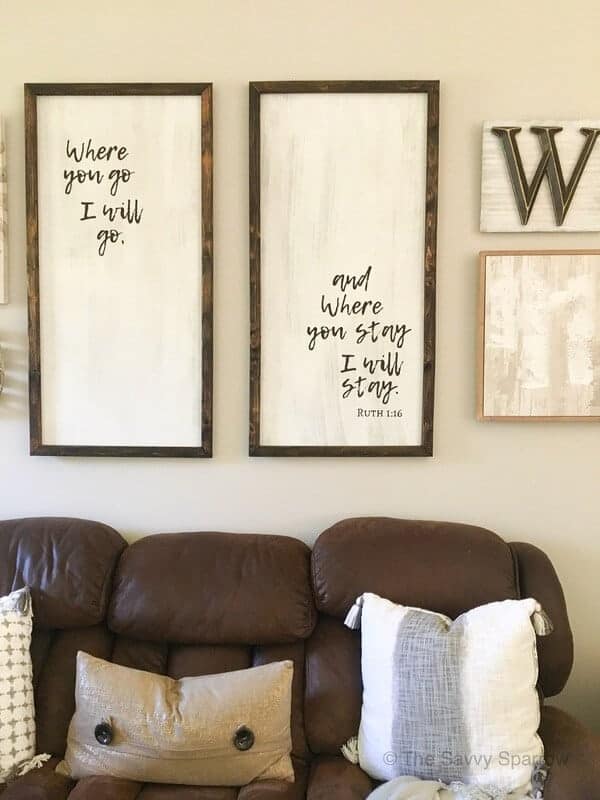 A DIY Scroll Sign
This DIY scroll sign makes a great gift idea for Mom, because it's 10 signs in one! So she can just roll the kraft paper to change out the sign from holiday to holiday.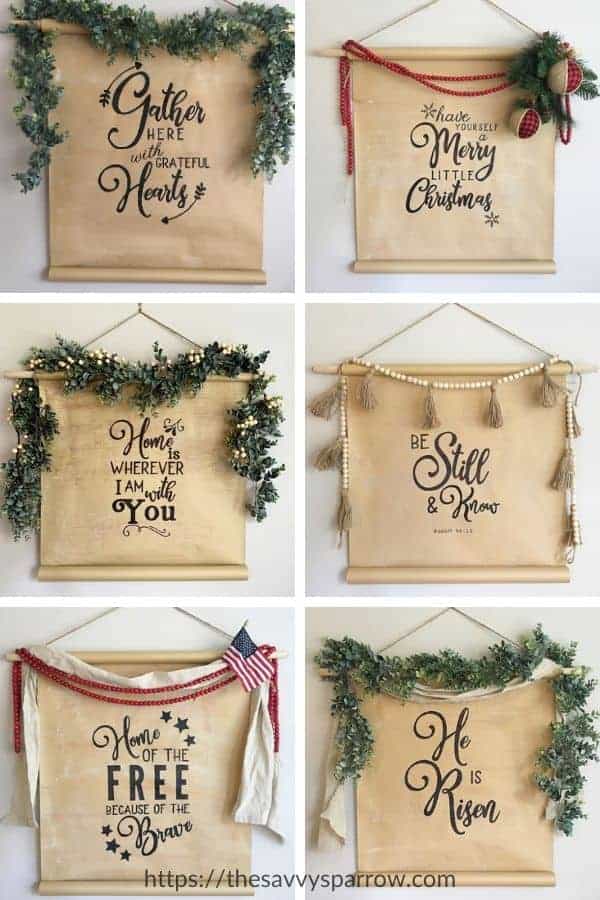 A Handmade Wreath
Check out this DIY farmhouse wreath that can transform from season to season… or this DIY square wreath with faux grass that would be perfect for spring and summer.
And there you have it… 30+ great gifts for Moms!
Have anything that I should add to my list? What have you gifted your Momma in the past (or yourself!) that you absolutely LOVE?
Leave me a comment below! I would LOVE to hear your gift ideas!