A kids morning routine chart is a GREAT way to make your mornings easier! Put your kids on the path to independence, and encourage them to do things for themselves with the help of a daily routine chart!
My 10 year old daughter makes a PERFECT two-egg cheese omelette. The eggs are perfectly cooked, and the cheese is nice and melted. She even makes omelettes for her 8 year old sister, since she's too young to use the stove by herself.
You see, a few months ago my kids decided to go on a cereal strike. They refused to eat cereal for breakfast every morning, so gone was my quick go-to morning meal. Instead they wanted eggs. EVERY. SINGLE. MORNING.
And I obliged for about a week. But as a work from home Mom, I really didn't want to spend 30 minutes cooking breakfast every day and another 15 minutes cleaning the kitchen.
So I taught my daughter how to make her own omelettes. And now a few mornings a week, she even makes me breakfast in bed.
Does that make me sound like a lazy parent? Probably.
But I think it's important for kids to be independent self-starters. By having my kids do pretty much EVERYTHING for themselves, I'm encouraging them to have a great work ethic when they're older. If my girls want something in life, I want them to figure out how to get it.
Even if it's a cheese omelette.
So what does that have to do with a kids morning routine chart?
A daily routine chart is an easy way to encourage kids to do things for themselves from a young age. You shouldn't have to be holding your child's hand every single morning through all of his or her morning tasks. Instead, let a chart be a helpful guide to remind kids what they need to do next.
Here's how to create your own kids morning routine chart to encourage your child's independence: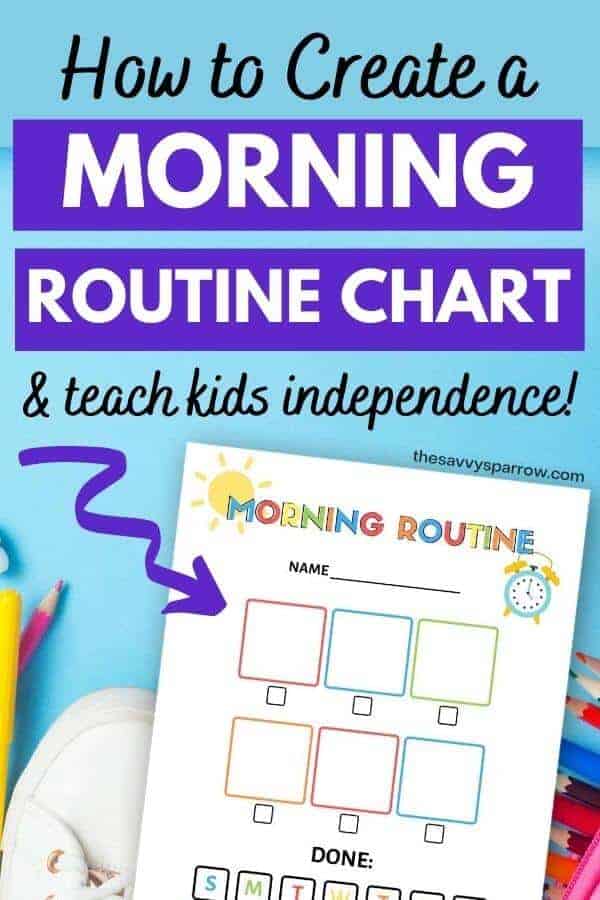 How to Make a Morning Routine Chart that works for YOU
The key to a successful kids chart is personalization. There really isn't a one-size-fits-all option, because everyone's routines are different. That's why I created these Chore Charts for Kids.
Your kids' morning routine will probably vary a bit depending on the day of the week and the time of year. For instance, you wouldn't have "Put on jacket" on your child's chart in the middle of May, and your kids don't need to "Pack backpacks" on a Saturday.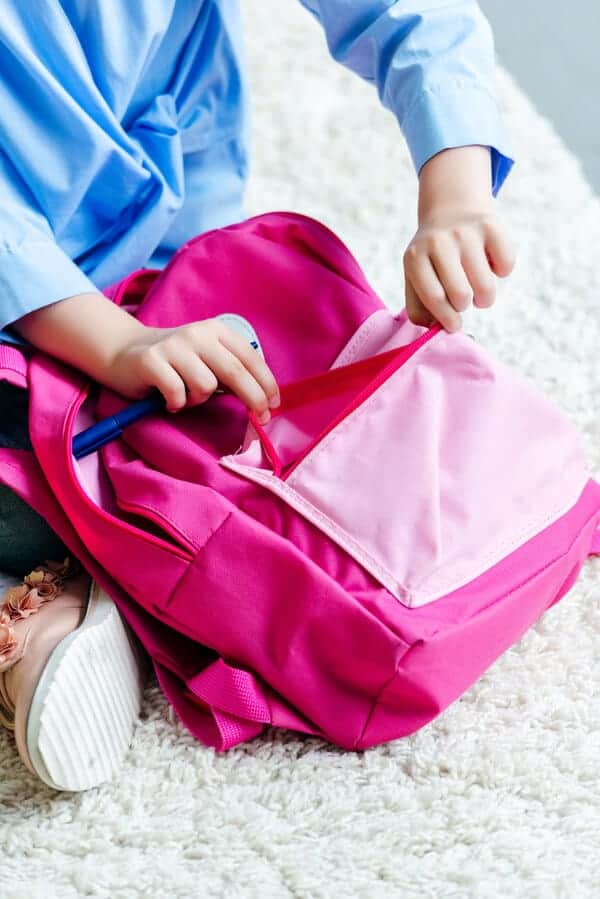 So when you're creating your kids morning routine chart, be sure to allow flexibility from day to day. Here are more tips for creating the perfect daily routine chart:
Brainstorm morning routine tasks to add to your chart.
Think about everything that your child needs to do on a typical morning, and write it all down in order, starting when they first get out of bed. Morning jobs could include things like:
Wake up when the alarm goes off.
Make bed.
Get dressed.
Put pajamas in clothes hamper.
Put on socks and shoes.
Eat breakfast.
Clear dishes from breakfast.
Brush and floss teeth.
Brush hair.
Make snack for school.
Make water bottle for school.
Get lunchbox packed for school.
Gather important school papers.
Pack backpack.
Feed pets.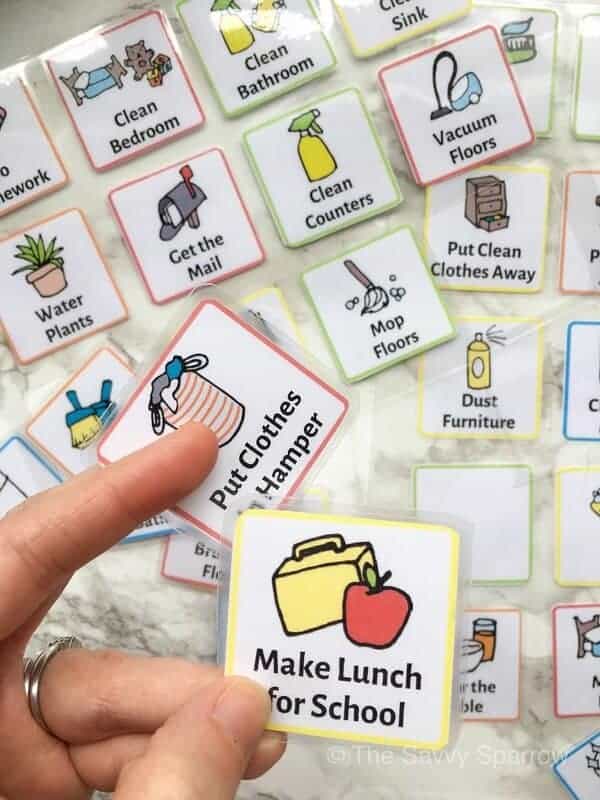 *This post contains affiliate links, which means if you click a link and make a purchase, I earn a commission at no additional cost to you. Read my full disclosure here.
Create your own morning routine chart.
After you've got a list of morning routine jobs for kids, then it's time to make your chart. Here are some ideas for how to create a morning routine chart:
Use a whiteboard. You can use thin washi tape to make grid lines on a whiteboard, and fill in the chart with dry erase markers.
Use a chalkboard. You can use a yard stick and chalk to draw straight lines for your chart, and check off tasks as they are completed with colorful chalk.
Buy a pre-made magnetic chart. You can find magnetic morning charts like this one on Amazon.
Use a printable morning routine chart. You can check out my printable chart at the end of this post!
Find a dedicated space for your kids chart.
Hang your routine chart someplace where your kids can see it easily, and make sure it's in the same spot everyday. On your fridge or in your family command center are great places to display your kids morning routine chart so that they see it and are reminded of the tasks that need to be completed.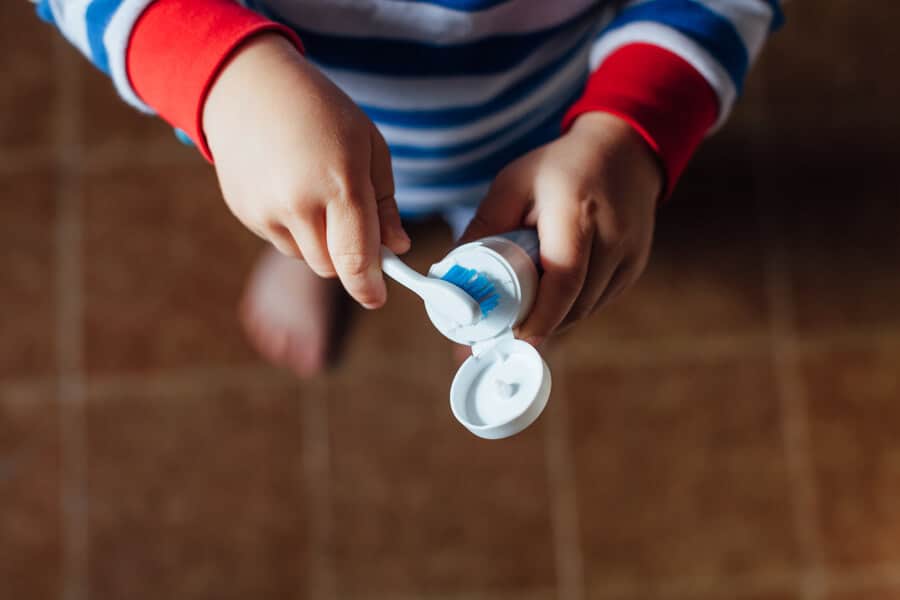 Be consistent!
It sounds funny to say, but kids will need to get in the routine of checking their morning routine charts. You can't just put up a new chart, show them how to use it, and expect for the chart to be a success.
For the first few weeks, you will need to remind your kids to reference their routine charts, and be consistent about marking things off the list. When kids come to you to ask what they need to do next, rather than telling them what to do, have them look at their morning routine chart for the answer.
After a few weeks of consistently reminding your kids to use their charts, they should be much more self-reliant in the mornings.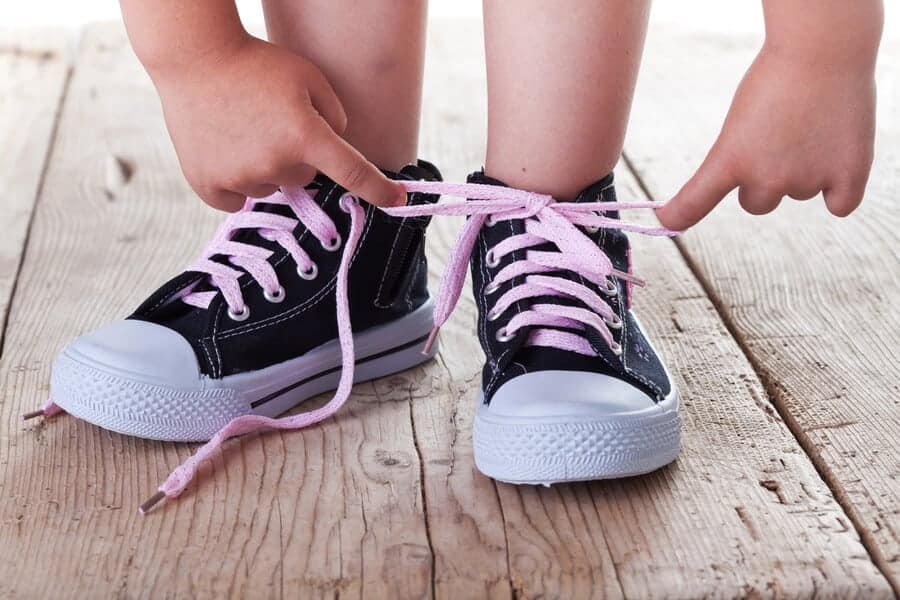 Offer rewards when kids complete their morning routines.
I'm a big fan of positive reinforcement (giving something) rather than negative punishment (taking something away). So, I have no problem rewarding my kids for good behaviors. When my girls were little I even used Kindness Charts for them to reward their acts of kindness towards others.
Here are some ways you can reward your younger kids for completing their routine charts:
Ice cream date – Let your child pick the spot!
Mini Dollar Tree shopping spree – My kids LOVED this when they were younger! You can let your child pick a few things from the store without blowing your budget.
Cash – My kids currently get $1 per week for every year old they are for completing their chore charts… so my 8 year old gets $8 per week.
Movie Night – Let your child pick a movie from Redbox or Netflix and pop some popcorn for a fun treat for the whole family!
Printable Kids Morning Routine Chart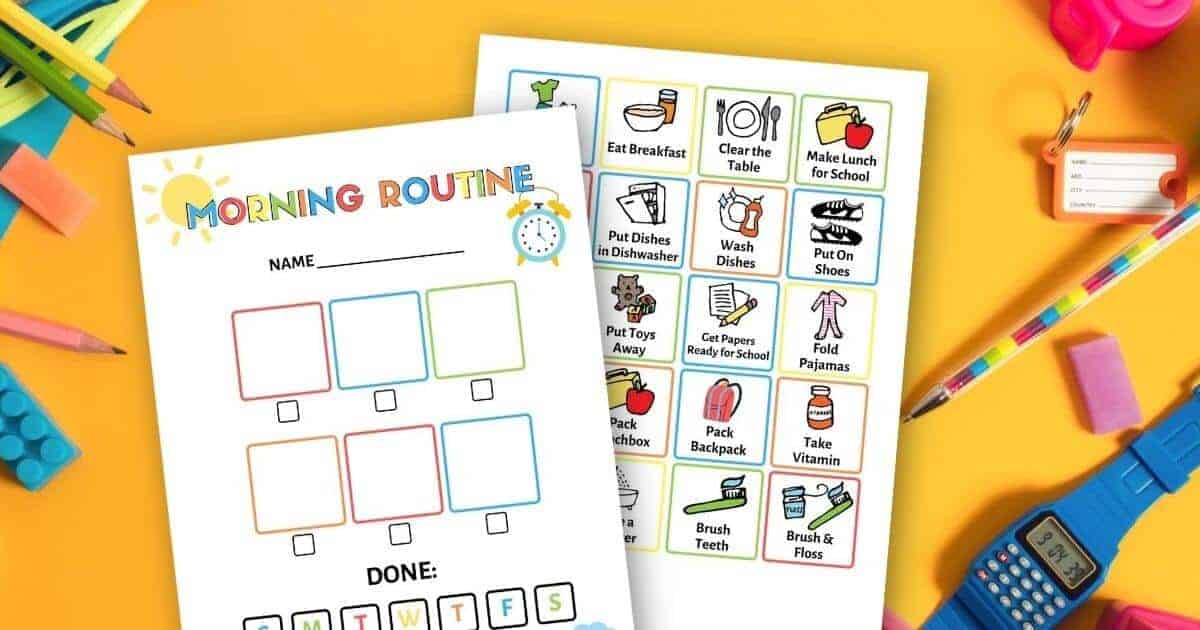 Want a printable morning routine chart with picture cards that can be switched out depending on the day? This Morning Routine Chart is available HERE in a bundle with a Nighttime Routine Chart and a Chore Chart.
It comes with 50+ chore and routine cards that can be used interchangeably on ALL of the charts, and there are color AND black and white versions included!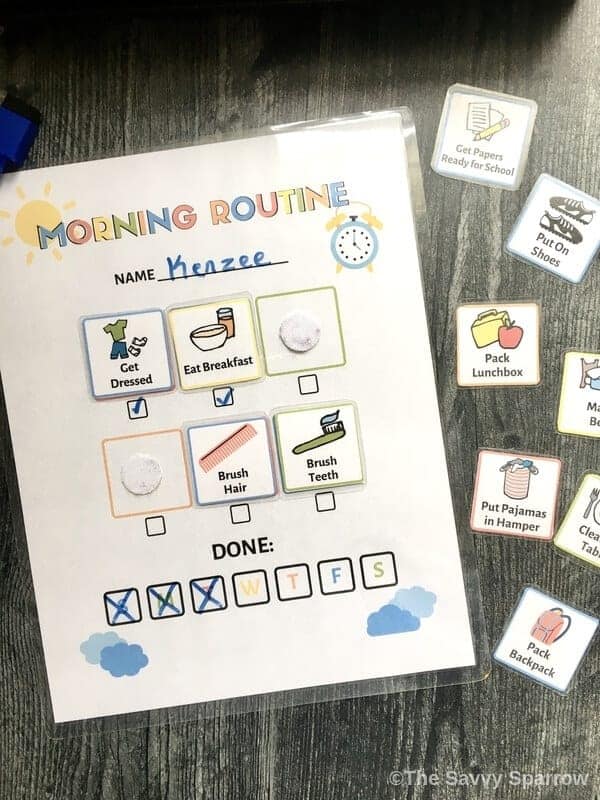 You can check out this post for how to create you own routine charts with this printable! *You will need a laminator, which is a handy tool to have for creating kids charts, bookmarks, placemats, and more!
Want more Mom hacks for how to have an easy week with kids? Check out this post for a Sunday Routine for Moms to make life easier!
How do you encourage your kids to be independent? What are some of the tasks your kids do as part of their morning routine? Dance party? Chores? Or are you just lucky to drag them out of bed each morning? Leave me a comment down below!
And happy nesting!