Want to add an extra element of fun to your child's birthday party this year? This fun-filled birthday treasure hunt with clues will be a home run every time! Read on to discover how to set up and organize a simple and easy birthday scavenger hunt with printable rhyming clues your kids will have a blast completing.
Similar to holidays, every family approaches birthday celebrations wildly differently. Some parents celebrate their child's special day quietly with a simple birthday interview and a cake. They might get some family members or a few friends together, but nothing too crazy.
Other parents fall on the opposite end of the birthday celebration spectrum, throwing their kid an event akin to a T-Swift concert mixed with the Oscars.
Regardless of where you fall along the celebration spectrum, it goes without saying that you want your child's birthday to be special. And fun. And maybe if they declared it was the best day in the whole history of EVER, you'd take that too.
So, if you're looking for fun ways to spice up your child's next birthday party without over-stressing, why not try a birthday treasure hunt? I've created a super fun birthday scavenger hunt with clues that you can set up indoors, outdoors, or a mix of both.
You can choose specific presents as the prizes for your kid-friendly birthday scavenger hunt or place all the gifts in one location. All you need to do is hide the rhyming birthday clues at different spots, either indoors or outside.
Each clue will take your kids closer to their goal, and the last one will lead them to their ultimate birthday gift!
Here's how to do your own birthday scavenger hunt with rhyming clues: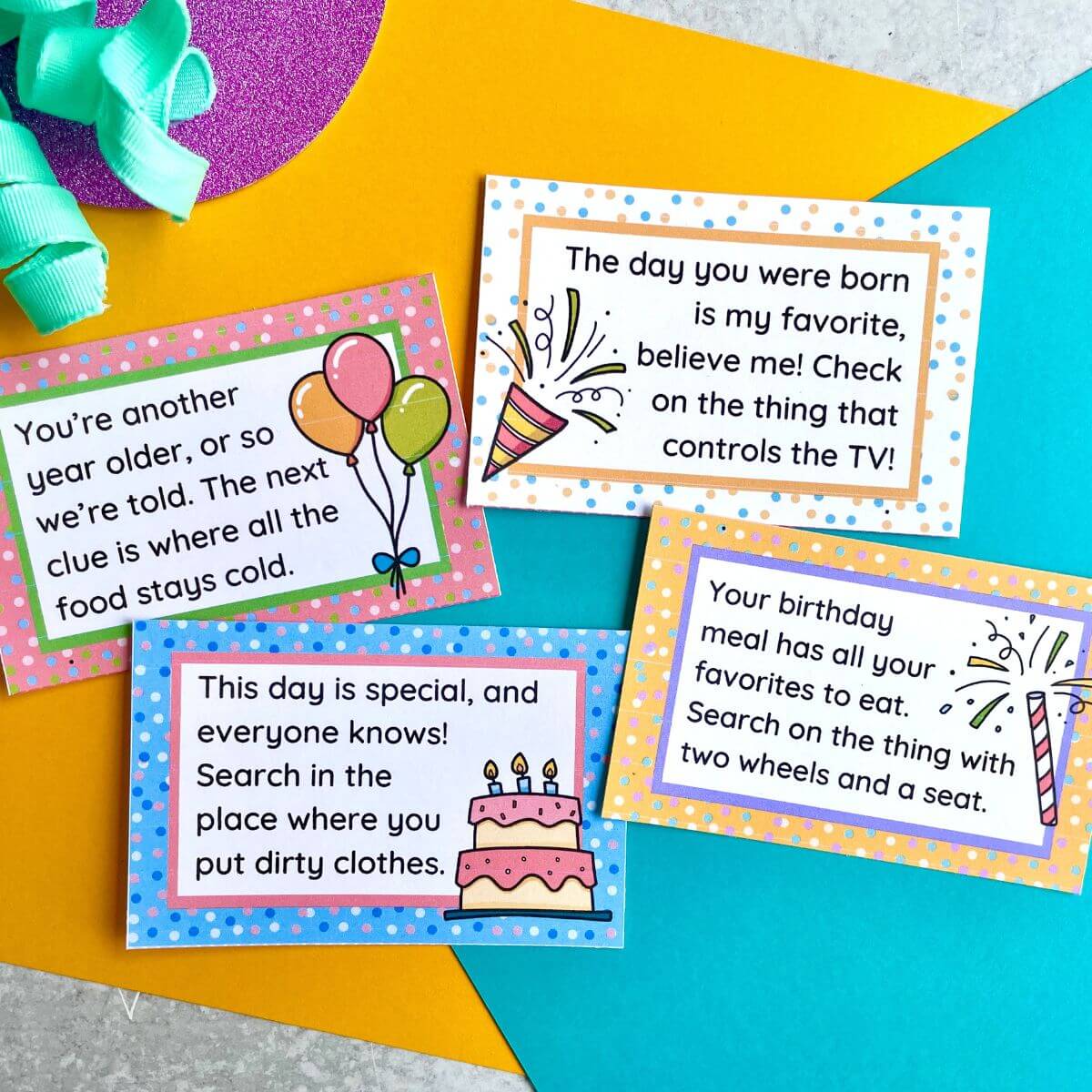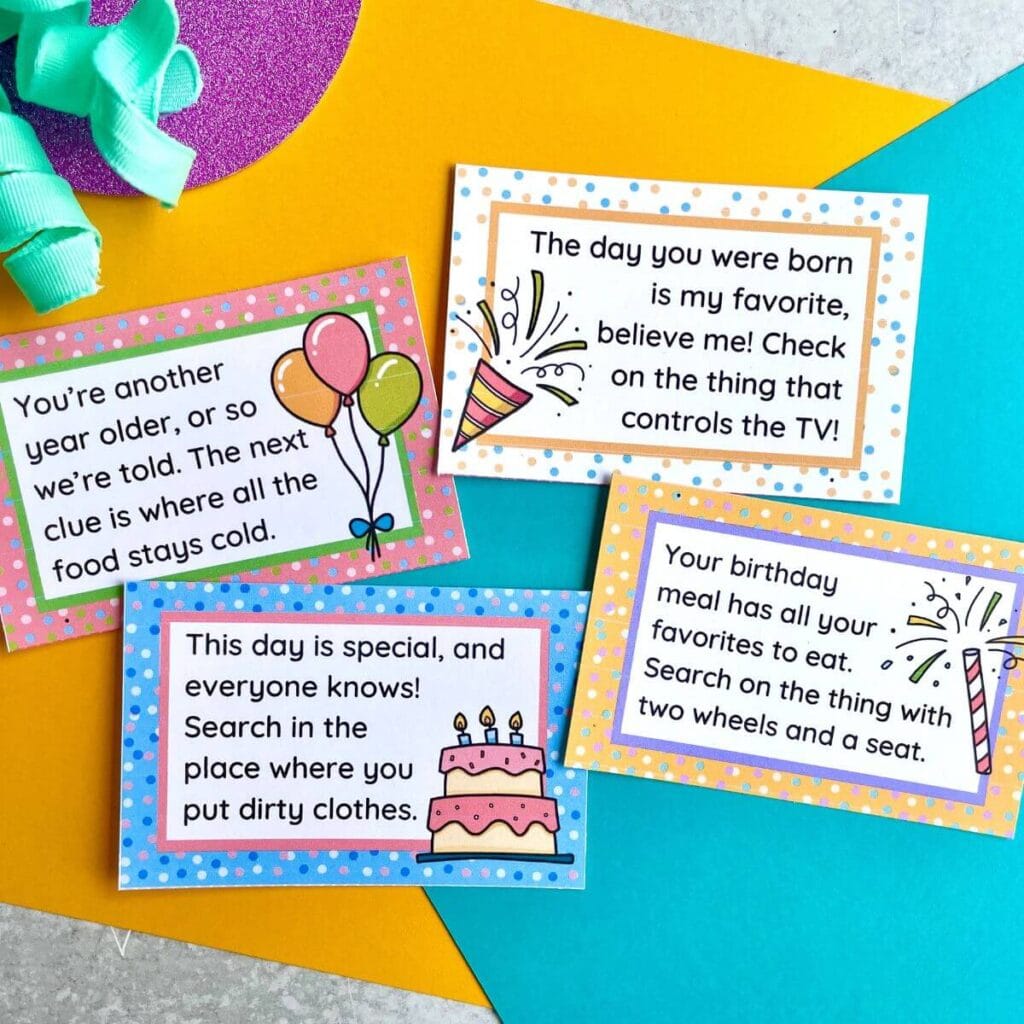 How to do a Kids Birthday Scavenger Hunt with Clues
Planning a birthday treasure hunt for your child's next party is simple! You just need to follow these steps:
Step 1: Decide on a Final Prize
First, you need to figure out which birthday present/s will act as the scavenger hunt prizes. You can do this in several ways, such as:
Hold the treasure hunt after opening most of the presents so kids can find their "big" gift.
You could also have a final clue lead to a table or location with ALL of the presents.
Have the treasure hunt prize be something that your child has wanted the most of all.
Have the final treasure hunt prize be a clue or hint to a larger gift, such as the prize being the collar and leash for a new puppy. Or a new suitcase for a surprise overnight trip to a waterpark!
Step 2: Download and print the rhyming Birthday Treasure Hunt Clues
Whether you've chosen to set up an indoor or outdoor birthday scavenger hunt with clues (or a mix of both), I've created these fun, birthday-themed printable rhyming clues you can use to make organization and setup a snap. Simply download the scavenger hunt clue cards from my shop, and print them at home or at a local office supply store.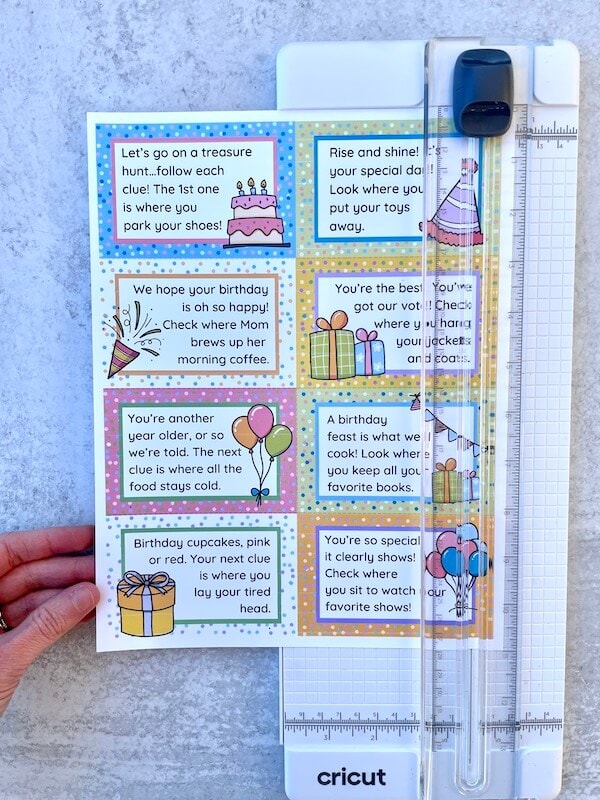 I recommend that you print your birthday treasure hunt rhyming clues on white cardstock for the best results. After you print them, just cut each card out, and you're ready to set up your birthday scavenger hunt! Laminate the cards to use them next year or for a different child. They're perfect for repeat use.
Step 3: Set up your Birthday Scavenger Hunt
Have your child find the first birthday treasure hunt clue…It's the one that says,
"Let's go on a treasure hunt…follow each clue! The 1st one is where you park your shoes!"
Next, put the first clue where your kids can quickly and easily find it before the treasure hunt starts. Attach the card to the silverware drawer, front door, dining room table, etc.
Or, I recommend wrapping up the very first clue in a gift box, and have your child open it like it's a normal present. That's what I did for my youngest daughter when we did this Christmas treasure hunt, and it worked great! She immediately jumped up and started trying to find the other clues.
Then, use painter's or Scotch tape to place each birthday scavenger hunt rhyming clue to a different indoor or outdoor location. Remember not to attach the clue to the place that it describes…For example, you shouldn't tape the clue card that says,
"Rise and shine! It's your special day! Look where you put your toys away."
To the toy box. Instead, you would attach that clue to the location right before it.
Printable Birthday Treasure Hunt Clues for Indoors
Every birthday treasure hunt needs these fun and adorable birthday scavenger hunt rhyming clues!
You'll find the clues I've included on the printable indoor birthday scavenger hunt clues below, as well as where each riddle refers to:
"Let's go on a treasure hunt…follow each clue! The 1st one is where you park your shoes!" (Entryway/Mudroom)
Rise and shine! It's your special day! Look where you put your toys away. (Toy Box)
We hope your birthday is oh so happy! Check where Mom brews up her morning coffee. (Coffee Maker)
You're another year older, or so we're told. The next clue is where all the food stays cold. (Refrigerator)
You're so special, it clearly shows! Check where you sit to watch your favorite shows! (Couch/Recliner)
A birthday feast is what we'll cook! Look where you keep all your favorite books. (Bookshelf/Reading Nook)
You're the best! You've got our vote! Check where you hang your jackets and coats. (Coat Rack)
Birthday cupcakes, pink or red. Your next clue is where you lay your tired head. (Bed/Pillow)
Sit down to eat some birthday goodies! The next clue is where cookie dough becomes cookies. (Oven)
Birthday candles show their shimmery lights. Search for this clue where you brush your pearly whites. (Bathroom Sink)
Blow out your candles, don't be shy! This clue is where wet clothes get tumbled dry. (Dryer)
You're going to ace this birthday quest! Go to where you greet your guests! (Front Door)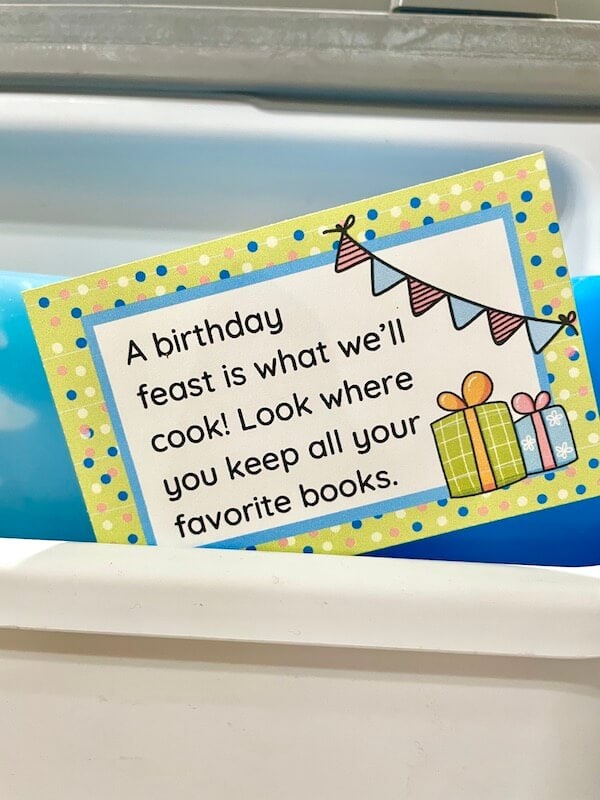 Wiggle and shake out your birthday sillies! Search where your ice cream stays nice and chilly. (Freezer)
Hooray, it's your birthday! You really rock! Check where you keep all your favorite socks. (Dresser/Sock Drawer)
You're almost there! You just can't stop! Look where the popcorn goes, Pop! Pop! Pop! (Microwave)
Let's get into the birthday mood! The clue is where Mom keeps extra cans of food. (Pantry)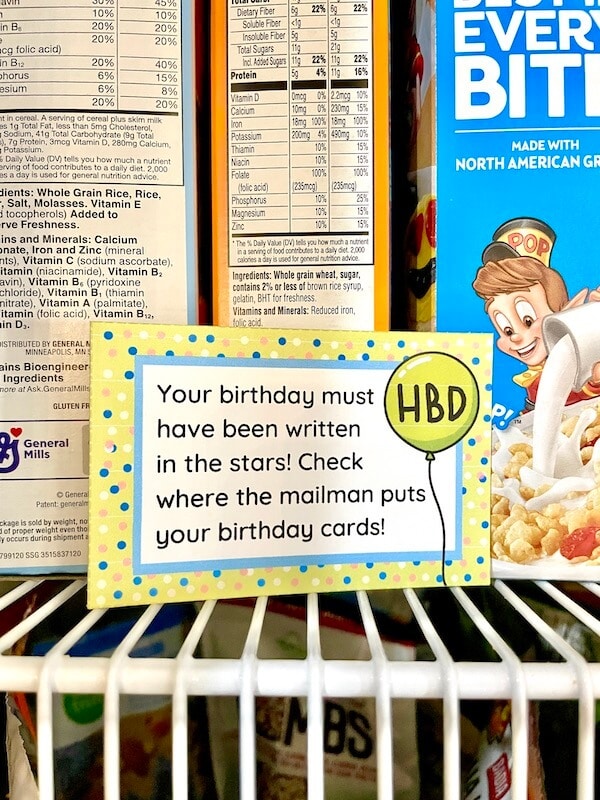 This day is special, and everyone knows! Search in the place where you put dirty clothes. (Hamper)
King for the day! Or maybe a queen! Look where you scrub to get squeaky clean! (Bathtub/Shower)
The day you were born is my favorite, believe me! Check on the thing that controls the TV! (TV Remote)
You light up our days and make each one sunny. Look where you keep all your extra money! (Piggy Bank)
*Note — If one of the locations doesn't apply to you (like you don't have a bookshelf), then you can simply leave that clue out.
Printable Birthday Scavenger Hunt Clues for Outdoors
Are you planning an outdoor birthday scavenger hunt with clues? I've designed those for you as well! Here are the birthday treasure hunt clues for an outdoor scavenger hunt:
You're a wonderful kid, from your head to your toes. Look at the spot where smelly trash goes. (Garbage Can)
Your birthday must have been written in the stars! Check where the mailman puts your birthday cards! (Mailbox)
The cake is ready! It's time to sing! Your next clue is where you love to swing. (Swing Set)
Your birthday meal has all your favorites to eat. Search on the thing with two wheels and a seat. (Bike)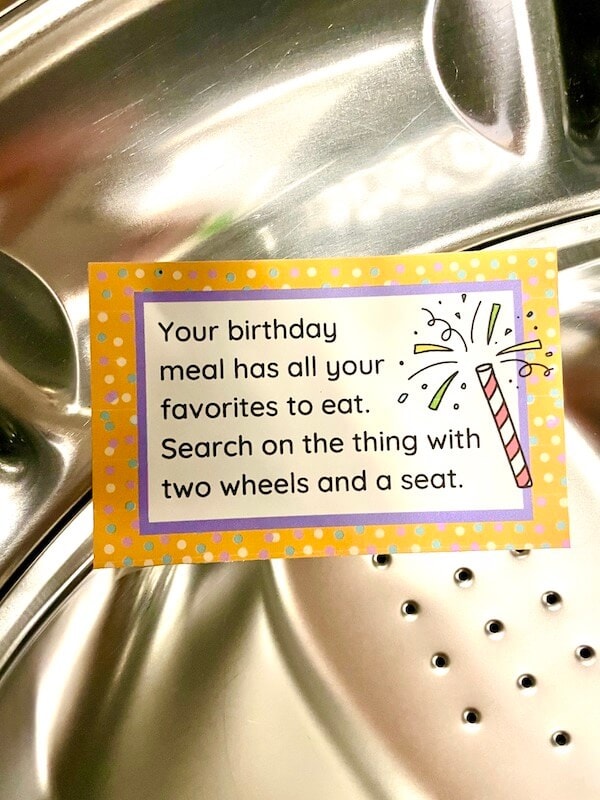 Brightly wrapped presents we have to offer. Look near the hose that spits out water. (Garden Hose)
New height measured on the wall. Check where you score with an orange ball. (Basketball Hoop)
Bright balloons bobbing on a string. Search near the button that goes Ding! Ding! (Doorbell)
Being the birthday kid has lots of perks. You'll find the next clue on what Dad drives to work. (Car/Van)
We'll love you no matter how far you roam. Look on the mat that welcomes you home. (Welcome Mat)
Birthday bubbles floating by. Search in the place that keeps cars nice and dry. (Garage/Carport)
Birthday gifts to you we give. Look on the numbers that tell people where you live. (Address Numbers)
We've loved you since you were in the crib. Check where we cook up tasty burgers and ribs. (Grills)
You're an awesome kid, we do believe! Your clue is under branches with pretty leaves. (Trees)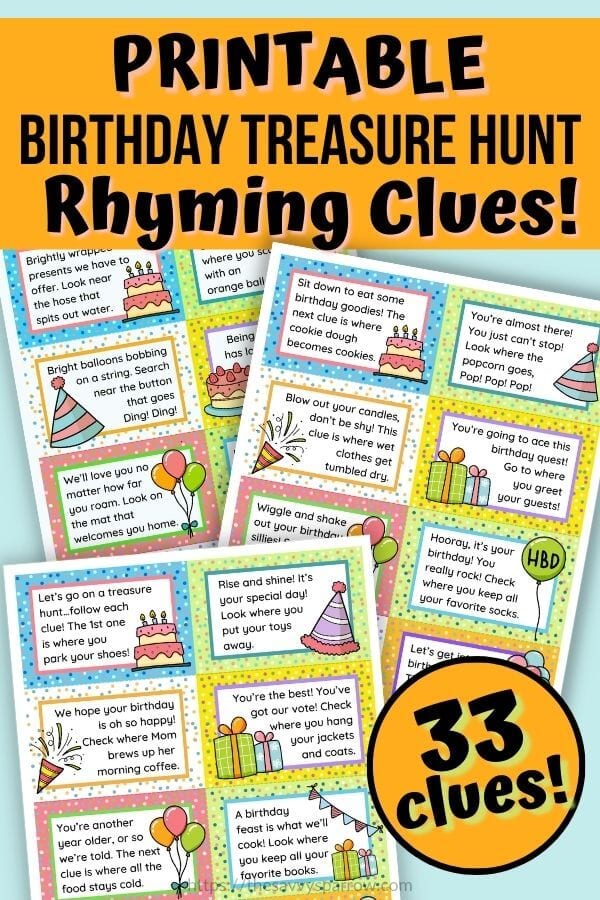 Get Your Printable Birthday Treasure Hunt Riddles HERE
These cute and fun printable Birthday riddles are available in my shop…click here to see the Birthday Treasure Hunt Clues! You get all 33 clues, plus a sheet of blank ones for you to fill in your own ideas!
Click HERE for the Treasure Hunt Clues in my SHOP!
Other Fun Birthday Ideas for Kids
Searching for more fun birthday ideas for kids? Check out these posts: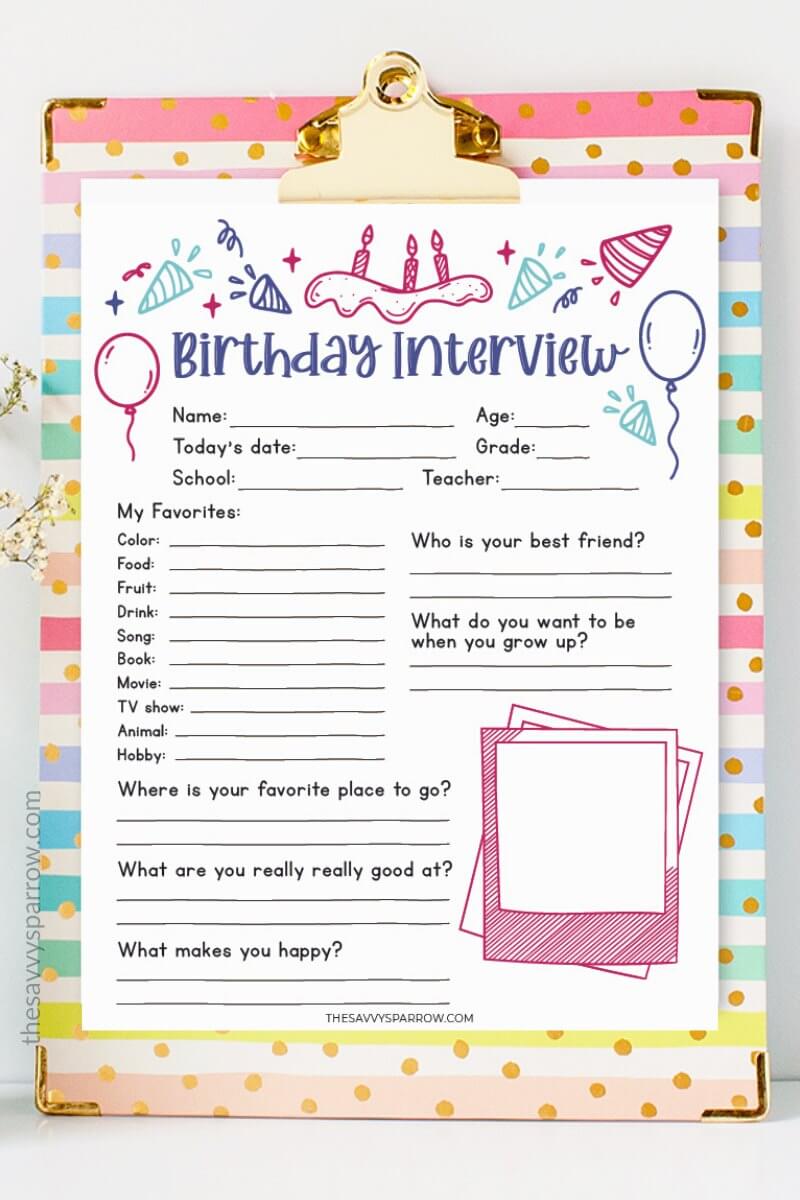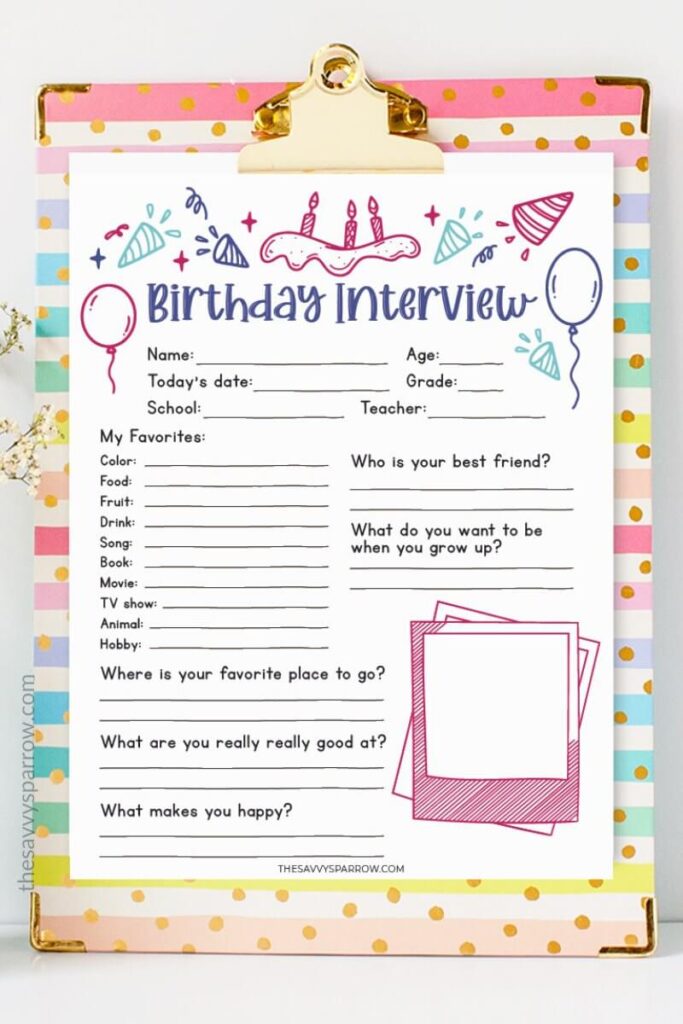 I hope that you and your kids loved this fun Birthday treasure hunt activity! Depending on the time of year, you can even combine the clues to have an indoor/outdoor scavenger hunt! It's an excellent way for kids to burn energy, play, and even do some critical thinking!
And if your kids love this birthday scavenger hunt, then be sure to check out these other posts for holiday treasure hunt clues, great for hiding your child's Easter basket or Christmas stocking:
Do you have some birthday activities your kids have loved over the years? Share them with me in the comments!
And don't forget to PIN this post for later: