A love notes jar is an easy DIY romantic gift idea for your husband or boyfriend! Learn how to make a jar of loves notes and use these 100 love note ideas to get started!
If you Google anniversary or birthday gifts for husbands or boyfriends, the front page is flooded with some pretty stereotypical gifts: coffee mugs, survival packs, camping gear, Omaha steak packages, and the ever-popular shaving kit. There are some personalize-able options sprinkled in as well, but many women bypass them because, well, they just look soooo tacky and cheesy.
And while I am the QUEEN of cheesy, I still have my limits. When choosing gifts for my husband, I don't mind buying him the standard Home Depot gift card, but I also put a lot of effort into creating a present that shows him how much I appreciate his love and all he does for our family.
My husband and I have a long tradition of penning romantic love messages to each other. We've been together since high school, and I honestly can't express enough how much I am in love with him. We've made creating a happy marriage a top priority, and most of the time, I'd say we're killing it!
Now, you might be sitting back in your chair, shaking your head and thinking, "My husband hasn't said a romantic thing in his life! His idea of a romantic gesture is smacking me on the butt while I'm cooking dinner!"
Girl, I hear you! And while it's true that most husbands and boyfriends aren't Shakespeare's version of Romeo, you've fallen in love with them for a reason. They might frustrate us on occasion, but it's also important for us to remind them that we love them. According to marriage expert Elizabeth Schmitz, "Men want the love of their lives to respect and appreciate them for who they are as human beings."
A simple way to show your appreciation for your significant other is by creating a jar of love notes! It's an easy and inexpensive gift for birthdays, anniversaries, or "just because." I've even included a mega list of love note ideas for him that you can use to get started!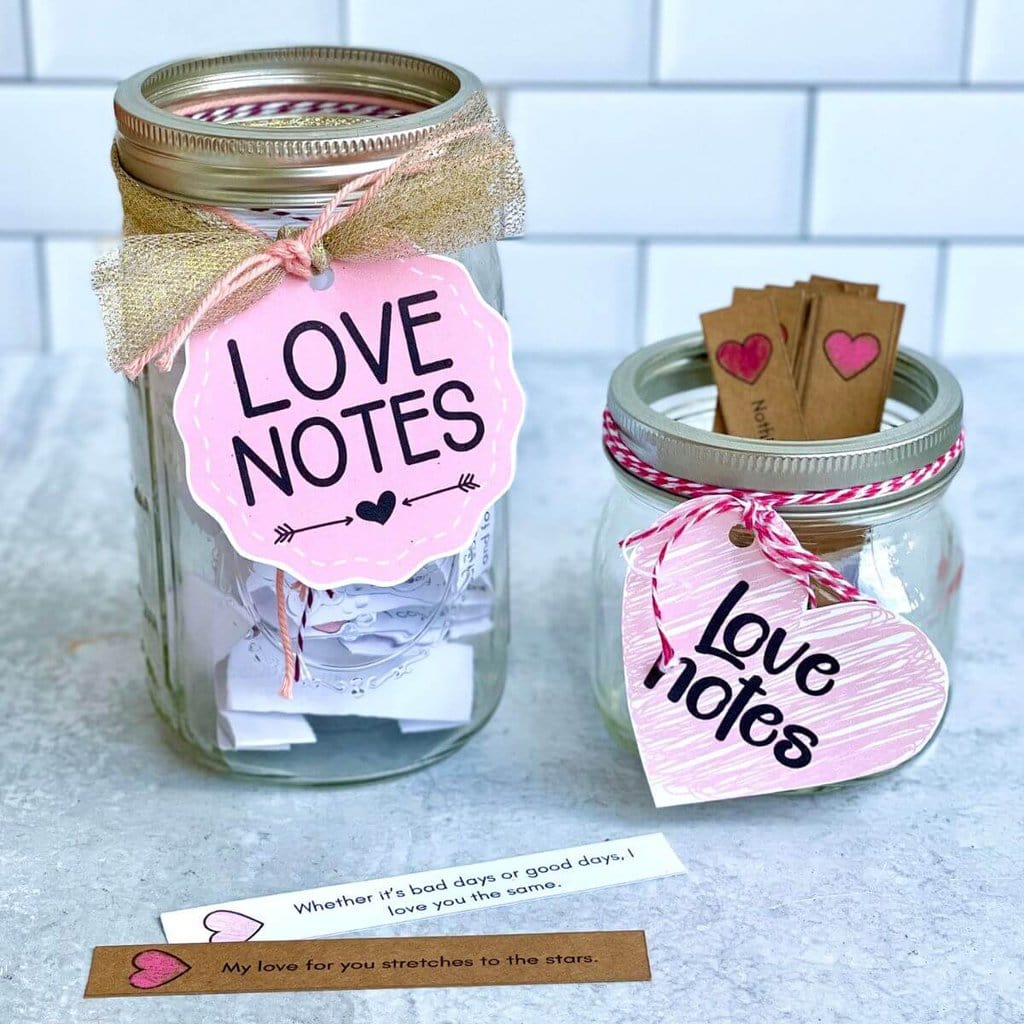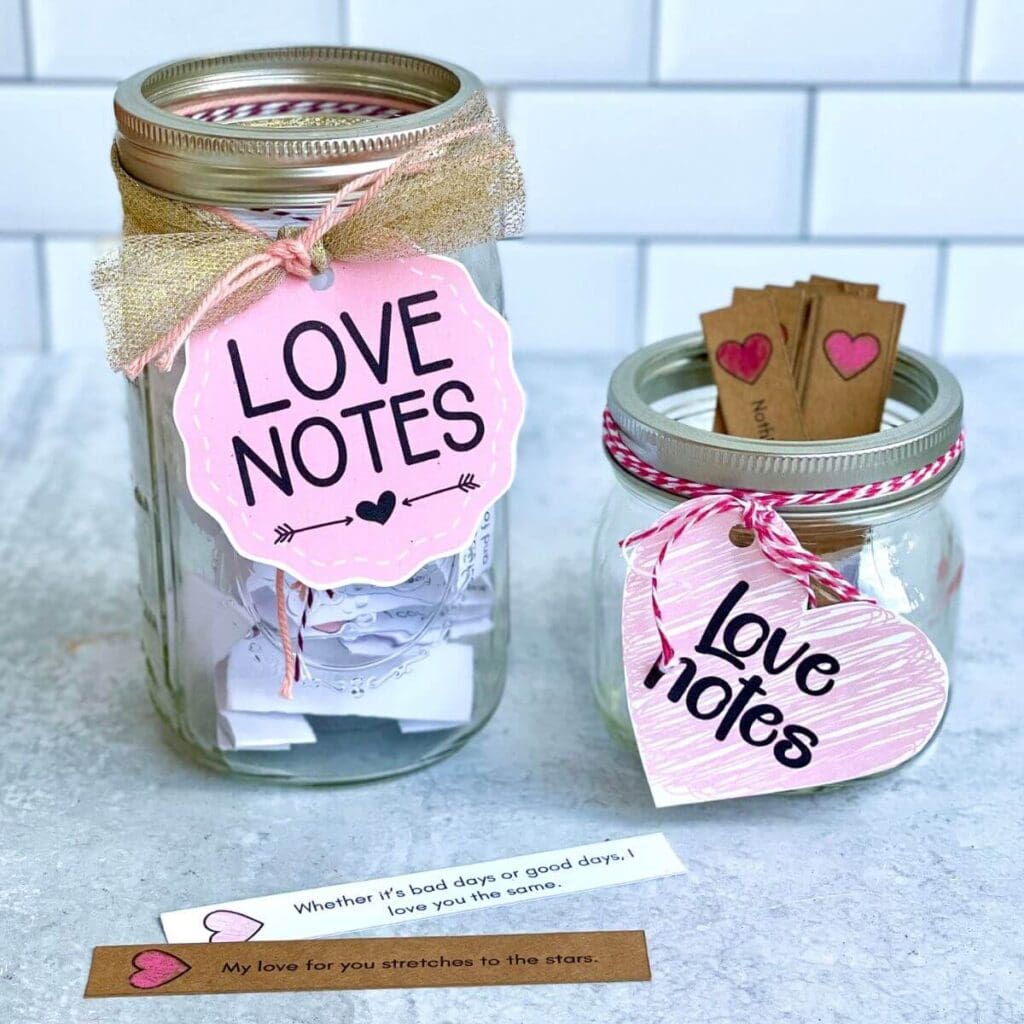 What is a Love Notes Jar?
A love notes jar is the perfect romantic gift to give your husband or boyfriend! As the name suggests, it's a jar filled with sweet love notes that let the man in your life know how much you appreciate and adore him!
There are so many ways you can personalize your love jar notes, and it's an easy and inexpensive way to show your significant other just how much you care. You can give the love notes jar as a gift for:
Birthday
Wedding or "first date" anniversary
Valentine's Day
Just because!
Whatever the occasion, you can give your husband a love notes jar as a daily reminder that he's your main squeeze for now and always!
How to Make a Love Notes Jar
Making your own love notes jar is simple and inexpensive. Just follow these steps:
Pick out a jar
First, you need to pick out a jar to hold your love notes. This can be a large mason jar, a recycled food jar, or maybe a decorative jar you found at a local thrift shop. Any of these will work!
The jar's size shouldn't really be an issue unless you're planning on putting all 100 love notes on popsicle sticks. If that's your plan, I suggest going with something larger than a pint or quart-sized container. But for the free printable love notes that I have for you down below, a regular-sized jar should be fine.
Decide what you will write the love notes on
Now that you have your jar, it's time to figure out what you're going to write your love notes on! There are so many options! Here are a few suggestions:
paper heart cut-outs
strips of copy paper – You can print out the free printable love notes PDF that I used in this post down below!
kraft cardstock – I used kraft colored, natural card stock for one of my jars of love notes. If you go with a darker paper like this, you can even use some colored pencils to color in the heart designs on the notes like this: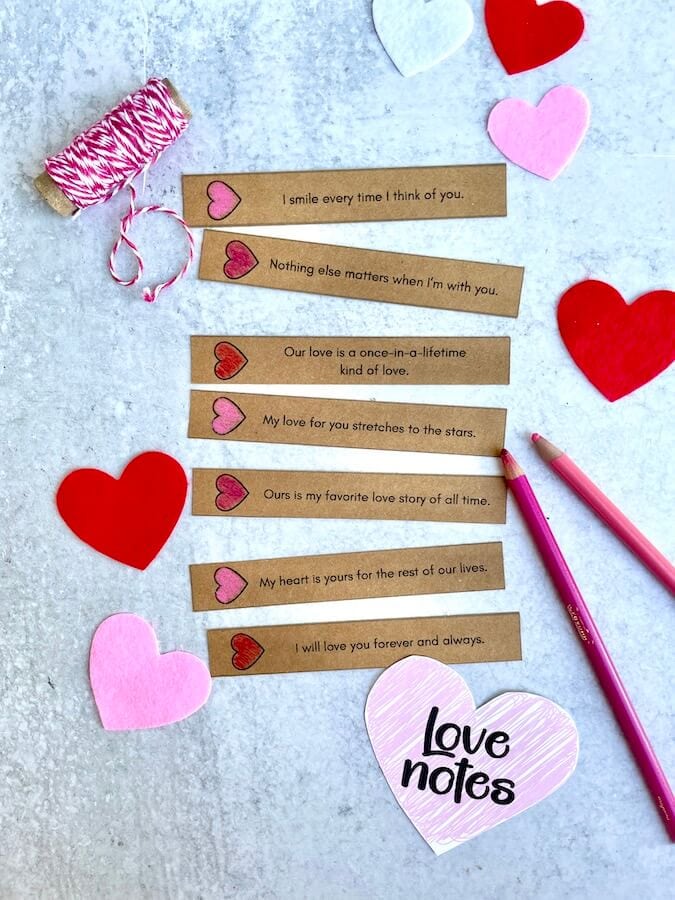 colored card stock
squares of patterned scrapbook paper
post-it notes
index cards folded in half
large popsicle-style craft sticks – For the full directions on how to use the printable love notes on craft sticks, you can see this DIY date jar idea!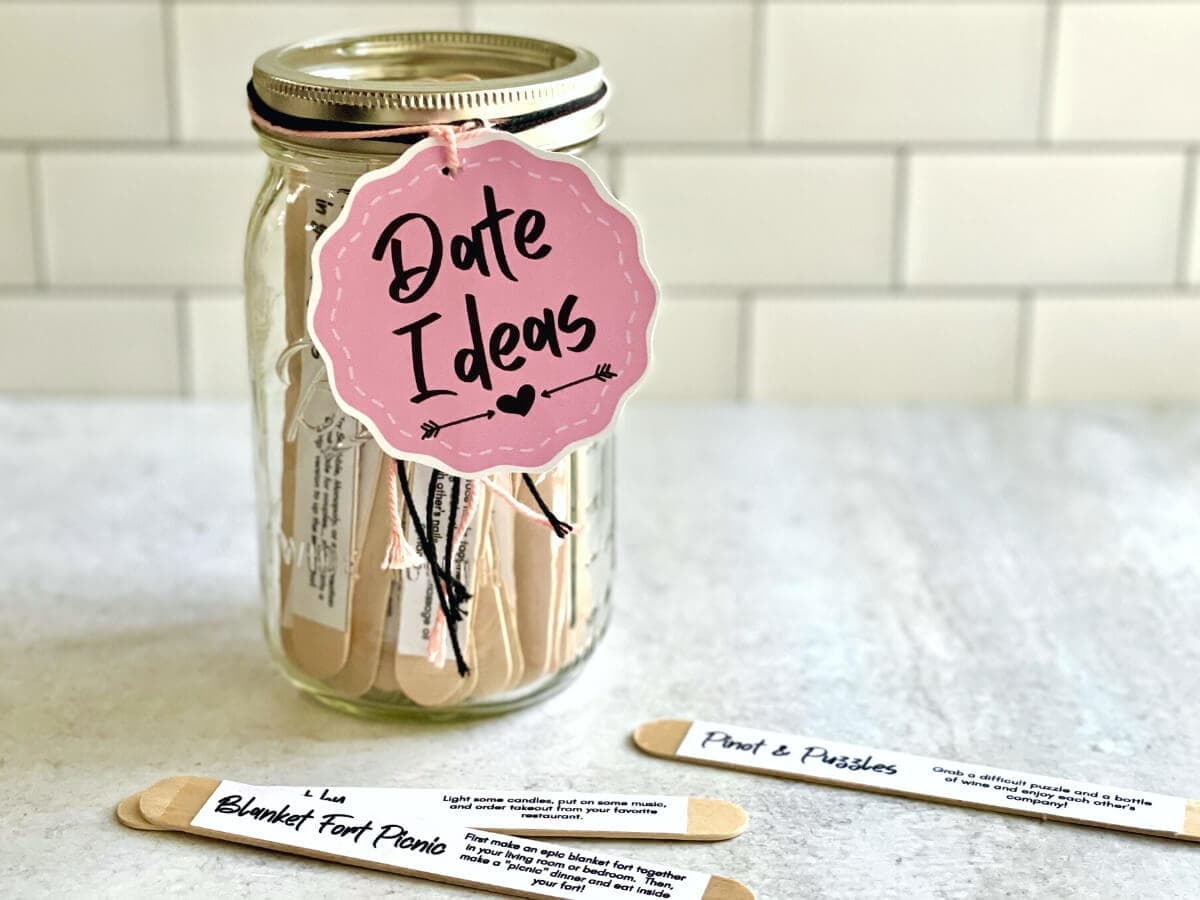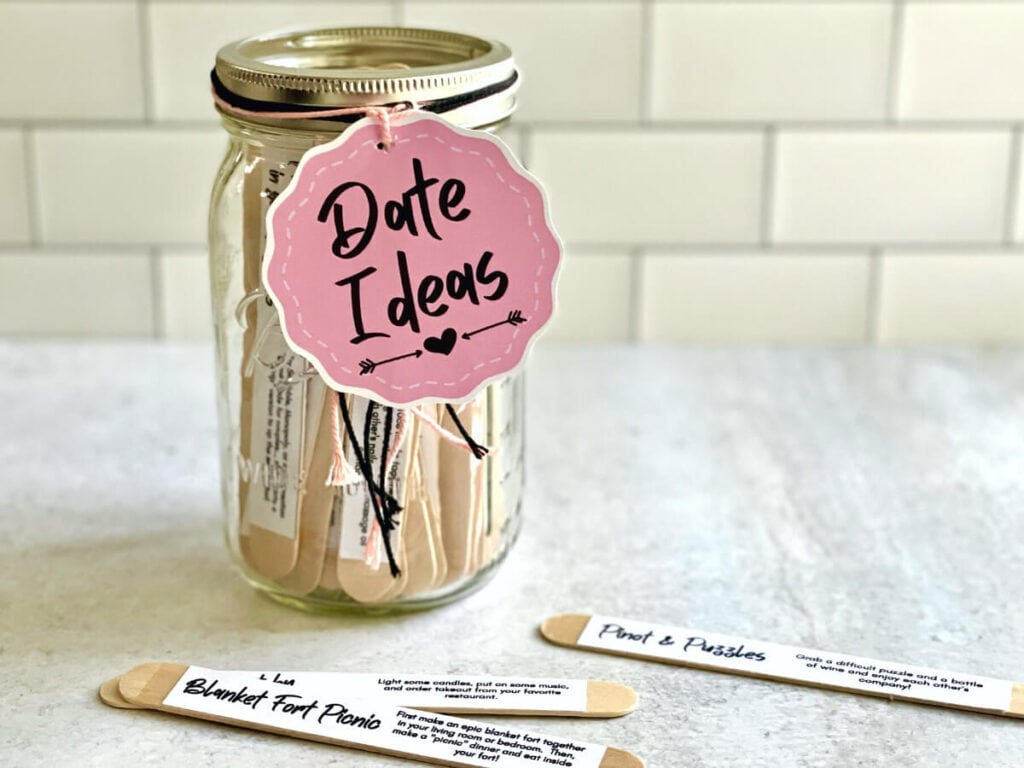 Whatever you choose, just make sure you give yourself enough writing room!
Print or write out your love notes
Once you have your paper, you can start writing out your love notes! If you're struggling to put your feelings into words, feel free to borrow from my master list of love note ideas below!
Or, for an even easier DIY gift for your husband or boyfriend, you can use the free printable love notes at the end of this post!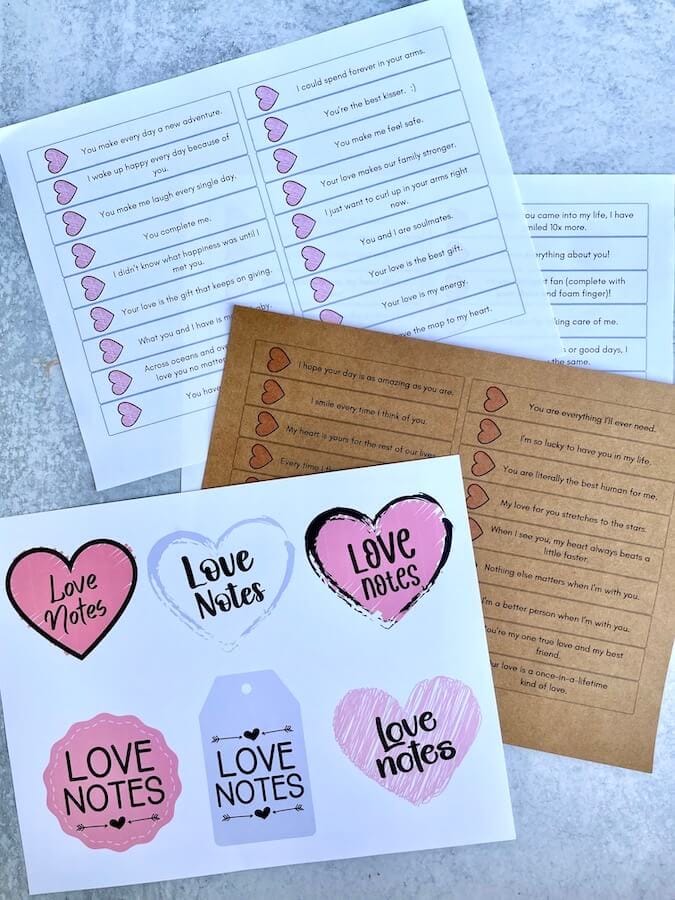 Use different colored gel pens, fine-tip markers, or a plain old pen to write down your love notes. Just avoid writing in pencil because it will be hard to read depending on what paper you use.
For additional ideas, check out my 100 Reasons Why I Love You post HERE. It's full of other ready-made messages you can include in your love notes jar!
Fill the Love Notes Jar and add a tag
After you've completed your love jar notes, put them in their container and add the perfect finishing touch with one of these cute gift tags!
Download the file and print the tag you'd like to use. After you cut it out, hole punch the top corner and use yarn or twine to tie it onto the lid of your jar.
Voilà! You've just created the most romantic personalized gift for your husband or boyfriend! Trust me – they're going to love it!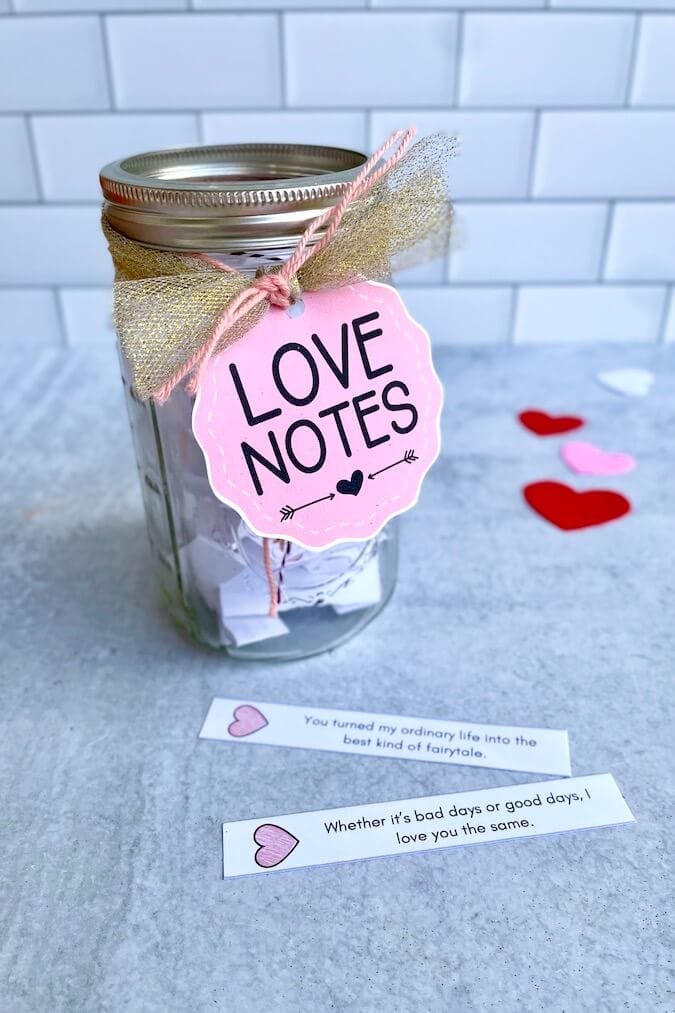 100 Love Note Ideas to Add to Your Jar
If you want to give your husband regular reminders of how awesome he is, here are 100 love note ideas to help you get started:
I hope your day is as amazing as you are.
I smile every time I think of you. (blushing smile emoji)
My heart is yours for the rest of our lives.
Every time I think of you, I get butterflies.
You are my one and only forever and ever.
Ours is my favorite love story of all time.
You've made me happier beyond my wildest imaginings.
I will love you forever and always.
I am head over heels in love with you.
You are everything I'll ever need.
I'm so lucky to have you in my life.
You are literally the best human for me.
My love for you stretches to the stars.
When I see you, my heart always beats a little faster.
Nothing else matters when I'm with you.
I'm a better person when I'm with you.
You're my one true love and my best friend.
Our love is a once-in-a-lifetime kind of love.
You make every day a new adventure.
I wake up happy every day because of you.
You make me laugh every single day.
You complete me.
I didn't know what happiness was until I met you.
Your love is the gift that keeps on giving.
What you and I have is magic, baby.
Across oceans and over mountains, I'll love you no matter the distance.
You have my love.
I could spend forever in your arms.
You're the best kisser. 😉
You make me feel safe.
Your love makes our family stronger.
I just want to curl up in your arms right now.
You and I are soul mates.
You turned my ordinary life into the best kind of fairytale.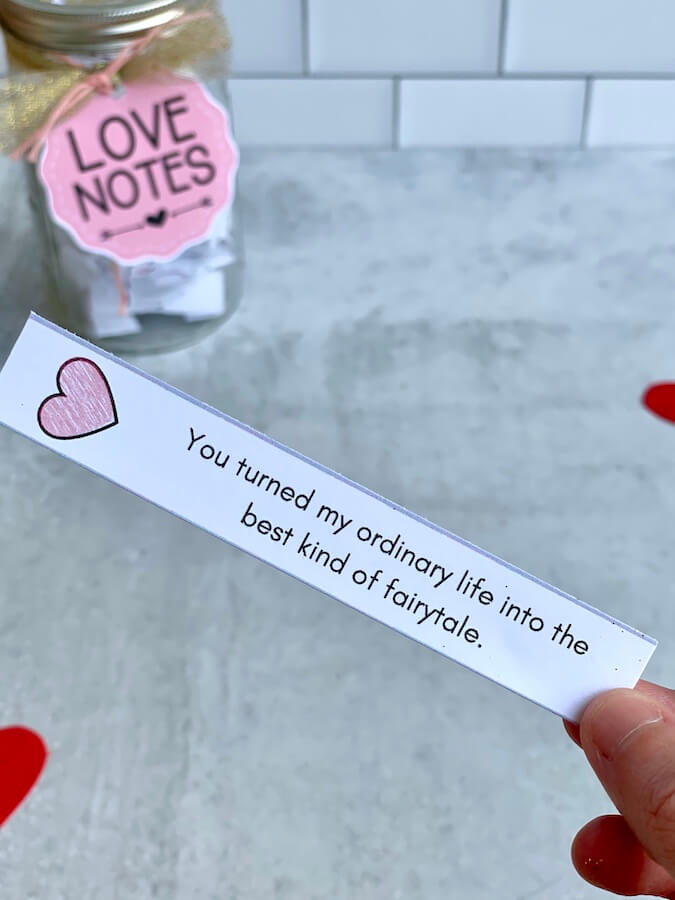 Your love is the best gift.
Your love is my energy.
You have the map to my heart.
All of me loves all of you.
I came alive when I met you.
When you look at me, my heart skips a beat.
I'll always remember the moment I realized that I loved you.
I want to spend forever by your side.
I love you with everything in me.
I feel more at home in your arms than in any house I've ever been in.
When I look in your eyes, my heart stops.
Our love is the roadmap to life's best adventures.
Ever since you came into my life, I have smiled 10x more.
I love everything about you!
I'm your biggest fan (complete with pom-poms and foam finger)!
Thank you for taking care of me.
Whether it's bad days or good days, I love you the same.
Whenever you leave, you take a piece of my heart with you.
I love every little thing about you.
Making memories with you is my favorite activity.
You make the good things in life better just by being here.
There's only one thing I need to be happy: You.
Every time I follow my heart, it leads me straight to you.
If I could love anyone in the world, it would be you every time.
Our first kiss is my favorite memory.
All I want is to be next to you.
You make me excited about what the future holds.
You're the love of my life and my best friend. I love you.
You stole my heart and I stole yours.
I feel safe and loved in your arms.
Loving you is the easiest thing for me to do.
Every time I look at you, I fall in love all over again.
You're the guy of my dreams.
You're my soul mate and I love you.
I will never have eyes for anyone but you.
You're the only guy in the world for me.
I will choose you forever and always.
Our family is so lucky to have your love.
You make me the happiest woman in the world. Thank you for loving me.
When I'm with you, even the smallest things become extraordinary.
Whatever our souls are made of, yours and mine are the same.
I'd never want to live in a world without you in it.
I love you.
Your kiss takes my breath away.
Thank you for being my biggest fan.
I'm so happy that I'm married to you.
Thanks for being my best friend.
Thank you for supporting me and loving me.
You're the cutest thing I've ever loved, after (________)(insert pet name)
I love you more than a nerd loves his bowtie.
If our love were a triangle, it'd be a-cute one!
You're the yin to my yang.
I love you more than my morning coffee, but please don't make me prove it.
Other than chocolate, you're my favorite thing in the world.
You make me feel safe and also make me laugh. You're basically a clown ninja.
"Women are meant to be loved, not to be understood." ~ Oscar Wilde
"I feel like this is the beginning, though I've loved you for a million years." ~Stevie Wonder
"Everything means nothing if I ain't got you." ~ Alicia Keys
"I would rather share one lifetime with you than face all the ages of this world alone." ~J.R.R. Tolkien
"My dream wouldn't be complete without you in it." ~The Princess and the Frog
"You are my blue crayon, the one I never have enough of, the one I use to color my sky." ~A.R. Asher
"You are my greatest adventure." ~The Incredibles
"I love you and I like you." ~Parks and Recreation
"I saw that you were perfect, and so I loved you. Then I saw that you were not perfect, and I loved you even more." ~ Angelita Lim
"You are my heart, my life, my one and only thought." ~ Conan Doyle
"Walking with your hands in mine and mine in yours, that's exactly where I want to be always." Fawn Weaver
Free Printable Love Notes for Your DIY Jar
Want to use my free printable love notes to make an easy DIY love note jar for your man? Just click the link below to download them to your device and then print them out. A new window will open in Dropbox (where the file is stored), and you can select "Download" from the top menu. Just reach out to me if you need help!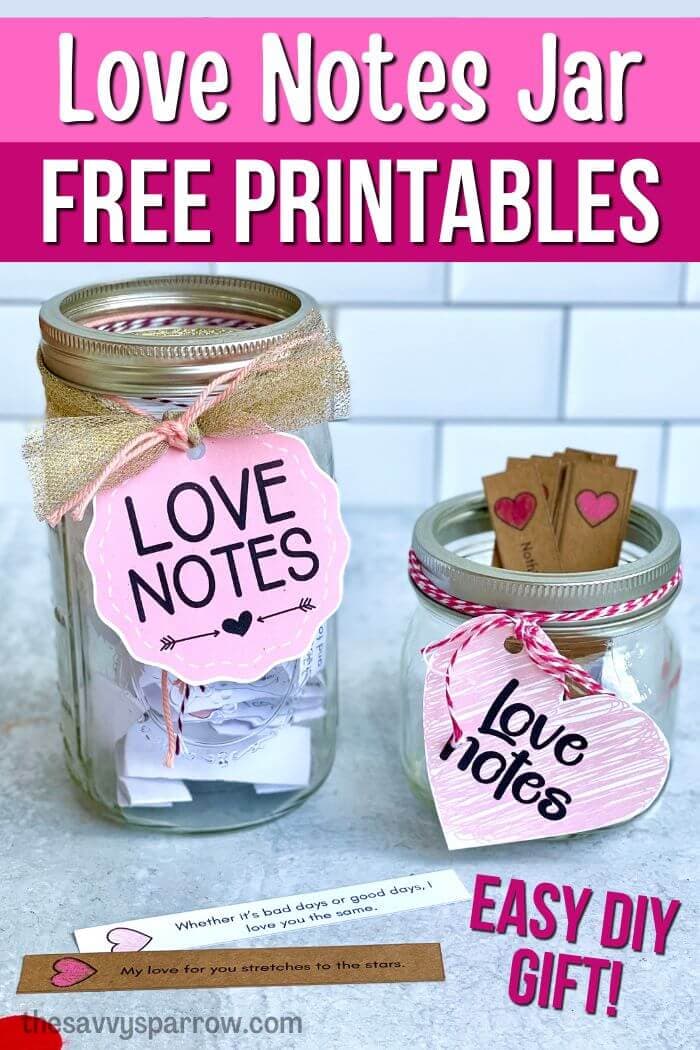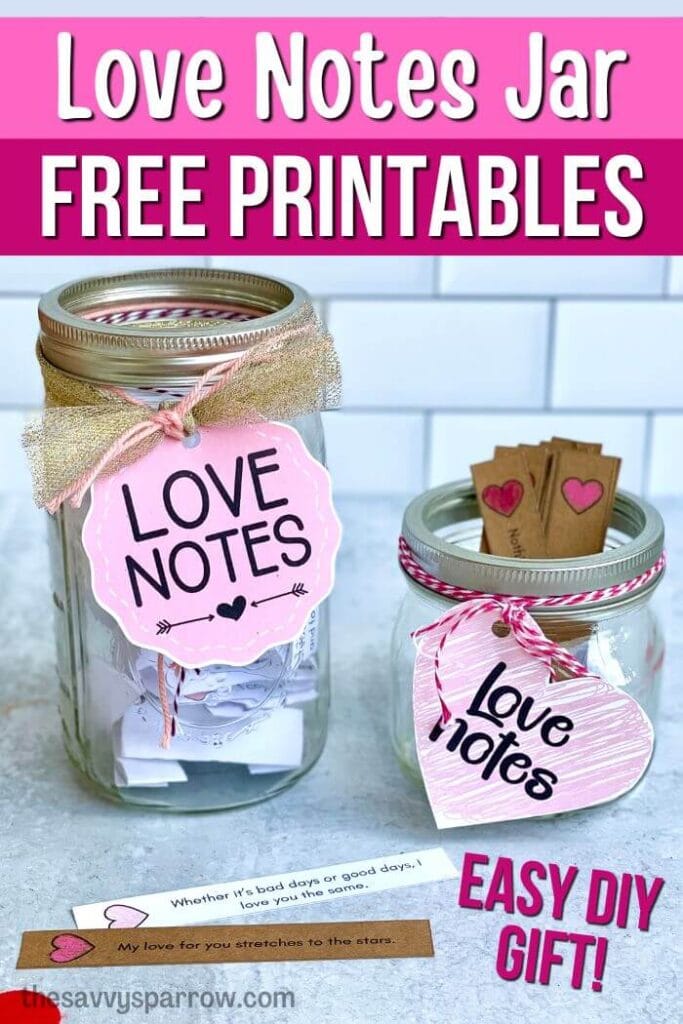 Click HERE for the FREE Printable LOVE NOTES
More Ways to Make Your Husband or Boyfriend Smile
I hope you loved these 100 love notes jar ideas, and I also hope they help you create the perfect personalized gift for your husband or boyfriend!
If you're looking for more ways to let your man know just how much he means to you, check out these posts:
Funny, Flirty, and Romantic Printable Love Notes
This collection of 30+ printable love notes for him are the perfect way to put a smile on your man's face (and give him a good chuckle!). Just print the notes, cut them out, and hide one in his gym bag or his car for a fun surprise!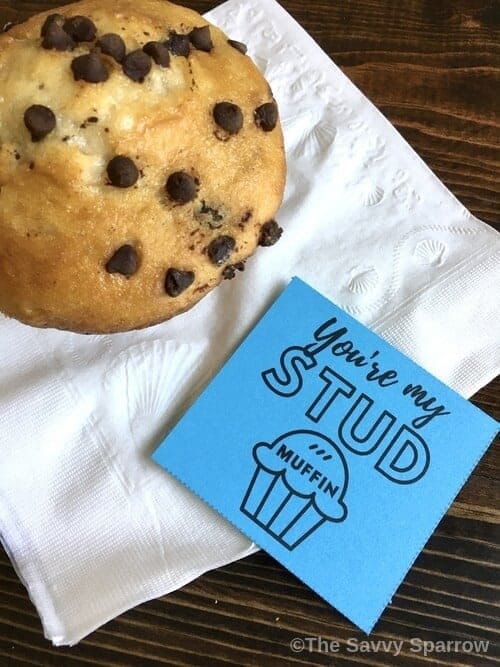 Reasons Why I Love You Gift Box with Photos – Printable Template!
This awesome DIY reasons why I love you box makes the perfect handmade birthday or anniversary present! Create 52 personalized photo cards with reasons why your husband or boyfriend is the best thing since sliced bread!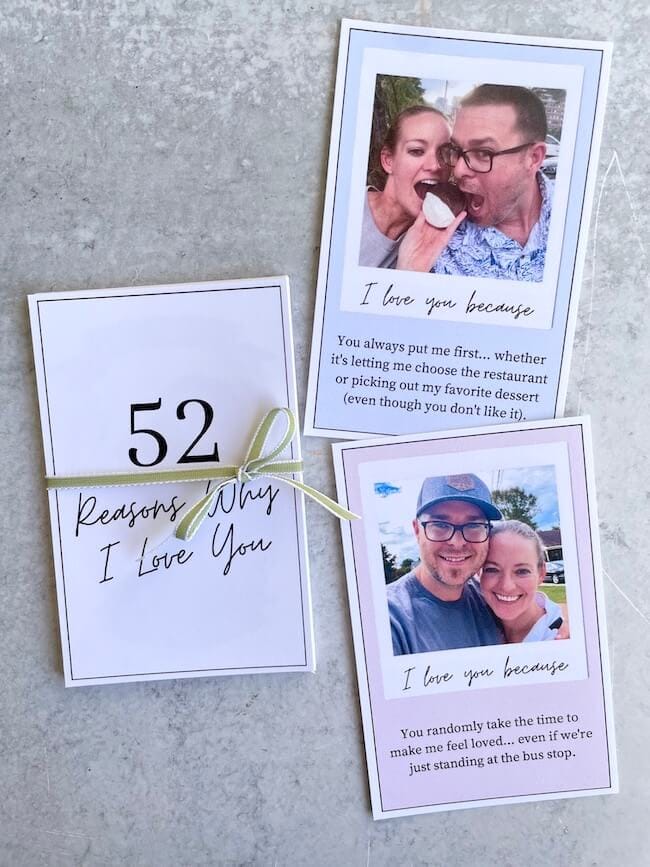 100 Good Morning Messages for Him – Texts to Make Him Smile!
Looking for more creative ways to send romantic texts to your husband besides "We're out of milk"? These good morning messages for him are the perfect way to help him start his day, and they add a little romance to the mix as well.
Hope you LOVED this easy DIY gift idea for him! And be sure to PIN this post for later: