These Snowman Oreos are so easy to make with melted white chocolate and candy decorations! Add these cute Christmas Oreos to your holiday gift tins, make them for your kids' Christmas parties at school, or pass them out to neighbors for a sweet holiday treat!
One of the best parts about Christmas is the endless amount of Christmas cookies! And if the yummy treats are decorated like reindeer, or wreaths, or cute snowmen, then even better!
But if there's one cookie that I would cheat on my husband with, it would be the Oreo. It's seriously one of my biggest weaknesses, and you can make so many different desserts with this amazing little cookie! And don't even get me started on deep-fried Oreos at the fair – sooo good!
Given my not-so-secret love affair with Oreos and how much I adore Christmas, it's really no surprise that I had to share this recipe for Oreo snowman cookies! It's an easy holiday treat to make with your kids to package up and give to neighbors, teachers, and friends!
It will only take one bite of these mouthwatering no-bake Christmas treats for you to add them to your holiday dessert-making tradition! You just need a few ingredients to make the cookies, and your kids can help decorate!
Here's how to make these delicious and easy Christmas Oreo cookies: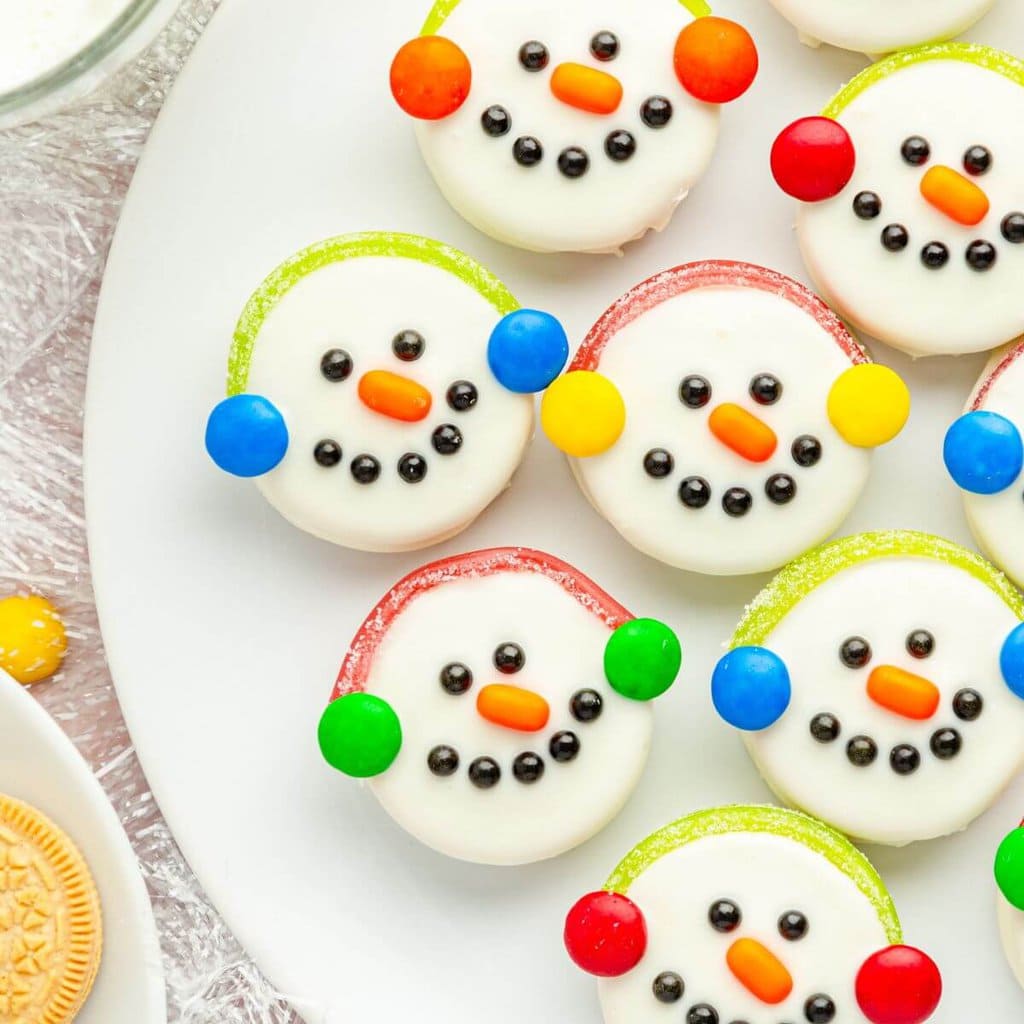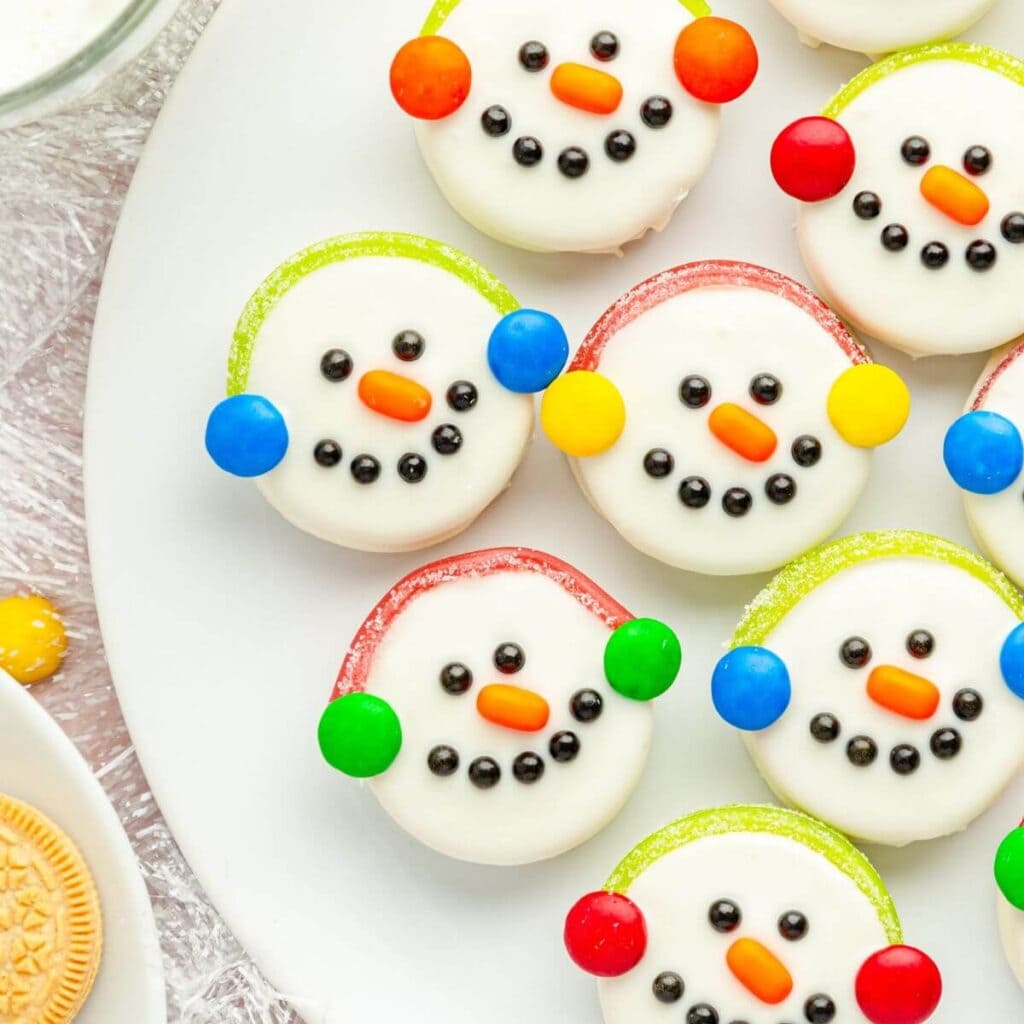 WHY THIS CHRISTMAS OREO RECIPE WORKS :
Besides being absolutely delicious, here are three reasons why these Christmas Oreo cookies are totally awesome:
Easy to Make. These snowman Oreos look like you've spent hours in the kitchen whipping them up, but they are a snap to make! The recipe is also simple enough that your kids can help you decorate the cookies once they're coated in chocolate. And while moms everywhere know that cookie decorating with children can be a stressful time (for us), it's a great way to spend time together as a family!
Few Ingredients. Another reason I love these Christmas Oreo cookies is that you don't have to buy a ton of ingredients to make them! The items you do have to buy are usually available in your local supermarket, which also means you won't be frantically ordering specialty candy from Amazon two days before your holiday party!
Make Awesome Gifts. Oreo snowman cookies also make the perfect gifts for friends or teachers during the holiday season! Add them to a gift basket or cookie tray, or package them up with a ribbon and Christmas card. Just make sure to save a few for yourself (and the kids).
Ingredients for Oreo Snowman Cookies
Here are the ingredients you need to make the perfect Christmas Oreo cookies: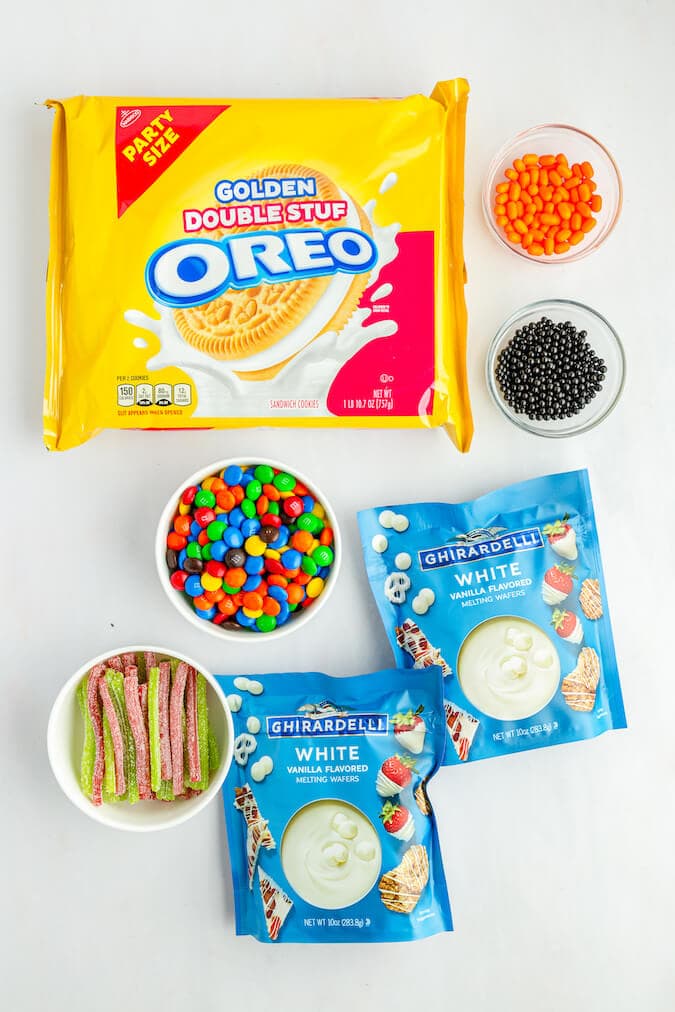 Golden Double Stuf Oreos. The buttery vanilla flavor of the golden Oreos is the perfect pairing with the white chocolate coating, and who doesn't love double stuf cream filling? Yum! You could also use regular Golden Oreos if you can't find this variety.
White Melting Chocolate. We used Ghirardelli white melting wafers for our snowman Oreos, but you could use any white candy melts. This type of candy is often found in the wedding aisle at Walmart, but they also sell them at crafts stores like Joann and Michaels. White almond bark is another inexpensive option, and you can find it in the baking aisle at most grocery stores.
M&Ms. You'll need a bag of plain M&Ms to make the earmuffs of the snowman Oreo cookies. Or, if you want to get really creative, you could also use Skittles, Sprees candy, or even peppermints!
Sour Punch Straws. You'll attach a 2-inch piece of sour punch straw to each snowman Oreo to make the earmuffs. One package of sour straws should make quite a few earmuffs, depending on how many cookies you're making. And if you're not a huge fan of sour punch straws, try using Twizzler Pull n' Peels instead!
Black Pearl Candy. You'll be using black sugar pearls to make the eyes and mouths of the snowmen, and you can typically find this candy in the baking or wedding aisles at the grocery store. JOANN and Michaels also carry this type of candy, and it gives you an added excuse to go shopping!
Orange Tic Tacs. Orange tic tacs make the snowmen's adorable noses, and you'll only need a few small boxes for the whole recipe. If you're looking for alternatives, try using orange sprinkles or Wilton snowman cookie decorations, which include both black sugar pearls and carrot-shaped sprinkles! You could also add a dot of orange frosting for a super simple fix.
How to Make the Cutest Snowman Oreos
Making your own snowman Oreo cookies is easy and fun! Here's how to do it:
Melt the chocolate.
Before you begin melting the chocolate, cover two baking sheets with parchment paper and set them aside for later.
Next, use a double boiler to melt the white chocolate wafers on low heat until the mixture has a smooth consistency when you stir it.
Dip the Oreos.
Use a fork to fully submerge each Oreo into the melted chocolate. Make sure each cookie is evenly coated and lift it out, lightly tapping the fork a few times on the edge of the pot to remove any excess chocolate.
Transfer the chocolate-coated Oreo to the lined baking sheet and repeat with a few more cookies, working in small batches.
Tip: You want to work in smaller batches so that the chocolate coating doesn't set before you can add the decorations. Otherwise, they won't stick to the cookie!
Decorate the Snowman Oreo Cookies.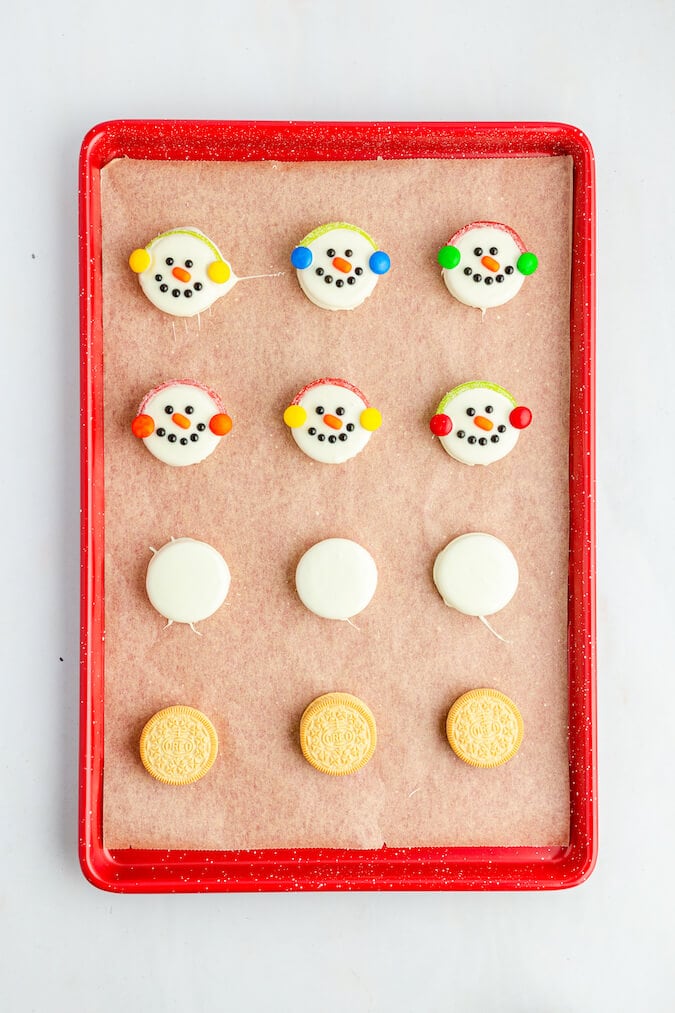 Now it's time to decorate your snowmen! Add two black sugar pearls for the eyes and put an orange Tic Tac in the middle for the nose. Place five more sugar pearls on the snowman Oreo for the mouth.
Next, you're going to make the earmuffs! Take a 2-inch piece of sour punch straw for the strap and attach it around the top of the Oreo cookie. It's a good idea to hold the sour straw in place for 10-15 seconds so the chocolate can firm up around it. Then, add one M&M on either side of the earmuff strap.
Repeat this process for the rest of your Christmas Oreo cookies.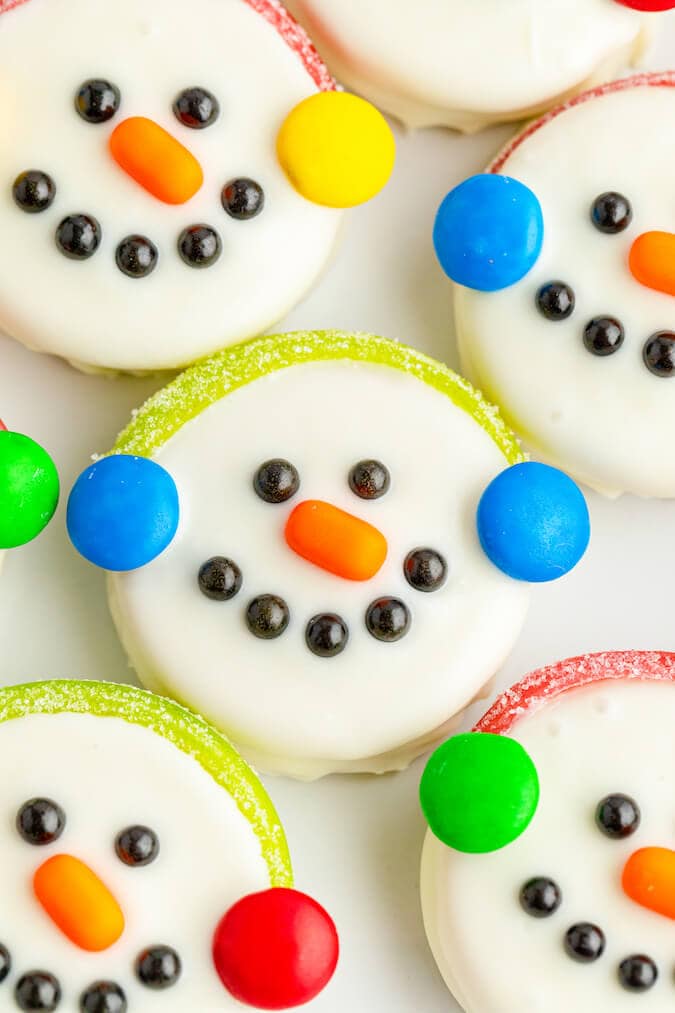 Refrigerate the Snowman Oreos.
Chill the snowmen Oreo cookies in your refrigerator for about 10 minutes or until they're fully set. If you have a deep freezer, you could also put the cookie sheets there to save room in the fridge.
FAQ's about Making Snowman Oreos
What can I use instead of sugar pearls?
Sugar pearls aren't always available in everyone's grocery store, but don't sweat it if you can't find any! You can substitute black confetti sprinkles, black cookie icing, or miniature chocolate chips for the sugar pearls, and your snowman Oreos will look just as cute!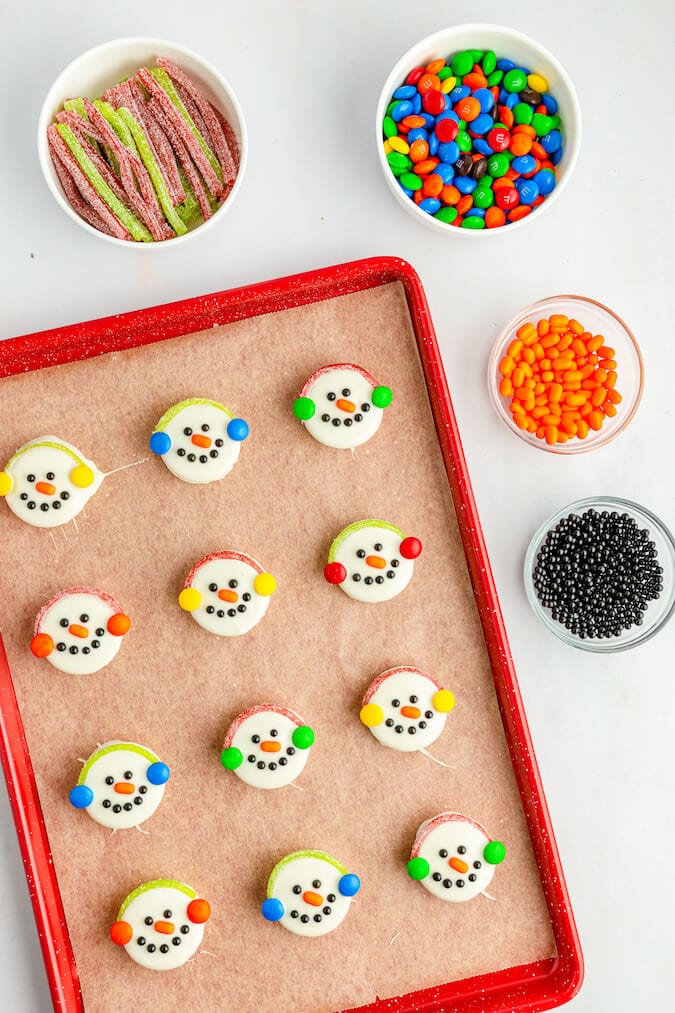 What if I don't have a double boiler?
No double boiler? No problem! You can melt the white chocolate wafers or chips in the microwave using a microwave-safe bowl. Follow the package instructions and work in small batches, as some brands don't reheat well and might begin to clump together.
What's the best way to store the Oreo snowman cookies?
Store the Oreo snowman cookies in an airtight container for up to 2 weeks. I suggest separating the layers of cookies with parchment paper so they don't stick together or mess up the cute decorations you worked so hard to add!
How can I cut down on prep time?
If you're down to the wire and want to skip the chocolate coating process, you can absolutely buy White Fudge Covered Oreos! Just melt a small amount of white chocolate to add to the backs of the decorations so they'll stick to the cookies.
More Delicious Holiday Recipe Ideas
Are you looking for more delicious holiday recipes? Check out these other family-friendly recipes!
42 Christmas Charcuterie Board Ideas for Your Holiday Party
Get in on the Christmas charcuterie board craze with these amazing ideas! They're the perfect addition to any holiday party and so simple to put together!
Christmas Wreath Sugar Cookies with M&Ms
Nothing says "It's Christmas" quite like frosted sugar cookies! These festive M&M Christmas wreath sugar cookies are easy to make with your kids and fun to decorate!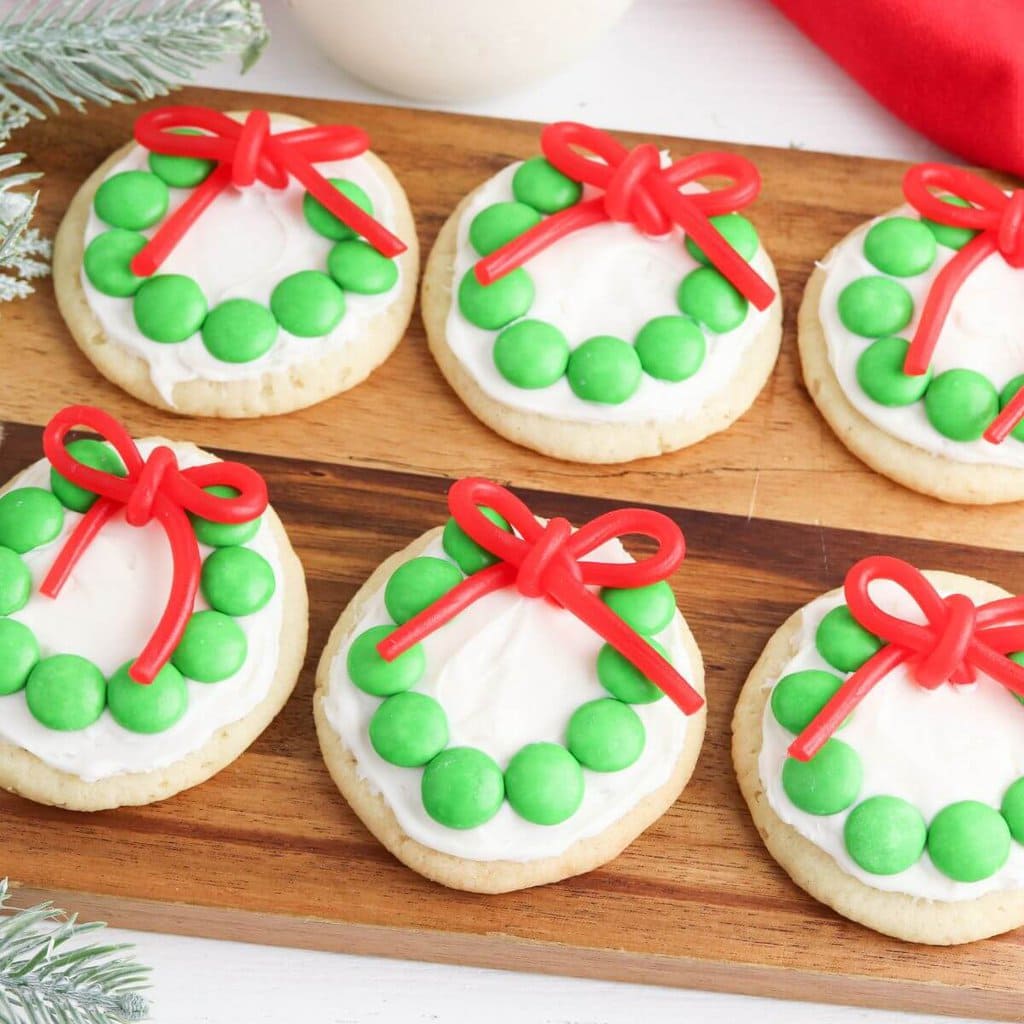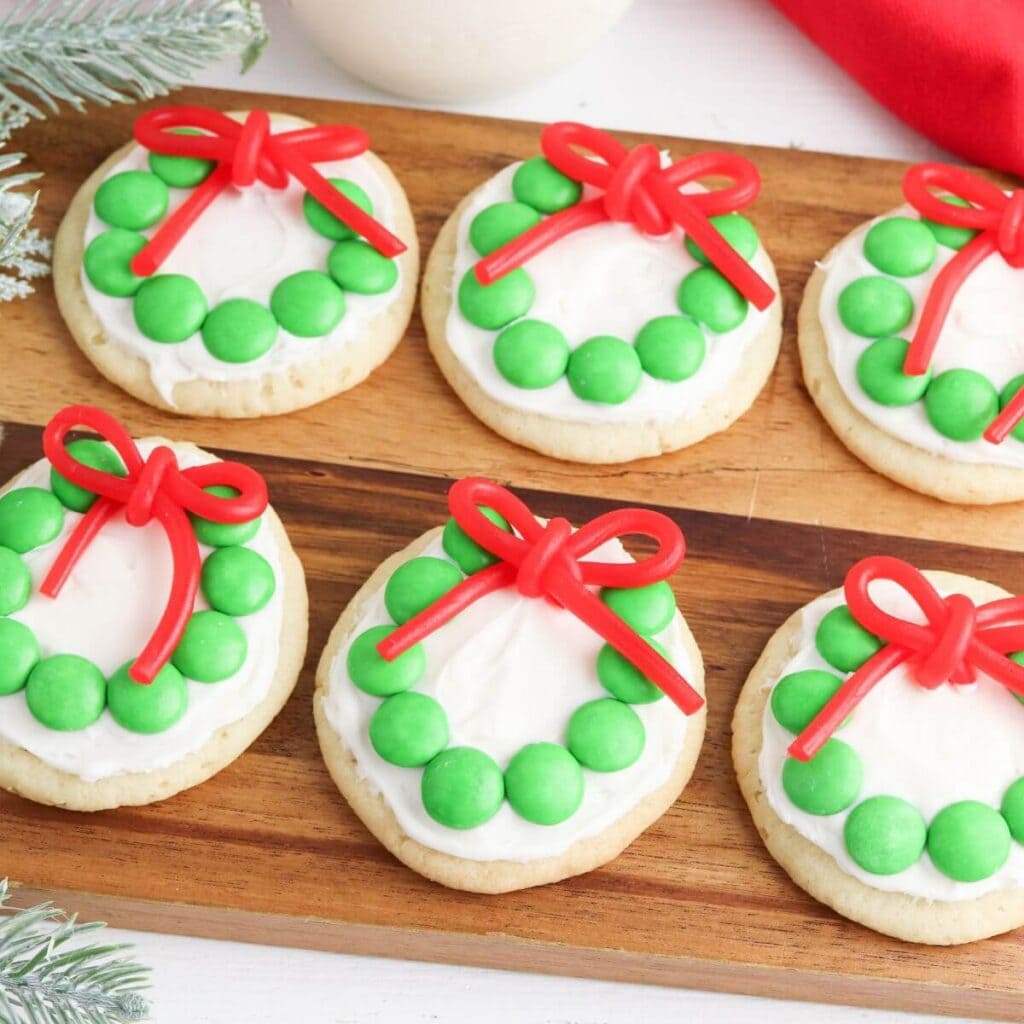 Chocolate Covered Ritz Cracker Cookies
There's something magical about the combination of sweet chocolate, buttery crackers, and creamy peanut butter… and these easy Ritz cracker cookies have all three! These easy holiday treats are another great option for your neighbor cookie gift tins or to make for your holiday party buffet table!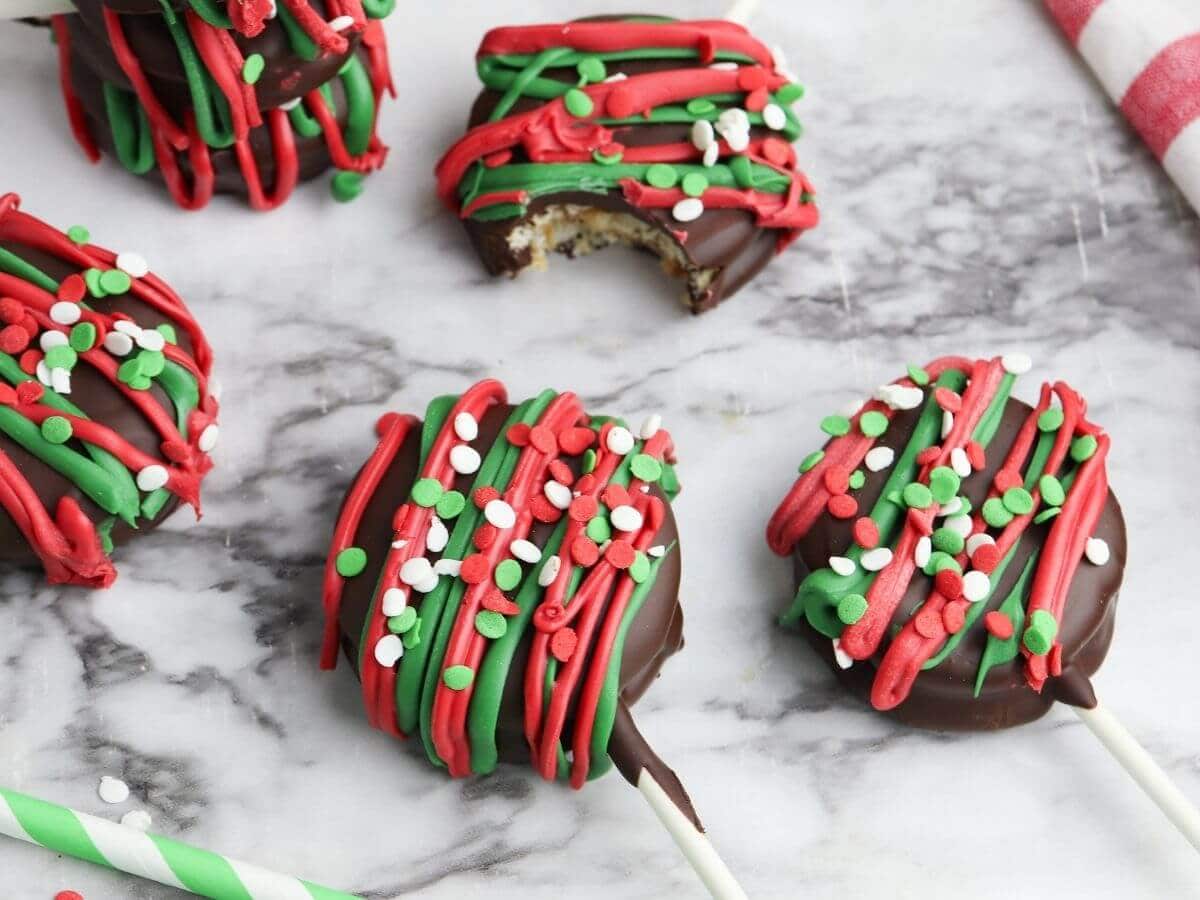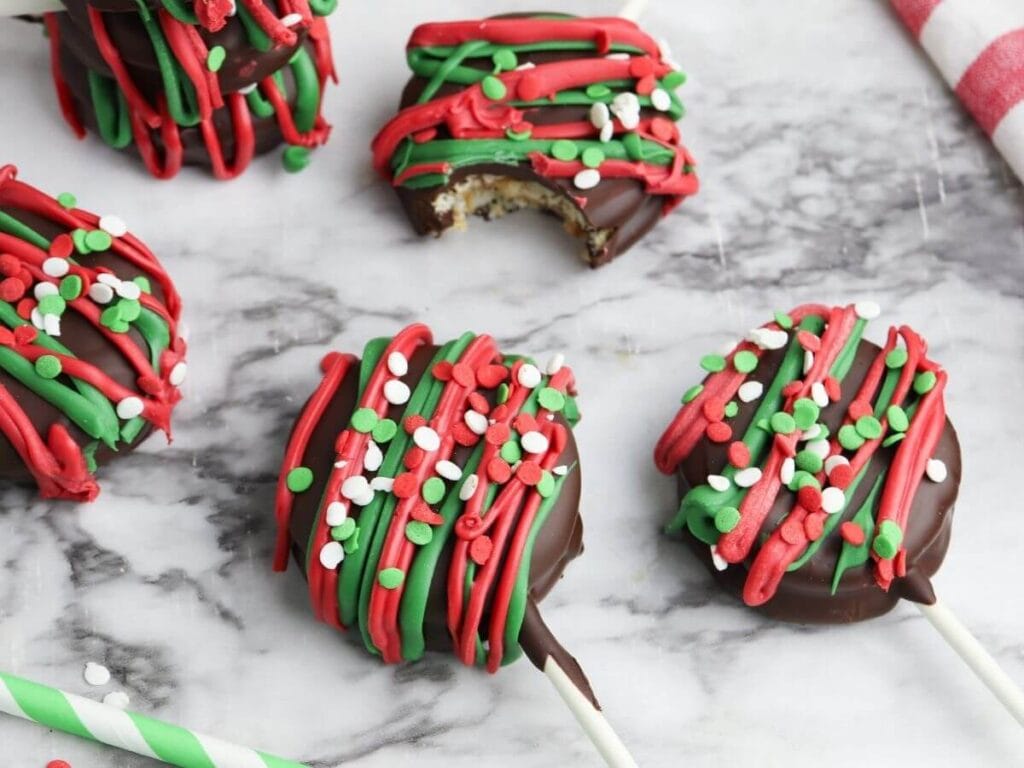 I hope you and your family LOVE these adorable Snowman Oreo cookies! Be sure to PIN this recipe to save it for later: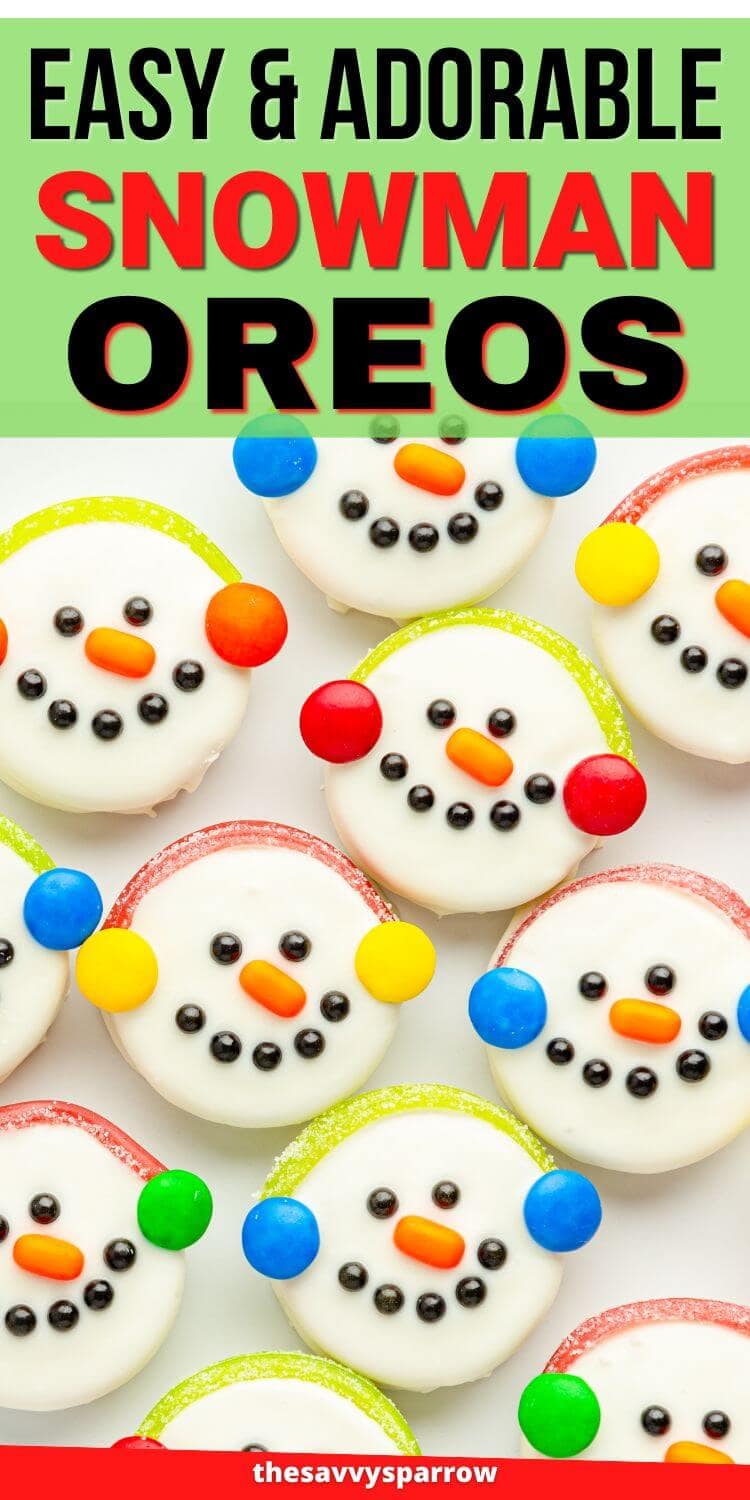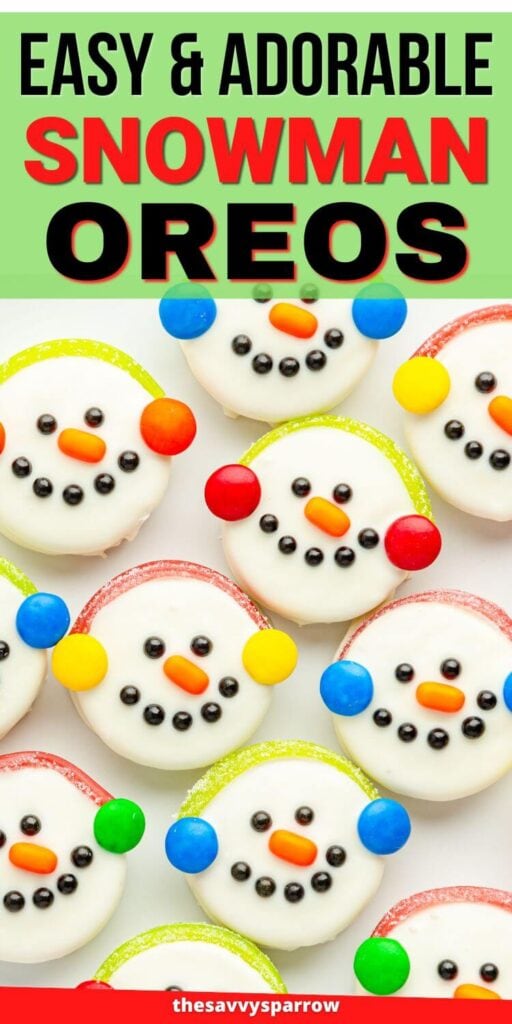 Want to print this cute Christmas Oreos recipe out for later? Just use the recipe card down below:
Yield: 24 cookies
Snowman Oreos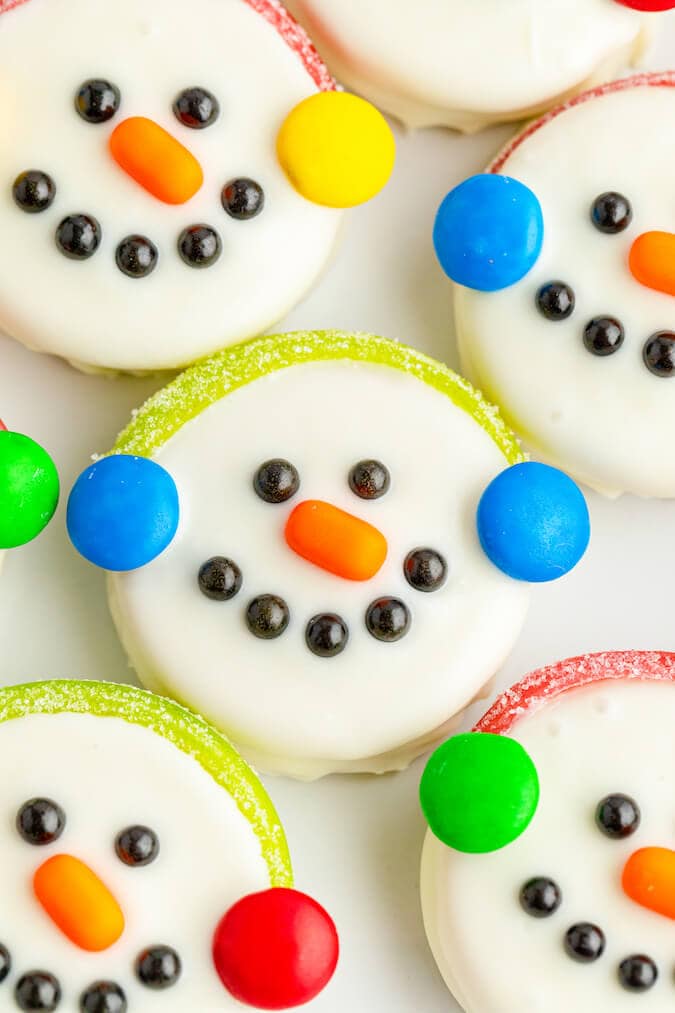 White chocolate dipped Oreos get a festive holiday makeover with this easy Christmas Oreos recipe! Make these Snowman Oreos to add to your holiday gift tins or for cute treats for kids!
Prep Time 30 minutes
Additional Time 10 minutes
Total Time 40 minutes
Ingredients
24 Oreos (I used Double Stuf Golden Oreos, but any Oreo cookies will work)
2 - 10 oz packages Ghiradelli white melting wafers
black sugar pearl sprinkles
orange Tic Tacs
2 oz pack Sour Patch Straws, cut into 2" pieces
at least 48 milk chocolate M&Ms
Instructions
Line two baking sheets with parchment paper. Set aside.
Melt the white chocolate melting wafers according to package instructions. Or you can microwave in 15-20 second intervals, stirring between each interval, until smooth.
Fully submerge one Oreo cookie in the bowl of melted white chocolate. Use a fork to lift the cookie out of the chocolate, lightly tap it on the side of the bowl to shake off any excess, and transfer to the lined baking sheet. Repeat with 1-2 more Oreo cookies. *You will need to work in small batches so the chocolate doesn't harden before you can decorate the cookies.
Add the snowman faces. Place two black sugar pearls for the eyes, and 5 pearls for the smile. Add one orange Tic Tac for the snowman nose.
Make the snowman's earmuffs by placing one piece of Sour Patch Straw across the top edge of the dipped Oreo, holding it in place for up to 10 seconds to set. Place one M&M on each side of the straw.
Repeat steps 3-5 for the rest of the Oreos.
Place the baking sheets of snowman Oreos in the refrigerator for at least 10 minutes, or until fully set.
Notes
You may substitute black cookie icing or black confetti sprinkles for the sugar pearls.
Wilton has a snowman decorations sprinkle pack with black sugar pearls and orange carrot sprinkles that you can use also.
Substitute White Fudge Covered Oreos and skip dipping the cookies yourself. Just melt a small amount of white chocolate to use as "glue" for the snowman decorations.
Nutrition Information:
Yield:
24
Serving Size:
1
Amount Per Serving:
Calories: 208
Total Fat: 8g
Saturated Fat: 3g
Trans Fat: 0g
Unsaturated Fat: 5g
Cholesterol: 1mg
Sodium: 147mg
Carbohydrates: 33g
Fiber: 1g
Sugar: 18g
Protein: 2g
Nutritional information is provided as a courtesy and is an estimate only. Different online calculators may calculate nutritional information differently. Also, the addition of optional ingredients and varying brands and products may change the information. For the most accurate data, you should calculate the nutritional information with the actual ingredients that you use.