Whether you're looking for easy games for your kids' classroom Christmas party or you need a festive Christmas game to play at your holiday get-together, you'll love this Santa Says game! Grab the printable Santa Says game cards now for a low-prep kids Christmas game!
Picture this: It's the night before your kid's classroom Christmas party, and you just remembered that you volunteered to provide a fun and festive Christmas game for a room full of preschoolers to play. Target is closed and all of the Christmas activities on Pinterest require a bunch of random supplies that you don't have in your junk closet. So what's a stressed out Mom to do?
Play Santa Says!
This easy Santa Says game is played just like another childhood classic, Simon Says. But instead of having to rack your overworked holiday brain to come up with creative actions to do, you can just draw a Santa Says game card!
Here's how to play this fun Christmas game for preschoolers and toddlers, plus 60 creative Christmas-themed Santa Says actions: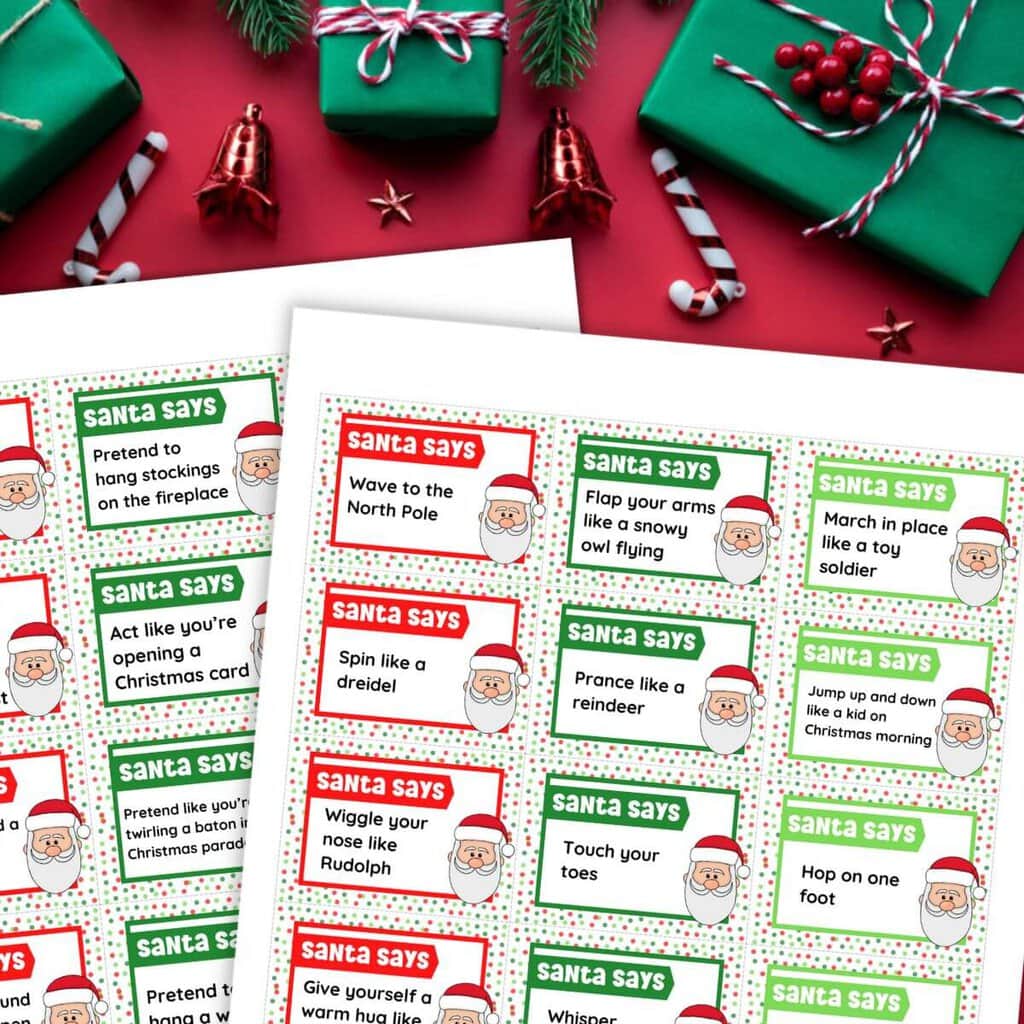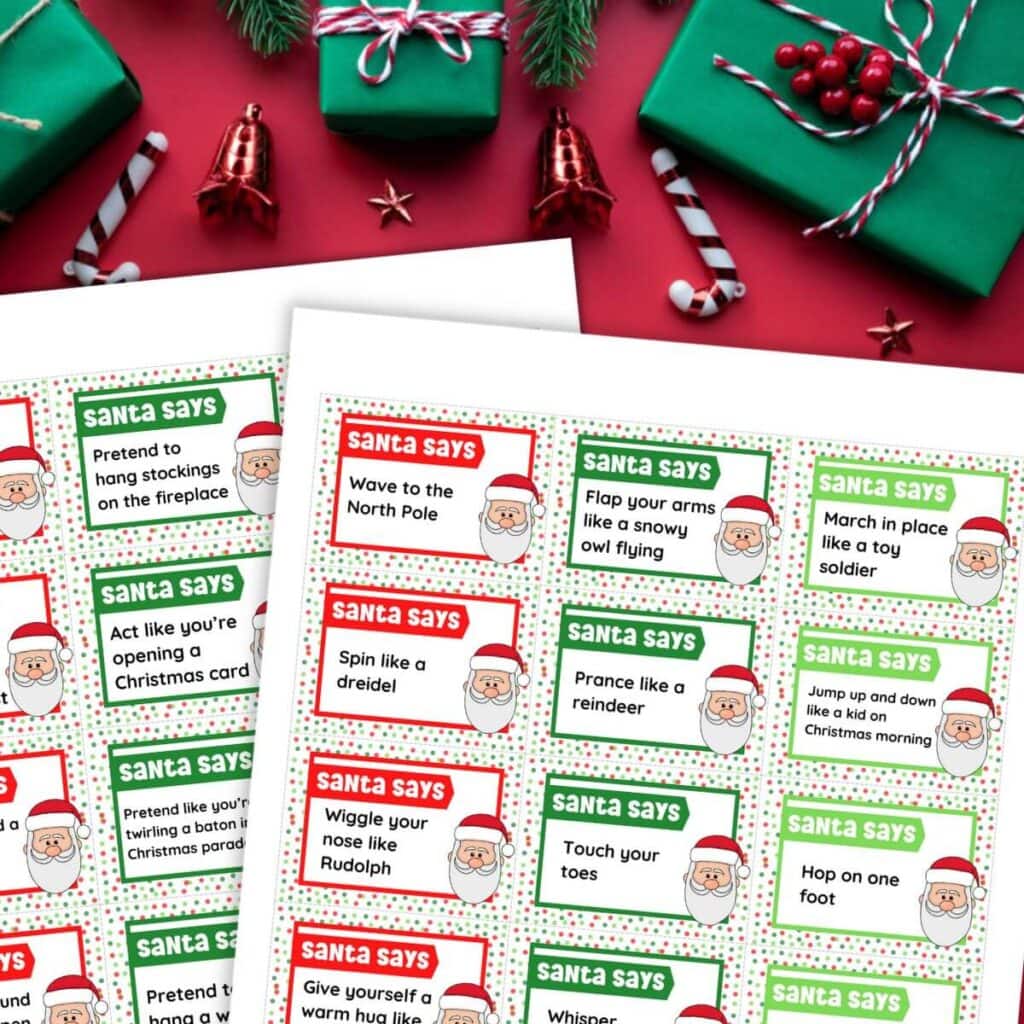 What is the Santa Says Game?
"Santa Says" is a festive Christmas variation of the classic childrens' game "Simon Says". Only instead of acting out the commands that Simon gives, kids will be following Santa's prompts… and gladly, I'm sure, to make it onto Santa's Nice List!
Just like the original Simon Says, kids only complete the action if the game leader prefaces the command with "Santa says". If Santa doesn't say, but kids complete the action anyway, then they're out of the game.
With fun Christmas-themed actions, like "pretend to throw a snowball" or "make your belly jiggle like Santa Claus", this holiday game is sure to bring loads of holiday cheer and chuckles!
When to Play this Fun Christmas Game with Kids
Since the Santa Says game is so easy to play, it's perfect for a wide variety of holiday gatherings! These are some perfect occasions to whip out your printable game cards:
Family Gatherings – Keep the little ones entertained at your holiday dinner! You can even let them take turns as the game leader, or better yet, get a Santa hat for the card-caller to wear!
School Classroom Parties – This easy printable Christmas game is perfect for the classroom! Just gather a group of kids, and have a Santa Says tournament to see who's the last one standing!
Holiday Road Trip Activity – Taking a road trip to visit grandparents this Christmas? Use the printable cards to pass the time in the car.
Virtual Fun – Want to do a fun activity with your grandkids while you're on FaceTime? This easy game is perfect for a video call with your little ones!
How to Play Santa Says with the Printable Game Cards
This fun Christmas game is so easy to play, thanks to the printable game cards! Just follow these steps to prep and play the Santa Says game: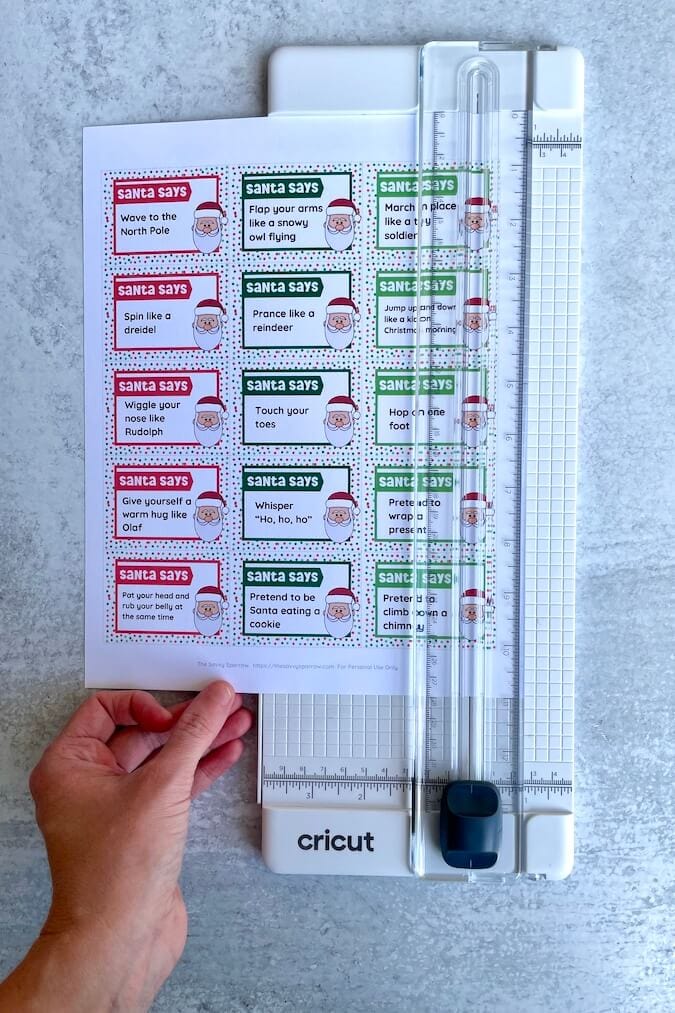 Print the cards with the game actions on white card stock.
Use a paper cutter or scissors to cut out the cards.
Place the cards in a basket, bag, or a stack to be able to draw the cards at random.
Assign one person to act as "Santa".
Explain the rules of the game – Explain that players must follow Santa's commands only when he begins with "Santa says." If Santa gives a command without this magical phrase, players should not do the action.
The game leader, Santa, picks out one card and says "Santa Says" followed by the action on the card. For some of the cards, Santa just reads the action without saying the magic words "Santa says".
Any player that does the action without hearing "Santa says" first is eliminated from the game.
Continue playing until only one player remains.
Santa Says Game Commands
Need some ideas for your Santa Says game actions? I've got you covered! These 60 festive actions are sure to be a hit with "Santa's elves"!
You can just read off this list to play your Christmas game for kids, or grab the cute printable Santa Says game cards in my SHOP here!
Wave to the North Pole
Flap your arms like a snowy owl
March in place like a toy soldier
Spin around like a dreidel
Prance like a reindeer
Jump up and down like a kid on Christmas morning
Wiggle your nose like Rudolph
Touch your toes
Hop on one foot
Give yourself a warm hug like Olaf
Whisper "Ho, ho, ho"
Pretend to wrap a present
Pat your head and rub your belly at the same time
Pretend to be Santa eating a cookie
Pretend to climb down a chimney
Pretend to drive a sleigh
Dance like a sugar plum fairy
Shake your belly like a bowl full of jelly
Sparkle like a shining star
Pretend to be an elf making toys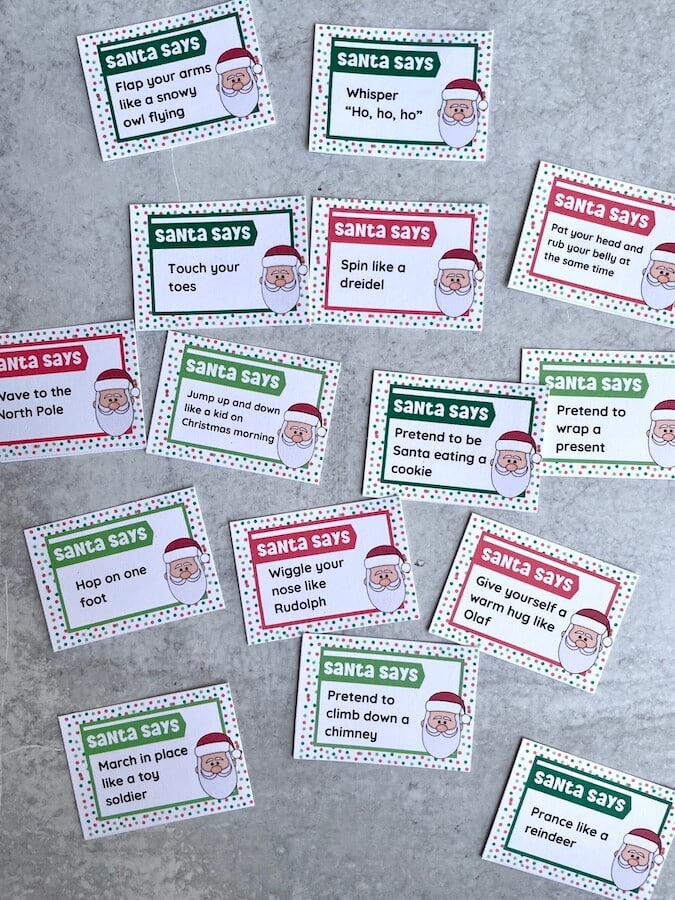 Wiggle your ears like an elf
Sway like a candle in the wind
Give a friend a high-five
Ring an imaginary jingle bell
Pretend to build a snowman
Pretend to be a melting snowman
Wink your eye like Santa Claus
Pretend to put lights on a Christmas tree
Float down like a falling snowflake
Wrap an invisible present
Pretend to scratch your beard like Santa
Tiptoe like Santa
Sing a Christmas carol
Pretend to sip hot cocoa
Jump like a reindeer taking off
Pretend to eat a giant candy cane
Pat your belly like you've eaten too many cookies
Pretend to feed the reindeer
Act like you're putting the star on the top of the Christmas tree
Pretend to hug Santa Claus
Act like you're ice skating
Act like you're having a snowball fight
Walk like a penguin in the snow
Pretend to catch a snowflake on your tongue
Act like you're hanging mistletoe
March in place like a drummer boy
Pretend to hang the stockings on the fireplace
Pretend to be a reindeer eating magical food in the yard
Act like you're Santa writing out his Nice List
Act like you're opening a Christmas card
Pretend to bake cookies
Pretend to build a gingerbread house – And be sure to grab this free printable gingerbread house craft for kids!
Pretend like you're twirling a baton in a Christmas parade
Make a sound like a crackling fire
Make the sound of tearing open wrapping paper
Pretend to be hanging a wreath
Pretend like you're shoveling snow
Act like you got coal in your stocking
Printable Santa Says Game Cards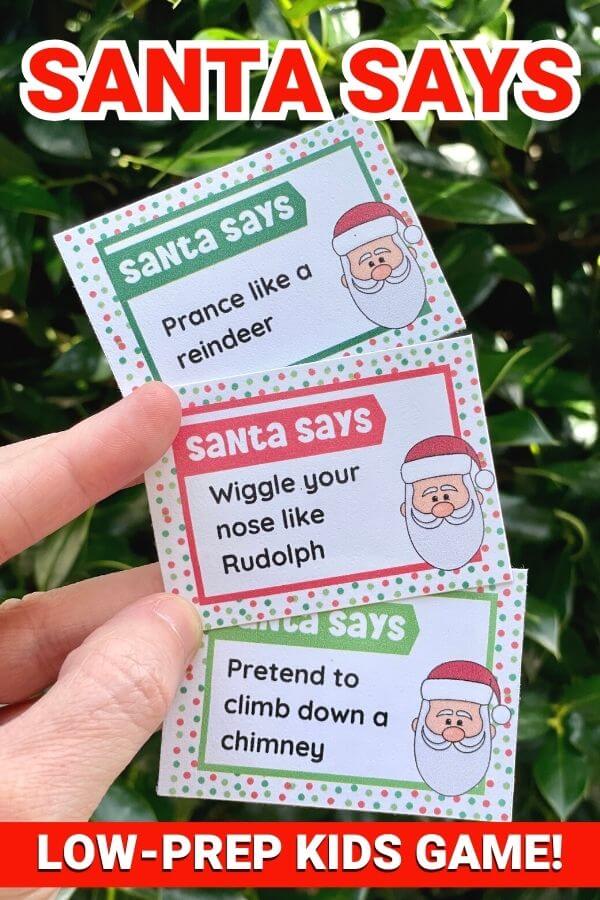 Want the printable Santa Says game cards to play this fun and easy game with your toddlers or preschoolers? The game cards are available in my SHOP (with loads of other home organization and Christmas printables!). Just click the link below to take a look!
Click HERE for the Printable Santa Says Game!
Other Fun Printable Christmas Games
If you loved this easy Santa Says game, then be sure to check out some of my other Christmas games for your holiday party!
The Christmas Dice Game
This Christmas dice game printable is an awesome gift exchange game to play with a crowd! Just roll the dice and follow the instructions on the quadrant to exchange wrapped gifts!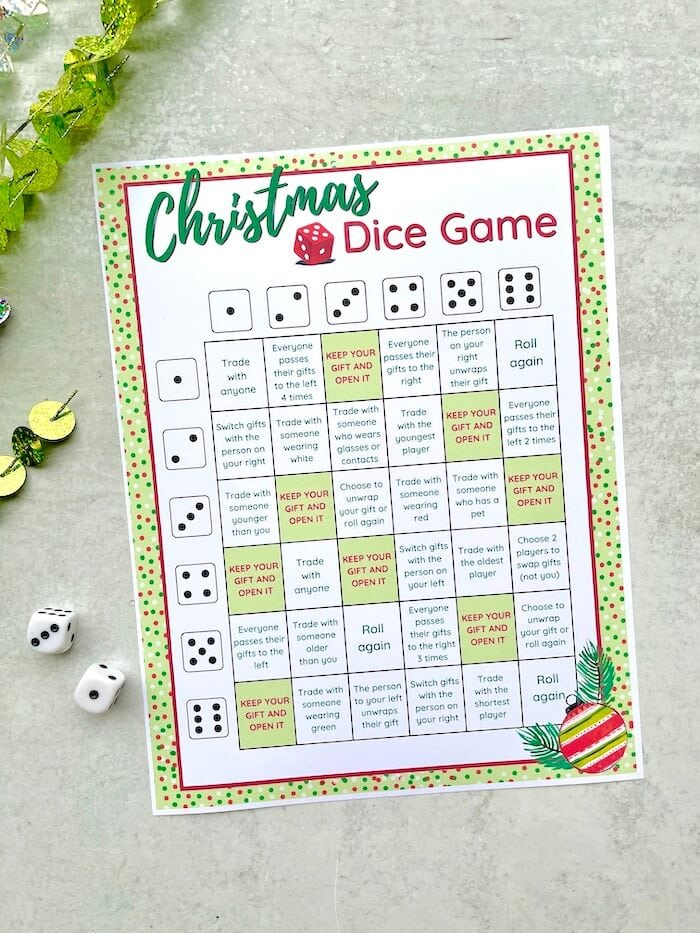 Christmas Charades
Christmas Charades is another holiday game that's perfect for toddlers and younger kids! Print the Charades cards, cut them out, and have fun playing this game with your party guests, young and old!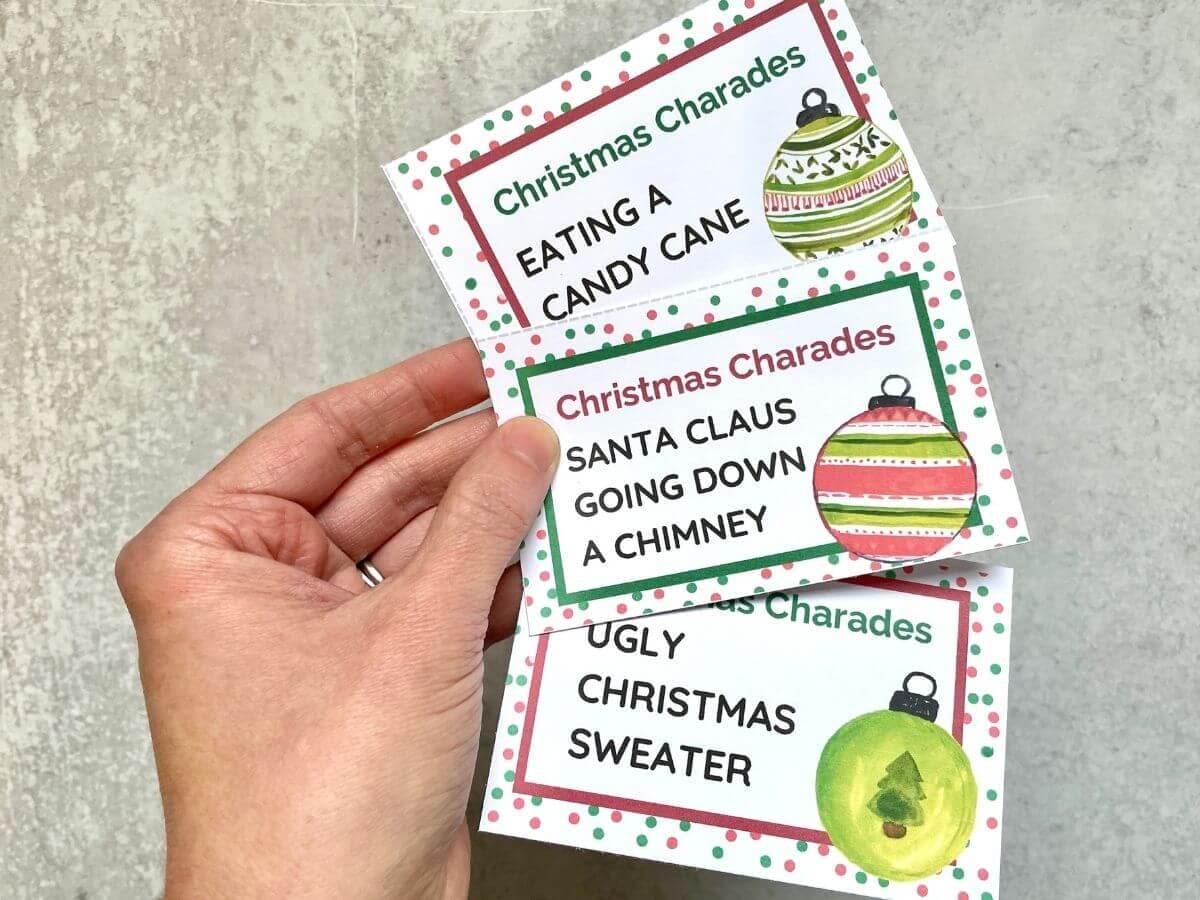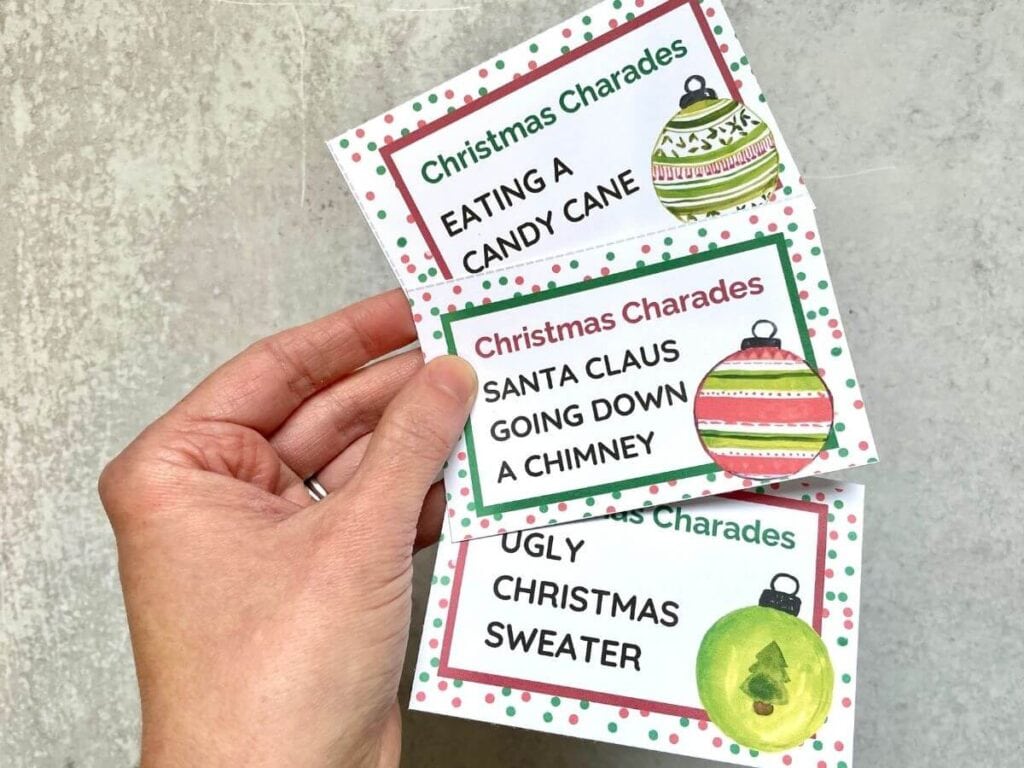 Christmas Scavenger Hunt Clues
Send your little ones on a fun Christmas scavenger hunt around the house on Christmas morning! Whether they're hunting for their big Christmas gifts or following the clues to find their stockings, these printable Christmas scavenger hunt clues make it easy!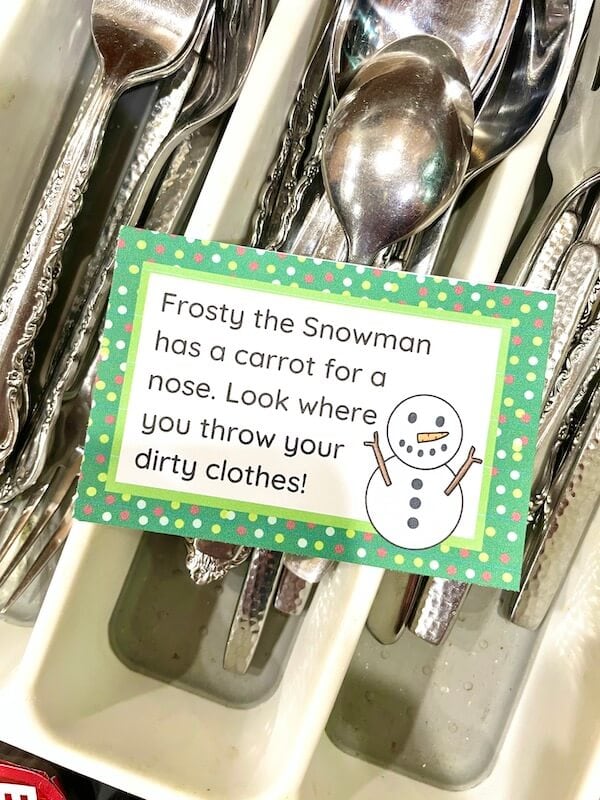 I hope that playing this fun Santa Says game gets your whole family in the holiday spirit! And be sure to PIN this post for later: