These habit tracker ideas are perfect for habit tracker beginners, or just for those of us that want to track some new healthy habits! Get loads of great ideas for things to put in your habit tracker, whether you want to focus on your health, fitness, self care, relationships, or finances!
After 20 LONG years, I finally stopped biting my nails! It's the ONE thing that my husband wanted from me for our recent anniversary, and since he did not ask for a single thing besides that, I had to oblige. Though it would have been easier to just go to the store and buy him a shirt.
But I did it… I broke my 20+ year bad habit… And replaced it with another bad habit. Instead of biting my fingernails I've moved on to picking at my toenails. Oops.
We all have bad habits that we wish we could stop doing, and good habits that we wish we did more frequently.
And that's where habit trackers come in…
Habit trackers can work as an accountability tool to help you develop good habits, and they can also keep you on track as you try to get rid of your vices.
Here's everything you need to know about habit trackers, plus some great habit tracker ideas to get you started! And be sure to download the free printable habit trackers at the end of this post!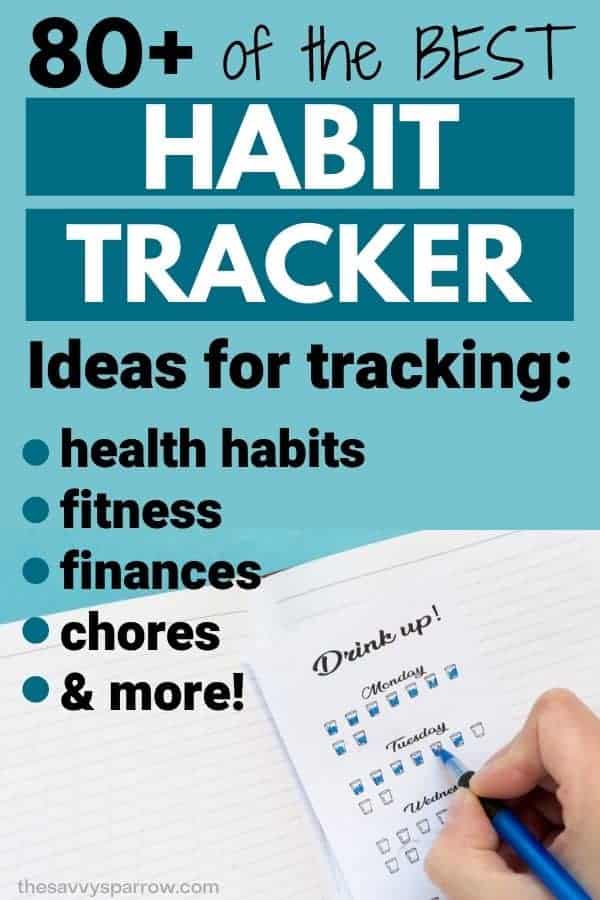 But First, What is a Habit Tracker?
A habit tracker is simply a tool that allows you to easily keep track of both good and bad habits and how frequently you do them.
The amount of water that you drink, the number of steps you take during the day, whether or not you get 8 hours of sleep… these are all popular daily tasks to track in a habit tracker.
But a habit tracker can be used for much more than self care routines. Depending on your profession, you may also use a habit tracker to keep track of work-related goals like social media postings and answering all emails.
You can also track your relationship and family-related habits such as the amount of time you spend reading to your kids each night, or personal finance habits like transferring money to your savings account each week or paying your monthly bills.
No matter what you decide to track in your habit tracker, the act of writing down your habits, both good and bad, can help you reach your goals.
Why Habit Trackers are Important
Habit trackers remind you to do those things that will help you meet your goals.
Research suggests that it takes between 18 to 254 days for a person to form a new habit. And along the way, you can easily forget about that good habit that you're trying to make "stick". But a habit tracker is a great reminder to complete those tasks that will ultimately help you to reach your goals.
For instance, if you have a goal of losing 15 pounds, then you may track healthy eating and exercise habits like whether or not you stop eating junk food at night and how many steps you take during the day. The ultimate goals is to lose 15 pounds, and the action items that you track in your habit tracker are the baby steps that will help you reach your goal.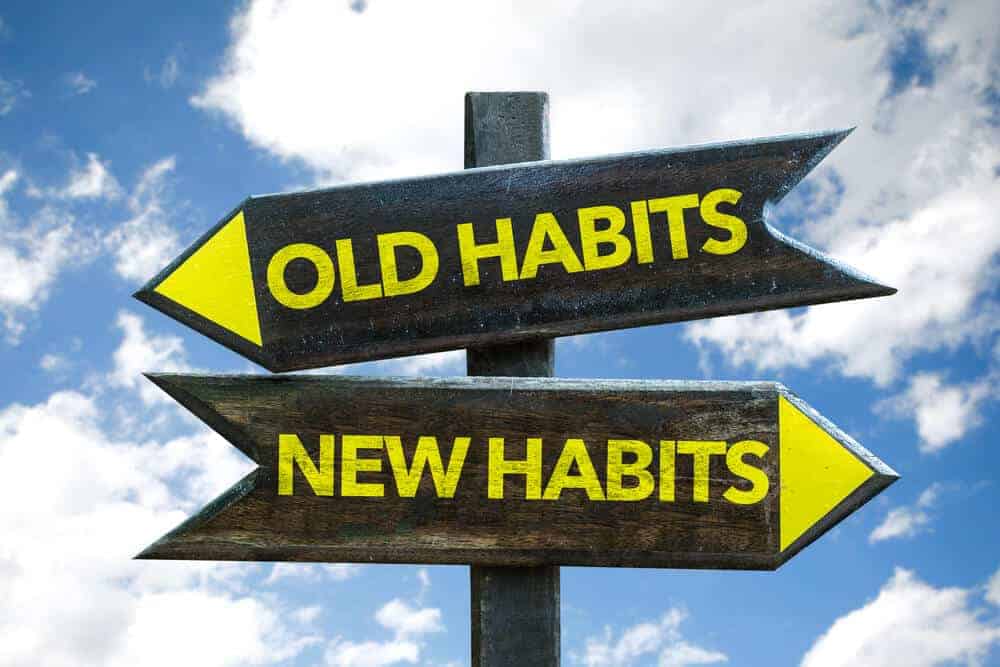 Habit trackers hold you accountable for your goals.
Think of your habit tracker as your own personal report card. By recording your habits, you can easily see in what areas you got an "A" and also those areas that you need to work on.
For instance, if your goal is to drink 8 glasses of water a day, and you notice at the end of the month that you only met that goal for 20 out of 30 days, then that tells you to drink more water.
Habit trackers give you the satisfaction of checking things off your list.
If you're a planner girl, then you probably LOVE making lists! You may even add items to your daily to-do list that you've already done, just so you can put a big 'ol check next to them.
A habit tracker works the same way… think of it as your big to-do list. Whether you use a check mark based habit tracker or one where you color in bubbles or squares, you'll feel a greater sense of accomplishment recording your progress.
And I don't know about you, but I feel much better about myself when I've had a productive day, and…
A habit tracker is like a big pat on the back telling yourself "Good job! You did it!".
80+ Habit Tracker Ideas
Okay, so now that you've seen WHY keeping a habit tracker is a good practice, what habits should you actually track?
Obviously, the things to put in your habit tracker will depend on your personal goals, but here are some awesome Habit Tracker Ideas to get your creativity flowing:
Habit Tracker Ideas for Better Health
Water intake – Did you drink 8 glasses of water each day OR track the number of ounces
Did you take your vitamin?
Medication tracker
No processed foods for the day
No sugar for the day
Caffeine intake for the day
Soda intake
How many servings of fruit and veggies for the day
Track daily calorie count
Track daily carb count
Hours of sleep each night
Meeting a bed time or "lights out" goal
No snacking after a certain time of the night
Flossing your teeth
Period tracker
Self Care Habit Tracker Ideas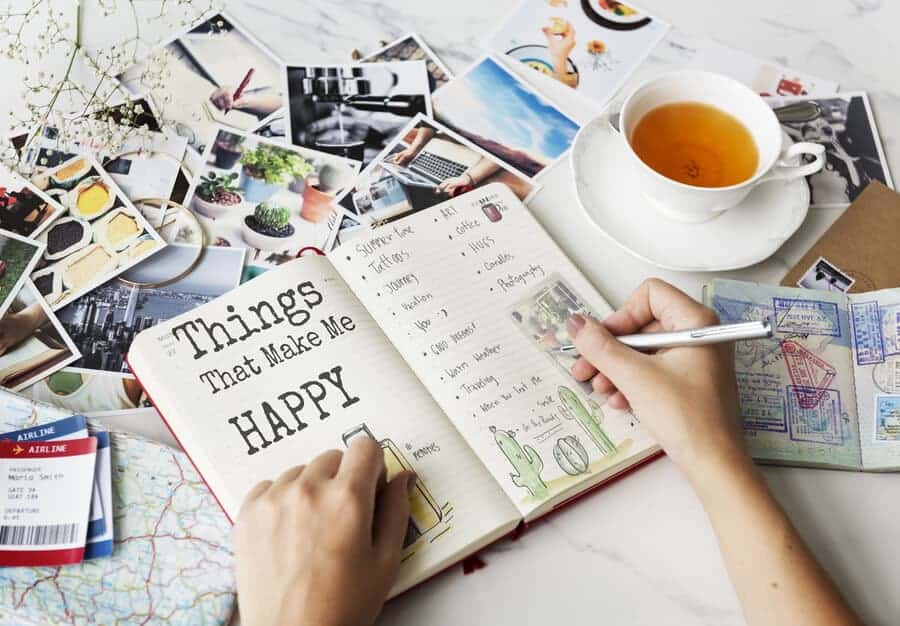 Meditation time completed
Social media detox days
Daily stretches
Reading for a set amount of time each day
Daily self-reflection
Answering emails each day and deleting emails that are no longer needed
Stopped working by a certain time each night – If you work from home like me, then you could struggle with this and may need to focus more on work-life balance.
Hair washing days
Updating your daily or weekly planner
Skincare routine completed
Daily brain dump – Go here to learn how to do a brain dump and grab a FREE printable template!
Fitness Habit Tracker Ideas
Daily steps – Set a goal for the amount of steps that you want to walk each day, and mark each day that you meet your goal.
Exercise routine completed
Track the total number of minutes or hours spent exercising each day
Track specific fitness goals like weight lifted, miles ran, etc.
Daily run completed
At least 30 minutes of physical activity done each day
Workout video done for the day
Track your weight each day
Financial Habits to Track with a Habit Tracker
Amount of money saved each day
No Spend Challenges – Mark each day that you don't spend any money, besides paying your normal monthly bills. Go here to learn how to do a no spend challenge, and get some free printable tracking worksheets to help you!
Did you keep track of expenses for the day
Specific budgets met – Did you go over your daily lunch budget or your weekly grocery budget?
Spending on credit cards
Money transferred to savings account each week
Cooking dinner at home or eating at a restaurant
Scanning in receipts or organizing documents for tax purposes
Monthly bills that have been paid
Relationship and Family Habit Tracker Ideas
Did you give your spouse at least one compliment today?
Did you put your phone down when people were talking to you?
Did you have your phone on the table at dinner time?
Give your kids a compliment each day
Do one nice thing for your spouse each day
Random acts of kindness for friends or strangers
Send quick text message to one friend or family member each day
Time spent reading to your kids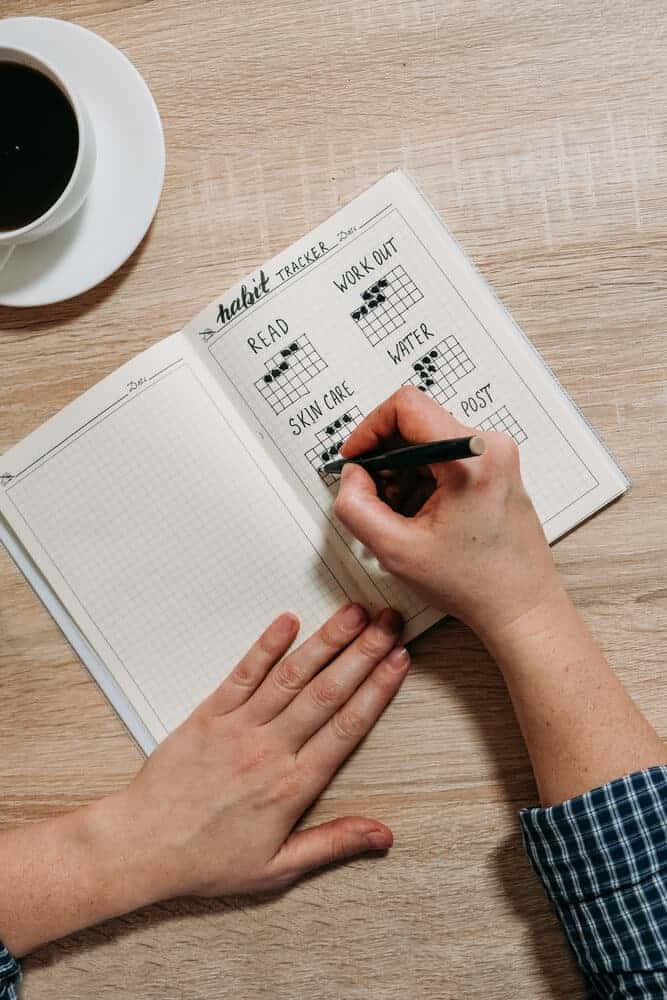 Cleaning and Housework Tasks to Put in Your Habit Tracker
Decluttering – Try a 30 Bags in 30 Days Decluttering Challenge, and mark each day that you successfully complete it!
Vacuum all carpet
Steam mop all hard floors
Dust furniture
Making the bed
Changing the sheets
Cleaning the bathroom sinks
Cleaning toilets
Cleaning showers and tubs
Watering plants
Habits to Track Monthly or Yearly
Not every habit needs to be done on a daily basis. Certain home management tasks only need to be done a few times a year, so it doesn't make sense to devote a daily or monthly habit tracker to those items.
Instead, you can create a one page Yearly Habit Tracker to keep up with those random maintenance, cleaning, and health habits that only need to be completed once or twice each year.
Here are some semi-annually and yearly habit tracker ideas: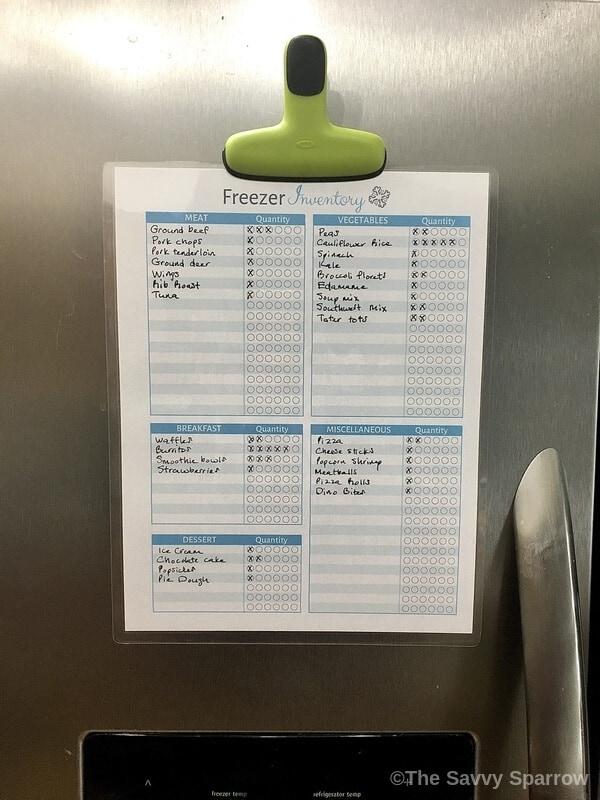 Deep cleaning carpets
Deep cleaning the oven
Washing your car
Completing an end of the month financial review
Habits You're Trying to Break
When most people think of habit tracker ideas, they only think of positive habits that you do repeatedly. But you can also use habit trackers to help you break your BAD habits!
Just determine which vice you want to work on, and mark each day that you DON'T do it.
Here are some BAD HABITS you can include in your habit tracker:
Biting fingernails
Picking face
Chewing on lip
Smoking
Drinking alcohol
Drinking caffeine
Eating fast food
Pressing the snooze button on your alarm clock
Spending too much time on social media
Eating junk food after dinner
Free Printable Habit Trackers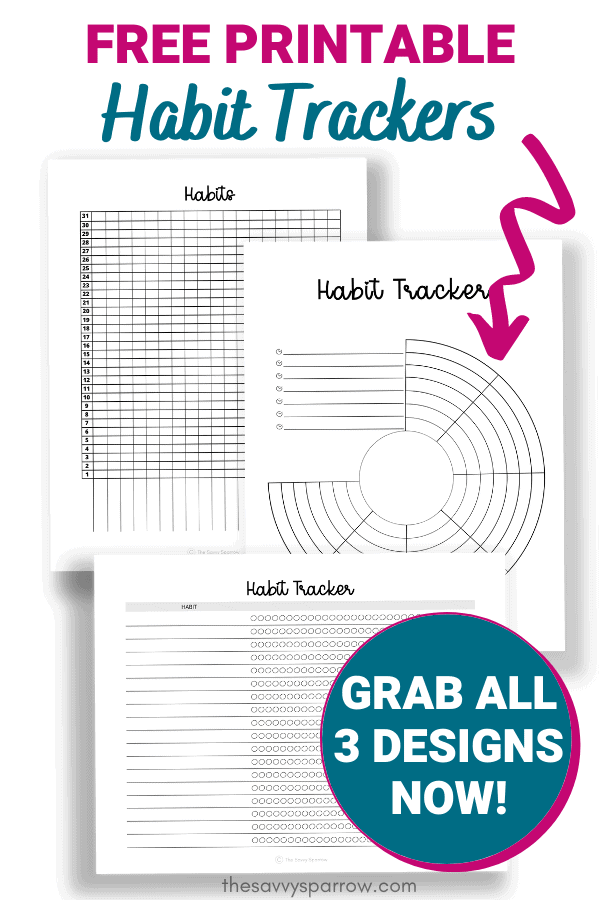 Ready to start your own Habit Tracker? Just use the form below to sign up for my FREE Email Newsletter, and I'll send you a set of 3 printable habit trackers as a FREE gift!
Plus you'll get access to my entire FREEBIES library, filled with loads of helpful printables like Self Care Challenges, No Spend Challenges, Decluttering Checklists, and more!
I hope you have gotten some awesome habit tracker ideas, and you're inspired to start your own habit tracker to help you meet your goals!
What kinds of things do you track in your habit tracker? I'd LOVE to hear from you! Leave me a comment down below!
And be sure to check out some of my other self care posts:
And happy nesting!