Are you looking for the best mom planners to help you get organized and better manage your home and family? If you need a planner for family stuff, that will satisfy your creativity and can unleash the super mom in you this 2021, then here are some of the BEST planners for you!
Ah, it's that time of the year again… Time to buy a new planner to help you manage your busy family life!
But picking out a new planner for the year can be stressful. You have to commit to one that you're going to use for the next 365 days, so it needs to be PERFECT for you!
As a busy Mom, the right planner can help you meal plan, keep track of your kids' schedules, grocery shop, set personal goals, and keep track of your self care routine. So, yeah… it's pretty important to get the BEST mom planner that you can find!
And I'm here to help with that!
I've been using a weekly planner for the last 8 years, and the act of writing down my weekly to-do lists has helped me to become more accountable for my days and more productive with my time. My mom planners have even helped me to manage my entire family's schedule, figure out what to cook for dinner, and make sure that we're not going crazy with our spending.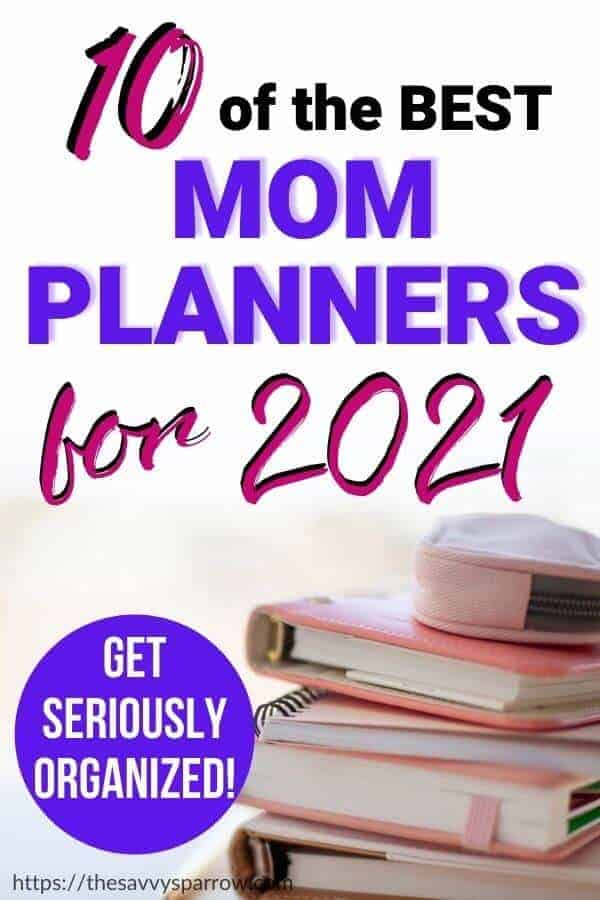 If that sounds like something you need in your busy life, then here is a great list of some of the best planners for Moms!
*This post contains affiliate links, which means if you click a link and make a purchase, I earn a commission at no additional cost to you. Read my full disclosure here.
Why should I use a family planner?
Simply put, mom planners are made to help you keep things in order. A mom daily planner can help balance your time with your family and yourself, and it can help you juggle all of the jobs that you have as a wife, Mom, and home manager.
A good Mom planner can help you keep track of:
when your bills are due and what bills have already been paid
work deadlines
doctor appointments
daily and weekly errands
date nights with your kids or hubby
groceries you need to buy
meal plans for the week
and the list goes on and on!
How using a planner changed my life
I originally started using a planner solely for the purpose of keeping track of my family's finances. We didn't have a clue as to how much money we were spending, and as the money manager for my family, I knew that we had to keep better track of WHERE our money was going.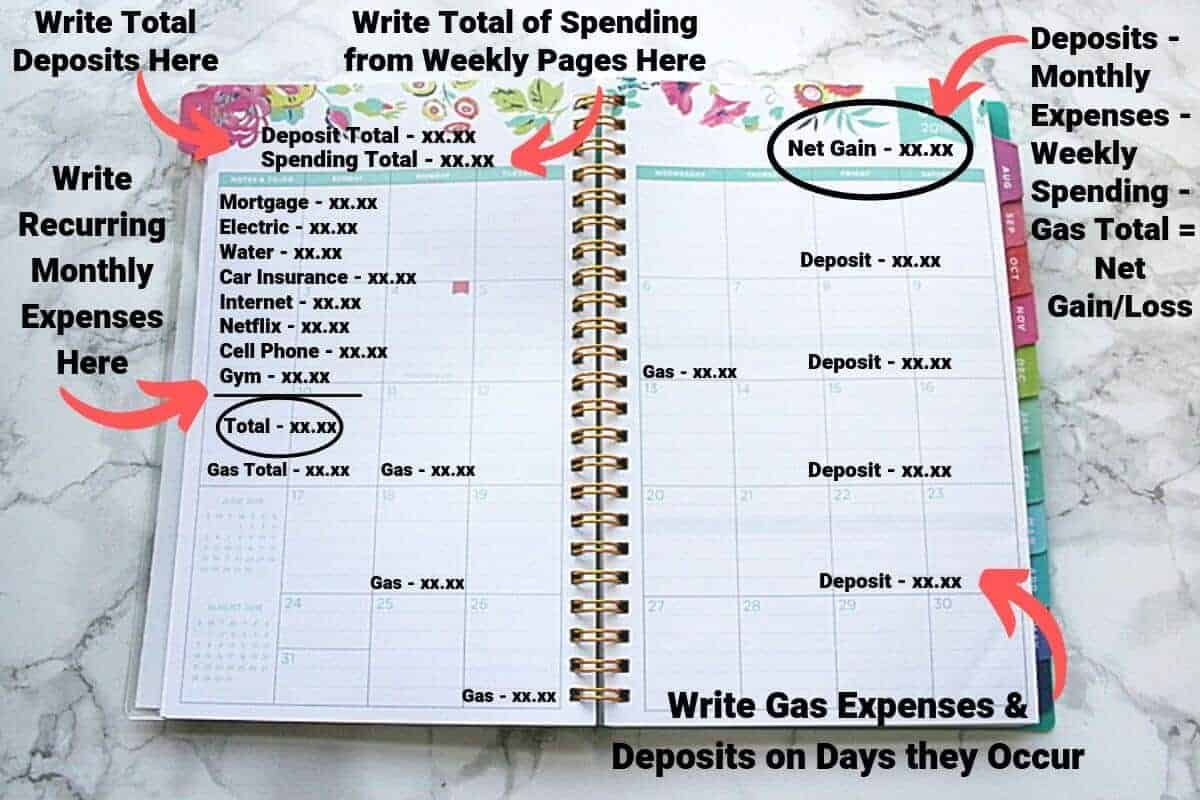 So I developed this easy way to use a Weekly Planner to track income and expenses in just 5 minutes a day.
And then I realized just how helpful a good planner can be!
Using mom planners gave me a sense of direction and helped me prioritize my mile long to-do list. Because, let's face it… as a Mom there just aren't enough hours in the day to get everything done, and there definitely isn't time to sit around wondering what to do next.
Laundry starts to pile up, dirty dishes are everywhere, and you develop a love-hate relationship with the grocery store. It's so hard to keep up. And if you're a working Mom like me, then it's super easy to become overwhelmed with everything that you have to get done.
But the act of writing down your priorities, your to do list, your meal plans for the week, and your child's activities that you need to keep up with will help you become more organized and, therefore, more productive with your time.
What should I look for in a Mom Planner?
There are a ton of different family planners out there made to help Moms manage family life, but the most important thing is to find a planner that meets your needs best.
Maybe you like making lists… then look for a Mom planner that has plenty of narrow lined space on the sides of the pages. Or maybe your day is so jam-packed that you need an hourly view of what you need to be doing throughout the day.
Here are some other planner features that may help you get organized and manage your family and home:
Space for grocery lists
Meal planning pages
Habit trackers – Habit trackers help you make sure that you're taking care of yourself also, and you can use them to track household jobs like cleaning, etc.
Goals worksheets
Address book or contacts page
It's easy to be distracted with all of the fancy stuff in planners, like stickers and cute graphics. But at the end of the day, the best mom planners out there are the ones that will give you the freedom to express your thoughts in writing.
Most of all, the best planners for moms will help you achieve clarity and focus on what to prioritize, and what to set aside (at least for the time being).
12 Mom Planners that Can Help You Manage Family Life
Best Undated Mom Planner
If you're looking for the perfect undated planner, then The Perfect Planner by BK is a great choice! An undated planner is helpful because it provides an extra layer of customization when you need it. For instance, if you prefer to have a planner with a Monday week start instead of Sunday, you can easily set that up. Also, an undated planner removes the guilt of skipping days and wasting pages you don't use.
This planner in particular can serve as a planner, notebook, journal, and personal organizer all in one. There is lots of empty space without headings and subheadings, so you can easily customize it to meet your needs.
Here are some of the features of this undated planner for Moms:
comes in 4 colors of soft vegan leather
elastic band closure and pen holder loop
expandable back pocket – great for receipts, appointment cards, etc.
extra monthly stickers
68 empty bullet journal style pages – great for jotting down notes, lists, or doodles
Best All-Around Family Planner
If your family is always on the go, between soccer practice and dance class, Amy Knapp's Family Organizer is a great Mom planner for you! This planner can help even the busiest families keep track of everything.
Here are some of the features of Amy Knapp's Family Organizer:
cute purse-sized floral design
17 month mom planner with weekly and monthly calendar grids
grocery lists and to-do lists on the weekly pages – and the grocery lists are perforated so you can easily tear them out when it's time to go to the store!
comes with over 225 stickers
space to record personal and family goals
babysitter information sheet
page to record names and phone numbers of your kids' friends
quick reference page for all of your kids' teams, organizations, and extracurriculars – This is one of my FAVORITE features of this Mom planner!
Best Mom Planner for Personalization and Accessories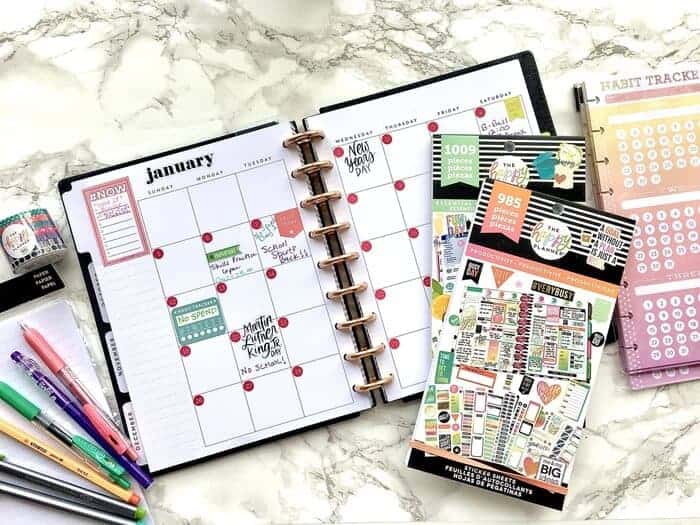 If you want a planner than allows you to plan your family life AND express your creativity, then none other compares to the Happy Planner!
I started using the Happy Planner about 3 years ago, because I couldn't resist all of the cute accessories and additional pages that you can buy to personalize the planner into exactly what you need.
I even wrote an entire post on the Happy Planner here: The Happy Planner – Everything Beginners Need to Know
Best Planner for Moms that are Working Professionals
Colorful stickers and cute drawings are nice, but if you need a planner that you can pull out at work, then you might want a simpler, more sophisticated option.
This 2021 mom planner can be used to manage your family AND your work life, and you won't be embarrassed to pull it out in the middle of a big board meeting. The black leather cover and thick cream paper scream sophistication, and it still comes with stickers to use as monthly tab dividers.
Best Planner for Environmentally-Conscious Moms
Looking for a planner that's filled with whimsical art and saves the environment? Then this is the mom planner for you!
The On-the-Go Weekly Planner by Katie Daisy is made by Amber Lotus Publishing, an indie publisher based in Portland, Oregon. They create coloring books, calendars, planners, and greeting cards, and as of January 2020, they have funded the planting of ONE MILLION trees! Plus, these planners are printed on paper from sustainably managed forests and recycled materials.
And, oh yeah, this planner is super cute too! Here are some of the other features of this family planner:
colorful nature-inspired illustrations throughout the planner
17 month planner with weekly and monthly spreads
plenty of space to write
inside pocket for storing receipts, etc
compact 5″ x 7″ size great for throwing in your purse
elastic band closure
Best Planner for Moms that Don't Want a Planner
If you're looking for more of a Mom daily planner, instead of a full-on calendar style planner, then this Minimalist Daily Planner by Bliss Collections is the solution for you!
This "planner" is actually more of a planner desk pad, with undated tear-off sheets. Think of it as a to-do list on steroids! This minimalist daily Mom planner comes with a to-do list, priority tasks, meal planners, and health goals for the day. And it's available in letter size format (8.5″ x 11″) which is the perfect size if you need a lot of space to write on.
Here are some of the features of this desk pad daily Mom planner:
50 tear off pages
designed to enhance productivity – Read this for more tips to have a productive day!
use this planner to prioritize tasks to do each day
cute water log habit tracker
Best Weekly Planner Pad for Moms
If you like the idea of the "planner pad", but you need a weekly view, then this Weekly Tear-Off To Do List Planning Pad is a great option! You can plan one week at a time (maybe work that in to your Sunday routine), and then at the end of the week, just tear off that page and you're ready to start fresh on a new week.
Here are some of the best features of this mom planner desk pad:
60 tear off sheets – enough to plan 60 weeks
lined undated blocks for each day of the week, plus a block for "next week"
track 4 top priorities for the week
track 4 different healthy habits (drinking water, walking, etc) in the habit tracker spaces
plenty of space to write
Best Habit Tracker Calendar for Moms
Matt d' Avella, the documentary filmmaker behind the popular Netflix film The Minimalists: Less is Now, says that in order to master your life, you have to master your habits. And as a busy mom and a full-time blogger, I understand how important it is to develop positive habits. But obviously, this is easier said than done.
That is why I was super thrilled to find this Habit Tracker Calendar on Amazon. If you're skeptical about using mom planners, or you want to try a different approach to getting started with developing new habits this year, start with this one.
I like how this habit tracker calendar is a creative process on its own. You can use colorful markers to come up with unique pieces that you can display on your home office wall or desk.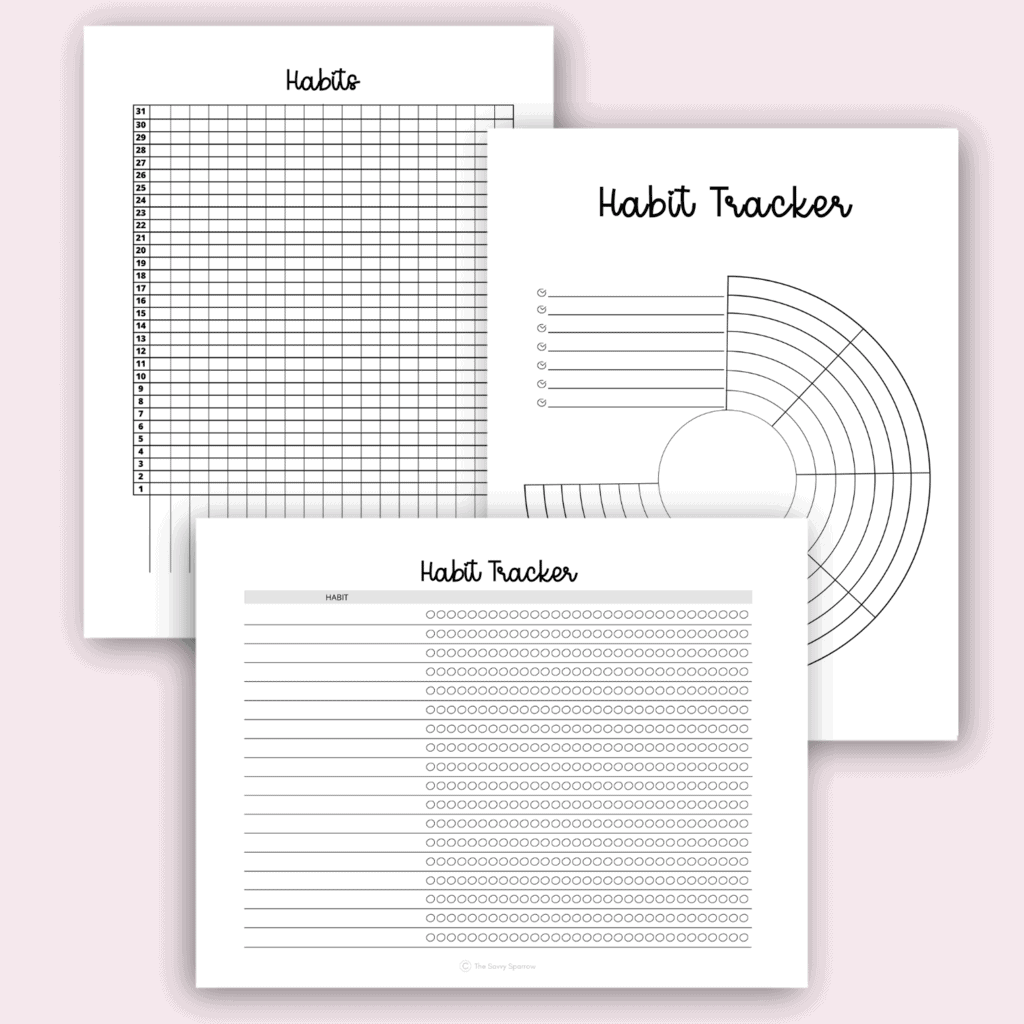 *If you want ideas for what to track with your new habit tracker, or you want to grab some FREE printable habit trackers, check out this post: 80+ Habit Tracker Ideas Plus FREE Printable Trackers!
Best Mom Planner for Moms with Young Kids
My list of the best mom planners of 2021 would not be complete without the Mom's Family Desk Planner by Sandra Boynton. Your kids will like this useful family planner as much as you do, thanks to the colorful cartoon drawings and full-page illustrations.
But besides the cartoons, this mom planner packs a serious organization punch! Here are some of the features of this family planner for moms:
one column for "Mom" and one for "Family" each day – so you can keep personal and family to-dos separated
perforated tear-out grocery and to-do lists
pages for important phone numbers
two inside pockets
two pages of stickers that are perfect for planning family stuff – like school events, half days, and field trips
Best Home Management Solution for Moms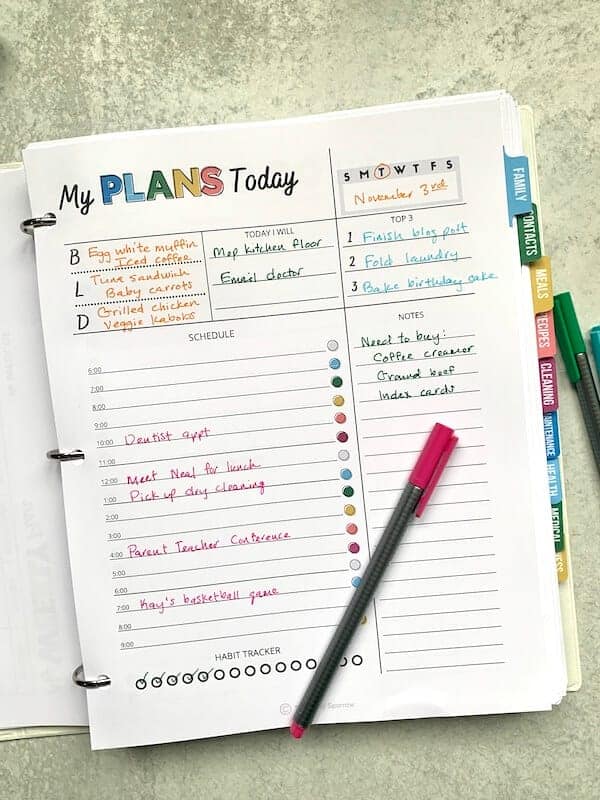 Okay… full disclosure… this Mom planner is one of my own products.
I created The Happy Home Binder (the ULTIMATE home management binder) for Moms to be able to have ALL of their household management resources in a single binder, ready at a moment's notice.
The Happy Home Binder is a PDF download of 216 pages that you can print and add to a 3 ring binder. It includes space for:
daily and weekly planner pages
full address book organized by letter with space for emergency contacts
babysitter and pet sitter info
weekly meal plans, grocery lists, and recipes
cleaning schedules including decluttering checklist and deep cleaning jobs
password tracker
monthly bills tracker
income and expense tracker
entire section for health and fitness goals
habit trackers
kids' schedules and school info
home maintenance jobs
medical information for every family member
and so much more!
You can read more about the Happy Home Binder here!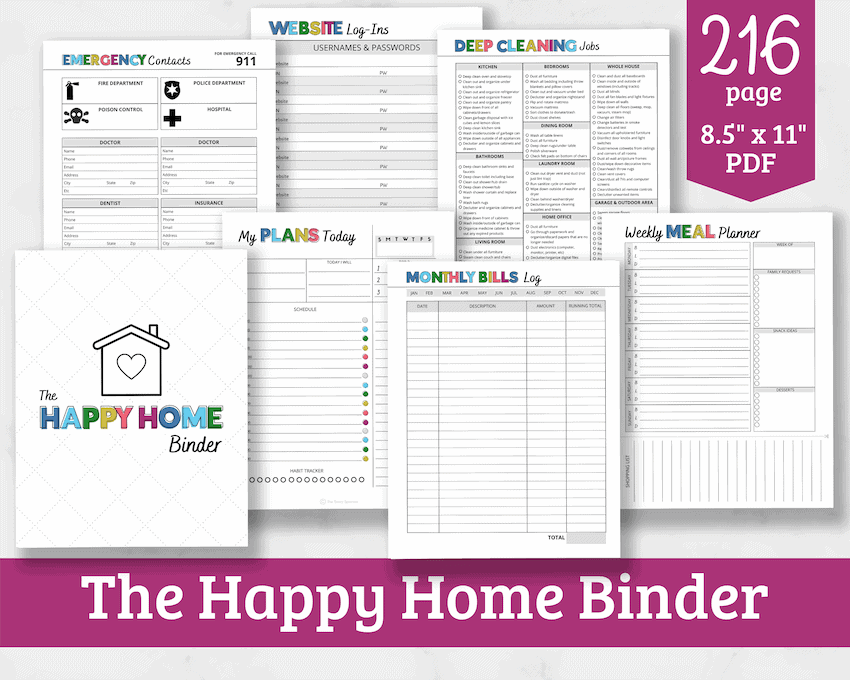 After you get your Mom Planner
After you've got the BEST mom planner to help you manage your home and family, make sure that you've got the BEST pens to use in it!
I recently tried 12 different popular planner pens, and I wrote a whole post to tell you which ones are the absolute BEST! You can check it out here:
The Best Pens for Planners – And I Tried Them All!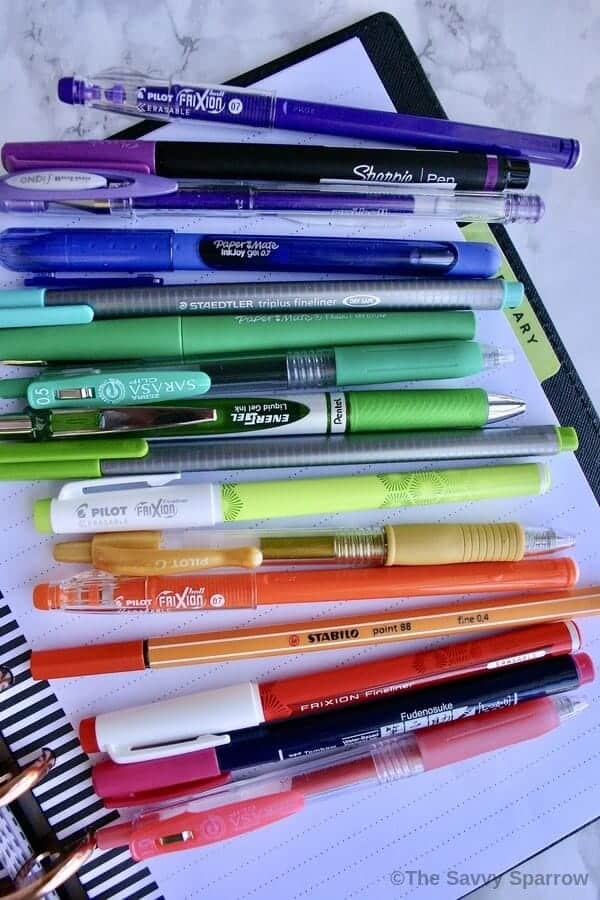 Then, staying organized is all about getting into the routine of actually USING your planner! The best family planner isn't worth a darn if it just sits on a shelf. Set aside time each day to use your new planner to prioritize what you need to get done and plan your family's week.
And if you need help thinking of ideas for what to put in your planner, check out this post: 75+ Things to Keep Track of in Your Planner to Help You Stay Organized!
Conclusion
We all need help sometimes. And if help comes in the form of a mom planner, I'll take it. I appreciate how something as simple as a blank piece of paper can make such an impact on my life and help me plan my day.
Mom planners help me stay grounded and love early mornings or late nights where I can hear my thoughts, pause and reflect, and prepare for the next day amidst the chaos that is life.
Do you use a mom planner to help you plan busy family life? Which one's your favorite? Let me know in the comments.