These free printable Easter activity sheets are a super fun activity for kids to do at home, school, or on a family road trip. They're the perfect Spring activity sheets for preschoolers, and you can print them right from home!
Easter is such a fun and exciting holiday for kids, and it's easy to see why. First, a magical bunny writes them letters and leaves baskets filled with treats.
Then you have fun Easter traditions like dying eggs and epic Easter egg hunts. Combine all of these with family get-togethers and tasty food, and you have the makings of a pretty fantastic day!
All in all, Easter is a pretty fun time for families. And now, you can add to the excitement by sharing these free printable Easter activity sheets and placemats with your kids this year!
They're chock-full of fun learning games and more, and you can use them in endless ways to make the Easter holiday even more memorable.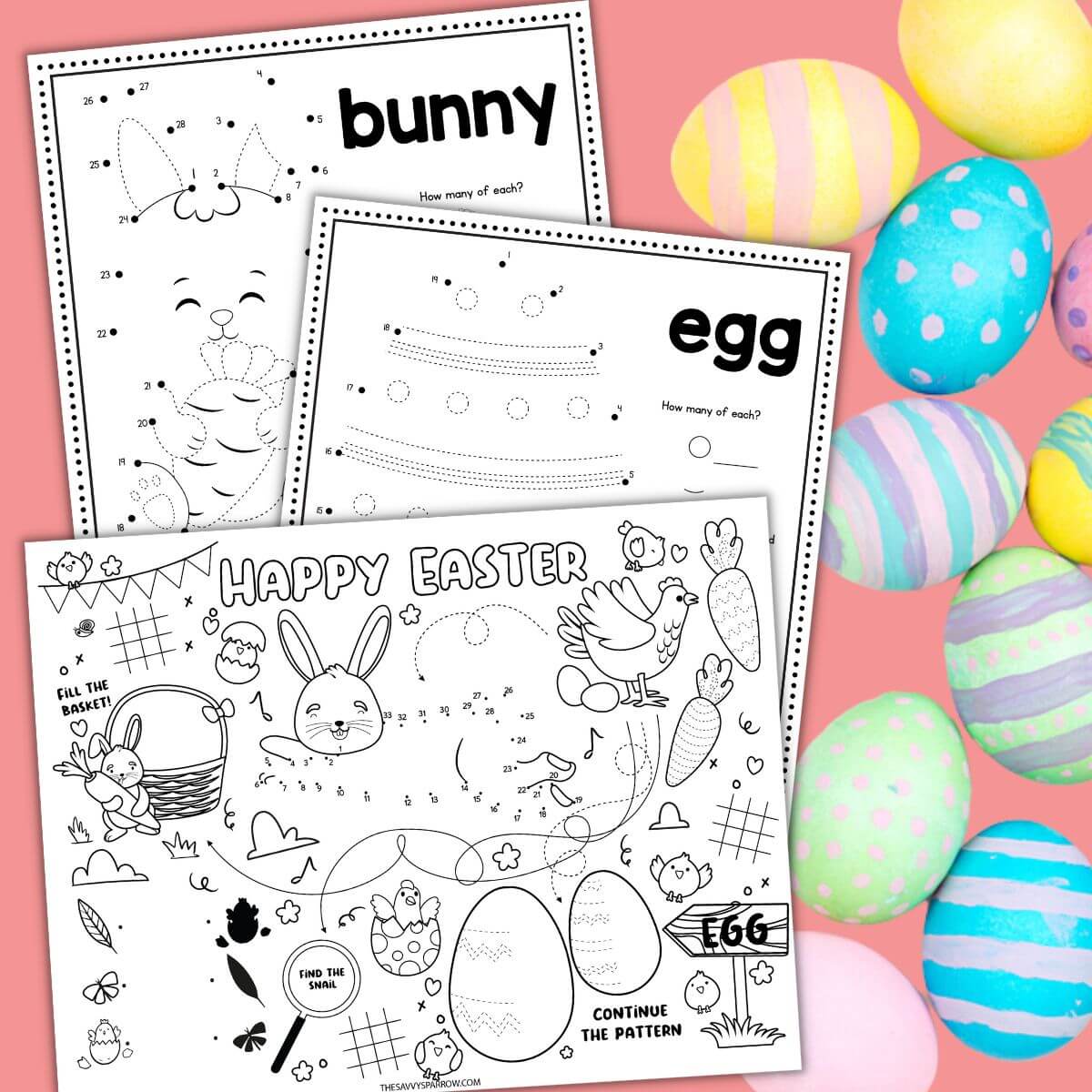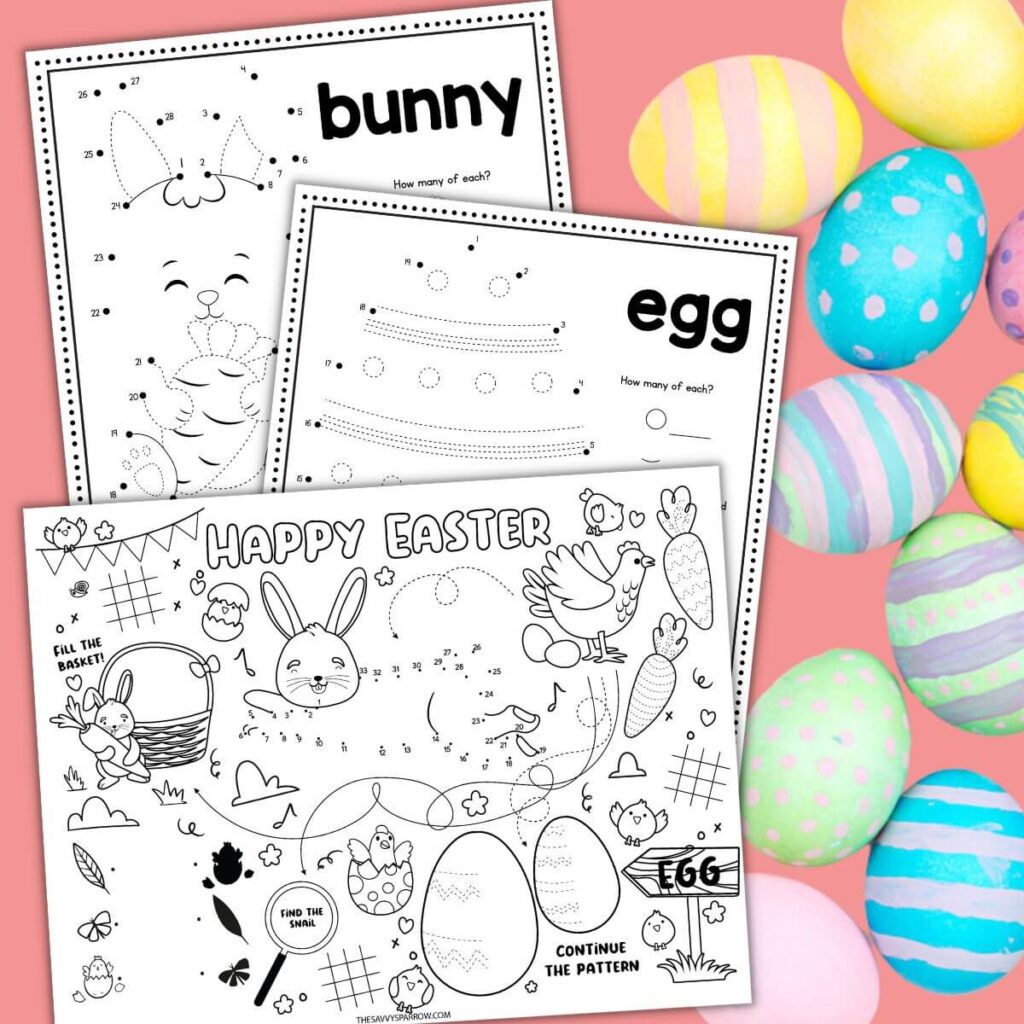 *This post contains affiliate links, which means if you click a link and make a purchase, I earn a commission at no additional cost to you. Read my full disclosure for more info.
Ideas for Using the Printable Easter Activities
There are so many different ways you can use these adorable Easter printable activities, but here are some easy ideas to get you started:
Sunday school activities
These Easter activity sheets make the perfect Sunday school activities to fill time, or you can include them in treat bags to send home.
Several of the activity sheets lend themselves well to the Easter story, such as the lamb and candle connect-the-dot activities. They're a super cute way to finish up your lesson and entertain younger kids!
Placemats or kids' table activities for Easter dinner
Easter dinner with family and friends is a wonderful way to connect and come together. And it can also be stressful when you're also trying to keep small children entertained!
So why not make these Easter printable activities into placemats? They'll keep little hands busy, and you might actually be able to have a conversation that lasts longer than three minutes (No promises, though).
Print these Easter activity sheets professionally using 11" x 17" dimensions or at home on 8.5" x 11" cardstock. Then, add a small package of crayons to each child's plate, and pat yourself on the back!
Easter activities to do after your Egg hunt
Add even more fun to your Easter celebration with these Spring activity sheets! They're a useful way to help kids (and parents) wind down from the whole Easter egg hunt excitement.
After everyone has collected their pastel-colored bounty, let them choose a few printable Easter activities to complete while the adults are chatting. Then, nap time!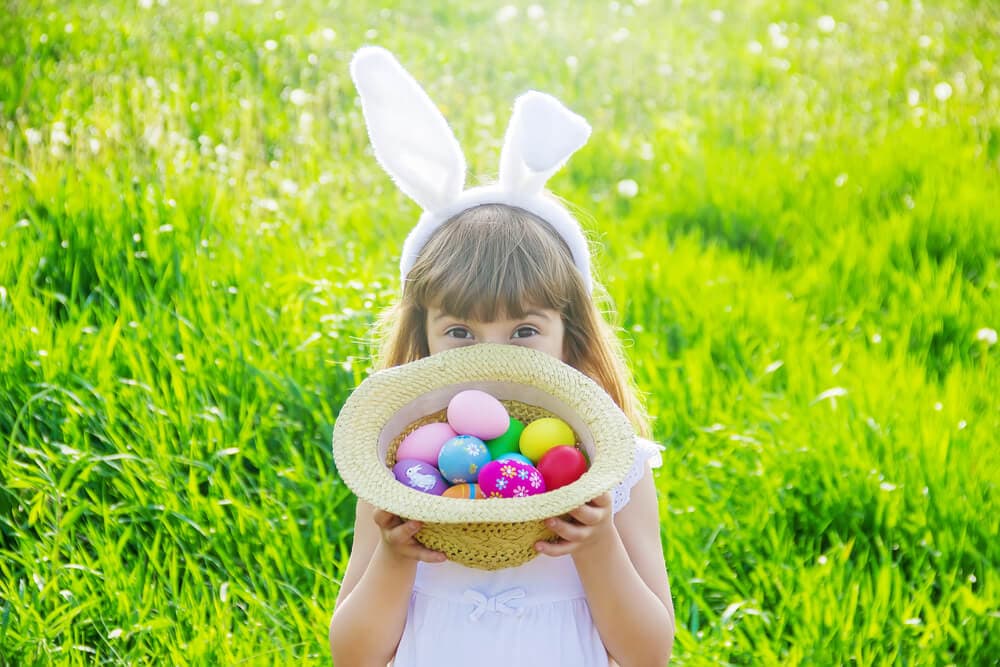 Easter worksheets for your preschool class
If you're searching for simple Easter activity sheets for your preschool class at school or daycare, you've found them! Each paper includes several learning activities for younger children, like counting, letter tracing, and connecting the dots.
There are so many ways you can include these in your lesson plans. Use them as fun Easter-themed morning work. Allow children to color while you read them an Easter story. Or send them home for kids to complete on their own!
Fun and low-prep homeschool Easter activity sheets
Many a homeschooling mom has Googled "low prep homeschool activities" at some point in their lives. And these are a super cute way to add variety to your homeschool routine and get kids excited about Easter!
The Easter printable activity sheets are suitable for a range of younger elementary ages, and they're a great way to help kids work on basic skills, stay entertained, and take the pressure off you!
Fun Easter road trip activities for kids
Many families spend Easter vacation traveling to see loved ones, and it can be challenging to keep young children entertained on road trips lasting longer than 10 minutes. So, if a journey to Grandma's is on your horizon, bring these Easter printable activities along for the ride!
They help delay the inevitable "Are we there yet?" and kids have plenty of options to choose from. These travel lap desks can come in handy for coloring in the car, and the storage pouches are perfect for keeping art supplies from rolling all over the vehicle.
What Activities are Included on the Easter Activity Sheets
Here are all the fun activities included in these free Easter activity sheets and placemats:
Connect the dots
Letter tracing
Write the word
Finish the pattern
Shape identification
Simple counting practice
Color the beginning sound
Word scramble
Spot the difference
Easter word search
Easter item search and find
Get the Free Printable Easter Activity Sheets
These fun and entertaining Easter activity sheets are the perfect addition to your day, and kids will love working on skills while creating works of art at the same time.
You can grab these FREE printable Easter activity sheets below. Just download, print, and you're all set!
Printable Easter Activity Placemats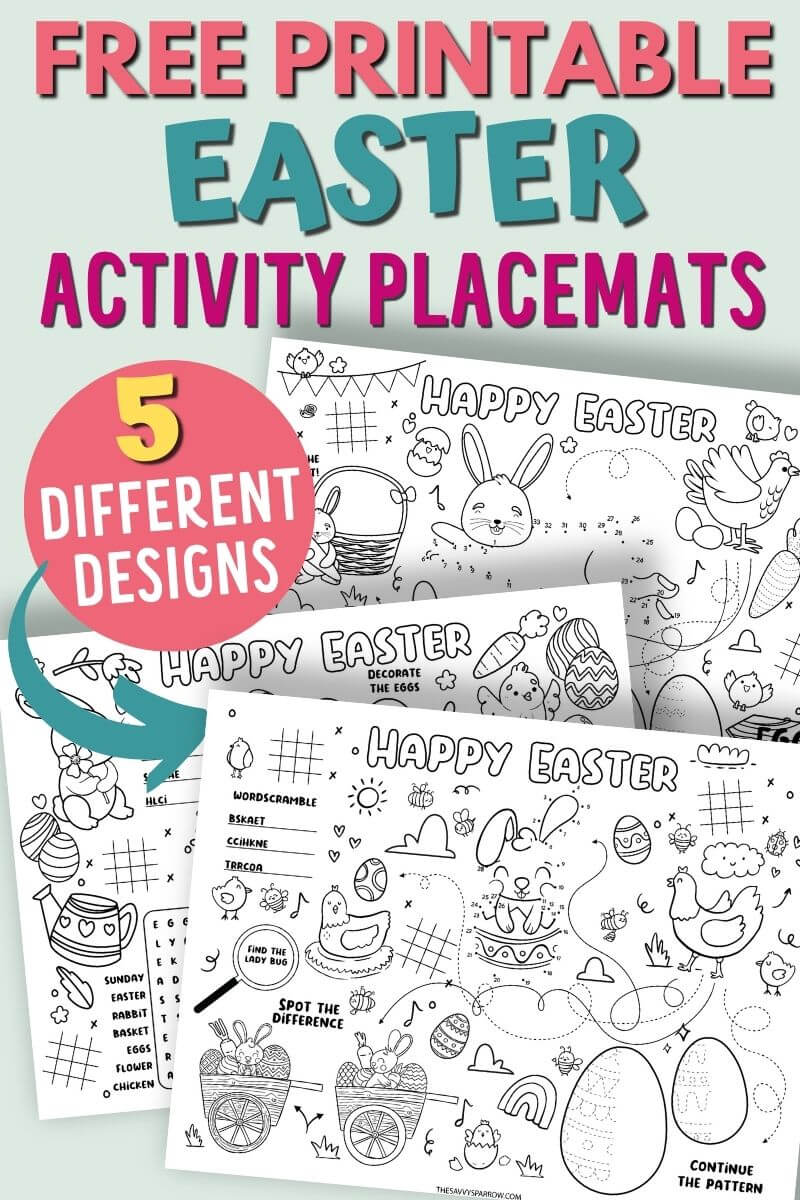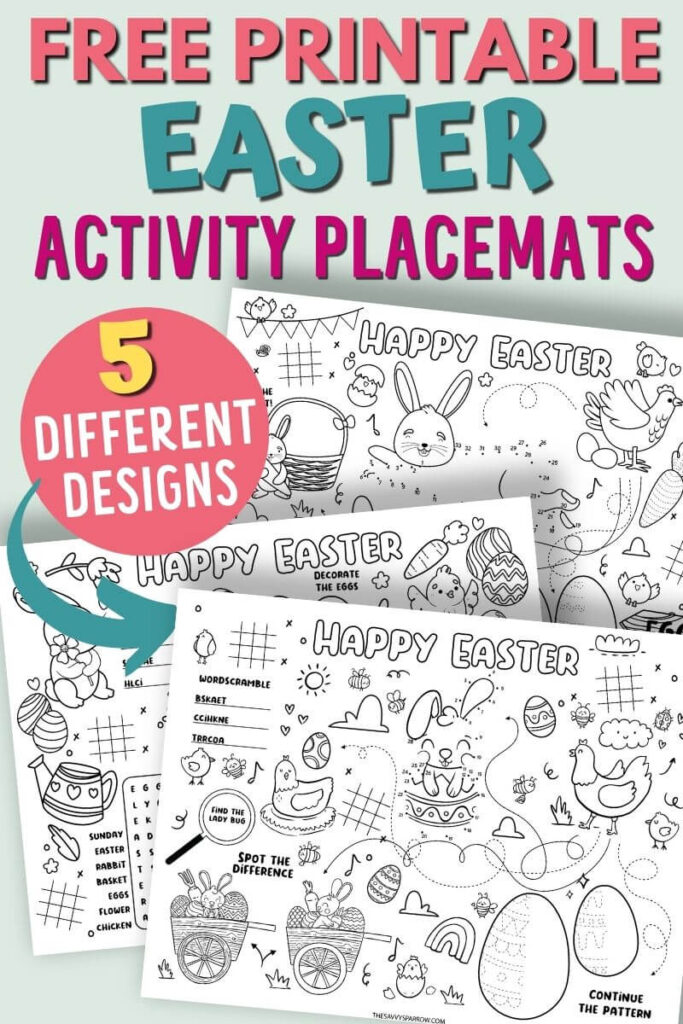 These horizontal layout Easter activity sheets make perfect Easter placemats for kids to use at your holiday dinner! Just print the activity placemats and place the sheets and some crayons at the kids' table! Choose which of the 5 different designs you like best, or print them all and let the kids pick their favorites!
Click HERE for the Printable Easter Placemats
Printable Easter Worksheets for Preschool and Kindergarten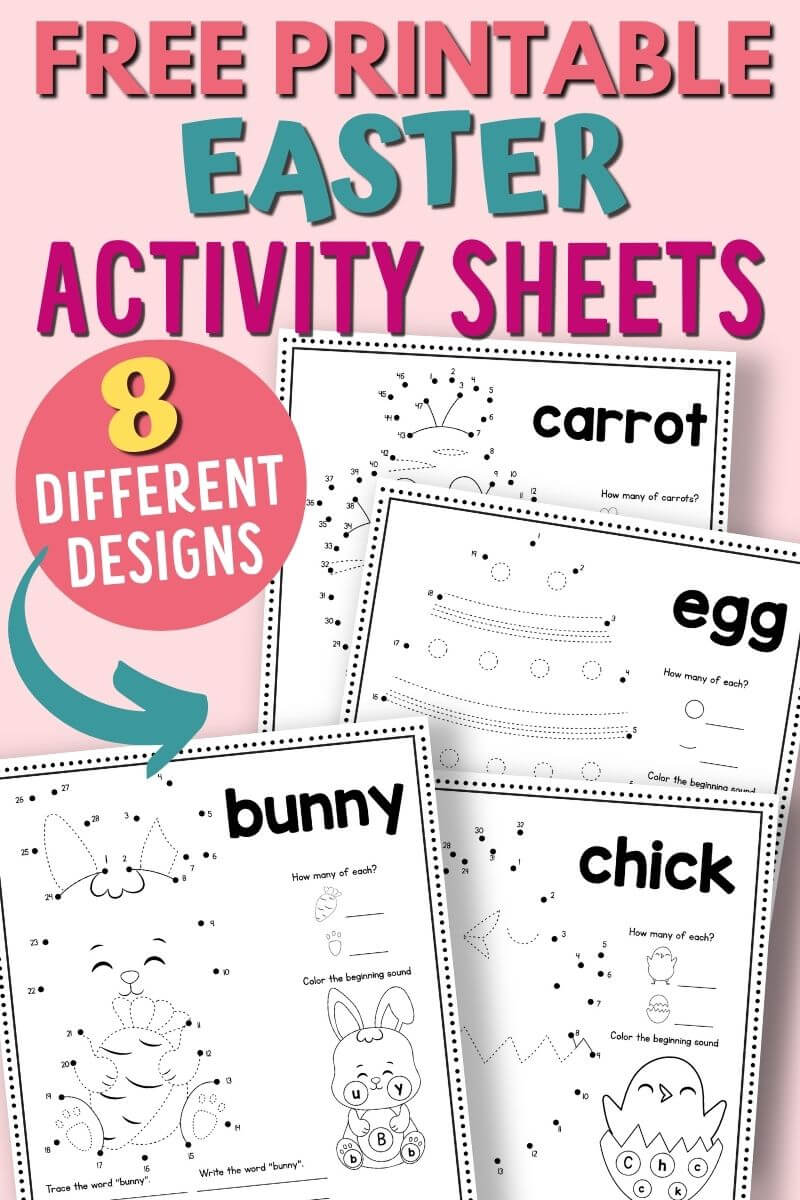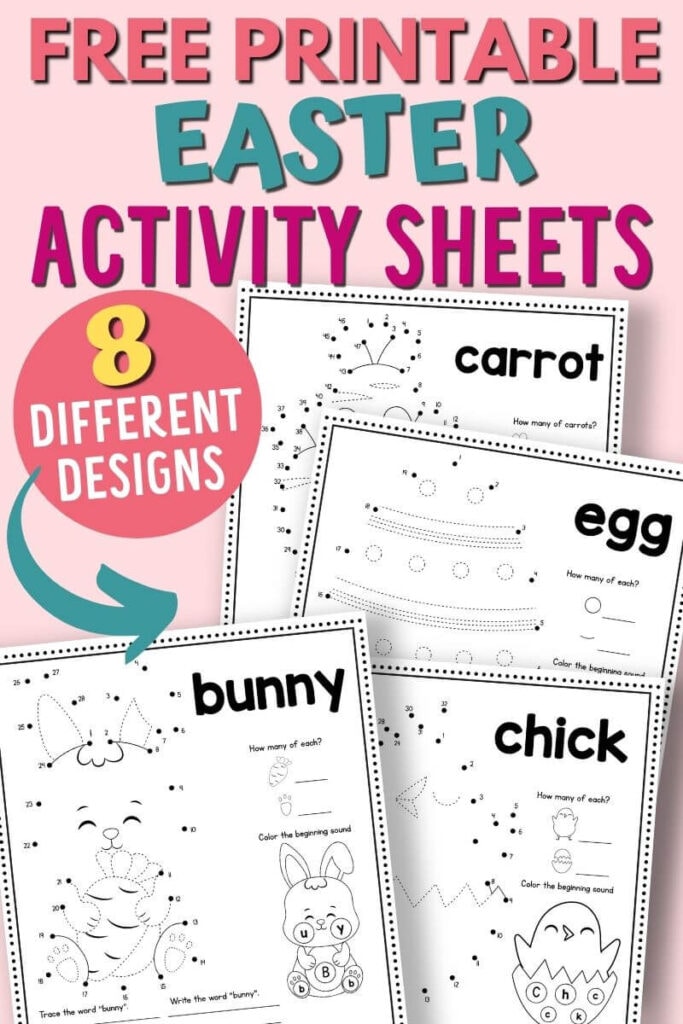 Looking for educational Easter worksheets to use in your classroom or for homeschool? Grab these free printable Easter worksheets that are great for younger kids!
Click HERE for the Free Printable Easter Worksheets for Kids
Other Fun Easter Printables for Kids
After your kids finish these free printable Easter activity sheets, check out some of my other Easter printables for kids:
The Most Epic Easter Egg Hunt with Clues (Printable Scavenger Hunt) – Grab these free printable Easter egg scavenger hunt clues to use on Easter morning! Loads of printable rhyming clues for inside or outdoors to make your egg hunt even more fun!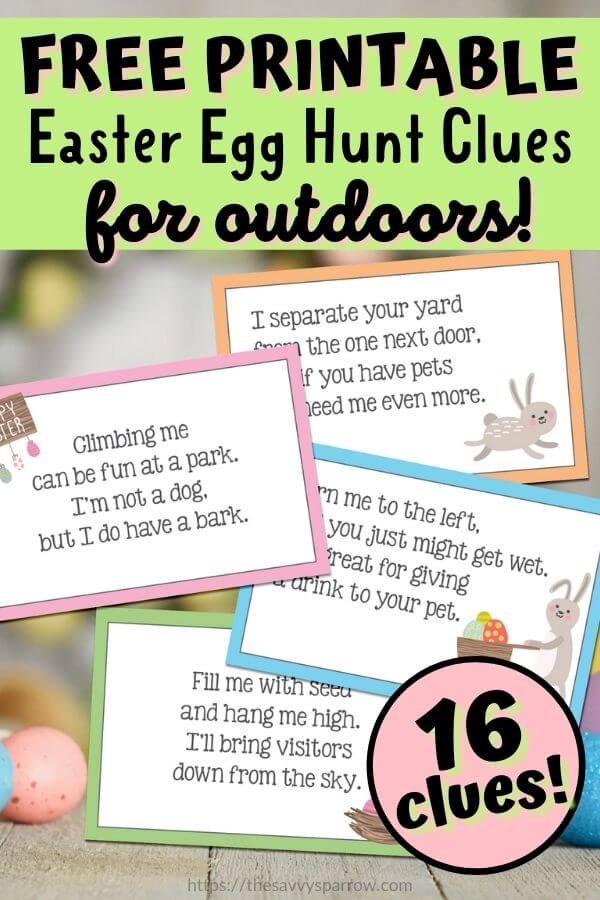 Free Printable Easter Bunny Letter – 4 Letter Templates for Kids! – Leave a note from the Easter bunny in your child's Easter basket! Just print one of these 4 free printable templates for an easy Mom win!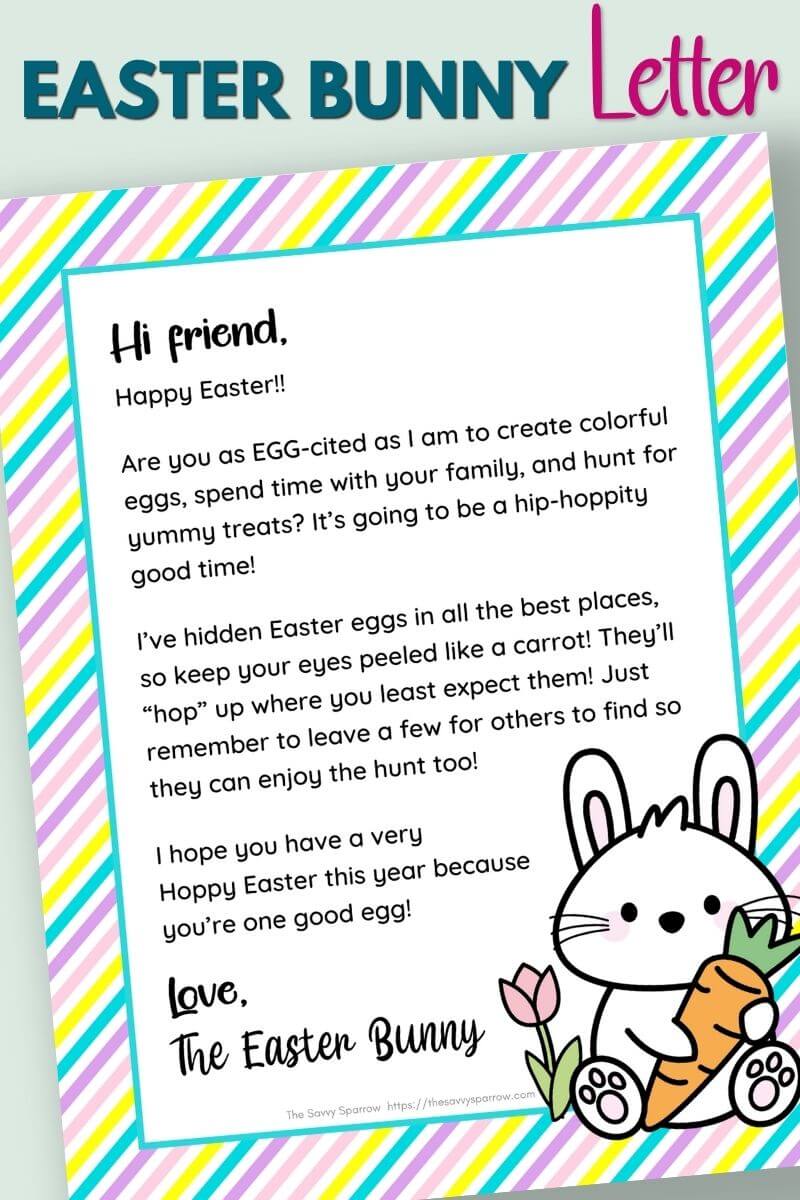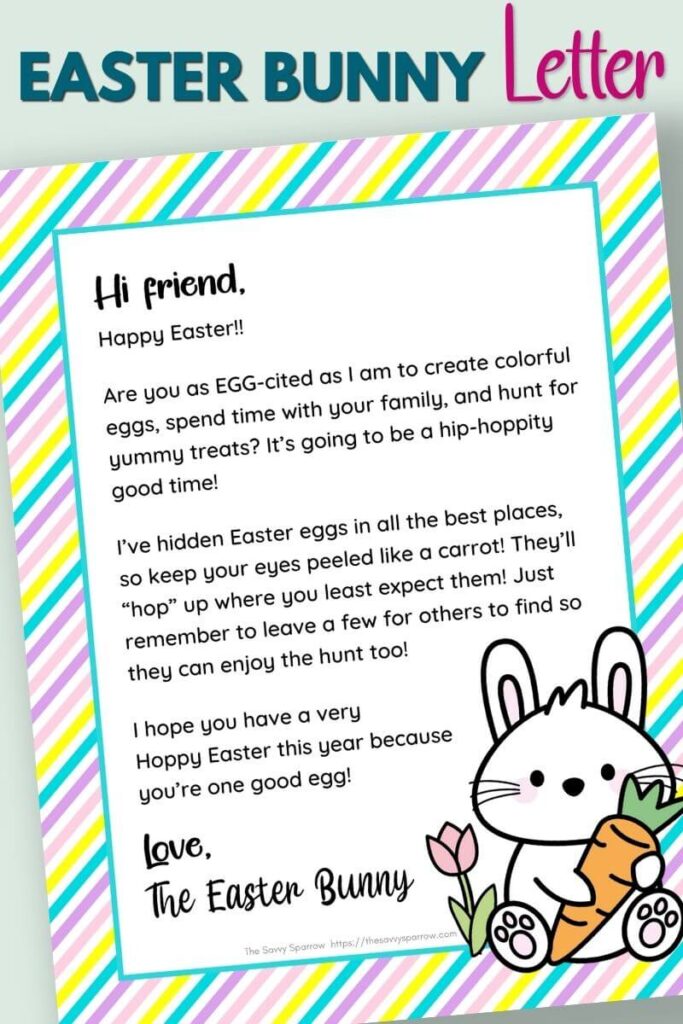 Easter Bunny Money for Easy Egg Fillers – Printable Coupons! – Want a fun plastic egg filler that isn't candy? This Easter Bunny Money is great for filling Easter eggs or for putting in your kids' Easter baskets! My girls absolutely LOVE getting these Bunny Bucks!