Looking for easy Easter gifts with free printable gift tags? These "Treats for My Peeps" gift tags are perfect for classroom gifts, neighbor gifts, and more!
Peeps are one of my favorite spring treats! In fact, as I'm writing this, I'm chowing down on a hot pink sugar-coated bunny.
And my kids love them, too… So much so that they have been begging me to hurry up and write this post so that they can dig in to the leftovers. And while the popular Easter candy can be a hit-or-miss among some families, you can't deny that the cute chick and bunny shaped treats make the perfect inexpensive Easter gifts.
Just pick up a pack or two of the marshmallow Easter candy, print out some cute gift tags, and you've got a super simple gift for your kids to give to their friends on the school bus or to drop in your neighbor's mailbox to wish them a Happy Easter!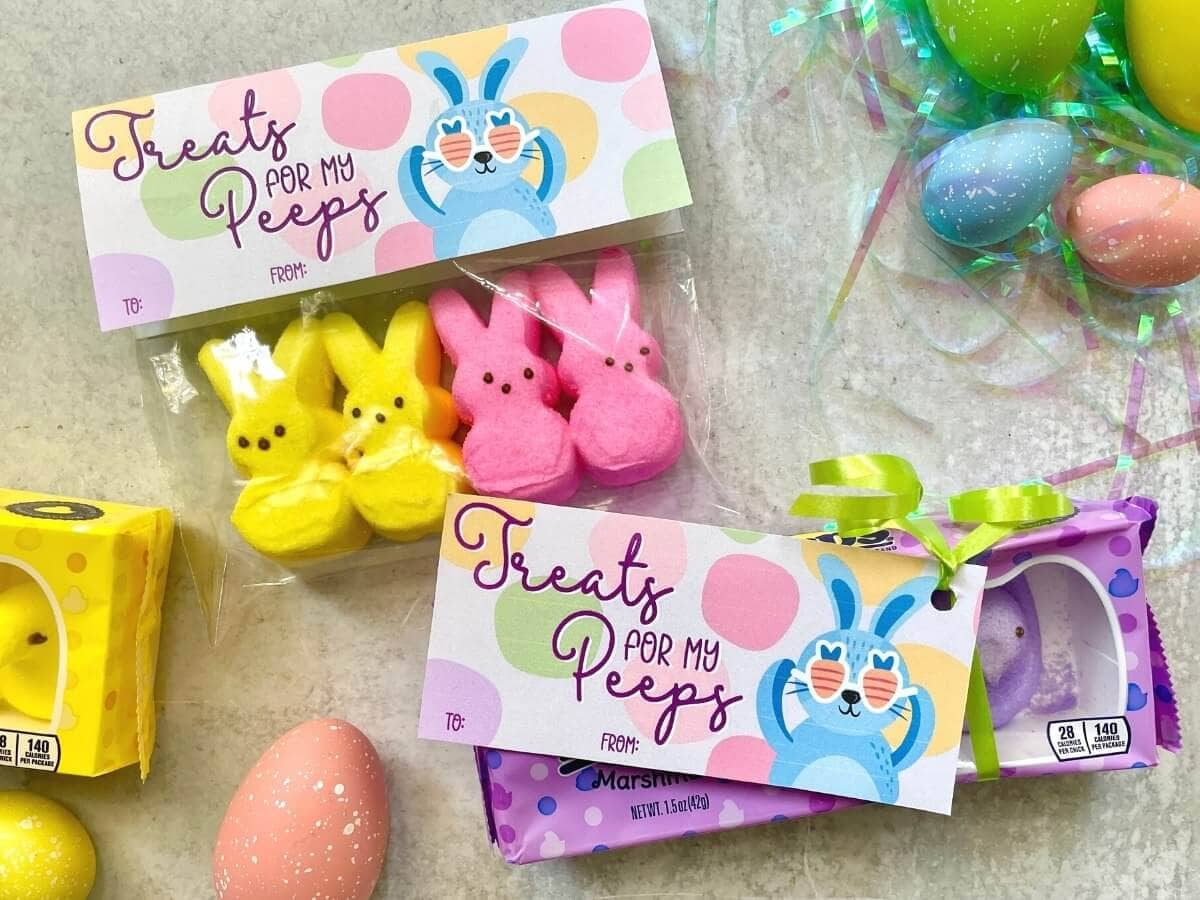 Supplies for Treats for My Peeps Easter Gifts
Want to make your own easy Easter gifts with Peeps? Here's what you'll need: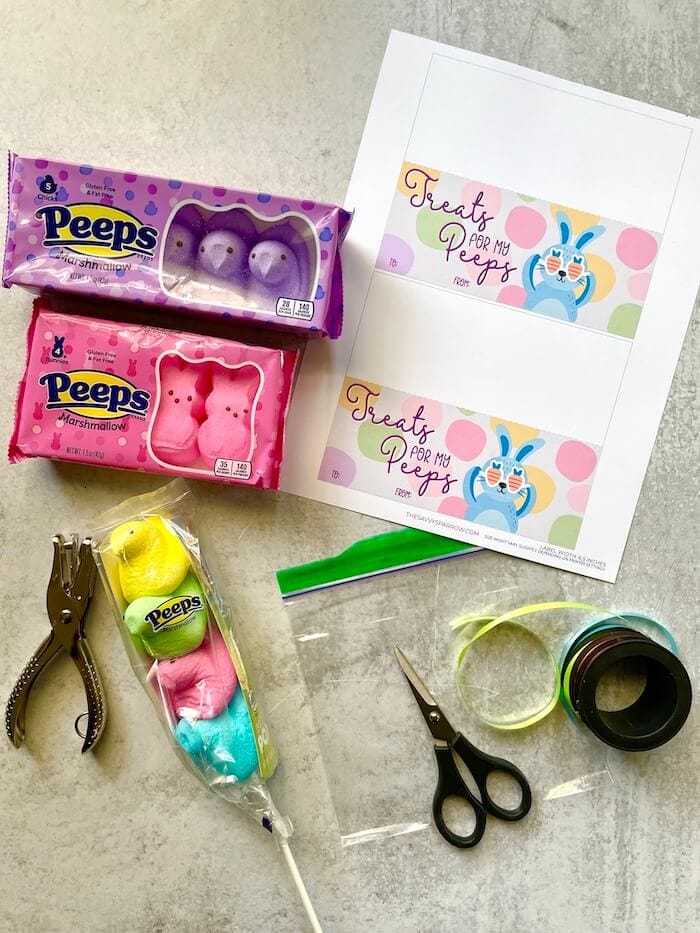 Peeps candy – You can use the Peeps pops that come on a stick or the Peeps in the normal packages.
ribbon or twine of your choice
printer
white card stock – Printing on card stock makes your gift tags sturdier, and they won't wrinkle as much on your candy gifts.
scissors
ziploc bags (optional)
Make Your Own Peeps Easter Gifts
You can use these free printable Easter gift tags to create some Peeps gifts two different ways… with whole packages of Peeps or with just a few Peeps placed in a Ziploc bag.
Here's how to make both, so you can choose which gifts you like best:
Give Pre-wrapped Peeps Treats
If your budget allows, you can use whole packages of Peeps for classroom gifts. I found my Peeps at Dollar Tree.
Simply print and cut the free "Treats for my Peeps" gift tags, punch a hole in the corner of the tag, and use pretty ribbon to tie around the Easter candy.
Add Peeps to a Ziploc Bag
Need to make a bunch of Treats for My Peeps gifts? If your kids are going to pass these out to their friends at school, then you may want to separate the Peeps into smaller quantities using Ziploc bags and the cute free printable Easter tags.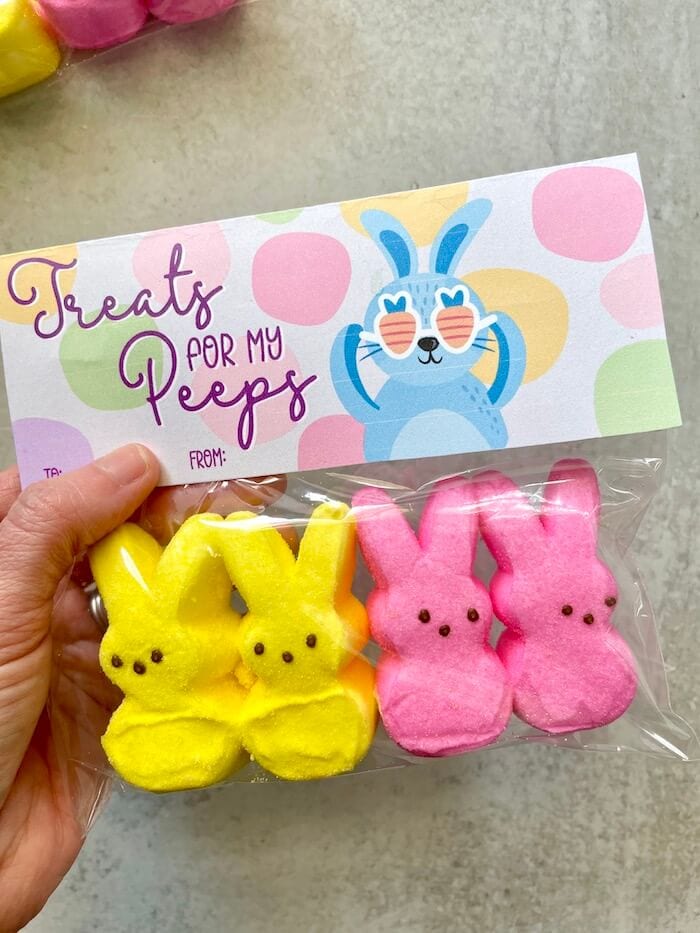 The gift tags are perfectly sized to fit on a sandwich sized bag, just be sure that your printer is set to "Actual Size".
To make these easy Easter gifts, I zipped up the bag and folded the top of the bag down about an inch. Then, I used a folded piece of packing tape on the front and back side of the bag to stick the gift tag on.
Easy-peasy and cute!
Free Printable Treats for My Peeps Gift Tags
Want to use the free printable gift tags for your Peeps gifts? Just click the link below to download and print them!
Click HERE for the Treats for My Peeps Printable Tags!
And be sure to check out some of my other fun Easter ideas:
And don't forget to PIN this post for later: