Looking for a cute and easy DIY Easter wreath to make this year? This bunny wreath DIY is for you!
Is it just me, or are Easter bunny butts taking spring time by storm?
From bunny butt cheeseballs to bunny butt pancakes to bunny butt wood signs, the rear end of the cute and cuddly bunny is taking over this time of year.
So of course I had to jump on the trend with this bunny wreath DIY. Except this fun Easter wreath shows the entire back silhouette of the rabbit, and not just the "tail end" – pun intended!
If you're looking for a cute bunny wreath to make this year for your front door decor, then this is it… and it's so easy that even your teens could do it!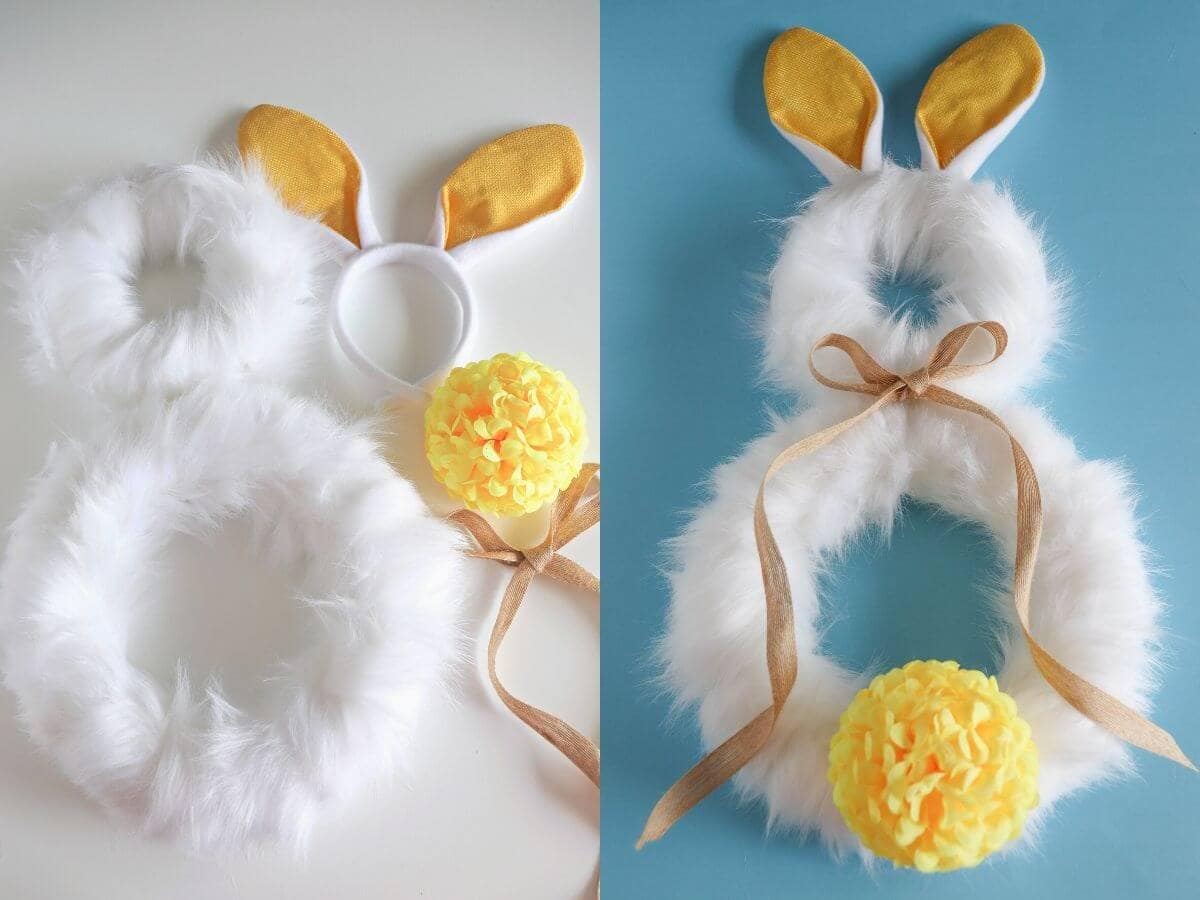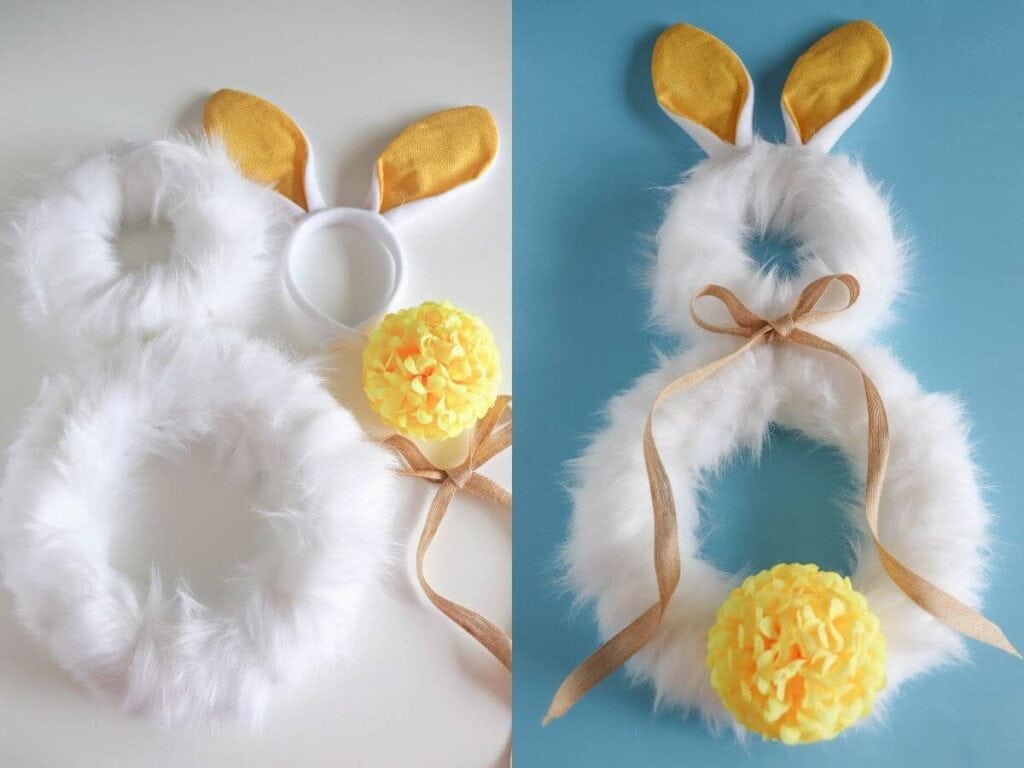 Easter Bunny Wreath Supplies
To make your own DIY Easter bunny wreath, you will need: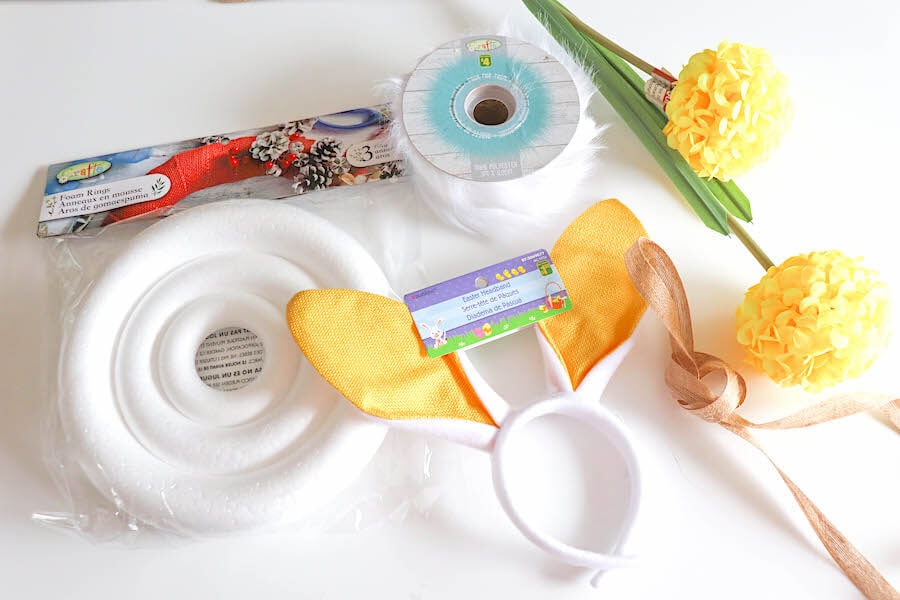 6" foam wreath form
8" foam wreath form
3" white faux fur ribbon – About 6 yards long
Hot glue gun and glue sticks
White floral wire
20" ribbon – You can use a burlap ribbon like I did, or choose a colored ribbon to make your wreath stand out more.
White fuzzy rabbit ears headband – You can usually find these at Dollar Tree around Easter time.
Large faux flower – The fluffier the better… That's why I chose to go with a hydrangea.
Scissors
How to Make a Bunny Wreath
This cute Easter bunny wreath is SO easy to make. If you can wrap ribbon around a wreath form, then you can make this DIY spring wreath, no problem.
Here's how to do it:
1. Wrap faux fur ribbon around wreath forms.
Start by wrapping both of the styrofoam wreath forms with the white fur ribbon until the forms are completely covered. Every few wraps, attach the ribbon to the wreath with a line of hot glue.
Once you get to the end and the wreath form is completely wrapped, cut the ribbon and adhere the cut end with a dot of hot glue.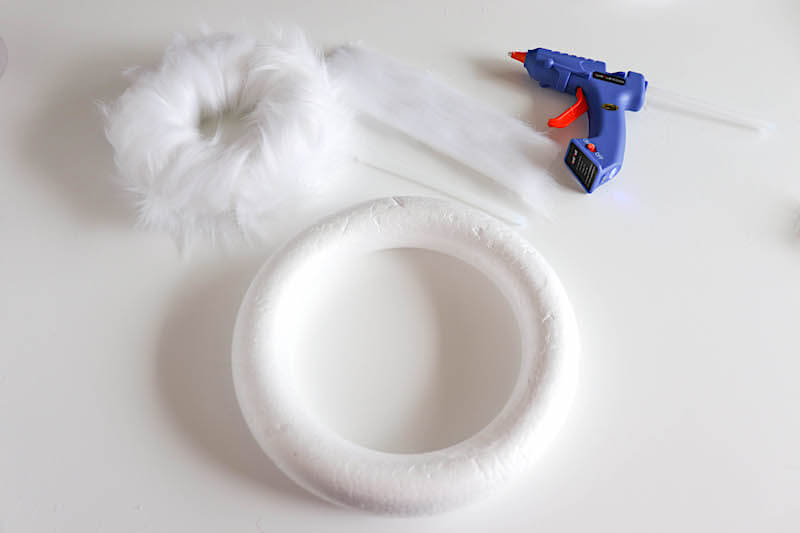 2. Attach the two white fur wreaths together.
Using floral wire (preferably white), attach the two fur-covered wreaths together to form the bunny's body like this: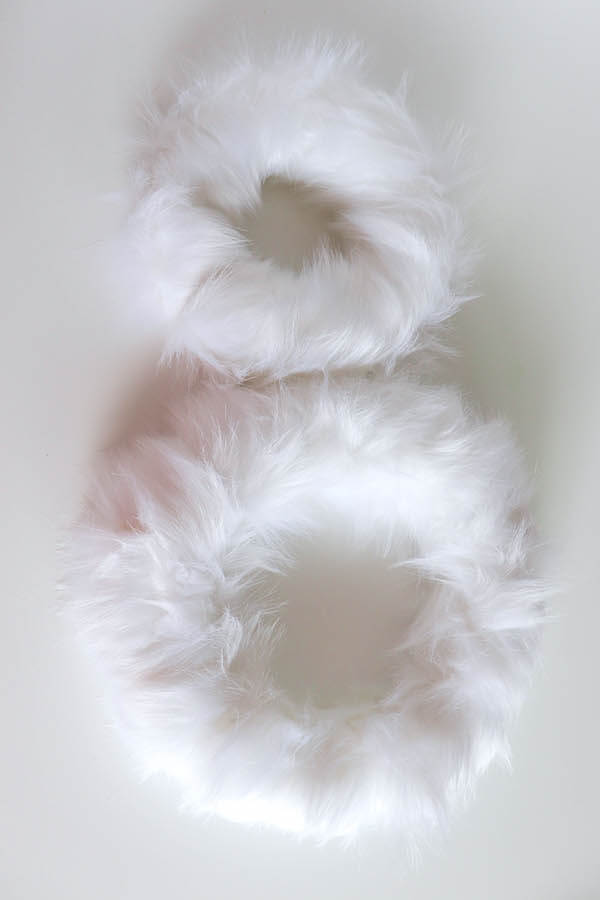 3. Attach the bunny ears to the wreath.
Use hot glue to glue the rabbit ears headband to the top of the smaller wreath. You may want to wrap some of the white floral wire around the headband part of the ears and the small wreath form also for extra stability.
4. Add other embellishments to the DIY Easter bunny wreath.
To finish up this easy Easter wreath, tie a ribbon bow and hot glue it in between the two wreath forms where they meet. This is the bunny's ribbon "collar".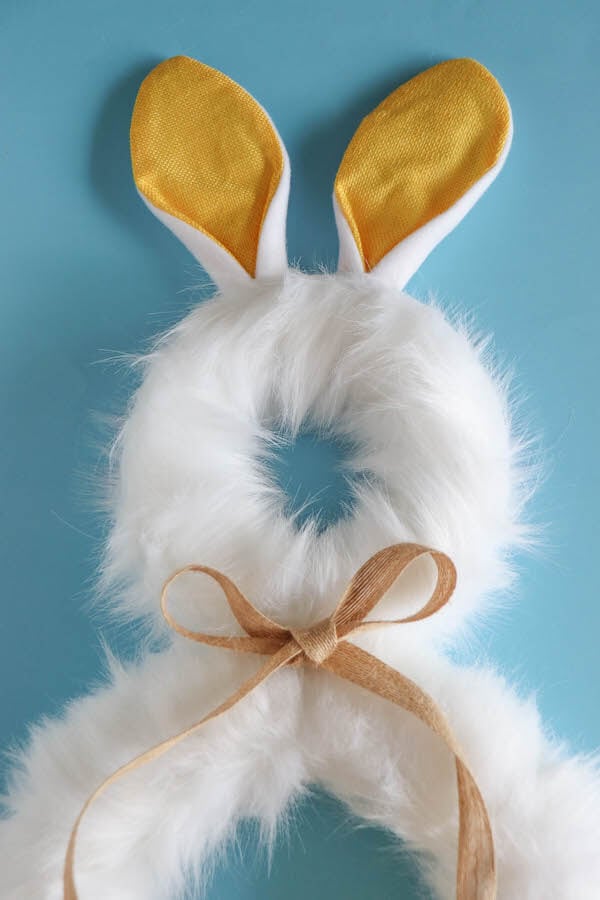 Then, simply cut the faux flower from its stem, and hot glue it to the bottom of the larger wreath for the bunny's tail.
Then, your super cute bunny wreath is done and you're ready to hang it on your front door with floral wire.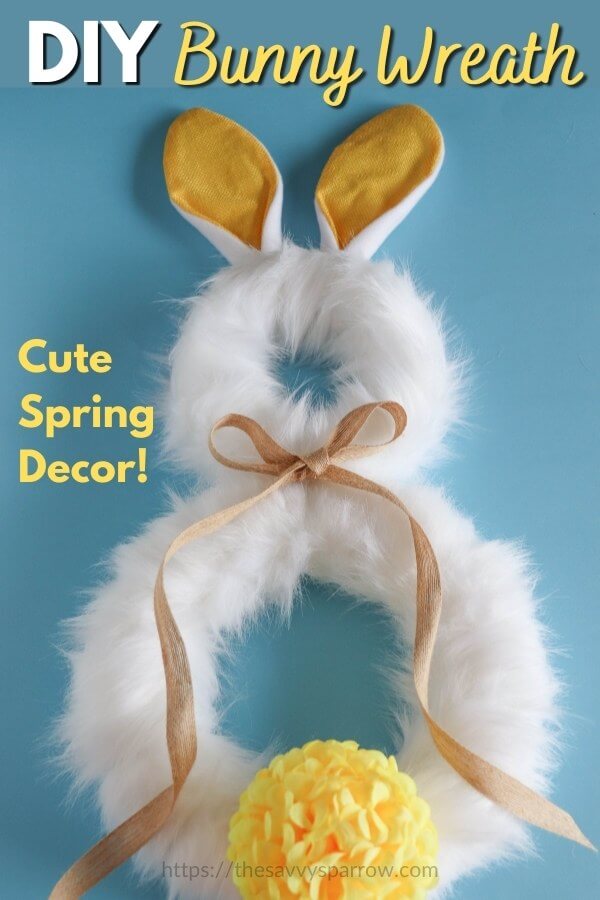 Other DIY Easter Decor Crafts
If you loved this super simple bunny wreath DIY, then be sure to check out some of my other Easter crafts:
DIY Mini Bunny Topiary – Cute Easter Decor to Make Yourself – This Easter bunny topiary would look great on your fireplace mantel or entryway table, and it's a great way to add some greenery to your spring decor!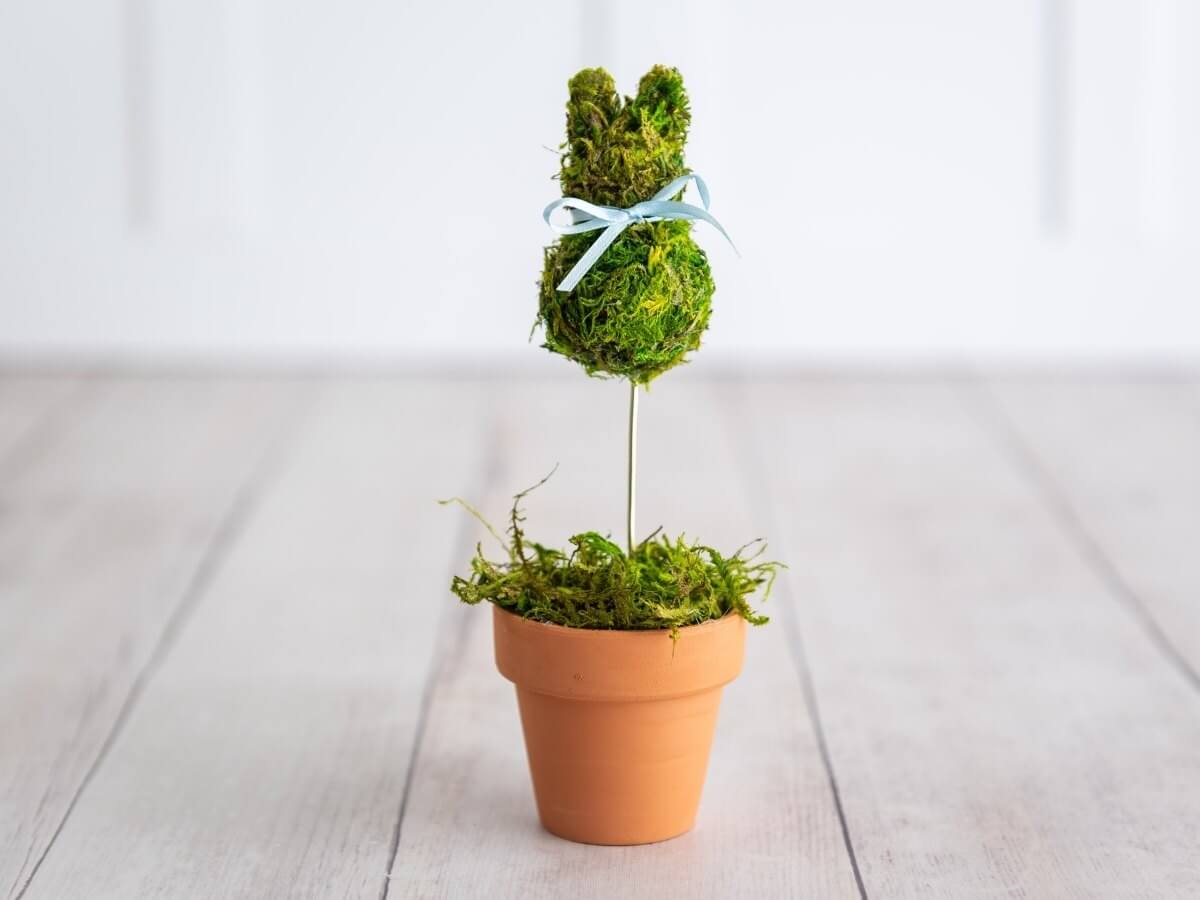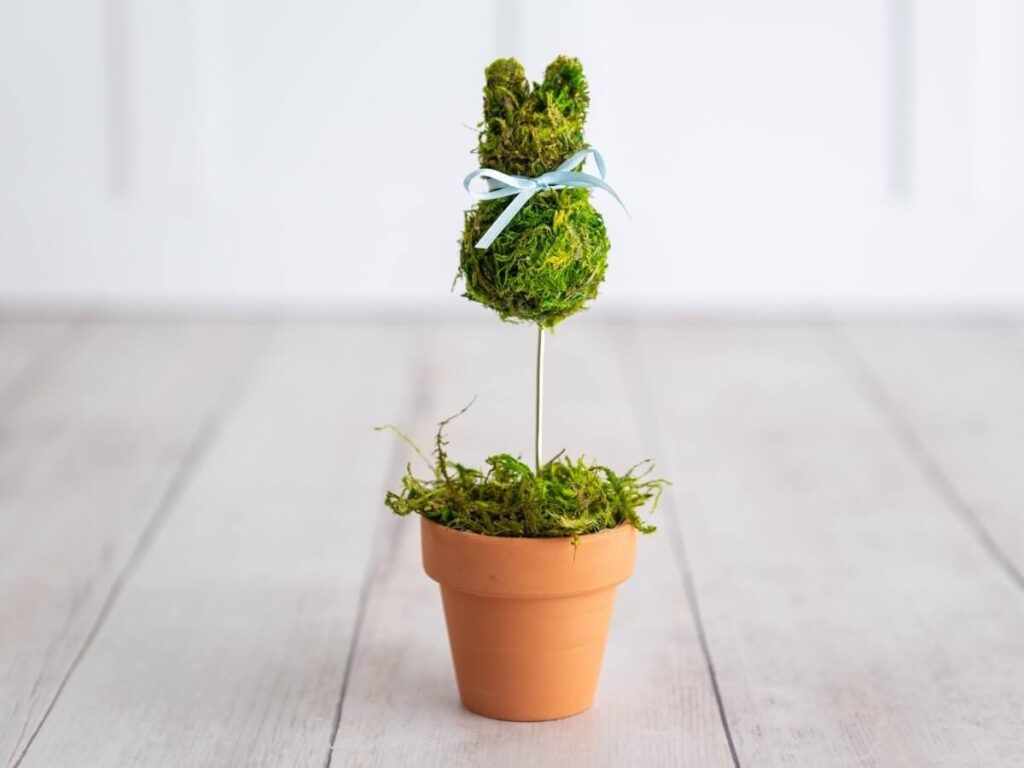 DIY Twine Easter Eggs – Cute and Easy Easter Decor – If you're in need of some centerpiece fillers, then these twine-wrapped plastic Easter eggs are a great option!