The "You've been egged" Easter tradition is a fun activity to do in your neighborhood this Easter! Just download the printable tags and get ready to egg your neighbors and friends with filled plastic Easter eggs and other treats!
I may be a little biased, but springtime in our neighborhood is something we look forward to every year. We've been blessed to live in an active community that goes all out for several different holidays throughout the year, and we have a great relationship with many of the nearby families.
Our kids play together. We gather for BBQs and block parties. And we just love "egging" each other's houses around Easter.
Okay, so before you report me to our neighborhood's Home Owner's Association, let me clarify that I'm NOT in the business of promoting vandalism. No actual eggs were harmed in the writing of this post.
This is all in the name of good, clean fun!
If you live in a tightly knit community like ours, you HAVE to try this adorable "You've been egged" activity. Is your nearest neighbor five miles away? No problem! The great thing is, you can "egg" anyone you'd like, including your child's teacher or the UPS driver who braves your icy driveway in the dead of winter. Everyone's fair game!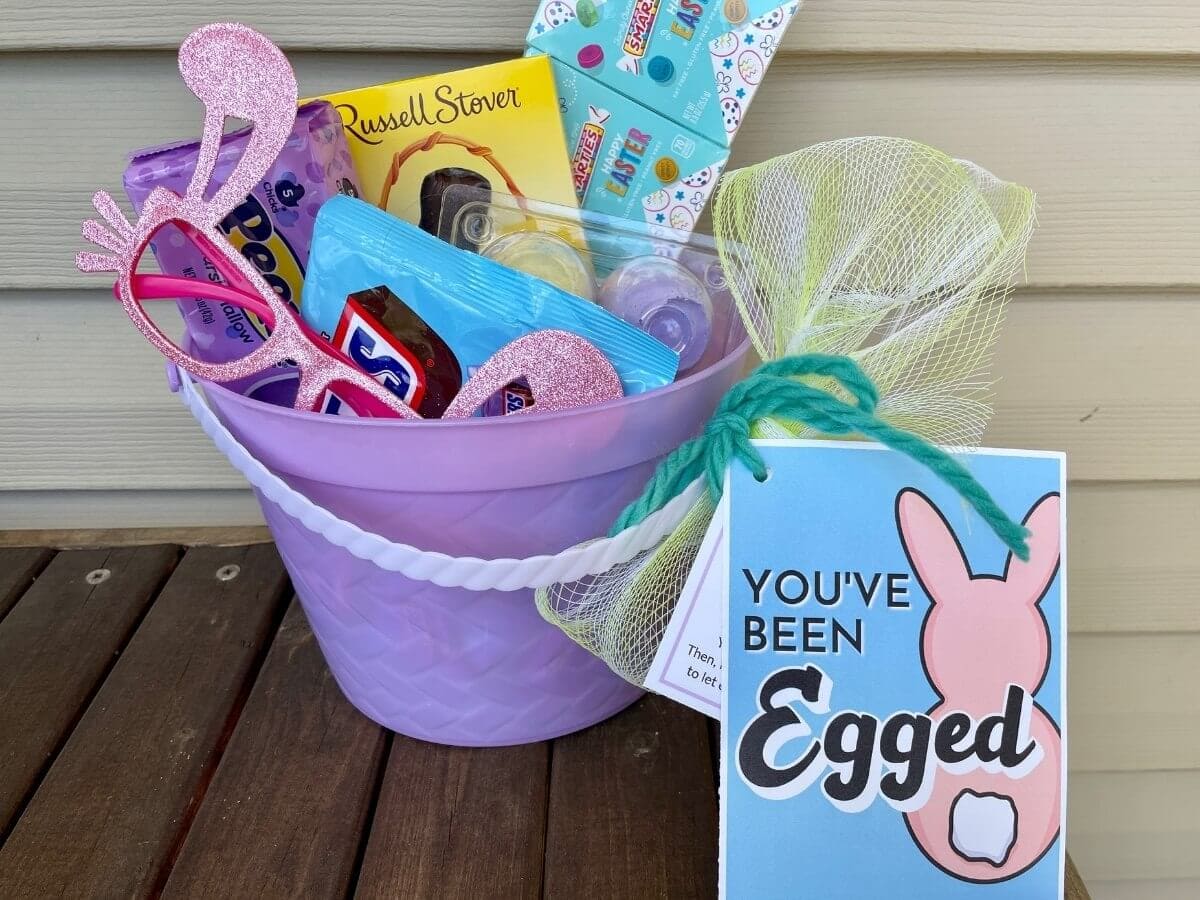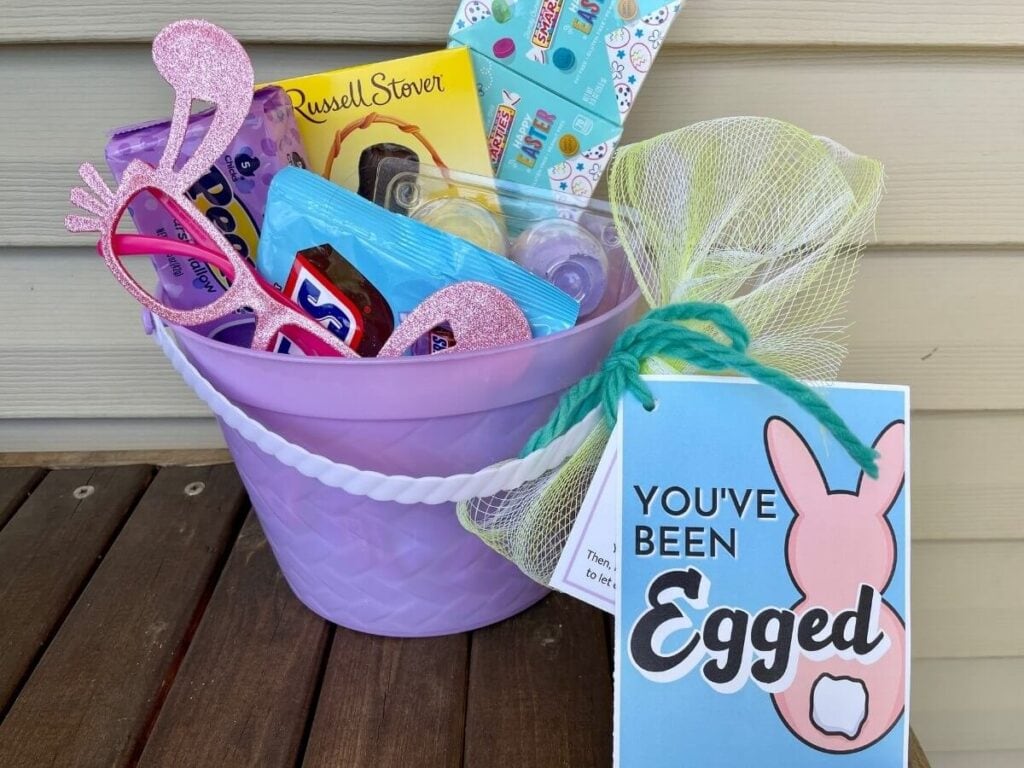 Here's everything you need to know about the fun "You Have Been Egged" Easter tradition:
What is the "You've Been Egged" Easter activity?
This fun Easter tradition is an "egg"-cellent way to bond with your community and involve your whole family in the process. Similar to "Boo-ing" someone around Halloween, the "You've Been Egged" Easter activity is an excuse for neighbors and friends to give sweet treats to each other while trying not to get caught in the process.
You know, the whole "egging" bit minus any actual eggy mess.
To "egg" someone, you fill 10-12 plastic Easter eggs with candy and secretly hide them all around your neighbor's front porch and lawn area. If you have young kids, they'll love the secret agent aspect of this activity! Once you've egged your neighbor, they're encouraged to pay it forward and egg someone else.
Once a family has been egged, they're supposed to hang up a sign on their front door or mailbox that says, "We've been egged." That way, no one gets egged more than once.
Who Can I Egg?
Although people typically "egg" their neighbors, you can use the "You've Been Egged" printable gift tags to brighten anyone's day!
A "You have been egged" Easter goody basket makes a cute and thoughtful gift for:
Teachers
Your child's bus driver
Nursing home patients
The school secretary and other office staff
The mailman – just hang a small basket of eggs on your mailbox
UPS/Fed-Ex delivery drivers – It's about time they got something in return after delivering countless Amazon boxes to your address!
Your co-workers
You can even make mini gift bags of filled plastic Easter eggs and other sweet treats to leave in your mailbox for the delivery person or to give to your child's bus driver. My printable You've Been Egged tags include some smaller sizes that are perfect for this: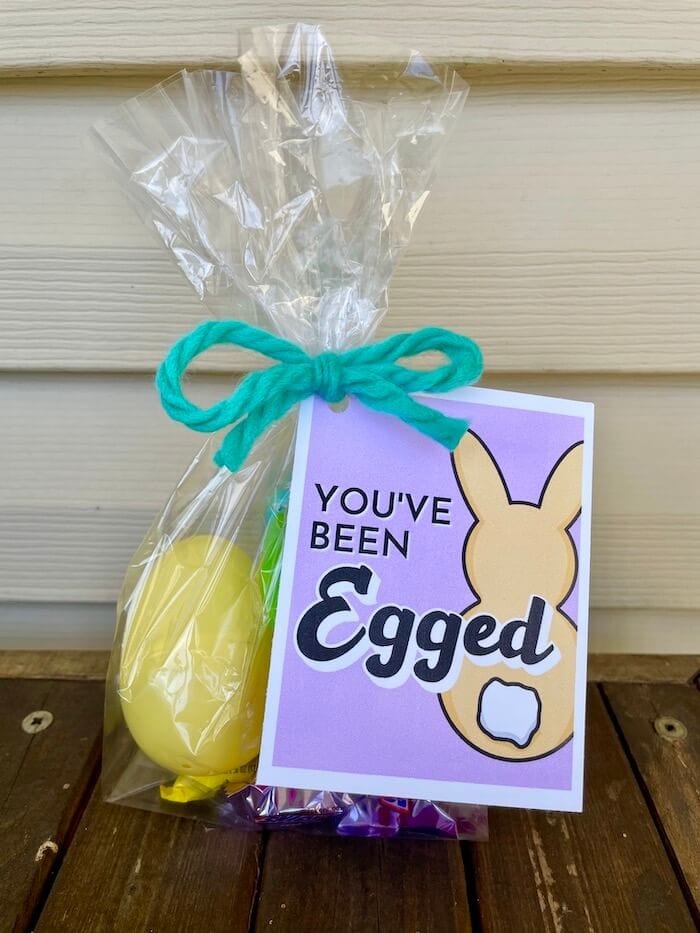 Fill colorful, inexpensive baskets with treats and attach an Easter-themed gift tag to create a cute and thoughtful gift to brighten anyone's day.
How to Start the "You've Been Egged" Activity in Your Neighborhood
Step 1: Print the "You've Been Egged" printable sign
The cute "You've Been Egged" and "We've Been Egged" printable signs are available in my shop here! And shout out to my daughter who created the graphics for the printable tags!
I recommend printing them on card stock because it's more durable. You also never know how long your neighbors will be gone, and card stock will hold up to a little more wear and tear than regular printer paper.
Then, just cut the tags out with a paper trimmer or scissors: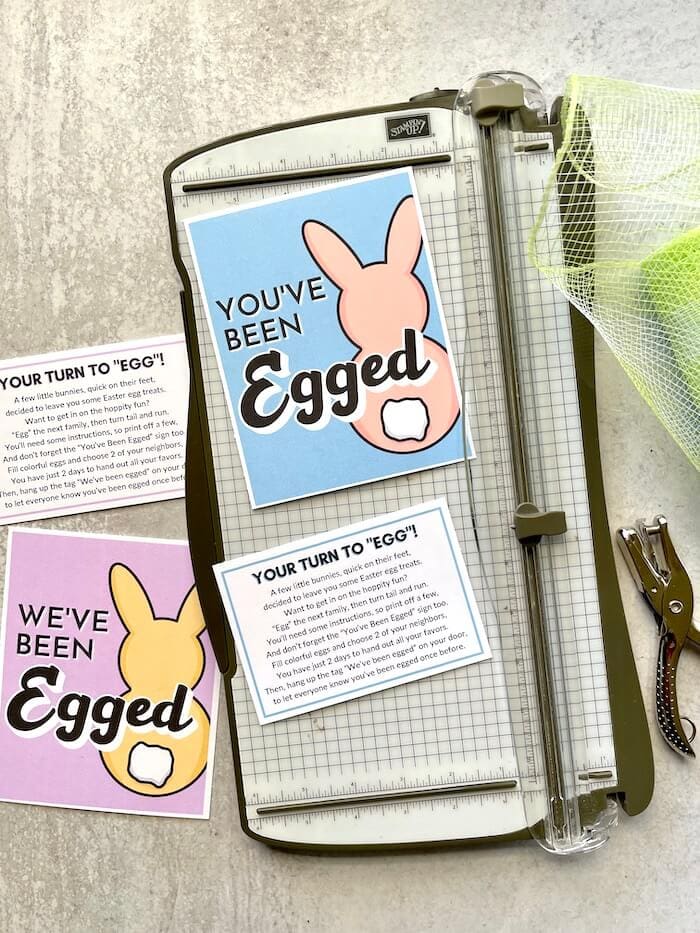 If you want to be extra nice, you can print off a few extra copies to give to your neighbor or friend. That way, they can easily "egg" someone else without needing to find a print shop.
Step 2: Fill plastic Easter eggs for your neighbor
The Dollar Tree has large bags of plastic Easter eggs, or you can find them at any supermarket around the Easter holiday. I love going the inexpensive route, and you can probably find some cute Easter baskets for just a few dollars as well.
There's also no rule that you have to fill each egg with luxury, high-end chocolates and gourmet jelly beans, especially if the family you're egging has young children. Toddlers will inhale handfuls of jelly bird eggs at lightning speed. Trust me – you won't lose points for choosing budget-friendly treats.
If you'd like to provide an Easter basket for your neighbors to gather their eggs, you can find some cute and inexpensive options at Dollar Tree.
Also, feel free to leave a little basket of Easter goodies on their front porch to go along with the hidden eggs. Here are some of the items that I found at Dollar Tree to put in my You Have Been Egged gift: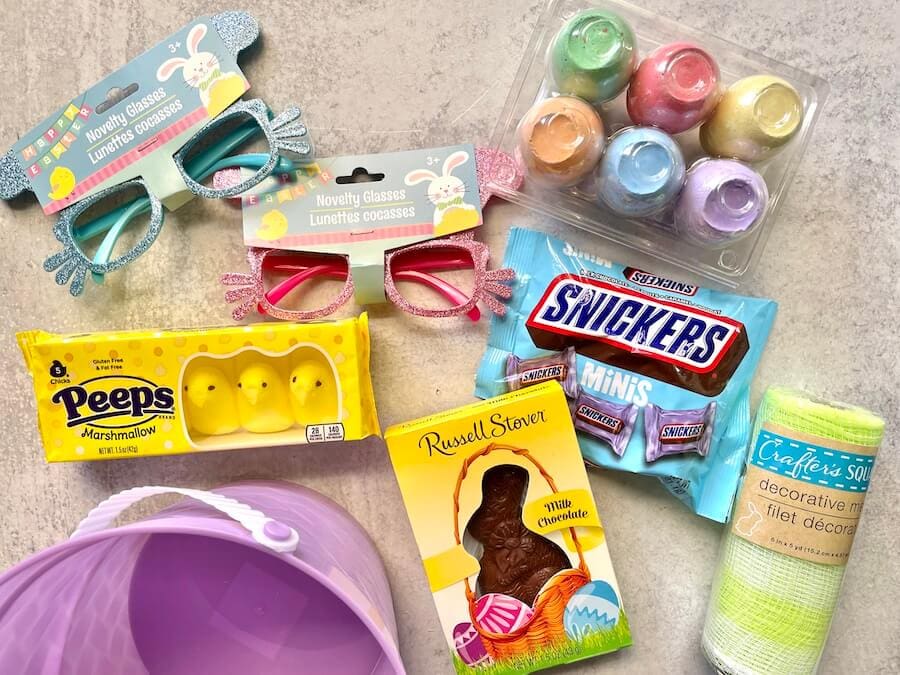 Step 3: "Egg" your neighbors with plastic eggs
Once you've filled your Easter eggs, it's go time! Wait until your neighbors or friends leave their house and then sneak over there James Bond style.
If they have a decently sized porch, hide a few eggs in corners, on the porch swing, and in the grass (or dirt, we don't judge). You have to be pretty quick about it so that as few people as possible see you "egging" the neighbor's home. And the whole point of this Easter activity is to complete the mission in stealth mode so that they're surprised!
Things to Keep in Mind When Filling Your Eggs
As you're brainstorming items to fill your Easter eggs, it's important to keep a few things in mind. So here are a few things to consider before putting all of your eggs in one basket (See what I did there?).
Weather
We all know that April showers bring May flowers, but they also can make for some soggy candy if you're not careful. Keep an eye on the weather forecast for the days you're planning on egging someone and plan accordingly. If it's going to be swelteringly hot, chocolate is probably a no-go. While melted chocolate is nice inside of a bowl, it's less appetizing when it's dripping out of a plastic Easter egg.
Variety of Treats
Unless you know your neighbors or your child's teacher really well, I recommend including a decent variety of treats with different tastes and textures. If you suspect the person you've chosen to egg has diabetes or another diet restriction, it's best to reach out to someone close to that person to verify.
Items for Kids
If the person you're egging has young children, you can fill some of the Easter eggs with a few engaging items just for them. Look for miniature slinkies, stampers, stickers, and other age-appropriate items.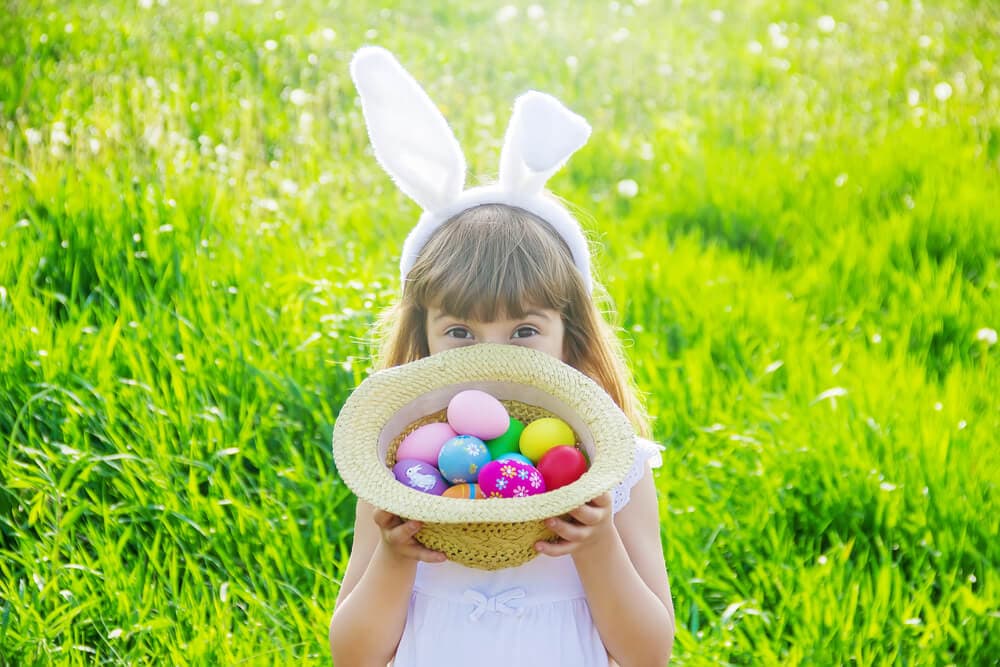 Things to Put in Your Plastic Easter Eggs
Here are a few ideas for what to put in your plastic Easter eggs:
jelly beans
Cadbury eggs
chocolate Easter coins
miniature chocolate bunnies
small Easter-themed erasers
Quarters and other coins
A gift card to a local grocery store or coffee shop
Individually wrapped candies
Mini Easter stampers
Stickers or temporary tattoos
Or check out this post for 100+ non-candy Easter egg filler ideas like these Invisibobble hair ties that both of my daughters love: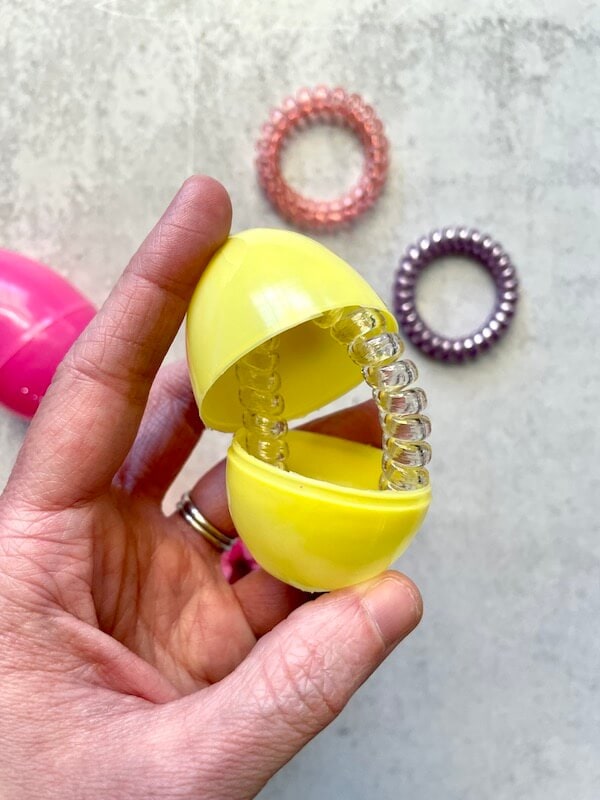 Don't forget the "We've Been Egged" sign!
Once you've scattered the Easter eggs over your neighbor's lawn, be sure to include the printable "We've Been Egged" sign. You can hang it on their door or mailbox so that others are aware that they've been egged.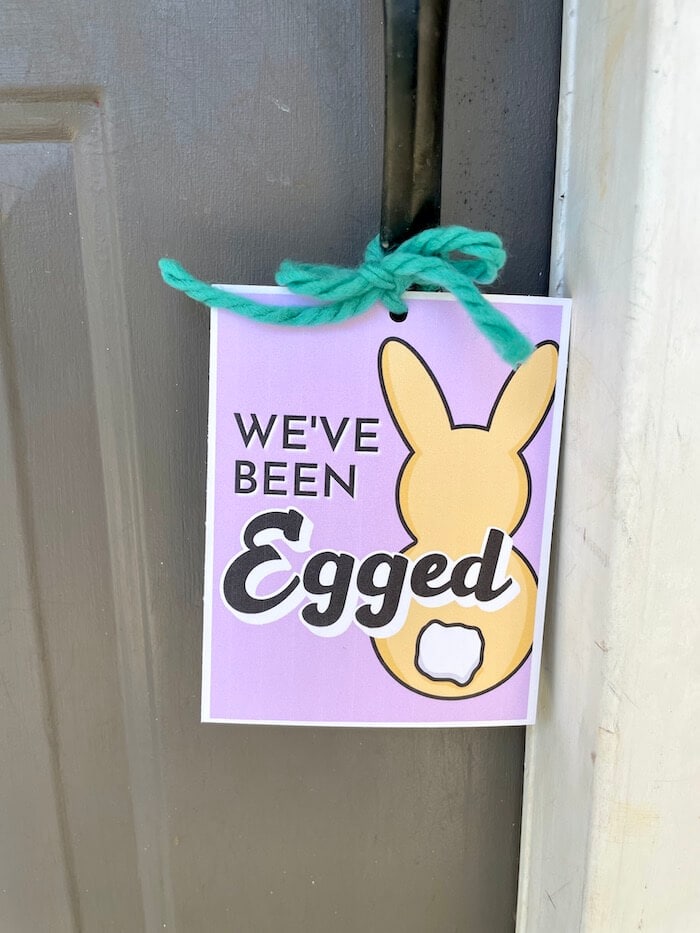 The whole point of the "You've Been Egged" Easter activity is for people in your neighborhood to spread a little kindness to as many people as possible. That's why I created the "We've Been Egged" sign so that they can post it somewhere highly visible. This way, everyone knows they've already participated and will move on to someone who hasn't.
Or, as the printable instruction tags say,
"Hang the 'We've been egged' tag on your door, So you won't get egged anymore!"
"You've Been Egged" Poem
You can snag the "You've Been Egged" printable tags for this activity in my shop, and each one has cute instruction tags for egging your neighbors! The original "You've Been Egged" poem reads:
Get the You've Been Egged Printable Sign HERE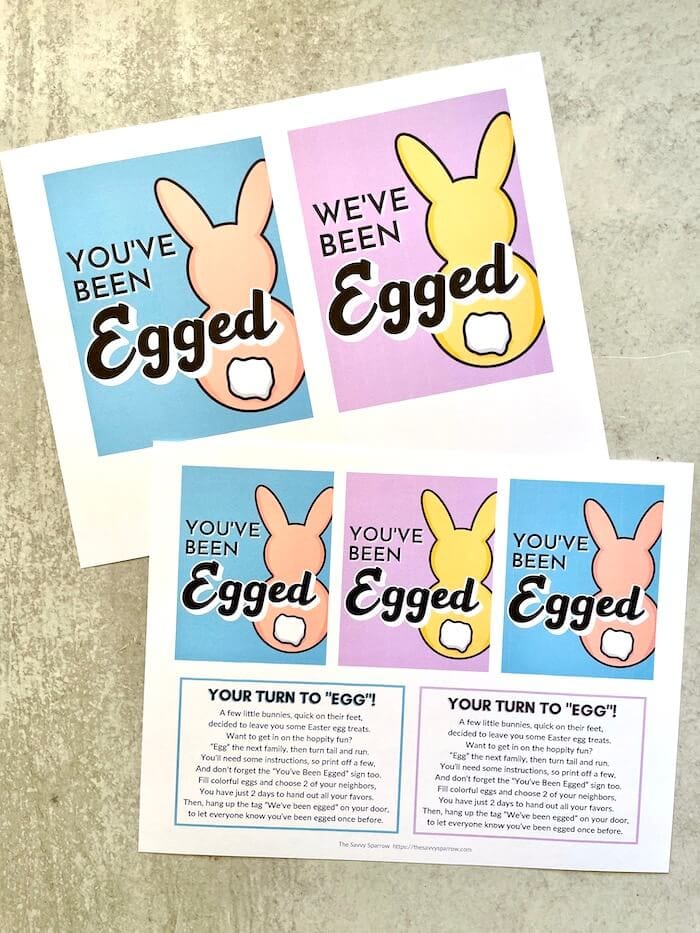 Want to use the You've Been Egged signs featured in this post to start the egging in your neighborhood? You can find them in my shop at the link below:
You've Been Egged Signs and Poem HERE
I hope you've been inspired by this fun and engaging "You've been egged" Easter activity. Does your neighborhood participate in activities like this one? Have you ever been "egged"? If you have, what were some of the items you found in the eggs?
Leave a comment for me below…I'd LOVE to read all about your experience.
And don't forget to PIN this post for later: