Looking for ways to make sure your kids have a hauntingly awesome Halloween this year? This spooky Halloween scavenger hunt with clues is the perfect way to celebrate the fall season. Find out just how easy it is to set up this fun Halloween treasure hunt with printable rhyming clues your kids will enjoy year after year.
Indoor scavenger hunts for kids have exploded over the past several years, and I can understand why. Having to stay cooped up inside can turn any child slightly feral, and parents were searching for literally anything that would help them survive.
And although the world has become less crazy (at least in some ways), I still love a good scavenger hunt! Last year, I created a printable Easter treasure hunt with clues, and it was a huge hit! We got to mix up our family traditions, the kids had to use their brains, and fun was had by all.
And since Halloween is fast approaching, I've made another super fun, low-prep holiday activity the whole family can enjoy – a Halloween treasure hunt! You can use these Halloween scavenger hunt clues in many ways to add some extra pumpkin spice to your fall celebrations!
Each indoor and outdoor clue that your child solves will take them closer to their prize, and the experience is sure to be fang-tastic!
Here's how to do your own Halloween treasure hunt with rhyming clues: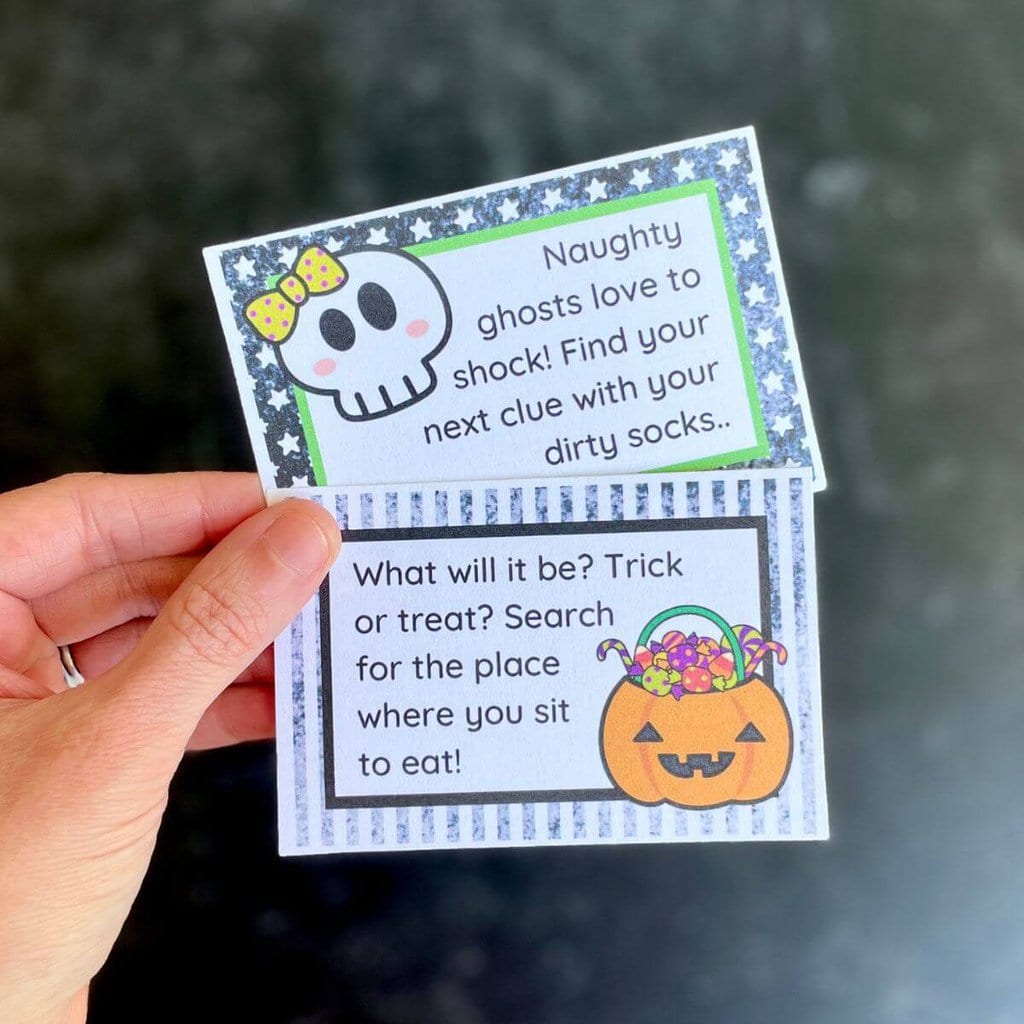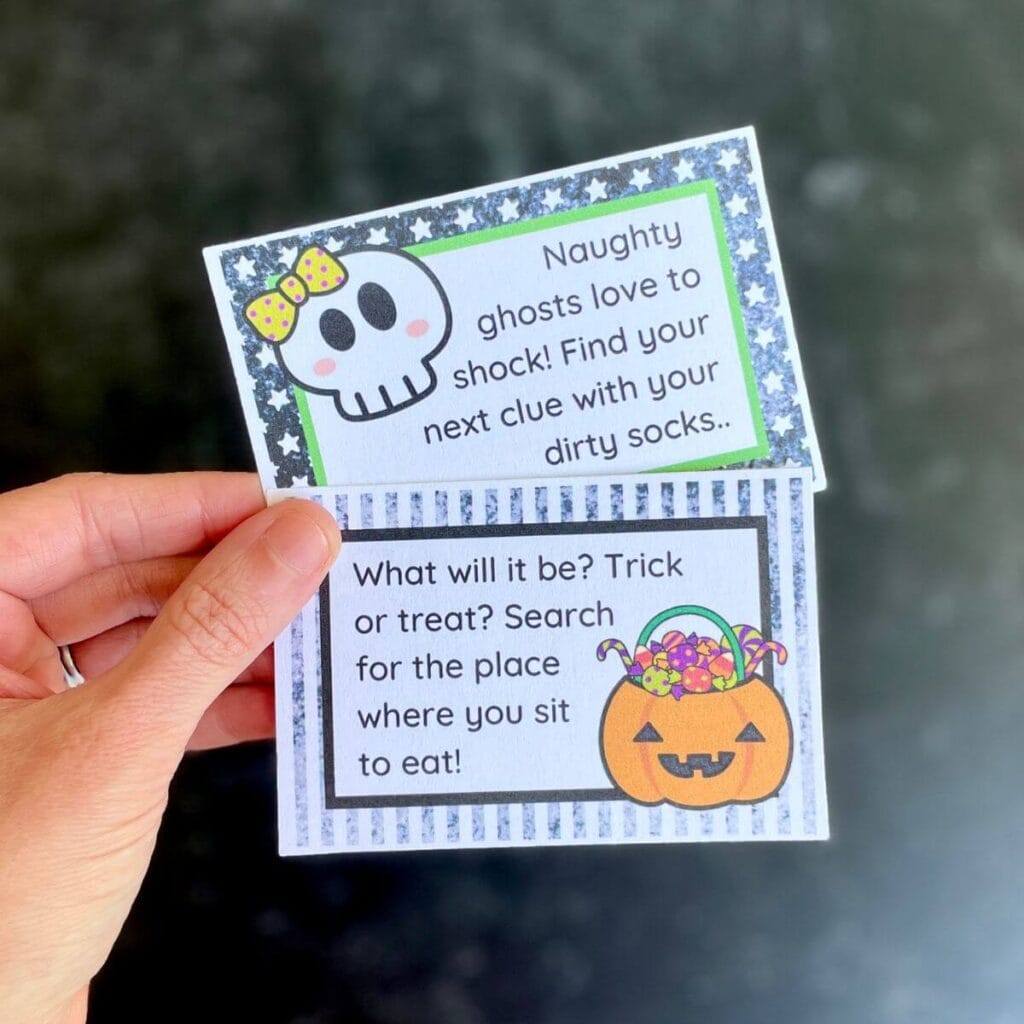 Ideas for Doing a Halloween Treasure Hunt
There are so many ways you can do this fun Halloween kids activity! Here are a few of my favorite ideas:
Kick off Halloween morning with a treasure hunt to find a prize.
Use the Halloween scavenger hunt clues for a super fun activity for a Halloween party at your home.
Get ready for trick-or-treating by using the scavenger hunt as a way for kids to find their candy buckets.
Build excitement for the "big night" by using the Halloween treasure hunt anytime in the week leading up to Halloween (with a few pieces of candy as the prize!).
Have your kids find their costumes by following the Halloween scavenger hunt clues!
How to Use the Halloween Treasure Hunt Clues
Planning a Halloween treasure hunt is super easy and takes very little prep work! Just follow these simple steps:
Step 1: Decide what the final prize will be.
The first step is figuring out what "ultimate prize" will be waiting for your kids at the end of their Halloween scavenger hunt.
I've included several suggestions above, or you can come up with your own fun prize! Halloween-themed toys, cute stuffed animals, delicious Halloween-themed snacks, and other inexpensive items are also great ideas for prizes.
Don't stress about making your final prize super amazing. Most kids will get a kick out of anything they find!
What I love about scavenger hunts for kids is that they burn energy, make them think, and provide opportunities for families to spend time together!
Step 2: Download and print the rhyming Halloween scavenger hunt clues.
The cute and "punny" Halloween scavenger hunt clues includes both indoor and outdoor clues so that you can customize your activity to your liking.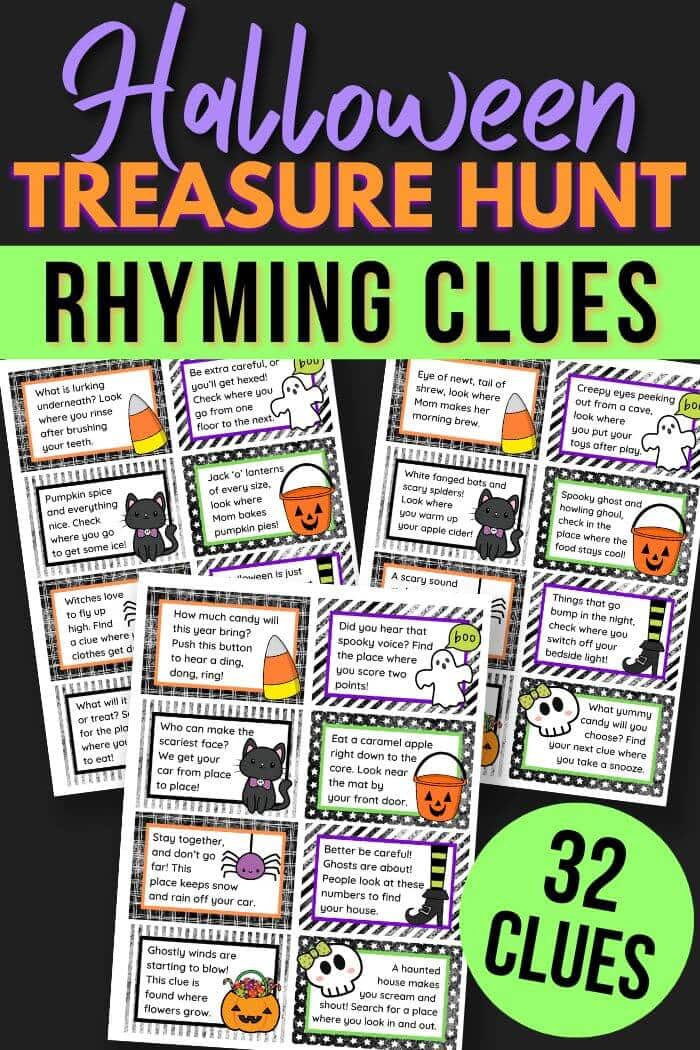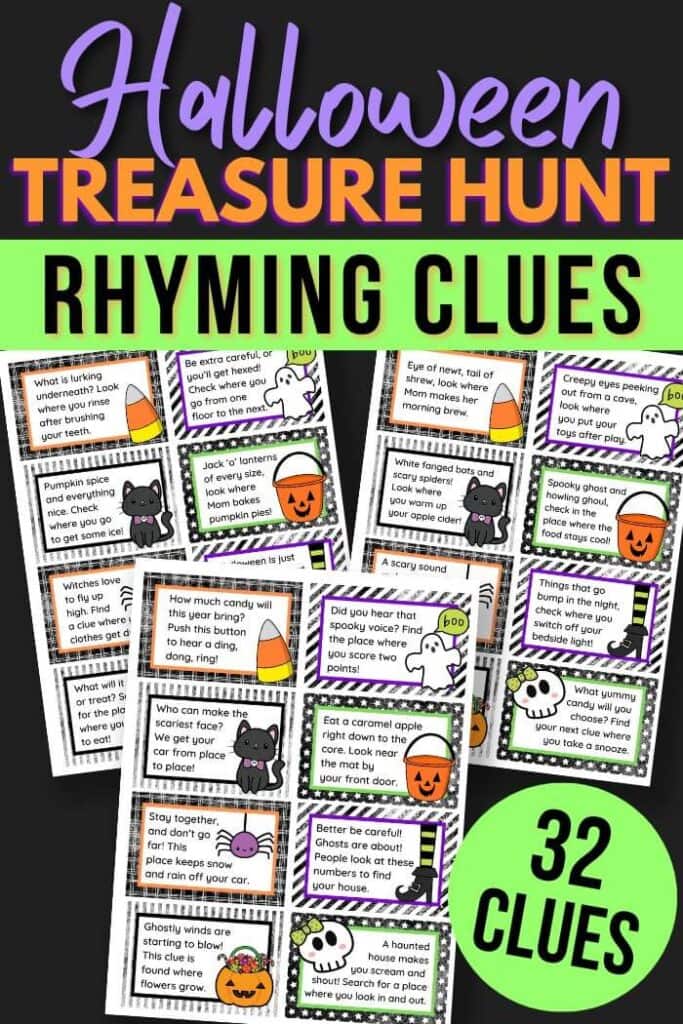 >> You can download the treasure hunt clues HERE <<
Once you've downloaded the file, just print the clues on your home printer or send them to an office supply store.
I recommend printing your Halloween scavenger hunt clues on white card stock for the best results. They're less likely to bend, and you can save them for next year!
After printing your clues, cut them out using scissors or a paper cutter. If you plan on using the cards again, you could also laminate them using a home laminator.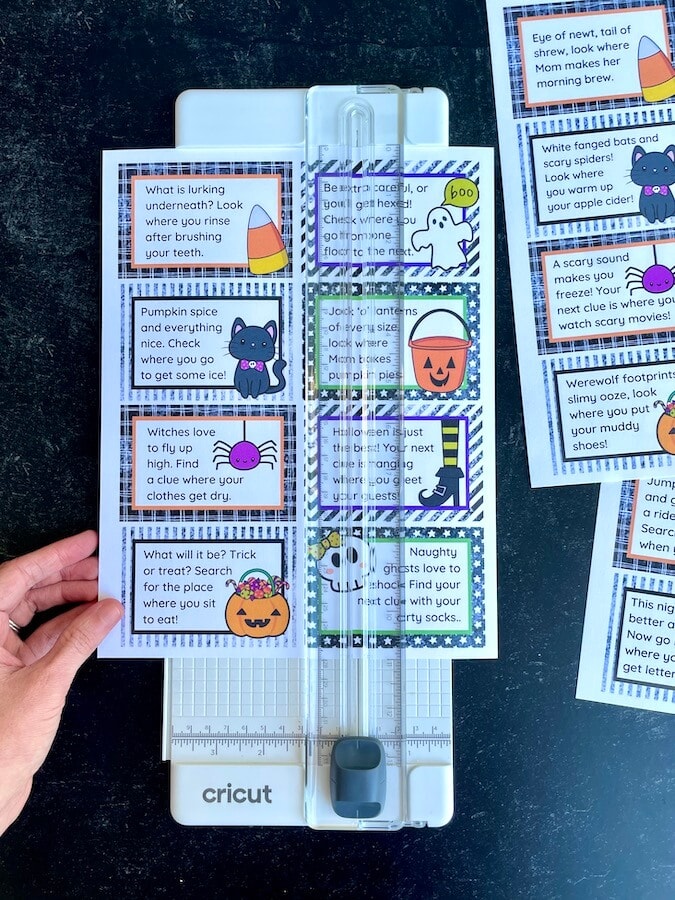 Step 3: Organize and set up your Halloween treasure hunt.
Now you're ready to set up your Halloween scavenger hunt! Get ready for a hauntingly good time!
Choose which rhyming clue card to use first. You'll place this card where your kids can easily find it before starting the scavenger hunt. Tape it to their bedroom door, breakfast plate, bathroom sink, or anywhere they're likely to see it first thing in the morning (if that's when you're choosing to have your hunt!).
Next, tape each Halloween treasure hunt clue to a different spot in your home. Make sure that you don't attach the clue to the location that it describes! For example, you shouldn't tape the clue card that says,
"What is lurking underneath? Look where you rinse after brushing your teeth."
to the bathroom sink. You would put that clue in the spot right before it.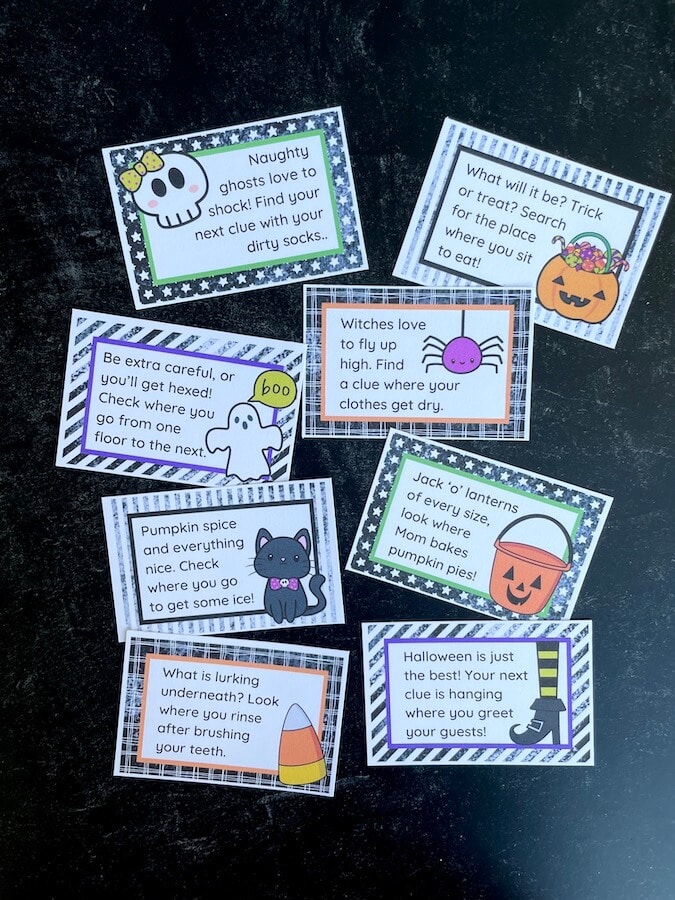 Halloween Treasure Hunt Clues for Indoors
Eye of newt, tail of shrew, look where Mom makes her morning brew. (coffee maker)
Creepy eyes peeking out from a cave, look where you put your toys after play. (toy box)
White fanged bats and scary spiders! Look where you warm up your apple cider! (microwave)
Spooky ghost and howling ghoul, check in the place where the food stays cool! (fridge)
A scary sound makes you freeze! Your next clue is where you watch scary movies! (couch/living room)
Things that go bump in the night, check where you switch off your bedside light! (bedside table)
Werewolf footprints, slimy ooze, look where you put your muddy shoes! (entryway/mudroom)
What yummy candy will you choose? Find your next clue where you take a snooze. (bed)
Jack 'o' lanterns of every size, look where Mom bakes pumpkin pies! (oven)
What will it be? Trick or treat? Search for the place where you sit to eat. (dinner table)
What is lurking underneath? Look where you rinse after brushing your teeth. (bathroom sink)
Witches love to fly up high. Find a clue where your clothes get dry. (dryer)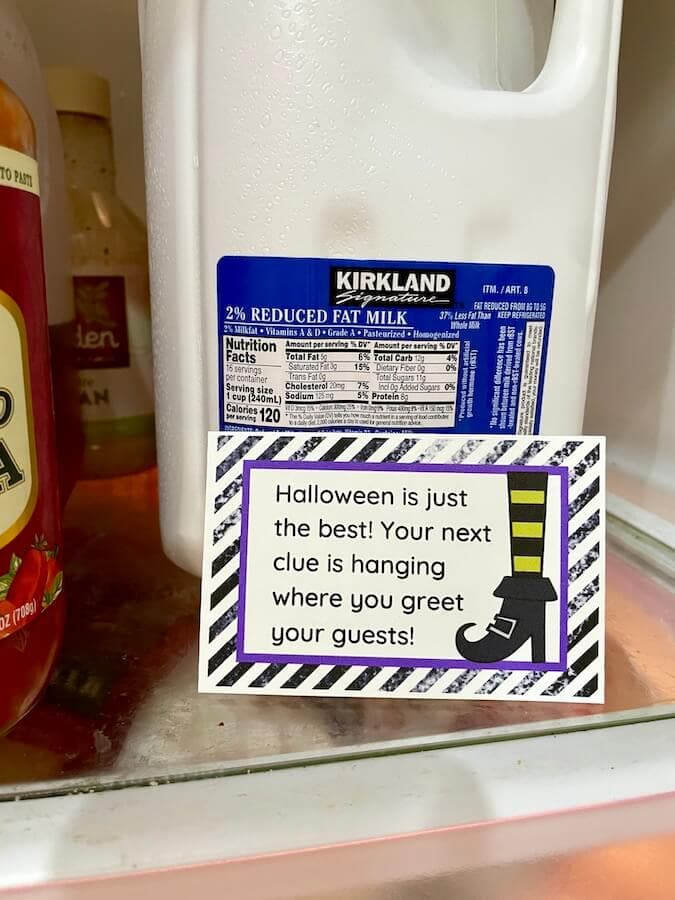 Halloween is just the best! Your next clue is hanging where you greet your guests! (front door)
Pumpkin spice and everything nice. Check where you go to get some ice! (freezer)
Be extra careful, or you'll get hexed! Check where you go from one floor to the next. (stairs)
Don't go into the haunted woods! Look where Mom puts the cans of food.(pantry)
Naughty ghosts love to shock! Find your next clue with your dirty socks. (hamper)
Halloween colors black, orange, and green. Search where you scrub to get all clean! (bathtub/shower)
Don't go outside on your own! Your next clue is where Mom charges her phone! (phone charging station)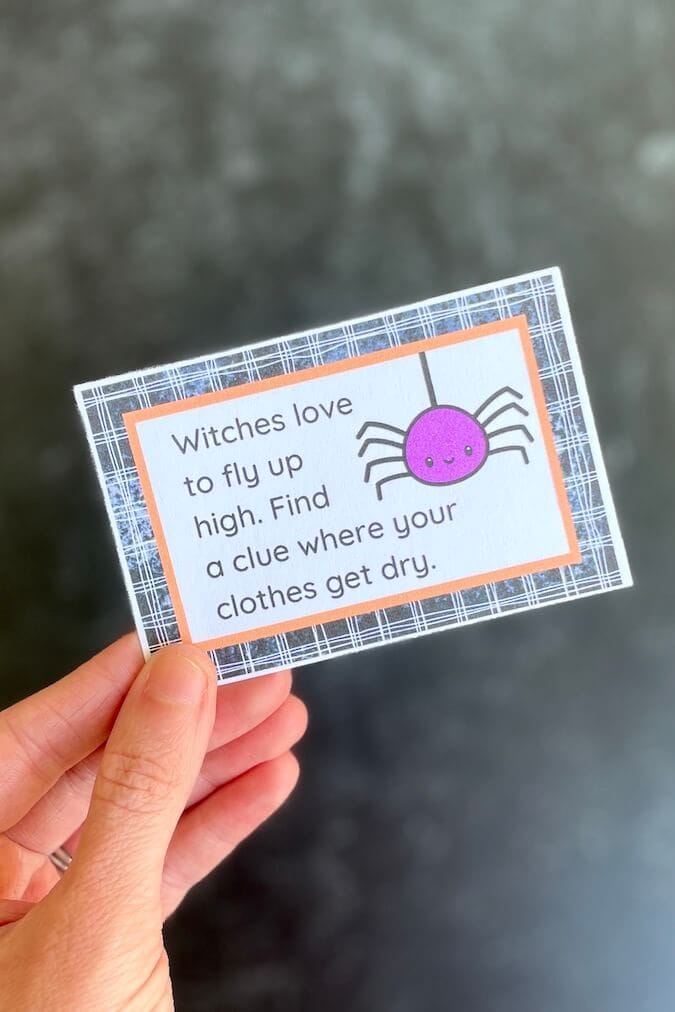 Halloween Treasure Hunt Clues for Outdoors
Orange pumpkins all in rows, find the next clue where the garbage goes. (garbage can)
This night keeps getting better and better! Now go look where you get letters. (mailbox)
Jump on a broom and go for a ride. Search where you play when you go outside. (swing set)
Run! A monster's on your heels! Your next clue hangs on your ride with two wheels. (bike)
We're getting close to the witching hour. Look near the thing that waters the flowers. (garden hose)
Did you hear that spooky voice? Find the place where you score two points! (basketball hoop)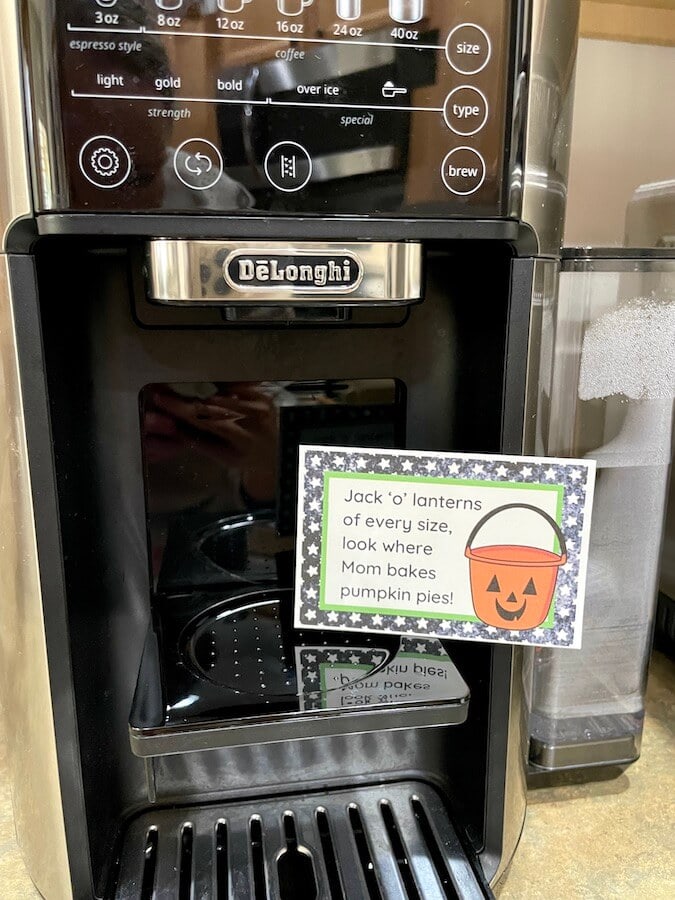 How much candy will this year bring? Push this button to hear a ding, dong, ring! (doorbell)
Who can make the scariest face? We get your car from place to place! (car wheels)
Eat a caramel apple right down to the core. Look near the mat by your front door. (welcome mat)
Stay together, and don't go far! This place keeps snow and rain off your car. (garage/carport)
Better be careful! Ghosts are about! People look at these numbers to find your house. (address numbers)
A haunted house makes you scream and shout! Search for a place where you look in and out. (window)
Ghostly winds are starting to blow! This clue is found where flowers grow. (flower pot/garden)
Other Halloween Scavenger Hunt Ideas
Looking for more spook-tacular ways to enjoy this Halloween season? Check out these super fun Halloween scavenger hunt ideas!
Pumpkin Scavenger Hunt for Kids
Explore your neighborhood with this fun and free Halloween pumpkin scavenger hunt checklist! Just print it out, and walk through your neighborhood looking for pumpkins that have been carved like spiders, bats, and more. It's fun for the whole family!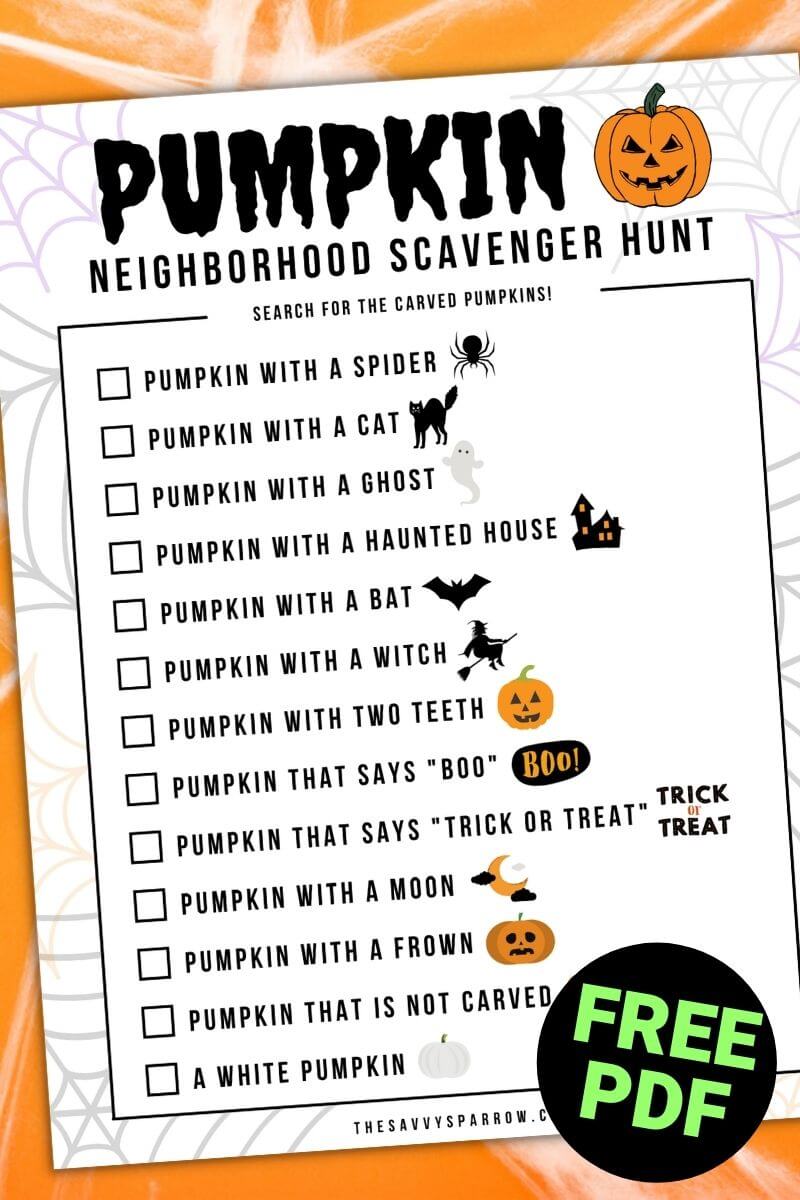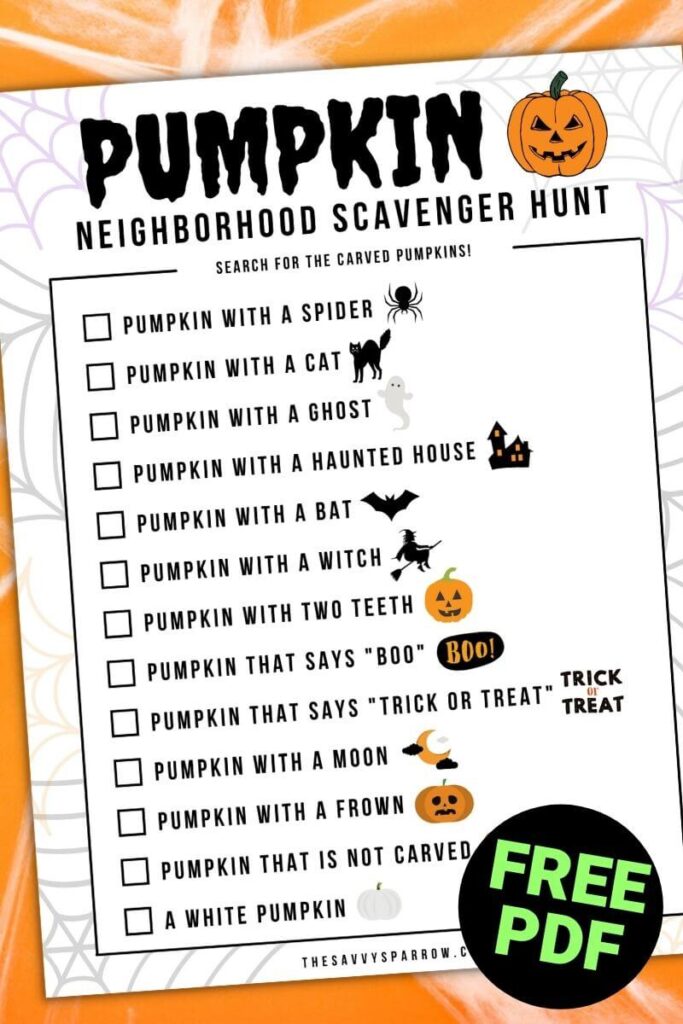 Halloween Scavenger Hunt for Kids
This adorable Halloween scavenger hunt is the perfect fall activity for younger kids! The entire family can get out and walk around the neighborhood looking for the Halloween decorations on the list!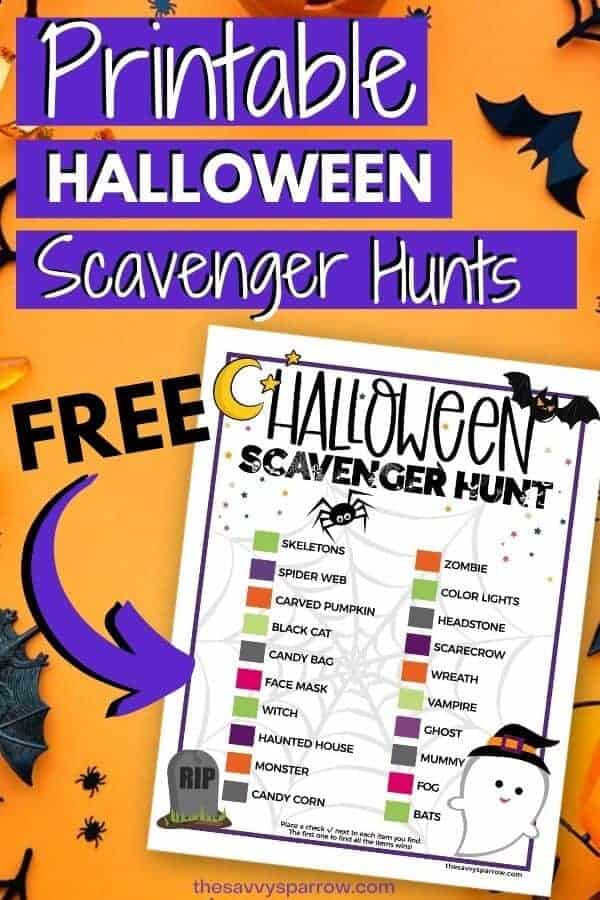 Halloween Scavenger Hunt to Color
I love this Halloween scavenger hunt idea from Amy Milcic over at Rock Your Homeschool! Kids color in the image of each item as they find them! Super cute!
Hope you guys LOVE this easy Halloween activity for kids to do! Be sure to check out some of my other fun ideas for the spooky season:
And don't forget to PIN this post for later: