If your kids are always forgetting things they need for school, then try a Ready for School Checklist! Make a list of items your kids need each morning (lunchbox, water bottle, snack, etc), and hang it on your front door so nothing is forgotten.
True story: I just dropped my 8 year old off at the bus stop for her VERY FIRST day of 3rd grade, and of course, immediately when we got there she said "Oh no, I forgot my jacket!".
That was about 3 minutes before the bus was scheduled to be there, so we didn't have time to turn around and go get it from home. So the idea for this printable Ready for School Checklist was born! Literally about 5 minutes ago.
I don't know how many times we've gotten to the bus stop or the car line for school drop-off and my kids have realized that they forgot something at home. And now, with our school system incorporating more technology into this school year, they have even more things to remember each day.
If your kids are frequent forgetters, too, then print out this before school checklist and hang it on your front door. And then before they get in the car each morning, have them check the list to make sure they have everything they need.
No more forgotten items and no more Mom having to make an extra trip to school! Plus, this before school checklist is a great way to ease kids into bigger responsibilities, like keeping up with Chore Charts and Morning Routine Charts.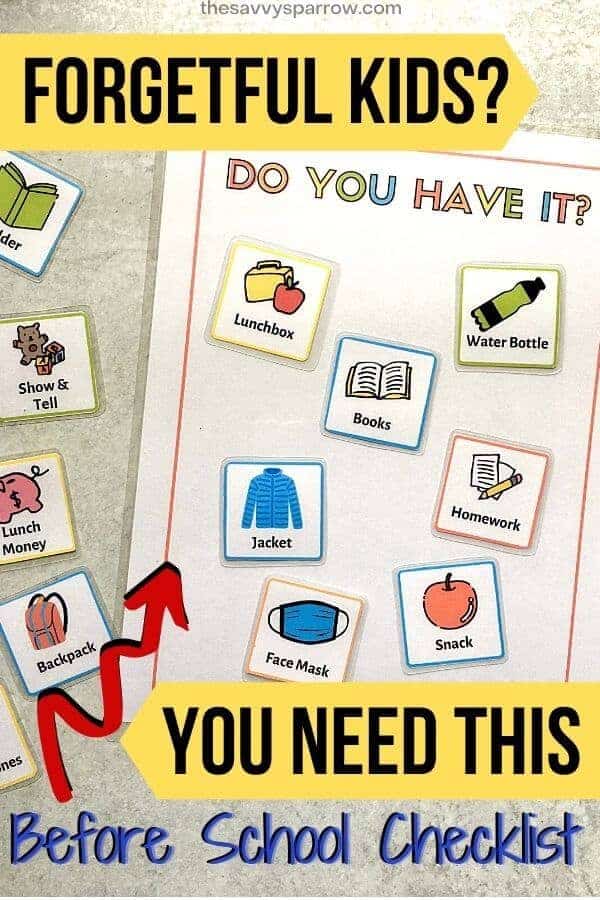 *This post contains affiliate links, which means if you click a link and make a purchase, I earn a commission at no additional cost to you. Read my full disclosure here.
How to Create Your Own Ready for School Checklist
Making a morning checklist for kids can be as simple as writing down a list of things that your kids need each morning or as complex as creating a picture chart showing different items.
Here are some ideas for creating your own morning checklist for kids…
Write everything down on a chalkboard and have your kids read over the list each morning before they leave for school.
Write your own list on colorful card stock or construction paper and hang it on the back of the door (where you know they'll see it before they leave).
Use a mini dry erase board and hang your before school checklist on your fridge.
Print out a printable Morning Checklist and laminate it so kids can check things off the list.
Take pictures of the items that kids need to take to school. Then have the pictures printed and assemble them in a collage-type sign. That way kids have a visual of everything they need to bring in the morning.
Hang your Before School Checklist where it won't be forgotten!
You can make all the lists in the world, but if you don't put them front and center, then your kids will probably forget about them.
After you've made your checklist, hang it somewhere that your kids will have to pass by on their way out the door. Some great places to consider are:
the garage door
the front door
the refrigerator
a small version of the checklist on the inside of their car door
their bedroom door
Encourage Kids to be Responsible for Their Own School Stuff
After you've created your own Ready for School Checklist, then make your kids responsible for checking the list each morning to make sure they have everything they need.
If your kids are anything like mine, then they crave independence. They want to do things on their own, without Mommy's help. So these charts are great for that!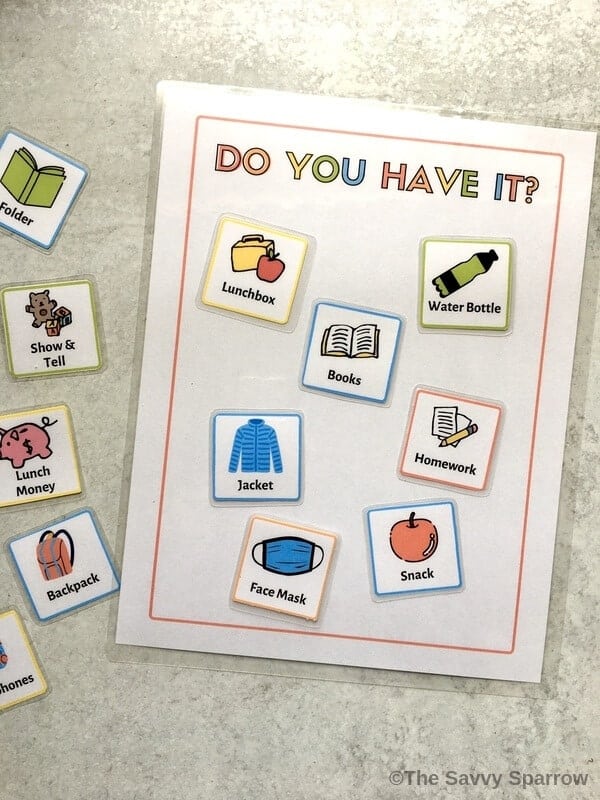 You could even offer a small treat (like an ice cream cone or a treat from the dollar store) at the end of the week to reward your child for not forgetting anything for the week.
And be sure to tell your kids that you're proud of them for being responsible for their school stuff each day! For some kids, just knowing that Mom is proud of them is more motivating than a tangible treat.
Things to Include on Your Morning Checklist for Kids
Obviously your child's before school checklist will be different than mine, but here are some common items that your kids may need for school each day. You know, so you don't forget to add something to the checklist that is supposed to act as a reminder not to forget anything. Haha! 🙂
Backpack
Lunchbox
Lunch money
Water bottle
Snack
Face mask
Gym shoes and socks
Computer or Chromebook
Computer charger
Headphones
Homework
Folder
Jacket
Umbrella or rain jacket if needed
Ready for School Checklist Printable
Want to grab a Ready for School Checklist that's done for you? Visit my Shop to check out the printable checklist that I use for my kids each morning!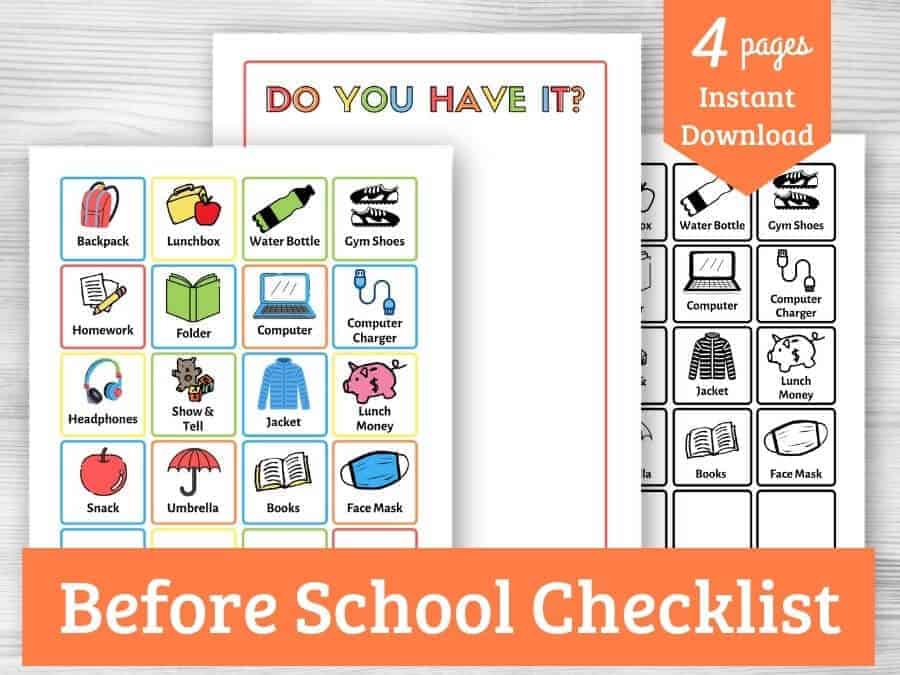 Click HERE to see my Before School Checklist!
Once you print the Before School Checklist, you'll need to cut the individual school item cards out, and then laminate. I have this laminator and these laminating pouches that I use for all of my helpful home management charts, and I LOVE them! *I HIGHLY recommend getting the 5 mil thickness for your laminating pouches, because any thinner and your charts won't be as sturdy!
Then cut out the individual laminated cards, add some velcro circles (like the ones I used to create these Chore Charts for Kids) to the backs of your school item cards and to your "Do You Have It?" sheet, and you're ready to start using your new checklists!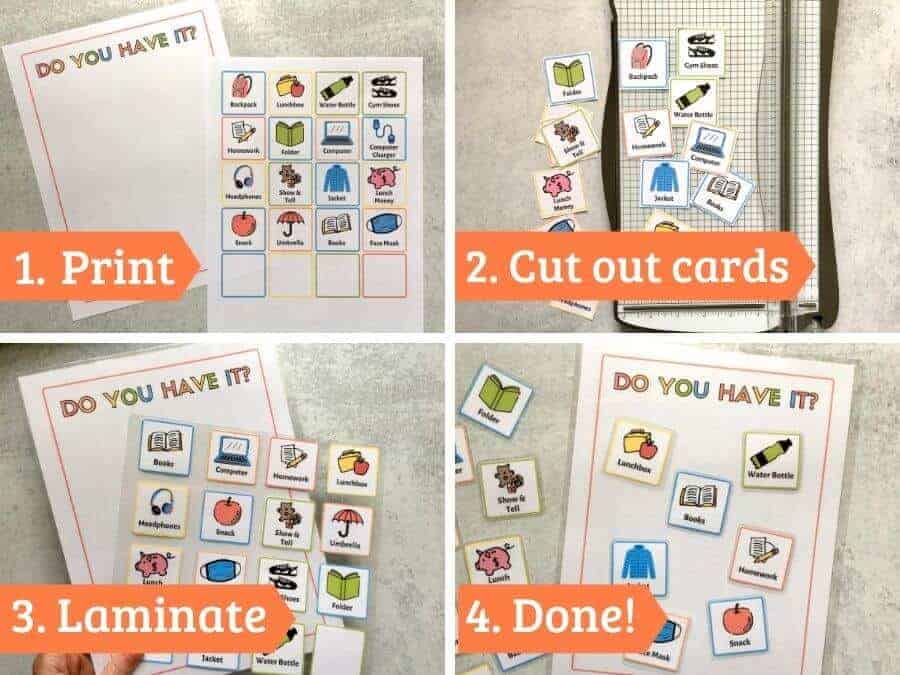 *I created these printable Before School Checklists to match these printable Chore Charts with Chore Cards and the Morning and Nighttime Routine Charts for kids, so that all of your kids charts look GREAT together.
Are your kids always forgetting things they need for school, too? Do you have any tips to pass on to other busy Mamas? Leave me a comment down below. I'd LOVE to hear from you!
And happy nesting!