Need help getting ready for Christmas? Use this Christmas planning checklist and free printable to do list for all of your Christmas planning and preparation needs!
While Christmas is definitely the merriest and most cheerful time of the year, it can also be one of the most stressful… especially if you have young kids that have a mile-long wish list, unrealistic Elf on the Shelf expectations, an impossible schedule of Christmas programs and school parties, and all around high hopes for the entire month of December.
Not to mention hosting out of town guests, decorating your home for the holiday, planning some extravagant feasts or Christmas parties, and shopping for 32,000 gifts and stocking stuffers… all while trying to actually enjoy the spirit of the season!
But the key to not getting overwhelmed during the holidays is to PLAN!
Make an epic Christmas planning to-do list with everything from gift shopping to Christmas card photo shoots to decorating the tree. And then use that list of Christmas preparations to fill in your schedule starting in October. That way you're not super stressed at the last minute!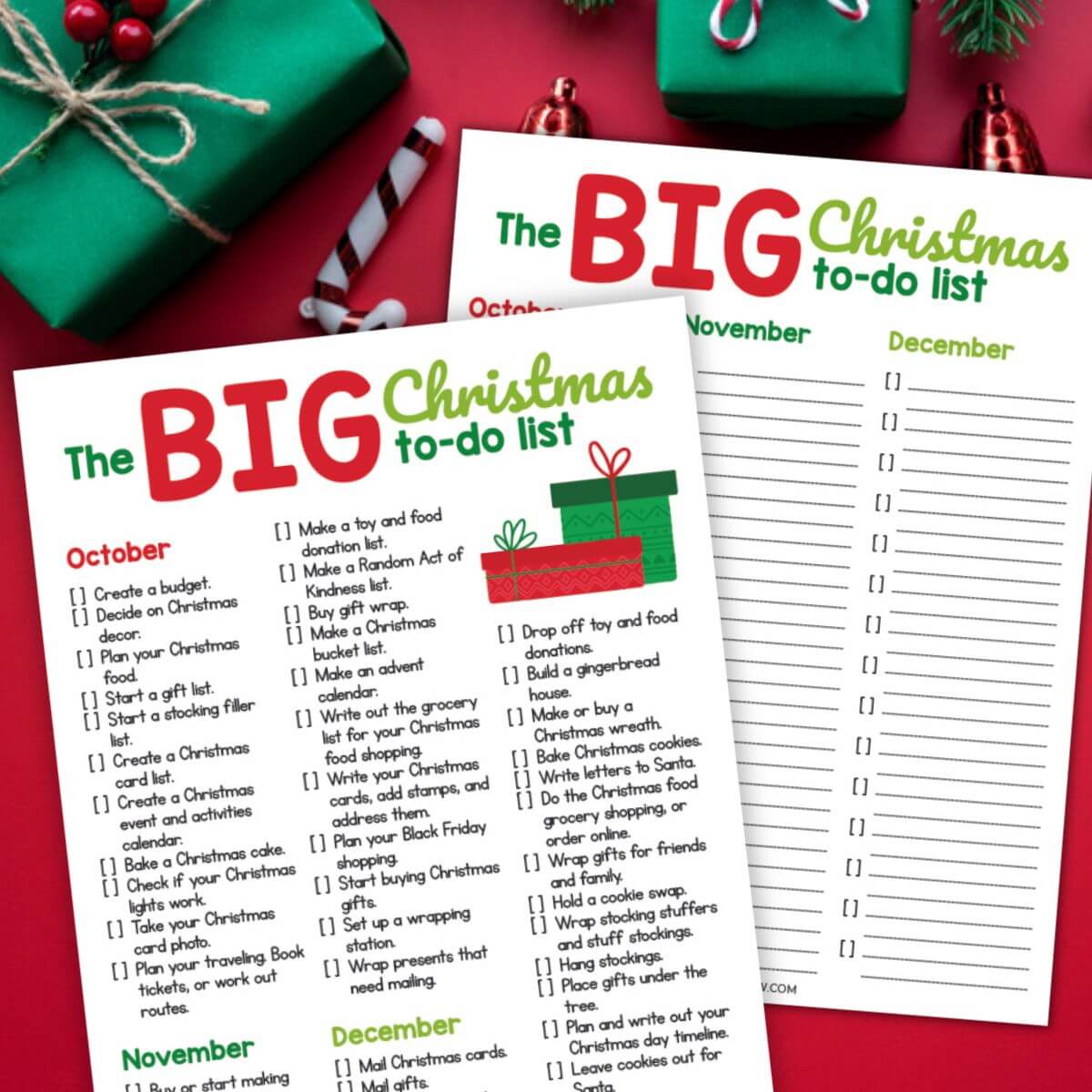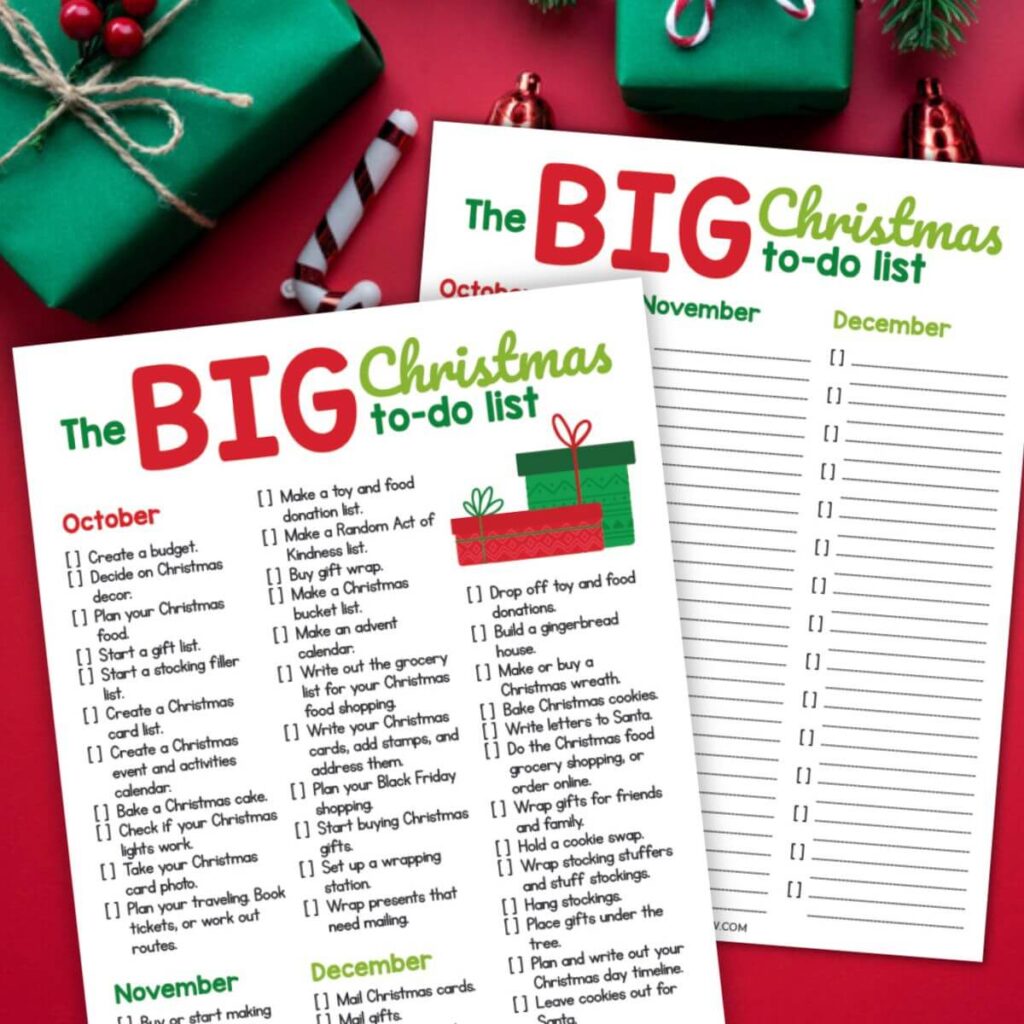 And don't worry… if you're not the planning type or if the thought of having to create an actual to-do list is more overwhelming than the holiday itself, then I can help! Read on for an epic Christmas preparation checklist to help you get ready for Christmas this year!
Christmas Planning Checklist by Month
Although the entire fourth quarter of the year is super busy with Fall festivities, Halloween, and Thanksgiving, you really should start your Christmas prep in October… just ask Hobby Lobby!
Here are some things to do to get ready for Christmas well in advance:
Things to Do in October to Prep for Christmas
Decide on what Christmas decor theme you want to use for the year.
Plan your Christmas food. Start looking for recipes that you want to make for Christmas Eve brunch or your neighborhood cookie swap.
Create your Christmas budget. I've got lots of helpful tips for creating a Christmas budget with a free printable template here!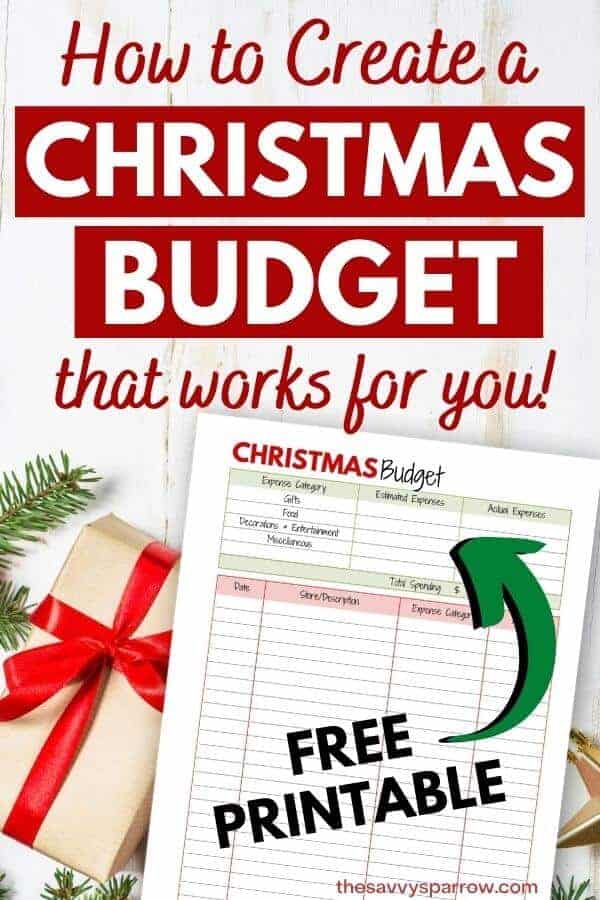 Sign up for online shopping rebate sites like Rakuten. If you plan to buy Christmas gifts online this year, then you could potentially earn some big cash rebates! You can click here to sign up for Rakuten, one of my absolute FAVORITE services for getting cash back on online purchases… and it's absolutely FREE!
Start a gift list.
Start a stocking stuffer list of ideas for all of your family members.
Create a list of names and addresses to make sending out your Christmas cards easier.
Create a Christmas event and activities calendar.
Check if your Christmas lights work.
Take your Christmas card photo.
Plan your travel. Book tickets, reserve hotels and rental cars, etc.
Christmas Preparations for November
The month of November is busy already with Thanksgiving prep, but don't let that deter you from continuing your Christmas planning. Here's a list of things to do for Christmas prep in November:
Gather your Christmas decor so it's ready to go. This includes actually purchasing any new holiday decor items or making any DIY Christmas decor (like this cute "Merry" Christmas shiplap sign!).
Book holiday parties, events, shows, etc.
Plan a Santa Claus visit if you have younger kids.
Make a list of toys and food to donate to local organization. Many cities have food banks that collect holiday meal items for needy families, or you can plan toy donations for children's hospitals or the Angel Tree.
Make a Random Acts of Kindness list to do with your kids. This is a great way to remember the true meaning of Christmas and to spread joy to others.
Buy Christmas gift wrap and other wrapping supplies. Be sure you have enough tape, shirt boxes, bows, gift tags, etc.
Make a Christmas Bucket List. This is a great way to plan out all of the fun activities you want to do with your family this season, and you can get everyone's input also. I've got some super cute free printable Christmas bucket list templates you can use also!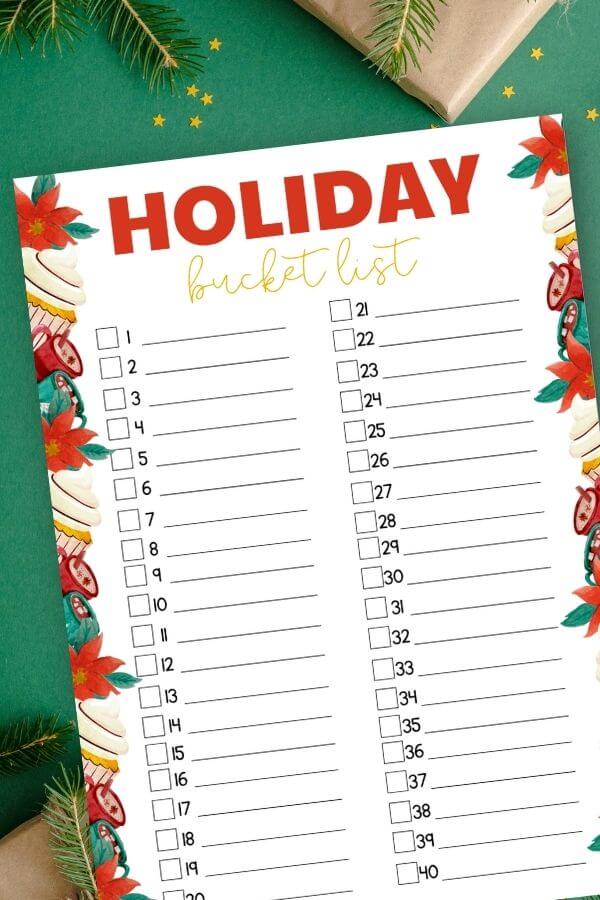 Make or buy an advent calendar.
Make your holiday meal grocery lists. This includes food and drink lists for your Christmas morning breakfast, Christmas dinner, or any big meals or parties that you'll be hosting.
Write out your Christmas cards, address the envelopes, and stamp them so they're ready to drop in the mailbox.
Plan your Black Friday and Cyber Monday shopping lists. You can start looking online at the beginning of November for most retailers' Black Friday sales ads.
Wrap presents that need to be mailed.
Set up a gift wrapping station somewhere in your home. If you have kids, you might also want to clean out a gift closet where you can hide presents before you get a chance to wrap them.
Start buying Christmas gifts.
Things to Do in December to Get Ready for Christmas
When December rolls around, it's really crunch time! But hopefully you're well-prepared because you started back in October with your Christmas planning! Here are some Christmas preparations to do in December:
Mail your Christmas cards. This should be a simple item to check off your Christmas to-do list because you took the time to prep the cards last month.
Mail any gifts for out-of-towners. I recommend mailing your gifts the first week of December to avoid long lines at the post office.
Put up and decorate your Christmas tree. Or some families choose to decorate the tree at the end of November immediately after Thanksgiving.
Put up your Christmas decor, like Christmas lights, stockings, seasonal wall art, etc.
Drop off toy and food donations.
Build a gingerbread house with your kids.
Bake Christmas cookies for neighbors, bus drivers, friends, etc.
Make or buy a Christmas wreath.
Help your kids write their Letters to Santa. You can head here for some free printable Santa letter templates to help you!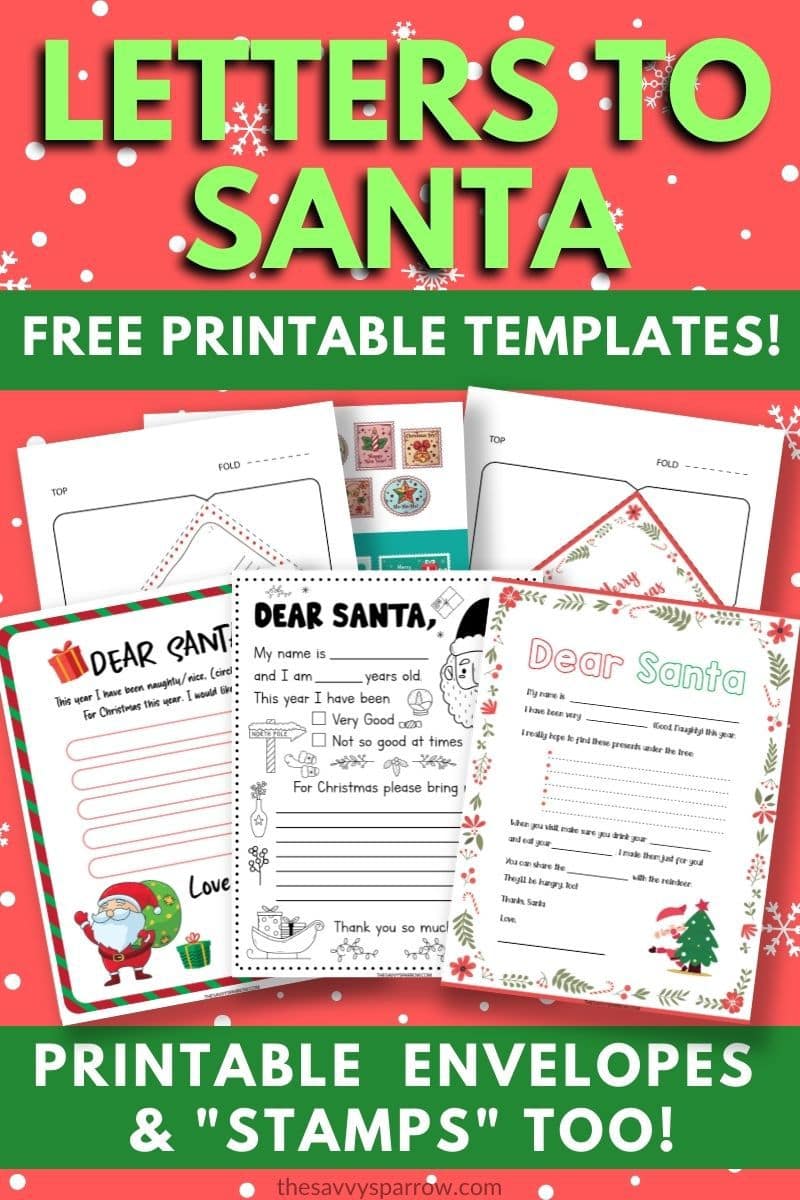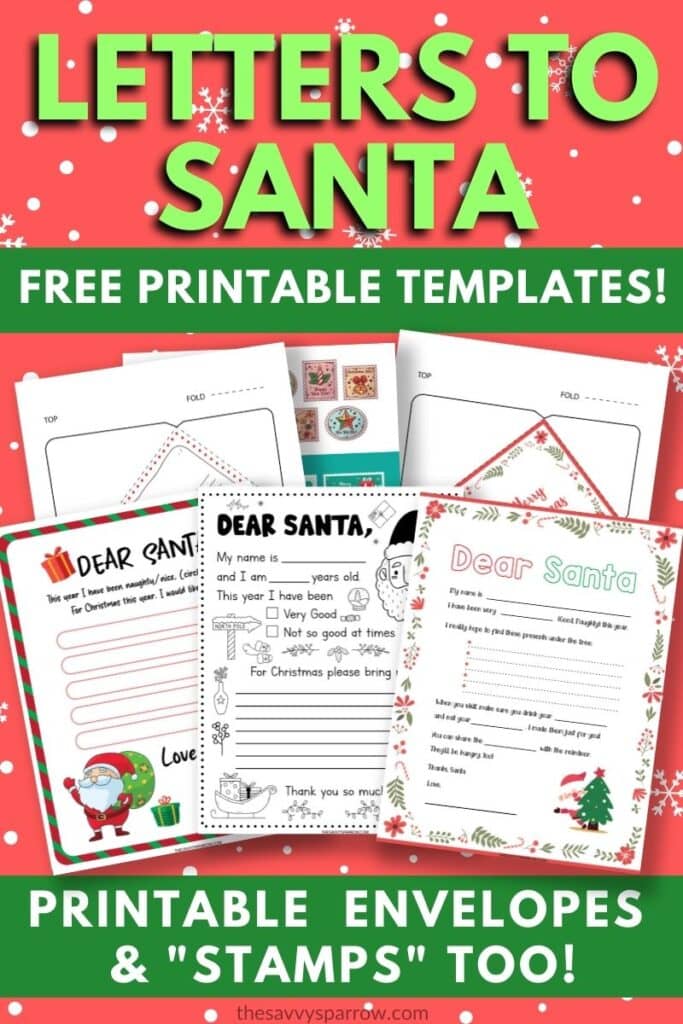 Things to Do on Christmas Eve
As much as you try to plan ahead for Christmas, there are still some things that you can't do until the last minute. Here's a list of things to add to your Christmas Eve to-do list:
Leave cookies out for Santa. My kids and I like to bake Santa's cookies on Christmas Eve so they're nice and fresh for the jolly old guy! My grandma's Cherry Coconut Snowball Cookies and these cute Reindeer Sugar Cookies are two of our favorite Christmas cookie recipes.
Stuff and hang your family's stockings.
Place gifts under the tree.
Any other fun family Christmas traditions that you have for Christmas Eve night, like watching a family movie together or going on a Christmas lights scavenger hunt.
Christmas Planning by Category
If you're reading this post on December 1st and you're already throwing in the towel because you feel like you're getting a late start, then don't fret! Instead of dividing up your Christmas to do list by month, use this helpful list of Christmas preparations by category to do your Christmas planning!
This epic list of Christmas prep activities is divided up into common things to do for Christmas, like decorating the house, shopping for gifts and stocking stuffers, and planning meals.
And I've even got a super cute free printable Christmas planning checklist that's divided by category also! Find the free printable Christmas Prep To Do List templates at the end of this post!
Christmas Decorations Prep
Decorate the Christmas tree
Hang stockings
Decorate the front porch
Hang Christmas lights
Put out holiday towels, candles, or soaps in the guest bathroom
Make DIY Christmas decor and/or ornaments with the kids
Set up an advent calendar
Brainstorm ideas for Elf on the Shelf
Make or buy a Christmas centerpiece for the dining table
Buy fresh poinsettias or evergreens decor
Christmas Planning for Gifts and Cards
Take family photo for holiday cards
Buy stamps and order return address labels
Verify addresses for holiday cards
Print and mail your holiday cards
Set up a DIY holiday card display to display all of the Christmas cards that you'll be receiving in the mail
Set budget for Christmas gifts
Make gift list for family and friends
Get teacher, mailman, and neighbor gifts
Clean out old clothes/toys to make room for new ones
Buy gifts/stocking stuffers
Inventory wrapping supplies and buy gift wrap
Wrap all gifts
Mail gifts that need to be mailed
Prep Thank You cards
Christmas Preparations for Meals and Baking
Plan Christmas dinner menu
Make Christmas dinner grocery list
Plan recipes for Cookie Exchanges/gifts
Grocery shop for Christmas meals/baking
Buy gift boxes for holiday treats
Bake cookies for Santa and/or make Jesus's birthday cake – We make a birthday cake for Jesus each year as a family as a great reminder of the true reason for Christmas!
Bake and deliver cookies for neighbors
Christmas Party Planning
Make guest lists for holiday parties
Send out invitations
Make a party budget
Plan party menus
Stock up on paper plates, cups, napkins, etc
Plan party decorations
Prep party activities for kids
Create holiday playlist
Organize "Secret Santa" gift exchange
Clean out cooler
Get out punch bowl, appetizer trays, etc
Stock up on alcohol, mixers, soft drinks
Free Printable Christmas Preparations List Templates
I've got two different free printable Christmas Planning Checklists to help you with your Christmas preparations this year! Just click the links below to download whichever template you like best, or grab them both!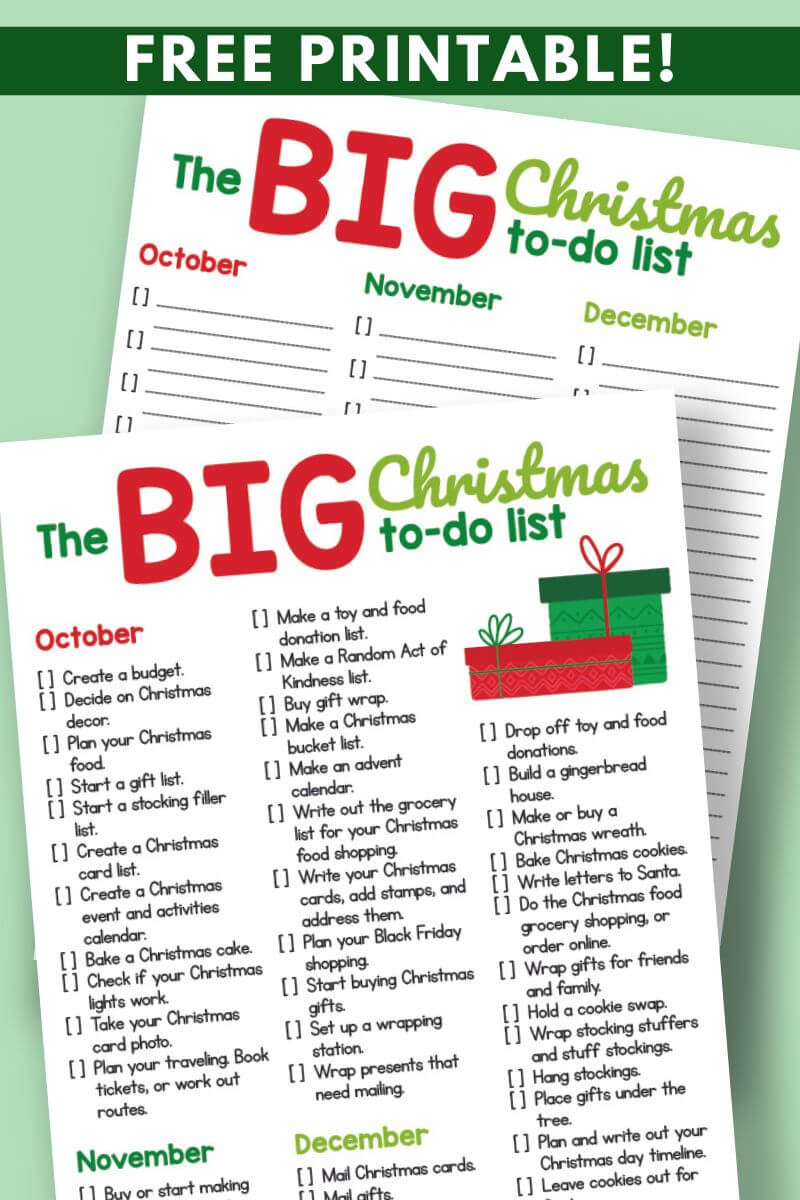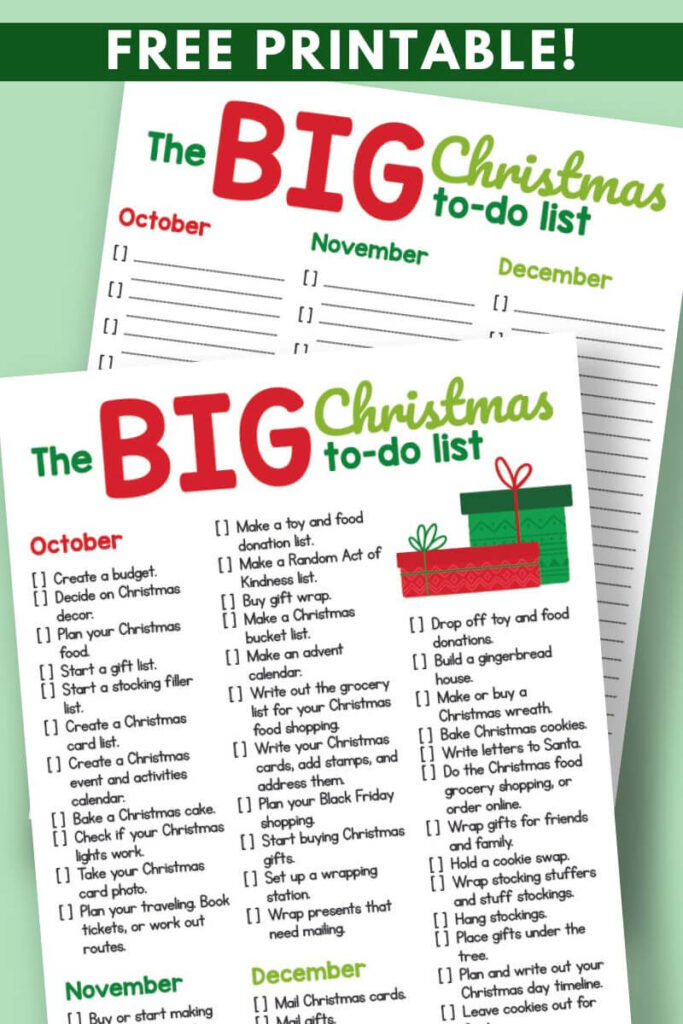 Click HERE for the Printable Christmas To Do List by Month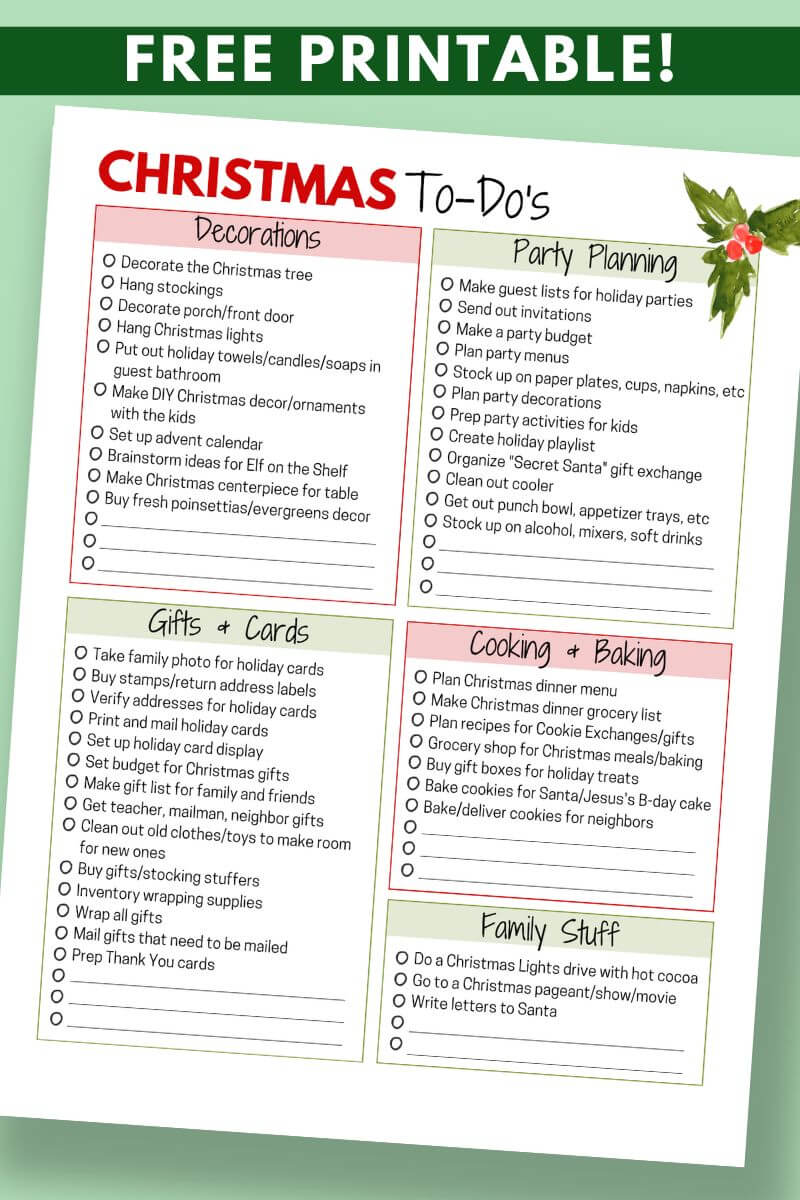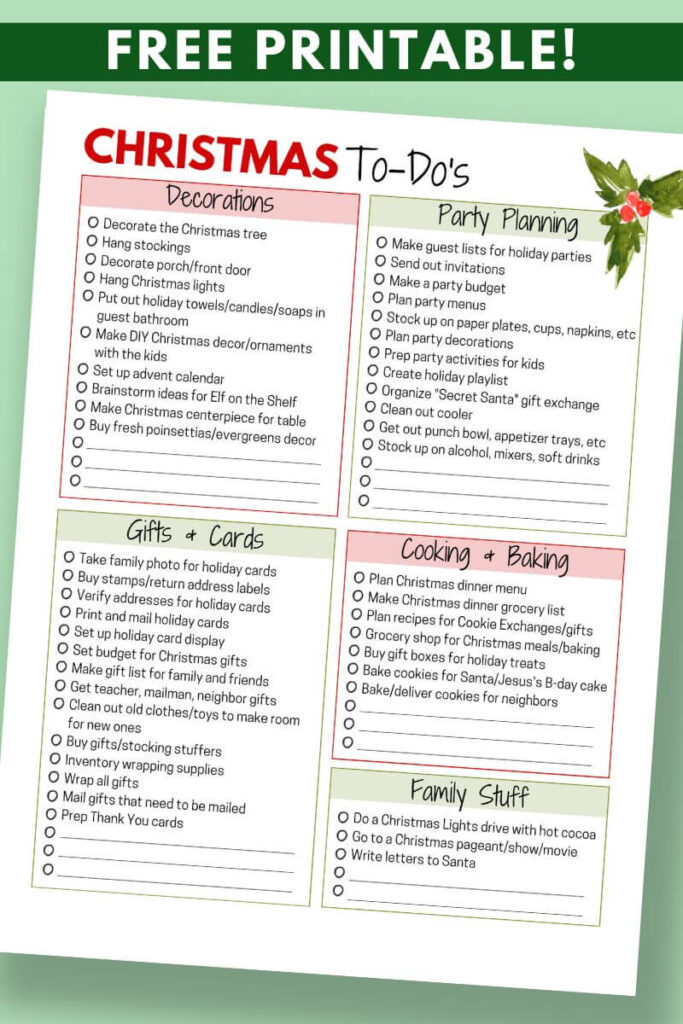 Click HERE for the Free Printable Christmas Prep List by Category
Printable Christmas Planner
Want to get super organized for Christmas this year? I've got an awesome printable planner that can help you! Be sure to check out the 46 page Christmas Planner in my shop HERE!
It's got LOADS of helpful printable pages for getting ready for Christmas, like Christmas card trackers, Black Friday shopping lists, Christmas budget worksheets, and more!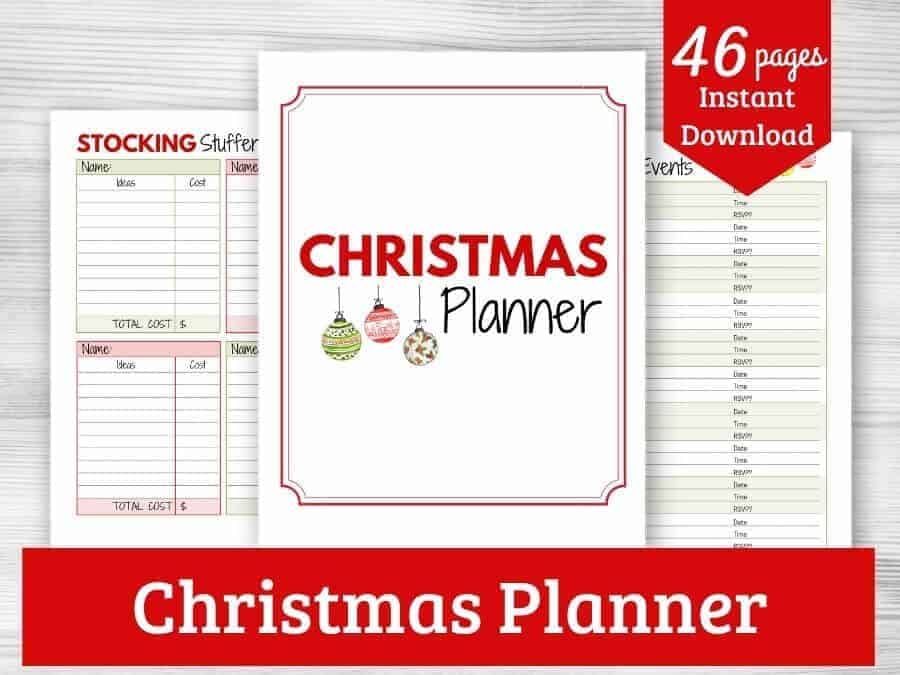 Hope this post has helped you with your Christmas planning and preparations!
How do you get ready for Christmas each year? When do you start on your Christmas to do list? Leave me a comment down below. I'd LOVE to hear from you!
And don't forget to PIN this post for later: