There are few things as fun and as rewarding as a 30 day relationship challenge. Learn how to do a love challenge for your marriage and grab the free printable challenge to get started!
I'm a sucker for a good 30 day challenge. Something about the word "challenge" just motivates me to accomplish whatever it is that I'm focusing on for those 30 days, and the month long time frame seems more realistic and attainable.
And what's more deserving of your time and energy than your relationship?
Whether you've been dating for a while or married for a decade, bringing a love challenge into your relationship is a great way to learn more about each other and rekindle your romance.
Try this 30 day challenge for couples below and wow yourself (and your partner!) with how much more you fall in love with each other, even if you didn't think it was possible!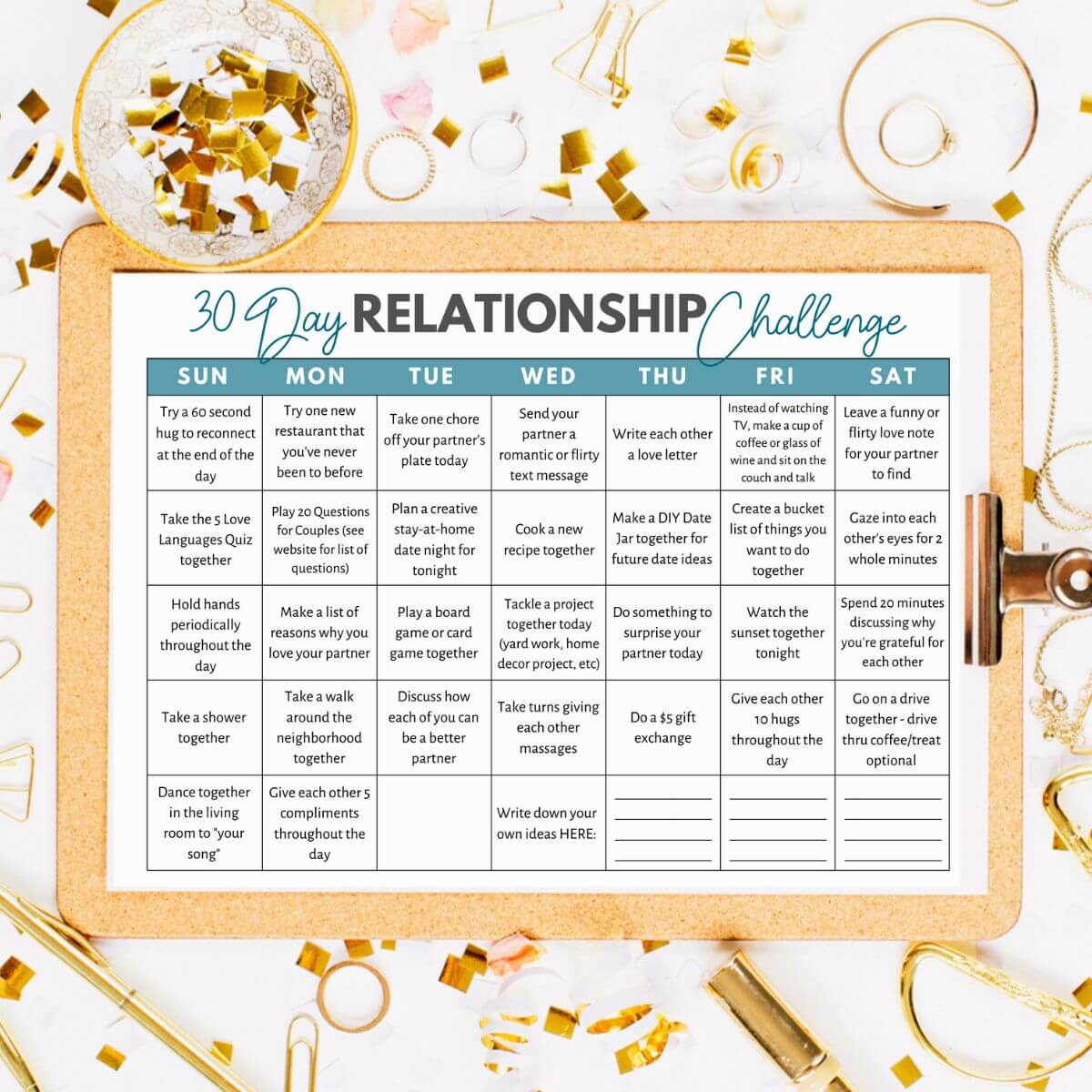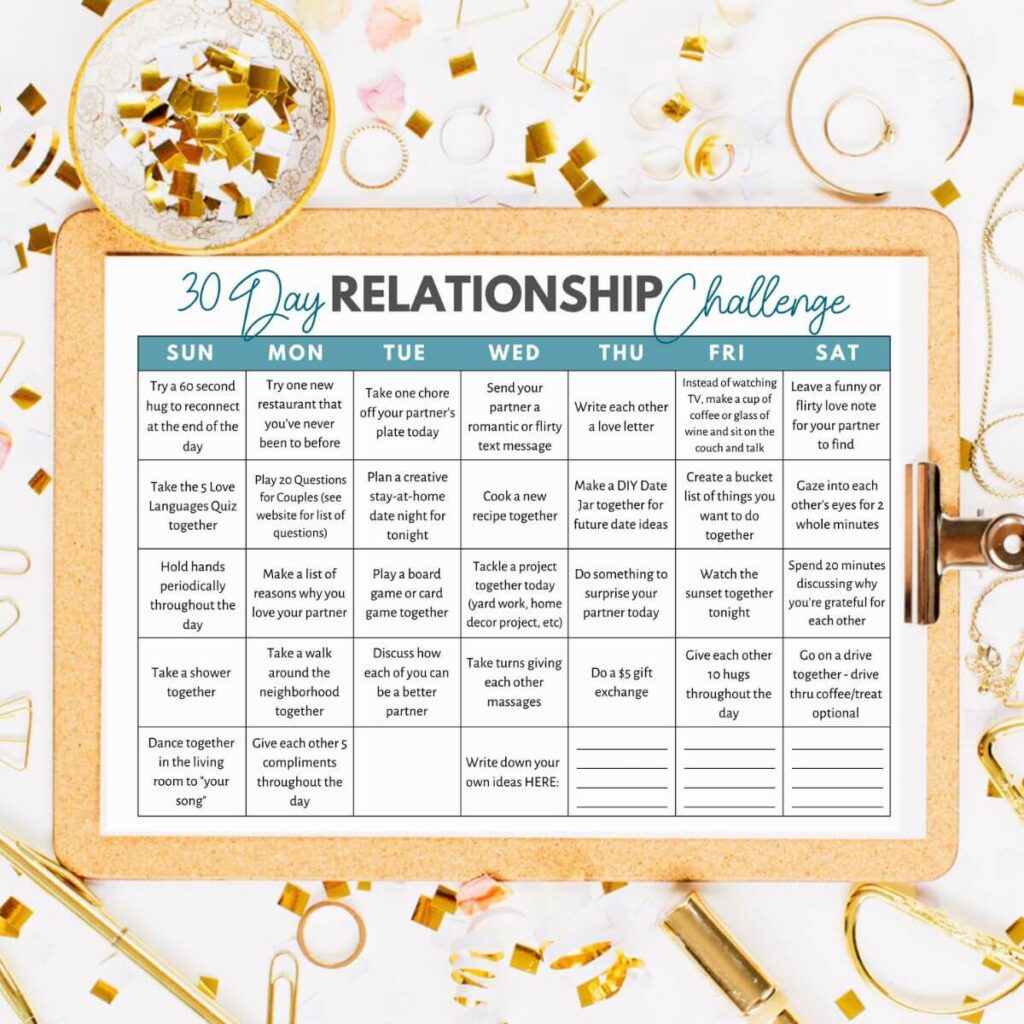 Why You Should Do a 30 Day Relationship Challenge for Your Marriage
While this love challenge is for all relationships, I want to especially encourage this 30 day relationship challenge for those who have been married for some time.
Sometimes, when we get married, we stop working as hard on the "dating" part. But dating your spouse is an important part of a maintaining a healthy marriage. Even when it seems like your schedule is so jam-packed running the kids here and there and keeping up with a gazillion loads of laundry, make the time to stencil in quality time with your spouse.
Here are some reasons that a 30 day marriage challenge is a good idea:
To keep your love strong
According to the Pew Center for Research, 88 percent of Americans listed love as the top reason for getting married.
If most of us are marrying for love, we want to make sure that love grows in marriage, not dwindles! And if you put your relationship on the back burner, then the flame is going to slowly burn out (no pun intended!).
To show your partner that he's a priority
We join each other in marriage, but marriage never comes without challenges!
When we say "for better or for worse" we think of the best times and the hardest times. What is left out is what is in the middle – the busy times!
Once we get married, life gets busy. There are more things to distract us, but there are few things that set aside time for couples to simply enjoy spending time together. Creating a love challenge is a great way to set specific time for this, and a 30 day relationship challenge is an awesome way to show your partner that he's a priority in your life.
To reduce boredom in your marriage
Participating in a 30 day marriage challenge can reduce the chance of being bored in your relationship.
When you've been married for a while, it's easy to fall into a routine and you may even start to feel like "roommates" rather than husband and wife. But participating in a relationship challenge can help to bring a little excitement back into your marriage.
The 30 Day Relationship Challenge for Couples
So without further ado, here are 30 simple tasks that you can complete in this month long relationship challenge:
Day 1: Try a 60-Second hug
I know that it sounds cheesy, but it's so nice to pause for a full minute and just embrace each other. In fact, any time that I feel like I want to reconnect with my husband, I ask for a "60 second hug", even if we're just in the middle of the kitchen cooking dinner.
Try your own 60 second long hug today and see how it helps!
Day 2: Try one new restaurant that you've never been to before
This one can add some "newness" to your relationship, even if you've been married for 16 years like I have.
Not only do you try something new, but it gives you something new to talk about! Is it a great restaurant? Awesome – now you have a brand new restaurant to add into your weekly date rotations! Was it terrible? Well, that is a fun memory to keep forever.
Trying a new restaurant is a total win-win no matter how the food turns out.
Day 3: Take one chore off your partner's plate today
What is the one thing your partner does every day?
For instance, if your husband always takes out the trash or does dishes after dinner, you do that job instead. And if you usually give the kids a bath, your husband can do that job.
Whenever I help my husband with his workload, I always walk away feeling so grateful for him, and I remember just how hard he works. Taking on just a bit of your partner's job or chores can leave you with a greater appreciation for what they do on a daily basis.
Day 4: Send your partner a romantic or flirty text
Try sending a text to your partner in the middle of the day that is completely unexpected – either romantic or flirty. Or both! You can even snap a picture taken on your wedding day to remind him of that special day in your relationship.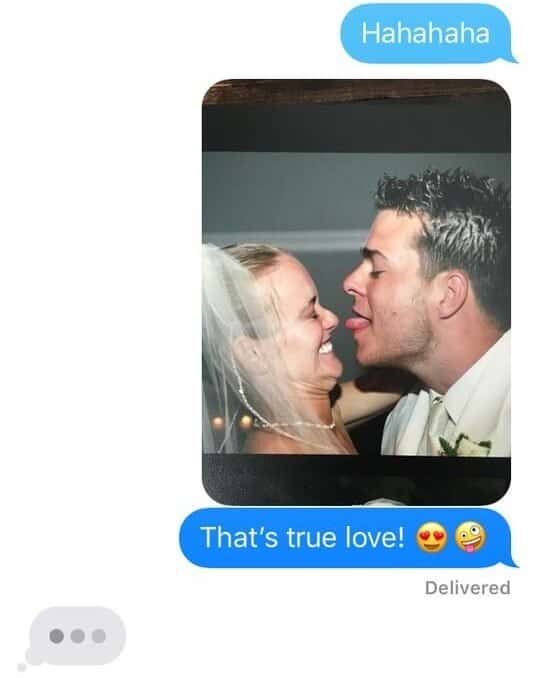 You can go here for awesome text message ideas for your husband, and accomplish this relationship challenge task in less than a minute!
Day 5: Write each other a love letter
Take texting your special someone a step further – write a love letter! Slip it in a place where your partner will see it and let them be surprised.
This is a great way to rekindle romantic feelings that haven't been shared in some time.
Day 6: Trade TV for talking
Do you normally have a show you watch together? Or do you watch things separately?
No matter what your normal schedule is like, take today to talk instead of watching TV. Instead of camping out on the couch for an evening of Netflix, binge talk instead!
Day 7: Leave funny love notes
What if your partner came home to funny love notes everywhere? Or what if he was surprised and had a LOL moment when he discovered a funny note in his gym bag?
It is important to have days for seriousness and talking, but there are days when a relationship should simply be lighthearted and fun! My husband and I are goofy together all the time. We don't take ourselves too seriously, and I think that's one of the reasons that we have a GREAT marriage.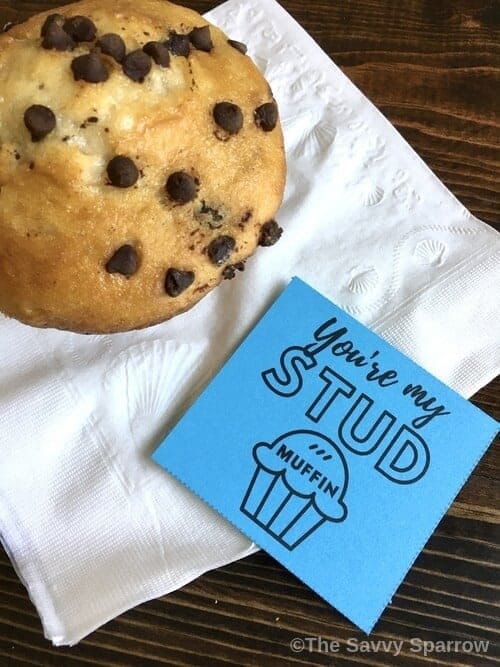 These funny love notes help relieve any tension that may be happening in the relationship and give a great reminder to simply be silly sometimes.
Day 8: Learn each other's love language
If you haven't yet, take the 5 love languages quiz here to learn each other's love language.
Knowing your partner's love language can help you to express your feelings of love in a way that is most likely to be well received. For instance, if you find out that your husband's love language is acts of service, you can make his lunch for him everyday before he leaves for work.
And after you've taken the love languages quiz, be sure to head over to this post: 50 Ways to Show Your Husband that You Love Him – Based on His Love Language!
Day 9: Play 20 Questions, but couple-style
I'm sure you've heard of the game "20 Questions", but have you ever thought to play with your spouse? Asking each other questions is a great way to engage with your partner and to work on your communication skills, besides just coordinating the kids' weekend schedules or talking about items to add to the grocery list.
You can use this list here of 100 questions, and just pick 20 to ask your partner (and vice versa). Warning: you may be surprised to learn new things about your partner, even if you've been married for decades!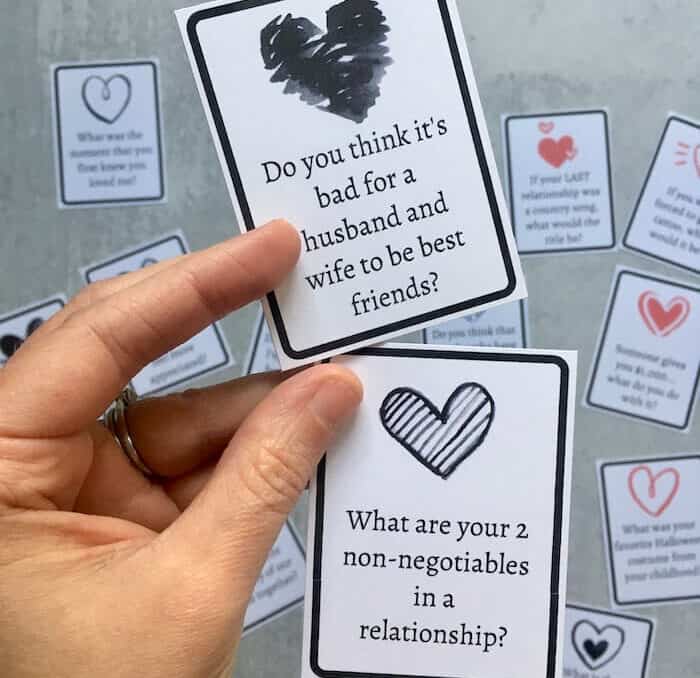 Want to make it easier? Print couple conversation starter cards to draw at random – no picking-and-choosing beforehand is required!
Day 10: Have a stay-at-home date night
For today's relationship challenge, plan a unique stay-at-home date night! Skip the mundane TV watching and try one of these fun and creative at home date night ideas instead!
Day 11: Cook a new recipe together
Spend some quality time in the kitchen together for today's love challenge! Choose a new recipe that you've never made before and give it a try. Dinner or dessert, you pick!
Working on a shared task that's brand new to you both is a great way to bond and to keep things fresh in your relationship!
Day 12: Create a date jar of fresh date ideas you can do in the future
When you've been married for a while, date night can get pretty mundane.
Going out to the same old restaurant and seeing a movie does qualify as spending time together, but sometimes it's nice to add in a date night that's new and fresh! That's where a date idea jar can help!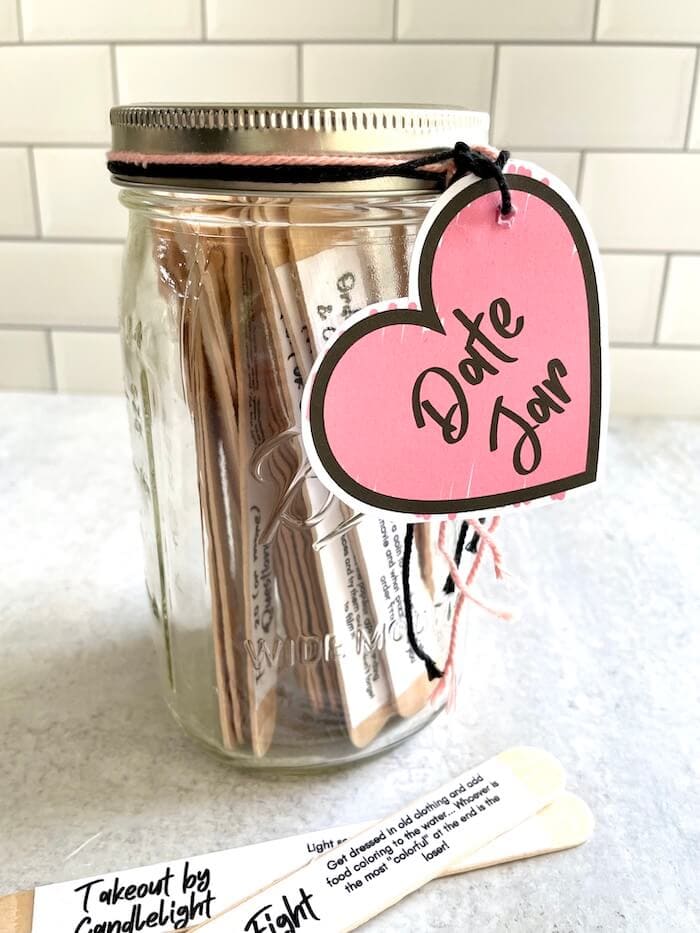 Use free printable templates to create your own DIY date jar, and then leave date night to chance! You'll both be surprised by the date night plans, and you'll probably get a chance to try something completely new!
Day 13: Create a bucket list together
When my husband and I were first together, we would dream big all the time. How long has it been since you and your partner dreamt big together?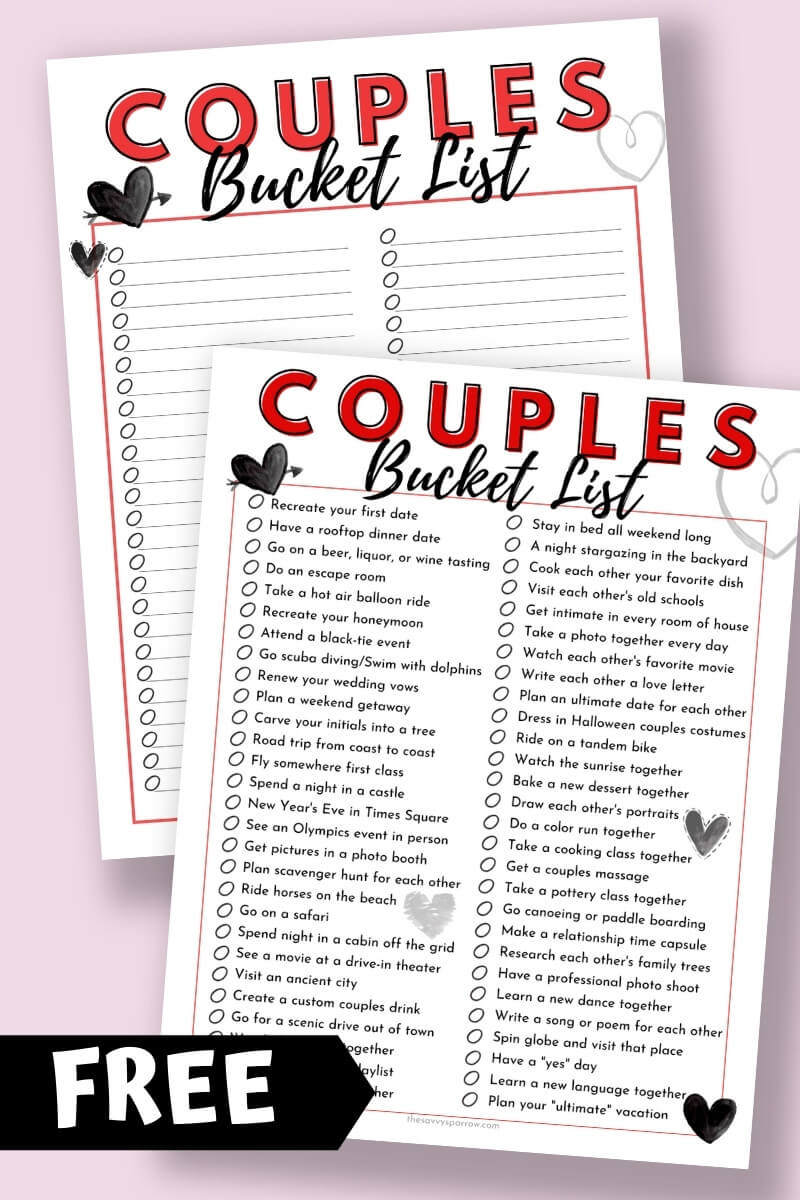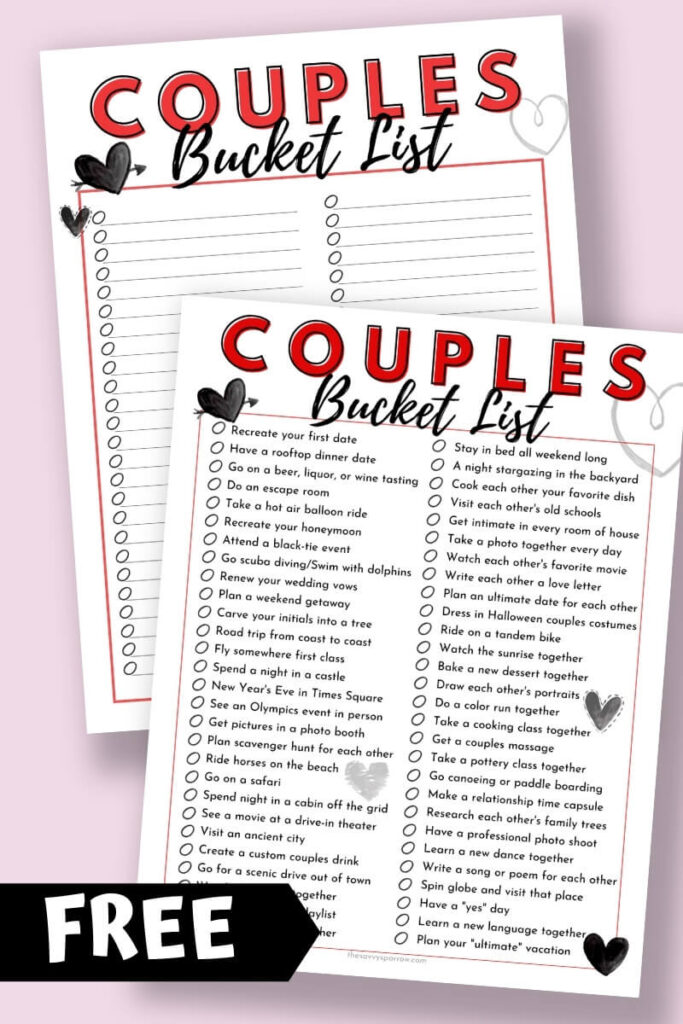 Create a bucket list together (either on a paper or with this couples bucket list printable here) and start daydreaming again! This will help you plan for exciting events, trips, and outings in the future, and it will also give you both something to look forward to.
Day 14: Gaze into each other's eyes for 2 whole minutes
So cheesy it works!
Scientific studies have shown that when couples take a break to intentionally stare into each other's eyes for 2 minutes, they actually experience higher feelings of affection. So why not give it a try?!
Sit on the couch, face each other, and just look into each other eye's for 2 uninterrupted minutes. If nothing else, this simple relationship challenge will offer a nice bit of calm and a way to reconnect in the middle of a busy day.
Day 15: Hold hands throughout the day
Yes, this 30 day relationship challenge idea may seem simple, and you may feel like a hormonal teenager, but holding hands is a simple act of physical touch that can actually improve your relationship.
In fact, scientific research suggests that holding hands can help to lower stress levels as well as build a stronger connection between two people.
Whether you're walking through the grocery store or sitting at the dining table, reach out and hold your partner's hand periodically throughout the day.
Day 16: Make a "Why I Love You" list
Your partner may need some reminders of why you fell in love in the first place.
Create a "why I love you list" with 10 specific reasons why you love your partner. You can each work on a writing a list throughout the day and then share what you wrote during a candlelit dinner.
Day 17: Play a board game together
Have any old board games lying around? Time to go 90s style and put the devices away to play a classic board game. Before we had kids, my husband and I would play board games together all the time! Scrabble and Battleship were two of our favorites.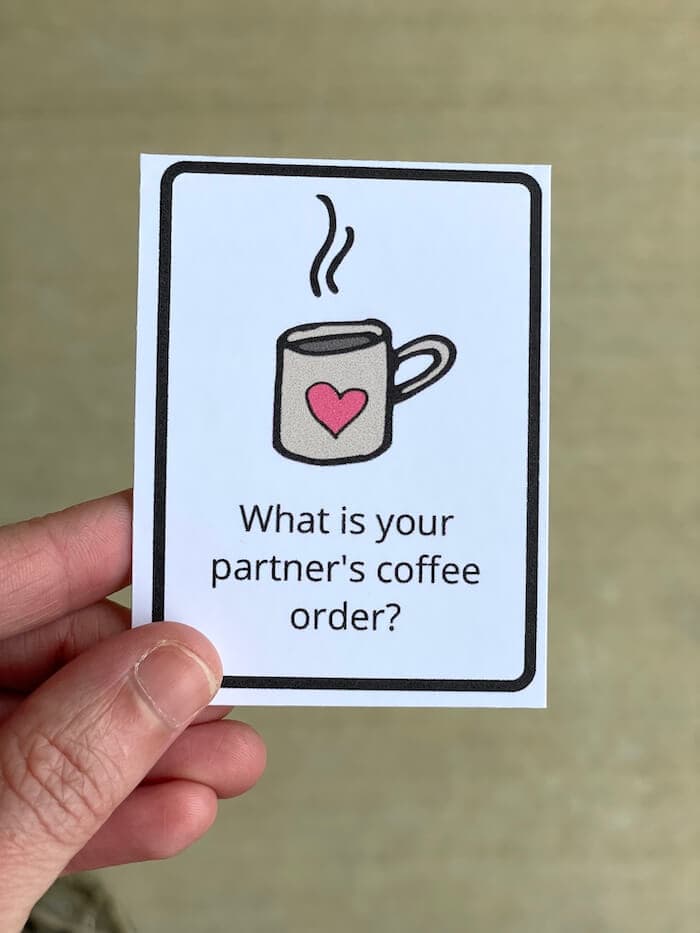 And if you don't own any board games, then try this fun printable Not So Newlywed Game that you can simply print out at home and play with your spouse tonight!
Day 18: Tackle a project together
Do you have a house project that you've been putting off? Why not tackle it together?!
Working towards a common goal, even if it's just in the form of planting flowers in the front garden bed, is a great way to reconnect with your spouse.
Day 19: Surprise your partner
Today's task on the 30 Day Relationship Challenge requires you to put your thinking cap on!
Each of you think about a way that you can surprise the other person today. Whether it's bringing your partner's favorite ice cream home for dessert or buying that special little gift that they've been wanting for a long time.
Day 20: Watch the sunset together
When life gets busy, it's hard to remember to slow down and really enjoy spending time together. So today's relationship challenge is simple… just watch the sunset together.
Bring a blanket out to the yard or drive to a nearby park and sit in the tailgate. Just talk and enjoy the pretty scenery as you relax and unwind at the end of the day.
Day 21: Write down your gratitude together
I am a BIG believer in practicing gratitude. Taking a few minutes each day to actually think of what you're grateful for and to "count your blessings" does wonders for your overall outlook on life. And the same can be done when thinking about your relationship.
For today's relationship challenge, take about 20 minutes to sit down with your husband and discuss why you're grateful for each other. Maybe you're grateful for more "big picture" qualities in each other like that each of you has a strong work ethic and desire to succeed, or maybe you're thankful that your husband makes you the perfect cup of coffee every morning.
Just take the time to intentionally focus on the things in your relationship that you truly appreciate.
Day 22: Shower together
Want a truly distraction-free zone? Take a shower together!
Try a joint shower just for one night if it's really beyond your comfort zone, or shower together for the full week and see how it improves your relationship.
This is one of the closest ways that you can truly get one-on-one time with your partner. It doesn't even have to be anything sexual (unless you want it to be!). It can just be quality time together where you know you're less likely to be interrupted.
My husband and I take a shower together every single night, and it's some of the best quality time that we get as a couple… no cell phones, no TV, no social media, and no kids interrupting us.
Day 23: Take a walk together
Pick a beautiful place with trails or stick to your neighborhood. It doesn't matter where you walk, it is the time together that counts!
Take today to ask your loved one to join you on a romantic walk. The combination of fresh air, nature, and good conversations can go a long way in a relationship.
Day 24: Discuss how each of you can be a better partner
How often do you actually sit down with your spouse and discuss how you can improve your relationship? Well, today is that day!
Pick a time during the day that you can sit down and talk about things like what your husband wishes you would do differently or how you would feel better supported in your relationship. Mini "relationship meetings" like this are important to express your feelings and to keep your marriage healthy and happy.
Day 25: Take turns giving each other massages
Physical touch is important in a relationship, so today's relationship challenge is all about getting touchy-feely. Take turns giving each other back or foot massages… candles and romantic music optional!
Day 26: Do a $5 gift exchange
This is a simple but fun idea for a 30 day relationship challenge. Set a budget of just $5 and exchange your inexpensive gifts at dinner time.
Day 27: Give each other 10 hugs
Not all physical touch in your relationship has to lead to physical intimacy. Sometimes it's just nice to hug each other!
Try to give each other 10 hugs spaced out throughout the day, and see how it helps you to reconnect!
Day 28: Go on a drive together
Hop in the car and venture out for a drive with no specific destination in mind. You can even hit up the drive-thru for a coffee or milkshake while you take a leisurely ride together. Or, if you're feeling super adventurous, then leave the destination up to chance… any time that you get to a fork in the road or a stop sign, flip a coin to see which way you'll go.
My husband and I love driving through different neighborhoods or scenic areas in our city and just taking in the sights!
Day 29: Share a dance in the living room
Turn on the music after dinner and invite your loved one to dance! You can even create a playlist of three songs from your wedding to take a walk down memory lane.
Day 30: Give each other 5 compliments throughout the day
When is the last time that you complimented your spouse or partner? Like a specific compliment about something that they do well or a trait of theirs that you admire? Well, today you're going to give 5 compliments!
Think of 5 specific compliments that you can give your spouse. Then, send them in text messages, write them on post-it notes for your partner to find during the day, or just compliment your spouse in person.
Free Printable 30 Day Relationship Challenge PDF
Want to try this 30 Day Relationship Challenge with your spouse to improve your marriage and reconnect? Just download the free printable challenge PDF at the link below! Print it out and hang it on your fridge, and get ready for a month of relationship fun!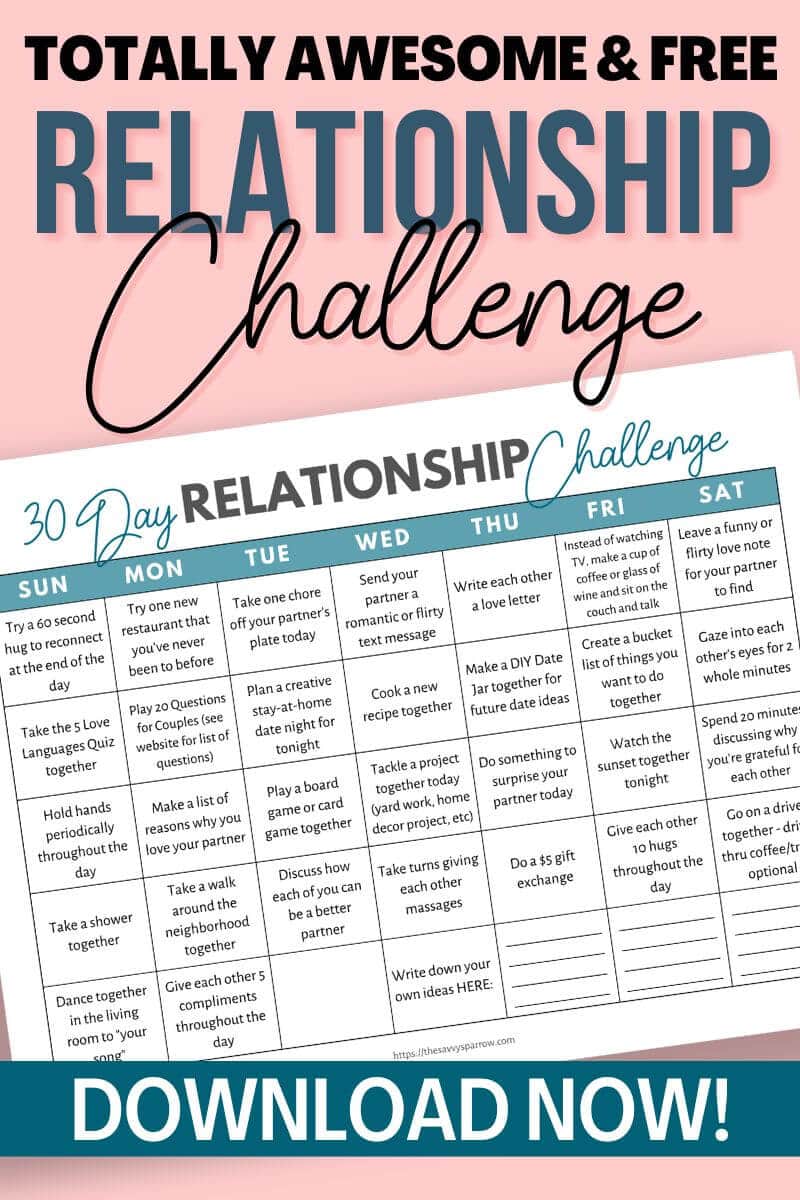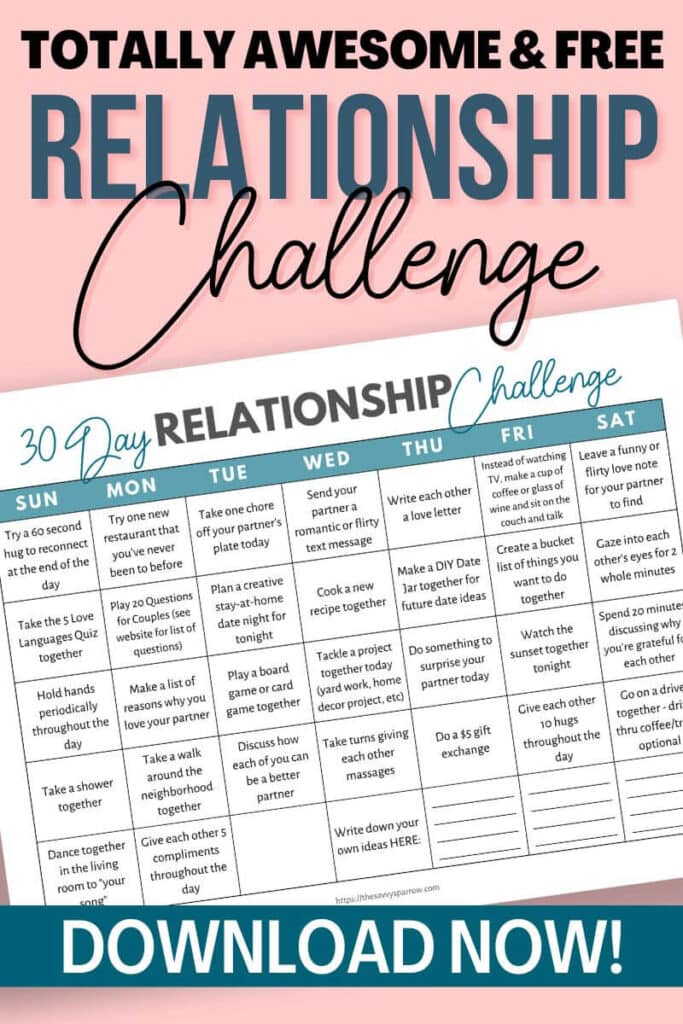 Click HERE for the Free Printable 30 Day Relationship Challenge
Try this 30 Day Relationship Challenge for Couples Today
There is never a better time for a 30 day relationship challenge. Whether your relationship needs some rekindling or the two of you are better than ever, there's no such thing as a relationship being "too strong." By doing this love challenge you can find new and exciting ways to have fun with your partner. Let me know which day was your favorite!