Looking to shake things up with your partner? Whether you want to try something new together or find different ways to express your love and adoration, grab a few ideas (or all of them) from this ultimate couples bucket list.
They say it's important to never stop dating your partner, even after you've shared years of wedded bliss together. Of course, that's easier said than done. With work, kids, chores, and everything else that comes with keeping our family running, it's easy to put our relationship on the back burner.
Different seasons of life will bring us to different places. And I'm talking, literally and figuratively. In the fall, it's back to school time, and during the winter, you're planning for the holidays. In the spring, you are just trying to make it to the end of the school year. And by the time summer hits, you've got so much on the calendar that it feels nearly impossible to get a moment alone.
It's not that you don't love the idea of spending some one-on-one time together with your spouse. It's just finding the time to do it can be difficult.
But making sure that you get that important quality time together, and making sure that your spouse feels loved and appreciated should always be a top priority.
So introducing… the couples bucket list!
There will be plenty of other time to tackle your family bucket lists, but this one is just for the two of you. Like I said, it's not always easy to keep the magic alive, but I promise it's absolutely worth it.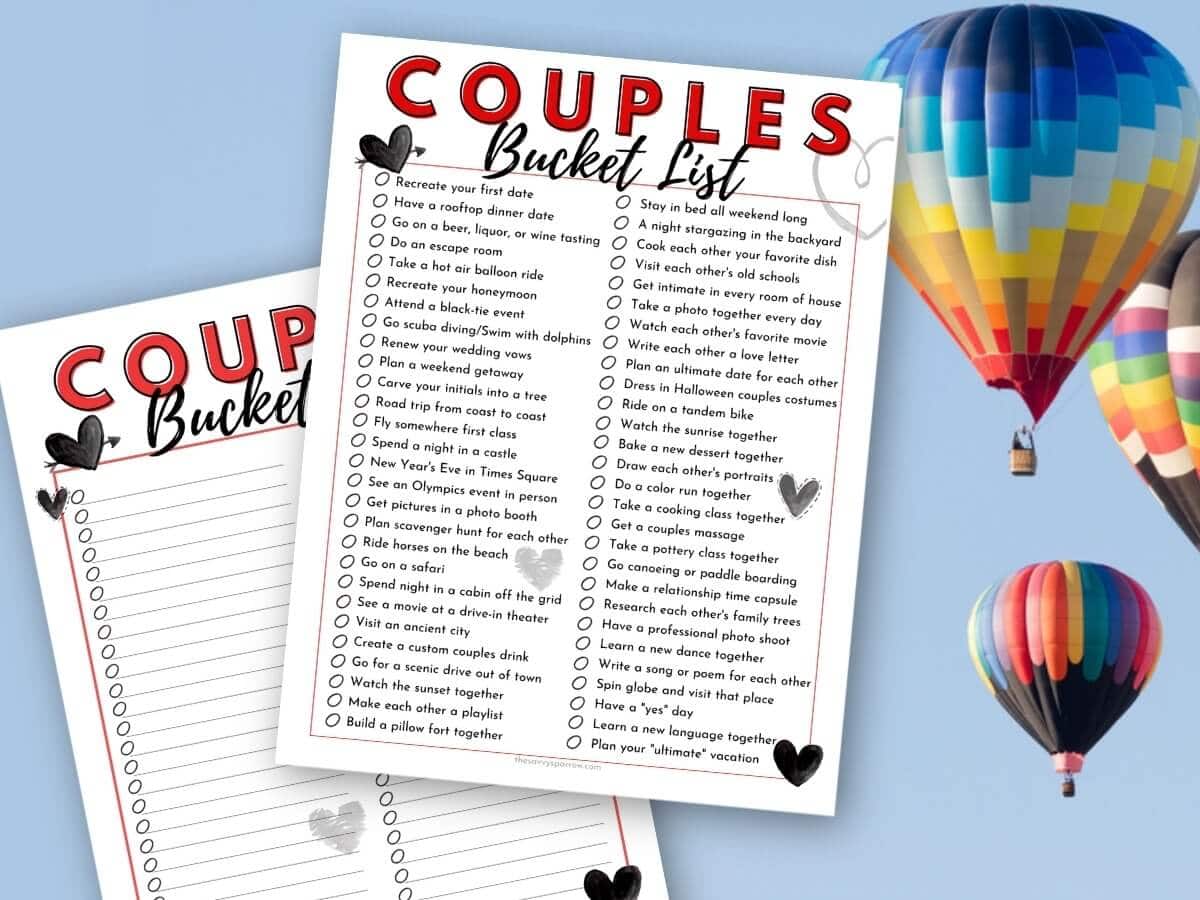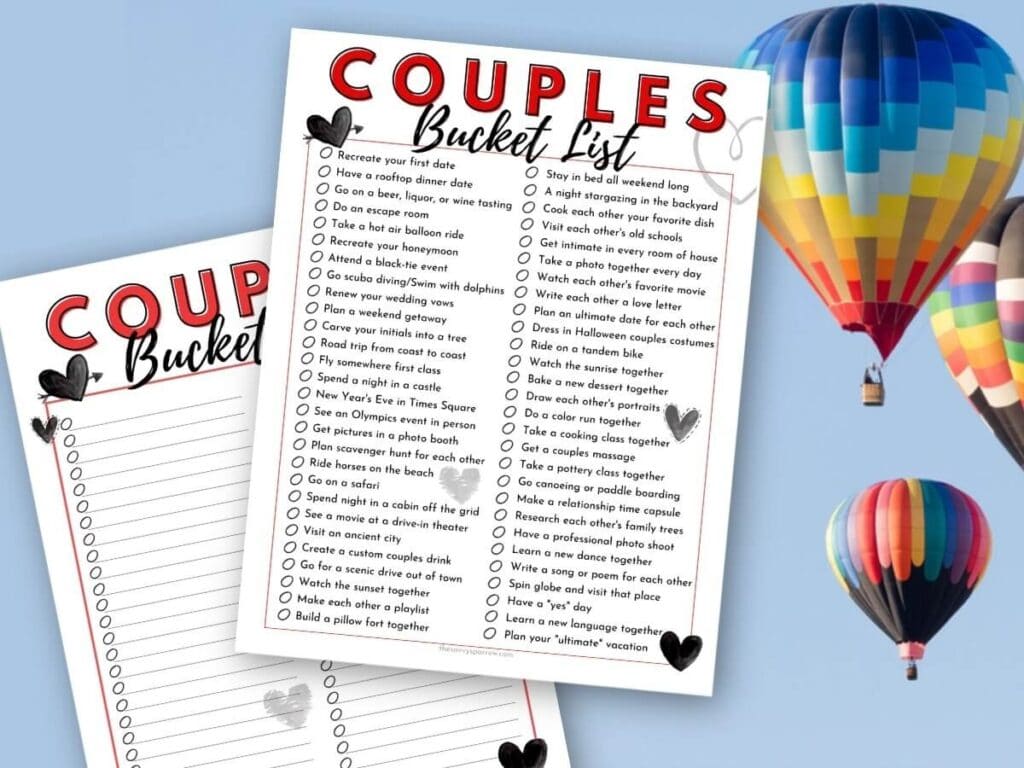 Why Should You Create a Couples Bucket List?
But we have a date night scheduled every third Thursday of the month. Isn't that enough? Why do we need a couples bucket list?
Friends. It's definitely a great start to make sure you're blocking off time for regular date nights. But challenging yourself to learn something new to love and appreciate about your partner every day will work wonders for your relationship. Don't believe me? Take an expert's word for it.
According to Psychology Today, spending time together isn't just about the minutes and the hours. It's about how you spend your time together.
When you're planning for your bucket list, make sure to include:
Activities that involve positive interactions. Now, I'm not saying that even the happiest of couples don't disagree, but avoid anything that has the potential to stir an argument. Remember, this is all about bonding.
Bucket list ideas you will both enjoy.
Activities you can commit to. Don't agree to activities you're going to move through half-heartedly. Communicating with your partner about your plans will make sure you both have a great time and continue to grow closer.
How to Create a Bucket List for Couples
The most important thing to keep in mind when building your couples bucket list is to make sure you're choosing activities that you both want to participate in.
The whole point of this is to have fun together and mix things up. So definitely talk things through together first to make sure you're both on board.
How do you want to format your list?
Are you both great with tech and want to keep a running list on your phones? Or maybe it's easier to keep these activities top of mind with a free printable couples bucket list to keep somewhere you both see it. (Don't worry, I've got you covered!)
Make sure you plan in advance.
When you are planning out what to put on your bucket list, make sure you're considering (and avoiding) any logistical headaches. Basically, don't forget to book a babysitter before you go for your weekend at that quaint little B & B.
Bucket List Ideas for Couples
There is something for everyone. From once in a lifetime adventures, memories you can create at home, hands-on activities, or romantic experiences to share with your sweetheart.
I rounded up 100 different couples bucket list ideas to get you started. Take a few, or take them all! And feel free to customize your own bucket list using the free printable templates at the end of this post!
Once in a Lifetime Experiences for Your Couples Bucket List
1) Take a horse-drawn carriage ride.
2) Cliff, or skydive, together at the same time.
3) Go on a beer, wine, or liquor tasting at the best breweries, wineries, or distilleries.
4) Complete an escape room themed around your favorite book or movie.
5) Take a hot air balloon ride.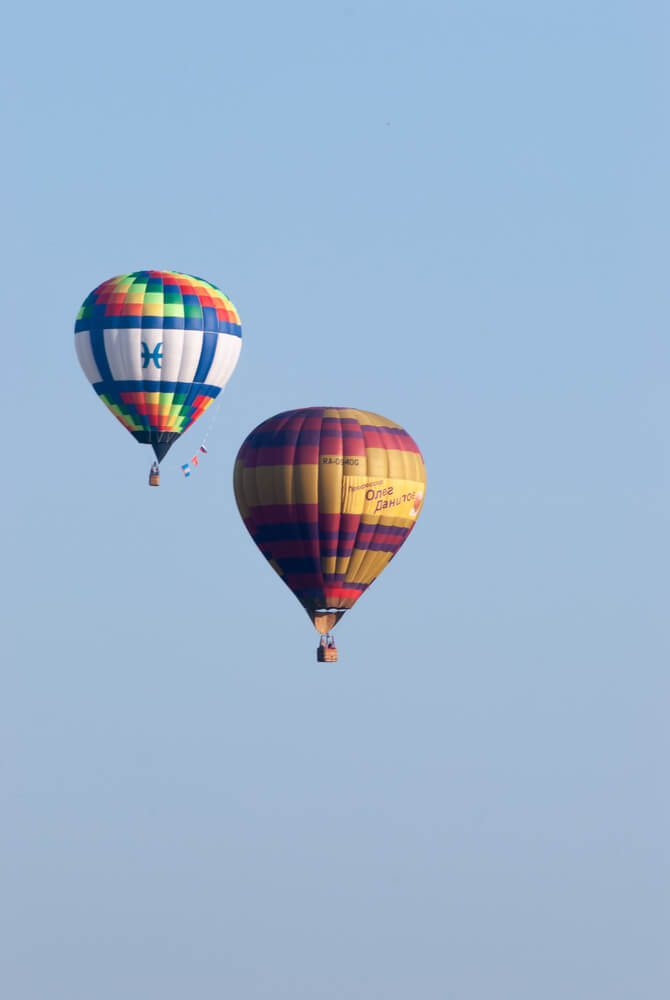 6) Recreate your honeymoon for one of your milestone anniversaries.
7) Attend a black-tie event, get dressed to the nines, and enjoy a night on the town.
8) Explore the deep blue sea together scuba diving or swimming with the dolphins.
9) Take a lunch cruise on one of the great lakes.
10) Plan a weekend getaway (near or far) by booking a hotel and doing, well, whatever your hearts desire. Order room service and stay in bed all day or walk around and explore.
11) Take one trip a year to a different continent.
12) Roadtrip from coast to coast.
13) Fly first class, or if you already do that, book a private jet for some over-the-top luxury.
14) Spend a night in a castle to surprise your King (or Queen).
15) Experience New Year's Eve in Times Square.
16) Plan a trip to catch the Olympics.
17) Go on a month-long backpacking trip through Europe.
18) Design and then get matching tattoos together.
19) Ride horses together on the beach.
20) Go on a safari.
21) Plan trips to visit the seven wonders of the world.
22) Swim in all five oceans.
23) Pull an Eat. Pray. Love. and bask in each other's company.
24) Visit an ancient city and learn about the people who used to flourish there.
25) Ride camels through a desert.
Bucket List Ideas You Can Do at Home
1) Have each partner take turns planning a date that they think the other person would enjoy most.
2) Go for a scenic drive outside of town. If the weather is nice, stop for a picnic or snap a picture.
3) Make each other a playlist for your partner to listen to on their commute or when they're running errands.
4) Watch the sunset together.
5) Take a photo together every single day for a year.
6) Get intimate in every room of your house.
7) Grow a garden together.
8) Watch each other's favorite movie.
9) Cook each other your favorite dish for them to try.
10) Spend a night in the backyard stargazing and make wishes for your future together.
11) Stay home, and stay in bed all weekend long.
12) Stay up all night looking through photos from each other's childhood.
13) Plan a day date that includes touring each other's old schools.
14) Play 20 questions together, or go through this list of meaningful questions to ask your spouse!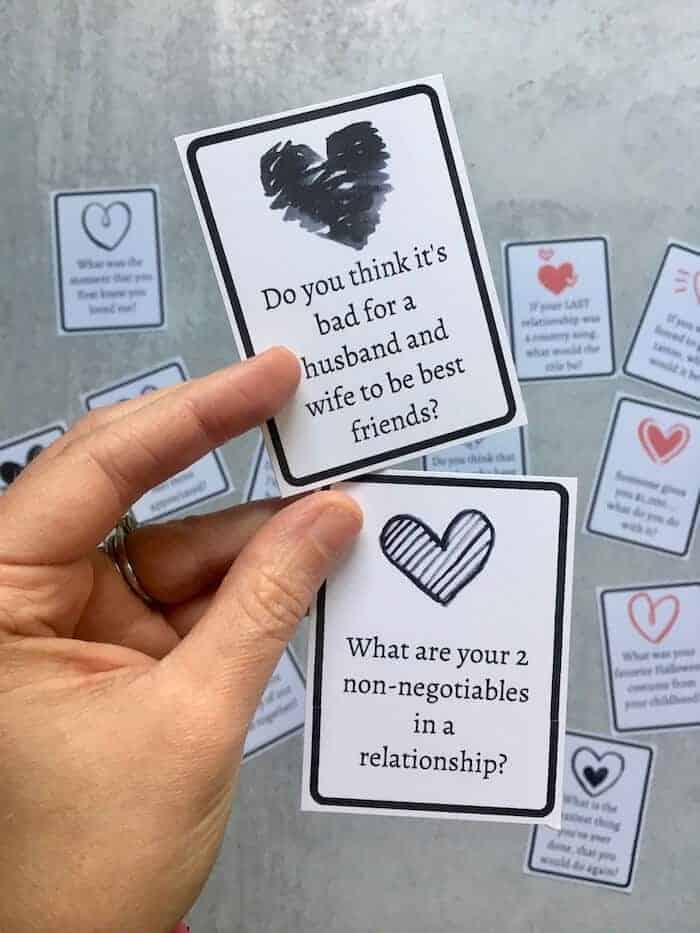 15) Write each other a love letter every day. It doesn't have to be long, just enough to drop a note to remind them how much you adore them.
16) Build a pillow fort and camp out all day.
17) Binge watch each other's favorite TV series.
18) Dress up in couples costumes for Halloween.
19) Ride on a tandem bike.
20) Take a hot and steamy shower together.
21) Plan a date night in, with a sensual twist on a game of twister.
22) Have a spaghetti dinner a la Lady and the Tramp.
23) Watch the sunrise together.
24) Bake a really complicated dessert together.
25) Draw each other's portraits.
Bucket List Ideas for Hands-On Activity
1) Do a color run (or walk) together.
2) Take a cooking class together and learn a recipe you can enjoy together again and again.
3) Pick a book and read through it together.
4) Get a couples massage together, and enjoy some steamy one on one time together in the sauna afterward.
5) Enjoy a fruit and cheese platter in bed with the perfect wine to compliment.
6) Take a pottery class together and throw each other a unique piece.
7) Learn a new language together.
8) Write a song or a poem for your darling.
9) Create a love in paint, work of art.
10) Learn a new dance together.
11) Spin a globe and travel to wherever your land.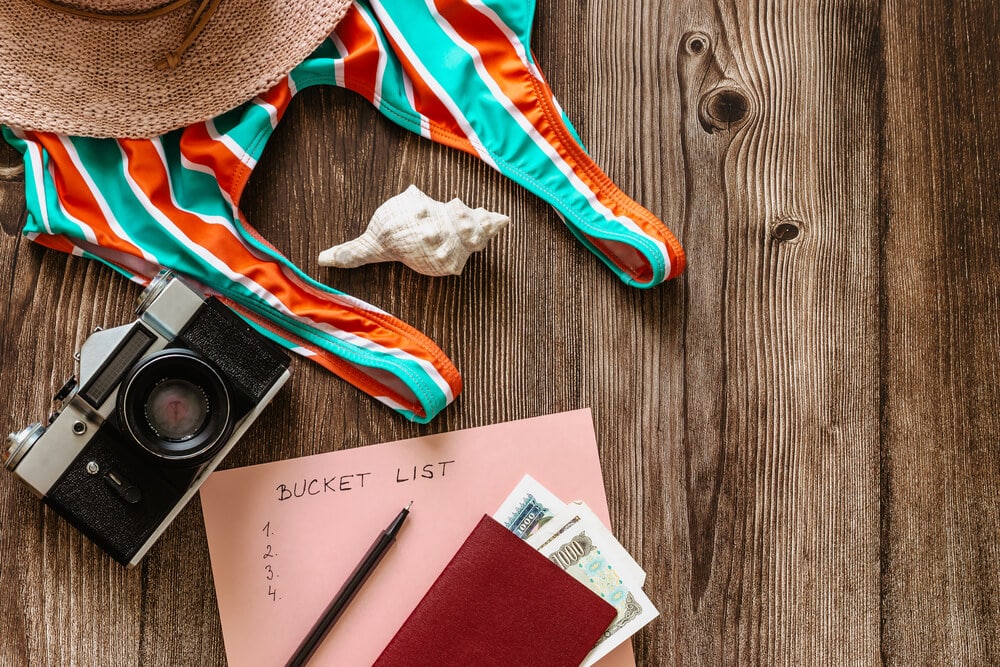 12) Go shopping together, for each other. Set a budget and surprise your spouse with a new outfit for date night.
13) Have a yes day.
14) Attend a conference together that you're both interested in.
15) Perform random acts of kindness together for strangers.
16) Enjoy a lunch cruise together.
17) Go canoeing or paddleboarding.
18) Take turns video recording each other during a day in the life.
19) Make out under a fireworks display.
20) Make a relationship time capsule.
21) Plan your first major trip once you hit retirement.
22) Trace your family trees as far back as you can go.
23) Have a professional photoshoot, just you and your honey.
24) Create a couples crest based on the values you share and the dreams you chase together.
25) Volunteer for a charity or cause you are both passionate about.
Romantic Bucket List Ideas to Share with Your Sweetheart
1) Recreate your first date together.
2) Take a bath together with candles, wine, and music, but without speaking to each other. Bask in each other's gaze.
3) Go off the grid to a cozy cabin and spend a weekend tech-free getting to know each other all over again.
4) Kiss in the rain (The Notebook) style.
5) Visit the places you each grew up and share something special that you remember from growing up.
6) Have a photoshoot in a photo booth.
7) Learn how to say 'I love you' in five different languages.
8) Create a custom couples drink.
9) Have a caricature created of the two of you.
10) Create a scrapbook together (at least one page for each year together).
11) Experience a kiss underwater.
12) Renew your wedding vows at your dream venue.
13) Dance to the most popular song from the year you got together.
14) Have a rooftop dinner date.
15) Carve your initials into a tree.
16) Watch a movie at the drive-in.
17) Take a selfie together while kissing.
18) Go see the band or singer who sang your first dance song perform it live.
19) Follow the trail of rose petals and spend special intimate time at the destination.
20) Recreate your wedding photos.
21) Plan a scavenger hunt for each other for your anniversary.
22) Meet at a restaurant and roleplay like you're meeting for the first time.
23) Feed each other dessert (but not like that one time you got married and smashed cake in your spouse's face).
24) Send each other a random, uplifting affirmation once every hour, all day long.
25) Start each sentence with, I love you, for an entire day.
Free Printable Couples Bucket List Templates
Want to grab my free printable couples bucket list templates to get started making your own fun list of things to do together? Just click on the link below!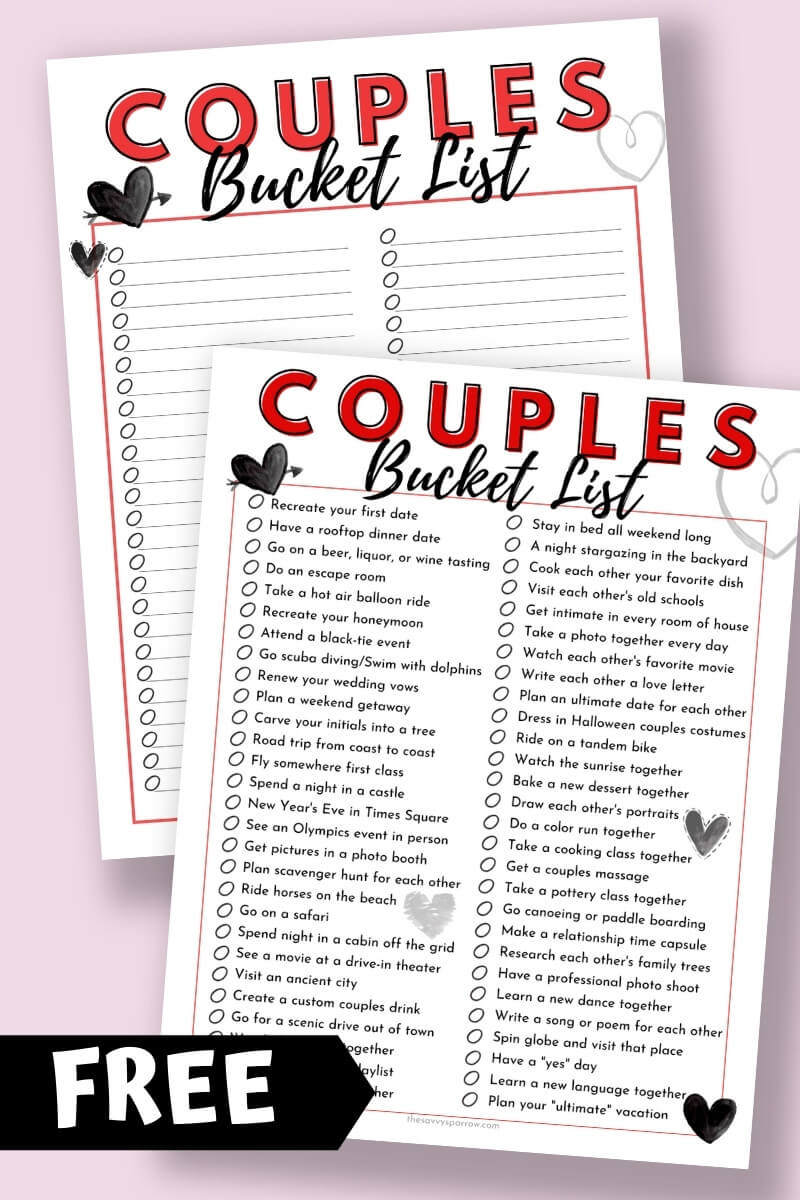 I've included one pre-filled list with great (and realistic!) ideas that you can do together, like cooking each other's favorite dishes and spending a night in a cabin off the grid. And there's also a blank couples bucket list template for you to fill in your own ideas!
Then hang the list on the fridge or add it to your planner when you've got some extra time off or you're looking for a fun activity to do together. Cross things off as you go, and see if you can complete everything on the list!
Download the FREE Printable Couples Bucket Lists HERE!
What's on Your Bucket List for Couples?
Have you tried any of these activities or added some of your own? Tell me all about your experiences in the comments.
Make sure to grab your own printable bucket list with the link above, and don't forget to PIN this post for later: