These easy gratitude activities for kids are a great way to encourage your kids to be thankful for everything that they have. Try some of these thankfulness activities and grab the free printable gratitude activity worksheets in this post!
You may have heard the saying "if you're grateful for what you have, you'll never be disappointed." And it's true – being grateful for the good things in your life can help you stay positive, even during tough times.
And you don't have to wait until November when you hang up your fall "Thankful" decor to practice gratitude. Teaching your children to be grateful is a great way to help them develop a positive attitude and learn how to find happiness in everyday moments. But teaching gratitude to children can be a little tricky. How do you get them to understand the concept and how can you make it fun for them?
Here are 10 activities that will help get your kids started on the path to gratitude: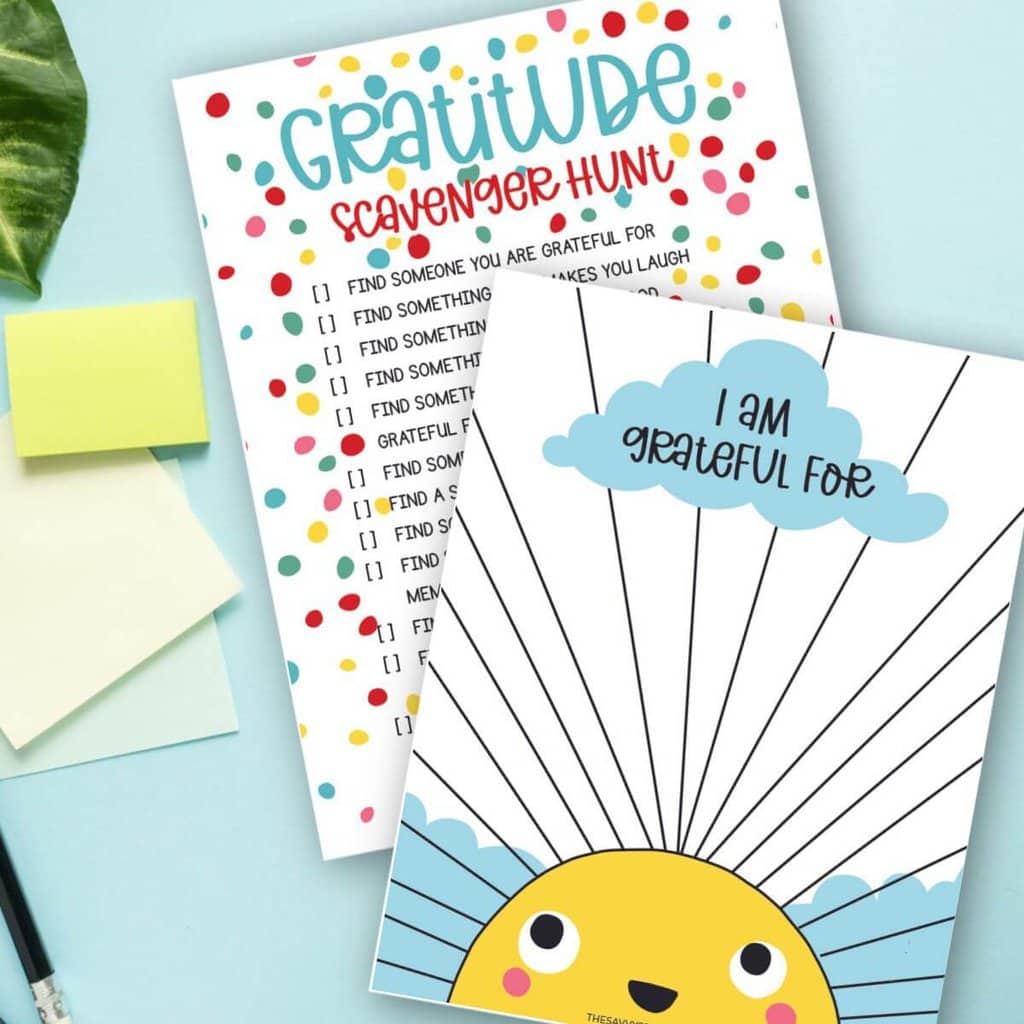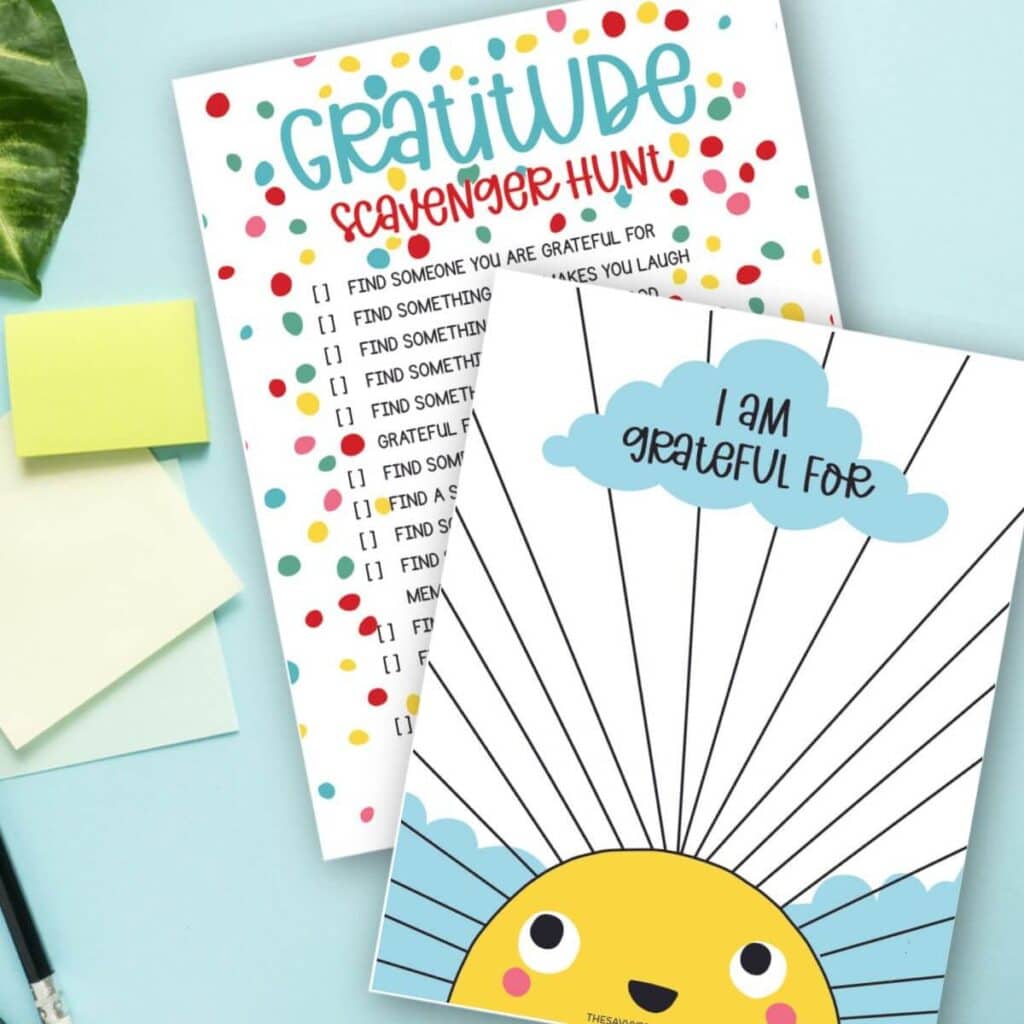 Gratitude Activities for Kids
There are a ton of different ways to reinforce an "attitude of gratitude" in your children, but here are some easy ideas to get you started… and then be sure to check out this post for more helpful tips for teaching gratitude to kids!
Talk about things you're grateful for at dinner each night
While this is a popular activity to do during the month of November, making gratitude a part of your family's daily routine is a great way to get kids in the habit of thinking about what they're thankful for.
At dinner each night, go around the table and have everyone share one thing that made them feel grateful from that day. You can start by sharing something yourself – "I'm grateful that I was able to finish my big work project today." Then encourage your kids to think of their own things to be thankful for – "I'm grateful for my best friend" or "I had a really fun time at recess today."
Send thank you notes
Another great way to teach kids about gratitude is to have them write thank you notes. This can be after they receive a gift from someone, but it can also be for other things like acts of kindness or helpfulness. For example, if your child's teacher goes above and beyond, have your child write a thank you note to show their appreciation. Or, if a friend does something nice for them, have them write a thank you note to show their gratitude.
This is a great way for kids to learn how to express their feelings and it can also help teach them the importance of being polite. Just be sure to model this behavior yourself – let your kids see you writing thank you notes too!
Keep a gratitude journal
A gratitude journal is a great way for kids to track the things they're grateful for on a regular basis.
Have them write down one thing they're grateful for each day, or even each week. This can be something as simple as being grateful for the sun shining or being grateful for having a home to live in. It can be anything from "I'm grateful for my dog" to "I'm grateful it didn't rain today."
For younger kids that can't write out a sentence yet, you can even have them draw pictures of things they're thankful for. This is a great activity to do together as a family and it's fun to look back on all the things you were grateful for over time.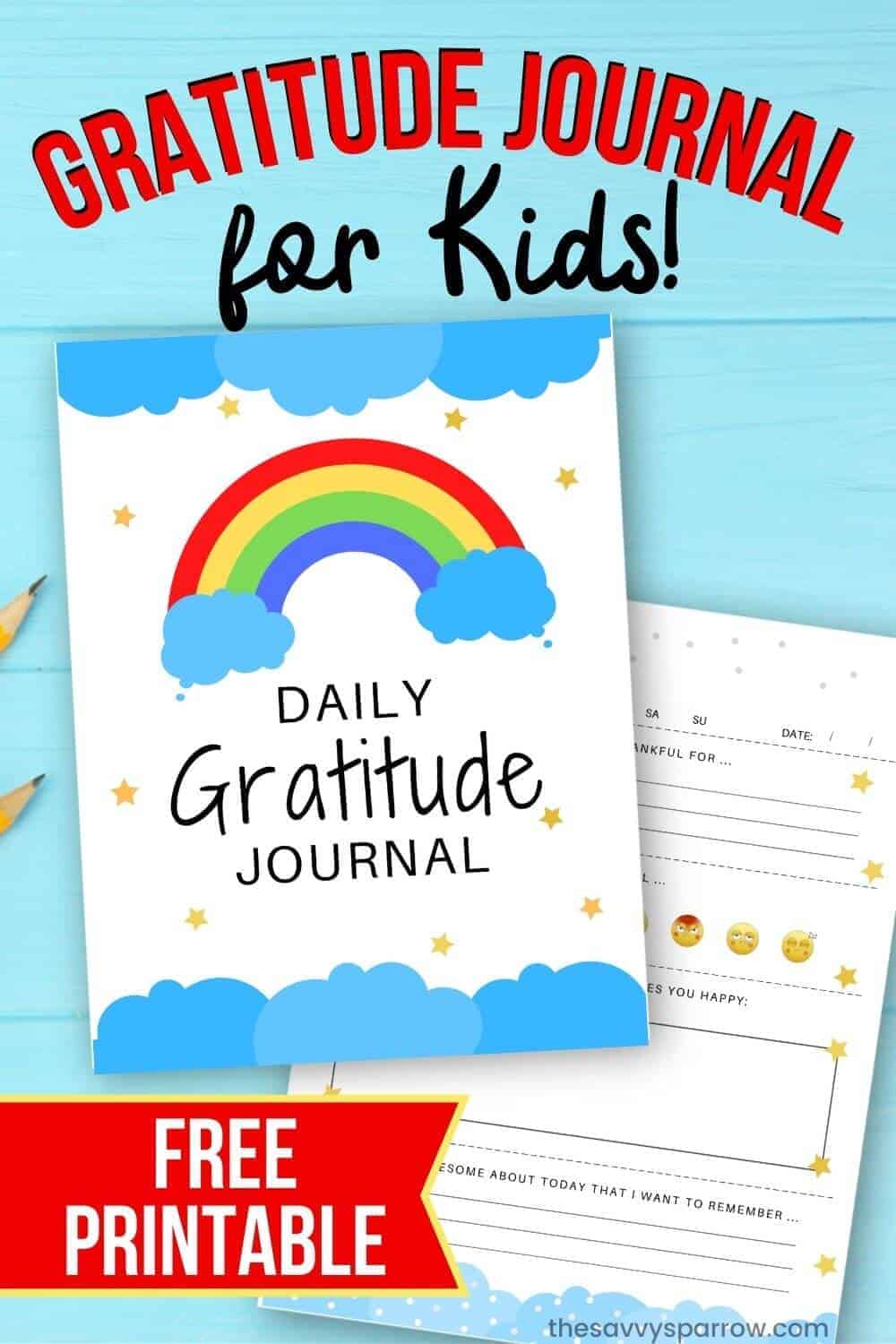 And I've even got a free printable gratitude journal for kids that you can use to add this important gratitude activity in to your kids' routines!
Make a gratitude jar
For an easy gratitude activity that the entire family can participate in, make a gratitude jar and place it in a common area of your home. Every day, have everyone write down one thing they're grateful for on a slip of paper and add it to the jar. At the end of each week, or month, or even year, you can read through all the things you were grateful for and reflect on all the good moments you've shared as a family.
Or, if writing your gratitude down each and every day is a little too much, then I've got some other awesome ideas for how to use a gratitude jar, along with some super cute Gratitude Jar Printables here!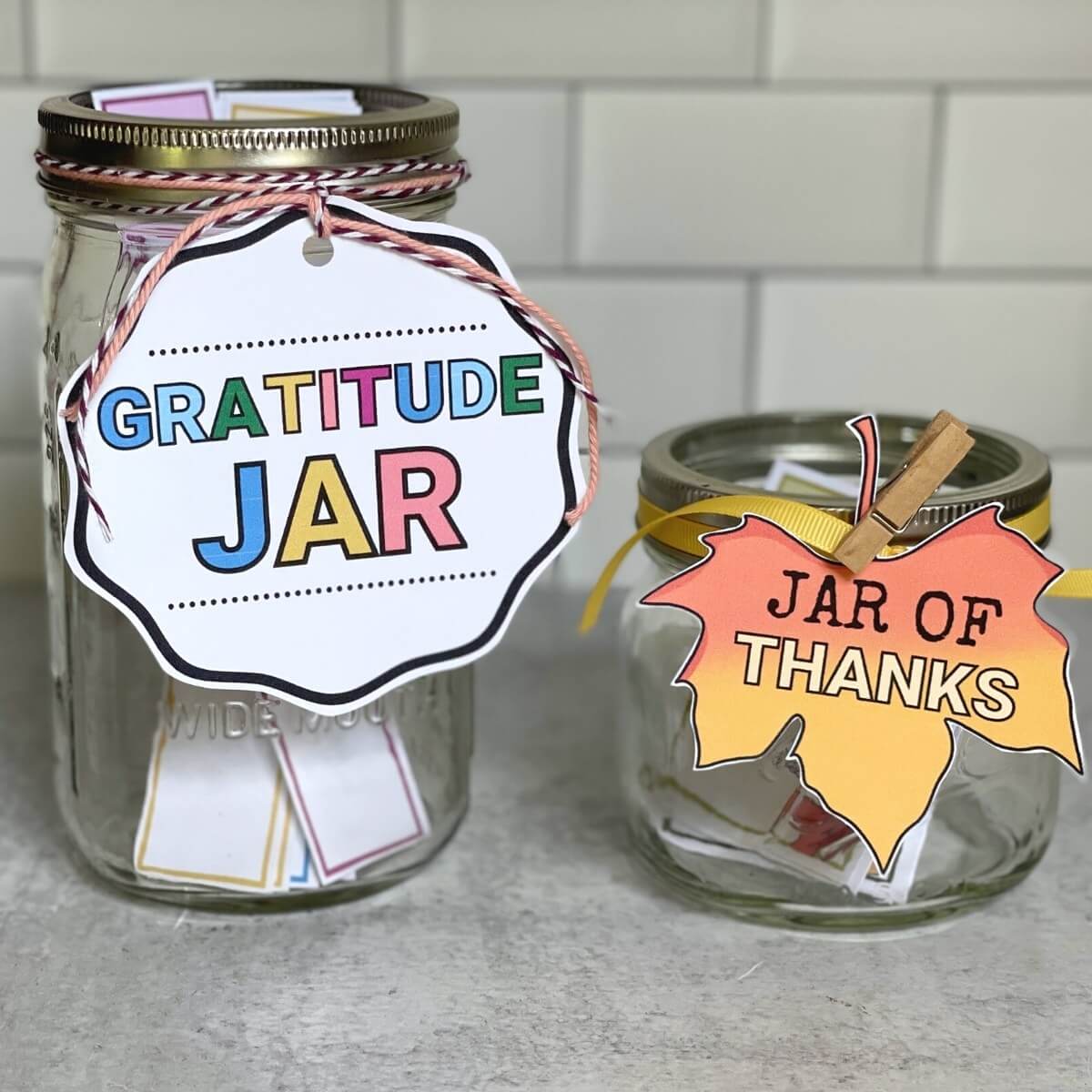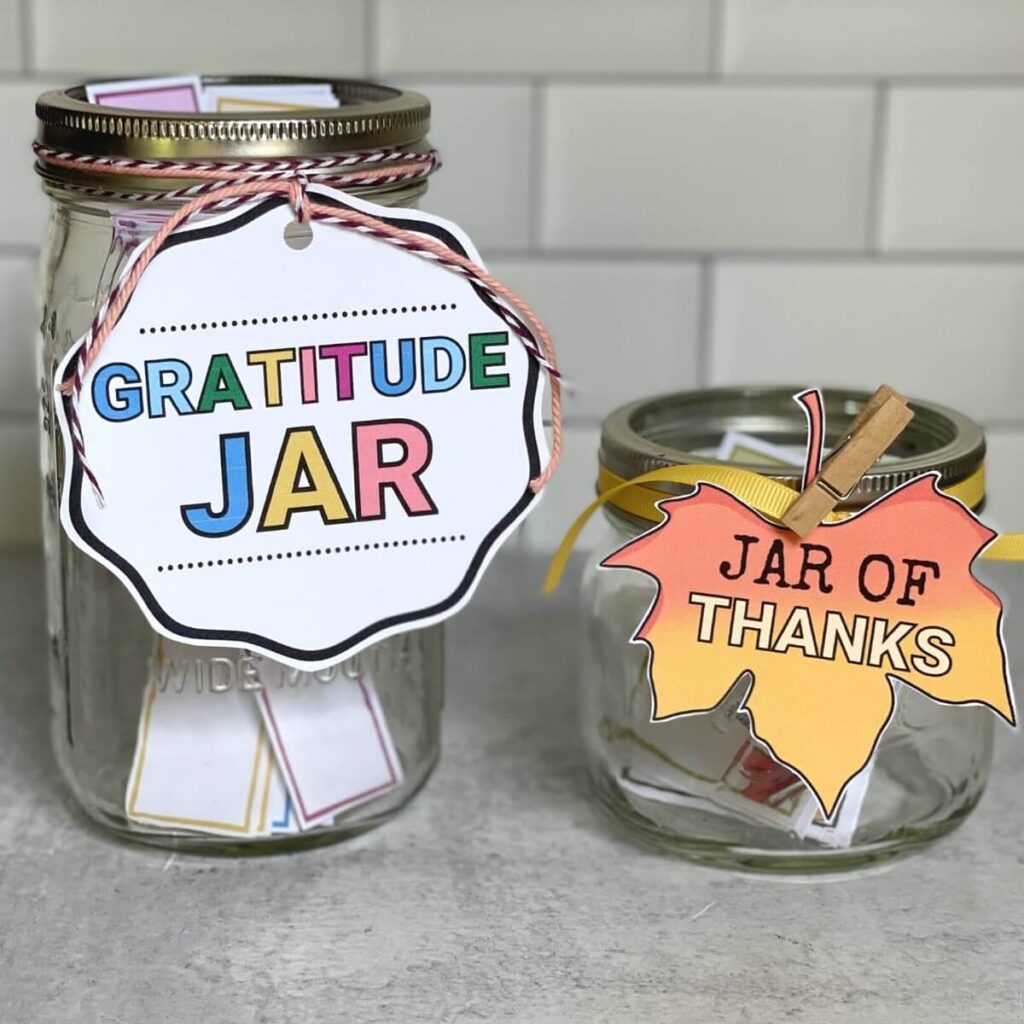 This is a great way to help kids understand that being grateful can mean different things to different people. Instead of only reflecting on what they are grateful for themselves, they can discover what the rest of the family is thankful for as well.
Volunteer together
Volunteering as a family is a great way to teach your children about giving back and being grateful for what they have. There are many different organizations and causes that need help, so find one that's important to you and your family and volunteer your time.
You can do things like serve food at a soup kitchen, read to kids at a local library, participate in a beach clean up, walk dogs at your local shelter, or plant trees in your community. Not only will this teach your kids about being grateful, but it will also teach them about being kind. Kids will feel good knowing that they're helping others, and they'll also learn to appreciate all the good things they have in their own lives.
Make a list of things you are thankful for with a cute printable worksheet
One way to teach your kids about gratitude is to have them make a list of things they're thankful for. This can be done verbally, by brainstorming together, or in writing. Once they have their list, help them narrow it down to their top three things. Then, have them explain why they're grateful for each item on their list. For example, if they're thankful for their toy car, they might say "I'm grateful for my toy car because it helps me use my imagination and I can play with it anytime I want."
And I've got some awesome free printable gratitude worksheets for kids at the end of this post!
Say "thank you" more often
One of the simplest things you can do to teach your kids about gratitude is to model good behavior yourself. One way to do this is by saying "thank you" more often. Thank your spouse for making dinner, thank your kids for doing their chores, thank the cashier at the store for bagging your groceries.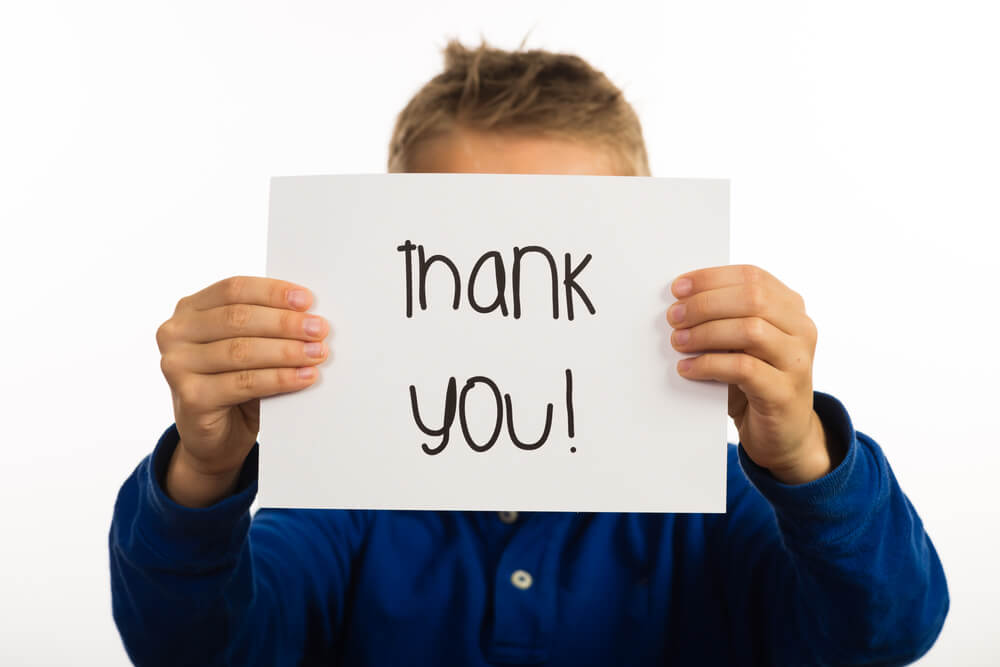 By saying "thank you" regularly, you're teaching your kids that being grateful is an important part of life.
Do a gratitude scavenger hunt
If you have younger kids, then try to practice gratitude and play a fun game at the same time! A gratitude scavenger hunt is a great way for your kids to visualize the things that they're thankful for because they'll actually be searching the house to find them!
Just print the free gratitude scavenger hunt at the end of this post and have your kids go on a "hunt" around the house to find the things on the checklist like their favorite toy.
Practice kindness
As the wise Dalai Lama once said, "Be kind whenever possible. It is always possible." So another great way to teach kids about gratitude is to have them do something kind for someone else.
This can be as simple as helping someone carry their groceries, holding the door open for someone or making a thank you card for their teacher. Kindness doesn't have to be big or expensive – even a small act of kindness such as smiling and saying hello can make a big difference in someone else's day.
Teach them about giving
In our materialistic world, it's easy for kids to get caught up in wanting things they see on TV or in stores. A great way to combat this is to teach your kids about giving.
Talk to them about how there are people in the world who don't have enough and how they can help by donating their time or resources. You can adopt a family in need during the holidays or sponsor a child through a charitable organization where your child can write letters and learn about the other culture. This will help them understand that there's more to life than just getting stuff, and they'll learn that it feels good to give back.
Visit a nursing home
Many nursing homes have programs that allow children to visit and spend time with the residents. This is a great way to teach your kids about being grateful for what they have, as well as being kind and compassionate towards others.
They can talk to the residents, learn about their lives and even play games or do arts and crafts with them. The residents will love getting to spend time with the children, and the kids will enjoy listening to the stories and experiences of their elders.
This experience can help your kids understand that even though some people may be different from them, we all have value and worth.
Free Printable Gratitude Activities and Worksheets for Kids
Some of these gratitude activities for kids can be super easy to do at home because they involve free printable gratitude worksheets! Just download the free printable gratitude activities and let your kids starting practicing thankfulness… doesn't get much easier than that!
The printable gratitude worksheets include:
"I am Grateful For…" Sun Worksheet
Have your kids write one thing that they're grateful for each day in the sun's rays. They can also color in one ray for each day with crayons or colored pencils.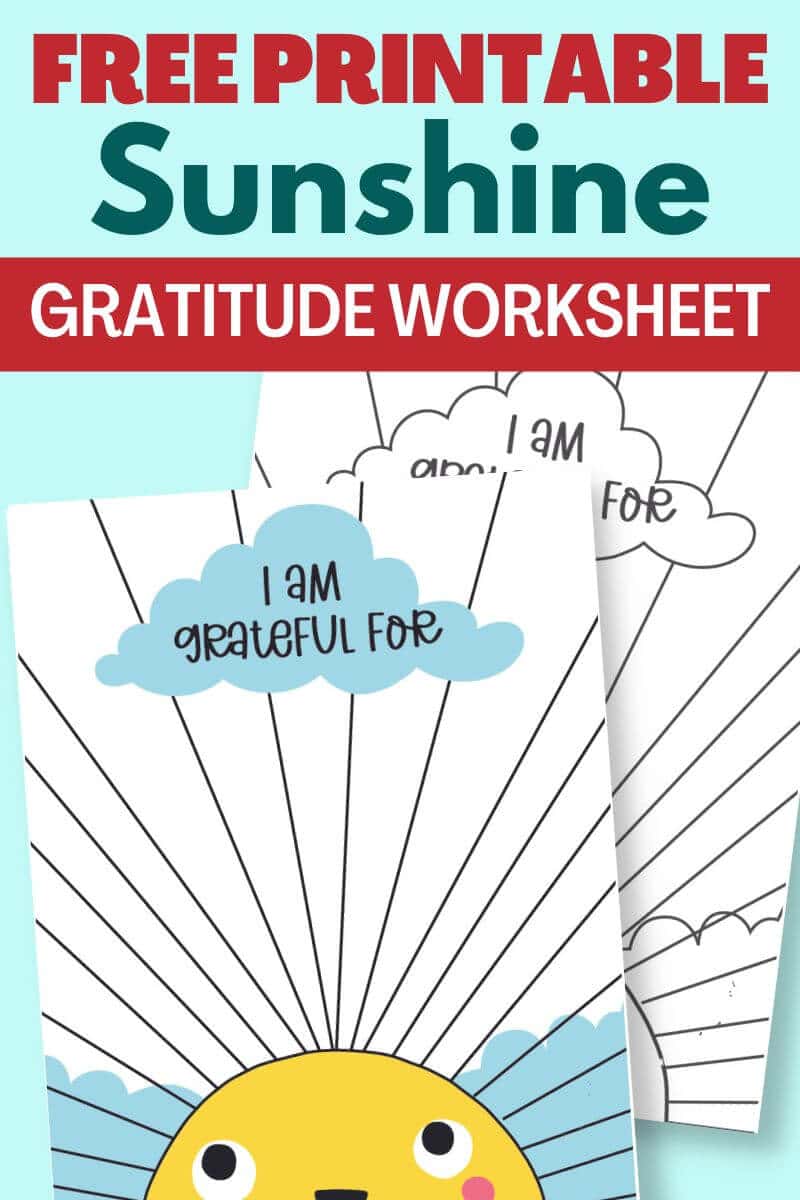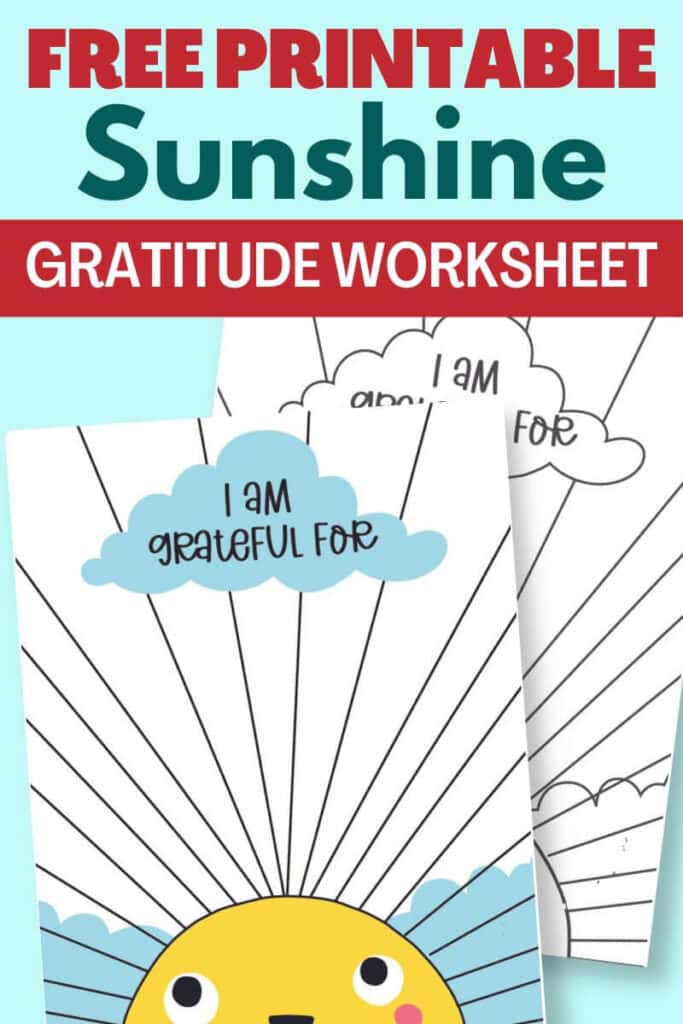 Gratitude Scavenger Hunt for Kids
A scavenger hunt can make practicing gratitude fun for kids! This free printable gratitude activity involves finding items around the house that represent your kids' gratitude, like a toy that they're grateful for or a snack that they like.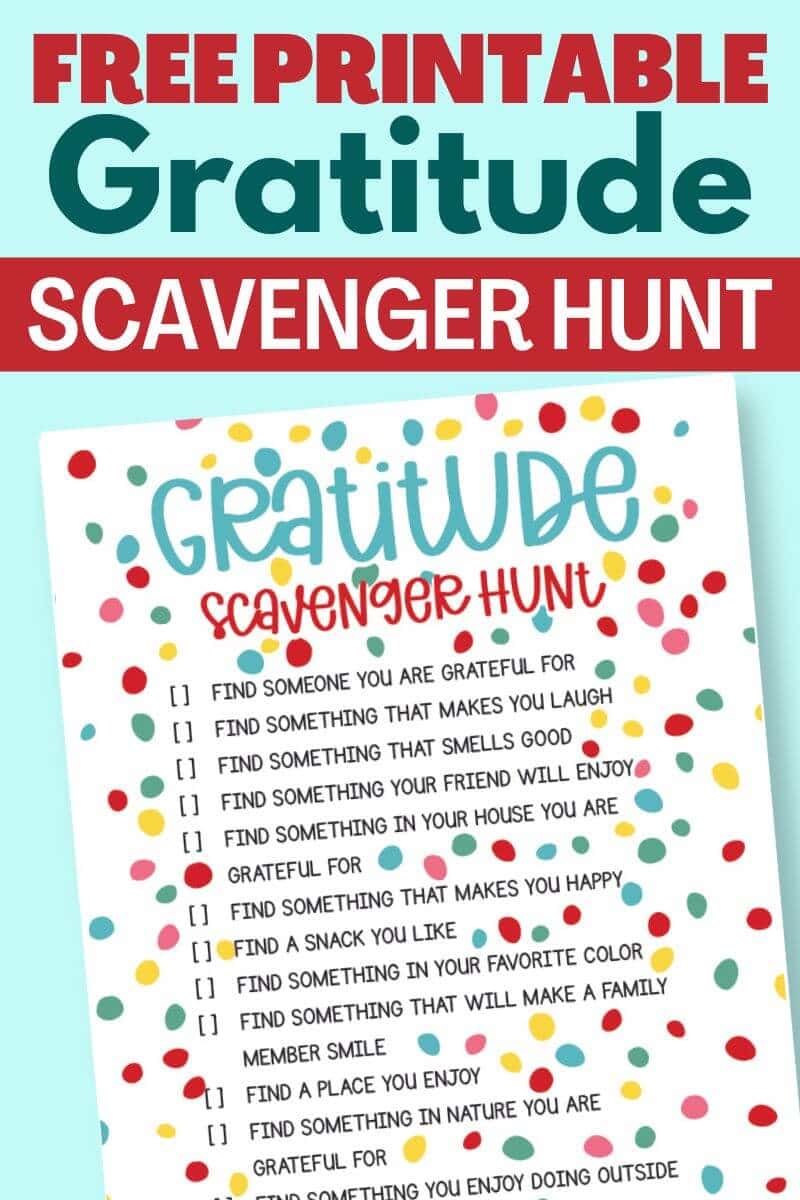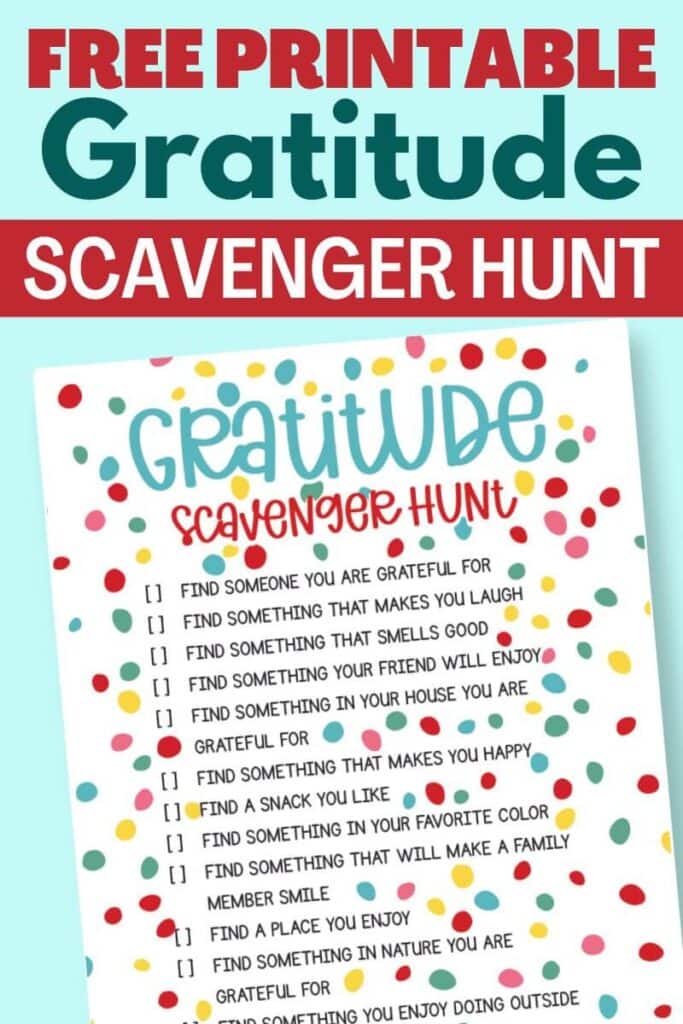 Printable Thank You Notes for Kids
Writing thank you notes is a great gratitude activity for kids to do, and it teaches them about being thankful for others. Just print out these free printable thank you notes and have your kids write a note for gifts they receive. They can even write simple notes to friends saying "Thank you for being my friend."
*You can also find packs of kid-friendly Thank You notes at Dollar Tree for a great price!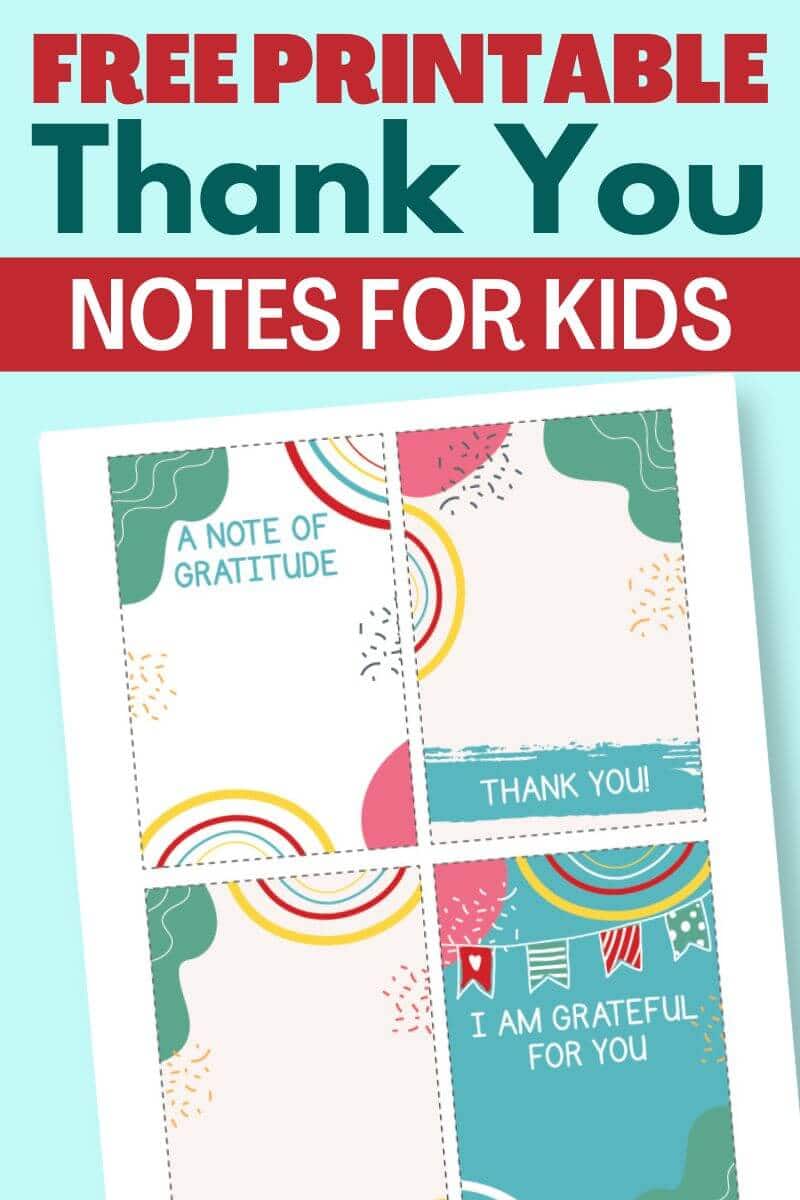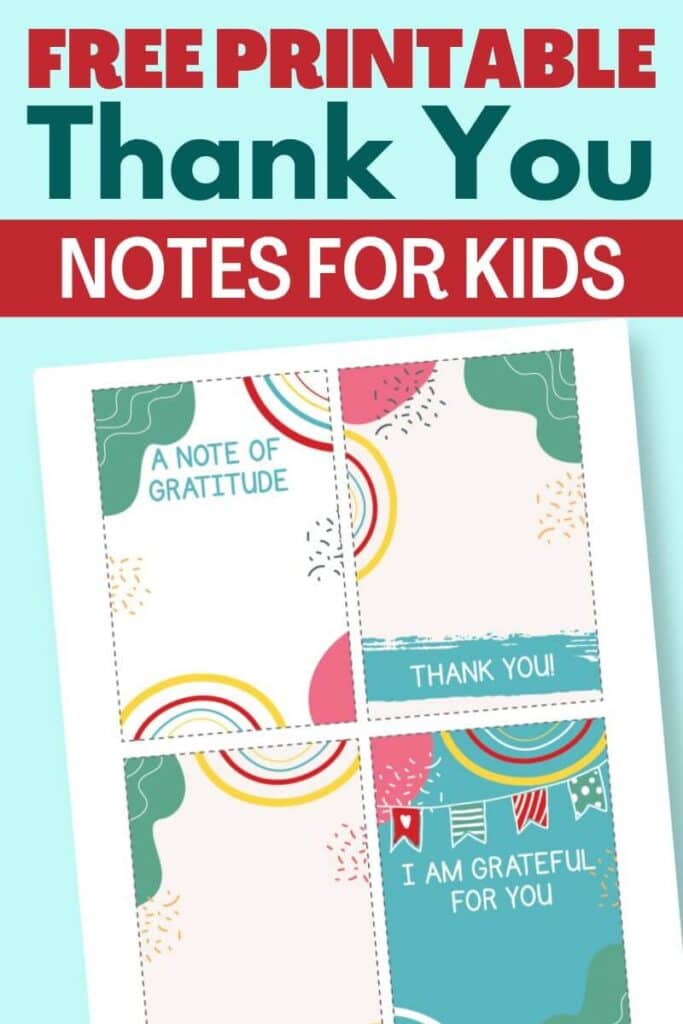 To download ALL of these free printable gratitude activities for kids, just click the link below! A new window will pop up with the gratitude worksheets and you can print them out from there:
Click HERE for the Free Printable Gratitude Activities for Kids
There are so many great ways to teach your kids about gratitude – these are just a few of my favorites. Developing a grateful attitude can be beneficial for kids in a lot of ways. It can help them stay positive during tough times, make them more compassionate and generous, and even improve their overall health.
Being grateful is a great way to find happiness in everyday moments and it can teach kids how to be positive and appreciative of what they have. By modeling good behavior, talking about gratitude often, and doing fun activities together, you can help your kids develop a grateful attitude that will last a lifetime.
What are some ways you teach your kids about gratitude? Share in the comments below!
And don't forget to PIN this post for later: