If you're looking for easy Kawaii crafts, then you'll love these felt rainbow crafts for kids! A great indoor art activity!
Well, we're going on day 936 of staying at home… or so it seems! And on top of that we're on our 10th straight day with temps over 90 degrees. It's too hot to even think about going outside to play, and my ideas for indoor activities for bored kids are running low.
Are your kids going stir crazy, too?
If so, then they might enjoy this fun and super CUTE felt rainbow craft!
This easy felt craft is great for older girls because of the cute Kawaii theme… If you don't know what "Kawaii" stuff is, then trust me, it's all the rage. Stick a cute smiley face on a colorful slice of pizza and you've got Kawaii.
Plus, the younger kids will love it too, AND it will help them sharpen their scissors skills and color recognition.
Not to mention it's an easy craft idea that you can do at home with just a few basic supplies, AND you can add this idea to your "I'm Bored" Jar for kids!
So print out the FREE printable rainbow template down below, and let's get started on this cute felt rainbow craft!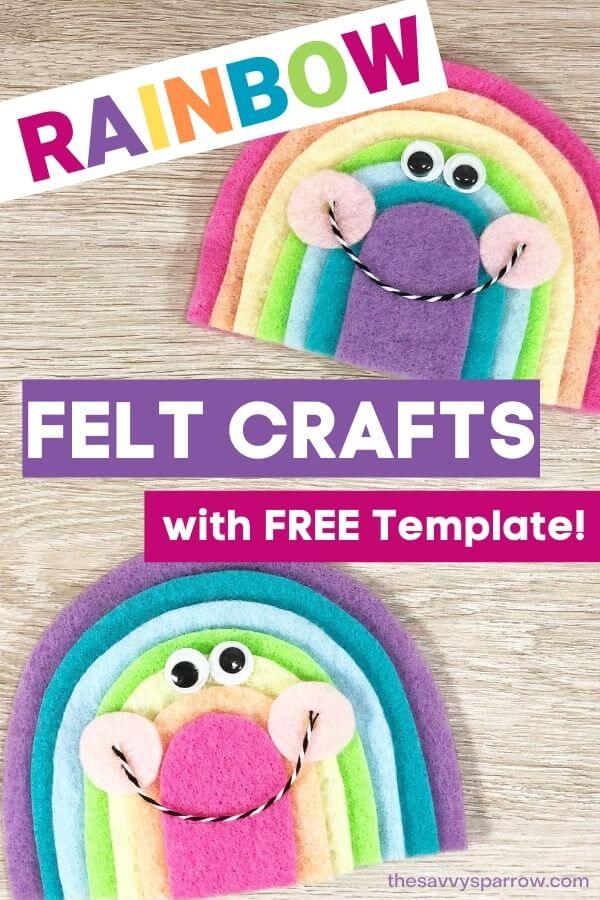 *This post contains affiliate links, which means if you click a link and make a purchase, I earn a commission at no additional cost to you. Read my full disclosure here.
Felt Rainbow Craft Supplies
Craft Felt – The cute "Kawaii" stuff is usually pastel colored, but you can get bright or pastel felt sheets in rainbow colors. JoAnn's Crafts has these for around 59 cents each, or you can also grab rainbow felt from Amazon (affiliate) if you don't want to leave the house!
Dollar Store Wiggle Eyes
Baker's twine – You'll need just a little bit to use for the smiles on your Kawaii rainbow crafts, but you may want a little extra to use to hang up your finished rainbows.
Permanent Marker
Glue Gun and Glue Sticks – Low temp works best!
Scissors
Printable Rainbow Template
Pin Back, magnet, or bakers twine – Optional! You can turn these cute felt rainbow crafts into little ornaments or magnets for the fridge!
How to Make Cute Rainbow Crafts with Felt
1. Print the Rainbow Template and cut out the shapes.
Download, print and cut out rainbow shapes from the Rainbow Template.
Click HERE for the Free Printable Rainbow Template in PDF form!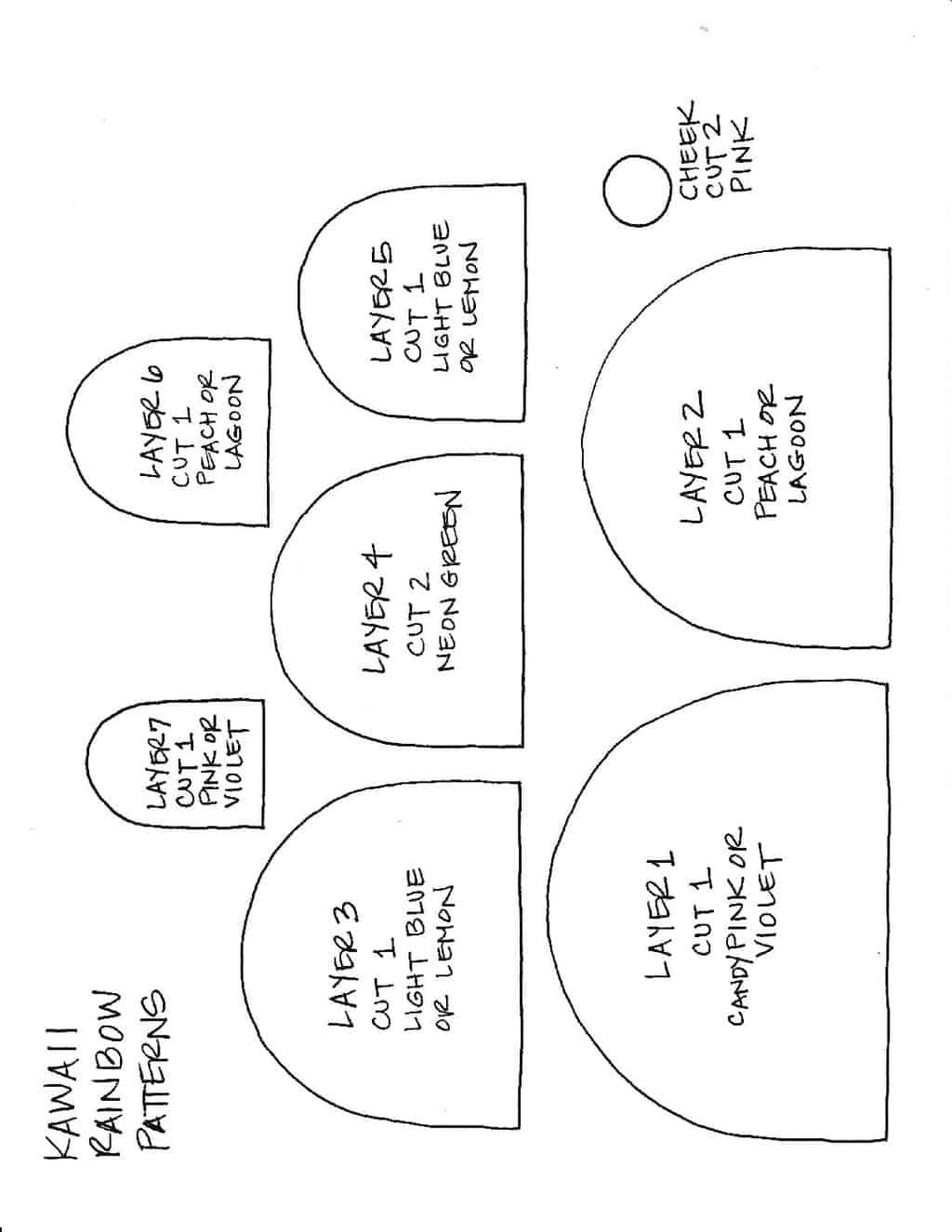 Then trace the rainbow shapes onto colored craft felt with a permanent marker. Cut out with scissors, inside the lines, so you have a clean finished project.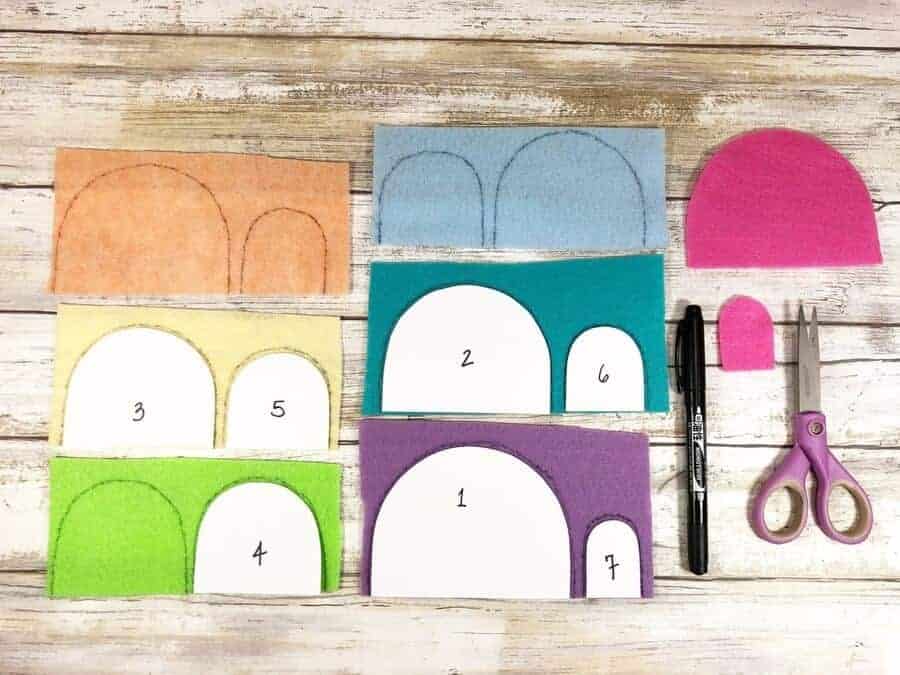 2. Glue Rainbow Felt Shapes together to form a rainbow.
Layer the shapes from the rainbow template from largest to smallest. Use your glue gun to glue the pieces together.
3. Cut pink circles out of felt for smiley face.
Cut small circles for cheeks from the pastel pink felt. Then hot glue them onto the rainbow felt crafts as shown.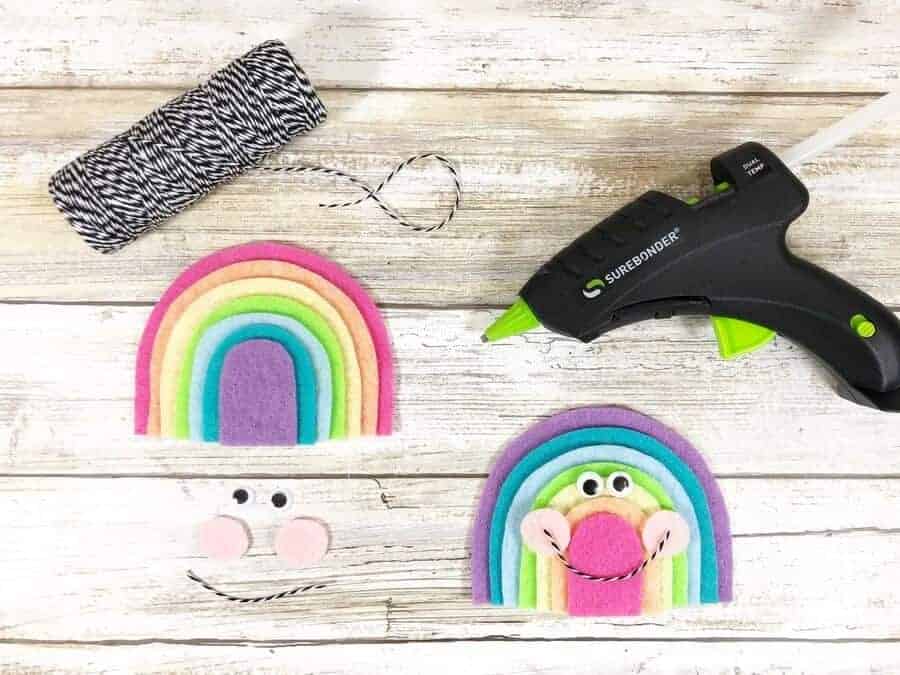 4. Glue wiggly eyes and baker's twine to form the face for your Kawaii Rainbow Felt Crafts.
Use your glue gun to attach the wiggle eyes to the top center of the rainbow crafts, placing them right next to each other. Then glue baker's twine from cheek to cheek to create a smile for your cute felt rainbow.
5. Attach magnets, pin back, or string to the back of your felt rainbows.
Flip Rainbows over and attach a pin back, magnet or Baker's twine hanger to the back of each with the glue gun and glue sticks.
And you're done! Aren't these easy felt crafts so cute?!
You could add a name and use these as super cute place cards for a rainbow themed birthday party, or hang them on a rainbow Christmas tree. These cute felt rainbows would even look cute just sitting on top of your daughter's dresser.
Want more cute craft ideas? Head here for some other fun Kawaii crafts.
And happy nesting!