This vegetarian flatbread is made with hummus and all the veggies for the best easy and healthy lunch! Make it in just 10 minutes, and customize it with your favorite toppings!
My husband and I both eat lunch at home everyday, and while that may sound nice, it gets pretty boring eating the same turkey and cheese sandwich everyday…
So we get creative with our lunches!
Over the past few years, we've developed some SUPER easy and SUPER flavorful healthy lunch recipes, like this easy low carb tortilla pizza.
And this anything-but-boring vegetable flatbread with hummus.
This vegetarian flatbread with ALL the veggies is definitely NOT like a pizza flatbread. Instead, it's served cold or room temperature, without marinara sauce. Think of it as a thin and crispy, flavorful bruschetta.
You actually bake the flatbread plain first to get it to crisp up like a cracker, and then you pile it high with your favorite hummus, veggies, and crumbled cheese.
It looks beautiful, tastes even better, and you won't feel guilty polishing off a whole one all by yourself!
And did I mention it only takes less than 10 minutes to make, start to finish?! Here's how to make your new favorite quick and easy lunch:
Ingredients
These are only suggested ingredients… we often just top our vegetarian flatbread with whatever we have in the fridge. If you don't like a certain ingredient, leave it off… have some tomatoes or cucumbers that need to be eaten stat, chop them up and add them to your flatbread.
Once you know how to crisp up the flatbread so that it can hold your ingredients without falling apart, then the possibilities are endless! But here's what we added to this one: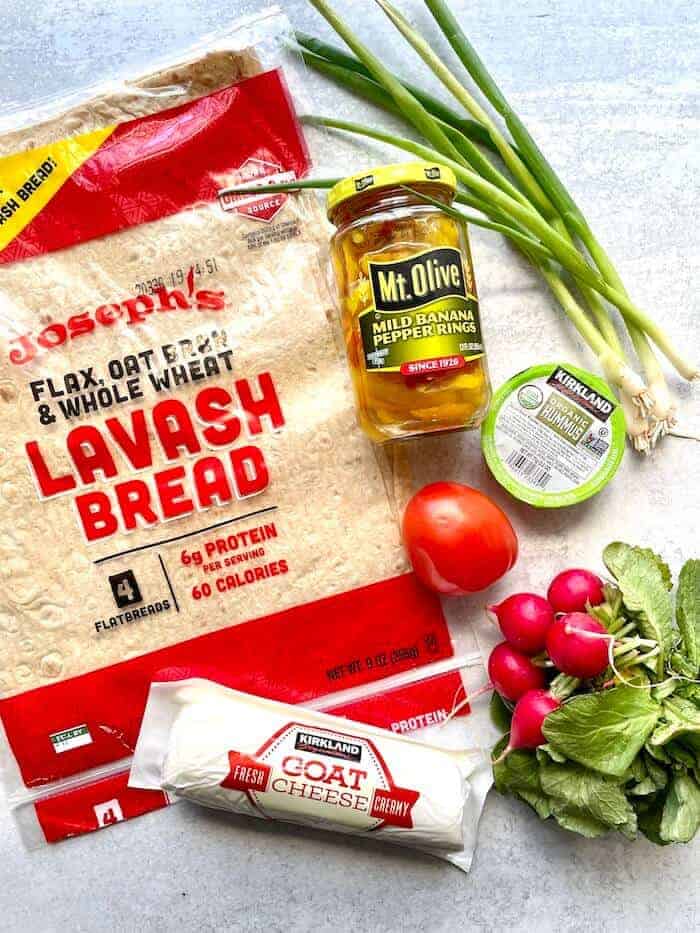 *This post contains affiliate links, which means if you click a link and make a purchase, I earn a commission at no additional cost to you .
store-bought flatbread – We used Joseph's brand Lavash bread with Flax, Oat Bran, and Whole Wheat (it's a pantry staple in our house!). You can find it at WalMart and most grocery stores. I LOVE that it is lower in carbs and made with heart-healthy ingredients!
olive oil – just enough to brush on one side of your flatbread
parmesan cheese
salt and pepper
Italian seasoning – or you could also use garlic powder, oregano, dried basil, etc. – This is just to season the flatbread so it's like a flavorful cracker.
hummus of your choice – We used the individual cups of organic plain hummus from Costco.
chopped roma tomato
sliced green onion
thinly sliced radishes
jarred sliced banana peppers
diced cucumbers
jarred roasted red bell peppers
crumbled goat cheese – The goat cheese adds a nice tangy taste and creamy texture to this vegetarian flatbread, but you can definitely leave it off or substitute a different cheese if you're not a fan.
drizzle of balsamic glaze – This is totally optional, but HIGHLY recommended. The sweetness from this balsamic glaze balances out the acidity and tang of the banana peppers and goat cheese.
How to Make the BEST Vegetarian Flatbread
Step 1: Brush olive oil on top of the flatbread.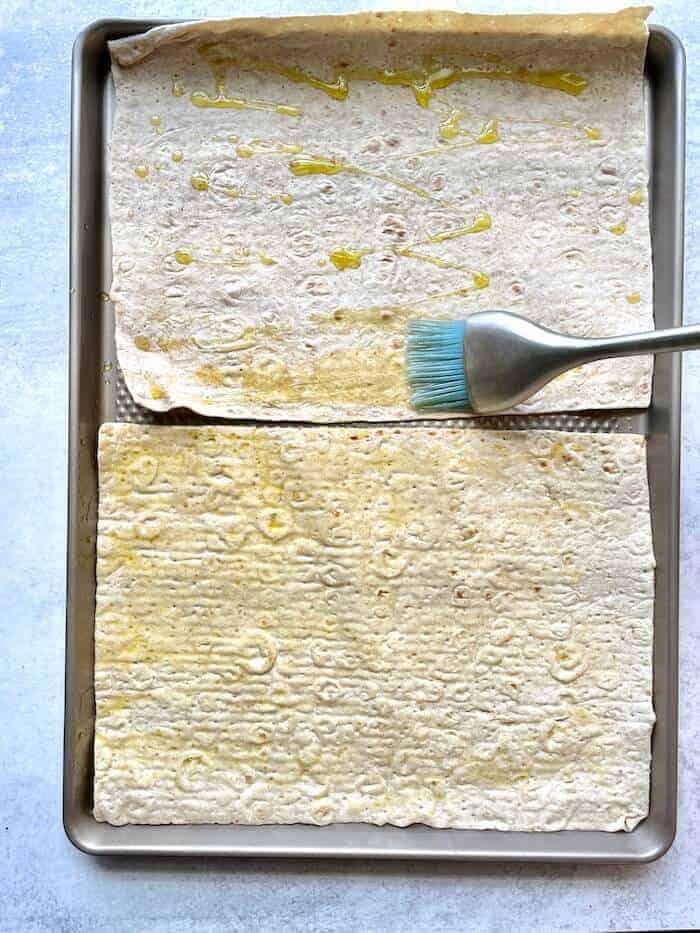 Place your flatbread on a cookie sheet, and use a pastry brush to evenly brush your favorite good-quality olive oil all over the top side. The olive oil will help the flatbread crisp up in the oven, and it gives your seasonings something to stick to.
Step 2: Sprinkle flatbread with parmesan cheese and seasoning.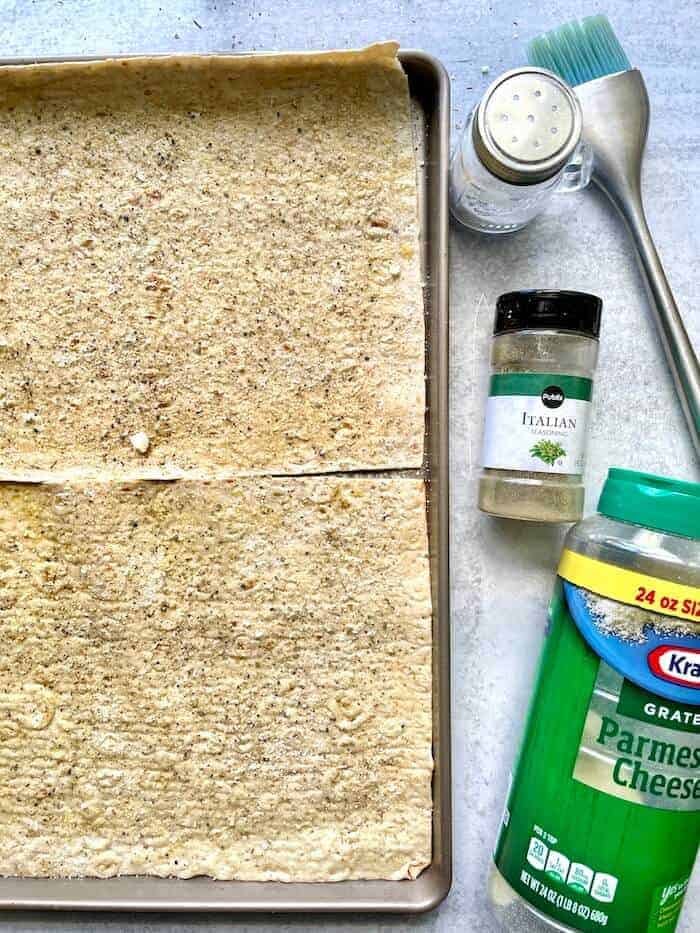 After you've got a thin but even coating of olive oil on your flatbread, sprinkle on parmesan cheese, salt and pepper, and whatever seasoning you like. We used Italian seasoning on this one, but you can also use garlic powder, all purpose Greek seasoning, or dried basil and oregano.
Step 3: Bake the flatbread until it is crispy.
Put your seasoned flatbread (still on the cookie sheet) into the oven to bake at 375 degrees for about 5-7 minutes. Once your flatbread has developed a nice golden brown color and it is crispy, it's done.
Here's what it should look like: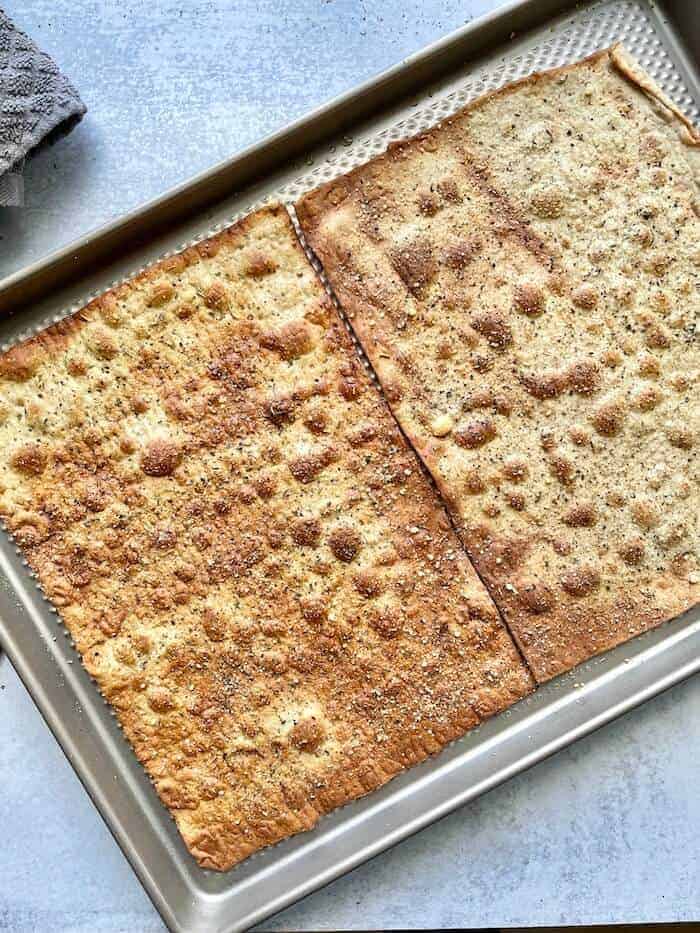 *Note – At this point you can also break or cut your seasoned and baked flatbread and serve it as crackers with tuna salad, hummus, or greek salad.
Step 4: Spread hummus on top of the flatbread.
Allow your flatbread to cool slightly (just a few minutes), and then use a knife or offset spatula to spread hummus on top of the baked flatbread like this: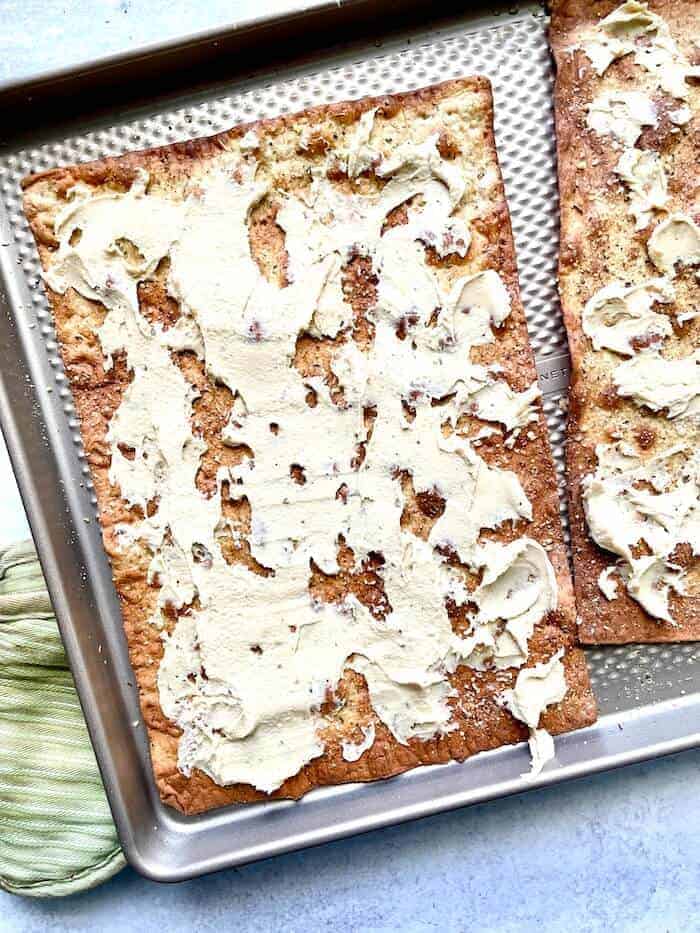 We use plain hummus, but a roasted red pepper, garlic, or toasted pine nut flavored hummus would be good on this veggie flatbread also. And don't worry about getting the hummus perfectly spread on top… it doesn't have to be precise because you will just be covering it with veggies.
Step 5: Add chopped veggies, balsamic drizzle, and goat cheese.
Next, it's time to add your favorite toppings to your vegetarian flatbread.
You can chop up all of your veggies and mix them in a large bowl before putting them on your flatbread, or just put the veggies on individually (like you would if you were making a pizza).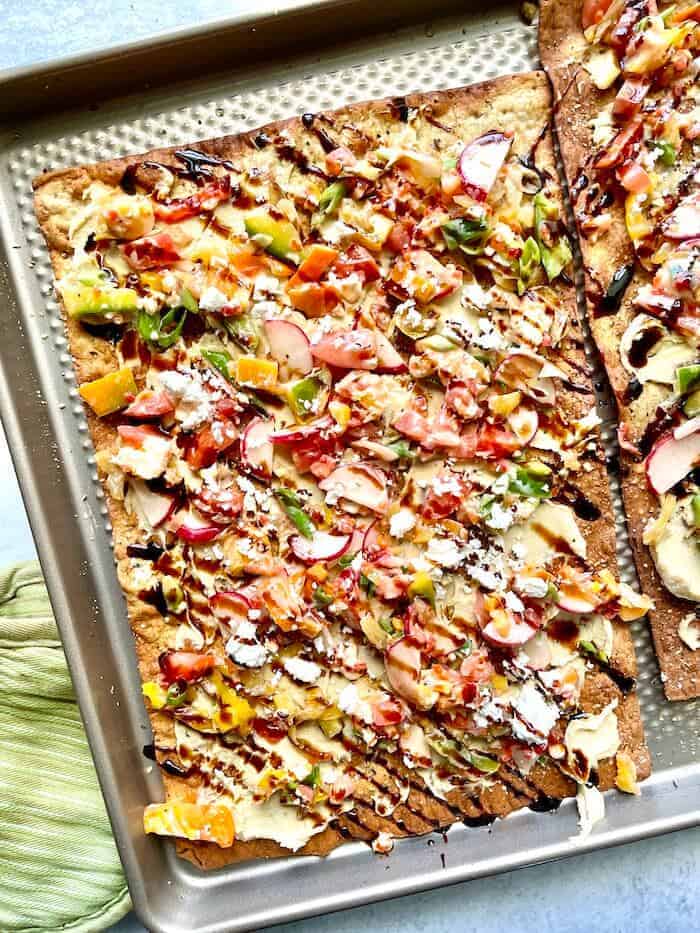 We've done it both ways and the vegetarian flatbread tastes great either way, so it's up to you.
Then top with a drizzle of balsamic glaze (we use this one and LOVE it!) and some crumbled goat cheese.
Step 6: Cut your vegetarian flatbread in to squares and serve!
Once your veggie hummus flatbread is done, you'll want to cut and serve it immediately so that the hummus and moisture from the veggies doesn't make the flatbread soggy.
Doesn't it look great?! So much better than a plain ol' turkey sandwich for lunch, right?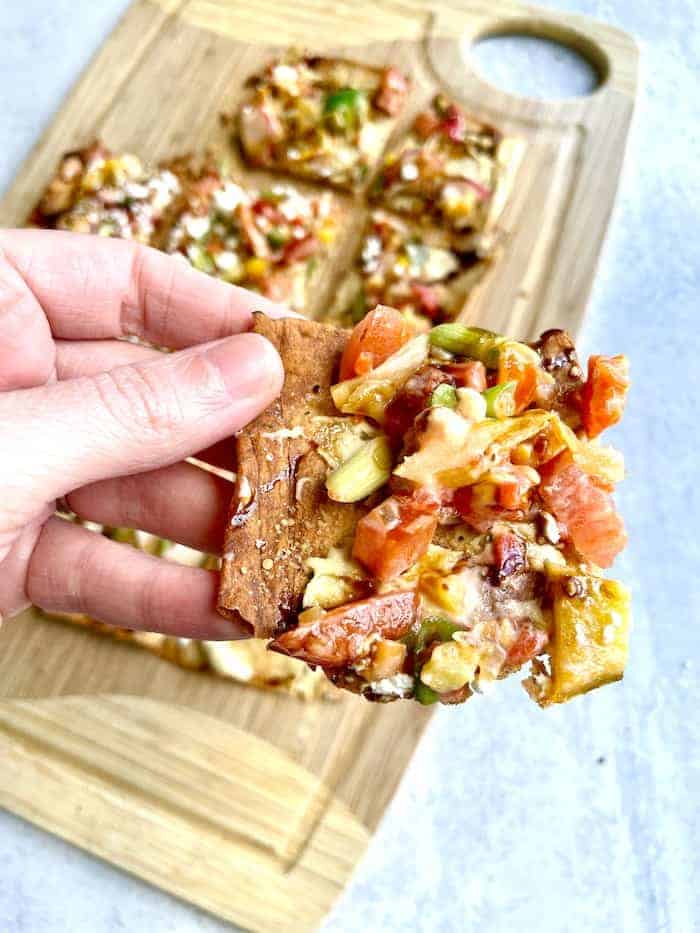 Other Toppings for Veggie Hummus Flatbread
The great thing about these vegetarian flatbreads is that you can throw the kitchen sink at 'em. Use this easy lunch to clean out your fridge or use up those random radishes hiding out in the back of your produce drawer.
I've never added a topping that I didn't like to my flatbread.
Here are some other yummy additions:
jarred roasted red peppers – We usually add these to our flatbreads, but we happened to be out of them.
chopped black or kalamata olives
diced pickled jalapeno – if you like spicy!
thinly sliced mushrooms
fresh corn cut off the cob
shredded carrots
chopped raw broccoli
thinly sliced asparagus
fresh herbs like cilantro, parsley, or basil
jarred pesto – You can drizzle this on top just like the balsamic glaze.
sliced avocado – a great way to add more protein to your vegetarian flatbread!
thin sliced red onion
fresh baby spinach – torn into bite sized pieces
Yield: 1 flatbread
Vegetarian Flatbread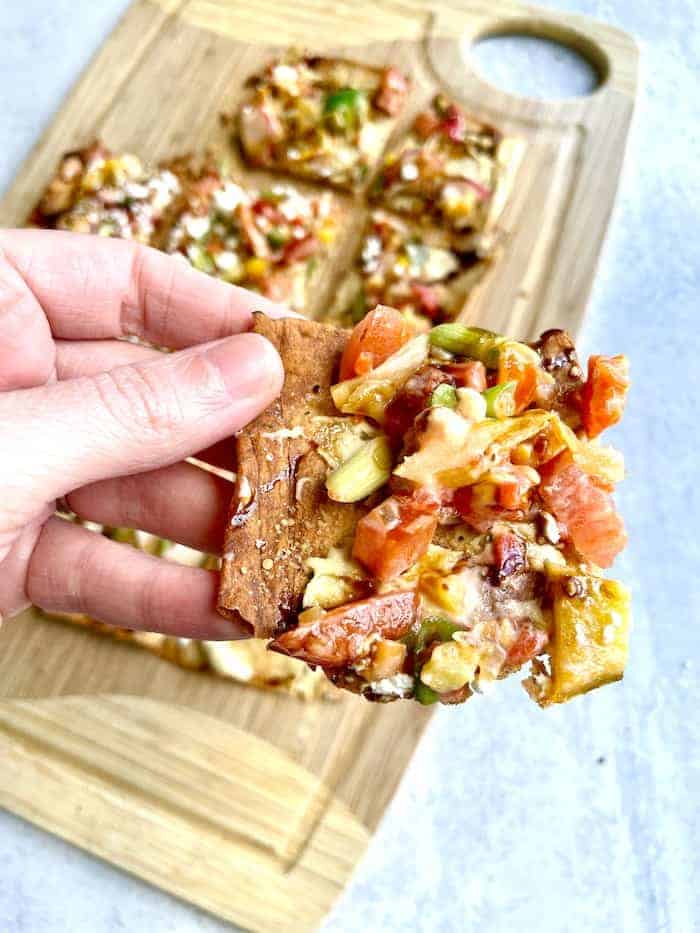 This vegetarian flatbread is topped with hummus, loaded with all the veggies, and finished with a drizzle of sweet balsamic glaze. This easy flatbread recipe can be made in just 10 minutes, and it will be your new favorite healthy lunch! Customize it with your favorite vegetables, crumbled cheese, or other toppings!
Prep Time 3 minutes
Cook Time 7 minutes
Total Time 10 minutes
Ingredients
1 flatbread - We use Joseph's Flax, Oat Bran, and Whole Wheat Lavash bread.
1 tablespoon olive oil
parmesan cheese
Italian seasoning
salt and pepper
1/3 cup plain hummus - or substitute a flavored hummus if you like
1 small roma tomato, chopped
2 radishes, thinly sliced
1/4 cup cucumber, chopped
2 tablespoons roasted red peppers
2 tablespoons jarred banana peppers
1 oz goat cheese, crumbled
drizzle of balsamic glaze
Instructions
Preheat oven to 375 degrees.
Lay one flatbread on a baking sheet, and brush top with olive oil.
Sprinkle parmesan cheese, Italian seasoning, and salt and pepper on the oiled flatbread.
Bake the flatbread at 375 degrees for about 7-8 minutes, or until golden brown and crispy.
Carefully remove the baked flatbread from the oven, and allow to cool for 1-2 minutes. Then spread hummus on top.
Top flatbread with chopped vegetables, crumbled goat cheese, and balsamic glaze drizzle.
Cut into squares and serve.
Notes
This vegetarian flatbread can be easily customized to your liking. Add your favorite vegetables, leave off the cheese, top with pesto instead of balsamic glaze, etc. You can also swap the plain hummus for a flavored hummus, like roasted red pepper or garlic.
Nutrition Information:
Yield:
2
Serving Size:
1/2 flatbread
Amount Per Serving:
Calories: 403
Total Fat: 31g
Saturated Fat: 3g
Trans Fat: 0g
Cholesterol: 14mg
Sodium: 645mg
Carbohydrates: 16g
Fiber: 4g
Sugar: 3g
Protein: 10g
Nutritional information is provided as a courtesy and is an estimate only. Different online calculators may calculate nutritional information differently. Also, the addition of optional ingredients and varying brands and products may change the information. For the most accurate data, you should calculate the nutritional information with the actual ingredients that you use.
If you loved this easy recipe idea, then check out these other posts:
Or, you can also visit Delish for other easy flatbread recipes, perfect for quick lunches or dinners!
And don't forget to PIN this easy veggie hummus flatbread recipe for later!