"Money doesn't grow on trees" (Matshona Dhliwayo) – That's what my parents used to tell me. So since we can't all go out and plant money trees, it's important to spend our money wisely. I am a fanatic about saving money – obviously, because I have a frugal living blog. But how do you actually get started saving? I've assembled a huge list of 65 easy ways to save money so you can start today!
Most of these are simple swaps and tips that you can implement in your own life without a lot of headache and hassle. Some of the tips may only save a few dollars, but when you combine multiple money saving tips, those dollars add up quickly.
**I may earn a small commission on affiliate links in this post, at no additional cost to you. Read my full disclosure here.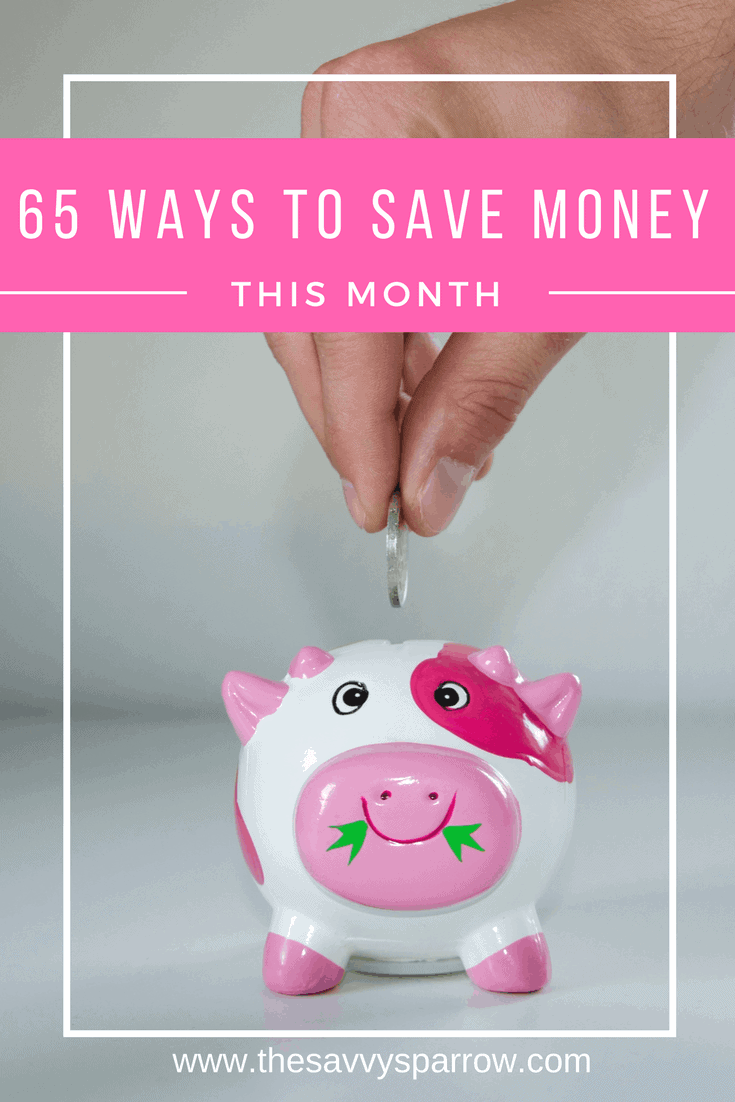 Easy Ways to Save Money on Food
Home Brew. Ditch the coffeeshop or gas station coffee and make your own at home.
Pack your lunch. Healthier and cheaper!
Don't eat out (or limit yourself to one dinner out each week if you can't cut out restaurants all together).
Let Kids Eat Free. If you must go out to eat, go somewhere that Kids Eat for Free.
If You Must Eat Out, Order Water. A single fountain drink or tea at a restaurant averages about $2-$3, plus %15-%20 for tip. If your party of four each orders a beverage, that's an extra $10 or more tacked onto the bill. Water is free.
Shop the grocery store weekly ads. If you want hamburgers, but ground beef isn't on sale this week, have a different protein instead.
Eat leftovers. Never, never, never throw food out. Use leftovers for tomorrow's lunch or repurpose into another meal. Leftover grilled chicken could turn into chicken noodle soup or chicken alfredo.
Meal plan! Having a plan eliminates the extra trips to the store (saves on gas and impulse purchases). Also, you will be prepared ahead of time for dinner so you can avoid having to go out to a restaurant because you can't decide what to cook.
Skip the farmer's market. Produce is produce, whether you buy it at a farmer's market or a grocery store. From my experience, produce sold at farmer's markets is usually at least twice the price as that of grocery stores.
Use your grocery store's curbside pick up service. If you don't ever actually go into the store to shop, you won't be tempted to make impulse purchases.
Sign up for grocery store customer rewards cards. Most rewards cards are free and save you money on many items throughout the store. Plus, many allow you to accumulate points that can be used to save money on gas also.
FIFO – Restaurant lingo for First In, First Out. When you buy new items, be sure to store them in the back of the fridge/pantry so that older items get used first and you lessen the chance of food passing its expiration date.
Use groceries that you already have on hand.
DO NOT go shopping with your kids! Every time that I take my kiddos with me to the grocery store, I come home with at least one item that I did not need.
Bake your own treats. Pre-made bakery cakes and pies come at a premium. Save money by baking your own.
Look for the Manager's Specials. These are items that have been marked down because they are about to go out of date. My local store (Kroger) often has produce AND meat that has been reduced by 50 percent that expires in a day or two. For meat, I just pop it in the freezer until I'm ready to use it.
Make your own lunch meat using raw chicken, turkey, or beef. (Think grilled chicken breasts or smoked roasts sliced thin).
Avoid pre-portioned snacks. Buy the large bags and use ziplocs to portion yourself.
Shop from a list. Only buy what you need.
Coupon! ONLY clip coupons for things that you would normally buy. You don't want to buy something that you don't need just because you have a coupon.
Comparison Shop. Buy items where they are the cheapest. For instance, I know that one grocery chain near me sells milk for $2.59 per gallon, but another chain sells it for $4.29 per gallon. Shop multiple stores to get the best deals.
Use Coupon Apps. Apps like Ibotta and Checkout 51 actually pay you for purchasing certain products. If it's a product that you were going to purchase anyway, you win! Check out my step-by-step guide on the 3 ways to get cash back with Ibotta!
Drink tap water. Ditch the bottled water, juice, and soda. Tap water is FREE (well, almost – you do have to pay your water bill)!
Stock up on Staples when they are on Sale. We eat a lot of frozen veggies. Every so often, Publix puts all of their BirdsEye frozen steamer vegetables on sale for BOGO, including the Riced Cauliflour which we love. I buy about 20-25 bags of frozen veggies at a time – usually enough to get me to the next BOGO sale.
Easy Ways to Save Money on Vehicle Expenses
Stay on top of vehicle maintenance. Make sure to do regular maintenance on your vehicle to avoid more costly future repairs. I have a friend that "blew up" the engine in her vehicle because she failed to change the oil regularly. Fifteen thousand dollars later, she wished she had paid the $59 for regular oil changes.
Use GasBuddy. Not just for road trips – the GasBuddy app lets you know where to find the cheapest price per gallon in your area.
Shop Online. Amazon is my best friend. If I need random products (new windshield wipers, white shoelaces), they arrive at my doorstep in 2 days without me using gas to make a trip to the store.
Check your tire pressure. Under-inflated tires hurt your gas mileage and shorten the life of the tires. Check the sidewall of the tire for the proper PSI.
Wash your own car. A big bottle of concentrated soap will cost you about $5.00. A single car wash runs about $14.00 in my area.
Get multiple quotes for car insurance. Shop around for the best price. This trick alone saved me about $75 per month!
Do an insurance review. You may be paying for coverages that you don't really need. Check with your insurance agent.
Carpool. Sure this may not be an option for you, but it could be for your kids. Carpool kids to school or after-school activities, or let them ride the school bus.
Easy Ways to Save Money on All Things Home
Change your air filters. Changing them in the appropriate time frame will improve the efficiency of your heat and AC which saves you money.
Ditch cable or satellite. Use a streaming service such as Netflix or Hulu instead.
Clean the house yourself (or have your kids help). No need for a maid. Don't pay someone to do a job that you can do yourself.
DIY small repairs. YouTube is my best friend for figuring out how to do odd jobs around the house without hiring a repairman. My husband recently fixed our washing machine with a $40 part from Amazon and a YouTube tutorial.
Invest in a programmable thermostat. Don't pay to heat and cool your house when no one is home. Maximize electric savings.
Turn off the lights. Duh!
Buy secondhand furniture. Both of my girls' bedroom sets were purchased on Craigslist, and they are beautiful! Both saved me at least 75% off retail price. I know this because they were both still available for purchase in retail stores.
Don't EVER pay rental fees for internet modems. The internet companies offer to "lease" these to you for about $5-$10 per month, but you can buy a great one on Amazon for around $40-$50.
Switch to LED bulbs. They use much less electricity and last longer. Plus, I love the brighter, more natural light from an LED when applying makeup.
Use a toaster oven instead of the regular oven. Our toaster oven is the single most-used tool in our kitchen (besides the refrigerator). Yes, is a little bit of an investment, but we got ours as a wedding present 12 years ago, and it still works perfectly! It's great for reheating pizza without it getting soggy, making grilled cheese, or cooking a whole chicken. Plus, it costs less to operate and doesn't heat your house up in the summer.
Easy Ways to Save Money on Entertainment
Use the library. Free books and free DVD rentals. Yes, really! At my local libraries I can check out new release DVDs for FREE for 7 days! Goodbye $1.50 Redbox.
Get outdoors. Pack a picnic lunch and head to the park or a nearby hiking trail.
Take the Kids to the Movies for only $1. Regal Cinemas has a great kids movie series during the summer months. All tickets are just $1.
Get Freebies! Birthday coming up? Let your favorite store or restaurant treat you to a freebie!
Skip the expensive vacation. Have a "stay-cation" and spend your vacation time doing fun and frugal things near home with the ones you love.
Skip the fancy date nights. Make a fancy meal at home instead.
Check Groupon! Groupon often has great deals on things to do and local restaurants and entertainment at around 50% off.
Consider a lunch date instead of a dinner date. My husband and I have a standing Friday lunch date. We go out for lunch at a nice sit down restaurant for less than $20. Dinner at the same restaurants would easily cost $40 or more.
Check the Events Calendar for your City. If you live in a larger area, you can often find free festivals and events going on around town.
Easy Ways to Save Money on Clothing, Electronics, Beauty and Other Necessities
Buy used cell phones. The last three cell phones we have purchased have all been bought off of Craigslist or Facebook Marketplace. And just FYI, when a cell phone company says that you will get a free phone… it's not really free. Chances are that "free phone" requires you to sign a 2 year agreement. For my cell phone provider, the 2 year agreement price is $40 more per month for 2 years than the price that you pay if you aren't under contract. So really, that "free phone" is costing you $960. I recently bought an iphone 6s 64 GB in perfect condition on Facebook Marketplace for $250. Just be sure to have the seller meet you at the retail location for your plan so that you can have the phone checked out first.
Shop garage sales and consignment stores. I get 90% of my clothes from consignment stores. Great quality name brands for a fraction of the cost.
Repurpose old kids clothes, or trade them in at consignment stores. I have a great in depth post with a TON of ways to sell, swap, or repurpose your old kids clothes.
Do your own nails.
Buy generic. Most generic products are almost exact matches to their name brand counterparts, at a fraction of the price.
Check deal websites often. My favorite websites are updated multiple times per day with deals on everything from shampoo to grass seed.
Buy after season. Stores discount clothing, shoes, and seasonal items after the season ends. I recently got 7 shirts and 4 pairs of pants from Kohl's for $55.00 just by shopping last season's items on the Clearance Rack.
Cut out expensive haircuts and colors. Not ashamed to say that I get my hair cut at Great Clips. And I get it done during their $5.99 haircut sale. I have always LOVED the haircuts that I get from them, and I love saving $50 on a haircut. If you must color your hair, DIY!
Raise frugal and responsible kids. If your kids know the value of a dollar, and know the word "no", you'll feel less pressure from them to buy things that you (and they) don't need.
Skip the store and make your own gifts. I have made the gifts for each of my sister's three babies when they were born. She has a beautiful keepsake for each child, and it didn't cost an arm and a leg.
General Frugal Finance Tips
Auto Pay. Set up monthly bills to be paid automatically. That way, you never forget one and get charged a huge late fee.
Use your Points or Cash Back on your Credit Cards. What?! You don't get paid to shop? You should.
Know how much money you are actually spending. You'll be much more likely to save if you know just how much of your hard earned money you are spending. Go here for the simple method I use!
Don't pay banking fees. If your bank charges an account maintenance fee, look for another bank. Also, avoid ATM fees by seeking out no-fee ATMs or just getting cash out of the bank directly.
And that's it. If you're spending too much money, or haven't the slightest idea of how much money you are actually spending, try implementing a few of these easy ways to save money. Start with one or two from each category, and then gradually add more. Your life and financial health will change for the better! Know where your money is going, and keep more of it in your pocket.
Now it's your turn! How do you save money? What are you doing that I haven't included on my list? I'm always looking for new easy ways to save money, and I'd love to feature yours!
And don't forget to PIN THIS POST to reference it again!