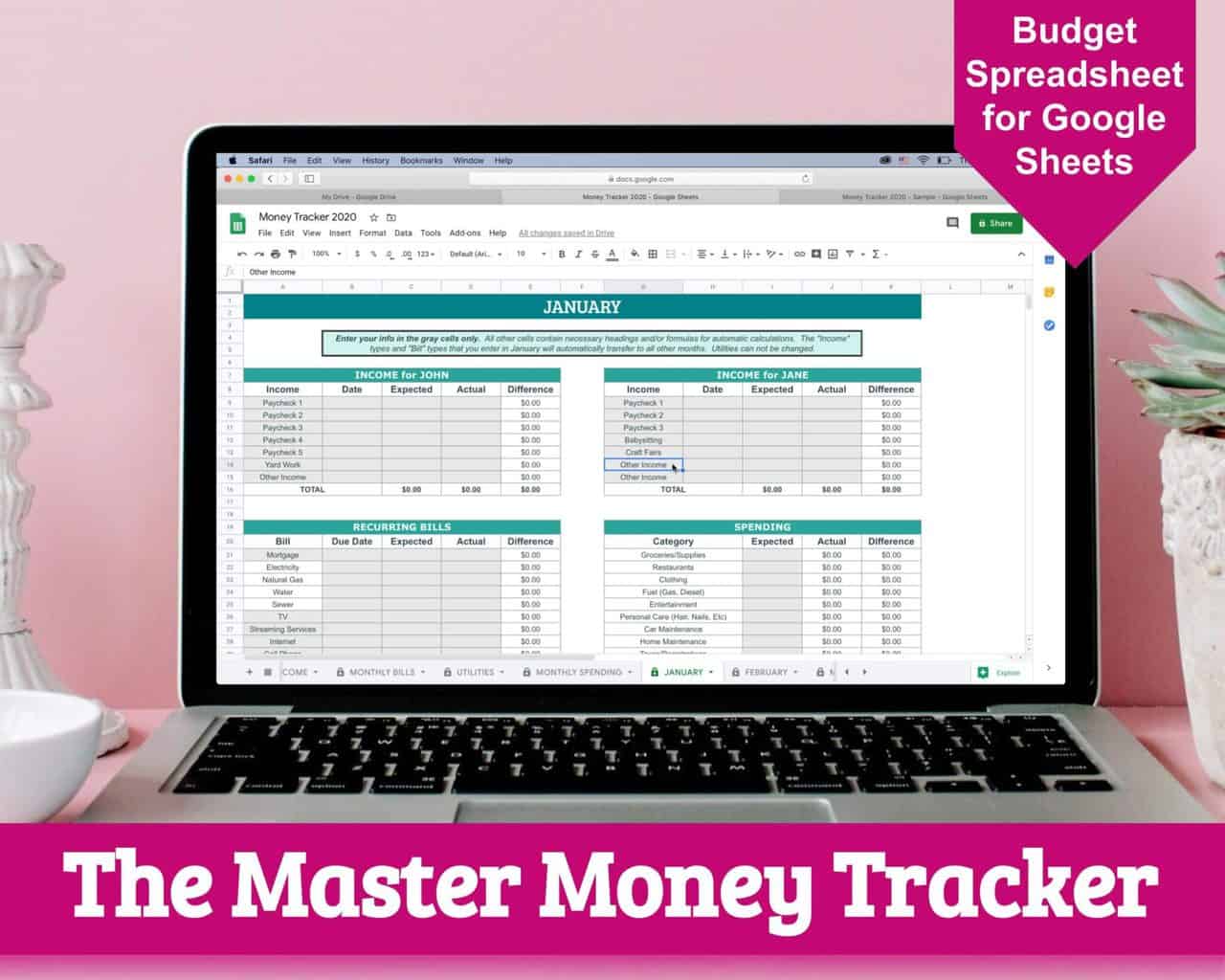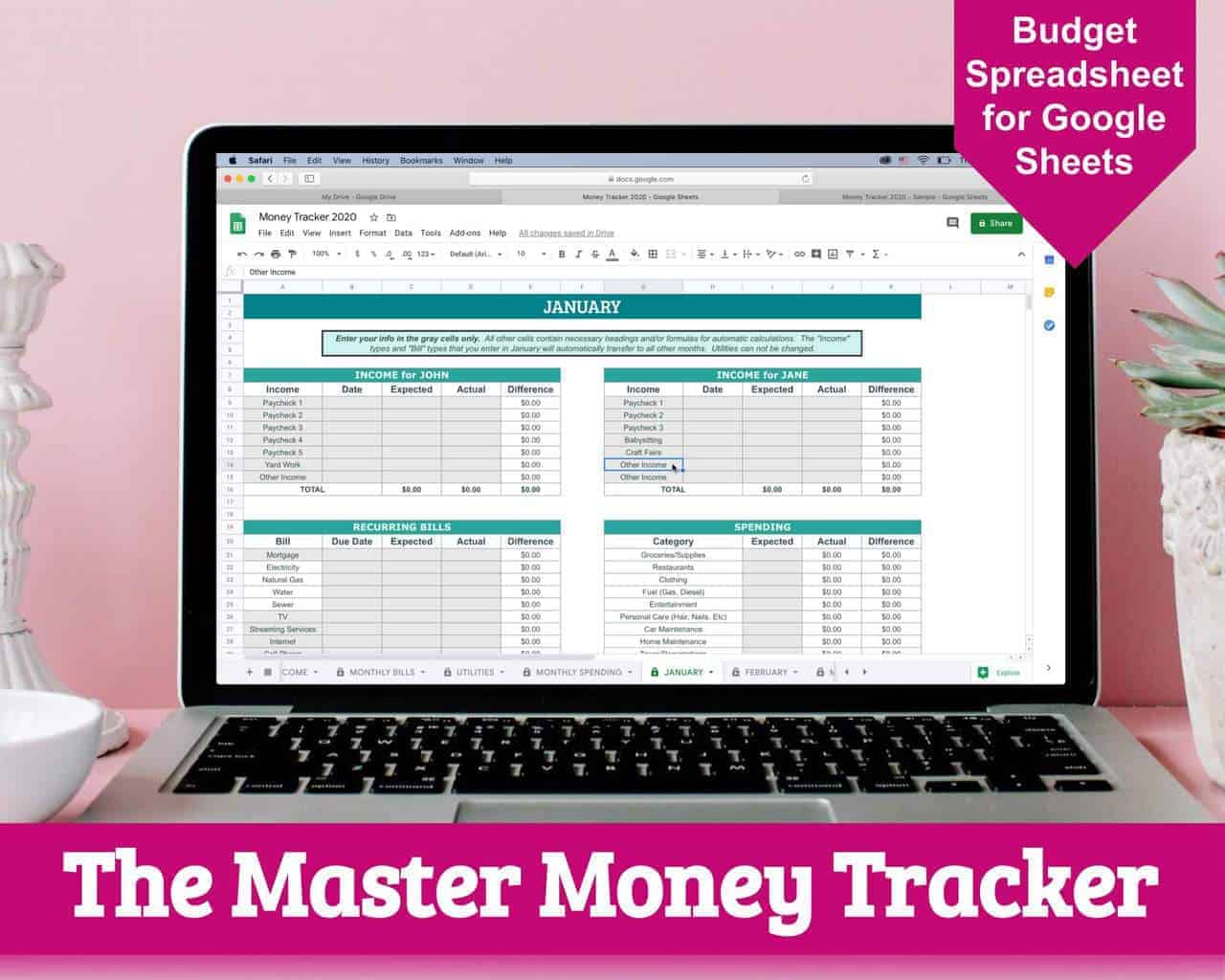 Did you know that 54% of Americans SPEND MORE $$$$$$ than they make?!
If you're NOT tracking ALL of your income, monthly bills, and spending, then YOU could be in that 54% without even knowing it!
And that means more
DEBT!
But The Master Money Tracker can help you get your finances in order so you can be in the GREEN like this…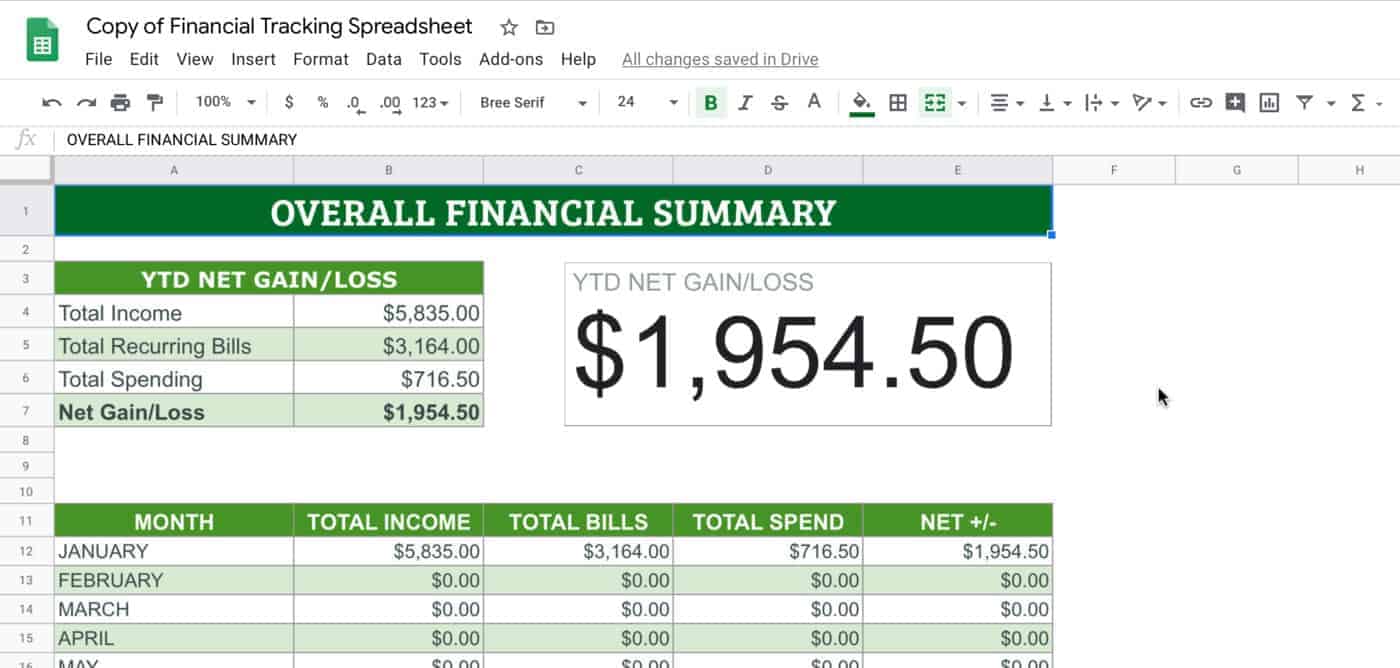 And it's SUPER EASY to USE! Not a Spreadsheet Person… NO Problem!
You'll get a 16 Page PDF of Instructions and Screenshots to help you setup your Budget Spreadsheet…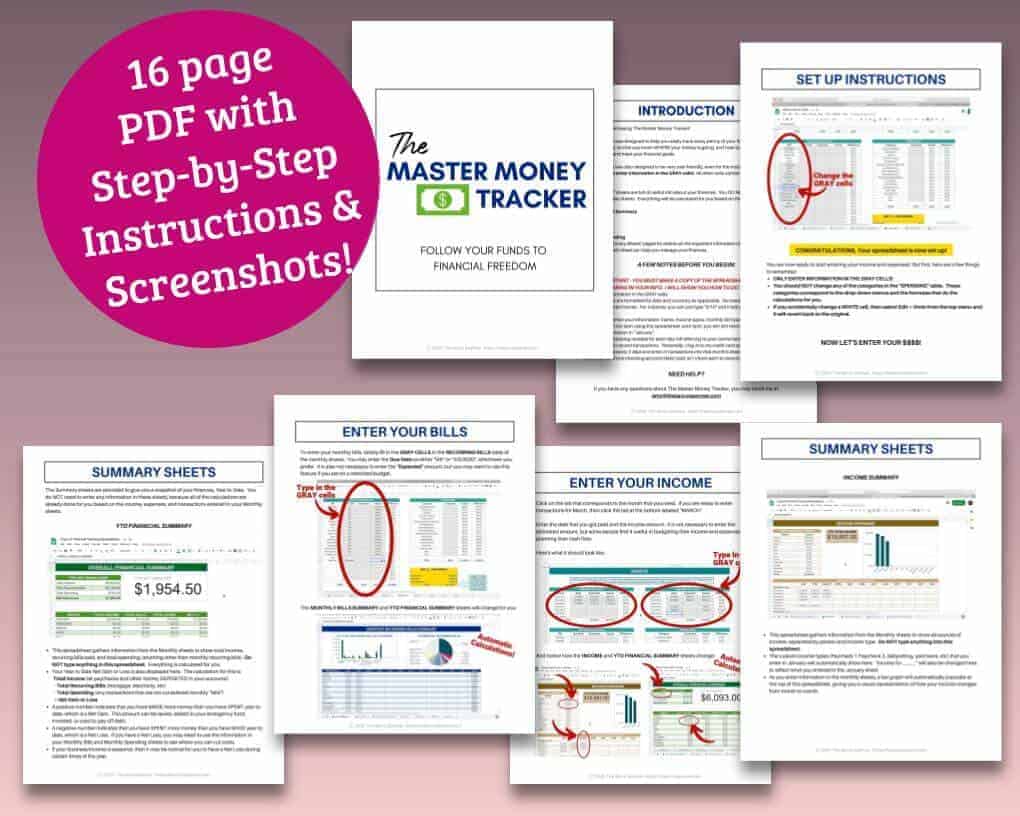 Just Click the Link in the PDF Instructions to go to the Spreadsheet in Google Sheets…
Then Make a Copy and Save it in your Google Drive (Don't worry… I show you exactly how to do this!)…
And then you're ready to enter your info!
And you ONLY have to enter info in the GRAY CELLS…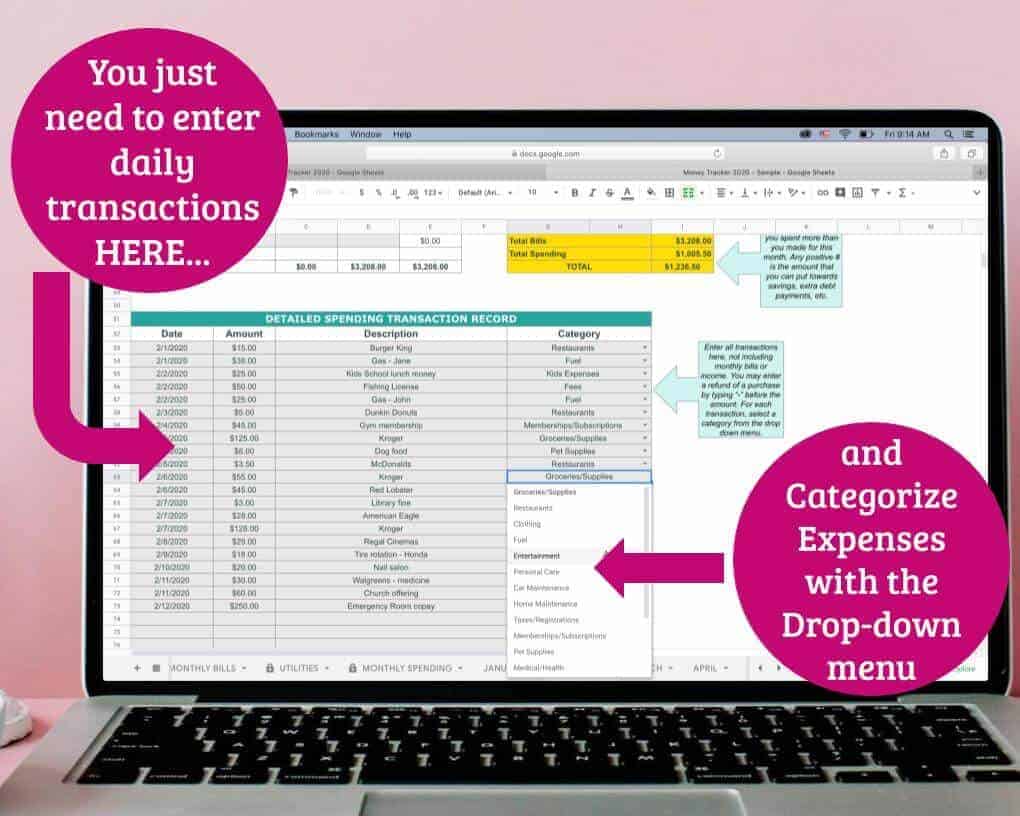 Choose from categories that are already done for you, like:
Groceries/ Supplies
Restaurants
Fuel
Kids Expenses
Car Maintenance
Pet Supplies
Medical/ Health
and many more!
Then enter your Monthly Bills for each month: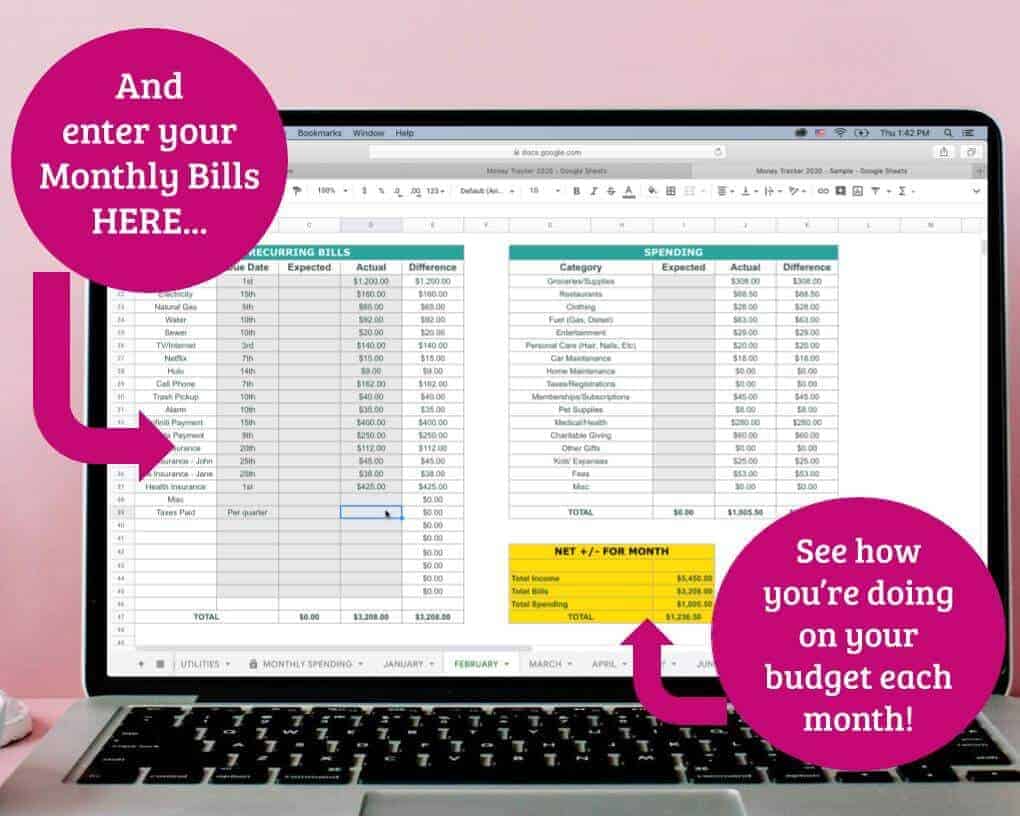 You can even customize the Monthly Bill types – Mortgage, Netflix, Alarm System, etc!
And see how you're doing with your money, Year to Date!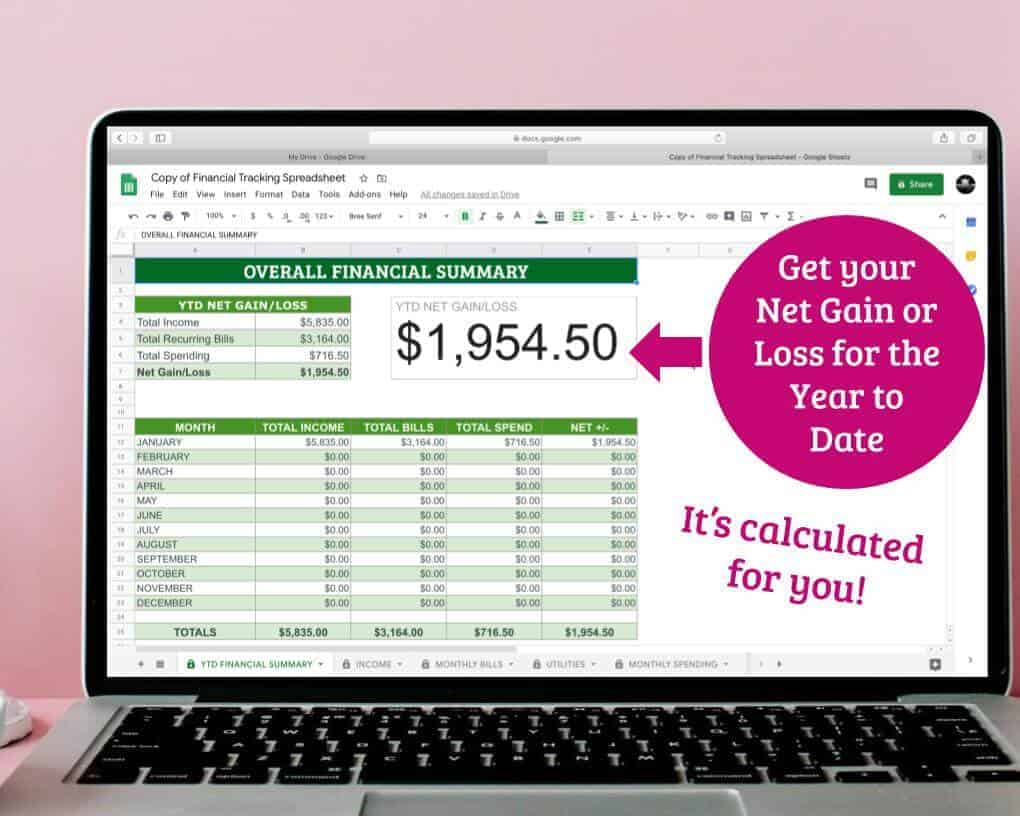 Pssst! Guess what?!
You don't have to touch a single thing on this sheet, because ALL of the calculations are done for you based on the monthly bills, income, and spending transactions that you enter on the other sheets!
Here's what you'll get with The Master Money Tracker:
16 Page PDF of Instructions and Screenshots
Showing you HOW to set up your spreadsheet in your own Google Drive and HOW to input your financial info! *** By the way, Google Drive and Google Sheets are FREE to use!
Link to the Google Sheets Spreadsheet that includes:
Overall Financial Summary Sheet
Showing your Year to Date Net Gain or Loss (Total Income – Total Recurring Bills – Total Spending = Net Gain or Loss) *You don't have to enter ANY info on this sheet! Everything is calculated for you!
Income Summary Sheet
Showing you an at-a-glance view of your income Year to Date (You can enter income for 2 different people) *You don't have to enter ANY info on this sheet! The info is pulled from the 12 monthly sheets and everything is calculated for you!
Monthly Bills Summary Sheet
Gives you a breakdown of your monthly bills AND some cool bar graphs and pie charts so you can get a PICTURE of what bills are costing you the most $$$. *You don't have to enter ANY info on this sheet!
Utilities Summary Sheet
With a handy bar graph showing your TOTAl utilities expense for each month, so you can see if you need to turn down your A/C in the summer or if you may have a water leak! *You don't have to enter ANY info on this sheet!
Monthly Spending Summary Sheet
This sheet breaks down your monthly transactions by category, based on the info that you enter into each of the 12 monthly sheets. You can see at a glance how much money you spend on groceries, clothing, or eating out at restaurants each month. *You don't have to enter ANY info on this sheet… it's all calculated for you!
12 Monthly Sheets
One spreadsheet for each month! This is where you'll enter your monthly bills (mortgage, utilities, Netflix, etc), your income (all paychecks and other $$$ earned), and your spending (groceries, clothing expenses, and your daily drive-thru coffee). The Summary Sheets are automatically calculated for you based on what you enter in these monthly sheets!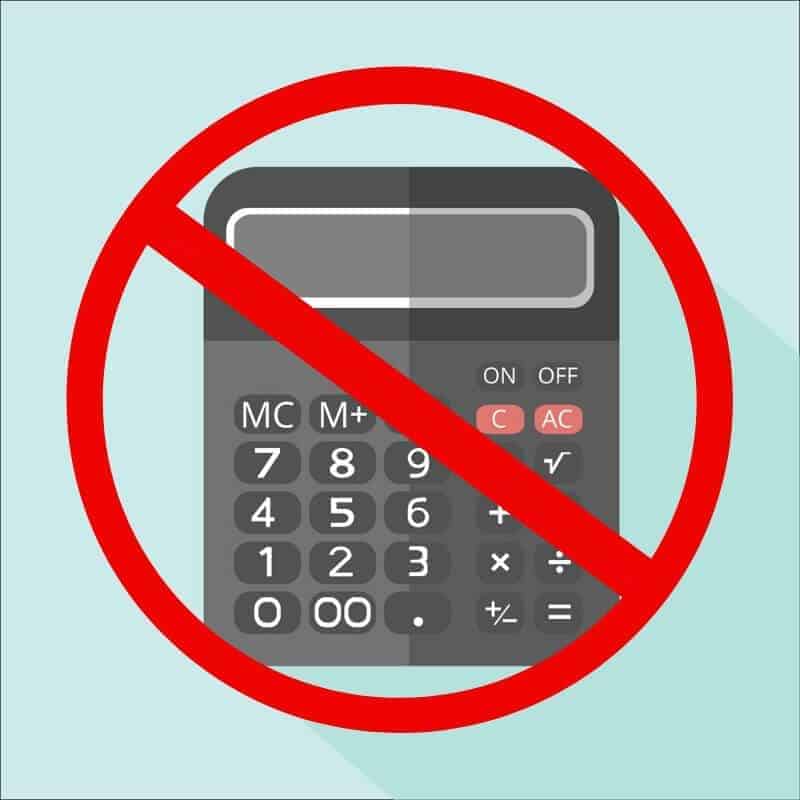 No Calculator Needed!
The Master Money Tracker budget spreadsheet does ALL of the calculations for you! You don't need to worry about calculating how much you spent on groceries last month or how much money you saved 2 months ago. It's all done for you!
You ONLY need to enter info about your paychecks, monthly bill types and totals, and daily spending transactions in the GRAY cells!
So, are YOU ready to track your income and expenses with this super cool and easy to use spreadsheet?
Click the button below to get The Master Money Tracker for just $14!