Printable reward charts are a great tool to encourage good behavior in toddlers and younger kids! Find out how to use reward charts for kids effectively, and grab some printable behavior charts at the end of this post!
It's a tale as old as time.
The living room is a disaster. Again. There is a literal minefield of Lego bricks scattered all over the carpet and a suspicious amount of goldfish crumbs scattered in one corner. You yell out for the kids to clean up their mess for the 50th time today.
Radio silence. However, you know that if you whisper the words "ice cream," those goobers will show up in three seconds, flat.
Mommas, I have been in those shoes. Getting children–especially toddlers–to pick up after themselves can sometimes feel like an impossible task. However, teaching my kids to be responsible has always been incredibly important to me, which is why I started using a reward chart to help them begin building those good habits.
The effectiveness of reward charts has been highly debated over the years, and you can find evidence to argue either side. In the end, it's up to your individual beliefs and parenting style as well as your children's personalities. Some kids will automatically do what's asked of them without complaint, while others may need extra encouragement.
If one or more of your children fall into the latter category, you're certainly not alone.
A simple reward system can pay dividends, and often it's only needed to help your child develop good habits. I'm here to make this process as easy as possible for you, so read on to learn more about reward charts for kids, including benefits, tips, and advice for making them work for your family.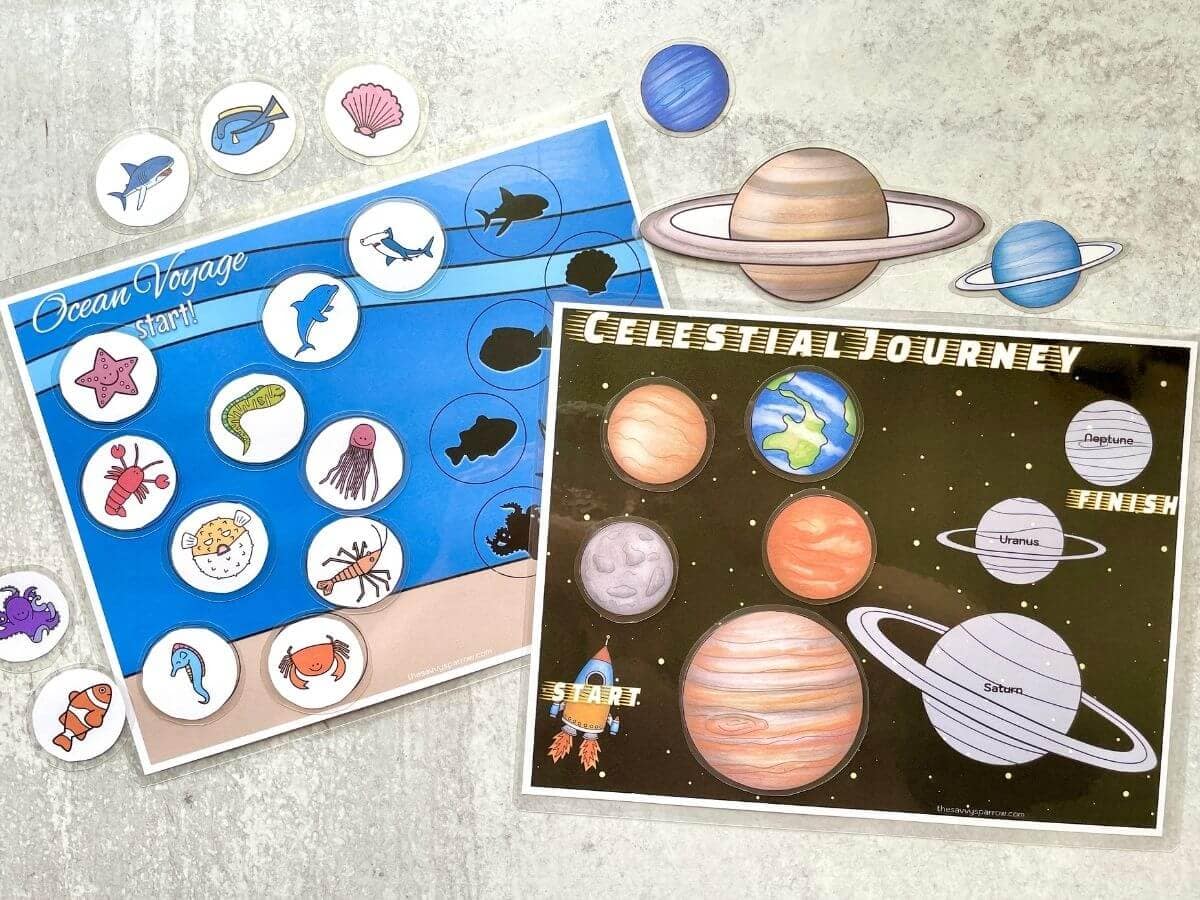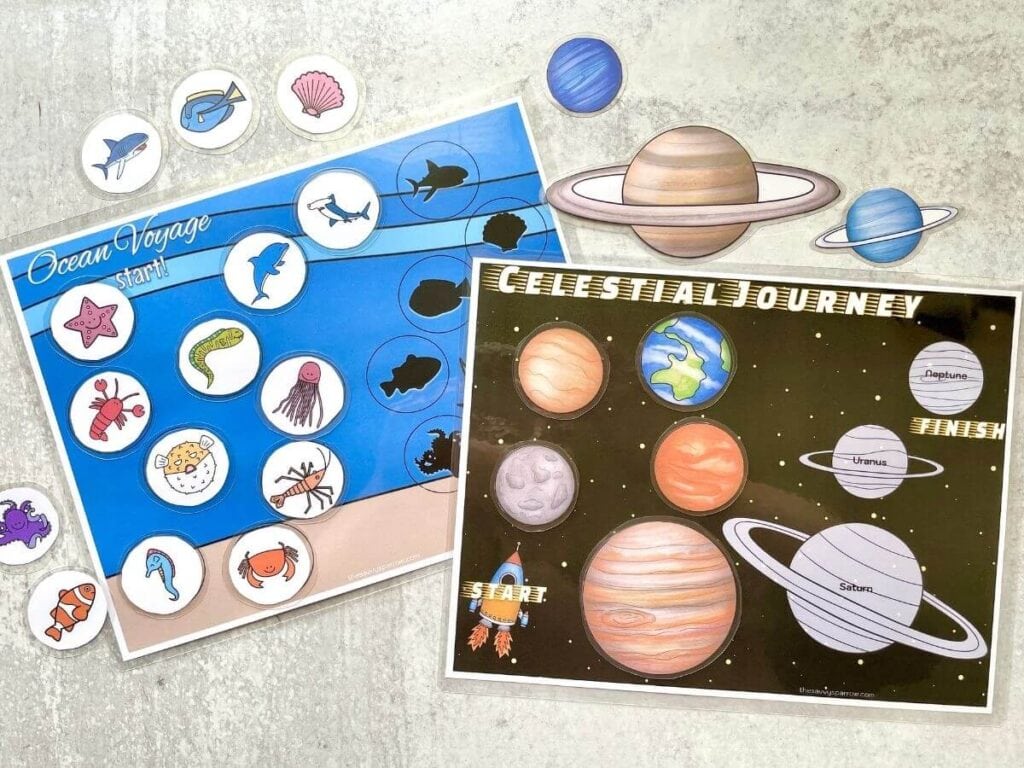 *This post contains affiliate links, which means if you click a link and make a purchase, I earn a commission at no additional cost to you. Read my full disclosure for more info.
The Benefits of Reward Charts
The positive outcomes of reward (or sticker) charts far outweigh the negatives, in my opinion. Are they a form of bribery? Maybe. Can they make life much easier? Absolutely!
Let's take a look at some of the most significant benefits of reward charts:
Reward Charts Promote Positive Behavior
Child behavior expert James Lehman believes that
"if you pay more attention to positive behaviors, you get more of them."
Essentially, you're celebrating your child's desired actions and paying much less attention to unwanted behavior. Now, I'm not saying that your reward chart should be 50 items long. Instead, focus on areas you want your child to grow in and really pay attention to those.
Reward Charts Provide Immediate Feedback
Another benefit of reward charts is that your child receives immediate positive feedback when they achieve the desired behavior. As soon as they pick up their room, make their bed, etc., put a sticker on the chart. Since you'll ideally place the chart in a highly visible location, kids can always see their progress.
Unless your home is located inside of a bubble, there will be times you'll be away from the chart but still want to acknowledge positive behavior. That's when I would suggest something easy, like printable reward tickets. They're a fun way to break up the norm, and your kids will love "cashing them in."
You can check out my printable reward tickets and how to use them here!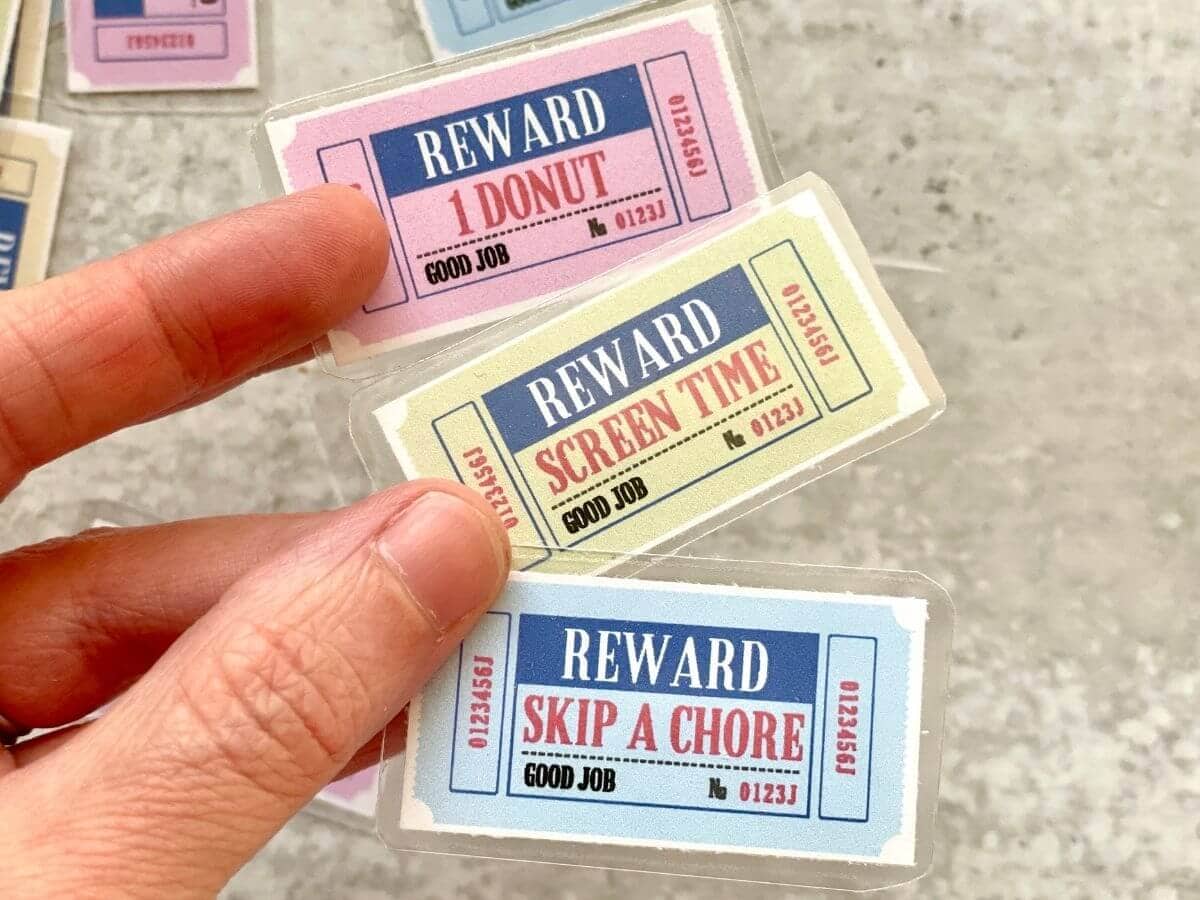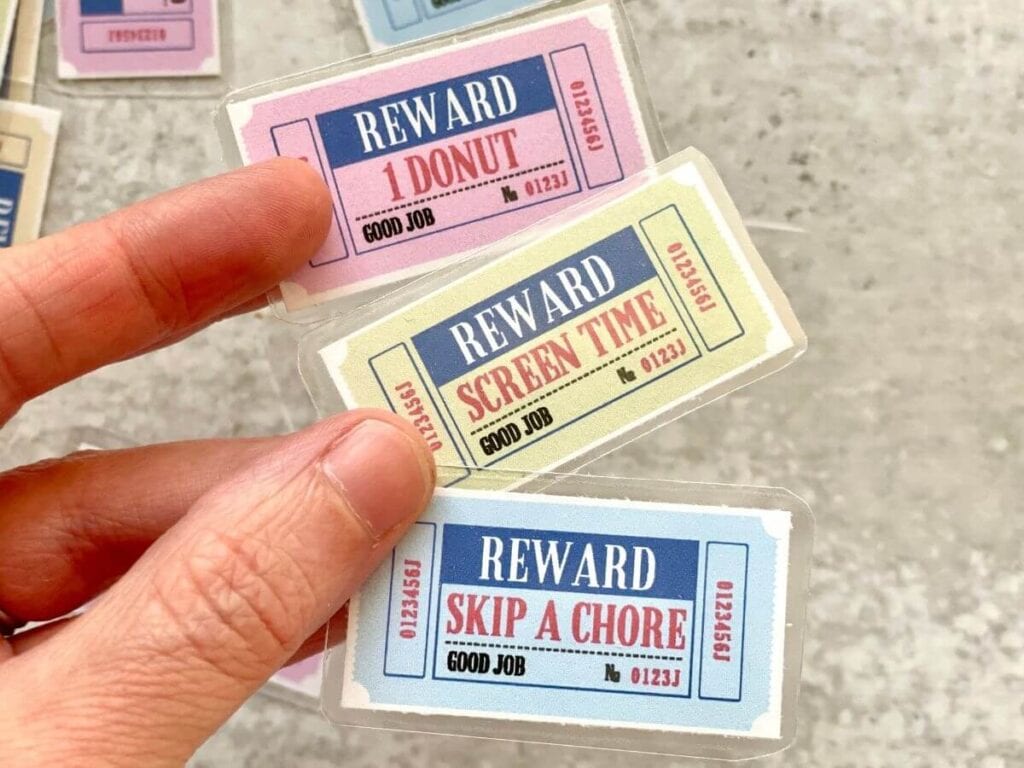 Reward Charts Are Highly Customizable
Reward charts are great because you can customize them depending on your child's age and the number of behavior goals. For example, a reward chart for toddlers may focus on one or two key things, like not hitting and eating one vegetable at dinnertime. However, charts for older kids may have several more goals with different kinds of rewards attached to them.
It's all up to you and what your child needs to work on.
Reward Charts Keep Children Motivated
How many of you have ever been motivated to go to work each day if your boss constantly points out all the ways you fall short?
Your child feels the same way when they are punished for not meeting those behavior expectations. Reward systems for kids are beneficial because they focus on positive reinforcement. You're providing a visual example of progress, which keeps children motivated and builds their confidence.
How to Use Printable Reward Charts Effectively
Sometimes it can be tempting to jump headlong into introducing a new activity or habit to your child before fully thinking it through. I've been guilty of this as well! However, it's best to have several factors nailed down before fully implementing behavior charts for kids.
Pick a Spot for Your Reward Chart
Once you purchase or download your children's reward chart, discuss where to place it with your child.
Ideally, you want to hang it up in a visible and accessible location like the refrigerator. However, if the reward chart is for potty training, it will make sense to put it in the bathroom. Since you'll be using the chart every day, you just want it to be conveniently close by.
Introduce the Reward Chart
Before you hang up your printable reward chart, show it to your child first. This is the time to pull out your Oscar-worthy performance and act like this chart is the best thing since sliced bread. Your kiddo will pick up on that energy and get excited as well so that this new activity starts on a positive note.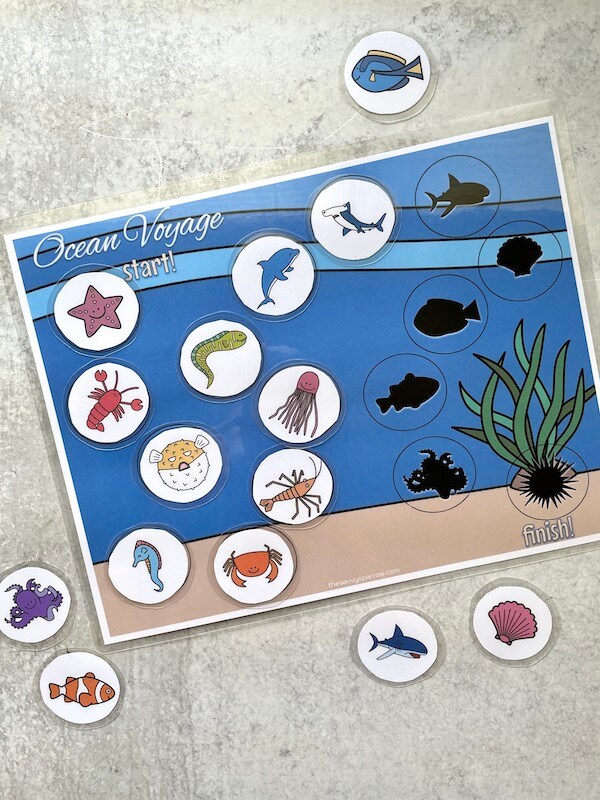 Talk About Positive Behaviors and Set Goals
Remember, reward charts for toddlers and kids should only target positive behaviors that you want your child to repeat until they become a habit. Make sure to focus on 2-3 problem areas and avoid creating an entire list. This will only overwhelm and frustrate your child.
Once you have talked with your child about these target behaviors, set some realistic goals. For example, if your child reaches their goal every day, then at the end of the week, they can choose a reward. The rewards should be individual to your child because otherwise, they won't be motivated to keep going!
Here are some common reward chart ideas to put on your child's sticker chart:
Making up bed in the morning
Cleaning up toys before naptime/bedtime
Sleeping in own bed all night
Sharing toys with siblings
Not hitting/kicking when upset
Using good manners
Completing a daily chore (like feeding a pet)
Playing nicely with others
Getting dressed all by themselves
Have a Realistic Reward System
One thing I do want to stress is that when you put your reward system in place, be very clear about how many stickers it takes for your child to earn their reward.
If it takes a month's worth of stickers to achieve their goal, they'll quickly lose interest. Heck, I would lose interest! I recommend the time frame of a week. It's long enough to begin building solid habits and short enough that everyone stays motivated.
That's where my printable reward charts really excel! Each chart holds 8-16 coordinating themed stickers that you can laminate and use again and again… basically a re-usable sticker chart!
You can let your child put one of the coordinating stickers on their chart each time they exhibit the behavior that you are trying to enforce, or at the end of every day for good behavior.
Put it Into Practice
Now that you've done the prep work, put your new reward system to use!
I always made a big deal of my kids showing positive behavior and would encourage them to place the stickers on their charts themselves. Being consistent is absolutely vital, though. Sometimes we tend to slip into complacency after a while, and the reward system loses effectiveness.
Example Rewards for Kids
Choosing rewards for behavior charts for kids doesn't have to mean spending lots of money. I'm notoriously frugal, and what I've found is that my children loved rewards like "10 minutes with just Mommy or Daddy" just as much as those bubbles from the dollar store.
If you're struggling with reward ideas, think about your child's individual interests and what would be meaningful for them.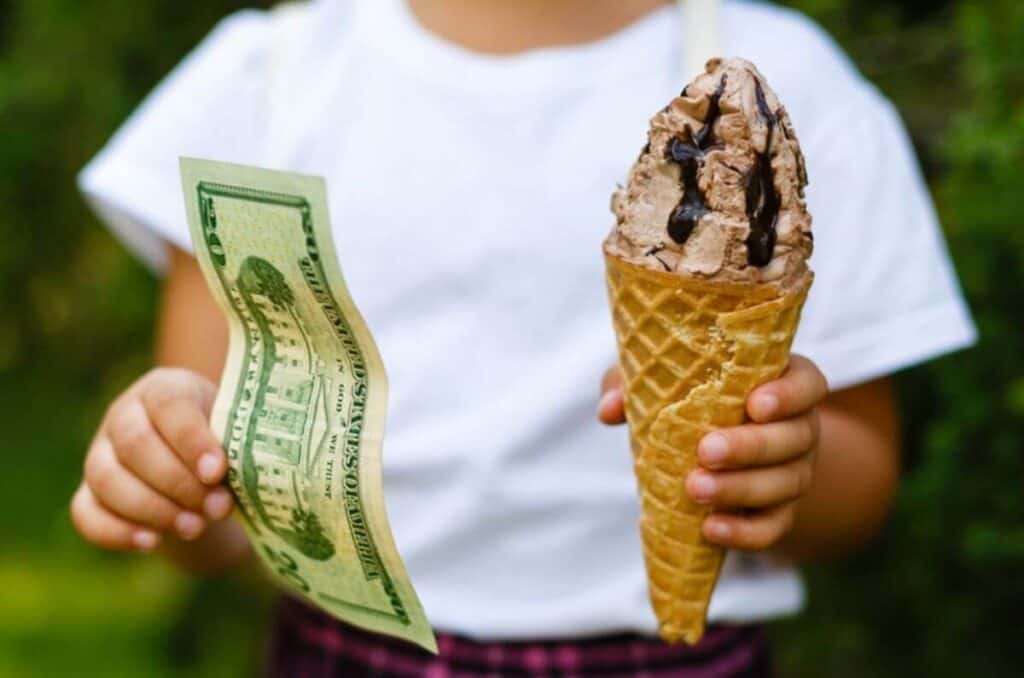 Printable Reward Charts for Kids with Stickers
These printable reward charts for kids are super easy to use, and they're not overcomplicated to the point that your toddlers won't understand how they work.
Simply decide what positive behaviors you want to enforce, and when your kids meet those expectations, attach a sticker to their chart. Put the first reward sticker where the chart says "Start" and once the last sticker is placed where it says "Finish", then your kids earn a reward. Simple as that!
Click HERE to see the Reward Charts in My Shop!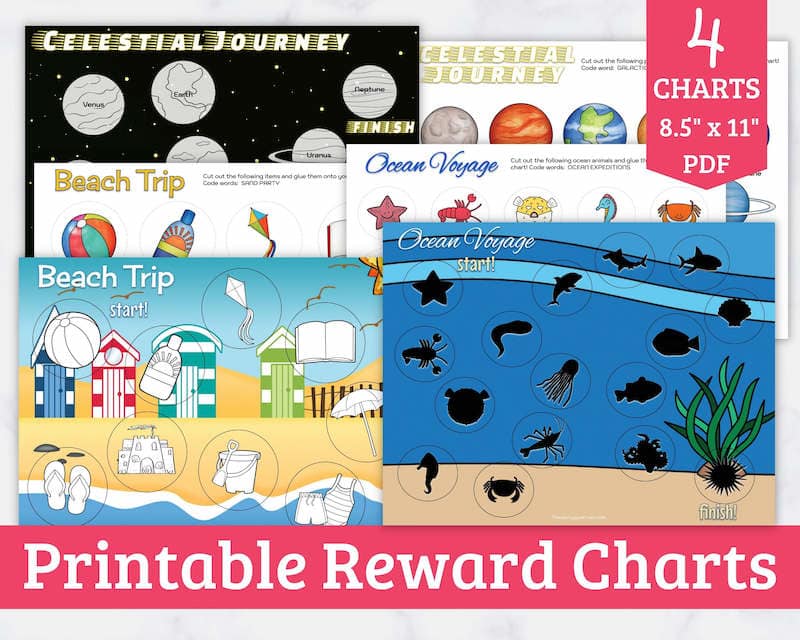 How to Use the Printable Reward Charts
Here's how to put the printable reward charts together:
Step 1: Download and print the behavior charts
I suggest printing on white card stock or a heavier weight printer paper, like 28 or 32 lb. paper. Using the thicker paper results in a nice sturdy chart, and the colors don't show through the page as much as regular copy paper.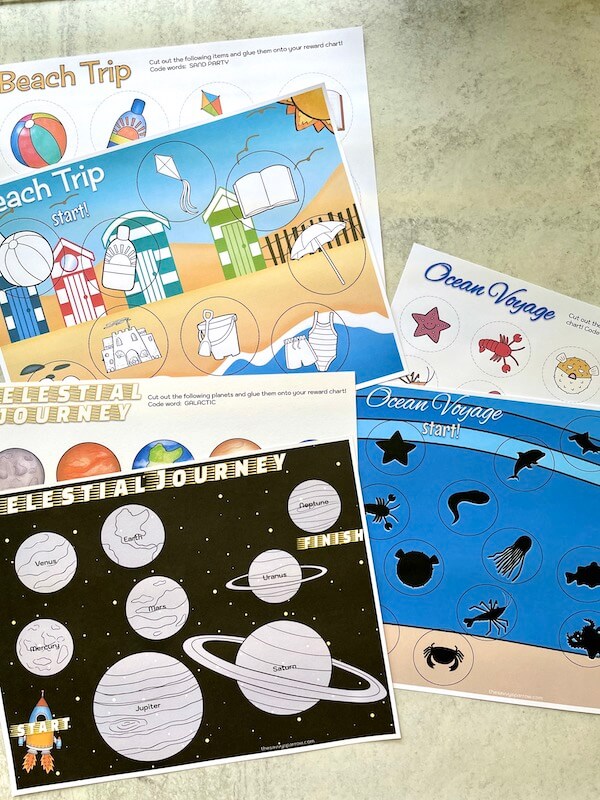 Step 2: Cut out the included stickers
Next, cut out the themed stickers for whichever charts that you decide to use.
Step 3: Laminate the printable reward charts and the stickers
First off, I HIGHLY recommend this laminator and these laminating pouches!
Or, you can also laminate the printable reward charts at FedEx Kinkos. However, they charge approximately $4 per page, and you can buy your own laminator for about $30, so if you like to make household charts, luggage tags, or reusable kids' activities, it makes sense to just buy your own laminating machine.
To laminate the reward chart bases (where you will attach the stickers), simply place one chart in to a laminating pouch and run it through your machine.
To laminate the reward chart stickers, you will need to place the cut out stickers in the laminating pouch, leaving at least 1/2 – 3/4″ of space in between each sticker. This allows the laminator to create a proper seal around each piece.
Here's what my planet stickers look like in the pouch going through the laminator:
Step 4: Cut out the reward "stickers" after they've been laminated.
After your laminating pouch has cooled, it's time to cut out the stickers for your charts. When you're cutting, be sure to leave at least a 1/4″ border of lamination around each sticker. If you cut too close to the sticker, then the seal on the pouch will be damaged and your lamination could come off.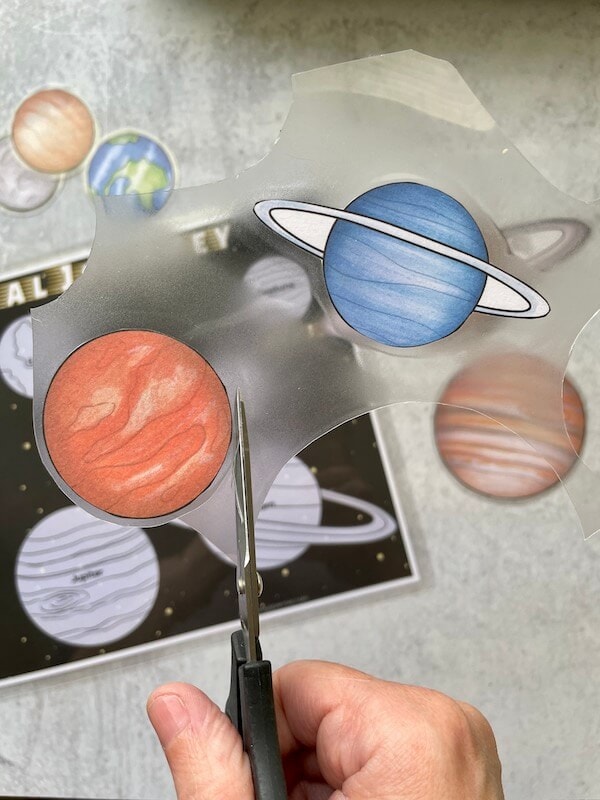 Step 4: Attach velcro to the chart and sticker backs
First, attach velcro circles to the backs of the reward stickers. Then, attach the opposite side of the velcro circle to the center of the reward areas on the charts. The velcro makes it easy for your kids to add a sticker to their charts on their own, and it also makes the charts reusable.
Just remove the velcro-ed stickers when the behavior chart is filled and start again!
Other Reward and Behavior Charts for Kids
If you don't want to print one yourself, Amazon has lots of awesome kids behavior charts that you can purchase! Here are some other options:
Magnetic Reward Chart for 3 Kids – This reward chart allows you to track behaviors for 3 children on the same chart! Just designate each child a different color and use the included pens to color in stars each day that good behaviors are done. And there aren't a million little magnetic pieces to lose, so that's a bonus!
Kids Behavior Reward Chart with 63 Chores – This behavior chart is like a reward chart and a chore chart in one! Track your kids' chores using a few of the 63 chore cards, and add a magnetic star to each day that the chores are completed.
Printable Kids Chore Charts – These are the chore charts that I used when my kids were younger, and I specifically created them to be able to swap out the jobs that my kids needed to complete day-to-day. There's also space to record what the reward will be for the week if all of the chores are done!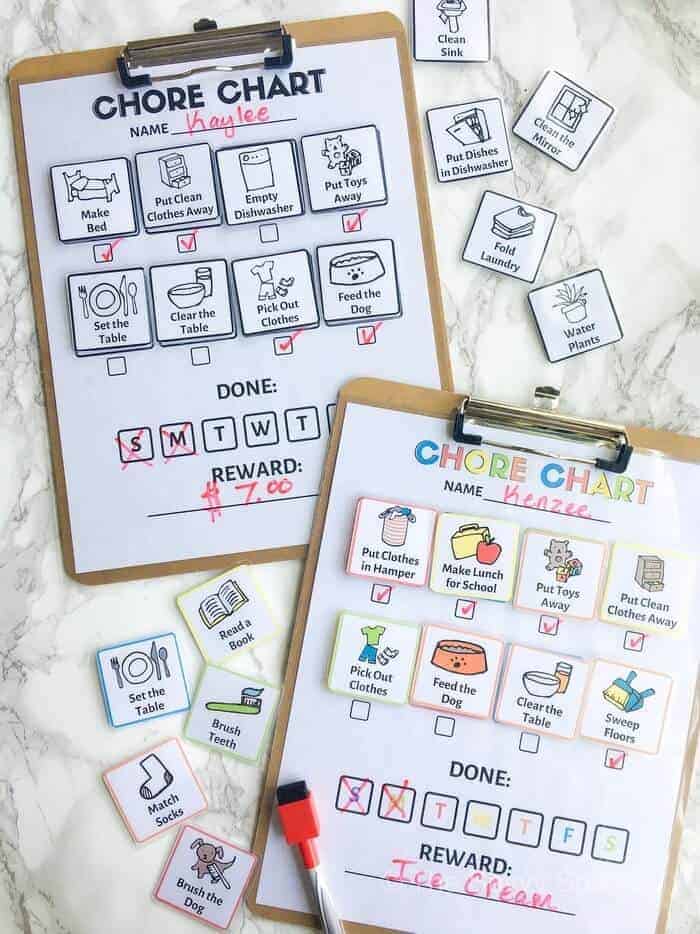 I hope you've seen the benefits of using reward charts for your kids, and you've been inspired to try them out for yourself!
I'd LOVE to know your thoughts on rewarding behaviors through positive reinforcement like stickers on a chart. What works for your kids? Do you use a sticker behavior chart? Leave me a comment down below!
And don't forget to PIN this post for later: