Daddy daughter dates are a great way for Dads to bond with their daughters. Pick one of these father daughter date ideas, or combine a few date ideas for even more quality time together. Daddy gets some special time with his daughters, and Mommy gets some much-deserved "me" time… so it's a Win-Win!
Every Valentine's Day for the last three years, my husband has taken our girls on a Father Daughter Date. Yup, just the three of them…
Even though it's Valentine's Day, I stay home and watch Netflix or take a bubble bath and enjoy some "Mommy" time. And I don't mind…
My husband and I get to spend a lot of time together because of his work schedule, and I really appreciate that he takes our girls out for some one-on-one time.
Dads are often the ones that miss out on the quality time that us Moms take for granted… like when we're rocking out to the newest T. Swift song on the way to dance practice, or when we teach our daughters how to do their own ponytails.
So quality time that is reserved just for Dads and Daughters is a great way for fathers to feel more involved and bond with their little girls. Plus, kids notice when you actually take TIME out of your busy schedule to put them first.
If your husband wants to treat your girls to something special, by giving up some of his time to see a "chick flick" or paint some toenails, then here are some great father daughter date ideas that your kiddos will love: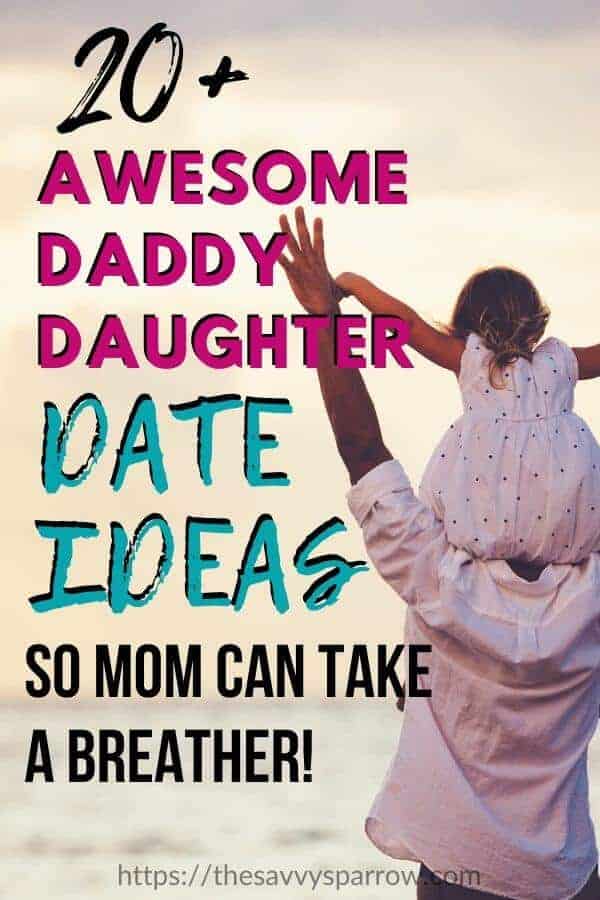 Fun Father Daughter Date Ideas that Your Kids Will LOVE
1. Pizza Party Date
This is our daughters' favorite Daddy Daughter date because they LOVE pizza! Daddy takes them to an eat-in pizza restaurant, and he even springs for the garlic knots so it's extra special!
2. Movie Date
If there is a movie in theaters that your daughters really want to see, then this is a GREAT Daddy Daughter date idea! We have a Dollar Theater (technically it's $2.50 per ticket) near our house, and our girls LOVE going to see movies there! Bonus points for Dad if it's a chick-flick or anything animated!
3. Mall Food Court Date
If your girls are anything like mine, then they probably LOVE going to the mall! (They get it from their Momma!).
Every now and then, we take them out to dinner in the mall food court and then let them pick out a small treat at their favorite store (like a pair of earrings from Claire's).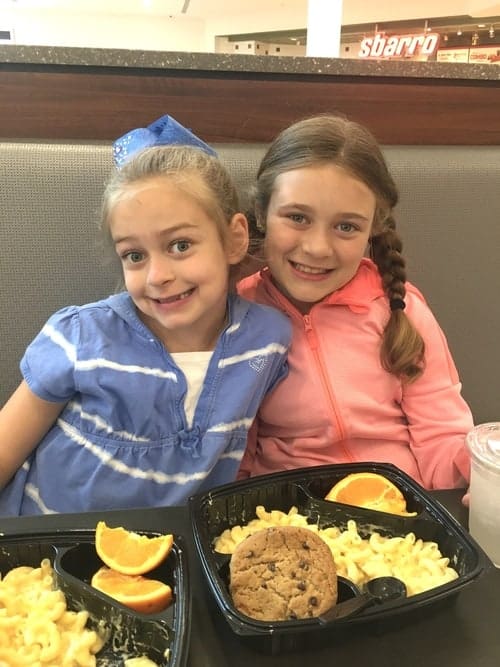 This is a great Daddy Daughter Date because it's easy for your husband to get each girl exactly what she wants, instead of them having to agree on a dinner spot!
4. Picnic in the Park Date
Pack a picnic lunch and let Daddy take his girls to the park or playground. If you're looking for Father Daughter Date Ideas on a budget, then this is a GREAT option!
You can even load up your kids' bikes or bring a frisbee for some quality time at the park.
5. Paint Your Own Pottery Date
If you need Father Daughter Date Ideas that would be great for your younger AND older kids, then this is it!
We've been to a few different birthday parties at our local ceramics painting studio, and kids of all ages LOVE it! Your kids get to pick out whatever item they want to paint, whether it's a mermaid figurine for younger kids or a cool vase for older kids.
And, your daughters get to take home a cute souvenir to remind them of their fun time with Daddy!
6. Hiking Date
If your daughters would rather spend time outside, pack a picnic and take them for a hike!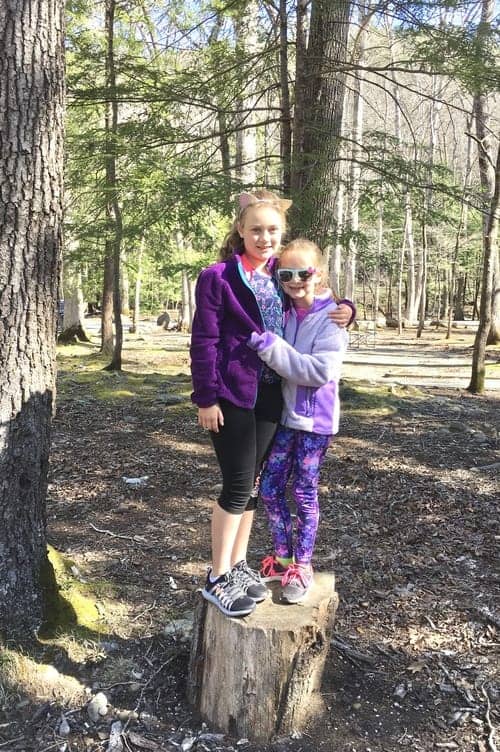 7. Bowling Date
If Mommy needs a break during the summer, then this is one of the best budget Father Daughter Date Ideas!
Kids get to bowl FREE all summer long at our local bowling alley… we just have to pay for the shoe rental which is about $3 per person. You can go HERE for a list of bowling alleys nationwide that offer free summer bowling for kids!
8. PJ's and Ice Cream Date
What's better than eating ice cream?! Eating ice cream in your PJ's!
You can get your kids ready for bed, and then send them out with Daddy for a fun ice cream treat while you get a few things done around the house. Win-win!
9. Arts and Crafts Date
If you have a Michael's nearby, then you're in luck! They offer fun kids' crafts most Saturday mornings for only $2 to $5 per child.
My girls LOVE going to do the Michael's kids' crafts, and most of the time, they need a little bit of adult assistance, so this is a GREAT way for Daddy to get involved!
10. Father Daughter Donut Date
Why not stop and get donuts on the way to your crafting/arcade/pottery painting date?
If you live in a town with a few different donut shops, you could even do a "Doughnut Crawl" and share donuts from different stores.
11. Miniature Golf Date
12. Arcade Date
This is one of our girls' favorite father daughter date ideas! They LOVE to go to our local arcade and play games for a few hours (and then spend another hour trying to figure out how they want to "spend" their tickets!).
Dad would probably LOVE this date idea, too!
13. Shopping Date
If your girls LOVE to shop til they drop, then they would LOVE this father daughter date idea!
But just because you're going on a shopping date, doesn't mean you have to drop a couple hundred bucks. Our girls love going on mini Dollar Tree shopping sprees. We give them each $5 or $10 to pick out whatever they want! This is especially fun for younger kids, but you may need to steer clear of this date idea if you've got teenagers… unless you've got lots of extra money to spend!
14. Sporting Event Date
If your daughters like sports, then this will probably be your husband's favorite of the Father Daughter Date Ideas!
My husband has taken our daughters on multiple "dates" to college football games and basketball games… which is GREAT for me, because I could care less about sports.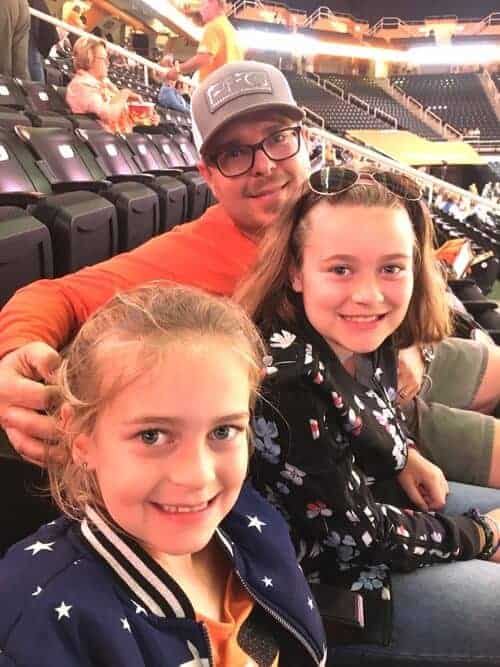 Our daughters LOVE it though… especially when it's time to visit the concession stand!
15. Home Depot Workshop Date
Did you know that Home Depot offers FREE kids' workshops on most Saturdays?
Kids get to build their own mini DIY projects, like bird houses, heart string art, binoculars, or wooden trucks! Pair this Father Daughter Date idea with a Waffle House or donut breakfast to extend the date a bit… and give you more "Mommy" time. 🙂
Stay at Home Father Daughter Date Ideas
A Daddy Daughter date doesn't have to cost a lot of money, and it doesn't even have to involve leaving the house. Some of our favorite date nights happen right at home! Check out this post for 16 Awesome Stay-at-Home Date Ideas for After the Kids Go to Bed!
So, if your husband is a little weary about venturing out with the kids by himself, then these stay-at-home father daughter date ideas are great! Then, you can aimlessly wander the aisles of Target by yourself, latte in hand, for a little bit!
1. Homemade Chocolate Fondue Date
This is a FAVORITE of my girls! Go HERE for our easy Homemade Chocolate Fondue recipe… a Valentine's Day tradition in our house!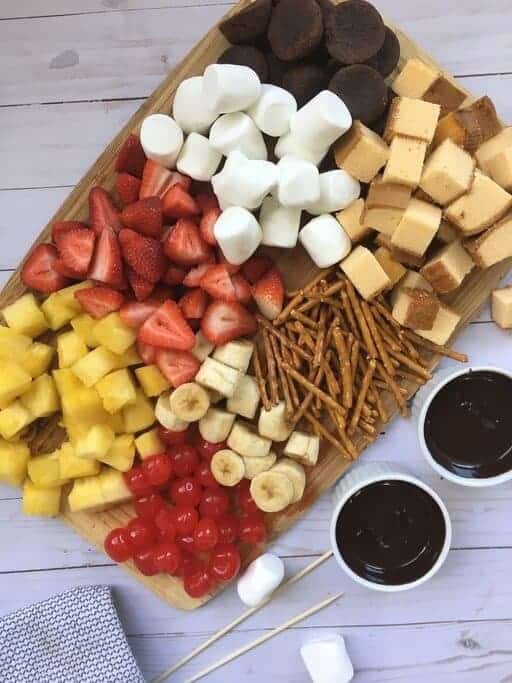 2. Cupcake Decorating Challenge
Make cupcakes ahead of time, and prep colored icing in piping bags so it's extra easy for Dad! When we do this, we make jumbo cupcakes with a jumbo muffin tin because then you can fit a lot of decorations (and icing!) on the cupcake!
3. Movie Night Date at Home
Let your girls pick out a Redbox movie or something from Netflix, pop some popcorn, and for some Dad bonus points, sprinkle some candy on top.
We do this every Sunday night as a Mommy Daughter date, because my husband has to go to bed early to wake up for work. My girls LOVE it, because then they get me all to themselves. They take turn picking out the movie for the night, and we all cuddle up on the couch together to unwind and relax before the start of another week.
Check out this post for more Sunday Routine Ideas for an Easy Week with Kids!
4. Edible Finger Paint Date
If your kids are younger, this Edible Finger Paint is a great idea! This finger paint idea is actually one of my 7 year old's genius ideas, so it's kid-tested and approved!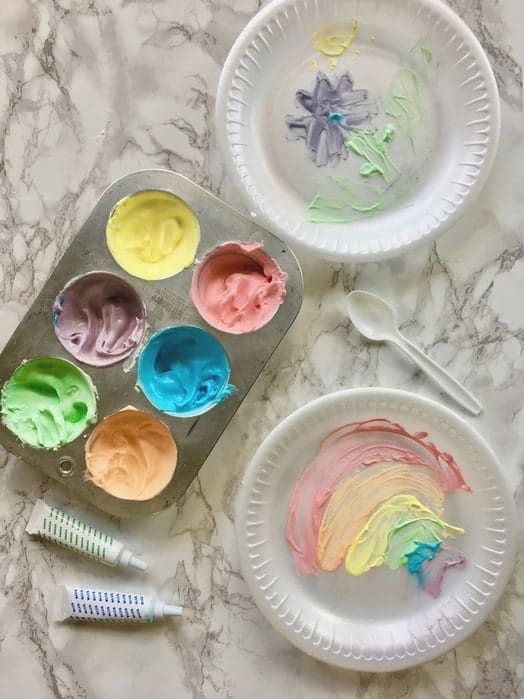 5. Manicure and Pedicure Date
Pull out your nail polish, give Dad a crash-course in mani-pedis, and let him treat your daughters to a little at home salon party!
6. Neighborhood Scavenger Hunt Date
Take your Daddy Daughter date outside and enjoy a fun scavenger hunt together! Go HERE to grab a FREE printable scavenger hunt (there's one for younger kids AND one that's perfect for tweens and teens!).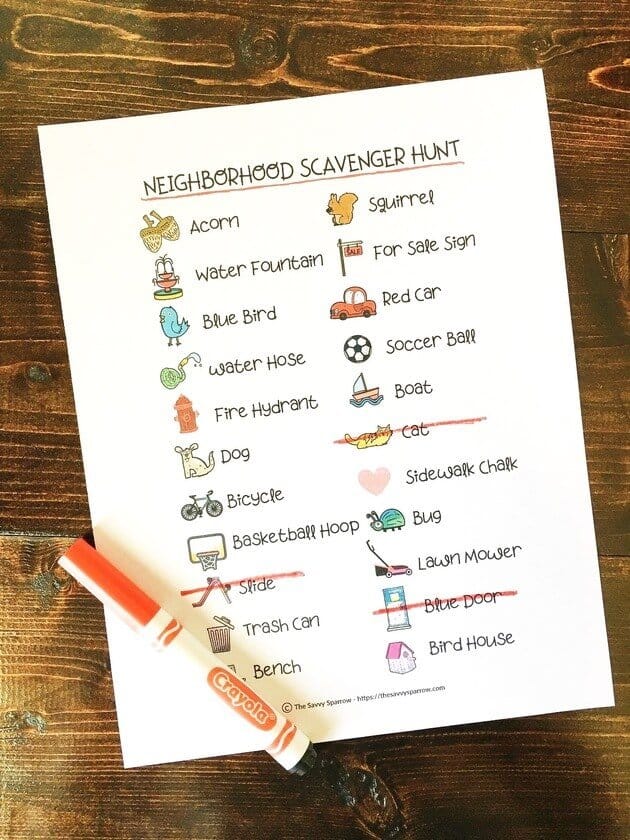 7. Make a Tik Tok video
This Father Daughter date idea will really impress your older kids! Download the TikTok app on your phone, pick out a fun song, and create a little choreographed dance together!
8. Game Night
Pull out the board games and let Daddy and daughters gather around the table for some electronics-free bonding time!
We like to get new games from thrift stores or garage sales to add in a little bit of variety to game night.
And that's it! Some great ways for Mom to get a little "Me" time… ahem… some great ways for Dads to bond with their daughters! 🙂
Hope you enjoyed these fun father daughter date ideas… have any I can add to my list? Leave me a comment below! And be sure to PIN this post for later!
And check out this post for 13 Fun and Easy Ways to Make Your Kids Feel Loved and Valued!