These bubble gum Valentines are super easy to make for kids' school Valentine cards! Just print out the printable sheet full of valentines puns that are perfect for Extra gum, cut out the Valentines cards, and tape on a pack of bubble gum. Easy peasy!
Valentine's Day is right around the corner… so I've been racking my brain trying to come up with cute and easy DIY Valentines cards that are perfect for busy Mommas.
I took a trip to Dollar Tree for some inspiration, and found some fun and inexpensive items that would be GREAT for school Valentines cards… Scrunchies, glow sticks, mini slime containers, construction trucks, and Extra Bubblegum!
What kid doesn't like bubble gum?!
My girls are ALWAYS asking if they can throw a pack of gum into the buggy at checkout… and after I explain to them what an "impulse purchase" is, I usually cave and say yes.
So I knew that they would LOVE handing out these Bubble Gum Valentines to friends.
They also LOVE these DIY Hair Ties Valentines!
And the best part about these easy DIY Valentines for school is that my kids can actually put them together themselves, so it's one less job for Mom to do!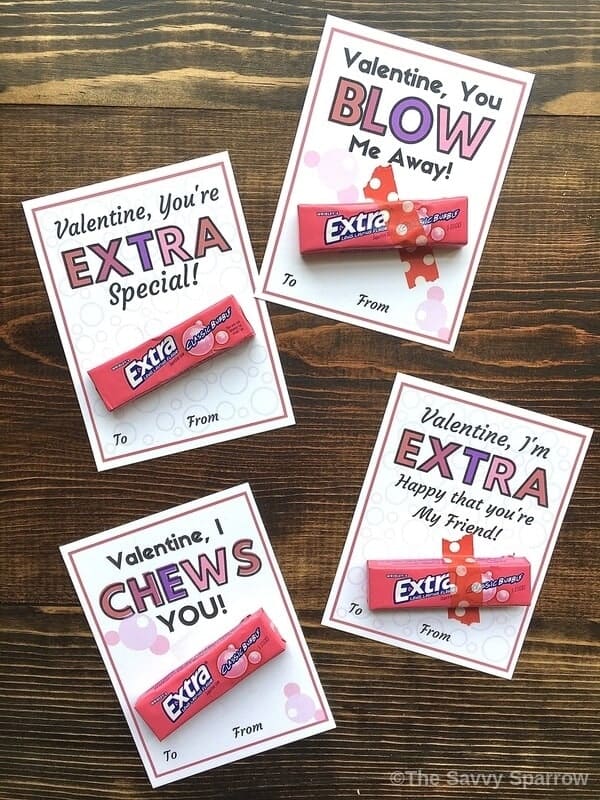 *This post contains affiliate links, which means if you click a link and make a purchase, I earn a commission at no additional cost to you. Read my full disclosure here.
Here's how to make your own Valentines with bubble gum puns:
How to Make Bubble Gum Valentines:
Step 1: Print out the Bubble Gum Valentines Cards
Click HERE to purchase the printable Bubble Gum Valentines Cards. Once you download the file it's yours to keep, so you can use it year after year or for multiple kids' Valentines!
Then print the cards on white or pastel colored card stock. I used 65 lb bright white card stock (affiliate), which was a great weight for these DIY Valentines cards!
Step 2: Cut out the Printable Valentines Cards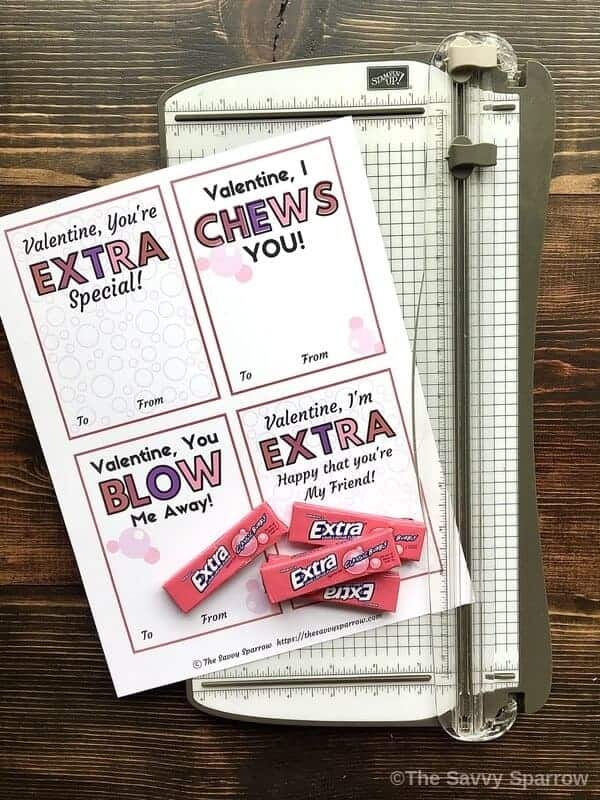 I used my trusty Stampin' Up! paper trimmer to get nice straight cuts. If you don't have a paper trimmer and you're a crafter, then I HIGHLY recommend you get one! It's one of my most used paper crafting tools. You can get a great paper trimmer HERE! (affiliate)
Step 3: Tape Extra Bubble Gum to the DIY Valentines Cards
I got my Extra bubble gum from Dollar Tree… it came in a package of 4 for $1 making these cute AND cheap DIY Valentines cards!
You can use colorful washi tape or regular tape to stick the gum packs to the printable Valentines. I used clear tape for this one: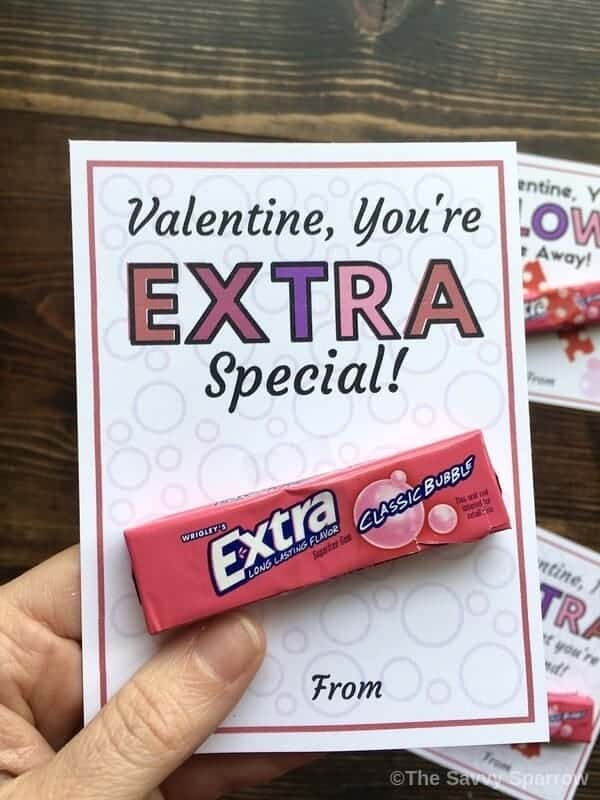 Aren't these so cute?!
Then just have your kids fill out the "To" and "From" and their cute bubble gum puns Valentines are ready for school!
Of all of the Valentine cards options that I gave my 10 year old this year, these are the ones that she wanted to pass out, so these would be great for your older kids that are on the verge of not needing Valentines cards for school anymore.
Or, if your kids' school has strict policies on candy and food that can be brought in, then check out these awesome 20+ Non-Candy DIY Valentines with Free Printables!
And, if you want even MORE Valentine's Day ideas, you've got to see these Rice Krispy Heart Boxes filled with Chocolates! These cute treats would be GREAT for neighbor or teacher gifts! And your kids will have a blast helping you make them!