Looking for a fun rainy date activity for kids? Try this easy edible finger paint recipe…
"Mom, I'm bored."
As you're literally right in the middle of cleaning up your kids' playroom that is jam-packed with enough toys to bring Toys 'R Us back from extinction.
"Mom, I'm bored."
You've heard it four times and it's not even lunch time yet.
So you reach into your imaginary Mom bag of tricks that only parents could dream up…
And you pull out this fun rainy day activity for kids…
Edible Finger Paint.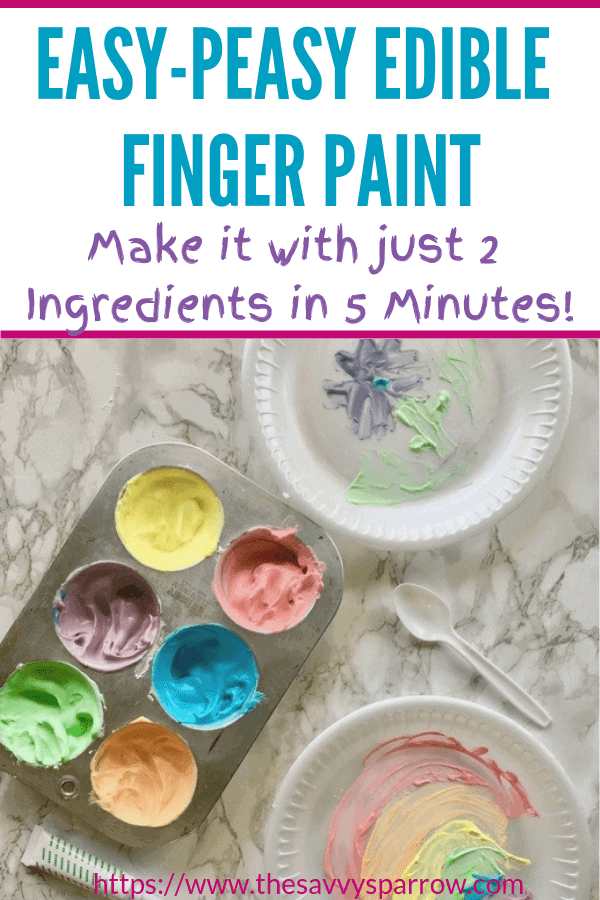 And, it's only two ingredients that you probably already have on hand. Score!
Okay, I have to give credit where credit is due… This edible finger paint was actually my youngest daughter's idea. Pretty brilliant for a 6 year old.
And since it took less than 5 minutes to set up, and only required two simple ingredients, I was on board.
There is one caveat to this edible finger paint, though…
Don't plan on hanging the finished art on the walls. Unless you want a fly infestation in your home. And, trust me, you don't…
We had a MAJOR baby fly issue a few months back. We started noticing a TON of flies in the house and tried everything to get rid of them. We removed everything from the kitchen and pantry and scrubbed the cabinets from top to bottom. We set off bug bombs. We tried EVERYTHING, and those pesky flies kept coming back.
Until one day, I went to throw something away in my daughter's teeny trash can under her desk and discovered a mother-load of maggots. Not kidding.
She had thrown away a half-eaten biscuit in there, and I had never bothered to check it because I just thought she used it for pencil shavings.
Yup, I'm a great parent.
So, don't feel bad about that half-eaten, fossilized apple that you discovered in your child's backpack… in August… before the school year even started.
But back to this easy two-ingredient edible finger paint…
Here's how to prep this awesome rainy day activity for kids:
How to Make Edible Finger Paint
Step 1: Gather Your Supplies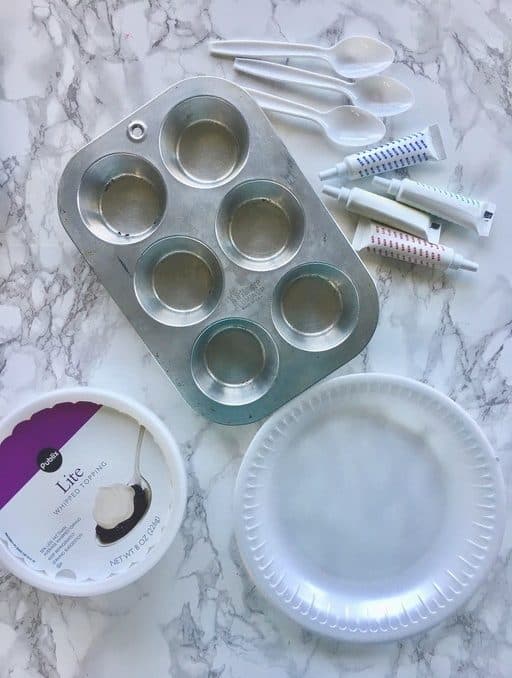 Whipped cream (the kind that comes in a tub NOT a can) – You can also use vanilla yogurt or pudding!
Food coloring
Muffin tin or small bowls (I found it easiest to use a muffin tin – you only have to wash one dish instead of six.)
Disposable plate or paper to "paint" on
Newspaper or wax paper to cover the work area
Step 2: Scoop Whipped Cream into muffin tin or bowls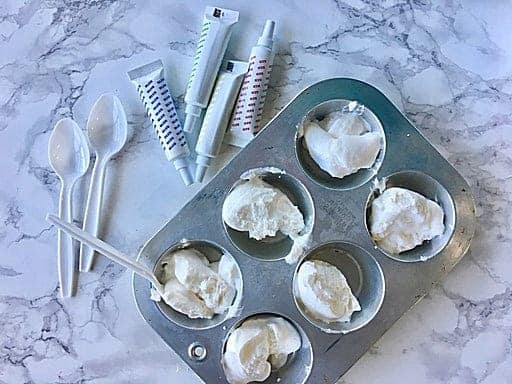 Step 3: Mix drops of food coloring into whipped cream until you get the desired colors
Step 4: Paint!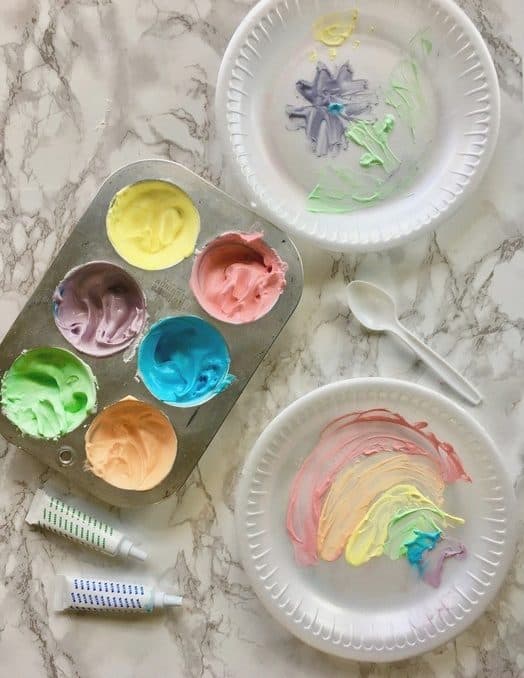 Let your kids create their temporary masterpieces!
Love the idea but don't want your kids hopped up on sugar?
If you want a healthier version of this edible finger paint, use vanilla yogurt instead of whipped cream. And, no, I did NOT let my kids eat the leftovers!
Want more fun activities for kids to do at home? Try turning a boring walk around the neighborhood into a fun adventure with a FREE Printable Neighborhood Scavenger Hunt!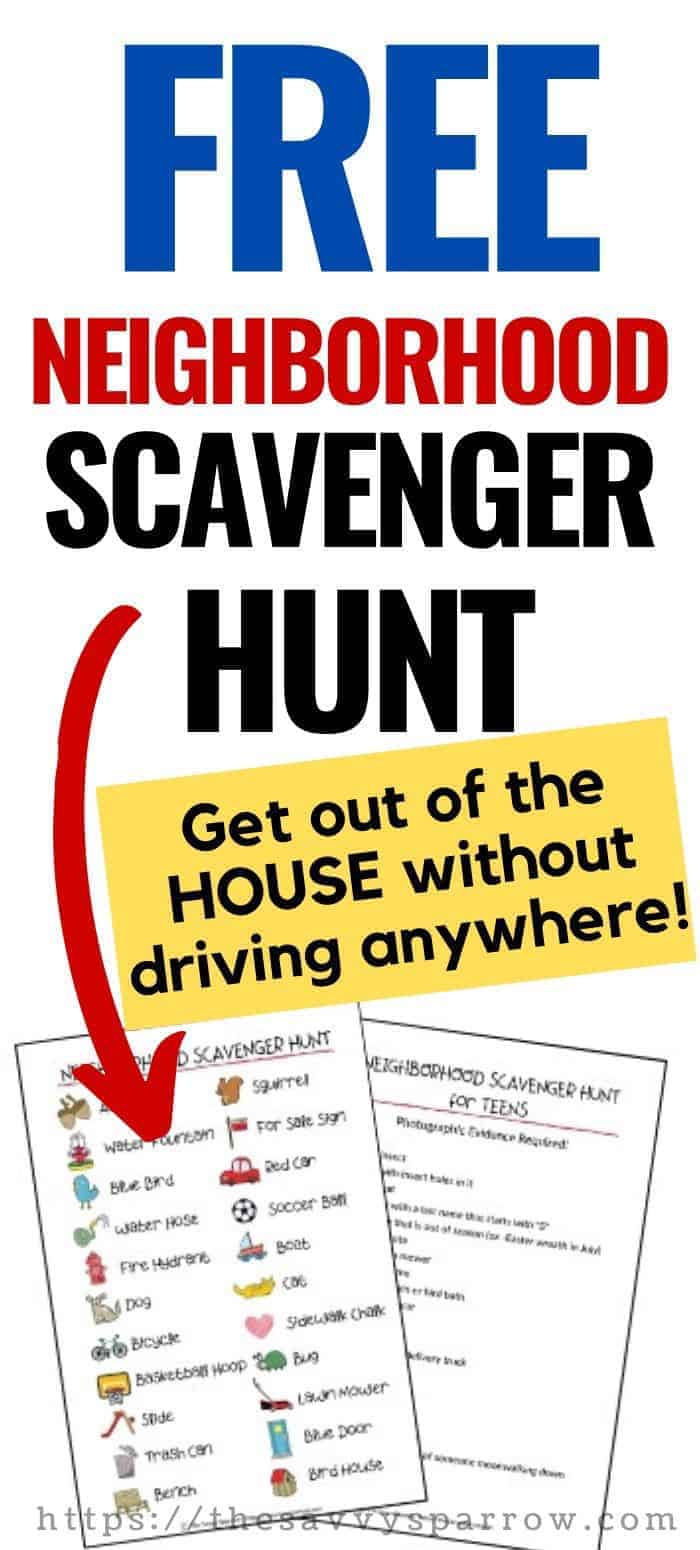 Or how about a fun printable math game? Head HERE for my Roll and Cover Dice Games!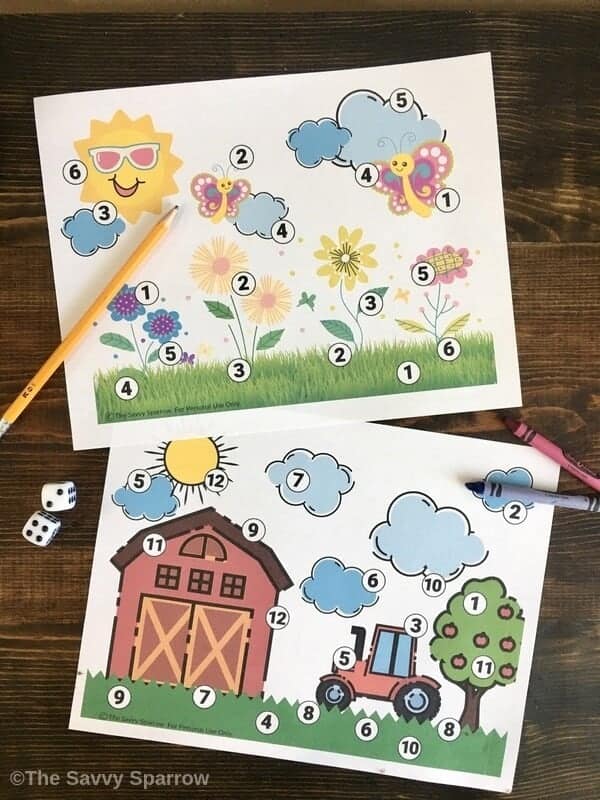 And check out these 25+ Fun Boredom Buster Activities for Kids!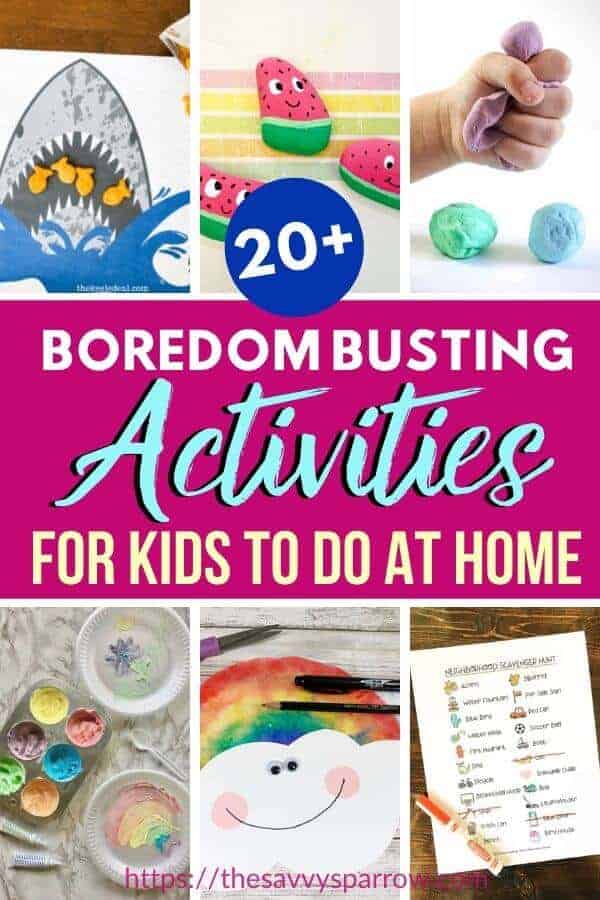 What's hiding in your Mom bag of tricks? What is your favorite rainy day activity for kids?
Leave me a comment below and help some fellow Mamas keep their kids entertained without having to sign up for circus school.
Or, check out TeachingMama for loads of other great rainy day activities for kids!
And check out these other posts on Parenting: