This free printable Mother's Day newspaper worksheet is a fun take on the All About Mom templates that your kids probably brought home from school! Grab the printable Mother's Day news template and use it in your classroom or Sunday school for a fun and easy Mother's Day gift!
If you have kids, then chances are you've gotten at least one "All About Mom" worksheet in their school folders around Mother's Day.
These fun printable templates are designed to test your kids' knowledge of things like your favorite food, your age, and what job you do. And since they're filled out by your pretty clueless preschoolers or kindergarteners, then chances are you love to eat broccoli, you're a young 72 years old, and your job is playing on the computer.
No joke… a few years ago, those were the exact answers that my youngest daughter put on her All About Mom template.
So you already know the basic idea of an All About Mom interview questionnaire… but this fun Mother's Day printable worksheet is in newspaper form!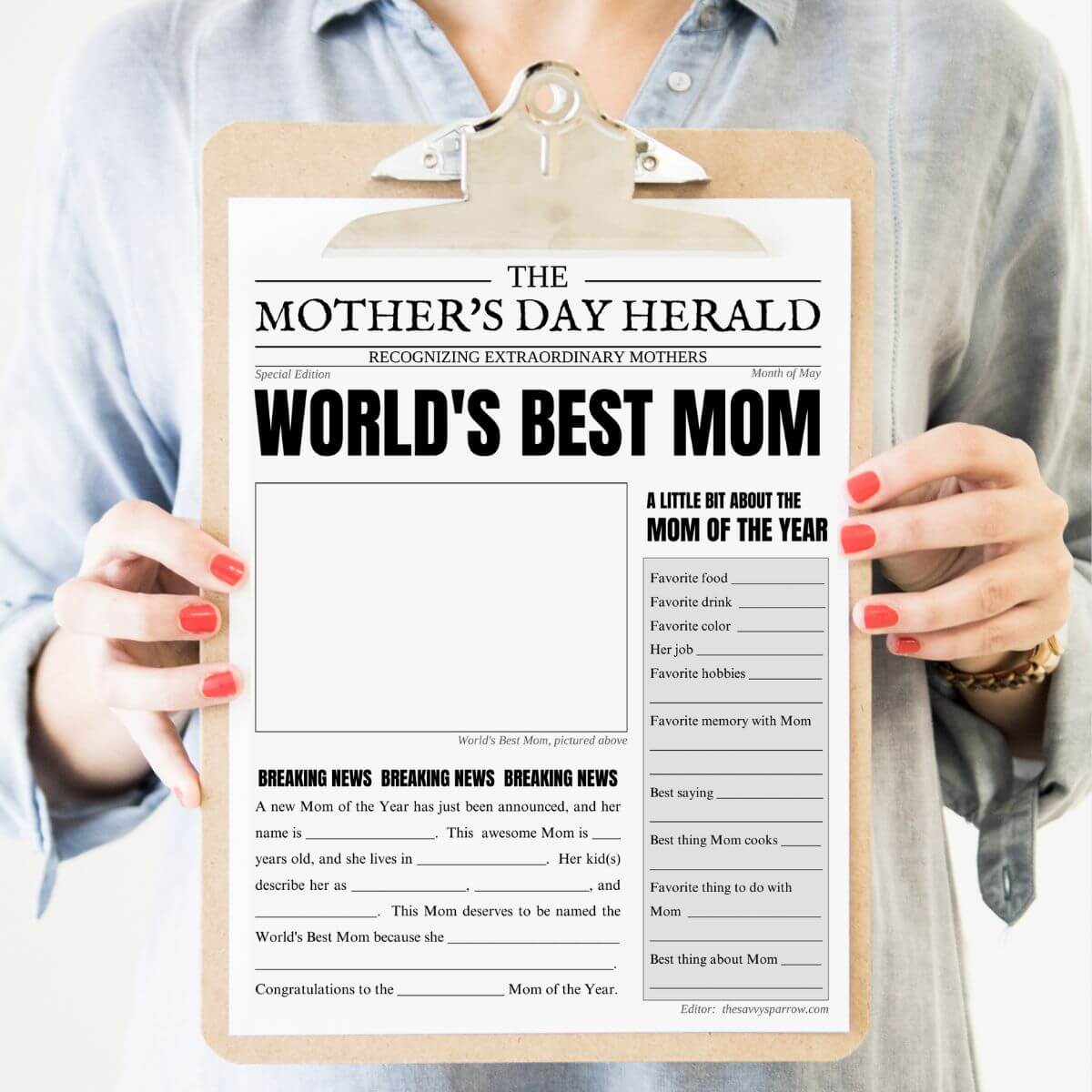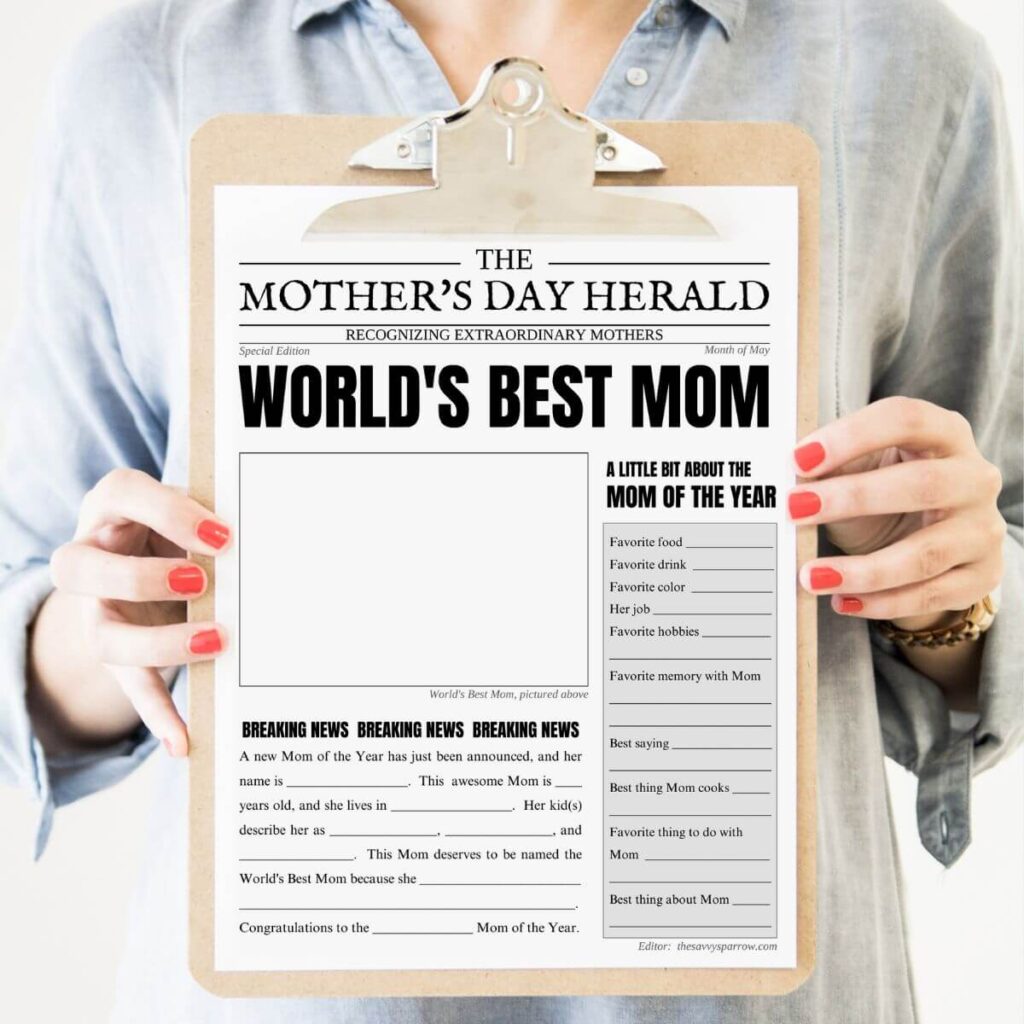 Why I LOVE this Mother's Day News Template
All Moms love reading what their kids think about them… well, most of the time! But let's face it, the traditional "All About Mom" worksheet is a bit overdone at this point. My girls have been bringing those Mother's Day worksheets home for about a decade now.
But this Mother's Day Newspaper template is fresh and new, and something Mom probably hasn't seen yet!
And the "newspaper" theme is so fun because the printable is full of actual newspaper details, from the large newsprint headline to the "Special Edition" section title. Mom will think she's reading an actual newspaper, and she's sure to get a good chuckle out of it, too!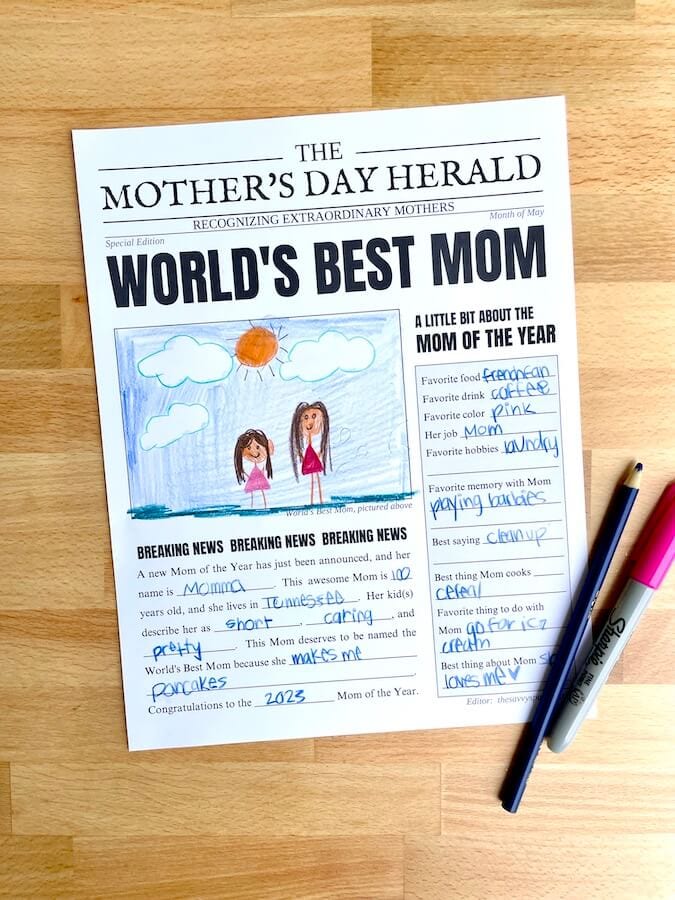 Ideas for Using the Printable Mother's Day Newspaper Worksheet
Great for teachers to use in their classrooms! Print this free All About My Mom style worksheet and have your students fill it out for a fun Mother's Day gift that you can send home in their backpacks.
Dads can print the template and help their younger kids fill it out for Mother's Day. Then, deliver the morning "newspaper" to Mom with breakfast in bed!
Use it in your Sunday school class. Our church always does something fun for Moms on Mother's Day… This free printable Mother's Day newspaper would be an awesome addition!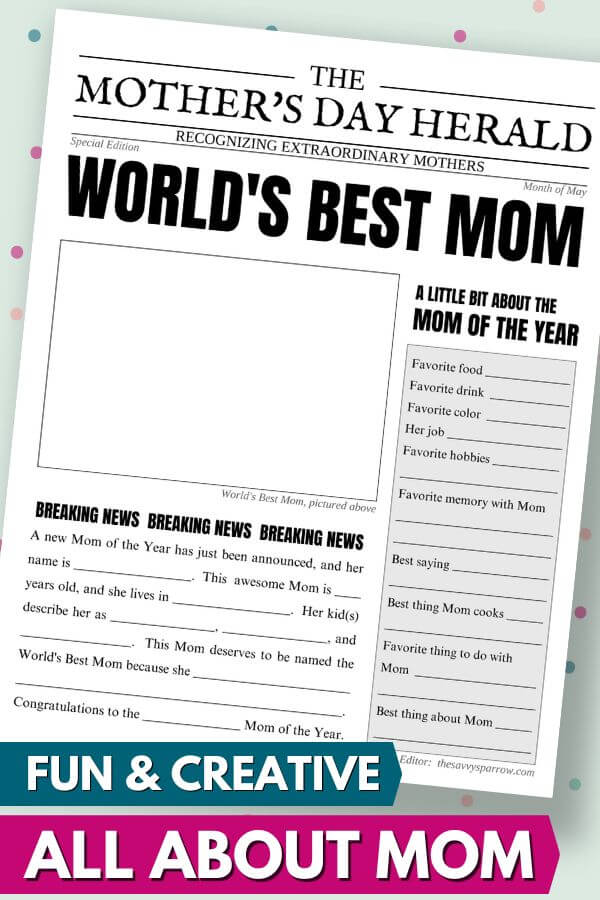 Free Printable Mother's Day Newspaper Template
Besides the fun newspaper details, this Mother's Day newspaper template includes loads of space for kids to write in details about their Mom. Here are some of the fun things included in the worksheet:
Breaking News:
A new Mom of the Year has just been announced, and her name is __________________. This awesome Mom is ____ years old, and she lives in __________________. Her kid(s) describe her as ________________, ________________, and _________________. This Mom deserves to be named the World's Best Mom because she ________________________ __________________________________________________. Congratulations to the _______________ Mom of the Year.
Photo of the Mom of the Year:
Your child can use this space to draw a picture of Mom!
A Bit about the Mom of the Year:
Favorite food
Favorite drink
Favorite color
Her job
Favorite hobbies
Favorite memory with Mom
Best saying
Best thing Mom cooks
Favorite thing to do with Mom
Best thing about Mom
Free Printable All About Mom Newspaper Template
Want to use this fun All About Mom newspaper template in your classroom this year? Just click the link below to download it now: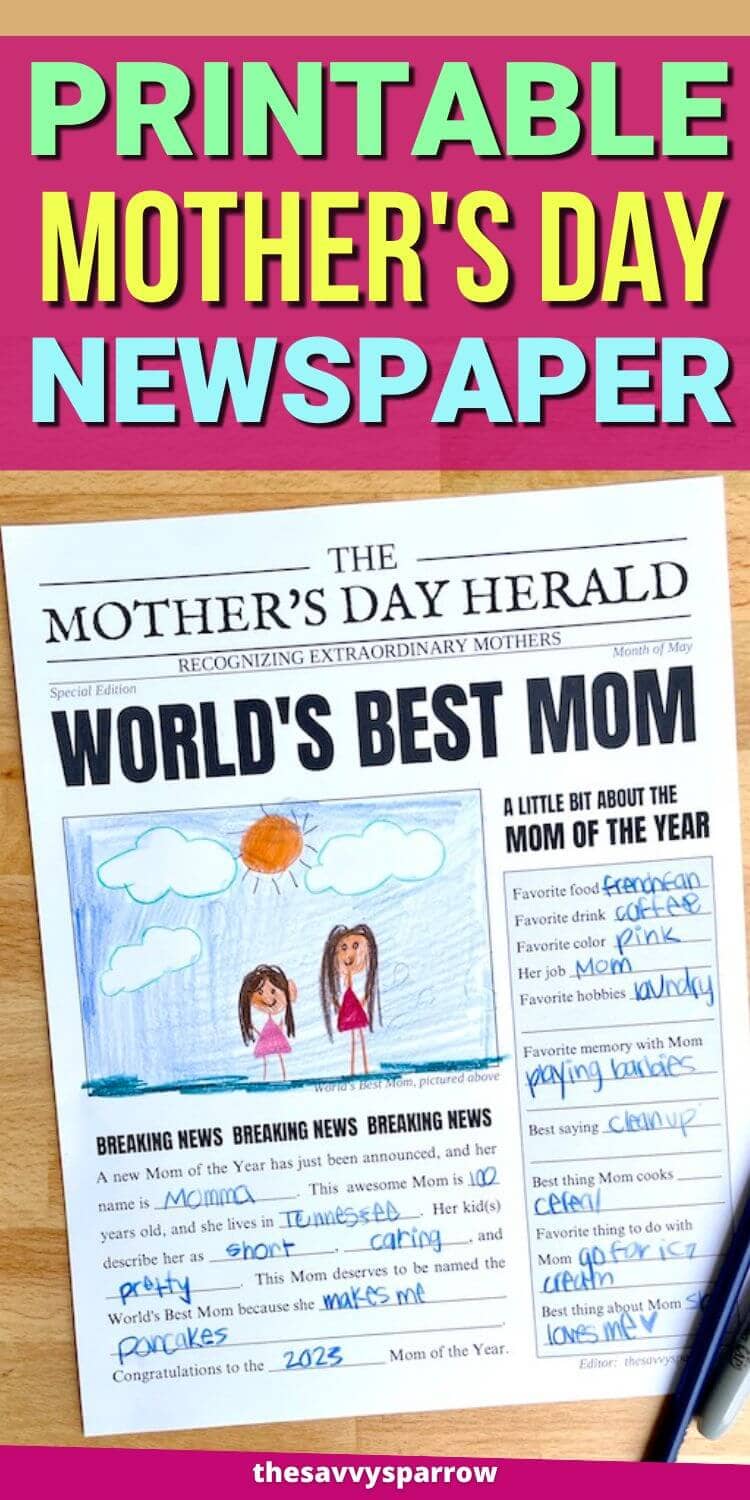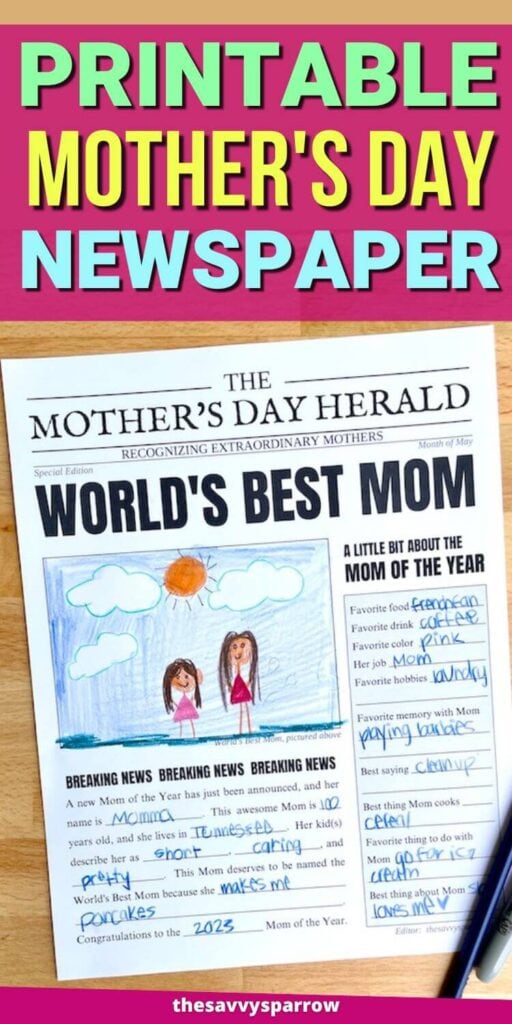 Click HERE to Download the Mother's Day Newspaper Template
Other Mother's Day Printables
If you loved this cute All About Mom idea, then be sure to check out some of these other ideas:
Free Printable Mother's Day Gift Tags – Tie one of these free Mother's Day tags on to a pretty potted plant or gift bag to dress up Mom's gift this year! Choose from 18 different tag designs that you can print immediately!