Looking for first day of school signs that you can use for taking your kids' back to school pictures? Just download these free printable 1st day of school signs, and have your kids hold them up for a quick picture before they head back to school this year!
It seems like the little chalkboard style First Day of School signs are taking over lately! You can find them at Walmart, Target, or even Amazon.
But what if you're a procrastinator and it's the night before the first day of school and you don't want to run out to the store? Or maybe you want to just print out a free back to school sign instead of spending money to buy one… especially after you dropped half your paycheck on back to school supplies?
Well, I've got you covered!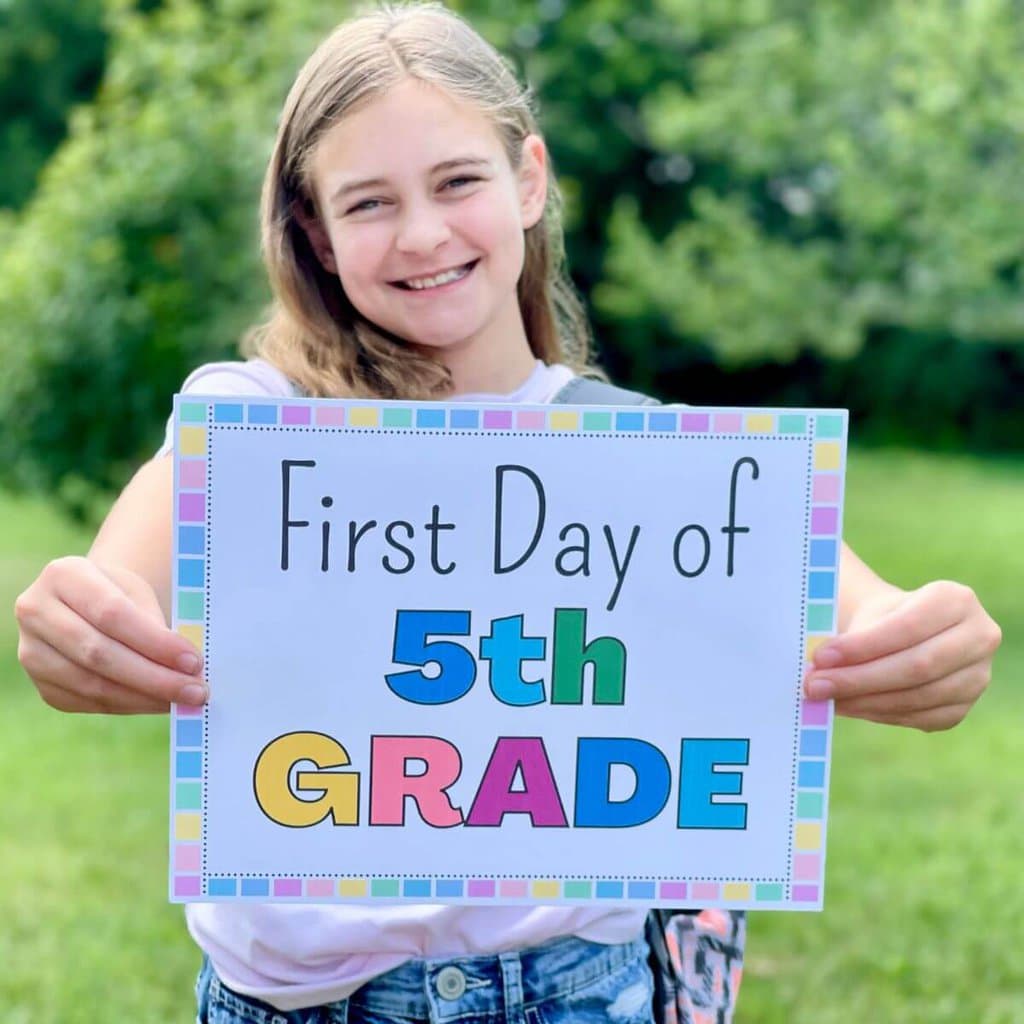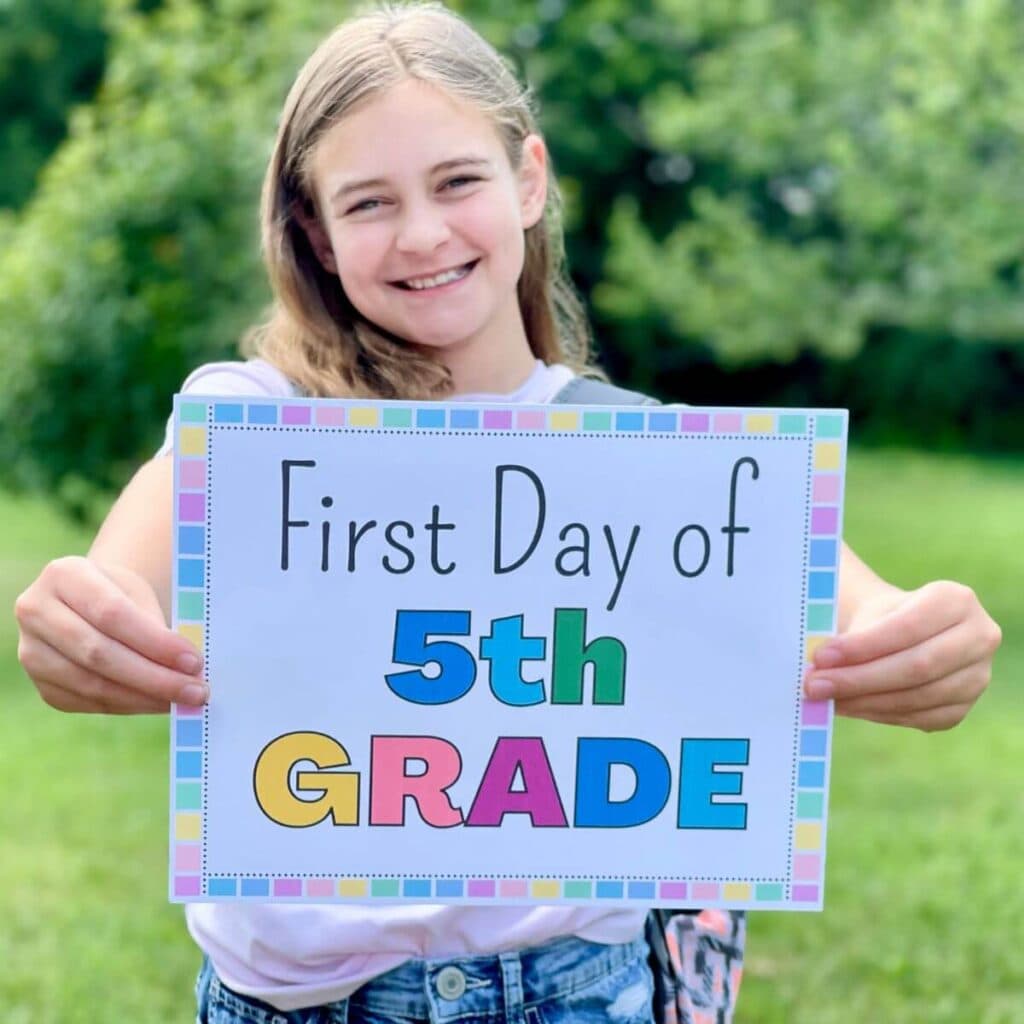 Use these free printable first day of school signs so you can take your kids' photos to post to your social media timelines like the millions of other parents out there! Just download, print, and you're ready to document your child's first day back to school each year!
And be sure to print out the matching First Day of School Interviews for Kids so you can see how they change year to year!
Tips for Taking the Best Photos with the Back to School Signs
If you're taking the time to print out signs for the first day of school, then you want your back to school pictures to be great! And that means no foggy camera lens or blurry images. Here are some tips for using the free printable first day of school signs to take the absolute BEST pictures of your kids this year:
Print the first day of school signs on white card stock. The card stock is thicker and sturdier, so the signs will look better in your photos.
Wake up about 10 minutes early to allow extra time for taking pictures. Rushing around on the morning of the first day of school will just add extra stress, and you may not even have time to take your kids' photos.
Make sure your kids aren't back lit in their photos… so make sure that they are facing the sun or the light source, instead of having the light be behind them. This simple trick will give you much brighter pictures.
Take cropped AND full length photos. Move closer to your kids to get a close-up of the first day of school sign and their beautiful faces. Then, be sure to take full length photos to document their entire back to school outfits.
Think about the background of the back to school photo. Pick an area of your home (or better yet, outside) that isn't cluttered or the busy background can take away from your subject, your cute kids! I like to take my kids' school photos in our backyard where there is lots of green space in the background.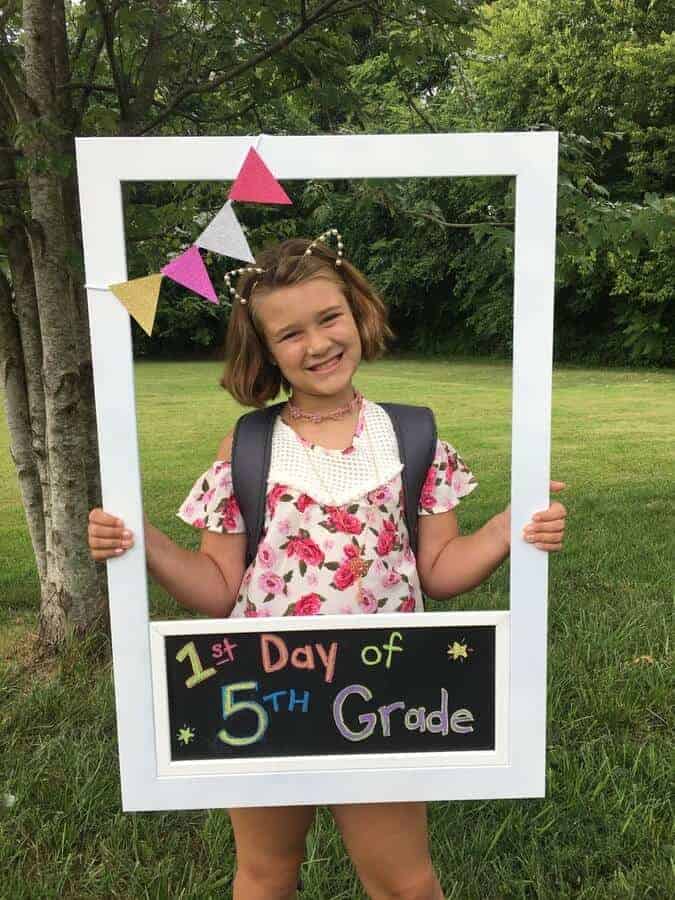 And if you have some more time, you may want to make a fun DIY Polaroid Photo Prop for your back to school photos! This DIY prop is made out of an old picture frame and some chalk paint, and you can change the date and description on the frame… Great for Christmas card photos too!
Free Printable First Day of School Signs
Just click the links below to download whichever first day of school signs that you need.
Each of the free printable first day of school signs comes in two different designs… one sign that is a simple bold black and white like this: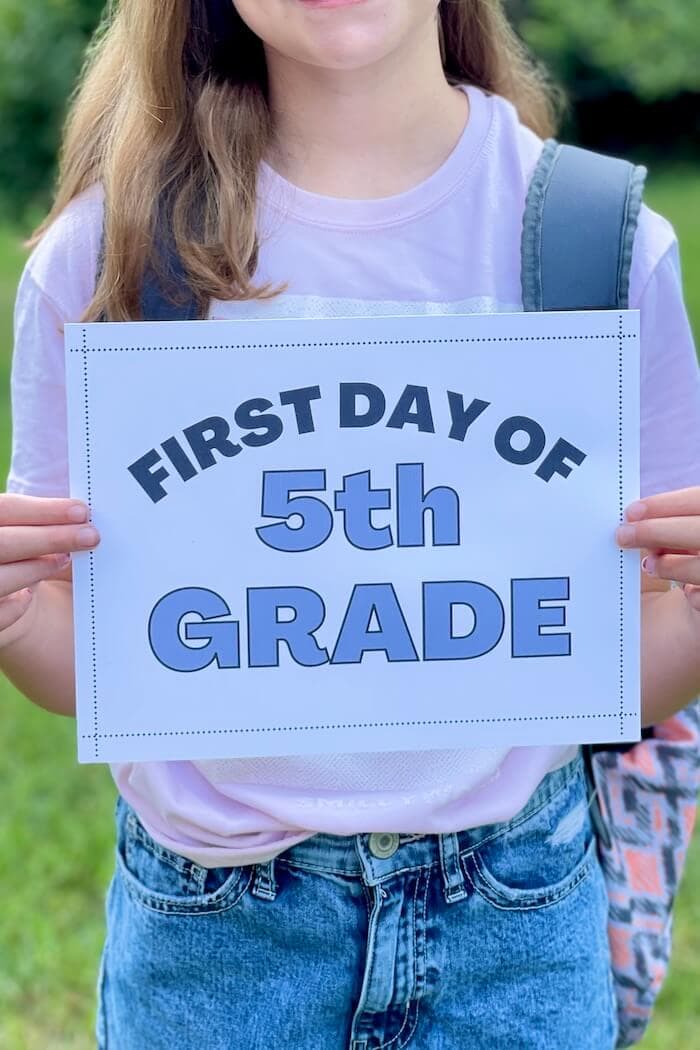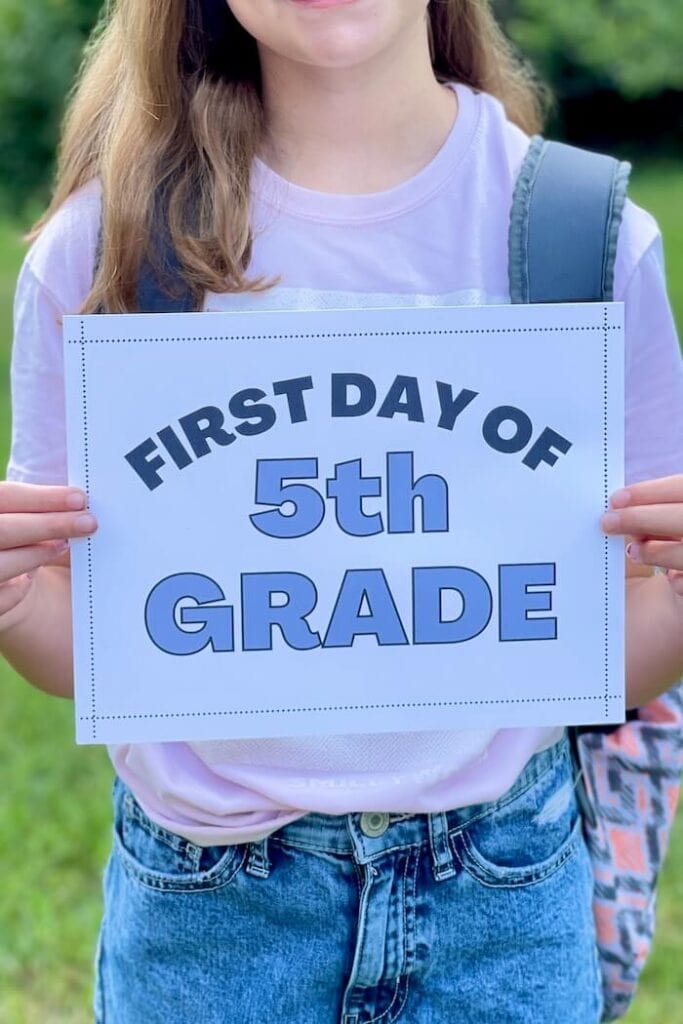 And the second design is more colorful with a border:
Choose which printable school signs that you like best, or let your kids pick out which sign they want to use for their back to school photos!
I've separated them out by grade so that you don't have to download the entire PDF at once. Or if you're a planner and you want to go ahead and print all of the grade level signs to use for future school years, you can scroll down to the bottom of the list to grab all of the First Day of School sign printables in one PDF file!
Other First Day of School Printables for Kids
If you want more first day of school printables to use for back to school time, then I've got you covered! Check out these posts for even more printable resources:
First Day of School Interviews for Kids – These "All About Me" style printable questionnaires are a great way to track how your kids change year to year. Just have them fill out the first day of school interview, add a current picture, and file these away in your school memory box for a fun and easy keepsake: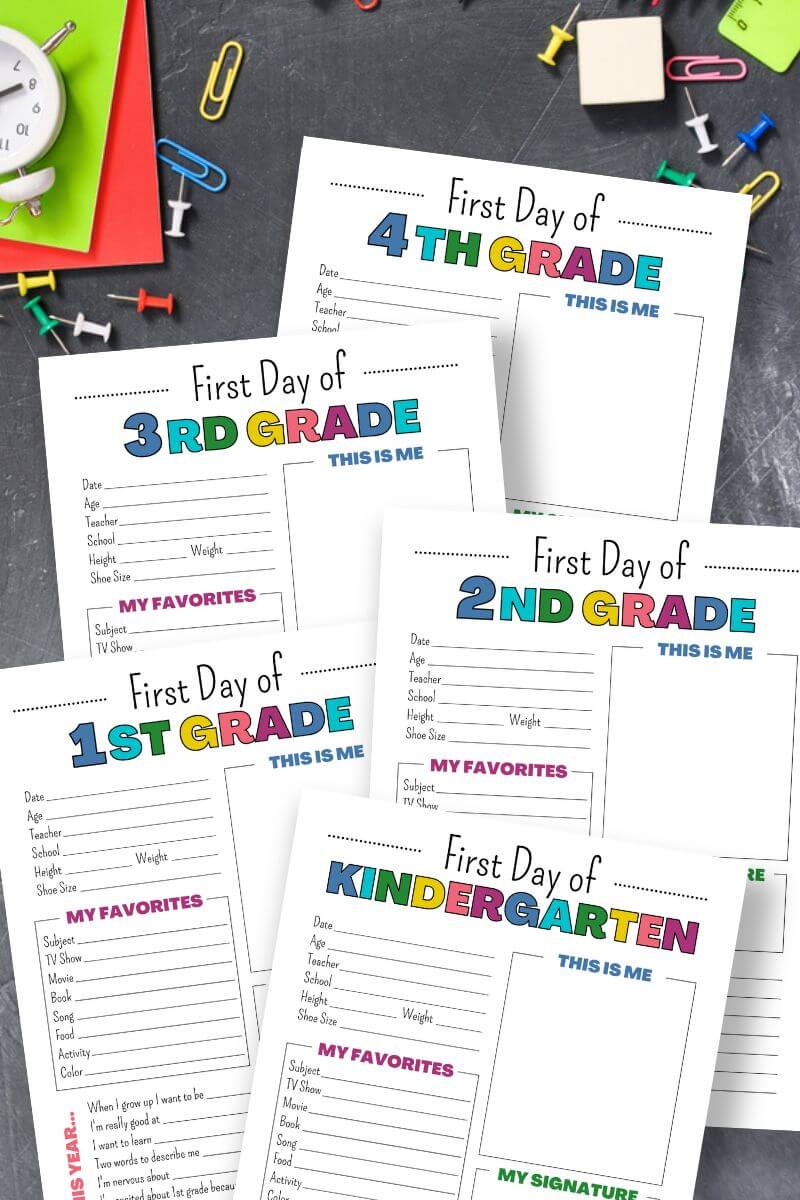 Printable Ready for School Checklists – Help your kids go back to school without forgetting anything! This printable Ready for School Checklist is a great tool to hang on your front door to serve as a visual reminder before rushing off to school. You can even laminate the printable and use velcro stickers to change the items that your kids need for different days of the week: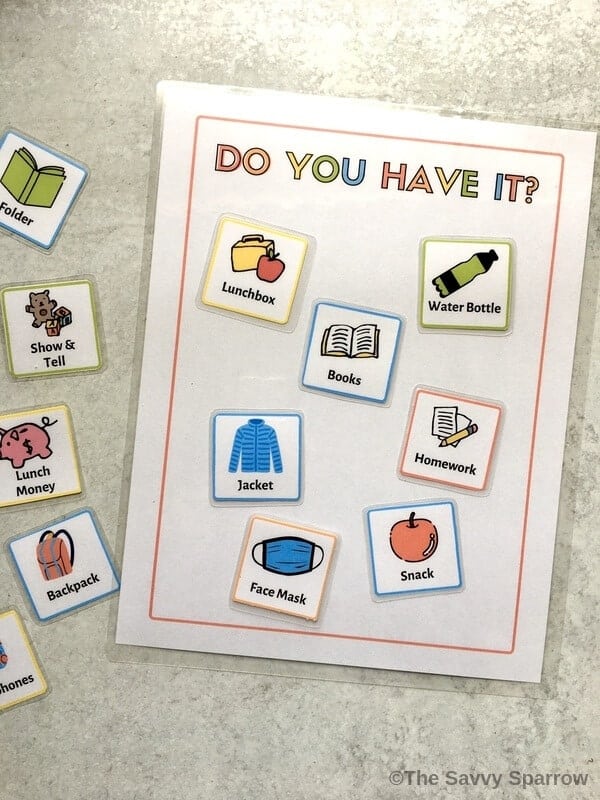 I hope you guys LOVE these first day of school printable signs! If you print them out and use them for your kids' back to school photos, let me know how you like them!
And don't forget to PIN this post for later: