I am always on the hunt for the best kitchen organization ideas and hacks.
My kitchen is ample size, but not quite large enough to fit all of my husband's gadgets and gizmos. Yes, he is a culinary genius, which is great because I never have to lift a single pot or spatula (except to wash and put them away). But with his passion for everything food-related comes just about every kitchen utensil, appliance, and baking sheet variety known to man.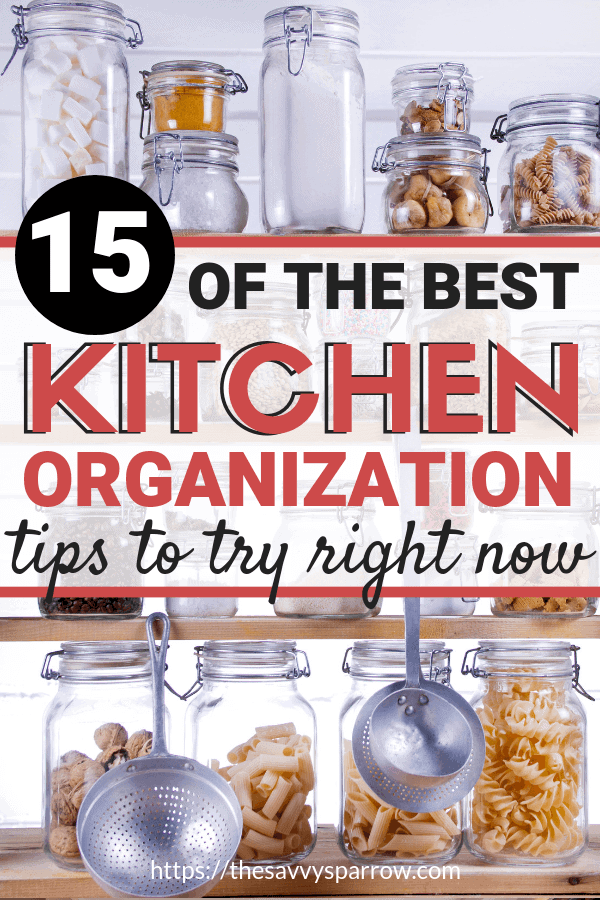 *This post contains affiliate links, which means I may earn a small commission from these links at no additional cost to you. Read my full disclosure here.
The Container Store is an absolute favorite, and I have been known to peruse the aisles of HomeGoods for hours searching for the perfect totes, toy boxes, storage cubes, file boxes, jewelry boxes, mail sorters, etc. etc. etc. to organize his kitchen collection.
However, with two kids you would never guess that I love neat and tidy, perfectly organized spaces by looking at my house!
So what's a girl to do with a kitchen overflowing with stuff?
Find a clever way to organize it!
So for my own benefit, and yours, I've compiled a list of the best kitchen organization ideas.
The Best Kitchen Organization Ideas
TIP #1- Repurpose Office Supplies
Magazine File Holders – Not Just for Magazines
Great for beautifully storing your past issues of Better Homes and Gardens, but also great for plastic water bottles, aluminum foil/saran wrap boxes, and canned vegetables. Buy a few farmhouse style magazine holders and line them up in your pantry for chic storage.
Letter Sorters – Not Just for Collecting Mail
Also great for odd shaped, bulky kitchen tools. Find inexpensive letter sorters at thrift stores or garage sales, or buy organizers like the one pictured below to neatly store baking sheets, muffin tins, and cutting boards.
Binder Clips – Clip all the things!
Use binder clips to clip together small seasoning packets (ranch mixes, taco seasoning, etc). Then hang the clipped-together packets on a command hook in the pantry.
3-Ring Binders – Great for Recipe Storage
Organize recipes that you've torn out of magazines using tabbed dividers for different courses or cuisines. Grab a cheap 3-ring binder from WalMart or, for a more personalized idea, check out the super cute recipe binders from Zazzle.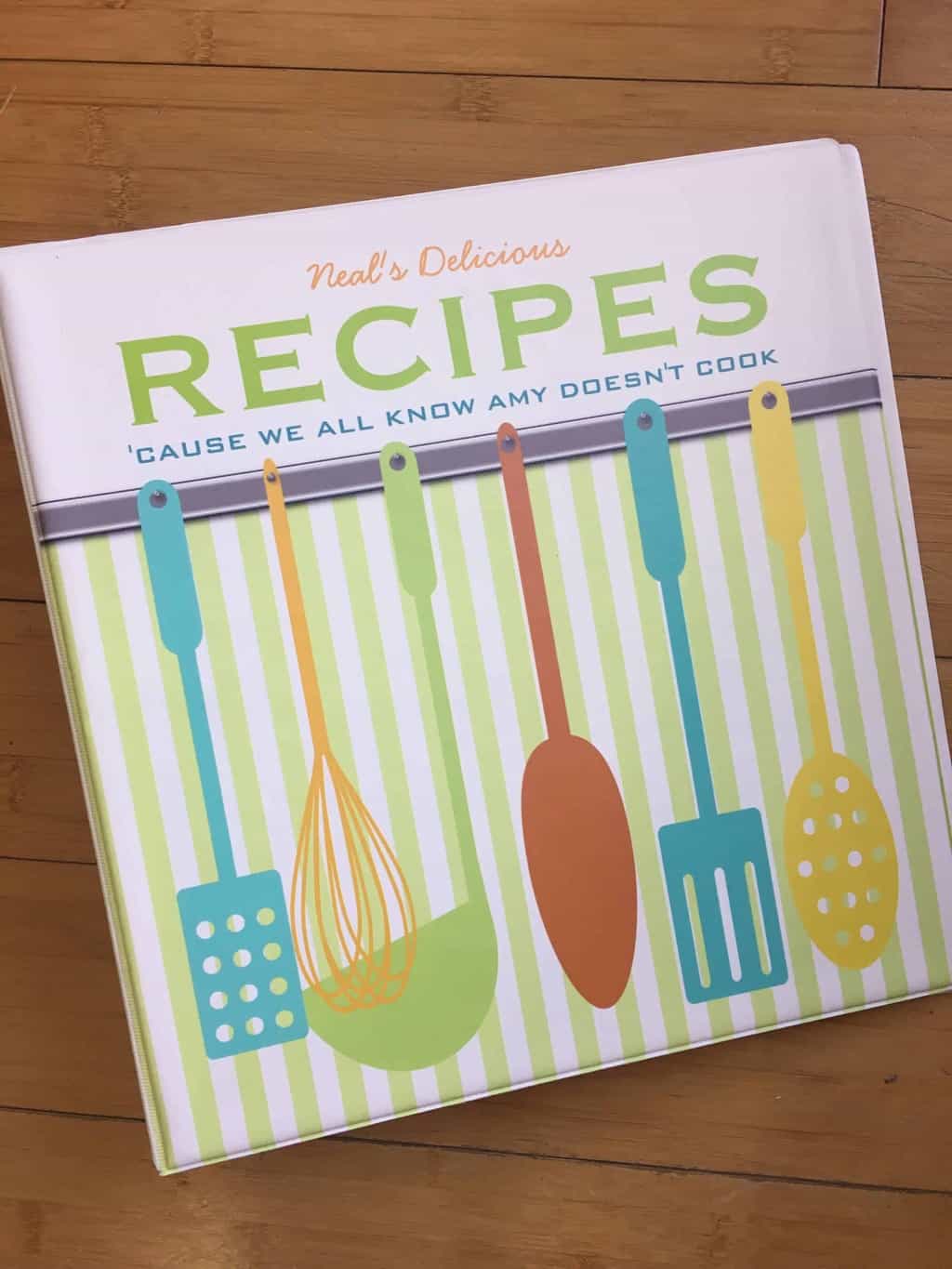 Notice what I had printed on it… haha!
TIP #2 – Use Pocket Shoe Organizers for Cleaning Supplies and Pantry Staples
Think outside the shoe organizer! Hang over-the-door organizers on the inside of your pantry door to store food items or cleaning supplies.
TIP #3 – Spice Up Your Spice Cabinet Organization
Use chalkboard labels and uniformly sized jars and canisters to take your spice cabinet from cluttered chaos to Martha-approved.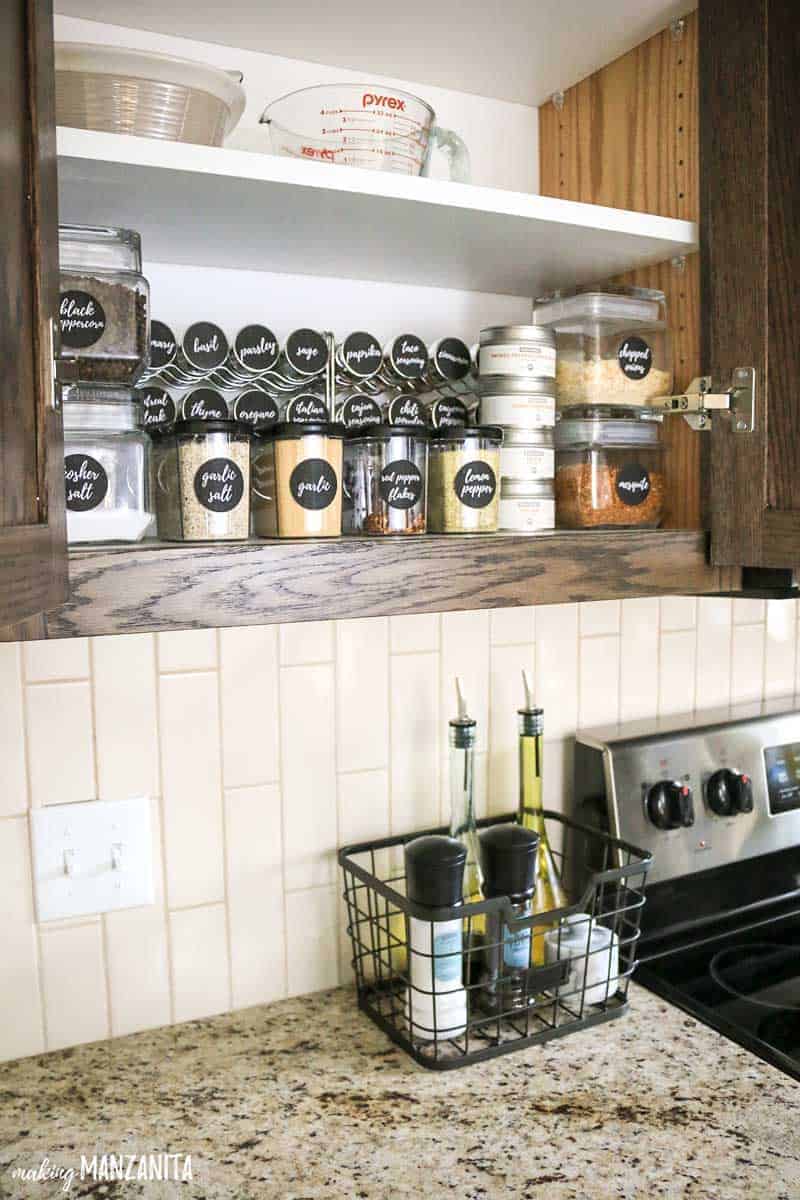 From Making Manzanita
Go here for a ton of great options for spice bottles
and matching labels.
TIP #4 – Use Every Inch of Cabinet Space
Think outside the box of your cabinets and drawers. Use the TON of space on the inside side walls, door backs, and the easily forgotten baseboards. These spots are valuable, and often overlooked, areas to hold kitchen necessities.
Insides of Cabinet Doors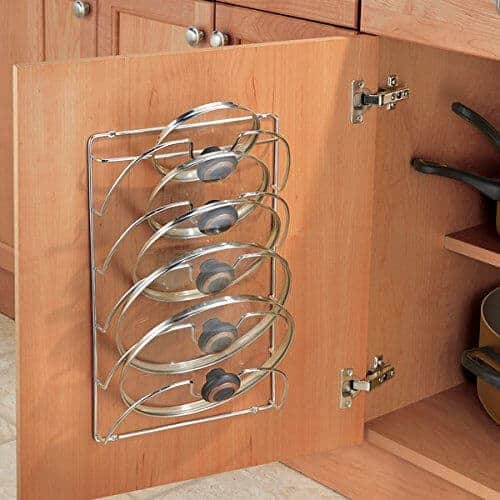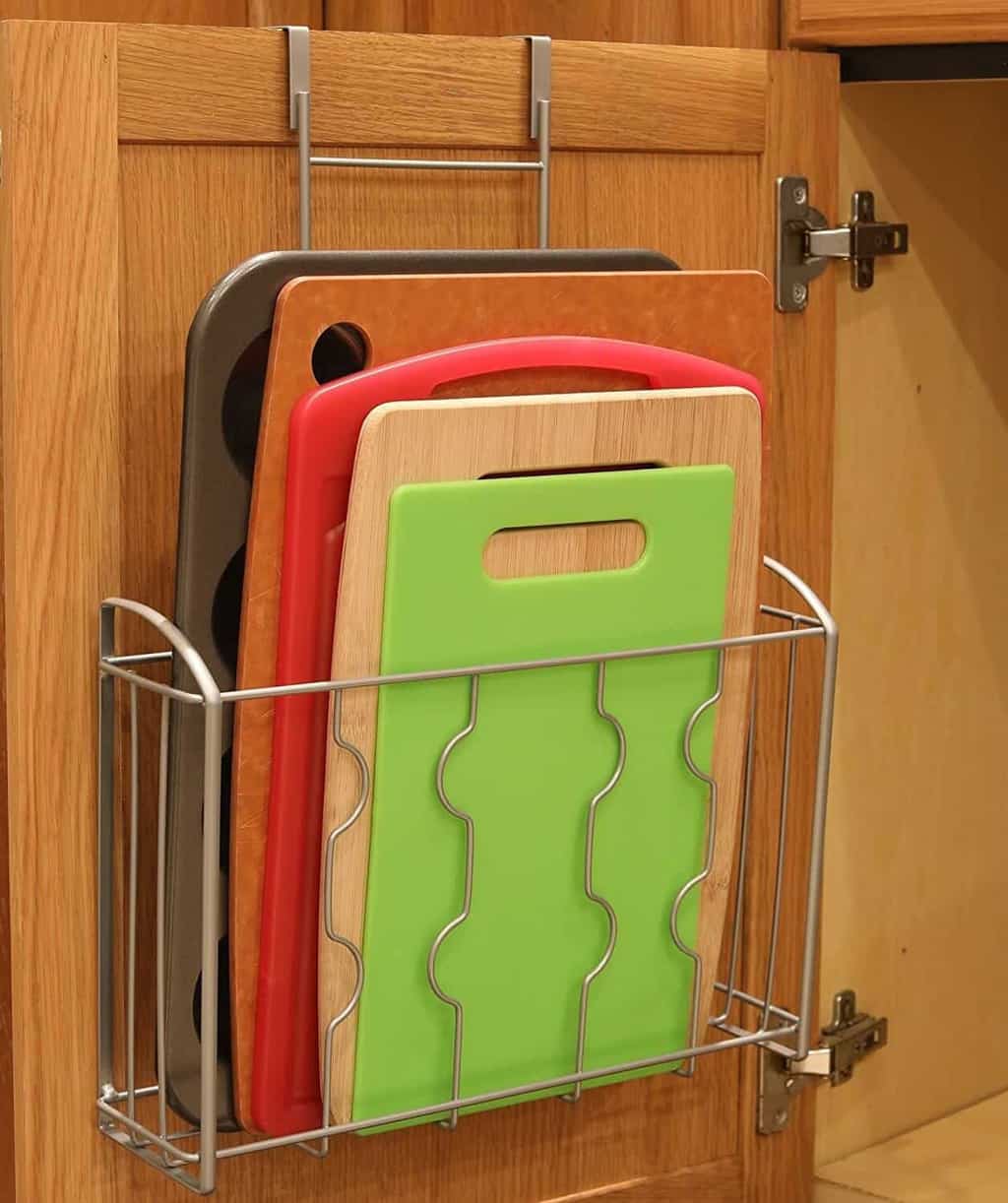 Over the Cabinet Door Organizer
Make Extra Space in the Baseboards
This tip is for those that are super handy or have a handy husband. You'll definitely need to whip out the power tools for this one. But, once you do you'll have oodles of extra space to organize awkward and bulky items like baking pans. Click here for the full tutorial to make better use of the toe-kick area in your kitchen.
TIP #5 – When in Doubt, Pegboard!
I don't know if you've noticed, but pegboard is having a moment. Usually reserved for retail stores or home garages, pegboard is crossing over to the world of kitchen organization also. And, why not?! Look how cute and handy it is for large and awkward items that take up a lot of cabinet space. And the greatest thing is, you can get cute baskets and hooks to customize it to your own needs.
If you love the one above, you can get it here. Or check out these other great options:
TIP #6 – Bins are Your Friend
Be on the lookout for any and all plastic/wire/wicker/metal bins on sale. Then grab some cute labels (chalkboard stickies, decals, etc) and, voila!, instant and cute pantry organization. Check out this ultra-organized pantry from The Orderly Space that incorporates a mix of plastic bins and natural baskets.
TIP #7 – Ditch the Packaging
Flour, sugar, oats, beans… anything that comes in a bag can be taken out of its original packaging and organized in uniform jars or containers.
From Little House Living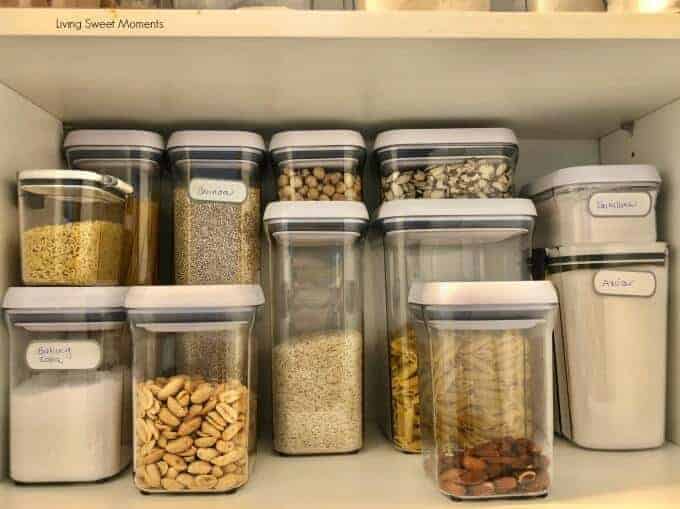 From Living Sweet Moments
The same goes for dish soap and hand soap. Mismatched "Dawn" and "Softsoap" bottles can look messy. Take a cue from Small Stuff Counts and make these DIY soap dispensers to give your kitchen sink a more uniform and organized look.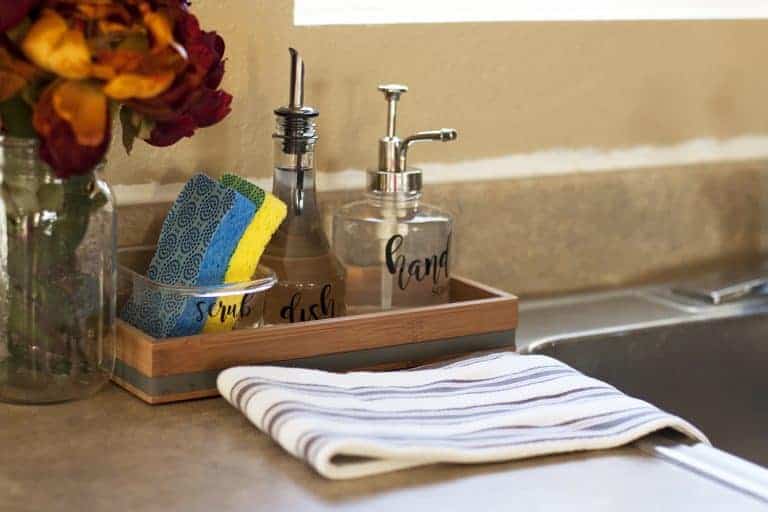 From Small Stuff Counts
Tip #8 – Don't Forget the Fridge!
Refrigerator bins
are great for organizing random condiments, snacks, and other items that can make your fridge looked cluttered and messy.
Tip #9 – Paper Towel Holders… Not Just for Paper Towels
Use paper towel holders similar to this one to store rolls of trash bags under the sink. These paper towel holders can be screwed to the side wall of the under sink cabinets to free up valuable space.
Tip #10 – Hang Pots, Pans, Lids, and Cooking Utensils from a Towel Bar
Free up lots of cabinet space by hanging bulky items like pots and pans on a towel rack. Plus, with this storage solution your most used kitchen tools can be easily in reach rather than awkwardly stacked in a bottom cabinet. Find a sturdy towel bar at your local hardware store, or buy hanging kitchen rail organizers
that are made specifically for use in the kitchen.

Tip #11 – Corral Your Plastic Grocery Bags
If under your kitchen sink looks anything like mine, you could supply your local grocery store with bags for the next few weeks. We use our grocery bags as liners for small trash cans, and with two kids, we go through a lot of them. If you do the same thing, keep your grocery bags neat and tidy with a simple grocery bag organizer
that mounts to the inside of your cabinet.
Tip #12 – Use the Space Over Your Stove
Don't forget about the often overlooked area over your stove top. Buy a stylish shelf made specifically for this area, or DIY one from wood and mount to the wall to store frequently used spices and oils.
Tip #13 – Get Rid of Stuff that Doesn't Belong
Our kitchen ended up being the drop zone for backpacks, purses, mail, hats, shoes, etc…. until I got my husband to build me this Ah-Maz-Ing mudroom wall! Keep your kitchen nice and organized by having a designated area for items that are usually just dropped in the kitchen. Learn how to make your own DIY Mudroom wall here and turn any blank wall into a neatly organized space.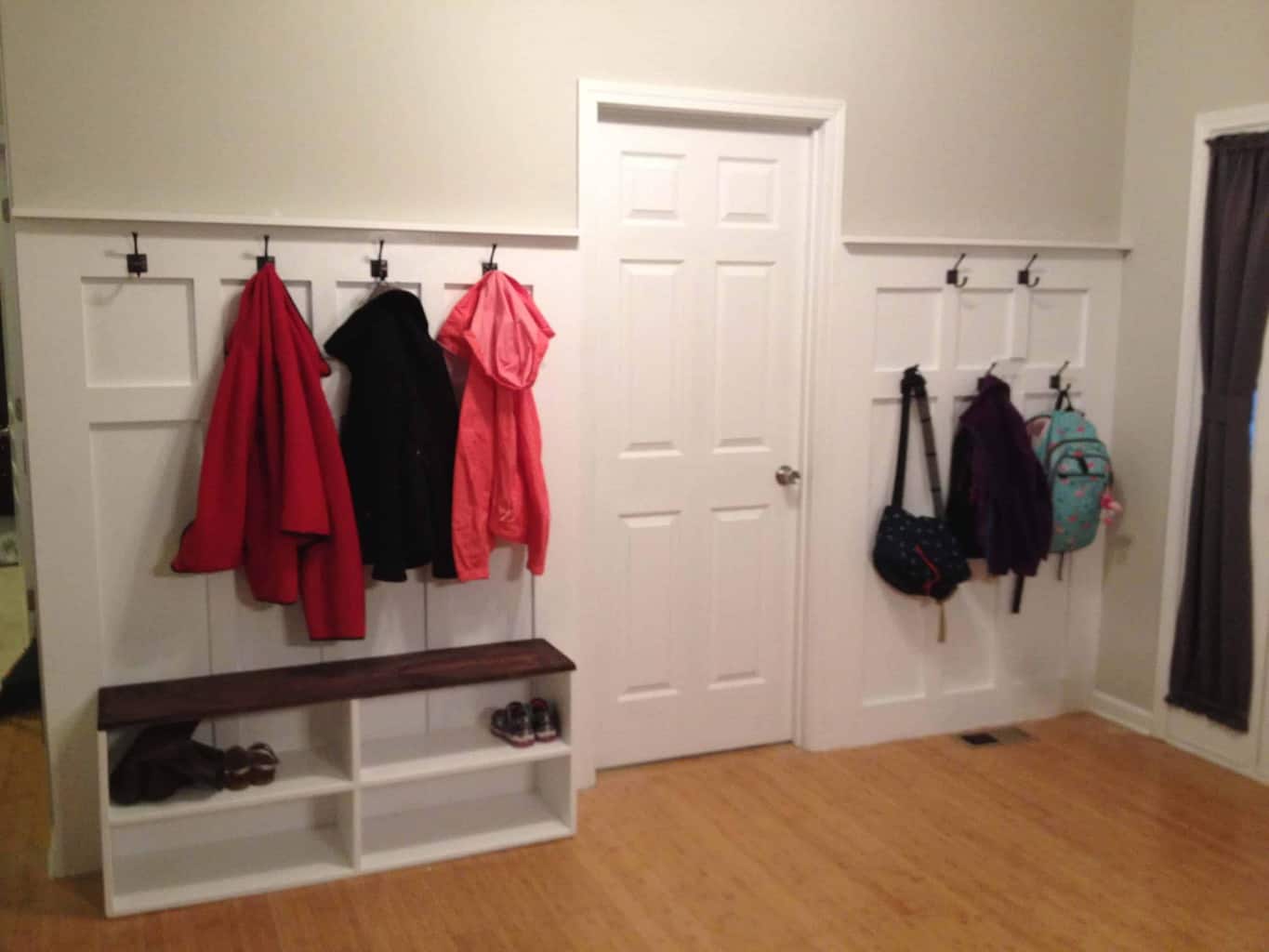 Tip #14 – Adjust Your Shelving
If your cabinets have adjustable shelves, take the few extra minutes to adjust them to the right height for your stuff. You will maximize space by minimizing the amount of wasted space above your dishes, cups, etc.
Tip # 15 – Stick Your Knives to the Wall
Free up valuable drawer and countertop space with a magnetic knife strip like these
. Just be sure to install it somewhere that is out of the reach of little ones. (Eek! That's not a pirate sword!) :/
And there you have it… some of the best kitchen organization ideas to try right now if your kitchen is a hot mess.
If you feel stressed out just thinking about the state of your kitchen, then try out some of these tips to organize the clutter. And, I'd love to hear your best kitchen organization ideas! Leave me a comment below and let's exchange ideas so we can all get off the hot mess kitchen express! 🙂
Related Posts: