I am all about some easy DIY decor. Don't get me wrong… I'd love to go to Hobby Lobby and buy all the pretty decor things… But my weekly planner finance tracking system would look a mess. So instead I DIY, which can save you a TON of money if you do it the right way. With Thanksgiving right around the corner, I've been itching to try out some easy DIY fall fireplace decor to dress up my mantle before the arrival of holiday guests. But I didn't want to spend a fortune, so I got creative. Read on for how I DIY'ed my fall fireplace decor for less than $40!
All the Elements of My Easy DIY Fall Fireplace Decor:
Before we dive in, here's all of my easy DIY fall fireplace decor in one photo: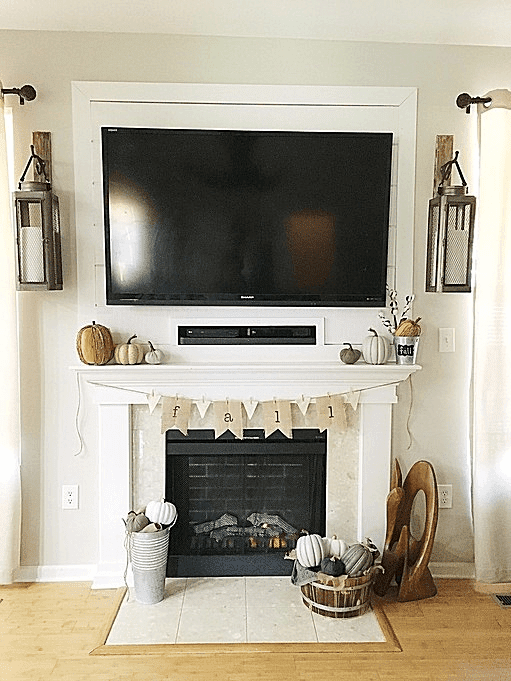 Now, let's break it down by project… And make sure you make it to the end of this post for the absolutely genius farmhouse lantern hack that my husband dreamed up. Hint… it involves just 2 minutes and $1 (YES, ONE DOLLAR!).
*This post contains affiliate links, which means I may earn a small commission from these links at no additional cost to you. Read my full disclosure here.
First Up, The Easiest EVER 5 Minute Fall Banner:
Yes, this super cute fall banner can be made in just 5 minutes.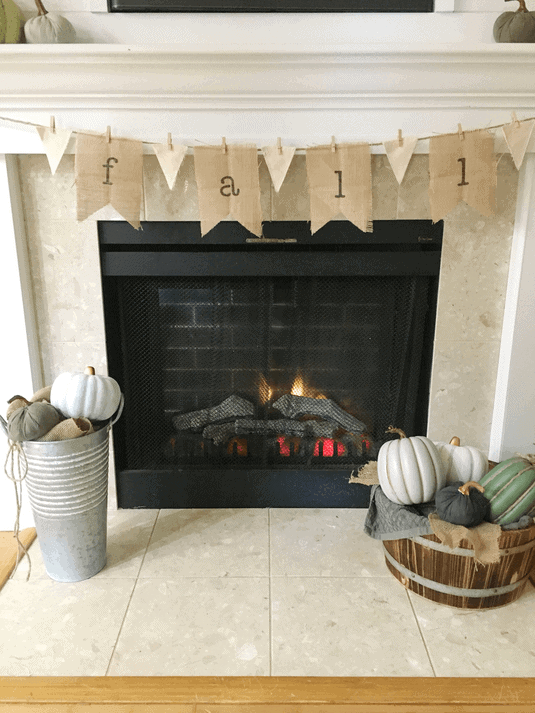 After struggling to figure out how to get my pennants attached to the jute twine without having to whip out my glue gun, and without having to put holes in the easily-frayed burlap, I had the brilliant idea to use mini clothespins. (Pat on the back!)
You can purchase the burlap pennants from your local craft store, or get them here
. I scored the mini linen pennants from Hobby Lobby for just 84 cents for a pack of 8. Love a good clearance deal!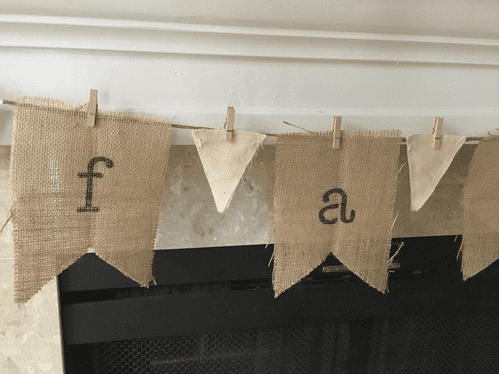 Then, all you need is a set of alphabet stencils and a black sharpie marker and you're good to go. The stencils I used are from the retired Stampin' Up! Build A Banner kit, which is only available for purchase now on ebay. You can also go here
for a load of different alphabet stencil options.
Just use the black sharpie to color in the letters, clip the pennants on a piece of jute twine, and you're done. 5 Minutes, Y'all!
Next, Easy DIY Decorative Pumpkins:
Repurposing/remodeling/redoing is your friend. Take these ugly pumpkins, for instance. A few coats of paint, some jute twine, and a little creativity is all you need to transform them into something you love.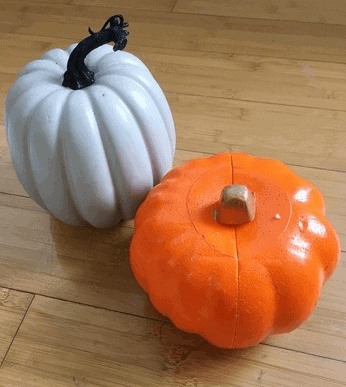 The bright orange foam ones are from DollarTree and the gray ones are clearance finds from The Dollar Spot at Target. Score! The black stem didn't go with the color scheme for my easy DIY fall fireplace decor, so I just quickly painted it using an 89 cent bottle of acrylic paint in a pretty bronze color. And nothing in our house is construction cone orange like the Dollar Tree pumpkins, so I toned them down with some leftover interior paint. Here are the finished products: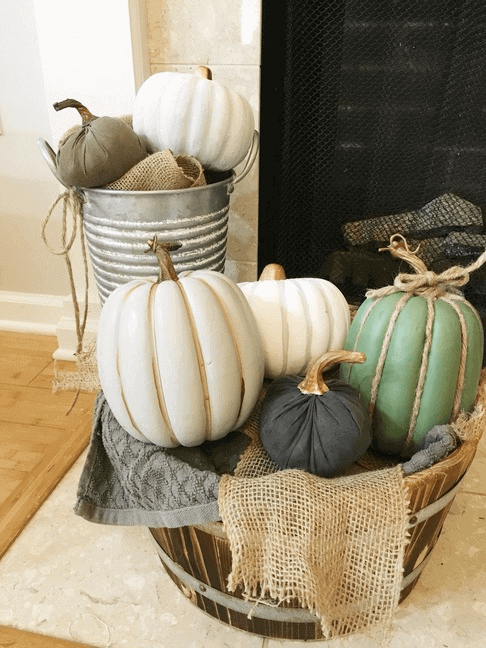 I added some jute twine and gold acrylic paint in the ribs of some of the pumpkins for added texture and dimension.
Tons of Cute Clearance Finds:
So, I know that this easy DIY fall fireplace decor post is a bit after the fact, but I shop the clearance deals at the end of the seasons. My galvanized metal and wood buckets were all 80% off at Michaels. And the cute mini fabric pumpkins were 70% off at Target after Halloween, making them just 30 cents each.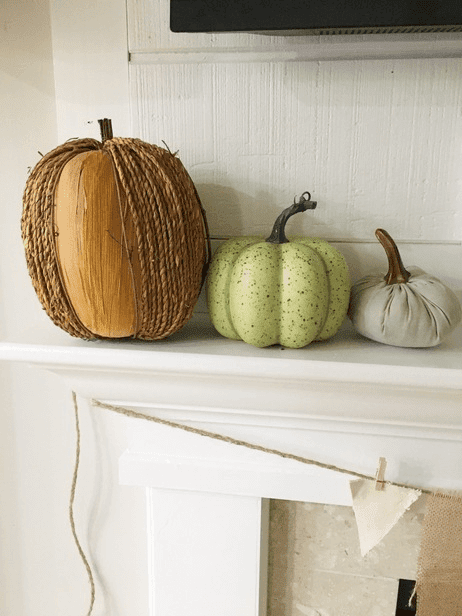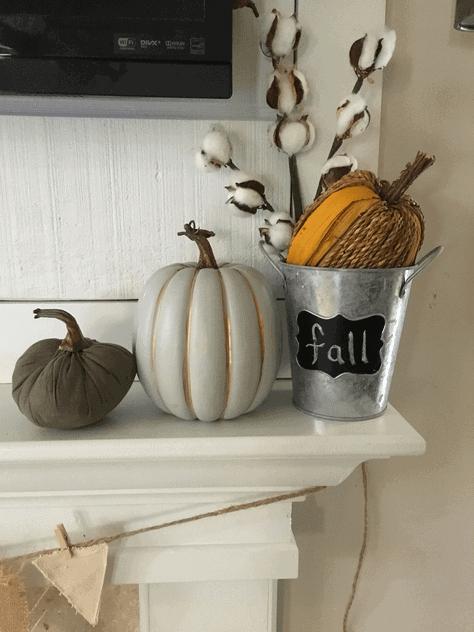 And My Genius 2 Minute, $2 Farmhouse Lantern Hack:
Okay, as promised here is my genius farmhouse lantern hack…
Instead of paying big bucks for a large decorative candle to fill your lanterns, just stick a roll of paper towels inside.
Yup, that's a 97 cent Bounty roll in there. And since my lanterns hang on the wall and have decorative mesh sides, you can't even tell. Y'all… I checked Hobby Lobby and their large candles are $40 each! Thanks, but I'll stick with my paper towels!
And, if you want to be able to "light" them, you can just stick a battery-operated tea light in the top of the paper towel roll. Easy peasy!
And there you have it! If you're like me and the thought of clutter makes you shudder (haha, see what I did there!), then this minimalistic fall fireplace decor is for you. And as always, thanks for visiting!
If you loved this post, check out some of my other DIY Home decor posts: