These I Am Thankful For printables are an excellent way to help your children practice gratitude this holiday season. Choose from a variety of super cute Thanksgiving writing templates for kids that they'll enjoy coloring and filling out with all the things they're thankful for!
You know that the holiday season has officially arrived when gift magazines start arriving in the mail, filled with shiny new toys your kids will be begging you for before that Thanksgiving turkey has hit the oven.
And just as you open your mouth to point out that your child already has a drone that's been collecting dust since last Christmas, you're hit with more "I wants" and "I needs" than you can shake a stick at.
It's easy to become consumed with what we don't have during the holiday season, myself included. That's why I've tried to make a conscious effort to help our family practice gratitude and remember to be thankful for what we already have.
Teaching kids to be thankful has huge benefits on their mental health and physical well-being, and studies have also shown that expressing gratitude also boosts self-esteem and contributes to better sleep quality. In a nutshell, children are happier and healthier when they make a habit of being thankful.
There are so many fun gratitude activities for kids out there, like starting a gratitude jar or making a Thankful Tree to celebrate Thanksgiving.
This year, I've found these adorable I am thankful for printables that kids can fill out and color to remember all the things they're grateful for! Choose from colorful Thanksgiving-themed cards, or have your kids color their own turkey printable before cutting it out!
Here's how to get your copy of these adorable Thanksgiving writing templates for kids, plus ideas for how to use them: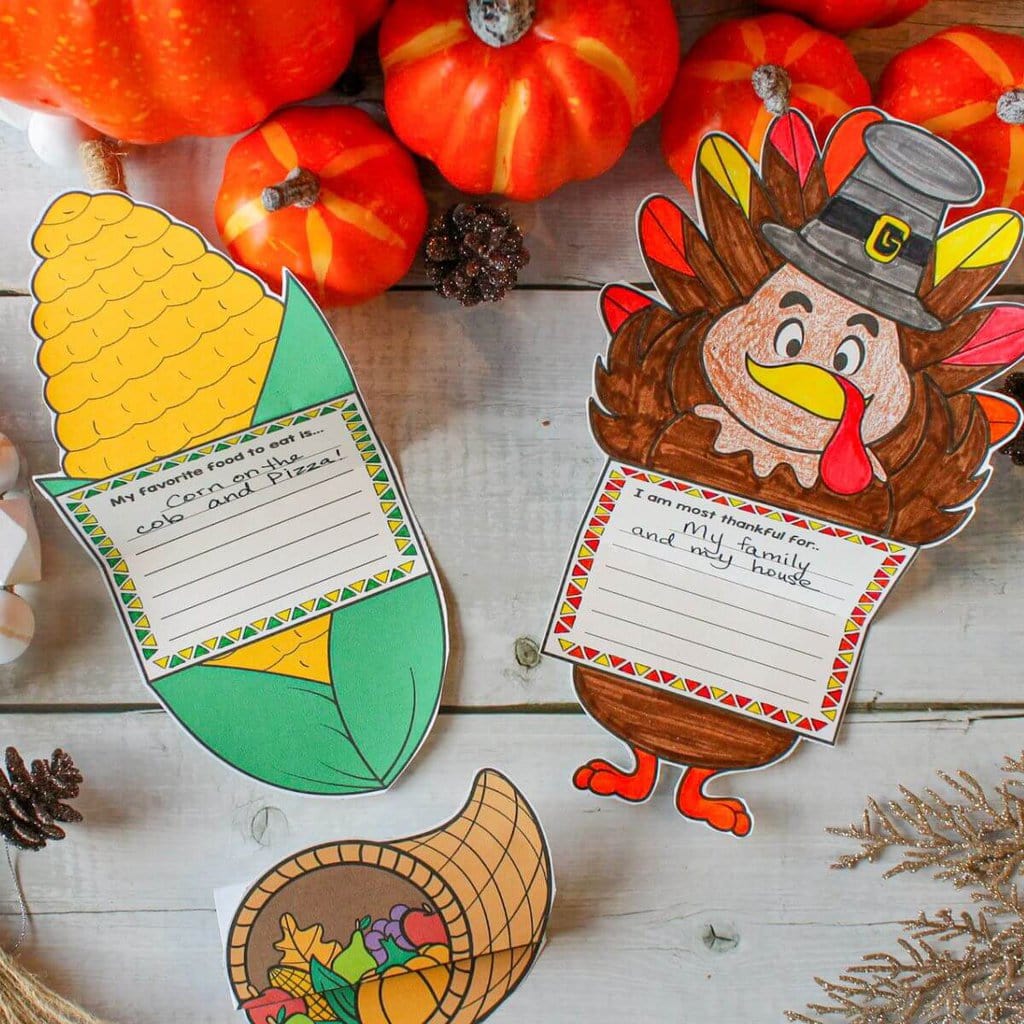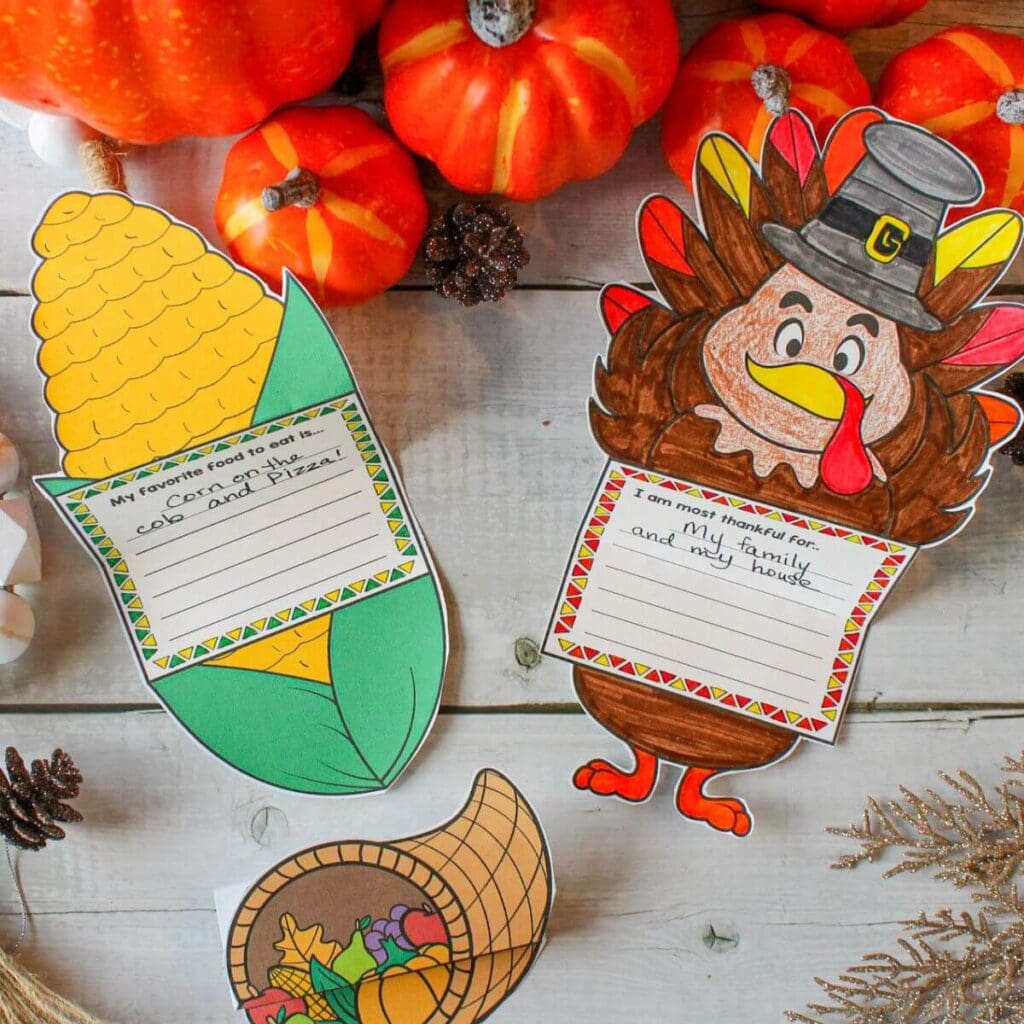 Ideas for Using the Thankful Writing Printables for Kids
You can use these I Am Thankful printables in multiple ways this Thanksgiving season! Here are a few ideas:
Use them in your preschool class with a teacher's help to fill them in.
Add them at each place setting for kids to cut out and color during Thanksgiving dinner.
Use as a fun writing activity for elementary and Sunday school classes.
Have your child think of ways they're thankful for a specific family member and send that person the note to brighten their day.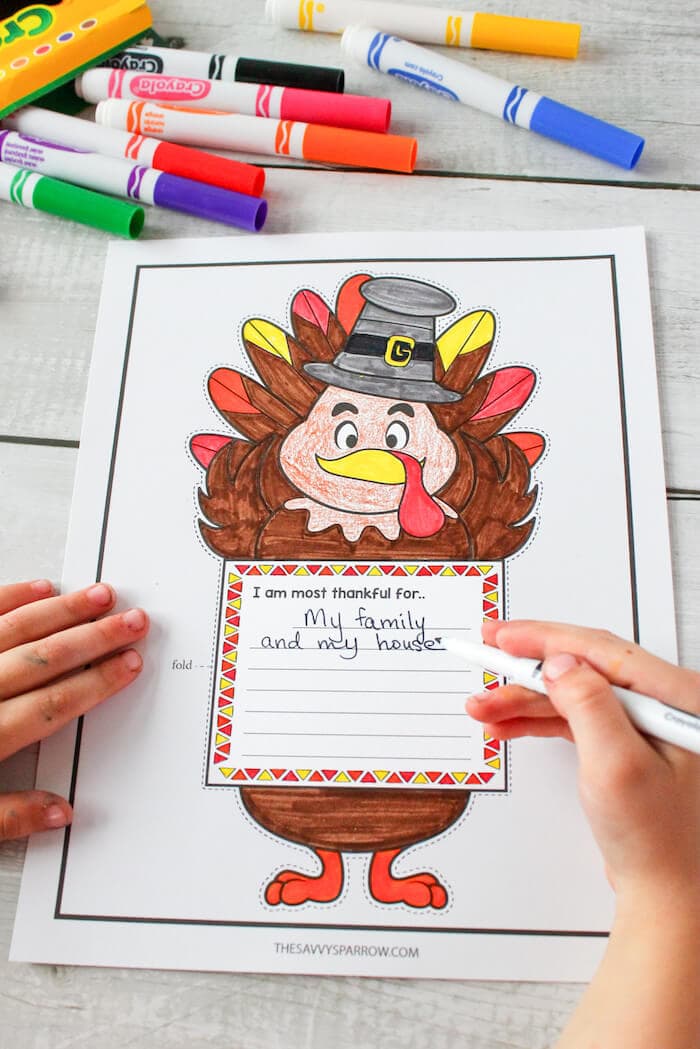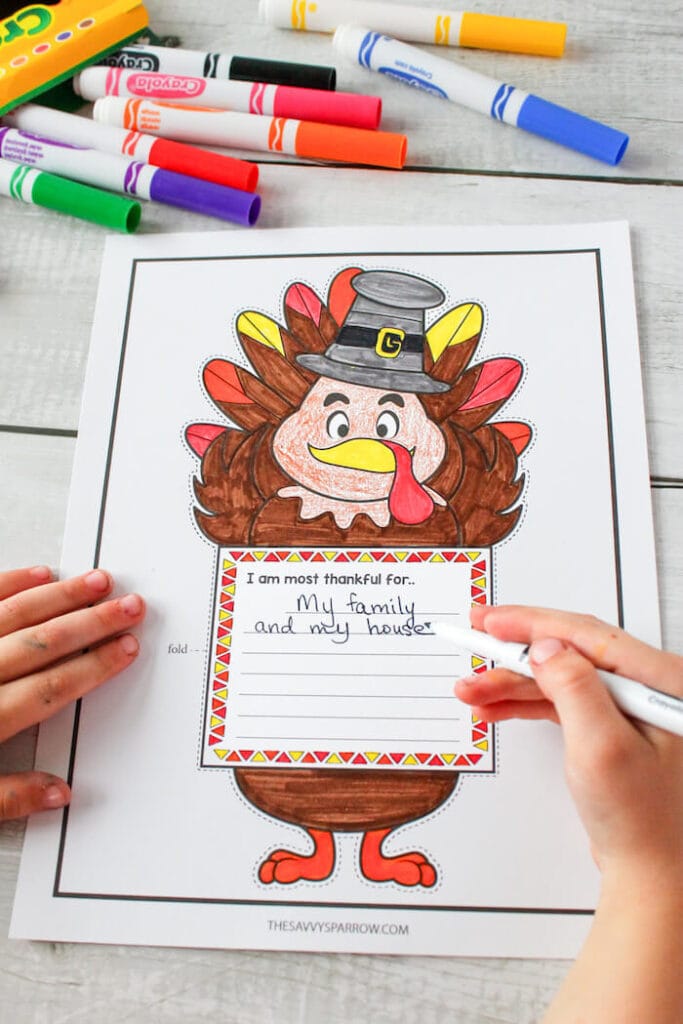 How to Use the I am Thankful for Printables
Step 1: Print the "I am thankful for" writing template – I suggest printing these on white cardstock to give your kids a more durable writing surface. Plus, the cardstock always makes them look higher quality (in my opinion). I print my "I am thankful for" cards on 80 lb. white cardstock.
Step 2: Color the "I am thankful for" printables – I always recommend coloring the printables before cutting them out, especially if you have younger kids. No matter how careful they are, the dining room table always seems to get a few extra marks on it if you don't! You can also skip the coloring process as well by printing out the full-color versions of the writing template.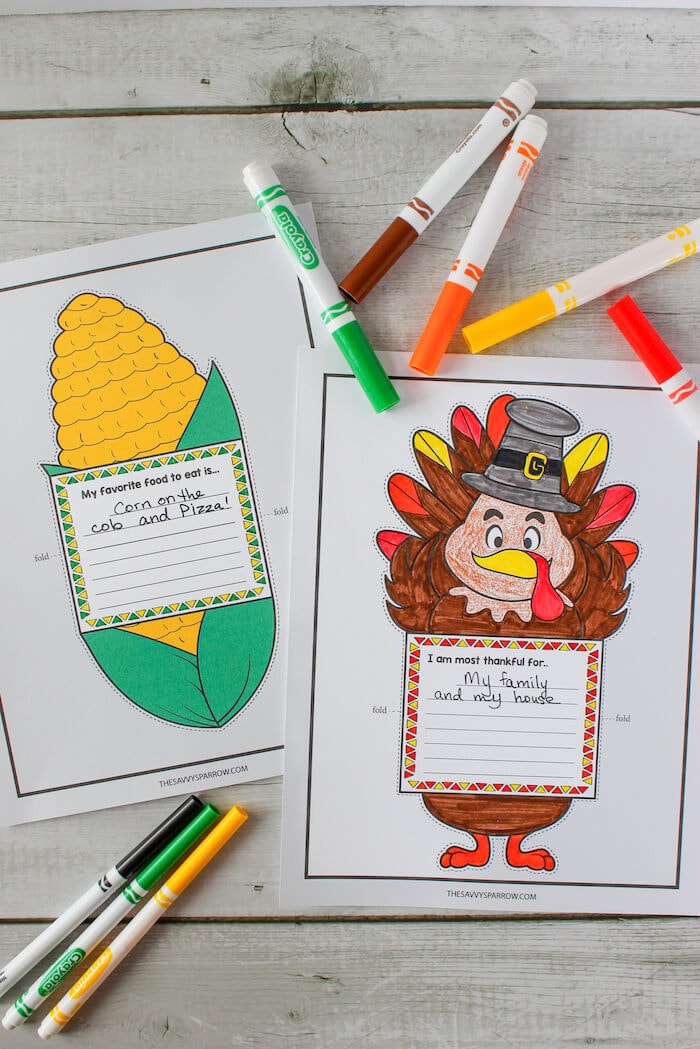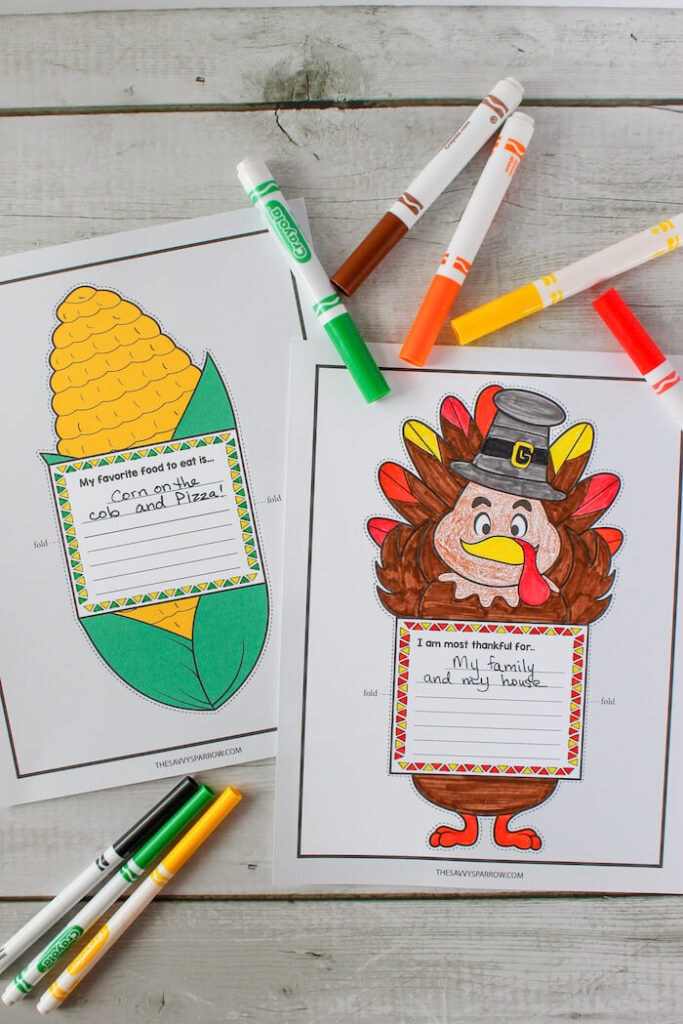 Step 3: Cut out the "I am thankful writing template" – If your child is confident with their cutting ability, have them do this part. Otherwise, you can cut out the template for them.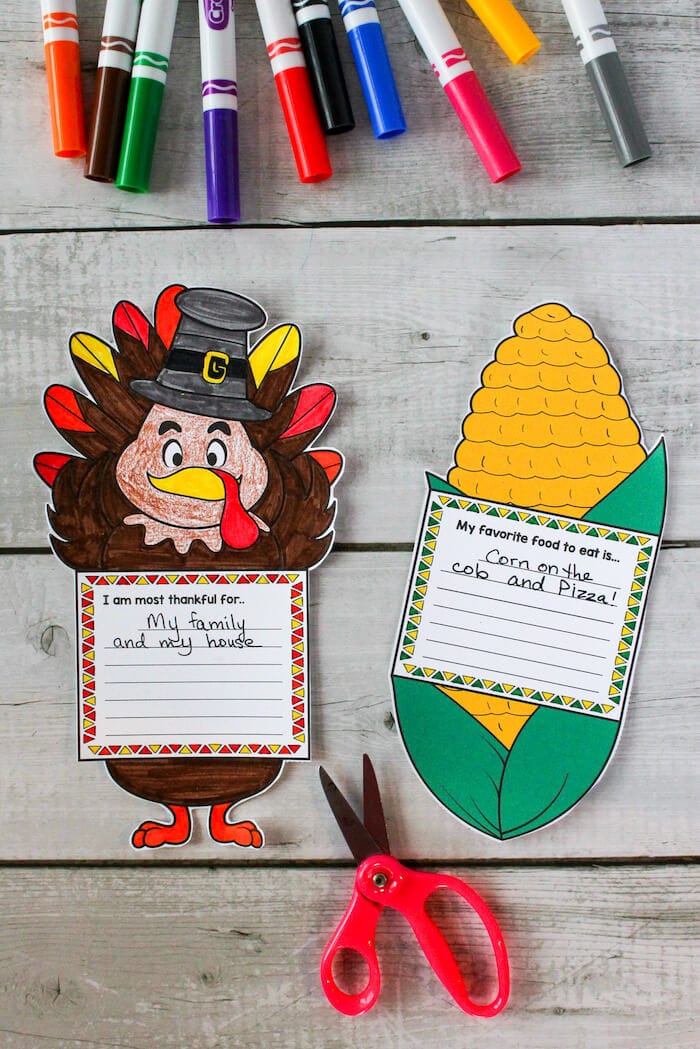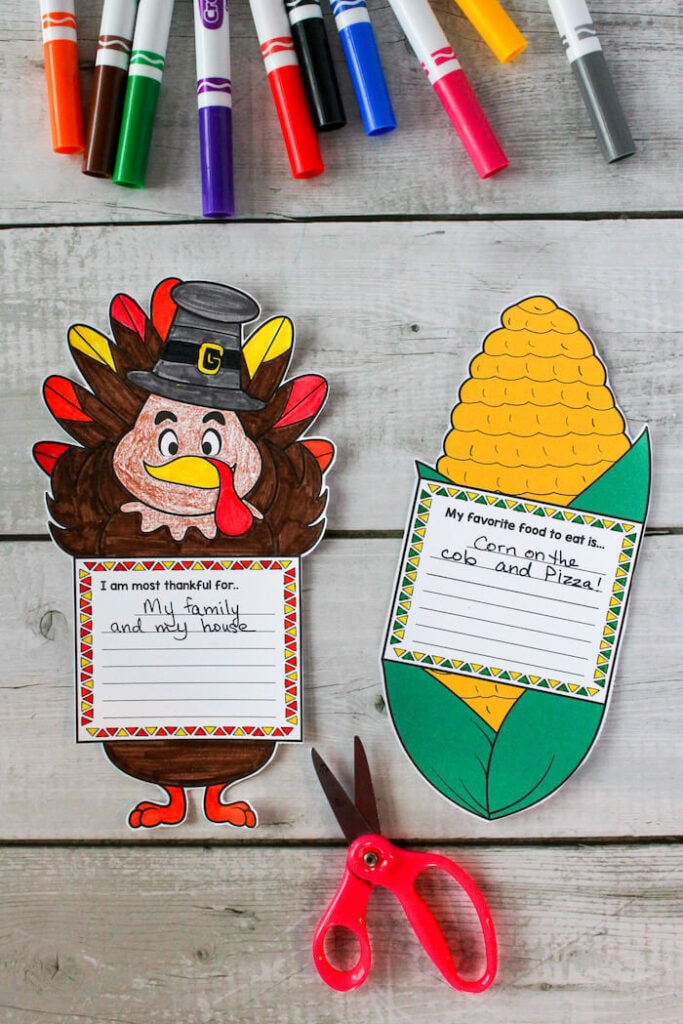 Step 4: Write down what you're grateful for – Talk with your kids about what they're most thankful for – this can be a great bonding experience! Then, have them fill out their "I am thankful for" writing template with their ideas.
Step 5: Fold the cards to keep or mail: These "I am thankful for" printables make excellent keepsakes for a memory box. You can also mail them to friends or family members (if your child wrote about a specific person) or hang them on your fridge as a gratitude reminder during the hectic holiday season.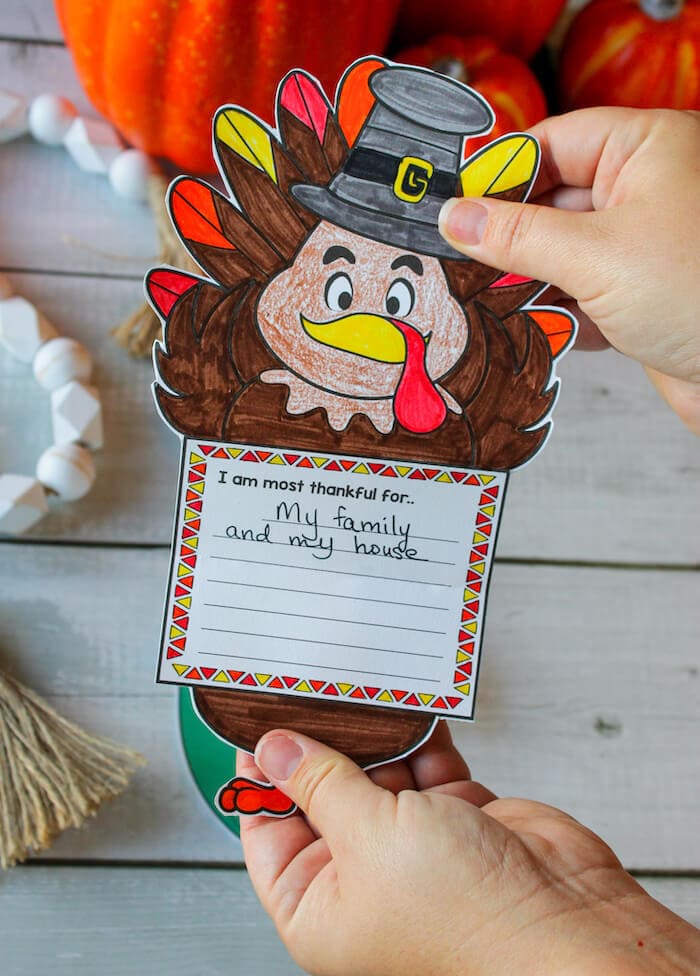 Free Printable I Am Thankful For Writing Crafts
Want to use these free printable I Am Thankful for writing crafts with your own kids? You can click the link down below to download the printable thankful templates! A new window will open in Dropbox, and you can look for the menu option to "Download". There's no email sign-up or additional information needed!
Click HERE to download the I Am Thankful writing template!
More Gratitude Activities for Kids
10 Free Printable Gratitude Activities for Kids
If you've been searching for ways to teach your kids to be grateful, here are 10 fun gratitude activity printables to help them do just that! Each free printable encourages kids to be thankful in different ways, and they'll have fun doing it!
Gratitude Jar Printables (Easy Thankful Jar!)
Help your family get into the habit of practicing gratitude with this super easy DIY thankfulness jar! There are so many ways you can use this idea to practice gratitude for all 52 weeks of the year!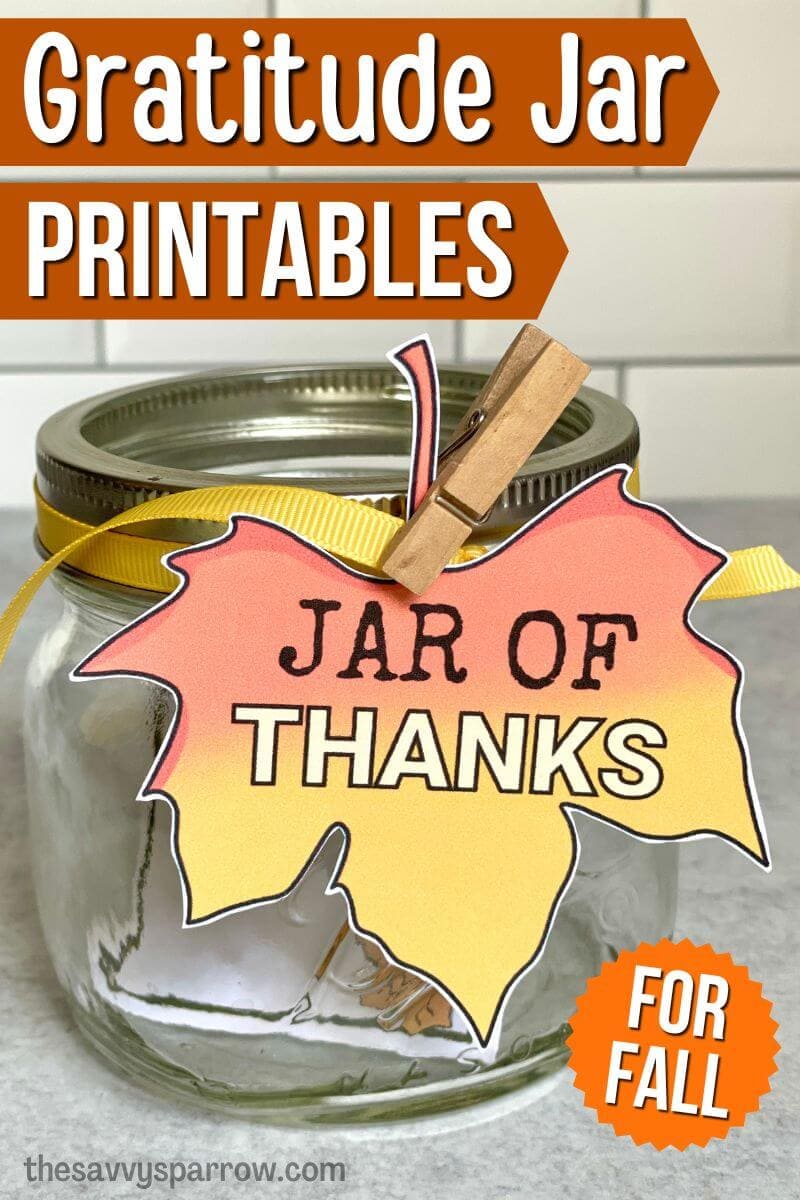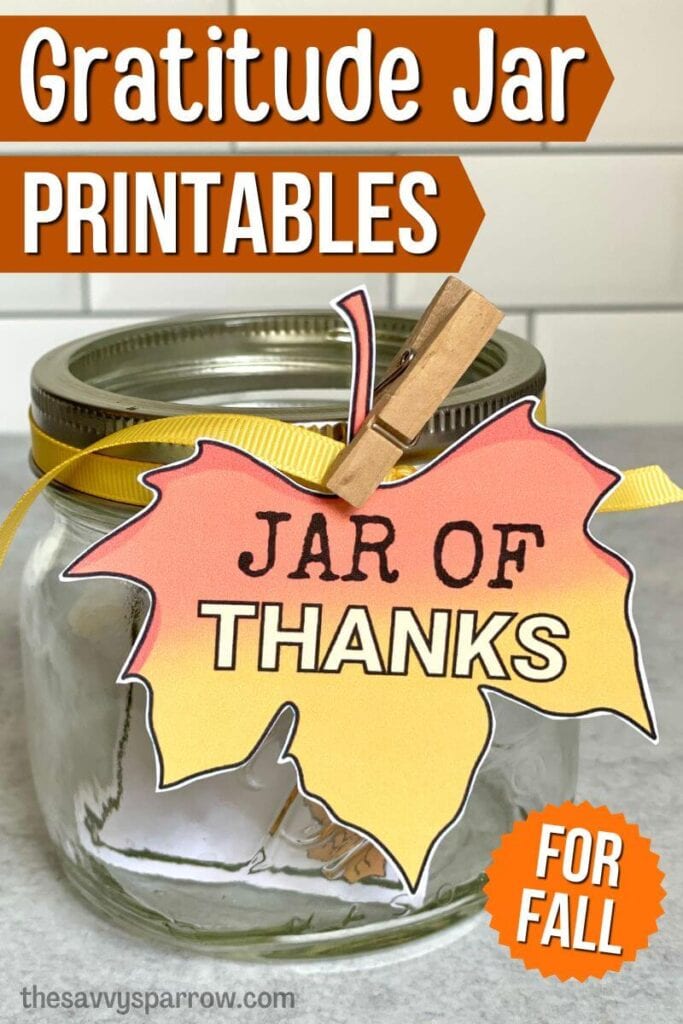 Gratitude Journal for Kids with Free Printable Journal Paper
It's easy for kids to get stuck focusing on what they don't have, especially in the age of social media influencers and big-name brands. Use this free printable gratitude journal for kids to help remind them of their blessings and encourage them to practice thankfulness!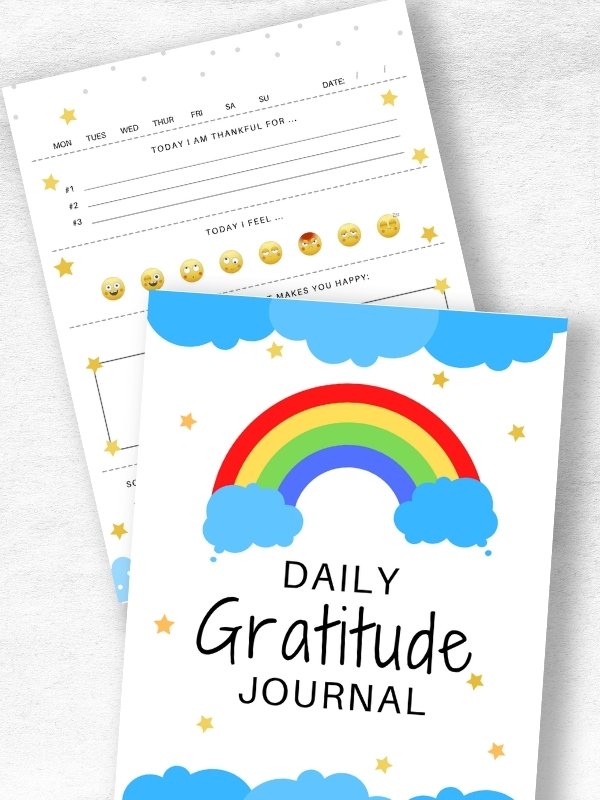 And don't forget to PIN this fun kids' Thanksgiving craft idea for later: