Looking for a creative All About Dad printable to use for Father's Day this year? This Father's Day newspaper is a fun worksheet for kids to fill out and include with their gift for Dad!
Ah, dads. They're like a combination of superhero, comedian, and DIY expert all rolled into one. And let's not forget their impeccable taste in dad jokes. Whether you call him Papa, Pops, or just plain ol' Dad, there's no denying that he's a one-of-a-kind guy.
And what better way to celebrate him this Father's Day than with an "All About Dad" printable? So grab your crayons, get ready to fill in some blanks, and let's give a round of applause for the man, the myth, the legend…Dad!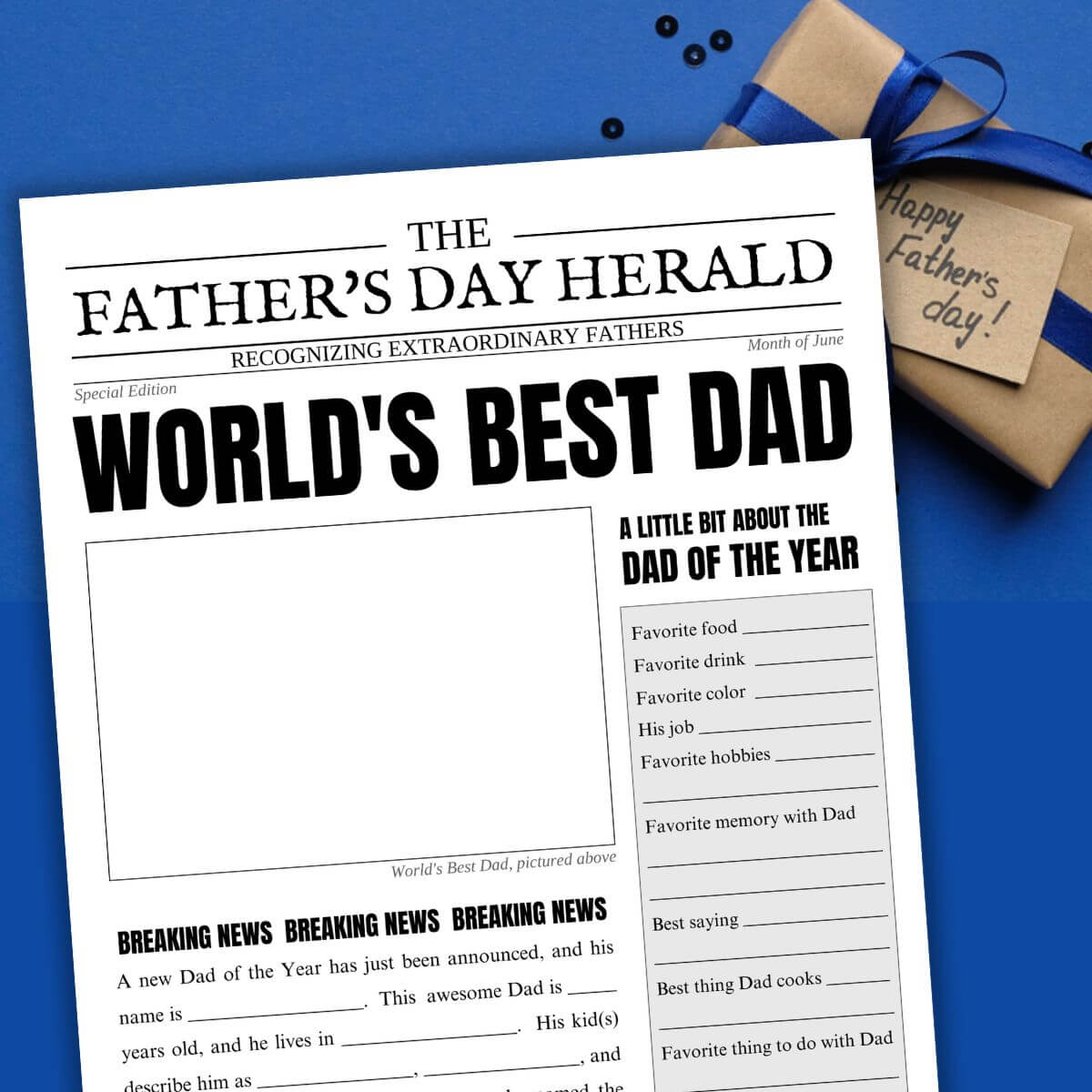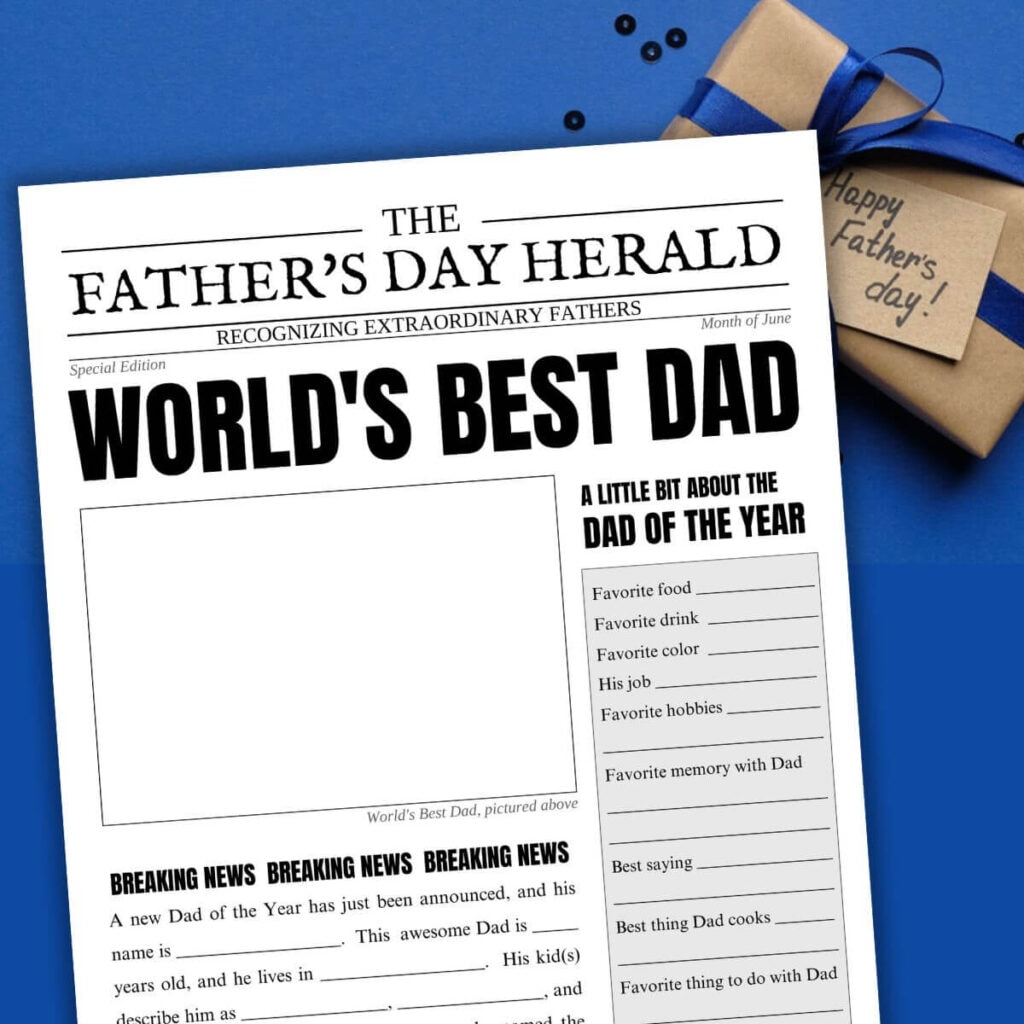 *By the way, I've got an All About Mom printable to match this newspaper style worksheet here!
Why This All About Dad Printable Rocks:
Creative and unique! The typical "All About Dad" worksheets have been done a gazillion times, and you probably have at least a handful of them in your school memory box. But this newspaper style template is fun and unique!
Easy to fill out. The fill-in-the-blank style Father's Day Newspaper worksheet is easy to fill out with your preschool students or your own younger kids.
Space to draw a picture. Have your child draw a picture of Dad to look just like a featured image in a newspaper article… complete with a photo caption!
The template is FREE! This free printable All About Dad worksheet is great to include with your Father's Day gift!
What is an "All About Dad" Worksheet?
An "All About Dad" worksheet is a fun activity that allows children to express their love and appreciation for their fathers by filling in the blanks and answering questions about their dads.
The worksheet usually includes writing prompts such as
"My dad's favorite hobby is…"
"My dad is really good at…"
"One thing my dad always says is…"
"I love my dad because…"
Kids can then personalize the worksheet with their own drawings and decorations to make it extra special. The finished product makes a great gift for Father's Day, a birthday, or any other occasion where you want to show Dad how much he means to you!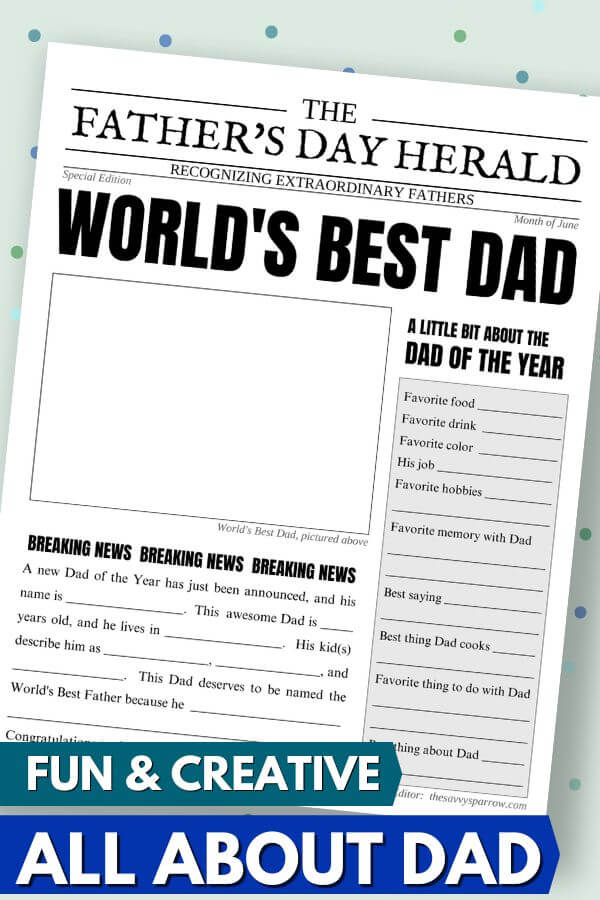 Free Printable All About Dad Father's Day Newspaper
Besides the fun newspaper details, this All About Dad printable newspaper template includes loads of space for kids to write in details about their Dad. Here are some of the fun things included in the worksheet:
space for kids to draw a picture of Dad
Favorite food
Favorite drink
Favorite color
His job
Favorite hobbies
Favorite memory with Dad
Best saying
Best thing Dad cooks
Favorite thing to do with Dad
Best thing about Dad
Click HERE for the Free Printable All About Dad Newspaper
Other Printable Father's Day Gift Ideas for Dad
Free Printable Father's Day Handprint Art Worksheets – These worksheets make perfect Father's Day cards for your younger kids to give to Dad! Choose from a bunch of different printable designs, paint your child's hand, and stamp it on the template for a fun DIY Father's Day gift from your kids.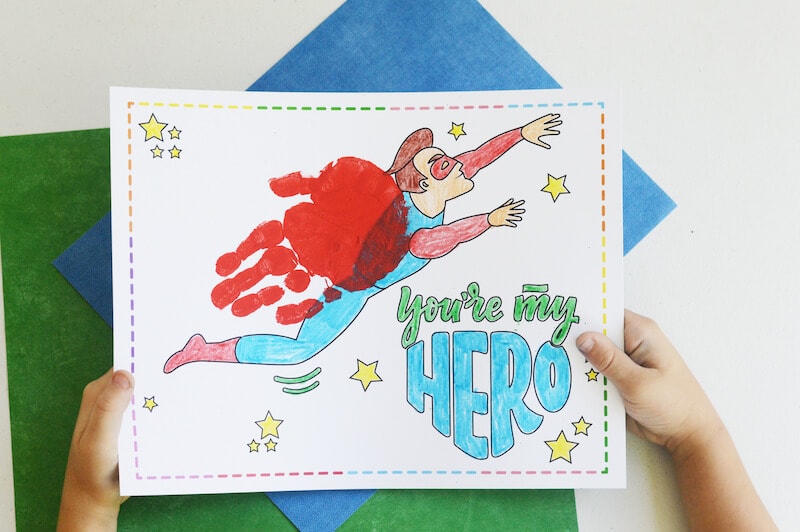 Printable Coupon Book for Dad – These printable coupon book templates are perfect for Father's Day gifts… and you can type in them to customize the coupons with your own ideas, like a game at Top Golf or a father daughter date!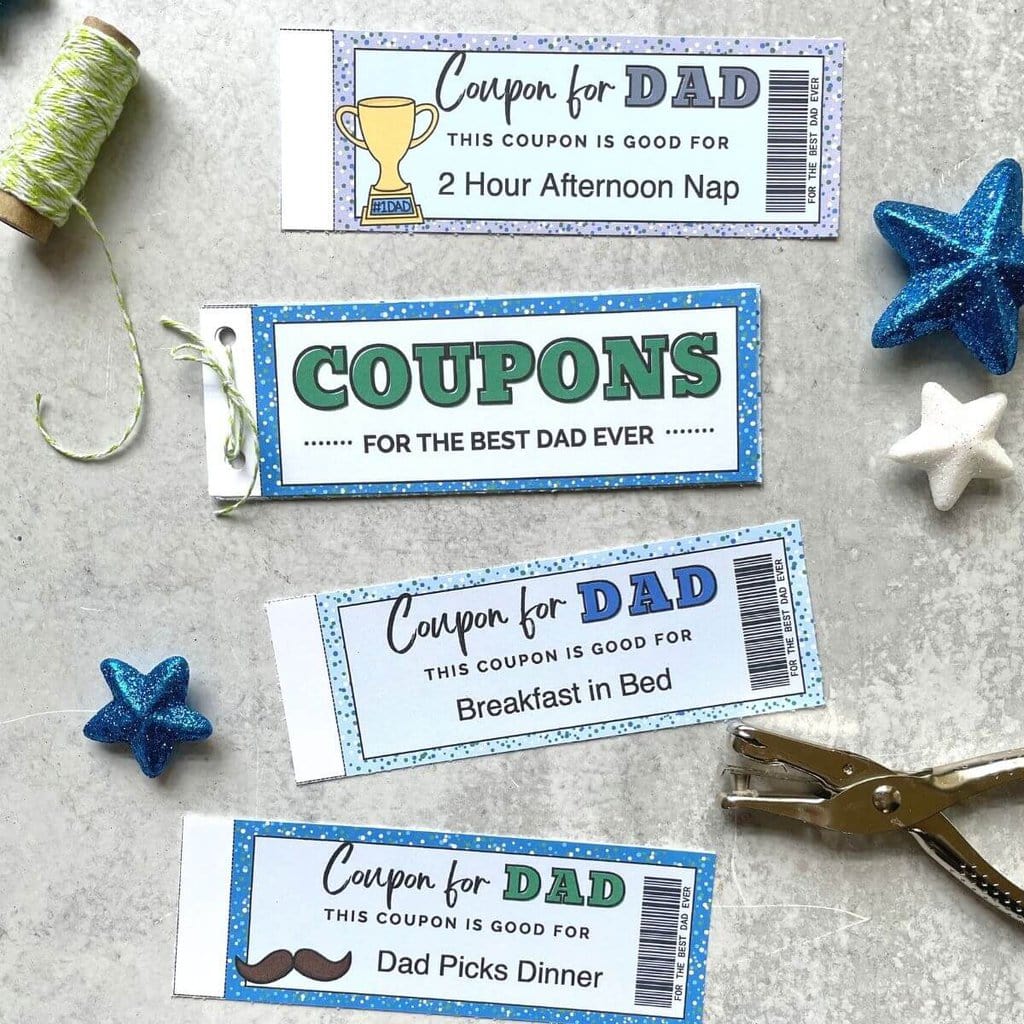 DIY Tuxedo Father's Day Card – Use this free printable template to make a tuxedo-shaped Father's Day card for Dad!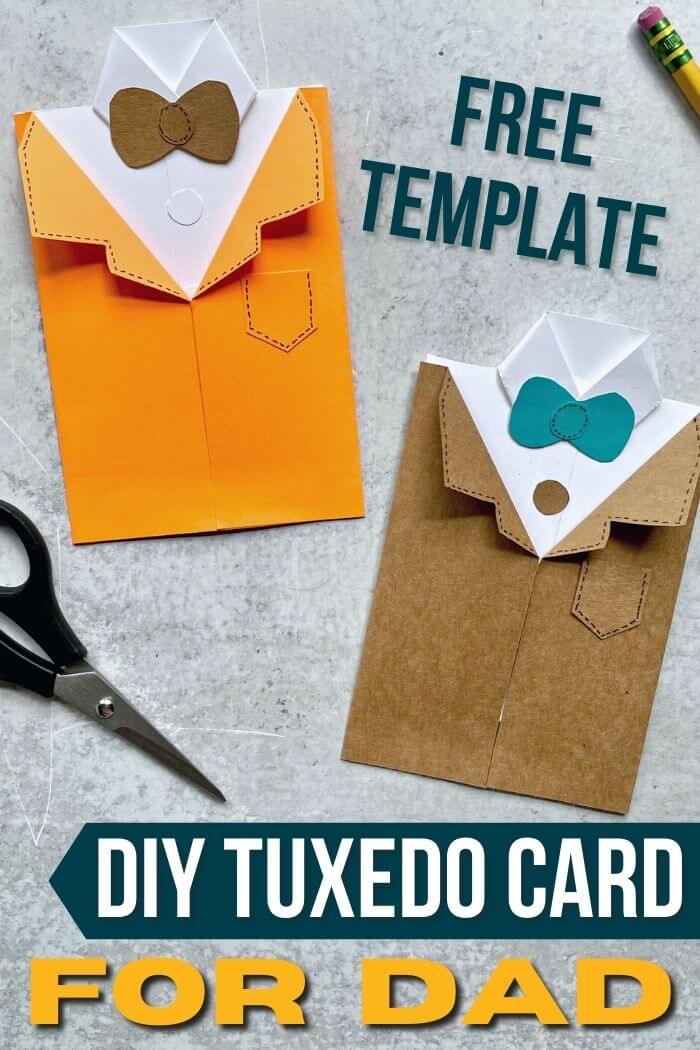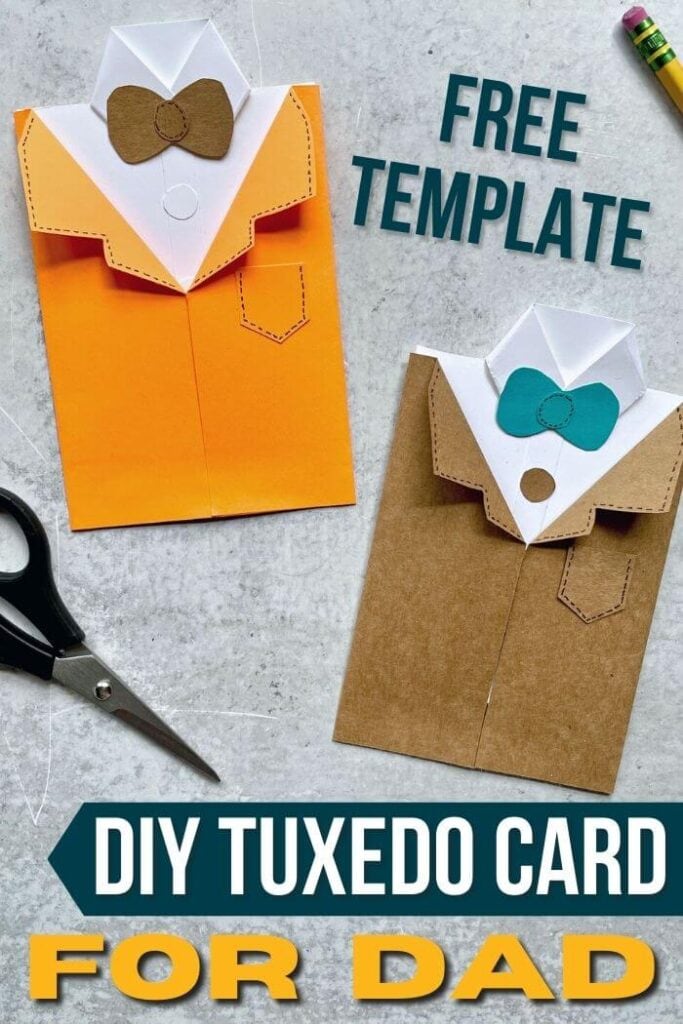 In conclusion, an "All About Dad" worksheet is a wonderful way for kids to celebrate their fathers and show them how much they are loved and appreciated. By filling in the blanks and answering questions about their dads, children get to express their thoughts and feelings in a creative and fun way. And when they present their finished worksheets to their fathers, it's sure to bring a smile to his face and warm his heart.
So whether it's for Father's Day, a birthday, or just because, take some time to sit down with your kids and create an "All About Dad" worksheet that he will cherish forever.
And don't forget to PIN this post for later: