This holiday, lose the clutter and keep your sanity by having a minimalist Christmas! Learn how to cut back and organize with these simple tips. From toys and gifts, to traditions and commitments, let's talk about what it means to have a minimalist Christmas!
You know the feeling… It's Christmas evening, you look around the house, and your blood pressure starts to rise as you realize you now have all this STUFF! Once again you bought (and received) more gifts than you needed, and now you need to tackle the near impossible task of finding a home for everything.
Your once organized (or semi-organized) home is now cluttered with more STUFF! It takes away from the magical day you just spent with your family, and it clogs up the evening with stress that isn't needed when you really should be able to just sip some hot cocoa and curl up with a good Hallmark Movie.
So, let's talk about all the extra CLUTTER at Christmas… No, we're not going completely Marie Kondo, because when everything "sparks joy" it gets a little complicated. We're talking about picking and choosing those things that are the most important.
Having a minimalist Christmas doesn't mean not having presents, but it does mean making Christmas a little less crazy and a little more peaceful. Christmas is all about peace and joy, so why not bring a little of that into your home this holiday?
Here are some easy tips for how to have a minimalist Christmas so you can enjoy the true "reason for the season"…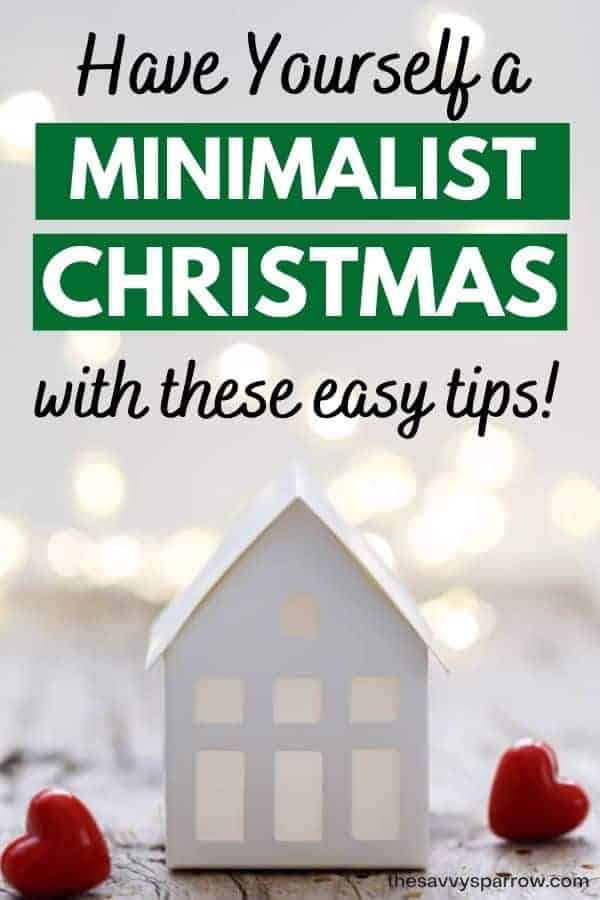 Preparing Your Home for a Minimalist Christmas
Having a minimalist Christmas starts with completing some important decluttering and organizing tasks in your home.
Obviously, you know that there will be gifts at Christmas, so you need to prepare now so that you can eliminate the headache of dealing with all of those gifts later.
Declutter to make room for new gifts
The biggest thing you can do right now is selectively cut out a few things from your home to make space for the Christmas presents that will be under the tree.
Doing a 30 Day Decluttering Challenge, in which you remove just one bag of clutter from your home every day for 30 days, is a GREAT and manageable way to declutter without adding any extra overwhelm to the already stressful Christmas season.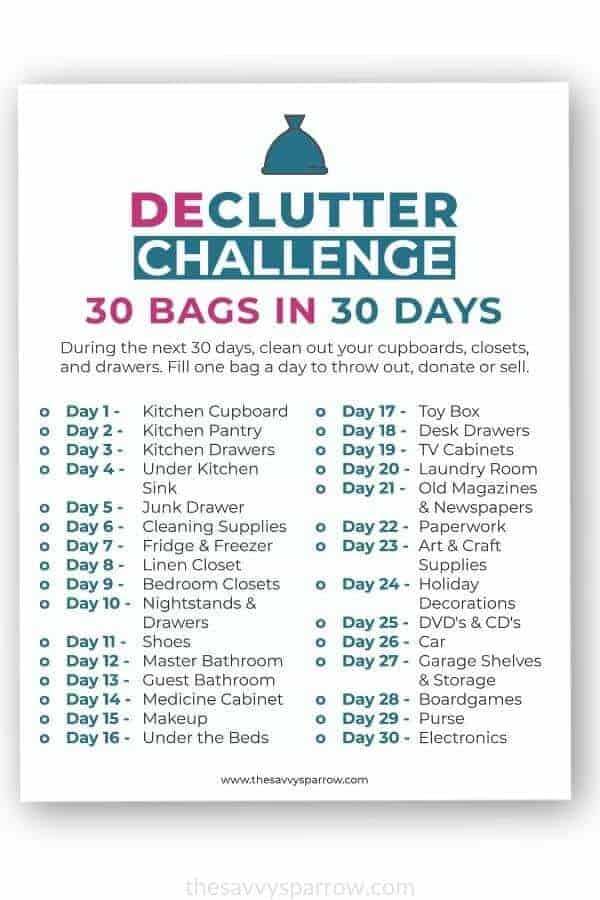 Go here to read about the 30 Bags in 30 Days Challenge and grab the free printable checklist to help you prepare your home for the holidays!
Go through all of your kids' toys
If you have kids, then I'm sure you'll be adding a bunch of new toys to your already HUGE supply of Legos, Barbies, Hot Wheels, or baby dolls this Christmas. Even if you don't overbuy on toys for your children, your family members probably will, so an influx of toys is pretty much inevitable.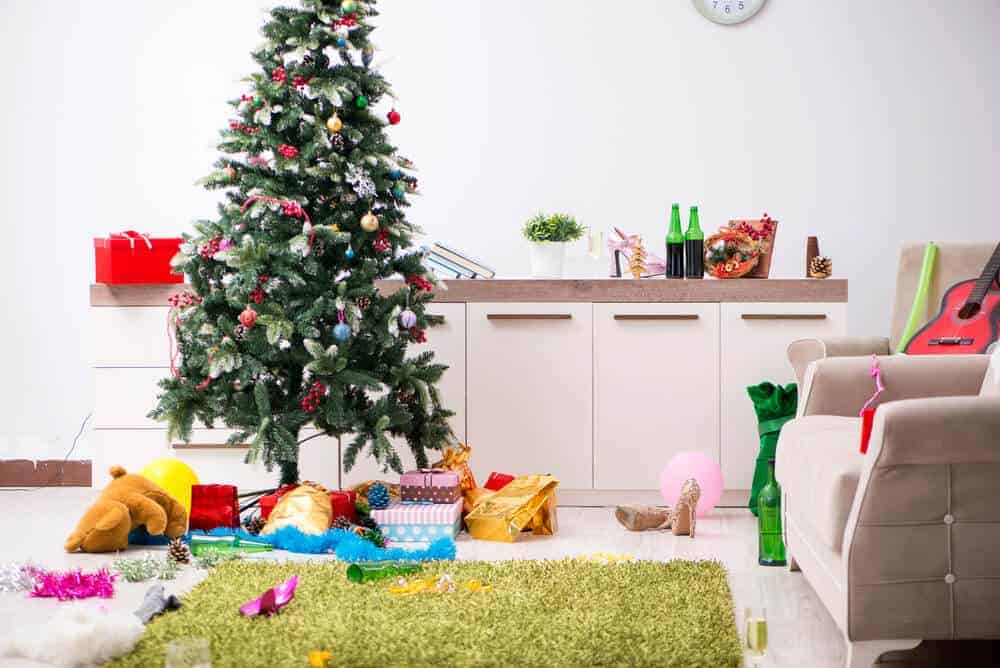 So be proactive and make room for new ones before Christmas sneaks up on you…
If your kids are old enough, then help them sort through their toys and decide if there are a few that they might be willing to give to another child for Christmas. I've done this in the past by reminding my daughters that there are kids in our very own city that won't be getting Christmas gifts this year, and we can help to make their Christmas better!
If your kids are too young to help you sort through their toy stash, then just pull out some things they don't use anymore. If you have younger children who might want or need those items in the future, store them in a bin until they are needed (under bed storage bins are great for this sort of thing!). Or simply add those items to a donation bin.
Take a home inventory
After you've decluttered and tackled the toy closet, you can do a mini home inventory to determine what items you need and what older items can be replaced.
Could you use new towels? Would you like a new Coffee Pot? Do you have an incomplete set of dishes and need more? Take an inventory. Purge things you no longer want, and make a list of things you need. That way, you can have a well thought out list of necessities for those people that will absolutely insist on giving you a gift.
Once you've removed some items and taken note of others, organize what you have and make space for new things. This will save you the stress of finding a new "home" for things when you receive them.
You can also go ahead and create a donation box for the day after Christmas so when you get your new blender, you can put the old one in the box to go to charity or to sell.
Giving and Receiving Minimalist Christmas Gifts
Not everyone is on the same page when it comes to gift giving, so it is important to set out expectations ahead of time.
Have a conversation with anyone you typically exchange gifts with. Let them know that you are trying to have a minimalist Christmas and will not be doing as many gifts this year. (We'll talk more about what types of gifts to give and ask for in a bit).
But remember, you can't control how others want to give… nor should you, so here are some strategies for keeping the amount you GET manageable!
Create a list
I've never been a big fan of Christmas lists, because I've always just loved finding things for people. But, Christmas gift lists can be incredibly helpful, especially as you give to adults who seem to have "everything".
So, ask for lists when giving, and create a list for those giving to you. (Amazon has a great feature for creating lists that you can share so you get EXACTLY what you want.) Put on that list those things that need replacing or upgrading in your home. Also add a few "fun" things to your list that you know you can find a place for.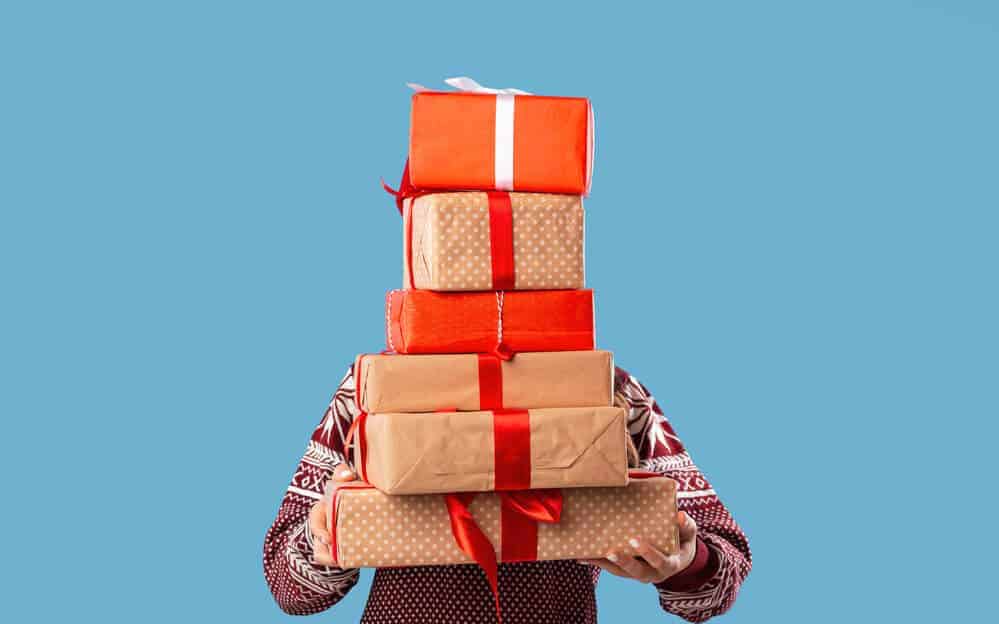 Encourage Experience Gifts for a Minimalist Christmas
Tell family members that spending time with them is more important than any gift! Ask them if instead of a present you can go out to lunch with them, work on a craft with them, go camping or hiking with them, or do other fun activities to spend time together.
Or, if your family members live far away, maybe they can purchase some restaurant or movie gift cards for you to enjoy with your family. Those kinds of gifts make for great experiences without adding clutter to your home!
Memberships that make great clutter-free gifts
Memberships are also great gifts to ask for, especially if you have children.
Ask for a membership to your Children's Museum, Zoo, Science Center, etc… or ask for Swimming Lessons, Karate Lessons, or other things that your children would enjoy. When the kids go to the Museum, you can remind them that Grandma and Grandpa made that possible, so it's a gift that just keeps on giving!
Ask for gift cards, subscriptions, or consumables
Gift Cards are an easy gift, and they allow the receiver to get whatever they like or need, which is always helpful!
Subscriptions to magazines, food boxes, date night boxes, or beauty boxes are also great gifts that keep on giving. And while these subscriptions do take up some space, many of these items will eventually be consumed.
Consumable gifts are also great because they don't take up long term space. If you get a box of chocolates (who doesn't love chocolate!)… savor them, enjoy them… and then they're done!
Or consider craft supplies for kids. They love making and creating, so give them the tools to do so. Yes, that does add to the stuff but most of it will be quickly used up creating mini masterpieces, so it's not taking up space forever… plus the hours of creative play your kids will engage in will free up a little time for you, so win, win!
Be gracious… even if you get clutter!
Okay… so here's a big one… You don't have to keep every gift you receive!
No matter who it's from, the joy of the gift is in the giving. So, receive well. This is a HUGE lesson to practice yourself and to teach your family members.
When you get a gift that you know you don't want or need, receive it with joy. Remember the giver and how much thought they put into giving something to you (even if it's a Dollar Tree bath set).
Smile and say "Thank you so much, your gift is so thoughtful!" And when Christmas is over, you can do WHATEVER you want with the gift… put it in a pile to regift, put it in your charity box, return it to the store, or decide to use it, it's up to you.
Setting a Minimalist Christmas Schedule
If you want to have a minimalist Christmas, you need to have a minimalist Christmas schedule and protect your time. But what does that mean?
Think about it this way…
You protect your money by keeping it in a bank… You protect your home by purchasing home owner's insurance… and you protect your car by completing all of the scheduled maintenance.
But your time is one of your most valuable assets! Even more valuable than your physical assets like your cash, your home, and your cars. Physical items can be replaced, but you can't go out to Walmart and buy more TIME, no matter how much money you have.
It's all fine and good to say you are going to have a minimalist Christmas, and gifts are one thing, but what about all the parties, festivals, gatherings, and commitments?
The month of December is notorious for getting booked up with so many traditions and activities that you don't have enough days to get everything done. And it's easy to get so busy that you feel completely stressed out! So… why not take a minimalist approach to your time this Christmas, also?
Rank your Christmas activities in order of importance
As parents, we want to provide our children with the BEST CHRISTMAS EVER each and every year. But having the best Christmas doesn't mean doing everything… It means doing the most important things together!
So… what of your traditions are the most important? What parties can you do without? Which cookies are your favorites, and which special Christmas treats are absolute musts?
Make a list of all the things you usually do for Christmas, and put a star next to the most important ones. If your children are old enough, ask for their input also. You could even let each family member choose one or two items on the list that are non-negotiables.
*If you want to read about some of the fun and easy Christmas traditions that make it on our to-do list each year, then check out this post: Family Christmas Traditions Your Kids Will Love!
After you're done ranking all of your Christmas activities, look to see what items are at the bottom of the list, and just skip those to keep your schedule more "minimal" this holiday.
Be prepared to say "no"
Just because you get invited to do 3,295 things this Christmas, doesn't mean you have to say "yes" to all of them. You can graciously decline invitations to avoid being stretched too thin and getting overwhelmed with holiday stress.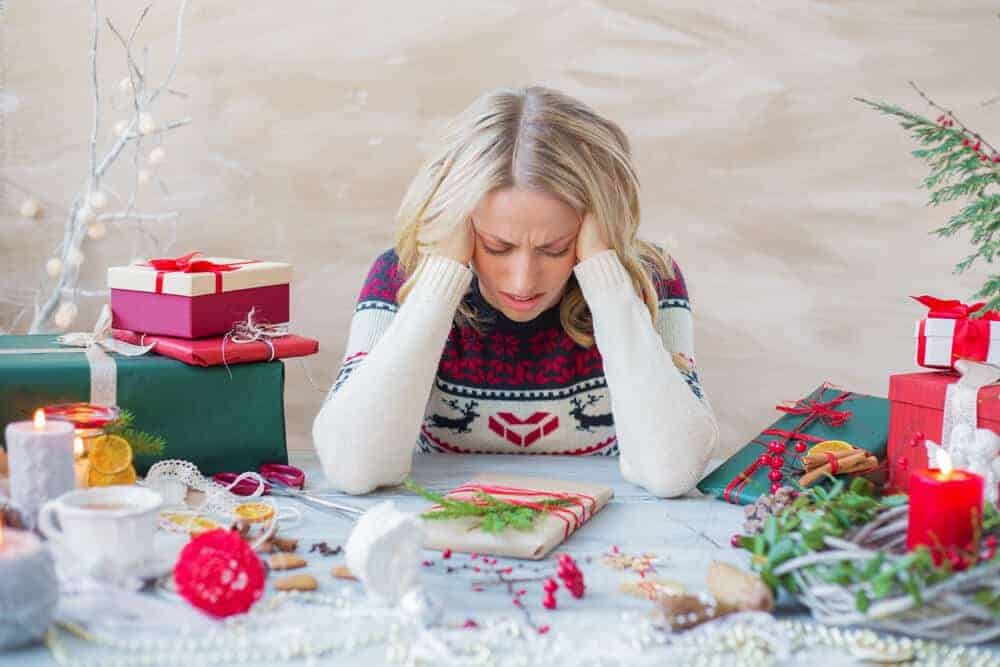 Remember, to have a minimalist Christmas, you need to do a minimal amount of STUFF. So don't feel obligated to attend every cookie exchange or volunteer for every Christmas service project. Pick and choose those events that are the most important to you and your family.
Schedule down time with your family
When I talk about "protecting your time", I mean saving time for the things that are the most important… your family.
I regularly schedule "down time" with my family, even if it's not December. My daughters and I have a standing Sunday night movie date, because my husband goes to bed extra early to get ready for the full work week ahead. We pop popcorn, turn on a Netflix family movie, and cuddle up together on the couch.
Keeping those small moments of quality time sacred is important, especially in the midst of the holiday hustle and bustle.
Have Yourself a Merry Minimalist Christmas!
When it comes time for your minimalist Christmas, don't get distracted by all the stuff that comes through your door. Do your best to relax, know you've prepared for the deluge of gifts, and find your peace! Enjoy yourself and enjoy your Christmas traditions. Prepare your feast or your charcuterie board or your brunch or your cookies… Whatever your heart's desire.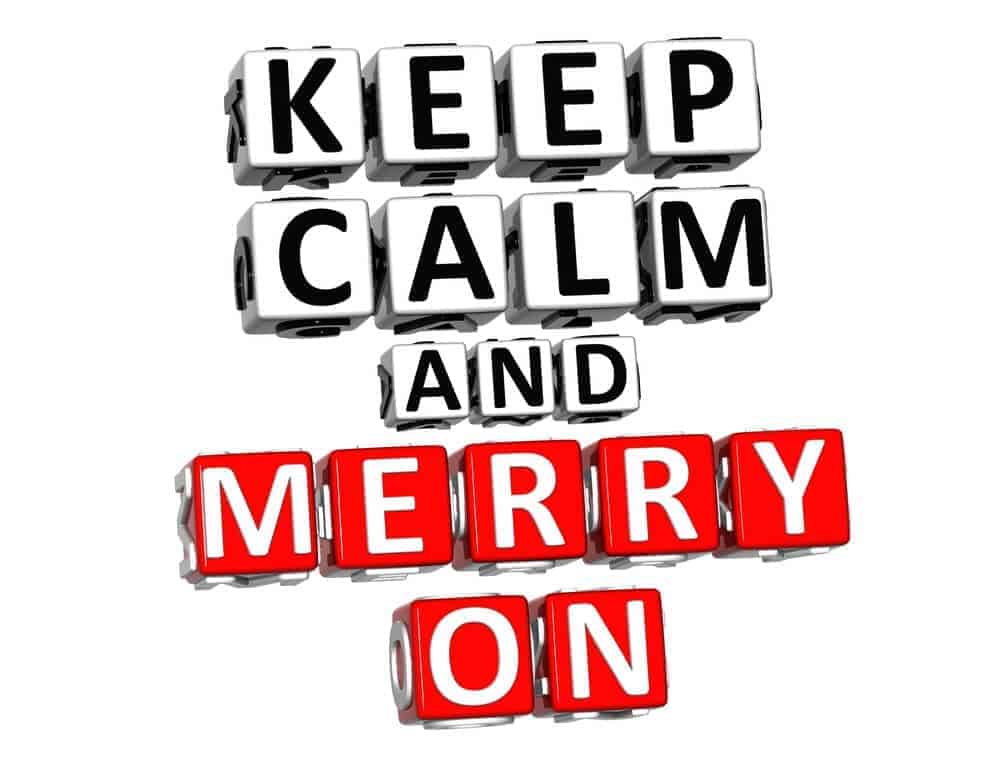 Having a minimalist Christmas doesn't mean giving up those things you love, it means weeding out the stuff you don't need in order to make room for the important things.
So… breathe in…. Breathe out… don't let having a minimalist Christmas become so much of a priority that it gets in the way of your Christmas joy! Do what you can to minimize the commitments and gifts, receive with joy, and enjoy the peace that comes at Christmas, and…
Hopefully when the Christmas season arrives, you feel at peace knowing that you've got it under control. And if not, then I recommend that you read this post from Very Well Mind on Managing Holiday Stress!
Do you have any tips for keeping a minimalist Christmas? Have you had those awkward conversations with family about not buying too many toys for your kids? Which traditions are non-negotiable for you? I'd love to hear from you in the comments!
And happy nesting!