Make these DIY laundry room signs in just a few simple steps! An easy and inexpensive wall art project for your farmhouse laundry room using supplies from the dollar store!
I despise laundry.
It is TRULY a never-ending chore, and no matter how hard I try, it seems that I ALWAYS have a pile of dirty clothes that need to be washed. As I write this post, there is literally a load in my washer that's been there for 3 days. God bless fresh smelling dryer sheets!
Maybe one of the reasons that I loathe laundry is because of the sad state of my laundry room. The walls are plain white, I have a funky off-set shelf on one side, and it's just very uninspiring. Definitely NOT a room that I want to spend any amount of time in.
I'm planning a budget laundry room makeover in the near future (newsflash husband!), but in the meantime I will just have to settle for some inexpensive DIY Laundry Room Signs to freshen it up a bit.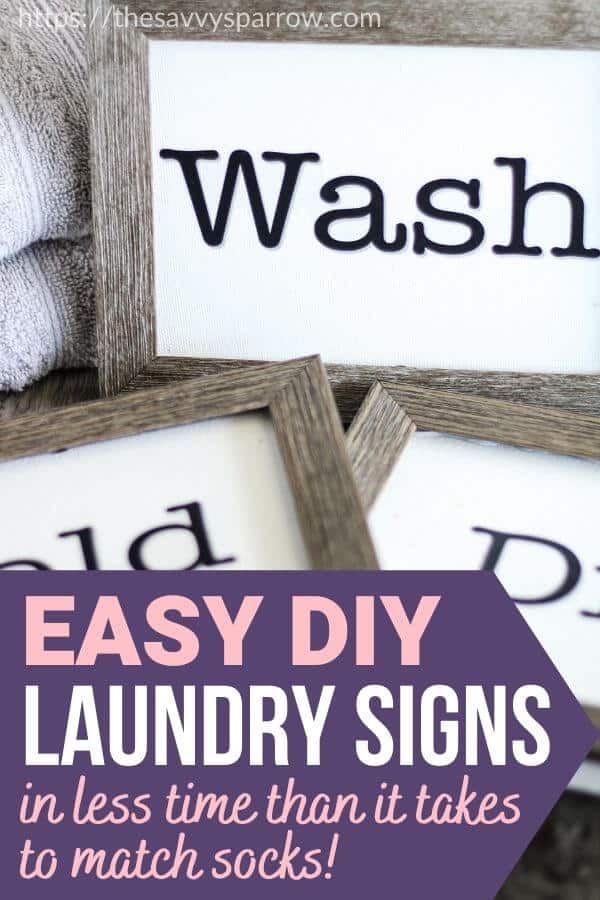 If your laundry room could use a little pick-me-up too, then why not make a quick trip to Dollar Tree and make this cute and easy DIY Laundry Room Wall Art! And when I say "easy", I mean SUPER easy… be sure to check out the video at the end of this post to see how I made the signs in less time than it takes to fold a load of laundry (including matching socks!).
Supplies Needed for Easy Laundry Wall Art
I told you that these signs were great laundry room wall art on a budget, and what's more "budget" than Dollar Tree! Most of the supplies for these easy signs can be found at your local dollar store.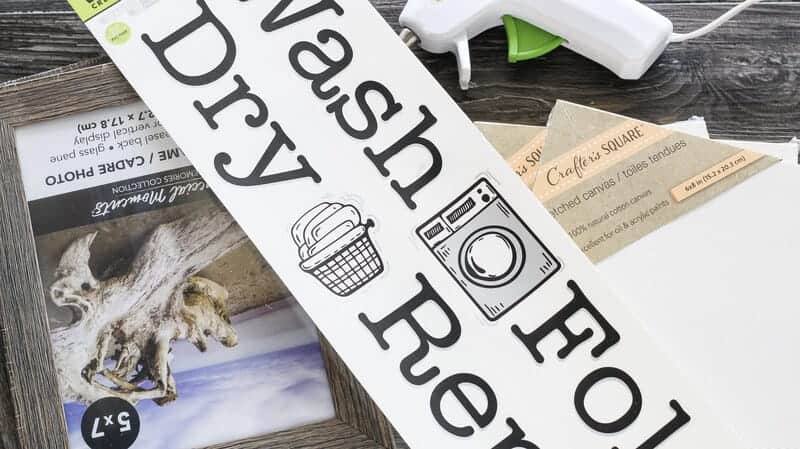 Here's what you need to make your own laundry signs:
Dollar Tree Pre-made Wall Decals OR if your Dollar Tree doesn't have these decals, then you can use these FREE laundry room sign templates and follow THIS TUTORIAL for how to make DIY Signs on Canvas!
3 Dollar Tree Faux Wooden Frames (5 x 7 size)
3 White Canvas (5 x 7 size)
Mod Podge® Clear Acrylic Sealer, Matte – You can also use the regular Mod Podge® Matte that you paint on, like I did with these easy DIY basket labels!
Hot glue gun and glue sticks
How to Make Easy DIY Laundry Room Signs
Start by either removing your Dollar Tree decals from their backing, or printing out the FREE laundry room signs templates HERE. If you have a Cricut, you can also make 3 decals that say, " Wash, Fold, and Dry" in Cricut Design Space and use those for this easy project!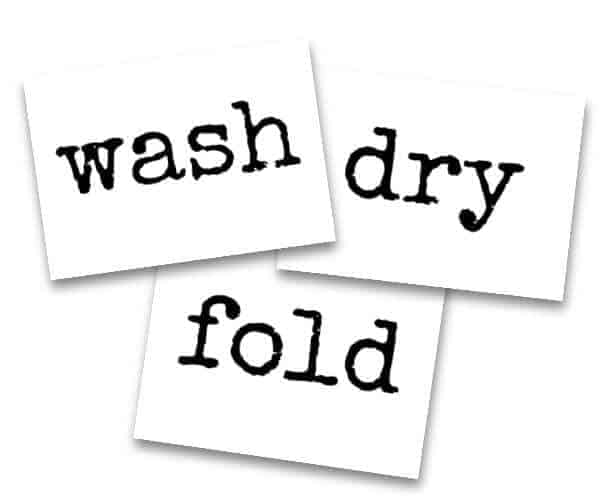 Place one decal in the center of each white canvas, and press down firmly by scraping with a credit card to remove all air pockets. See how to apply the decals in the video below!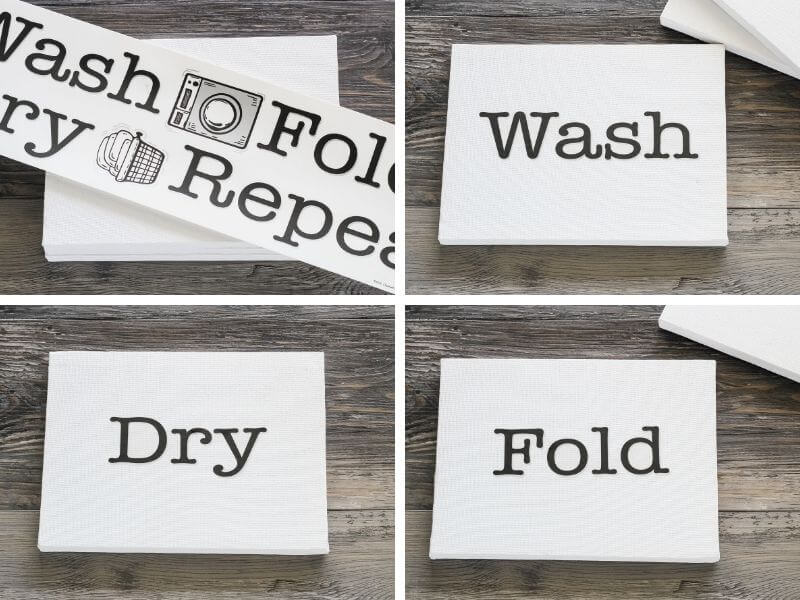 Spray each canvas 3 times (letting each coat dry) with Mod Podge® Clear Acrylic Sealer to seal decals to canvas.
Take you faux wooden frames and remove the backing and glass.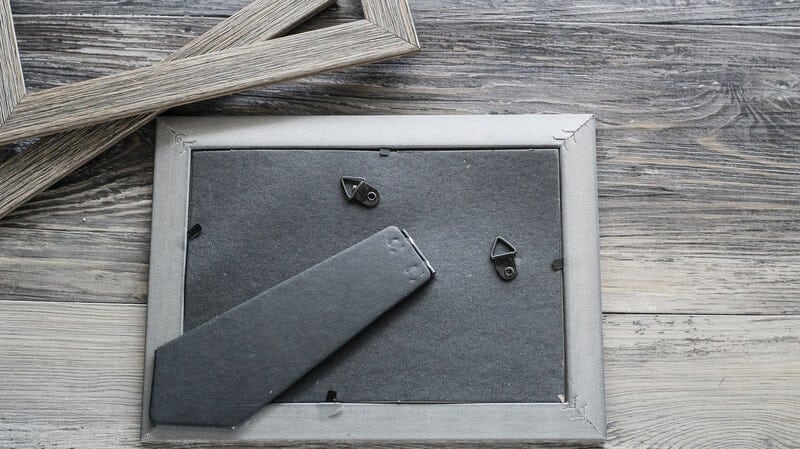 Either remove the prongs from the back of the wood frame or fold them down flat.
Place hot glue around the edge of your white canvas, and lay your wooden frame on top as shown in the video below.
Press and hold down firmly.
Let dry.
Hang in your laundry room and enjoy!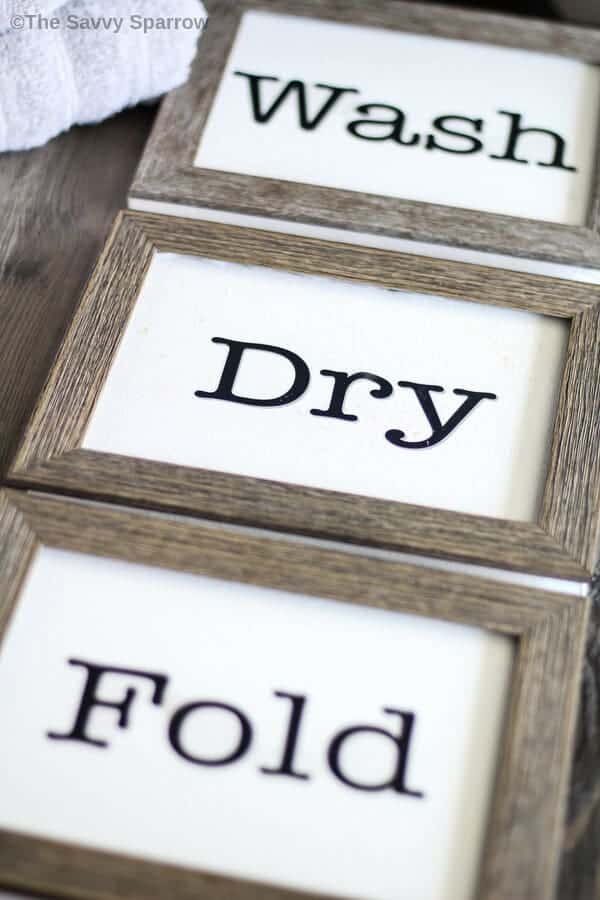 See I told you these cute laundry signs were SUPER easy! You could also use this same method for a TON of other easy farmhouse signs!
Learn how to make the sign templates like I use to make signs, grab some canvas and cheap dollar store frames, and give it a go! Once you know how to make your own printable sign templates, you'll be a custom sign making machine!
And click here for even more Dollar Tree home decor projects!
More of a visual learner? Check out the video below:
Hope you enjoyed this super easy home decor project! And happy nesting!