If you're looking for funny neighbor gifts to spread some kindness right now, then you will LOVE these free printable toilet paper gift tags! Drop a toilet paper gift on your neighbor's porch and say "You've been TP'd!".
I've never had my house TP'd… thankfully! But if I had, this is the kind of prank that I would want!
With toilet paper in short supply right now, and people trying to stay home, this is an AWESOME way to let your neighbors know that you're thinking about them. For just a few dollars, you can create an easy and ESSENTIAL neighbor gift that you KNOW will get used!
You can make your toilet paper neighbor gifts as simple or as over-the-top as you want. If you've got extra time on your hands, try a toilet paper cake. Or if you're busy trying to homeschool kids, prepare 32 meals a day, AND keep your sanity, the just slap one of my free printable toilet paper gift tags on a package of TP and call it a day.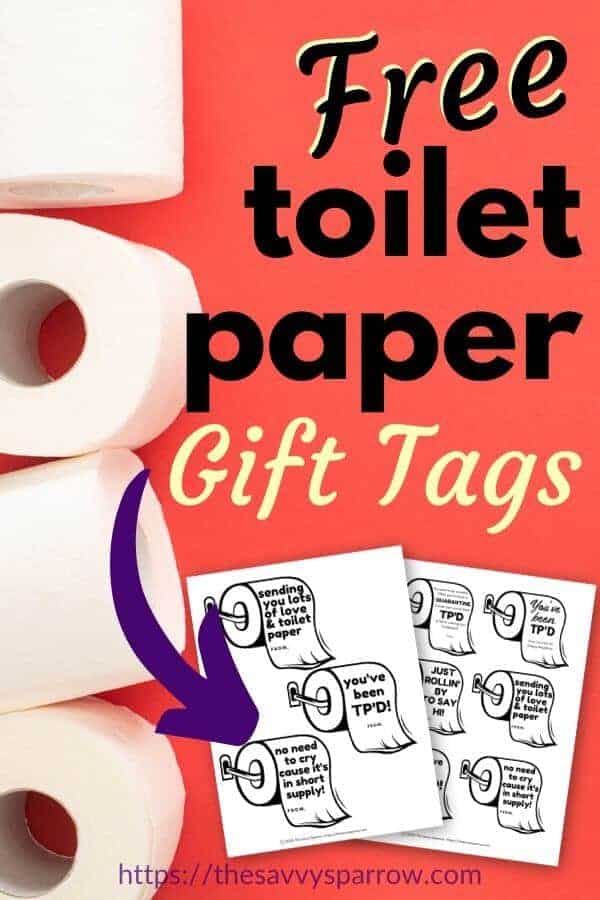 Whatever you decide, here are some awesome toilet paper gift ideas that are perfect for neighbors, friends, and essential workers like delivery drivers.
Toilet Paper Gift Tag Ideas
If you want to DIY your own toilet paper gift tags, then here are some awesome ideas for what to write on the tags:
You've been TP'd!
Just Rollin' by to say "Hi!"
Sending you lots of love and toilet paper!
No need to cry 'cause it's in short supply.
We've got your a** covered!
We could spare a square!
In case of emergency, tear wrapper!
A good friend is like a roll of toilet paper, you can never have too many!
You never know what you have 'til its gone!
Hap-Pee Quarantine!
Or, if you want to go all out, try making up your own little toilet paper poem! Here's what I came up with in about 5 minutes:
No need to be unclean
When you're stuck in quarantine,
'Cause now you've been TP'd!
Wishing you Godspeed!

Amy @The Savvy Sparrow
Cute Ways to Assemble Toilet Paper Gifts for Your Neighbors
If you're going to give toilet paper gifts, you might as well make the presentation awesome! Here are some cute ways to give toilet paper gifts:
Wrap individual rolls in tissue paper
If you don't want to use whole packages of toilet paper for your gifts, then you can wrap up single rolls in tissue paper, a la hotel bathrooms everywhere.
To wrap individual rolls of toilet paper, just lay a piece of tissue paper flat, put a roll of TP in the center, wrap up the sides, and tuck into the tube like so: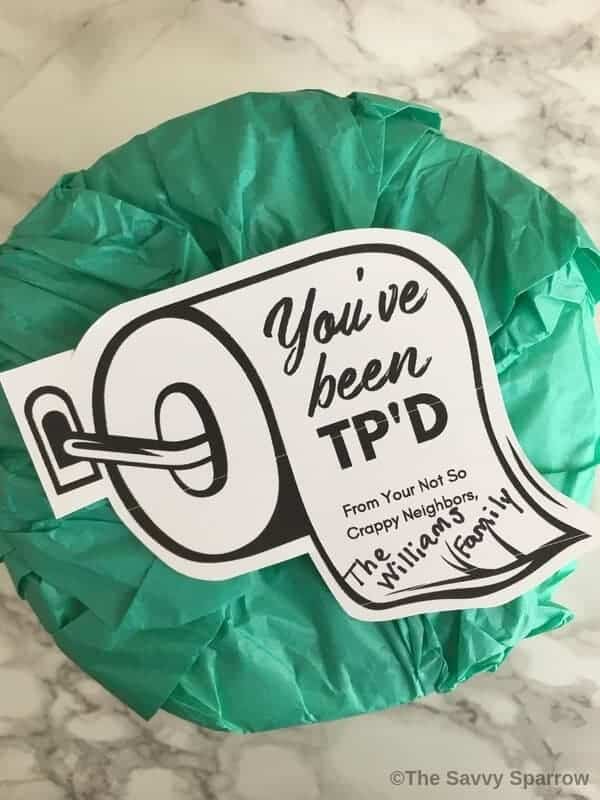 This is more sanitary than just leaving an open roll of toilet paper on your neighbor's porch. Attach a cute TP gift tag and you're done!
Gift toilet paper in cellophane bags
You can buy cellophane bags at the Dollar Tree that are perfectly sized to hold one single roll of toilet paper. However, the Dollar Tree bags DON'T fit a Mega roll of TP.
And if you're feeling extra creative, you can even draw a smiley face on the outside of the plastic bag using a Sharpie, like this: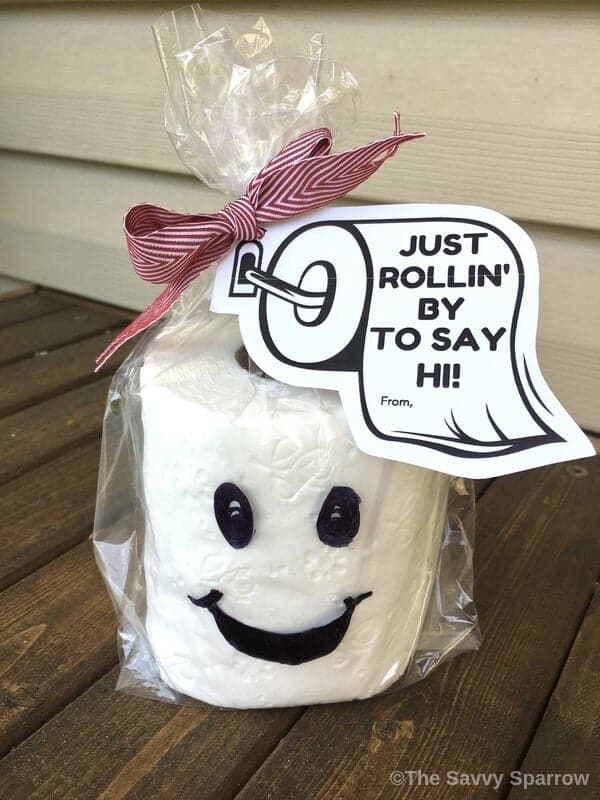 Tie up the bag with a ribbon and a cute printable toilet paper gift tag, and you've got an easy neighbor gift in minutes!
Use wide ribbon for gifts of whole packages of TP
If you want to gift an entire pack of toilet paper (hey, want to be MY neighbor?!), then try wrapping it up with wide ribbon. Then, you can decorate your easy toilet paper gift with gift bows, yarn tassels, curling ribbon, or whatever you have in your craft stash.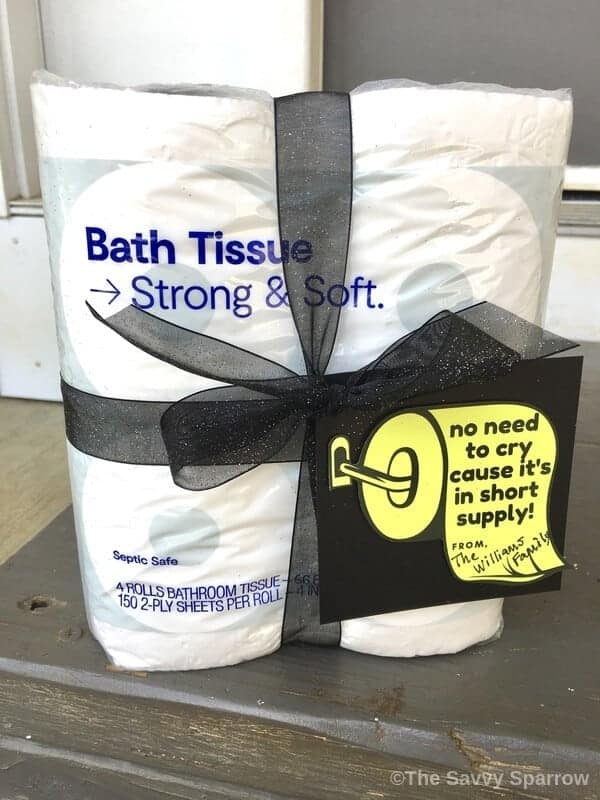 Add one of my printable toilet paper gift tags and you're done!
Make a toilet paper cake
I'm sure you've seen pictures of diaper cakes for baby showers and towel cakes for wedding showers… so why not make a toilet paper cake?!
I made my first toilet paper cake a few days ago, and it "came out" so cute! See what I did there?! 🙂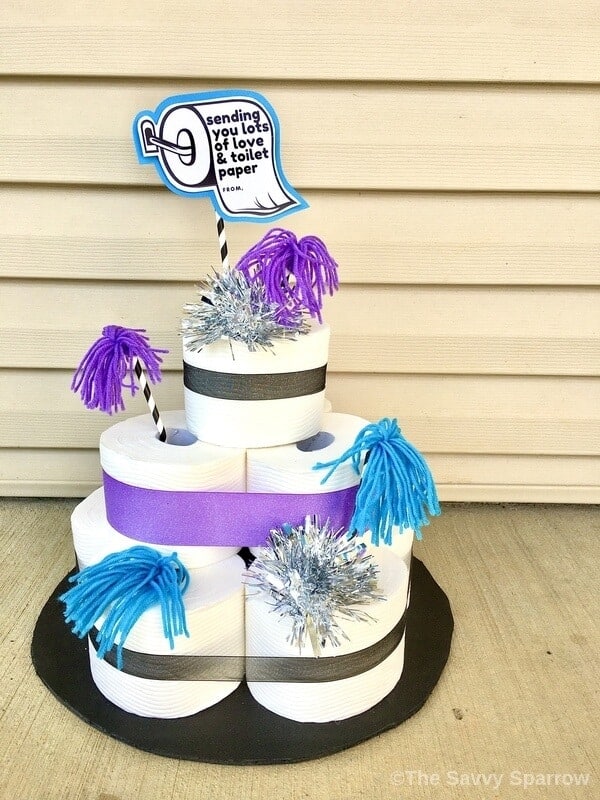 I'll be posting a step by step tutorial for how to make a toilet paper cake using rolls of toilet paper soon, so be on the lookout for that!
Where to find toilet paper packages for cheap toilet paper gifts
If you want to make toilet paper neighbor gifts without spending a fortune, but you also want to give more than just ONE roll, then you have a few options. It can be expensive to buy a bunch of packages of 4-6 toilet paper rolls, so try these:
Target – I got my 4 pack of toilet paper from Target for just 99 cents! They're not the greatest 3-ply, extra soft, triple-sized rolls with aloe… but, they're great for toilet paper gifts on a budget!
Dollar Tree – You can buy 4 packs of toilet paper (the small rolls) at Dollar Tree for just $1!
Costco – The Kirkland brand of TP comes in a GIANT pack of 30 rolls, but the rolls are wrapped up in packs of 6. So you can gift an entire pack of 6 GOOD QUALITY rolls of toilet paper for just $4 each!
Free Printable Toilet Paper Gift Tags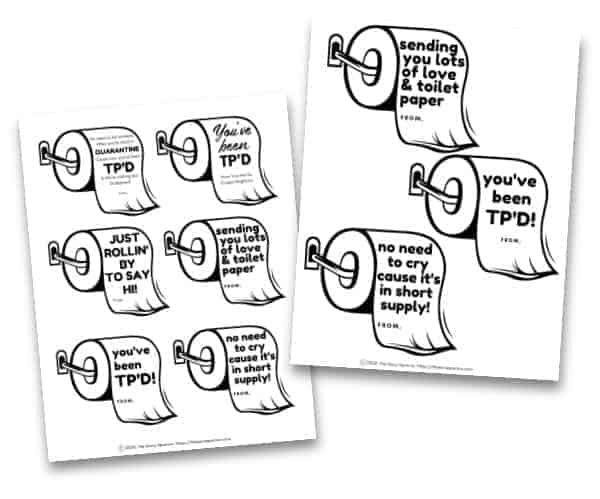 Click here for the FREE toilet paper gift tags!
And besides TP, you know what else makes a great neighbor gift for front porch drop-offs? Donuts! If you LOVED this post, then be sure to check out this post for FREE Printable Donut Gift Tags for more "Just Because" neighbor gifts or teacher gifts.
And PIN this post for later! Plus, I'd LOVE for you to leave me a comment about some of your favorite inexpensive neighbor gift ideas! What do YOU do for easy and cheap neighbor gifts?
And Happy Nesting!