These free work from home apps make working from home a little bit easier for busy Moms! See how these free apps can help you be more productive, focused, and organized as you work from home AND take care of a house full of kids!
I'm a work at home Mom. As I type this post, I'm literally sitting on my back deck and watching my kids jump on the trampoline. All Moms are multitaskers, but work from home Moms take multitasking to a whole other level.
Making three lunches while replying to a few emails while changing the laundry while brainstorming new blog post topics… Forget about "all in a day's work"… That's more like an hour of work. 🙂
And as a Work from Home Mom, I need all the help that I can get…
Yes, working from home as a Mom can be challenging, but it can also be expensive. While the adage "You've got to spend money to make money" is definitely appropriate when you own your own business, it's important to save money where you can.
And in my life as a work at home mom, I am all about the freebies! Don't believe me? Check out these posts on 14 Things You Can Get for FREE that You're Probably Paying for and 100 of the Best Birthday Freebies!
So I thought I would share some of my favorite free apps for work from home Moms that make juggling work and mommy-hood a little less stressful…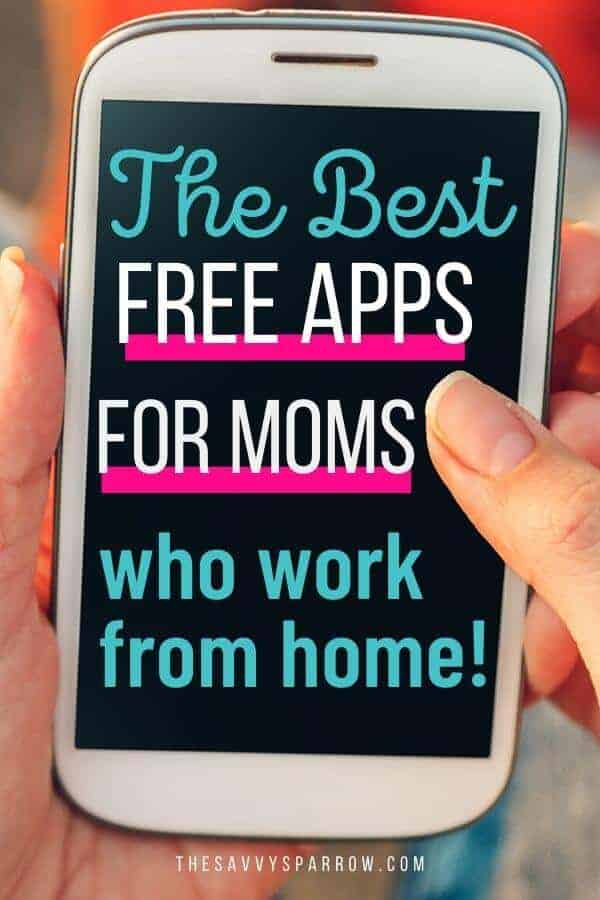 Best Project Planning Apps for Working from Home
Asana
Asana is one of my favorite project planning apps. With Asana, I can lay out every step of a project, attach a due date, and even sync it to my calendar.
The Basic plan, which is free, includes task lists with a list view, board view, or calendar view, and allows me to coordinate with any members of my team. It's also easy to duplicate tasks, which is a bonus for something like web design, where you follow the same steps each time.
Trello
Trello is another one of my favorite work from home apps for project planning, though I usually use the desktop version.
The great thing about Trello is that it can easily be used for both WORK and PERSONAL tasks. With Trello you can create work and personal "boards", so it's great for busy Moms that need to juggle home projects like birthday parties and Thanksgiving family dinner, AND work-related projects like team presentations.
Toggl
If you're looking at doing projects for clients that involve per hour rates, Toggl is perfect for keeping track of your time.
Toggl lets you break down each project by client and by type of work that you're doing. It delivers amazingly detailed reports that make it easy for your client to understand where their paid time was spent.
Toggl's free plan allows you to add multiple customers, and is perfect if you're not interested in analyzing client costs or where you earn your revenue. You can also add a few team members as your business grows.
Best Free Work from Home Apps for Productivity
Let's face it… one of the most challenging things about working from home when you have small kiddos who are ALSO at home with you is PRODUCTIVITY! It is so dang difficult to be productive when you feel like you're being pulled in 26 different directions.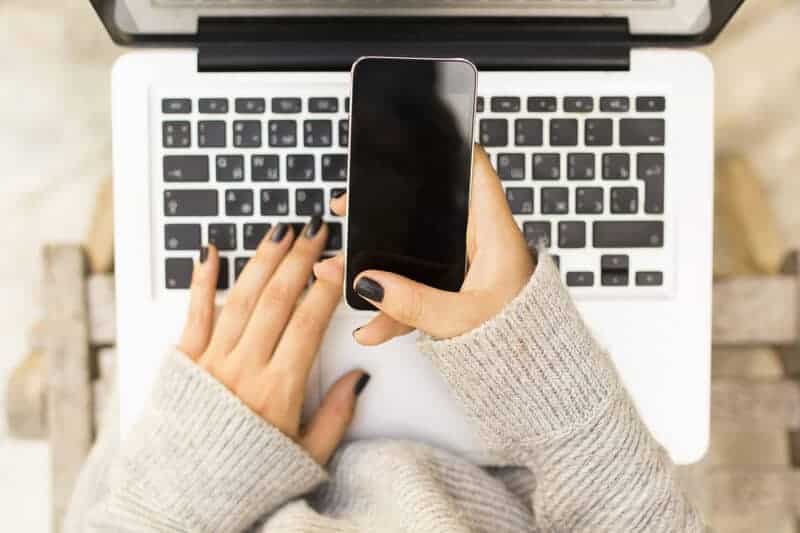 These are some of the best productivity apps to make your work from home time a bit more fruitful:
Focus Keeper
Focus Keeper is great for work from home Moms because it encourages you to work in 25 minute time chunks. If you work from home with small kiddos, then you know that sitting at your desk for 2 hours without getting up is NOT at all realistic. Working for 25 minutes at a time, and then taking a 5 minute break in between is much more doable.
Focus Keeper keeps track of this basic schedule for you like this:
Step 1 – You choose a task to focus on.
Step 2 – You set the timer in the app for 25 minutes.
Step 3 – You focus only on that task (no searching through Pinterest!) until the timer goes off.
Step 4 – You take a quick 5 minute break (maybe make your kids a quick snack).
Step 5 – You start the process again!
If 25 minutes work "bursts" are too long or short for you, you can also adjust the time. Handy charts in 14 and 30 day increments allow you to track your progress!
Flora
If you're REALLY addicted to your smartphone, and apps like Facebook and Instagram are causing you to lose productive time, then Flora is for you!
With over 1,000,000 users, Flora is a productivity app that encourages you to limit your screen time and stay focused, whether it be on a work task or family life. And you can even tie your focus goals to actual CASH if you really struggle with staying off your phone.
Here's how it works:
Whenever you're ready to start focusing on a new task, you set a timer and plant a fake tree in the app.
If you leave the app before your timer goes off, you kill your fake tree… a little morbid, I know!
As you successfully plant more trees (AKA complete more focused time sessions) your trees turn into a beautiful garden.
And you can set an actual "fee" for killing your tree (exiting the app before your timer goes off). For instance, you can set a $5 penalty for a 25 minute session, and if you can't finish your 25 minute focus time without opening another app on your phone, then the app will actually charge you that $5 and use it to plant an actual real-life tree.
The "price" is totally optional, but it could be good if you REALLY need extra motivation to stay off your phone during work time… Like, is checking Instagram REALLY worth paying $5?
Free Work from Home Apps for Communicating with Clients and Team Members
Slack
Slack is a communication tool that is essential for growing businesses. If you have team members, you need a Slack channel.
The great thing about having a Slack channel, is that you can invite team members and clients to your channel for strategy sessions or project planning. Because it functions as a text-based chat room, it's perfect if your team members are spread across different time zones. Everyone can respond in his or her own time.
Zoom
Not many people knew about Zoom until a few months ago, but now you're kids can probably educate you on how to use this virtual meeting platform. My 10 year old daughter had weekly zoom meetings with her 5th grade class recently, so now I feel like a Zoom pro.
Today, Zoom is key to the success of thousands of businesses large and small. Zoom's free plan allows you to connect to clients or team members for prospect calls or meetings, and their video capabilities make it simple for you to share how-to videos or project updates. You can even host large meetings if you have a large team or downline that needs your support.
Best Free Work from Home Apps for Marketing Your Business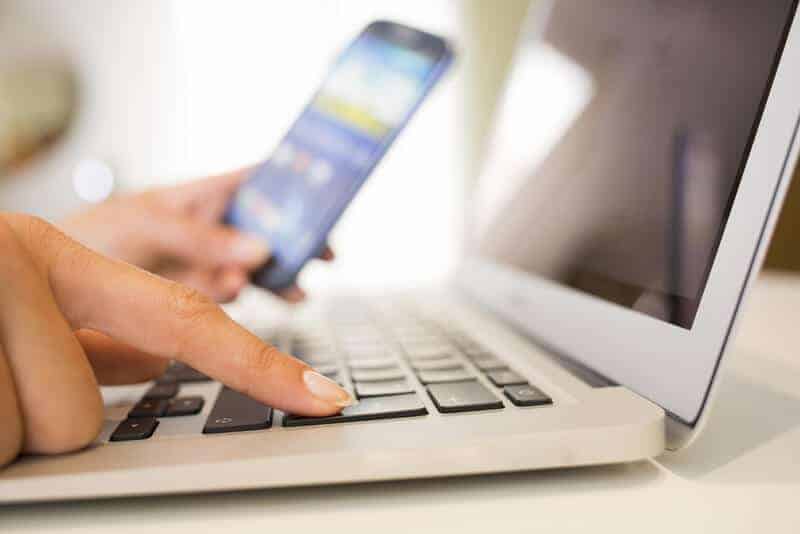 Pinterest
Yes, it's easy to fall down the rabbit hole that is Pinterest… One minute your doing a quick search for a good roasted broccoli recipe to make for dinner, and the next your planning a complete laundry room makeover.
But Pinterest is also a great tool for work from home Moms, depending on your job position and industry. Pinterest is a great marketing tool for almost any type of business that you may be running as a work at home mom. You can list product images, include links to blog posts or product packages, post some inspirational quotes to boost your public image, and join group boards to gain an audience.
As long as what you do lends itself to great images, then you're good to go!
Facebook
Yes, you can use Facebook as a work from home app AND to post photos of your kids eating ice cream cones… though I recommend keeping your personal and business Facebook pages separate.
Facebook gives you a ton of tools that can help your business without cost.
First off, a basic Facebook page is essential for any business. If nothing else, having a Facebook page that puts out basic social media posts two or three times per week, with complete services, shop, offers, and about pages helps your search engine results and helps people find you when searching by mobile phone.
But Facebook groups can also be an essential part of work from home jobs. A Facebook group is a great sales tool, and groups owned by others are a convenient way to network. I belong to about 10-12 different Facebook groups specifically for bloggers, where I can get answers to technical questions and connect with others in my niche.
In fact, about 95% of my activity on Facebook is BUSINESS-related… Sorry family! As a busy work from home Momma, I just don't have time to continually post photos of my kids doing cute stuff. 🙂
My #1 Most Used Work from Home App
So with so many great free work from home apps available, which one do I consider to be an absolute necessity?
Google Drive
You probably know Google as a search engine, but did you know that Google ALSO has all kinds of useful tools for working from home?
Google Drive is one of my MOST favorite free work from home apps, because it allows a ton of storage and file sharing, so it's easy to deliver files to clients or share documents with teams. Within Google Drive you can also find links to Google Docs, Google Sheets, and Google Slides – all of which are VERY similar to the Microsoft Office Suite of products like Word, Excel, and Power Point.
I use an Apple MacBook Pro computer, which doesn't include Microsoft Office like many PCs, so I LOVE that I can use similar programs in Google for FREE.
What about you? What are some of your favorite free work from home apps that help you juggle your Mommy job and your work job? I'd LOVE to hear about what works for you! Leave me a comment down below!
And if you want to read about even more must-have apps for Moms, then check out this post: 12 Must-Have Apps for Moms!
And happy (and hopefully productive!) nesting!