If you're looking for an easy blueberry peach cobbler dump cake recipe, then this is it! Call it a peach blueberry cobbler with cake mix if you want. Whatever the name, this easy dessert is the perfect fruity dessert for summer!
I'm from the South…
Where sweet tea and butter have their own food groups…
And cobblers are synonymous with "dump cakes".
So, I really struggled with what to call this deliciously easy dessert. Blueberry peach dump cake or blueberry peach cobbler… Same thing to me. So of course I had to call it Blueberry Peach Cobbler Dump Cake so that each dessert was represented!
Whatever you call it, it's darn tasty.
And darn easy to make!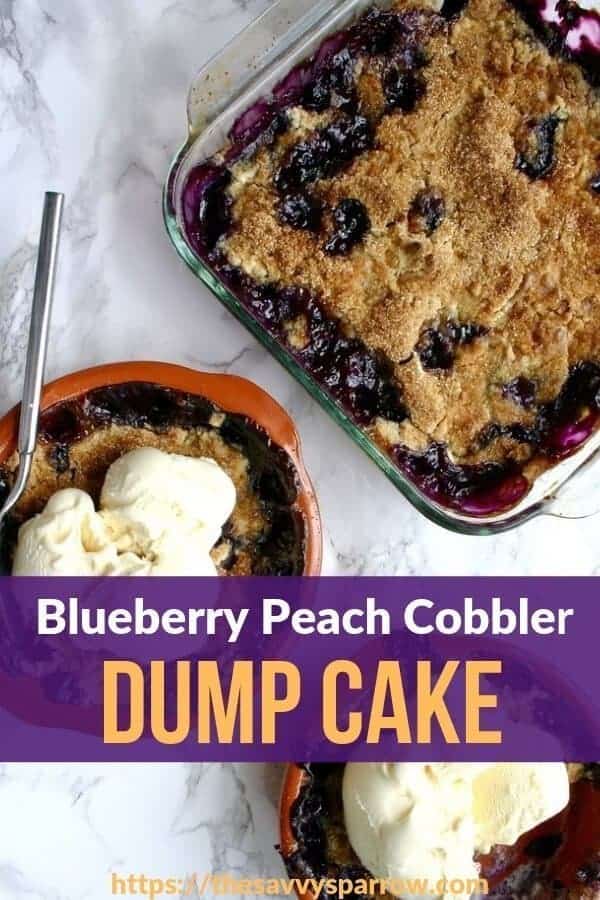 *This post contains affiliate links, which means I may earn a small commission from these links at no additional cost to you. Read my full disclosure here.
This yummy blueberry peach cobbler with cake mix calls for just a few basic ingredients, most of which you probably already have in your pantry.
Here's how to make this yummy fruit cobbler with cake mix…
How to Make Blueberry Peach Cobbler Dump Cake:
1. Put fruit in the bottom of a baking dish.
First, rinse and drain an 18 oz container of blueberries, and mix them with two cans of peaches in heavy syrup. No need to use a mixing bowl. You can just mix them directly in your baking dish.
We used a 9 x 9 inch glass Pryex and two round ramekins (that I absolutely LOVE!). Our ramekins measure about 5 inches in diameter, and they are perfect for individual portions of casseroles, mini chocolate chip cookie cakes, and this blueberry peach cobbler dump cake. My husband found our ramekins on clearance at Kroger, but these would work well also.
If you don't have ramekins, you can totally make this recipe in a 9 x 13 inch baking dish.
But enough talk about ramekins, before I make my hubby whip up some creme brûlée. 🙂
Mix the fruit in the bottom of your baking dishes like so: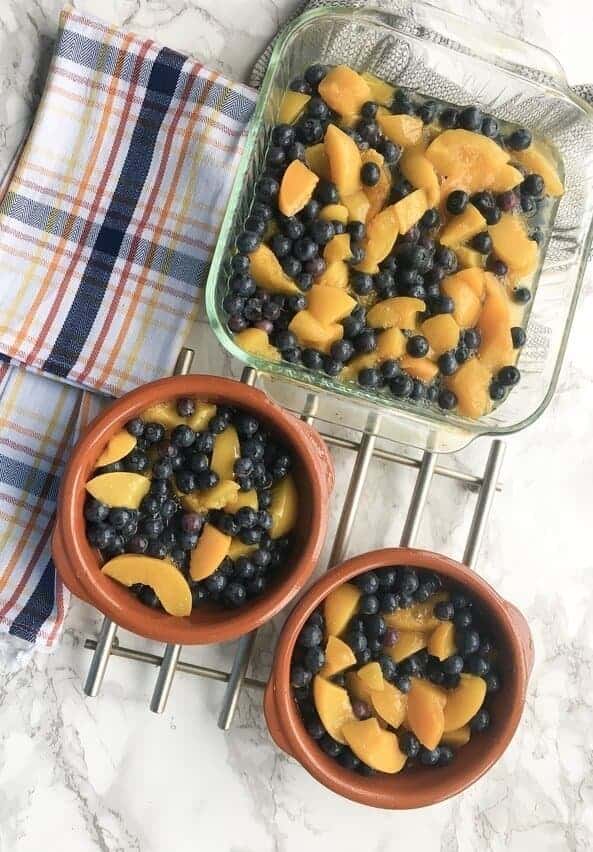 2. Grate frozen butter.
Next, get out your cheese grater and grate some…
BUTTER!
Yes, you can use your grater to grate frozen sticks of butter. (By the way, you can also use your "cheese grater" to grate chocolate, cucumbers, onions, zucchini, carrots, and the list goes on and on.)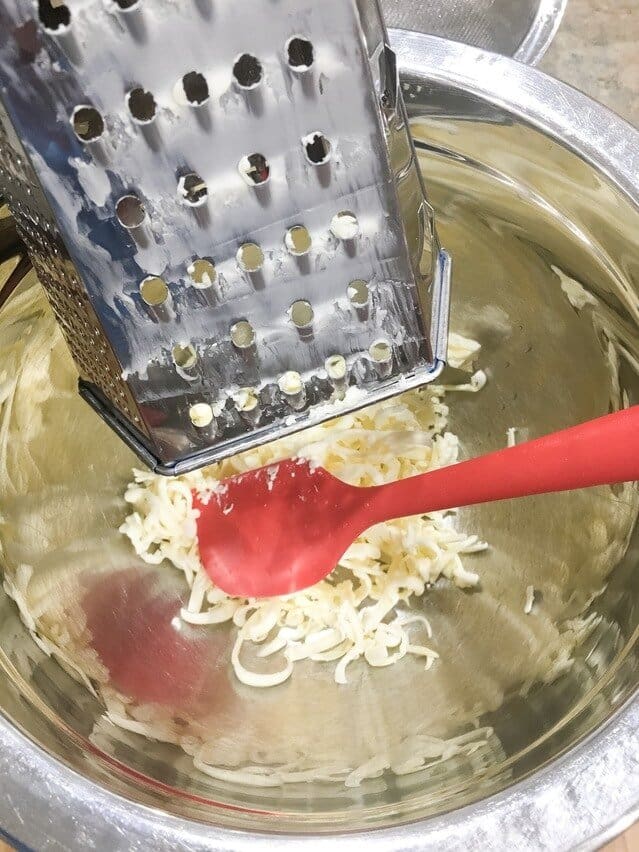 3. Mix shredded butter with boxed cake mix and sprinkle it on top of the fruit.
Mix the shredded butter with one box of yellow cake mix and spread it on top of your fruit. I say "yellow cake mix" but really you can use white, butter, vanilla OR yellow cake mix. We used Duncan Hines Butter Golden cake mix and I highly recommend it!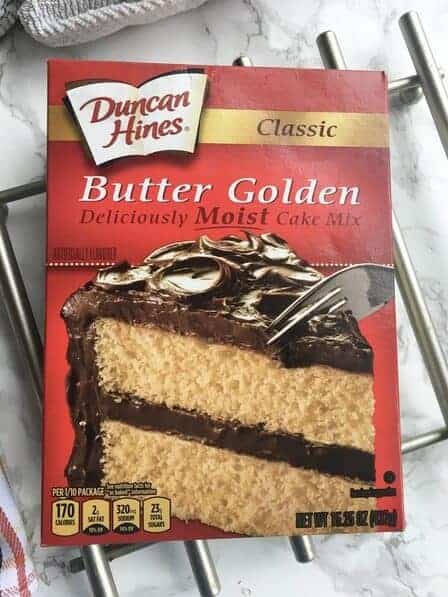 Or, if you need a gluten-free version of this yummy dessert, then you can check out an awesome Gluten Free Cake Mix Peach Cobbler here.
4. Sprinkle cinnamon and sugar on top.
Then mix brown sugar, white sugar, and cinnamon in a small bowl and sprinkle it over the cake mix like so…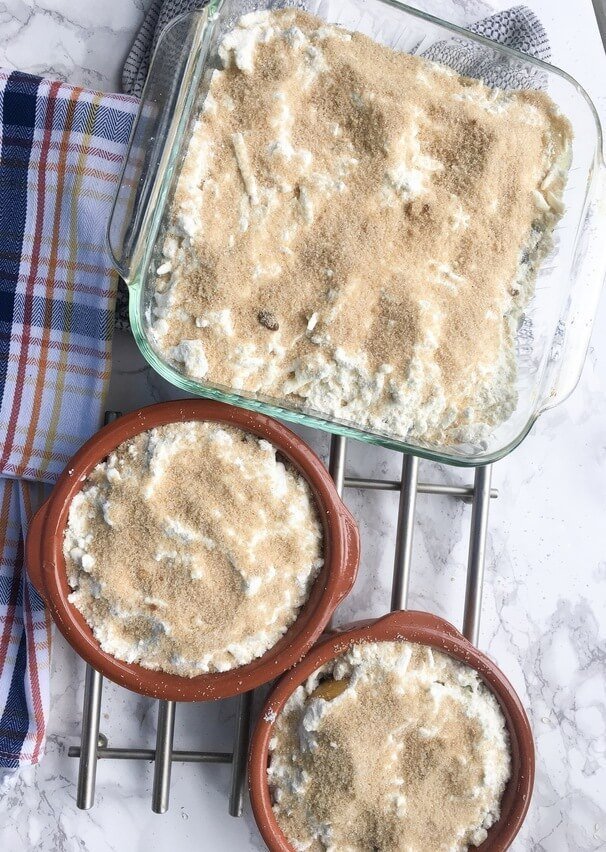 5. Bake at 375 degrees for 50 minutes and ENJOY your Blueberry Peach Cobbler Dump Cake!
Pop your peach blueberry dump cake (or peach blueberry cobbler depending on where you're from!) into the oven and enjoy the "fruits" of your labor.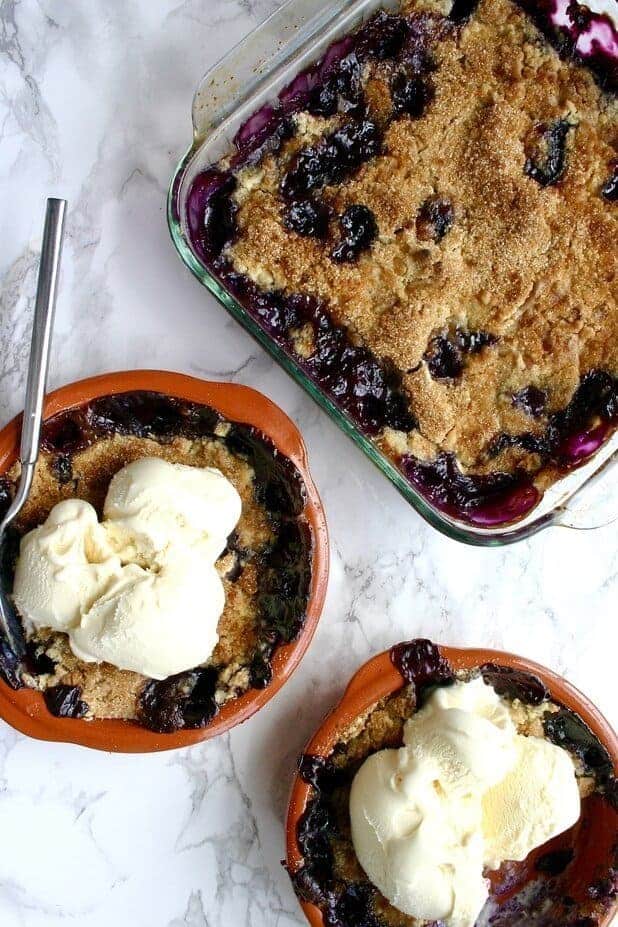 See what I did there?! "Fruits" of your labor. You know, because it's a fruit dump cake. It's embarrassing how easily amused I am. 🙂
It's also slightly embarrassing that I ate this entire ramekin of dump cake cobbler by myself. Plus a few scoops of vanilla ice cream on top…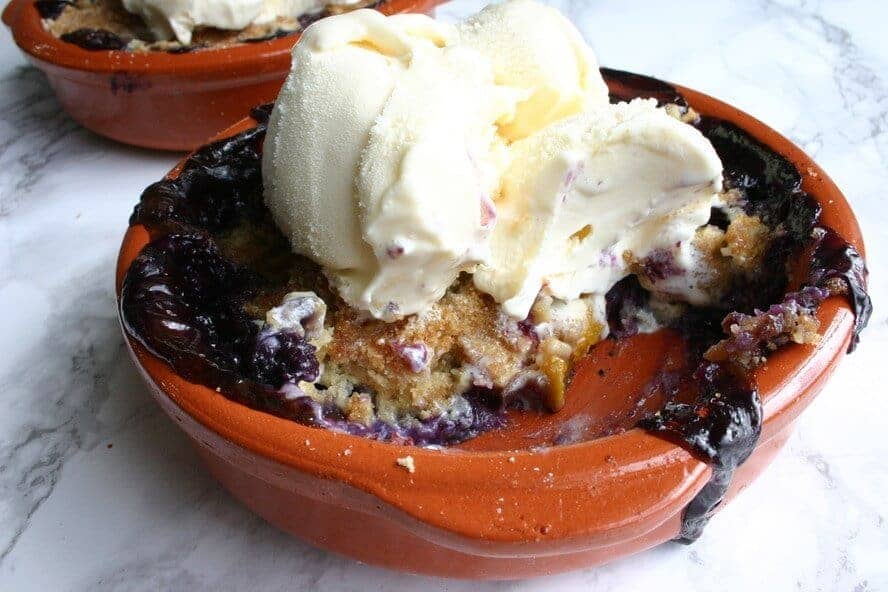 Can you blame me, though?! Doesn't it look delish!
Here's the recipe for this Blueberry Peach Cobbler Dump Cake. Trust me, you'll want to print this one out and save it in your recipe binder!
Yield: 10 servings
Blueberry Peach Cobbler Dump Cake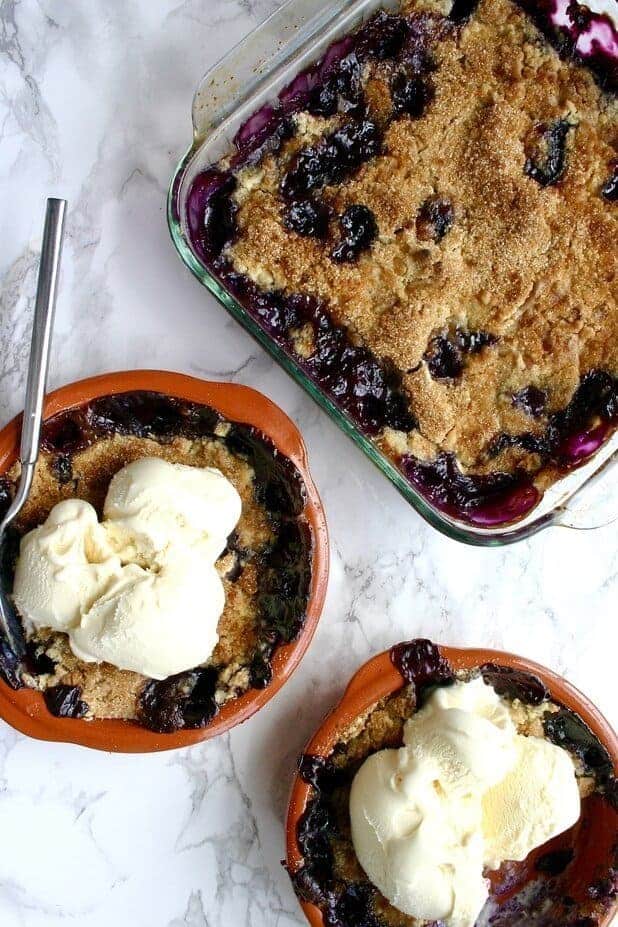 Whether you call it a Blueberry Peach Dump Cake or a Blueberry Peach Cobbler, this fruity summer dessert is easy and delicious! Made with cake mix and canned peaches, this peach dump cake recipe couldn't be easier to make. Serve slightly warm with vanilla ice cream!
Prep Time 5 minutes
Cook Time 50 minutes
Total Time 55 minutes
Ingredients
2 cans sliced peaches in heavy syrup (15.25 oz each)
18 oz blueberries, rinsed and drained well
1 box yellow cake mix (15.25 oz)
1 stick unsalted butter, frozen
1/2 cup brown sugar
1/4 cup white sugar
pinch of cinnamon
Instructions
Preheat oven to 375 degrees.
Cut canned peach slices in half so you have peach chunks.
Combine blueberries and peaches with all juice into a 9 x 13 inch glass baking dish. Mix together.
Grate frozen butter into a large bowl.
Add boxed cake mix to grated butter and gently toss together.
Spread butter/cake mix mixture on top of fruit.
Mix brown sugar, white sugar, and cinnamon together in a small bowl. Sprinkle on top of cake mix.
Bake for 50 minutes at 375 degrees, or until top is golden brown and fruit is bubbly.
Carefully remove from oven and allow to cool.
Serve slightly warm with vanilla ice cream (optional but recommended!).
Notes
Use the cake mix as is out of the box. Do NOT make cake mix according to package directions. This recipe also works well with other fruits including cherries/cherry pie filling, fresh apples/apple pie filling, etc.
Nutrition Information:
Yield:
10
Serving Size:
1
Amount Per Serving:
Calories: 396
Total Fat: 11g
Saturated Fat: 7g
Trans Fat: 0g
Unsaturated Fat: 4g
Cholesterol: 24mg
Sodium: 391mg
Carbohydrates: 73g
Fiber: 2g
Sugar: 48g
Protein: 3g
Love this cobbler dump cake recipe? Then I know you'll love my Mama's Blue Ribbon Chocolate Sheet Cake, too!