If you feel like your whole life can be summed up in one word, "Mom", then read on for how to regain your sense of self after having kids…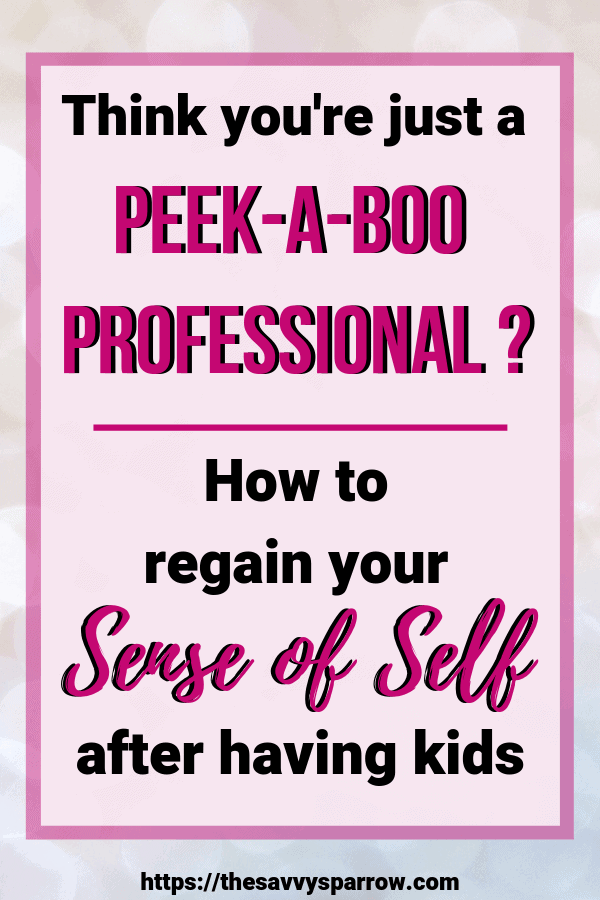 Mom.
It seems like that single, solitary word is all encompassing for mothers.
Like… what do you do?
I'm a Mom.
Who are you?
I'm a Mom.
Why did you leave the house with two different socks on?
I'm a Mom.
Why were you up last night until 1:00am Googling how to remove nail polish from wood furniture?
I'm a Mom.
But, you're more than a Mom. Most days, you're probably a superhero.
And as "Mom" it can be easy to forget who you were before dirty diapers and nightly story times. So, if you feel like your self image has been constrained to peek-a-boo professional or boogie wiper, then try these tips for how to regain your sense of self after having kids.
How to Regain Your Sense of Self After Having Kids
But first, what do I mean by sense of self? (If you're asking yourself this, then you've been blowing other people's noses for way too long)…
Sense of self, in psychology, is defined as "the way a person thinks about and views his or her traits, beliefs, and purpose within the world".
What is your purpose? I bet that most stay at home Moms would answer that with "My purpose is to raise good kids and take care of my family"… or some variation of that. Or, if you're really far down the motherhood hole, then you might think that your purpose is to pack three lunches a day and make sure your kids go to school with underwear on.
But what about your traits, beliefs, and purpose before you had kids?
If the old "you" is nothing more than a distant memory, then read on for how to regain your sense of self after having kids:
Don't Quit On Your Dreams
Moms have dreams, too. Beyond just "I want to not lose my kids at the mall today." Or, "I want to avoid stepping on 23 legos before noon."
And just because someone calls you "Mom" now doesn't mean that you have to give up on what you want out of life. It's so easy to just keep telling yourself, "I'll pursue my own passions after my kids are grown". But, why not now?
For the past several years, I have wanted to be a blogger. Of course, when I attended college over a decade ago, "Blogging" wasn't a major and it definitely wasn't a career path that was even remotely on my radar.
So, my dream involved starting from ground zero. With two kids. And a husband. And a never-ending pile of laundry.
But, it is my dream to make it in this "profession" that challenges me creatively and gives me the satisfaction of knowing that I am 100% in charge of my own success or failure.
Blogging is my dream, so I'm going after it. Even if I have to chase my dream in between loads of laundry and playdates.
Rediscover your dream and make time for it. Now.
Trust me, there is great fulfillment in knowing that you accomplished something besides mastering a french braid or getting your kids to the bus stop on time.
Take a Mommy Time Out
I am a HUGE fan of a Mommy Time Out. And, no, I don't mean locking the bathroom door for 3 minutes while you pee.
I mean taking the time to do something you enjoy. And, don't even try to tell yourself that you enjoy crafting 25 handmade Valentines cards for your first grader.
Read a good book, soak in a hot bath, catch up on episodes of The Bachelor, or wander aimlessly down the aisles of Target with a latte in hand.
For me, a Mommy Time Out is a whole entire day that I get to take (thanks to my awesome husband!) to go out and do whatever I want to do…. For the whole day… Crazy, I know! I get a full-day Mommy Time Out about 2-3 times a year. But, it's also important to take a few hours here and there for yourself.
Taking a Mommy Time Out will not lessen your level of Mommy-greatness. If anything, taking time out too focus on you will help you to be a happier and more fulfilled parent.
Make Time for Your Husband. Alone.
Yes, you are a Mom. But chances are, you were a wife first. And, if your marriage is like mine, then no one in this world knows you better than your husband.
Make time for him… the person that knew you before you had a permanent messy bun hairstyle.
To regain your sense of self after having kids, you have to spend time without your kids.
Harsh, I know.
But, do you remember how nice it is to go to a restaurant and not have to cut someone else's food before your own? Or, how about going to see a movie that isn't rated PG?
If you're starting to feel like you're defined by your motherhood role, then get a babysitter and enjoy some adult time with your husband.
Let the Laundry Pile Up for a Day or Two
Anyone else feel like their purpose in life is to do laundry? Me, too.
It seems like I can do a full load of laundry EVERY SINGLE DAY and still not ever be caught up. Sometimes I even wear the same shirt three days in a row so as not to contribute to my already unmanageable laundry load… Meanwhile, my kids change their clothes 3 times before lunch.
So, if you feel like your purpose in life has been lessened to house chores, then take a break from the jobs that weigh you down. To regain your sense of self after having kids, don't worry if your house is a little messy or you have dirty dishes in the sink.
I am the most stressed out when I feel the (unnecessary) need to do everything all the time. Like… I have got to finish all of this laundry tonight, or I have got to vacuum the whole house before I go to bed. But who says? You. You are probably the one putting all of these overwhelming expectations on yourself.
Realize that it is okay for you to not do EVERYTHING all the time. Trying to keep up with housework and taking care of your family can be overwhelming, and it leaves no time for taking care of you.
You know the old adage "Good Moms have messy kitchens, sticky floors, piles of laundry, and happy kids"?
Well…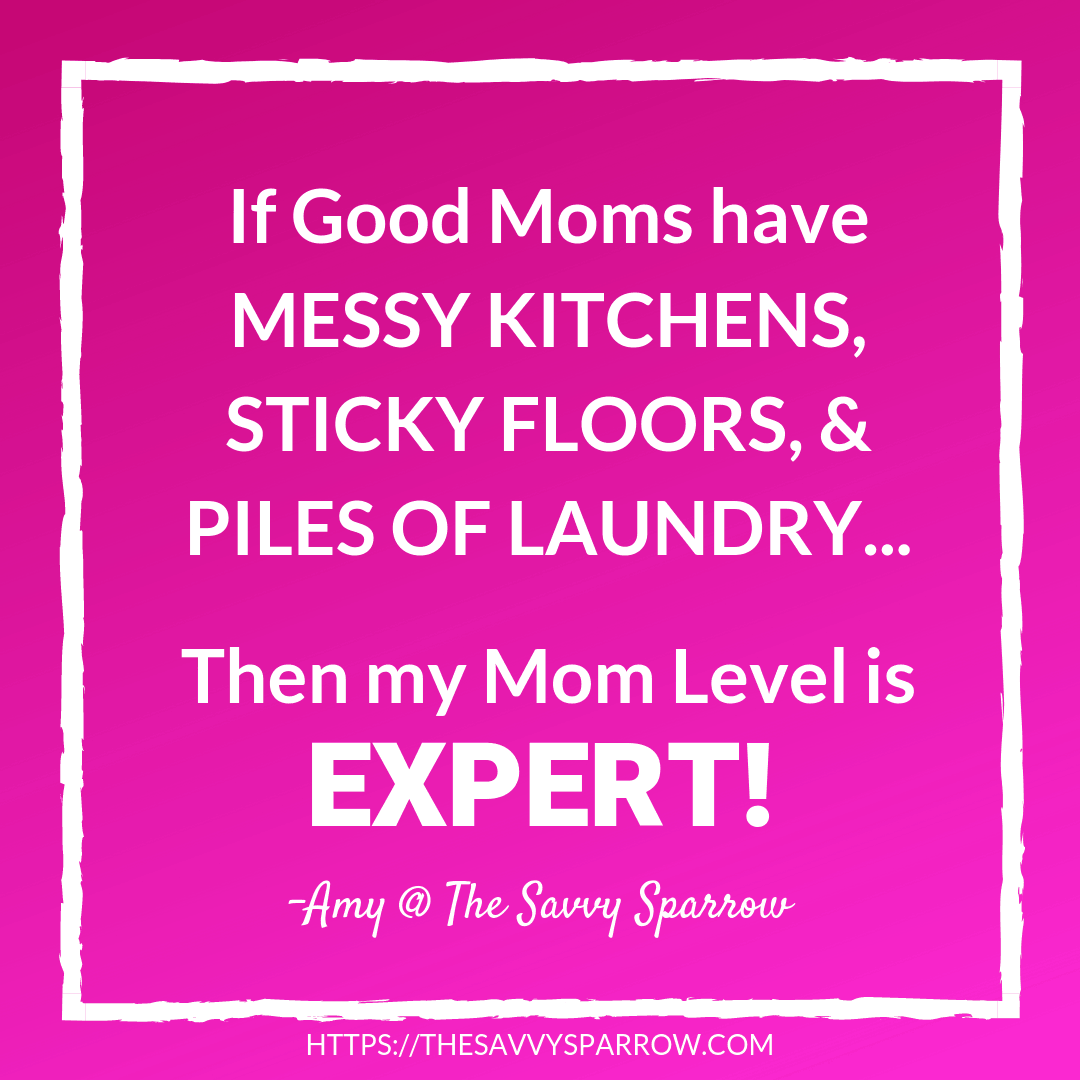 Get a New Hobby (or Rediscover an Old One)
Just because you're a Mom, doesn't mean that you can't have your own hobbies.
Scrapbooking, crocheting, kickboxing… To regain your sense of self after having kids, it's important to find something that you enjoy doing. Even if it's something simple that you do for an hour a week.
And some hobbies can even be done while you're sitting at gymnastics practice or waiting at the pediatrician's office. Who says you can't enjoy a hobby at the same time that you're getting your "Mom stuff" done. I've been known to bring an adult coloring book with me to my daughter's cheerleading practice. And I've seen other Moms crocheting in the pick-up line for school.
Find a new hobby or restart something that you enjoyed before having kids.
Develop a Good Night Time Routine
At the risk of sounding like an awful parent… I feel the closest to "me" after I get my kids in bed.
Once I've tucked my babies in for the night, I am free to spend my time solely on what I want. I indulge in bubble baths the way that I used to before I had kids. And I watch tv uninterrupted with my husband.
My awesome kids' bedtime routine keeps me sane because it allows me to focus on "me", not "Mommy".
After I tuck my kids in to bed, I try not to do a single dish or fold a single shirt. And, yes, I know that I am losing a lot of potentially productive time after I get my kids in bed, but giving myself a break each night helps to keep me stress-free.
To regain your sense of self after having kids, develop a good bedtime routine so that you can have lots of free time, too.
Don't Feel Bad About Wanting to Regain Your Sense of Self After Having Kids…
Yes, I am fully aware that some of you may be reading through this post judging me… Maybe you're thinking
She is the most selfish Mom ever.
How can she take all of that time for herself?
Doesn't she know what it means to be a Mom?
And if you're thinking that… it's okay.
Because I know that I will never be the Mom that is baking 100 made-from-scratch cupcakes for the PTA Bake Sale. Or the Mom that meticulously plans her kids' birthday parties from the custom engraved invitations to the perfectly on-theme snacks.
Maybe you are that Mom… and that's great, too. But let me ask you this… When your kids are grown, and you have an empty nest, and no one needs you to wipe their butt – who will you be then?
And if you feel like you have to be the PERFECT MOM 100% of the time… you don't.
You love your kids fiercely. And you take care of them completely. That's enough.
Take care of yourself, too.
Have you felt like you lost "YOU" after having kids? How did you find your way back? Leave me a comment below and let me know what worked for you!
And check out some of my other popular posts on parenting: