If you're looking for easy meal prep breakfast ideas, you must try this delicious keto cheese veggie frittata…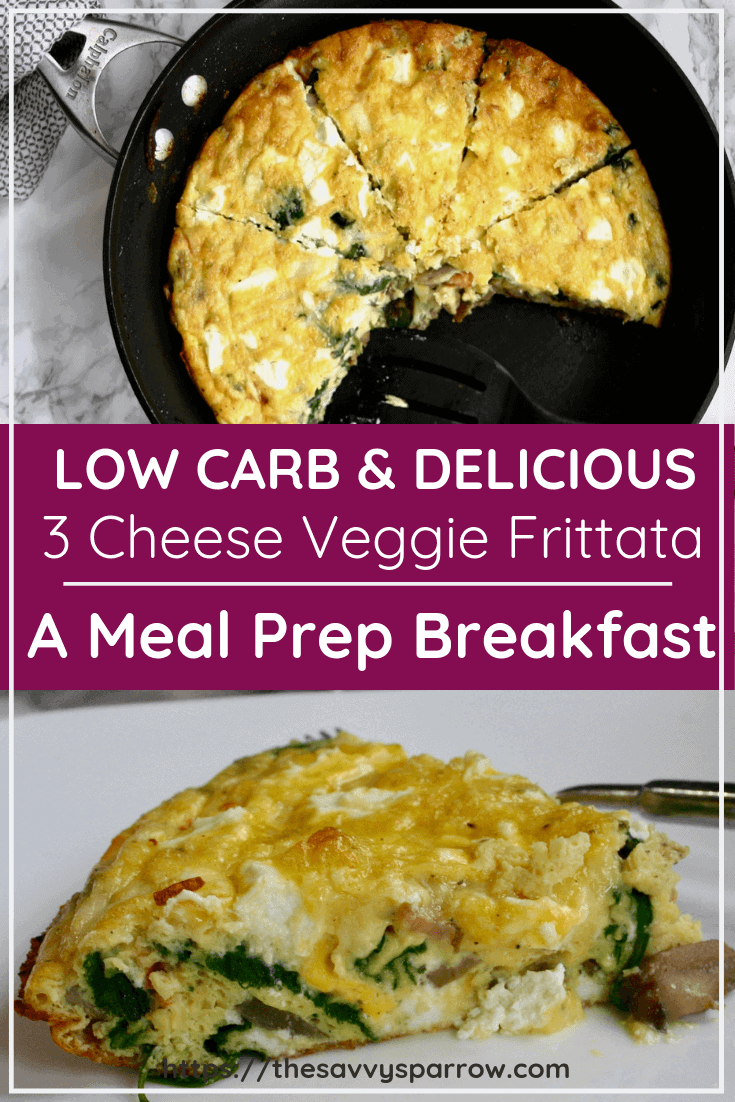 Busy mornings call for microwaves.
Nobody has time to preheat a skillet, whisk eggs, or chop veggies. Heck, some mornings I don't even have time for my Keurig to brew me a fresh cup of coffee. And, if you don't have time to cook breakfast, you sure don't have time to do a pile of dishes after breakfast. Which means you'll be coming home to a sink full of more work later in the day.
And, if you're like me, you're at least trying to eat healthy. And scarfing down a carb-loaded PopTart or bowl of Lucky Charms doesn't cut it.
Actually, if I have an unhealthy breakfast, something in my brain just says, "Amy, you already blew the diet within the first hour of the day! You might as well throw in the towel and try again tomorrow." Fast forward to 2:00pm and I'm snacking on Nacho Cheese Doritos and Little Debbie Oatmeal Pies.
It's a vicious cycle.
So what do I do?
I make an easy meal prep breakfast. (Or I should say, my hubby meal preps for me because, remember, he's the chef in the family!).
And my absolute FAVORITE quick and easy meal prep breakfast is this Keto Cheese Veggie Frittata.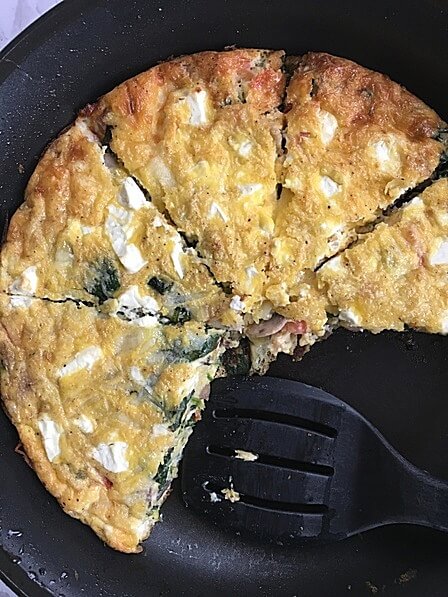 He makes me this yummy keto frittata on Sunday afternoon, and then I cut it into pieces and store it in a tupperware in the fridge. Then in the morning when I need to eat something quick and healthy (so I'm not reaching for the carton of Rocky Road later), I microwave one piece of this Keto Cheese Veggie Frittata for about a minute, and I'm good to go.
And, the best part is, I feel good about eating this easy low carb meal prep breakfast! It's loaded with yummy veggies, bacon and mushrooms, but you can easily customize it to your own tastes: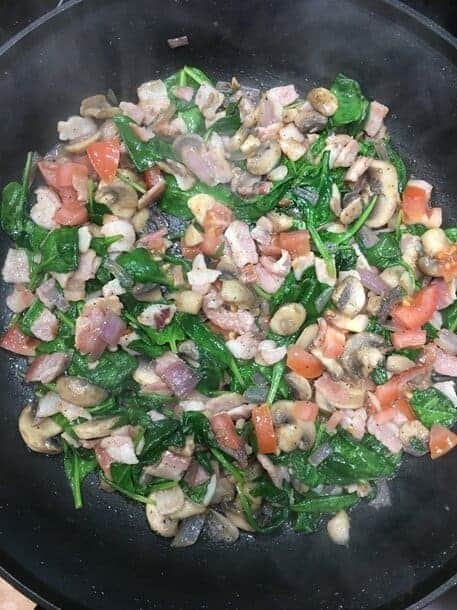 If you're a cheese-aholic like me, then plain old American just doesn't suffice. So, this easy meal prep breakfast is loaded with all the cheesy goodness… Smoked gouda, shredded parmesan, and creamy goat cheese!
Note the abundance of flavorful cheeses perfectly sprinkled on top of this keto cheese veggie frittata before it goes in the oven: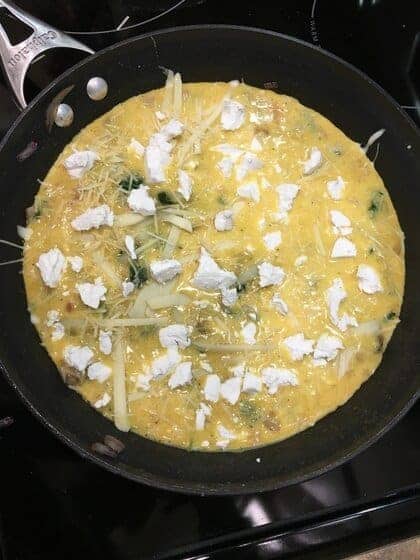 And don't get me started on goat cheese!
I'm convinced I have goat cheese running through my veins. (If you haven't tried it, then stop what you're doing and get your butt to Trader Joe's – they have the BEST prices on goat cheese!). We use goat cheese as a topping for ribeye steaks, salads, fancy crostini appetizers… and this delicious Keto Cheese Veggie Frittata.
Ready to try it for yourself? Here's the recipe… and remember, you can easily customize this yummy keto frittata to fit your own tastes. Or, to use up whatever veggies you have in the fridge. We've made frittatas with zucchini, green peppers, sharp cheddar, jalapeños… just about any veggie/cheese combo you can dream up.
Enjoy!
Yield: 6-8 Servings
Keto 3 Cheese Veggie Bacon Frittata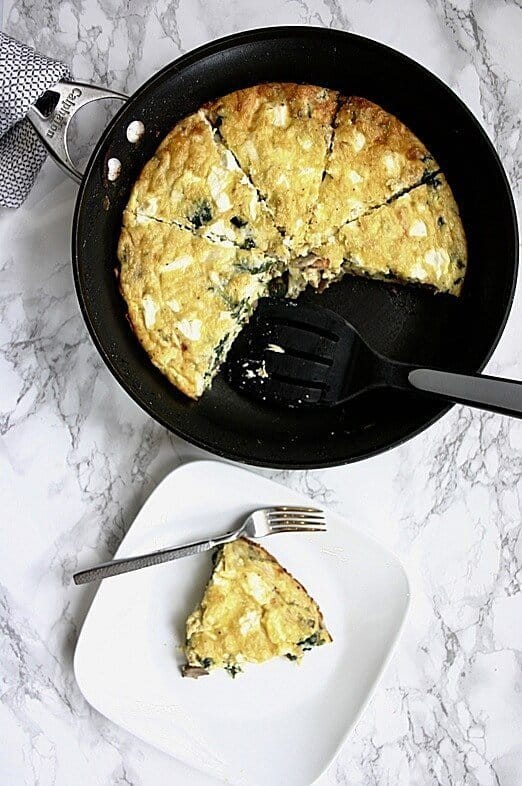 This delicious Keto cheese bacon frittata is a perfect meal prep breakfast for busy mornings! Make it on Sunday, let it cool, cut it into triangles, and store in the fridge for a yummy and quick low carb breakfast. And this recipe can easily be adapted for your favorite veggies or cheese (or what you already have in your fridge!). Enjoy!
Ingredients
12 large eggs
1/4 cup sour cream
1/4 cup heavy cream
3/4 cup sliced mushrooms
5 pieces bacon, chopped
1/4 cup onion, chopped
1 cup baby spinach, packed
1/2 tomato, diced
1/4 cup shredded parmesan cheese
3 slices smoked gouda, cut into strips
2 oz goat cheese
salt and pepper to taste
Instructions
Preheat oven to 350 degrees.
Add onion, mushrooms, and bacon to an oven-proof skillet. Cook on medium high heat for about 5-6 minutes or until bacon fat renders down and mushrooms and onions are tender.
Add baby spinach and stir until combined.
Add tomatoes and stir. Remove skillet from heat.
In a large bowl, scramble 12 eggs.
Add heavy cream and sour cream to scrambled eggs and stir to combine.
Add salt and pepper to eggs.
Add cooked veggie/bacon mixture to eggs in the large bowl. Stir gently to combine.
Grease your oven-proof skillet using a pad of butter or about a tablespoon of olive oil.
Pour egg/veggie/bacon mix into greased skillet. Top with cheese.
Put skillet into preheated oven. Cook for about 15 minutes or until eggs are set. Insert knife into center of frittata to check for doneness.
CAREFULLY remove skillet from oven, remembering that the handle will be HOT.
Slice frittata and serve. Or, you may let it cool then slice and store covered in the fridge for about a week.
Notes
This keto cheese veggie frittata makes a great meal prep breakfast! It can be stored in the refrigerator for a week, and individual slices can be reheated in the microwave.
Nutrition Information:
Yield:
8
Serving Size:
1 piece
Amount Per Serving:
Calories:

257
Total Fat:

19g
Saturated Fat:

9g
Trans Fat:

0g
Unsaturated Fat:

8g
Cholesterol:

316mg
Sodium:

435mg
Carbohydrates:

3g
Fiber:

1g
Sugar:

2g
Protein:

18g
Nutrition information isn't always accurate.
And, if you love this recipe, check out some of my other low carb recipes: